With its chaotic streets, towering skyscrapers and neon lights New York is the perfect city for tiny adventurers and we love the variety of things to in New York with a baby. We travelled to New York with baby J when he was 7 months old and together we explored its iconic sights from Times Square to Central Park to its museums and markets. New York is an awesome choice for a family vacation and we've put together our guide to the best things to do in New York with a baby!
The 12 best things to do in New York with a baby
Although J was only 7 months old when we visited, New York captured his imagination and the city both engaged and excited him. Our favourite things to do in New York with a baby include: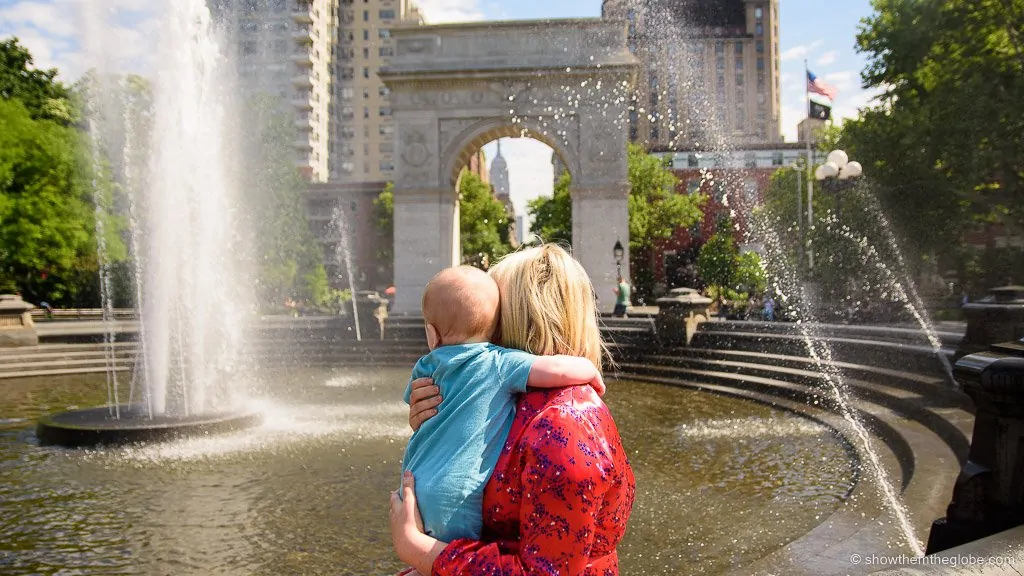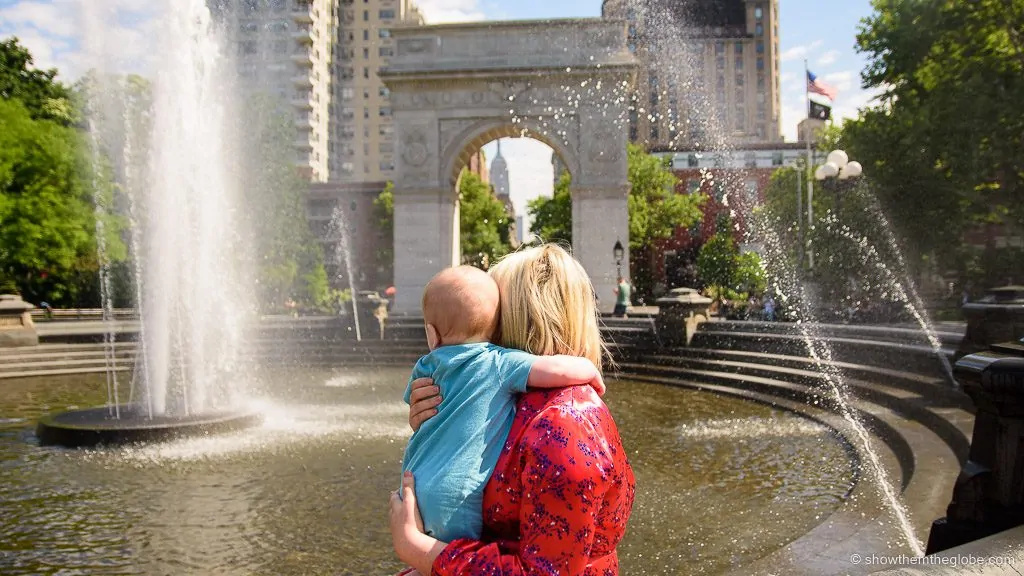 1 | Times Square
Times Square is an exciting mix of bright lights, chaotic crowds and colourful billboards and is mesmerising for a little adventurer. Our favourite vantage point is high above the crowds in one of the cocktail bars with a bird's eye view of Times Square.
Best things to do in New York with a baby tip: We love the view from the R Lounge in the Renaissance Hotel with its incredible views of the bright lights and yellow cabs the city is so famous for! It's the perfect spot for a cocktail and milk date and J was enthralled by all the action happening below!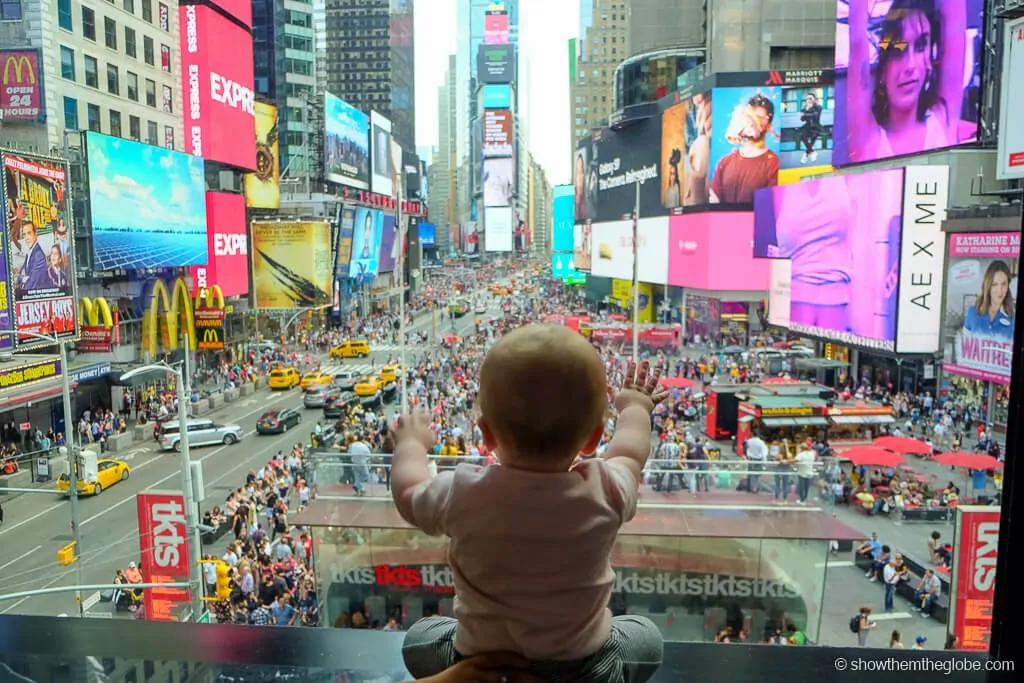 Where to stay in New York with a baby
As we were spending a week in New York we wanted somewhere spacious in a city where hotel rooms are notoriously small! Most hotels provide cribs and are very welcoming to younger guests.
Our apartment-style hotel picks are:
Residence Inn New York Manhattan Central Park: our choice as the best place to stay with a family in New York. We've stayed here numerous times and with extended stay suites with fully equipped kitchenettes, washer/dryer and huge living space it's perfect for families – check prices now!
Q&A Residential Hotel: spacious full-sized apartments in an Art deco building in the Financial District – check prices now!
Radio City Apartments: comfortable and affordable rooms with kitchenettes close to Radio City and Times Square – check prices now!
If you prefer hotel room style accommodation, we love these hotels from previous New York visits:
EVEN Hotel New York Times Square South: spacious rooms in the heart of the Garment District close to lots of Midtown sightseeing and shopping – check prices now!
Hotel Giraffe by Library Hotel Collection: close to Union Square and Chelsea with a rooftop garden for relaxing afternoons. Perfect for exploring downtown – check prices now!
2 | Central Park
Central Park is the largest green space in Manhattan and the perfect spot for a fun filled day with a baby in New York.
There are lots of things to do with a baby in Central Park: we love the Alice in Wonderland tea party statue, riding the beautiful vintage horses at Jane's Carousel, lazy afternoon picnics in Sheep Meadow, the puppet shows at the Swedish Cottage Marionette Theatre and the weekly summer storytelling sessions at the Hans Christian Anderson Statue.
Then there is watching the street performers at the Bethesda Fountain, saying hello to the turtles who reside at the Turtle Pond under Belvedere Castle and catching a nursery rhyme at the Delacorte Music Clock.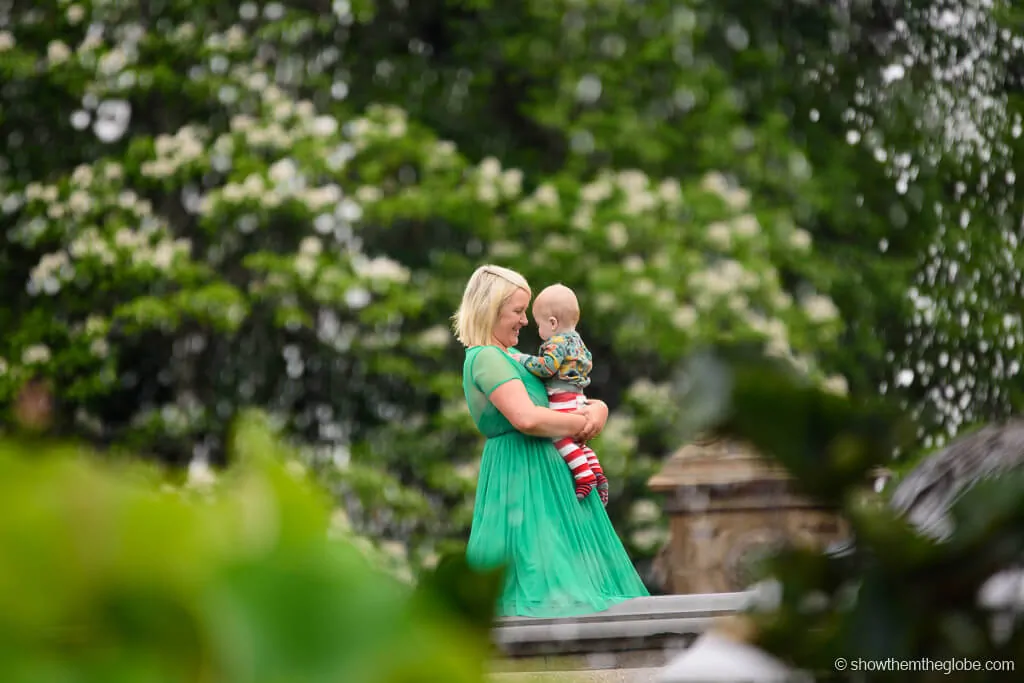 If you are visiting Central Park with a baby, make sure to stop by one of the 21 playgrounds dotted throughout the park. The playgrounds are all unique in design, only accessible when visiting with a child and are open from dawn to dusk.
Our favourite is the Tarr-Coyne Tots Playground located on the West Side at 68th Street – it's aimed at the youngest park visitors and has plenty of sand and spots for crawling and clambering.
The hustle and bustle of the city streets is soon forgotten the moment we enter Central Park and J loves the freedom and space it offers.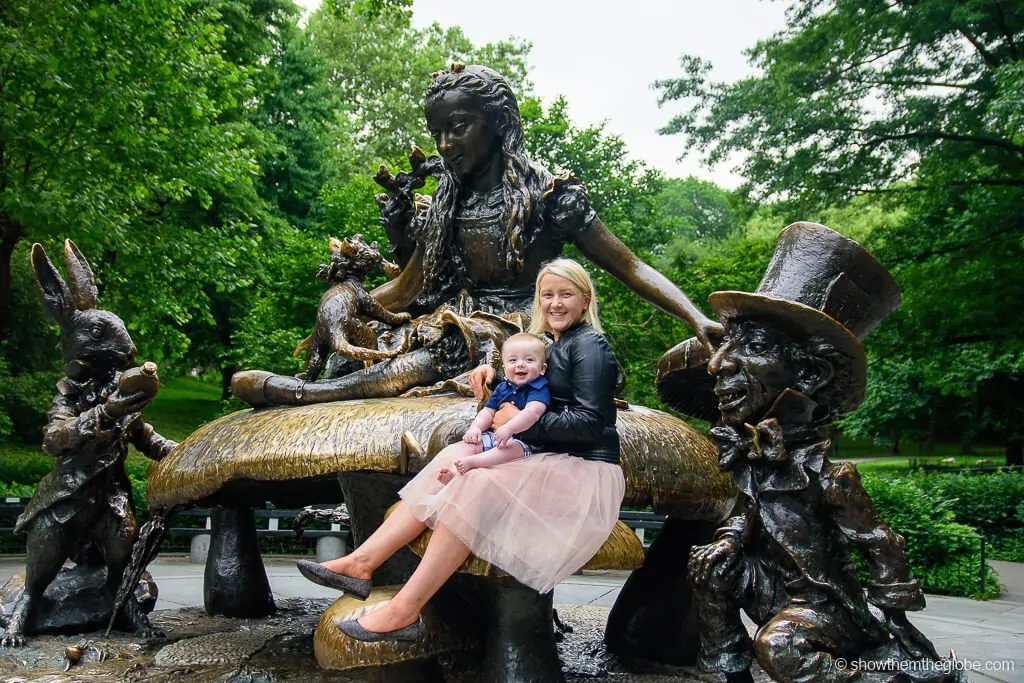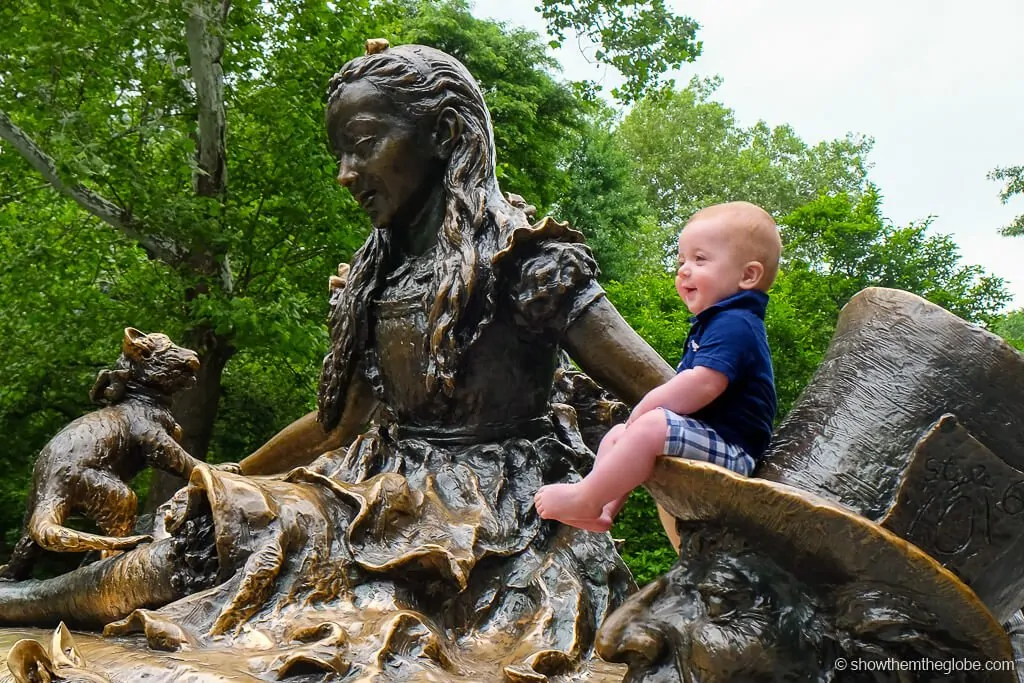 3 | Strolls through the city
The ever-changing city streets are perfect for long walks with baby in tow. From green spaces to bright lights to music, art and crowds there is rarely a dull moment on the sidewalks of New York City.
We've walked countless miles in the city that never sleeps! J is happy to watch the world go by from his stroller and we loved exploring the city on foot and coming across gem after gem along the way.
Best things to do with a baby in New York tip: the New York sidewalks are stroller friendly. Our favourite walks include exploring the street art in Soho and the Lower East Side, the river views and open space alongside the West Side Highway, Central Park and the High Line.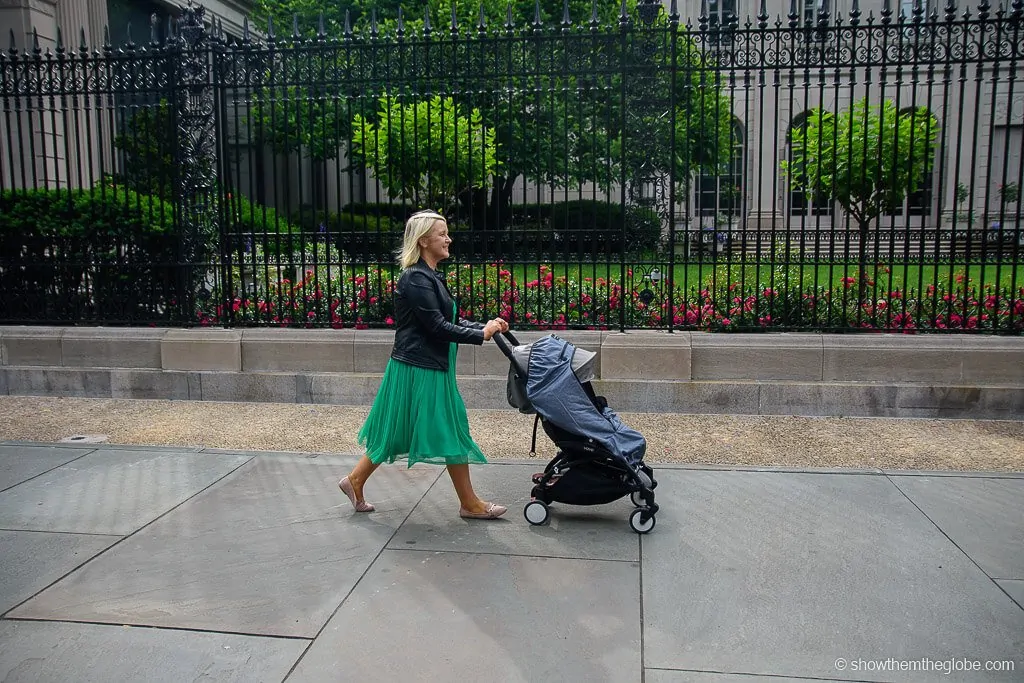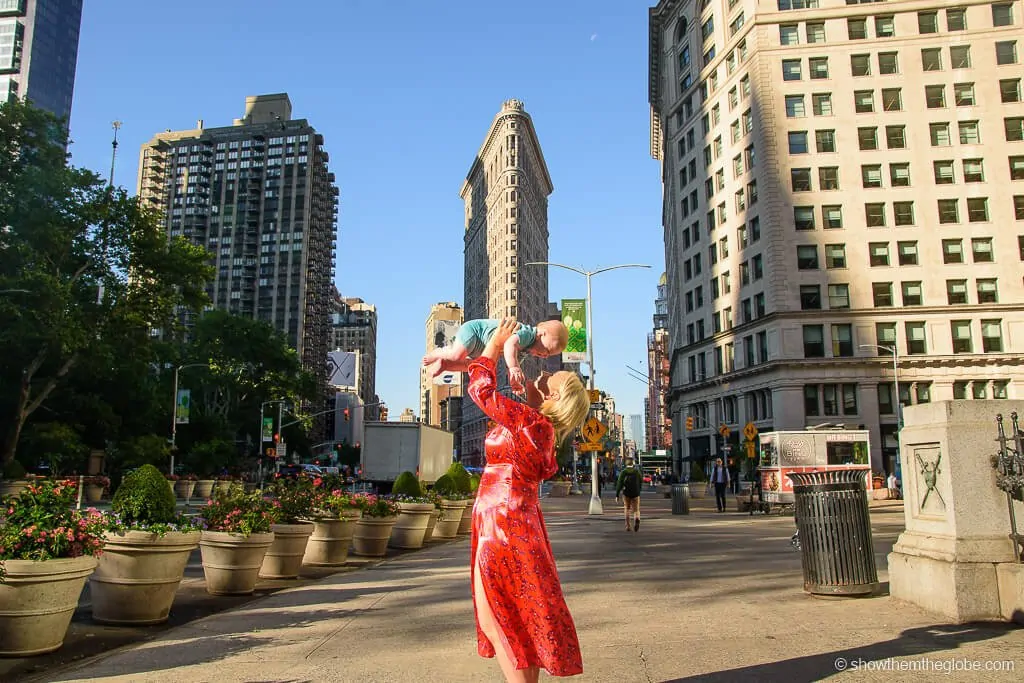 4 | Washington Square Park
Washington Square Park is a hive of activity and is usually teeming with artists, musicians, sunbathers, performers, chess players and cute dogs! The dancing fountain is an added bonus in one of the most vibrant spots in the city. We watched the adorable NYC dogs on their afternoon walks, enjoyed some classical singing, listened to Colin Huggins on his grand piano and giggled at getting soaked in the spray from the fountain! Washington Square Park is perfect for a milk break or some baby downtime and it was one of J's happiest places in NYC.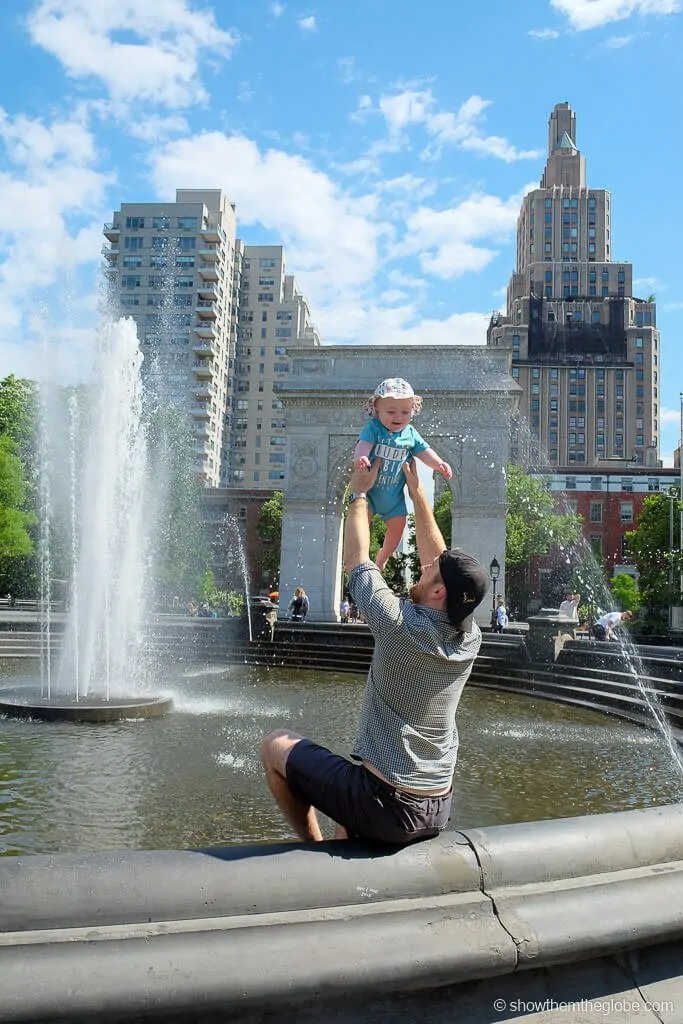 5 | Take a museum stroller tour
We loved exploring museums on our travels and some NYC museums even offer stroller tours led by museum experts. The tours are usually held outside of the typical museum opening hours so there's no need to stress about crying babies or navigating a stroller through crowds. The Guggenheim, the Whitney and the Brooklyn Museum all offer stroller tours. We joined one at the Guggenheim and loved how interactive, baby friendly and relaxed the tour was while us adults enjoyed the knowledge shared by the museum educator who led the tour.
6 | Byrant Park
Byrant Park is synonymous with sunny lunch breaks, intense chess games, open-air movies and the New York Public Library. Byrant Park was once our regular lunch spot when we worked a few blocks away and we've adored it ever since. J was fascinated with the contrast of the giant skyscrapers surrounding the open space of the park and loved watching a nearby juggler in his attempt to juggle 7 balls! Of course, we had to take a ride on Le Carousel, Byrant Park's resident carousel for both mine and J's amusement!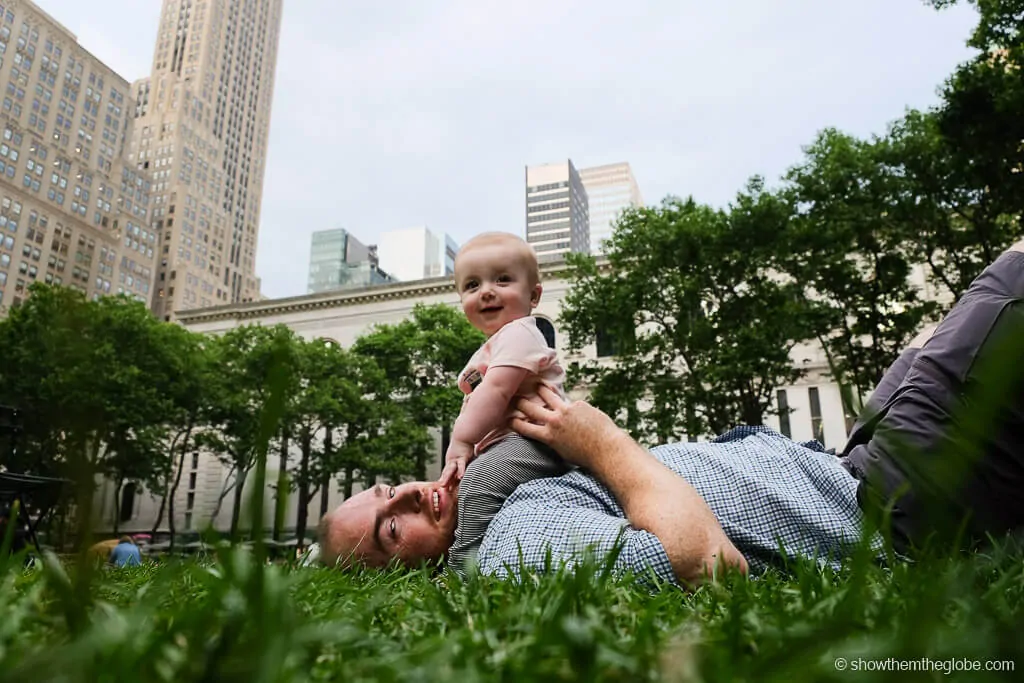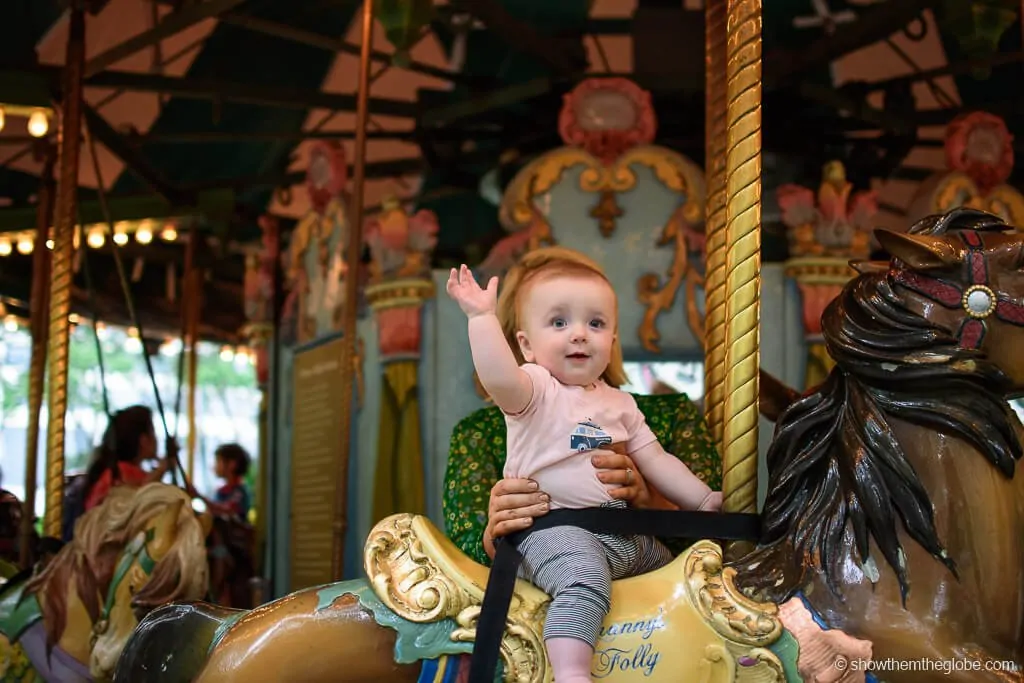 7 | DUMBO and Brooklyn Bridge Park
Down Under the Manhattan Bridge Overpass, or DUMBO for short, is another great spot for a baby-friendly visit to New York.
The first stop is on Water and Washington Street: Washington Street aligns perfectly to give a beautiful view of the Washington Bridge with the Manhattan skyline in the background and the Empire State Building framed perfectly by the legs of the bridge. The nearby Brooklyn Bridge Park is perfect for a picnic and the beautiful restored Jane's carousel is another treat. We also love grabbing some ice creams at the Brooklyn Ice Cream Factory and watching the boats passing by.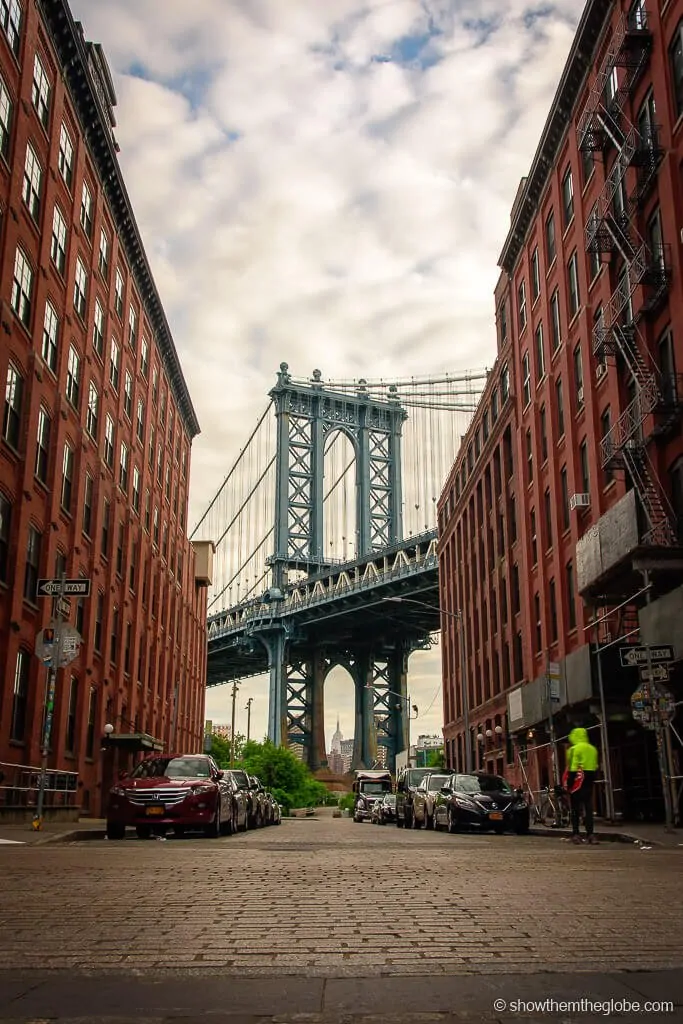 8 | The Staten Island Ferry
J is already obsessed with all forms of transport and was very excited about his boat ride on the Hudson River. The Staten Island Ferry travels between downtown Manhattan and Staten Island and the views from the water are fantastic with Lower Manhattan, the downtown Manhattan skyline and the Statue of Liberty the stars of the show. Best of all, it's free to ride the ferry!
9 | Walk the High Line
A stroll on the High Line is one of our favourite things to do in New York with baby J. The High Line is an elevated public park and walkway meandering up the West side of Manhattan. It runs from Gansevoort Street in the Meatpacking district to West 34th Street between 10th and 12th Avenue.
Originally a train line, this beautifully landscaped public park offers some awesome views of New York and is a great escape from the bustling streets below. It's the perfect spot to indulge in some people-watching and to admire the quirky street art and sculptures along the route. There are also some fantastic views of the Empire State building peeking out above the surrounding rooftops.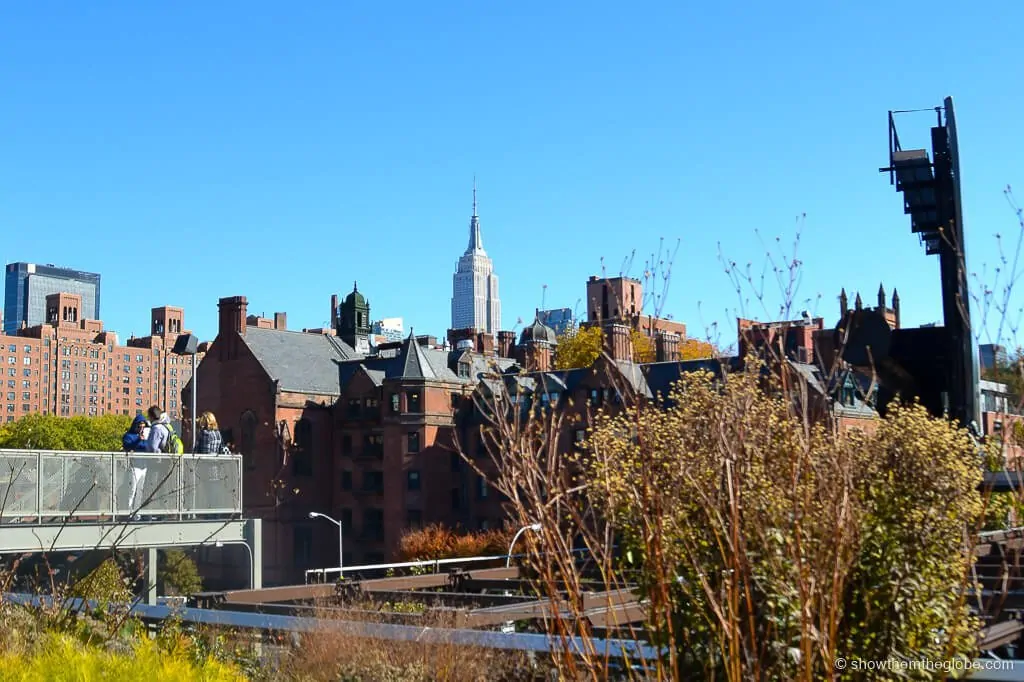 10 | Coney Island
Colourful, vibrant and fun, Coney Island is a Brooklyn gem with its beach, boardwalk, arcades, aquarium and amusement parks. The carnival atmosphere is contagious and there is a feeling of days gone by. J loved playing on the sandy beach and was fascinated with all the colours and sounds of the boardwalk and its amusement parks. An afternoon at Coney Island feels like taking a beach holiday from Manhattan and was a definite hit of our baby friendly vacation!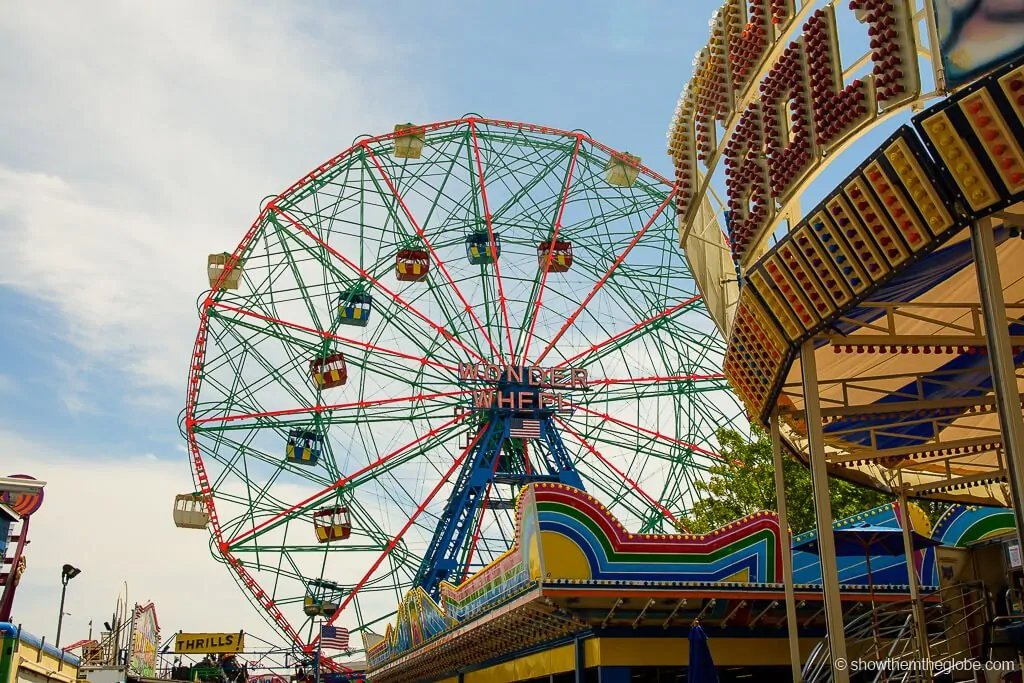 11 | Chelsea Market
Chelsea Market is crammed full of delicious eateries and unique stores and is a great place to while away a rainy afternoon in NYC or to take a break after a walk on the High Line.
Our favourite spot is Posman Books, an independent boutique bookstore with a great children's corner, indulging in ice creams at L'Arte del Gelato and browsing through the stalls at Artists and Fleas, a marketplace with over 100 vendors selling a mix of vintage and quirky.
Best things to do with a baby in New York tip: after picking up some fruit treats for J at the Manhattan Fruit Market in Chelsea Market we love to treat ourselves to some lobster at the renowned Lobster Place.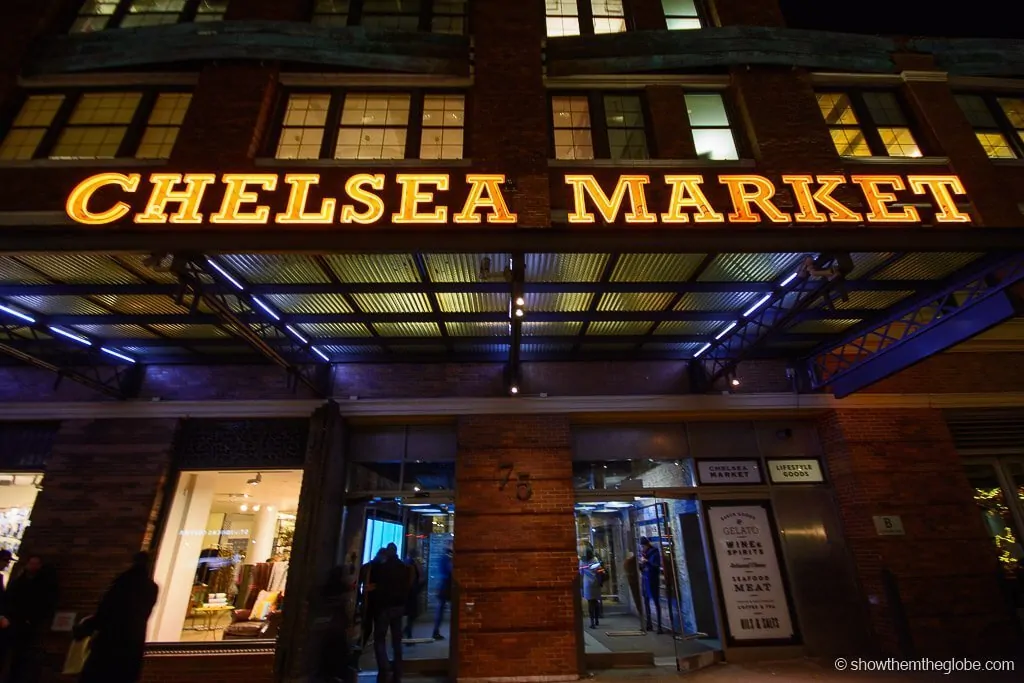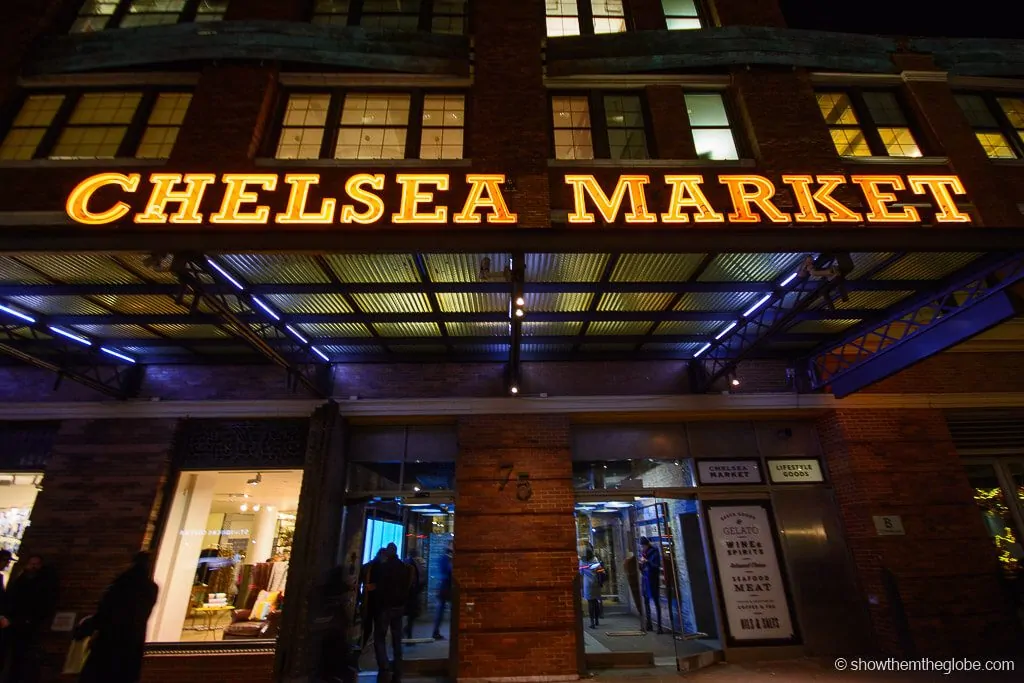 12 | Brooklyn Bridge
A New York icon, the Brooklyn Bridge links Brooklyn and Manhattan and walking across the Brooklyn Bridge is a must do while in NYC. The bridge is awash with commuters, runners, walkers, cyclists and tourists and there's a constant soundtrack of car horns, bicycle bells and music blaring from speaker wielding pedestrians! J enjoys a relatively late bedtime and we love catching a sunset with him on the bridge as darkness falls and the city lights begin to twinkle.
Things to do in New York with a baby tip: we recommend walking the bridge from Brooklyn to Manhattan as the views of Manhattan are incredible and One World Trade, the Empire State Building and the Chrysler all make appearances.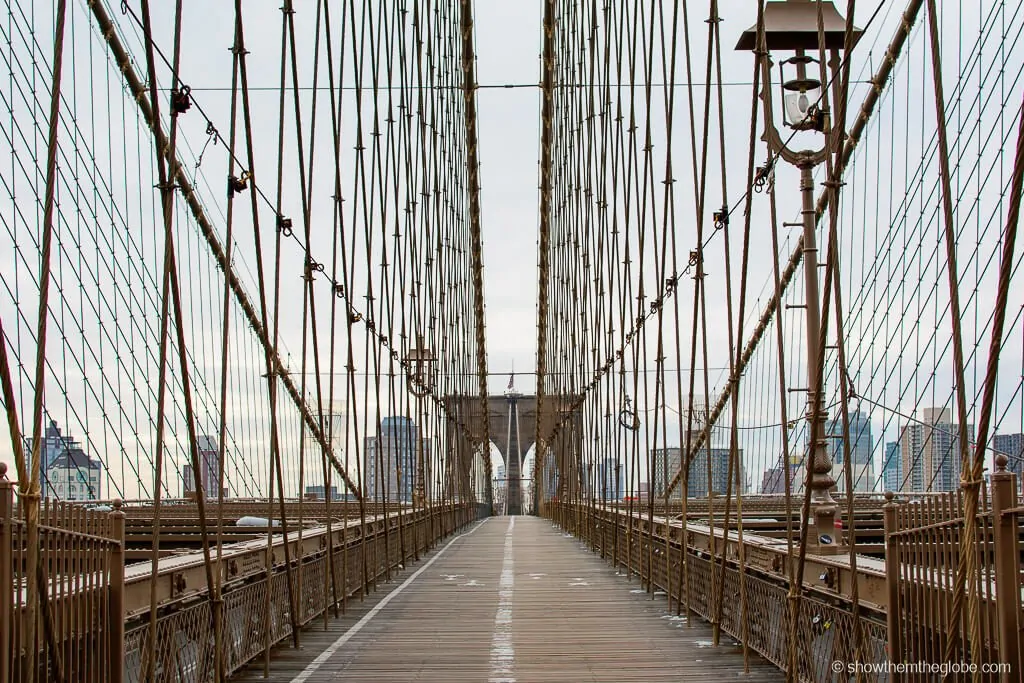 For more on New York family travel
Check out our other NYC family travel articles: