With easy access to two magnificent National Parks, the small town of Moab is a popular stop for families and there are lots of fun things to do in Moab with kids.
From kid-friendly trails to chasing dinosaurs and rafting on the mighty Colorado River, there is lots of adventure to be had in Moab. After an awesome trip to Moab, we wanted to share our 10 favorite things to do in Moab with kids. We hope you have as much fun in Moab with kids as we did!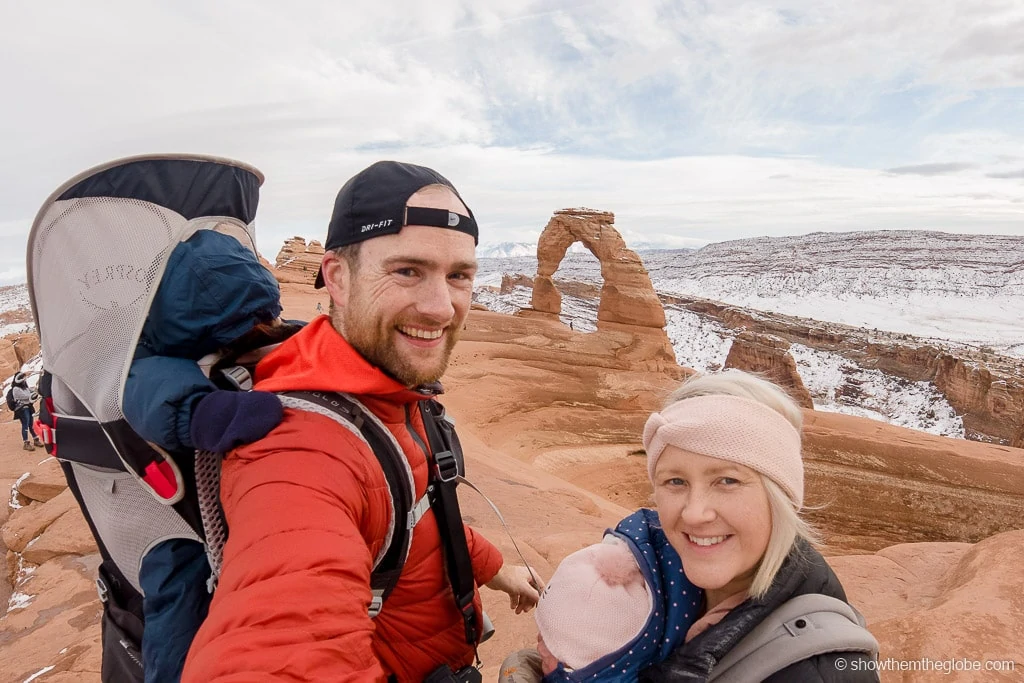 Things to do in Moab with kids
The small town of Moab, Utah is located close to two of Utah's Mighty Five National Parks, Arches and Canyonlands. The stunning Dead Horse Point State Park is only a 40-minute drive away. The town is a popular stop on a Utah National Parks Road trip and is a magnet for adventure seekers. There are lots of accommodation and food options, a great supermarket and some fun and quirky stores.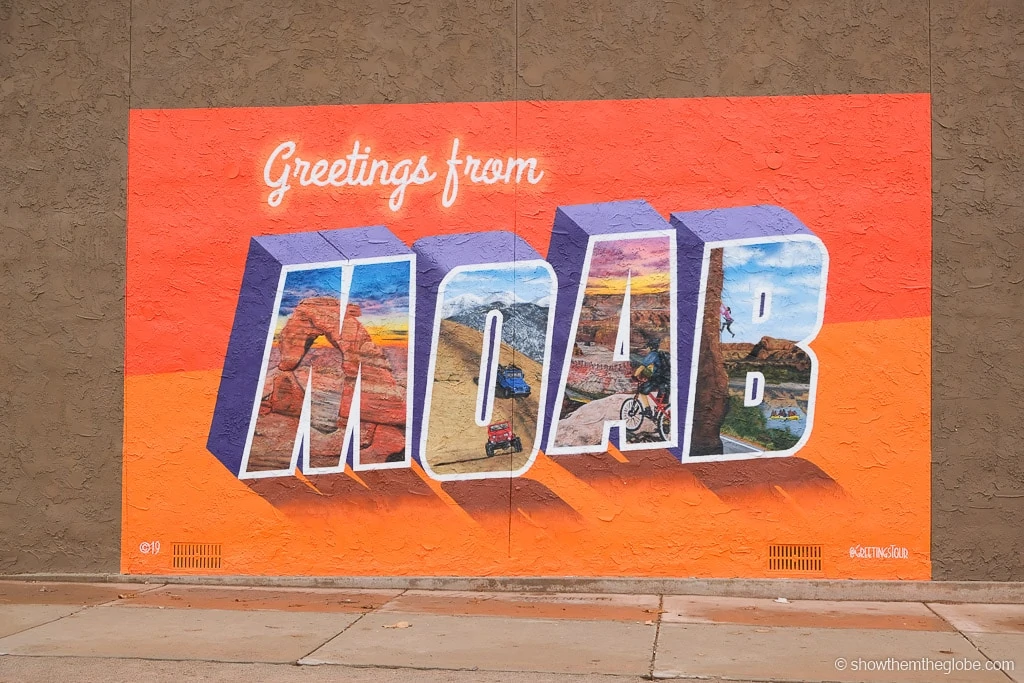 Where to stay in Moab
Springhill Suites Moab: both the Springhill Suites and the Fairfield Inn Moab are perfectly located for visiting all the Moab parks. Both offer modern rooms and a decent breakfast and the two properties share an outdoor pool which is awesome for some post hike relaxation! – check prices now!
Red Cliffs Lodge:set against the spectacular backdrop of towering red cliffs and the mighty Colorado River, Red Cliffs Lodge has a homely feel. Rooms are clean and comfortable and some are suitable for up to 6 guests – check prices now!
Devils Garden Campground:Arches only in park accommodation, the Devils Garden Campground has 51 sites. Sites can be reserved up to 6 months in advance from March through October. 25 sites are available on a first come first serve basis during the rest of the year.
Explore the Parks
Moab is a gateway to both Arches National Park and Canyonlands National Park: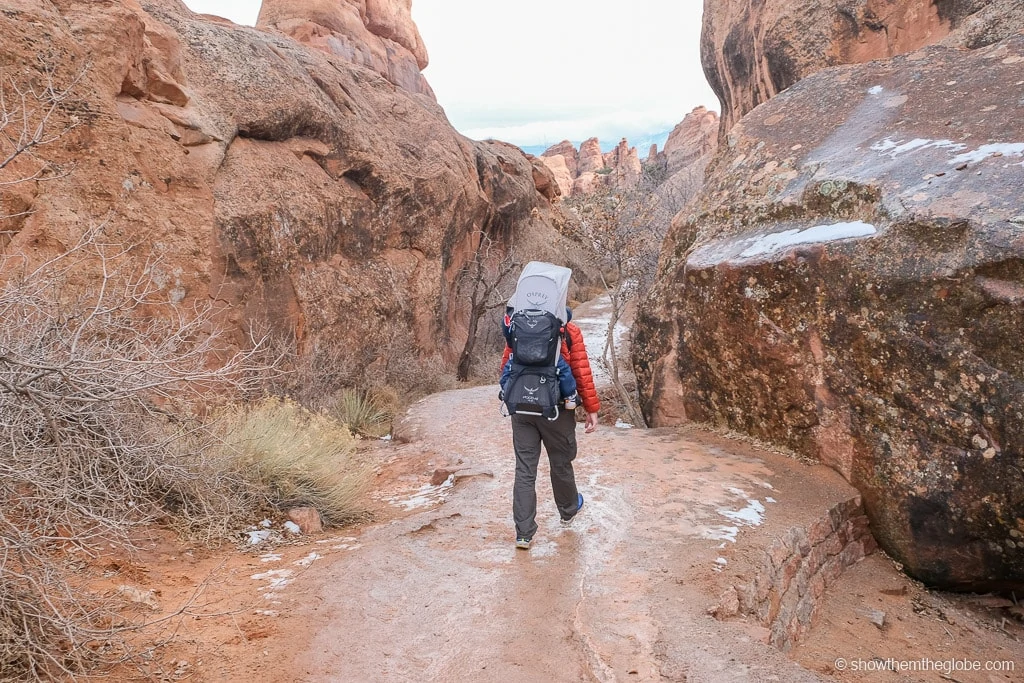 Hiking Gear with Kids
If you're planning a trip to the National Parks with kids we highly recommend investing in a backpack carrier. We use an Osprey Poco Plus child carrier
Hiking backpack for toddlers: our two-year-old can manage to walk about one mile in total so a hiking backpack was essential for this three mile round trip. As well as the distance, a backpack is great for the more challenging parts of the trail when we weren't comfortable with him walking solo. We use a Osprey Poco AG Plus and find it invaluable for hikes – check prices now!
Baby carrier for infants: we use a soft carrier for our 8 month old as she likes to hang out up front and it offers more support for younger babies who might nap on the longer trails. We use an Ergo Baby 360 and switch to facing in when it's windy or cold – check prices now!
1 | Arches National Park
With its incredible rock formations and awesome family-friendly hikes, Arches National Park is one of the best National Parks to visit with kids. One of the best things about Arches is that most of the trails are still accessible with kids and so families can still hike most of the trails.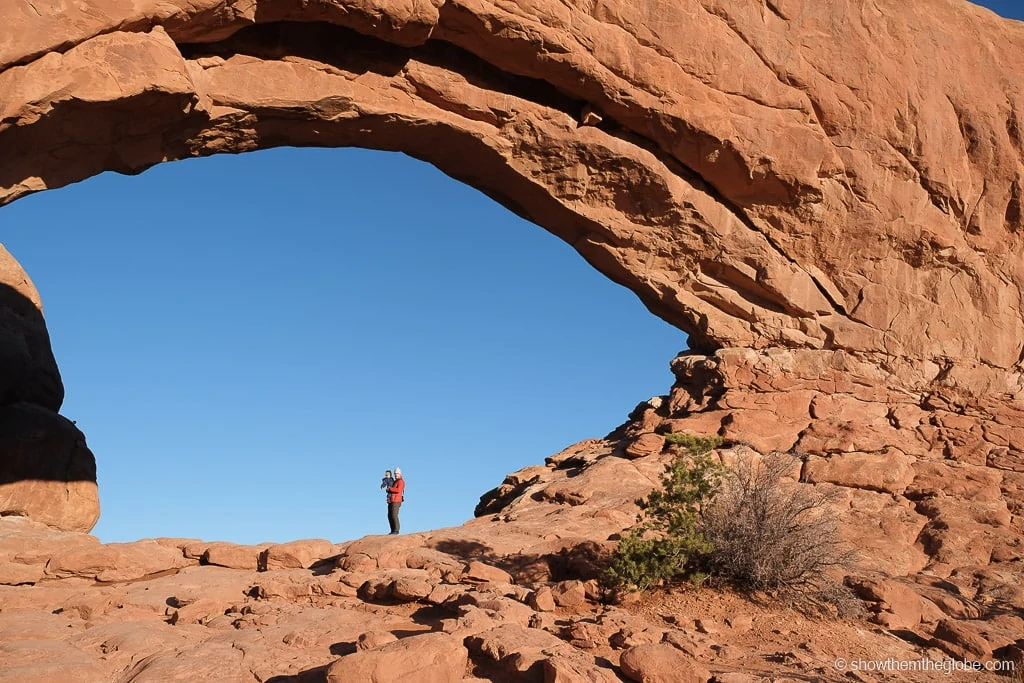 Our favorite hikes in Arches National Park with kids include Delicate Arch, instantly recognizable from its appearance on Utah licence plates and the Windows section where there are a collection of arches located close to each other. The fun and shaded trail to Sand Dune Arch and Landscape Arch, an easy trail which leads to the longest arch in the USA, are also great hikes. Balanced Rock, Park Avenue, Skyline Arch and the Courthouse Towers are also fantastic options for short stops and magnificent views.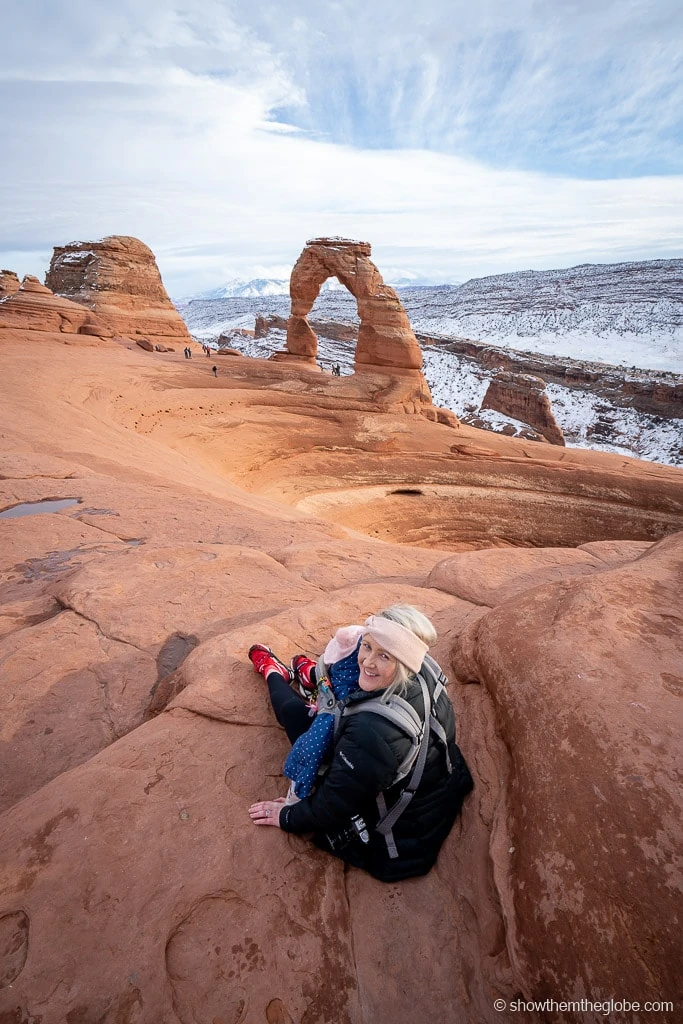 Arches 4×4 Tour
For a really unique visit to Arches it is possible to take a 4×4 UTV tour that includes some of the remote parts of the park that most visitors never see including Tower Arch and the red rocks at Marching Men and Eye of the Whale. (Plus you'll get to see actualy dinosaur footprints on the tour!)- check prices now!
Moab with kids tip: we loved hiking the 3 mile loop to Delicate Arch with kids. However, it's important to note, you will need to take extreme care with kids towards the end of the trail where there are exposed ledges. Read more about our hike to Delicate Arch with kids here.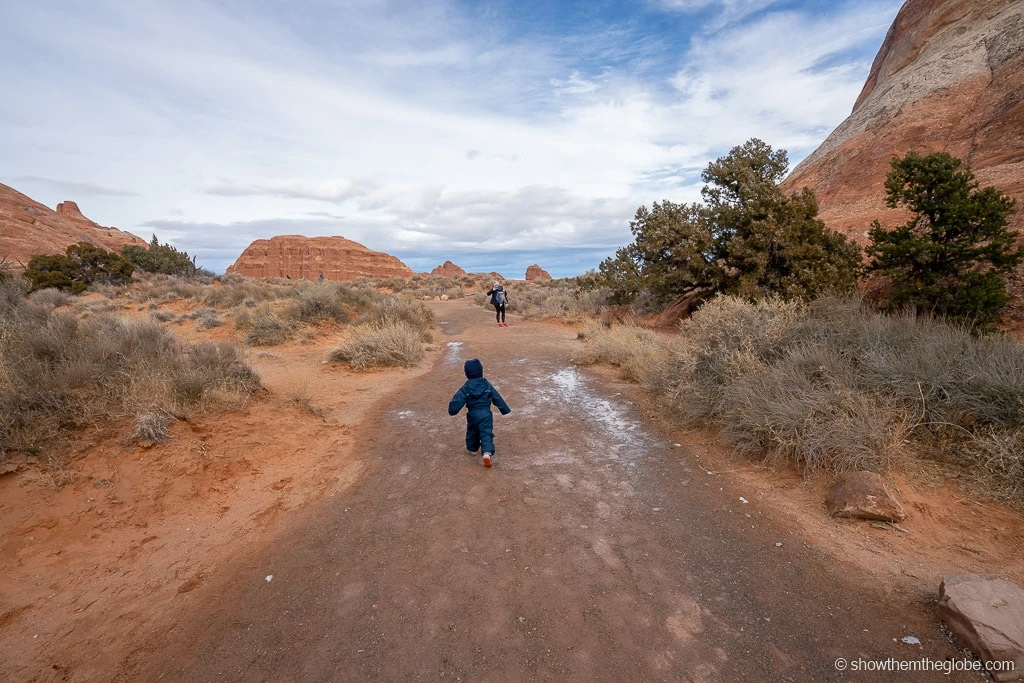 2 | Canyonlands National Park
Canyonlands National Park is the largest of Utah's National Parks and Island in the Sky, one of its four districts, is the most popular stop from Moab.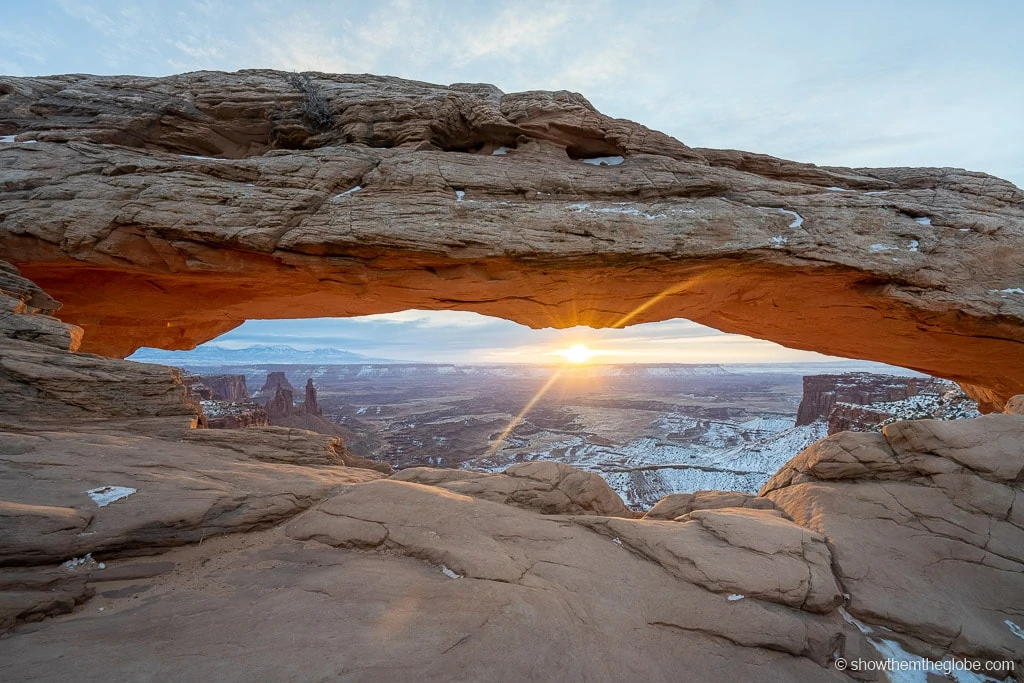 There are lots of scenic stops that are easily accessible on Grand Viewpoint Road and Mesa Arch, the most photographed arch in Utah, is a quick hike from the parking lot. If you want to stretch your legs on a longer hike, the White Rim Overlook is an easy 1.8 mile round trip with spectacular views.
Kids will also love the massive Whale Rock and it's only a 30 minute hike to the top for a spectacular view of the park. Shafter Canyon Overlook, at the Island of Sky Visitors Center, is another lovely viewpoint and overlooks the Shafter Canyon and the Shafter Canyon Road with its switchbacks.
Canyonlands 4×4 Tour
A fantastic way to explore Canyonlands is on a 4×4 Tour. Along with the Arches tour it is one f the most popular tours in Moab and an experienced guide takes visitors on a half day tour of Canyonlands National Park, including the Shafer Trail – check prices now!
Book your 4×4 Canyonlands Tour here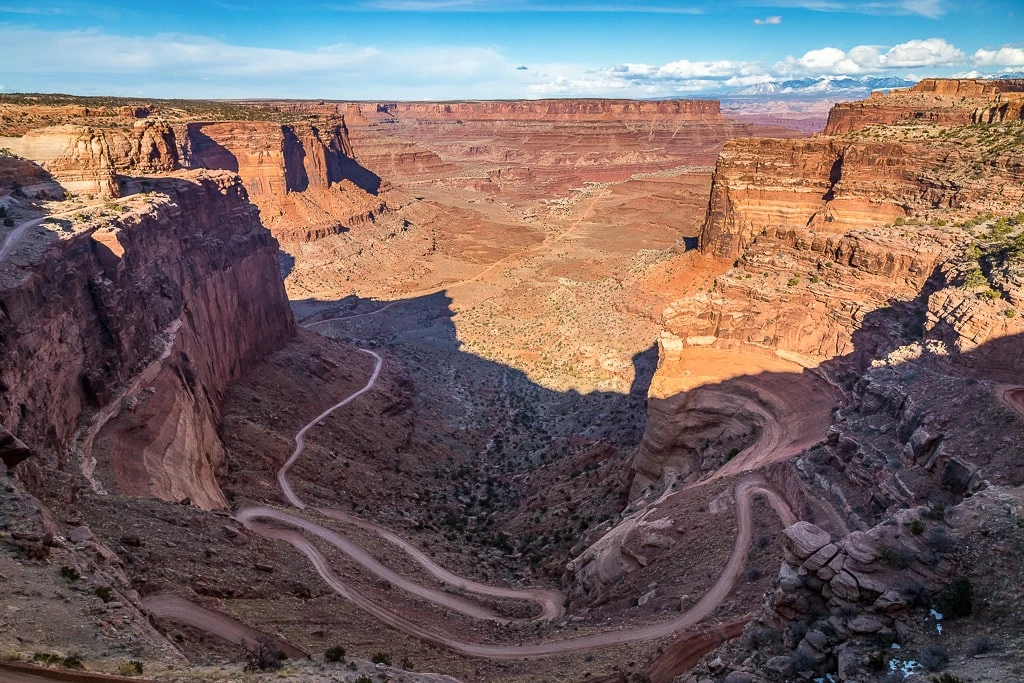 3 | Take a 4×4 off-road tour
Moab is famous for its off-roading and one of the best ways to explore the many routes in the area is on a UTV (utility terrain vehicle) tour. The tours are family-friendly and run by experienced 4×4 drivers. The main requirements are a driver over age 21 and the minimum age is 3 years old. The Hell's Revenge tour is the most popular in Moab and regularly sells out so it's advised to book it early during peak periods.
The tour runs mornings, afternoons and sunset tours and an experienced guide leads all vehicles on the route. The tour – check prices now!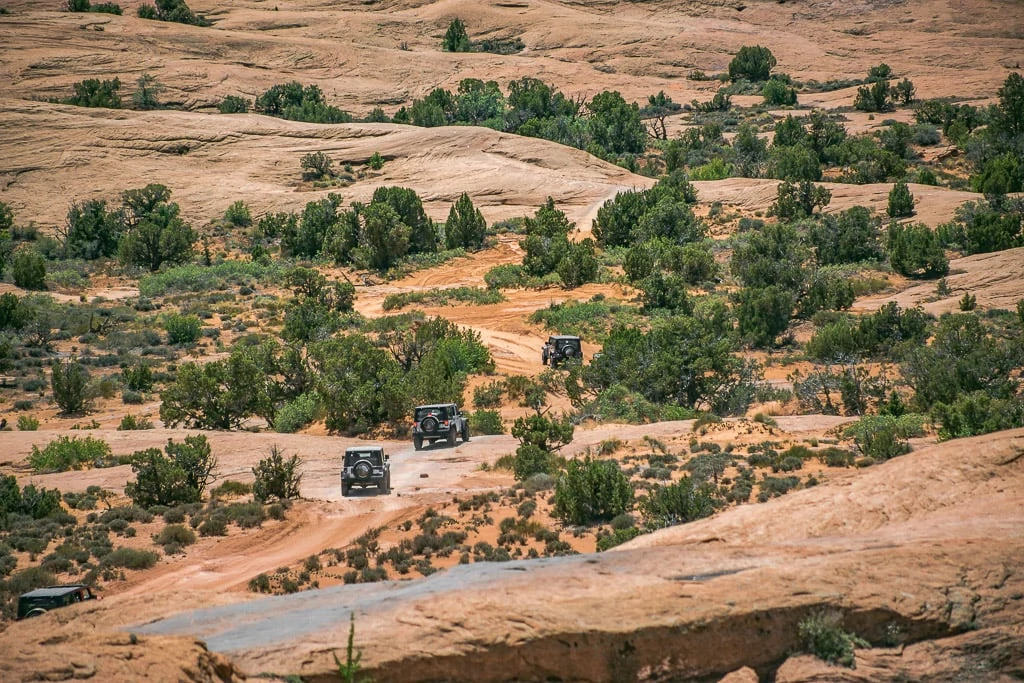 4 | Dead Horse Point State Park
With its vantage point 2,000 feet above Colorado River, Dead Horse Point State Park is renowned for its spectacular vistas. The Dead Horse Point Overlook has incredible views over a scenic bend in the Colorado River and there is a family friendly trail near the Visitors Center if you want to explore further.
Moab with kids tip: Dead Horse State Park is a 40 minute drive from Moab or 25 minutes from Island of the Sky in Canyonlands. It only took us a few hours to visit but the spectacular views are more than worth it.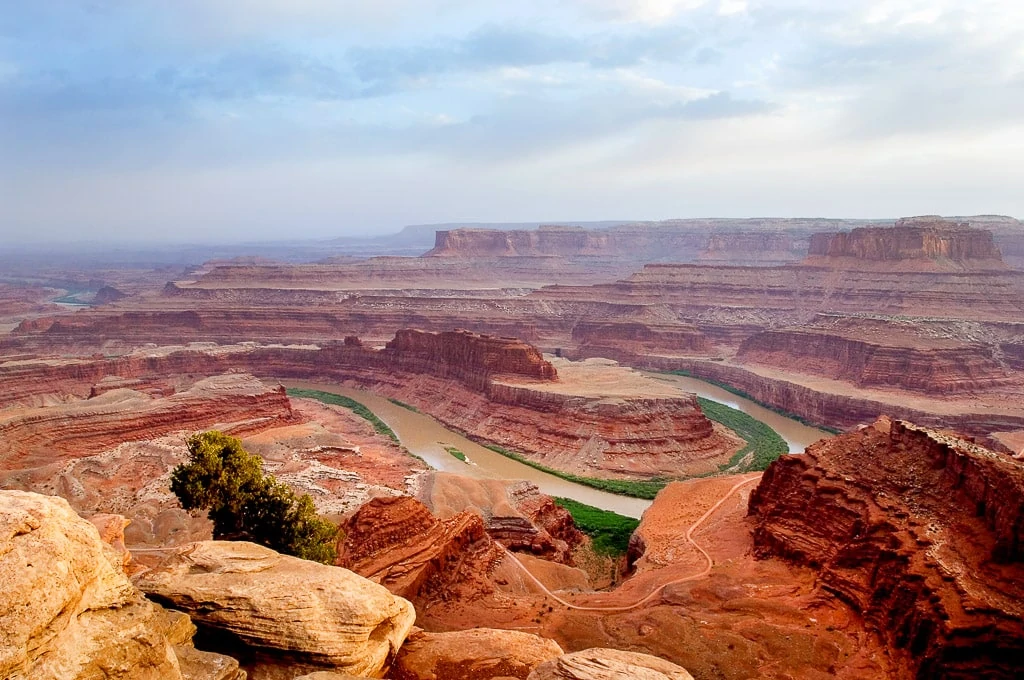 5 | Become a Junior Ranger
Make sure to check out the Junior Ranger Programs which are run in Arches, Canyonlands and Dead Horse Point. After completing a series of park based activities, kids are awarded a Junior Ranger badge and certificate. The activities really help to engage kids during park visits. They are aimed at 5 to 13 year olds but all ages can participate.
Follow in the footsteps of the Dinosaurs
150 million years ago dinosaurs roamed through the valleys of Moab and there have been many dinosaur discoveries in the area making it an awesome town for dinosaur fans.
6 | Mill Canyon Dinosaur Trail
The Mill Canyon Dinosaur Trail is just 15 miles north of Moab. The short trail contains dinosaur fossils dating back 150 million years and there are bones and tracks visible on the trail. The dinosaur remains, which include stegosaurus and allosaurus, were fossilized in the Morrison Formation Rock layer which became exposed over time and the remains are now visible along the trail.
7 | Moab Giants
This dinosaur park and museum is a must for dinosaur fans. Younger kids will be mezmerized by the 100 full size replica dinosaurs in the museum's desert landscape. There is also a prehistoric aquarium, a dinosaur themed playground and sandpits where kids can dig out and discover dinosaur fossils – check prices now!
Moab with kids tip: the Moab Museum is another great place to learn more about the dinosaurs in Moab as well as the history of Moab itself.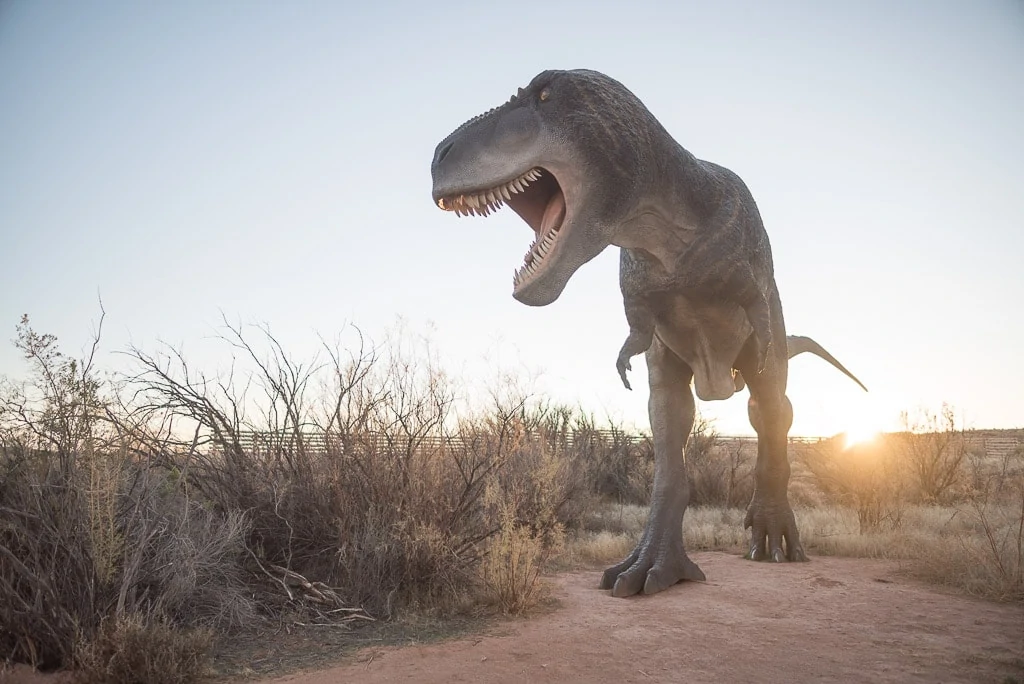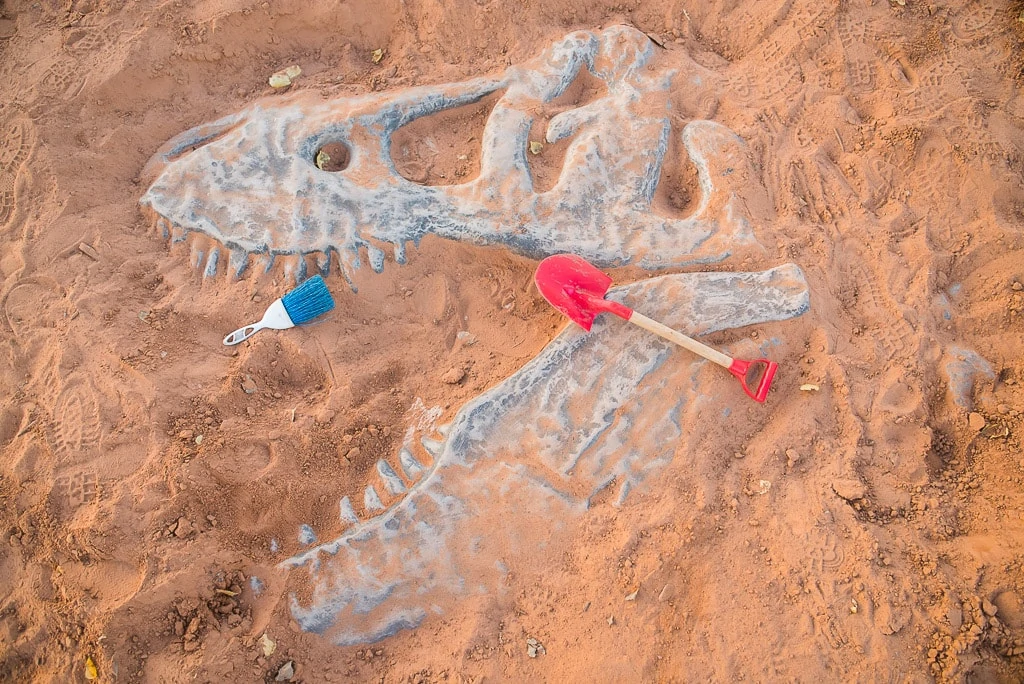 8 | Rafting on the Colorado River
Surrounded by towering red canyons and stunning desert landscape, rafting on the mighty Colorado River is an incredible experience in Moab with kids. The river mellows out at the Fishers Tower section close to Moab and the Class I and Class II rapids mean this part of the river is perfect for families. Floating alongside the magnificent Arches National Park, swimming in the Colorado River and picnics on the river banks make for an idyllic experience.
One of the most popular rafting tours from Moab is the half day tour to Fisher Towers. FIsher Towers is considered one of the most beautiful parts of the Colorado river, so it's no wonder this is one of the most popular tours from Moab – check prices now!
Note: This tour is more suitable for older kids as the mininum age/weight is 8/50lbs.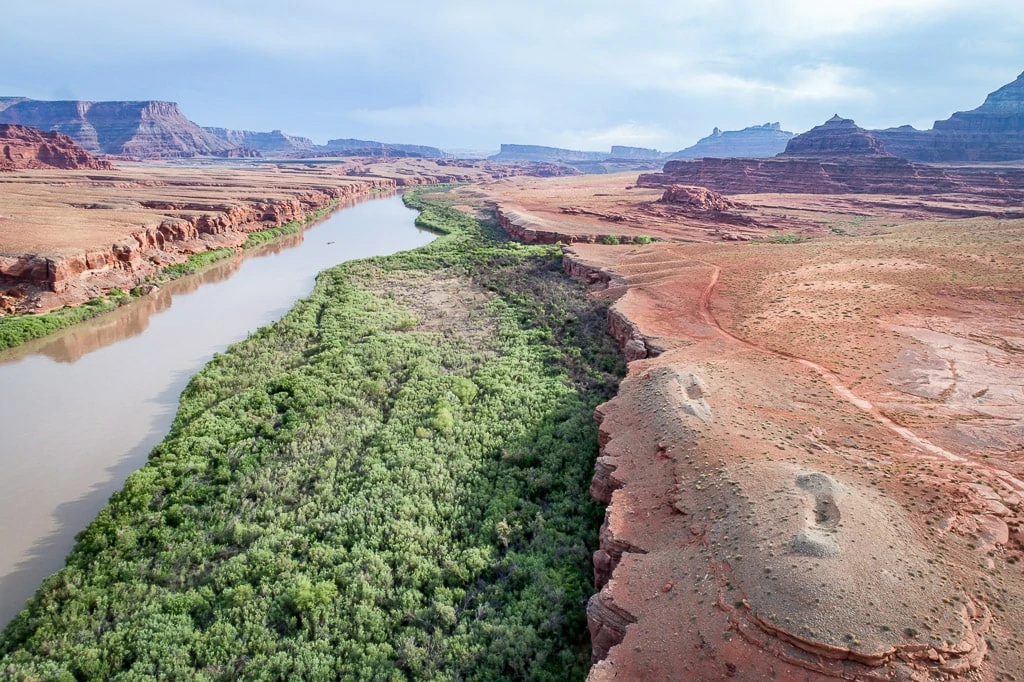 9 | Rotary Park
Located along the river, Moab's Rotary Park is perfect for families and a great spot for some downtime in Moab. Kids will love the giant musical instruments and the park's playground.
10 | Rock Art
There are various sites in Moab where you can check out ancient rock art created by the prehistoric Fremont and Ancestral Puebloan people who were natives of Moab and lived and farmed its land. The rock art is a mix of petroglyphs scored on the rock surfaces and pictographs which are colored paintings and drawings. Our favorite rock art sites in Moab include:
Courthouse Wash: a mix of petroglyphs and pictographs can be seen at Courthouse Wash. The drawings depict figures including bighorn sheep, human forms and scorpions. Although part of Arches National Park, it can be accessed from a parking lot one mile north of Moab close to the Colorado River Bridge.
Wolfe Ranch: close to the parking lot for the Delicate Arch trail in Arches National Park, the historic Ute rock art drawings are believed to have been carved between 1650 and 1850. The Ute rock art panel can be combined with the historic Wolfe Ranch and the full trail to Delicate Arch.
Potash Road: the spectacular drive, surrounded by towering red sandstone, is home to arches, canyons, dinosaur tracks and rock art. There are signs on the road directing to 'Indian Writing' where petroglyphs depict a bear and hunters while other stops include petroglyphs of paper doll cut outs.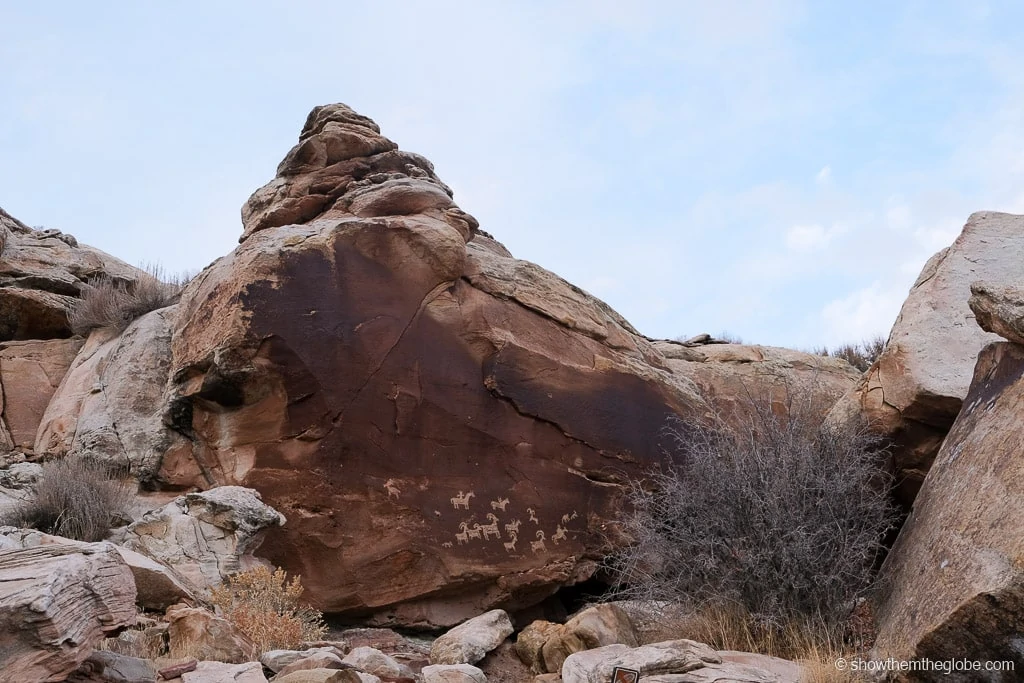 11 | Grandstaff Canyon Trail
If you're taking a break from the parks but still feel like a hike, the four mile Grandstaff Canyon Trail is a great half day hike with kids. The trail to the small desert canyon is shaded and kids will love the stream crossings and the waterfalls along the hike. The hike passes the Morning Glory Natural Bridge, the sixth largest natural rock arch in the USA, which runs parallel to the canyon walls.
Moab with kids tip: there is poison ivy along the trail so keep an eye out for it and make sure that kids do not touch.
12 | Moab Rock Shop
The Moab Rock Shop, with its huge collection of minerals, fossils and rocks, is a treasure trove for kids. There are tables full to the brim of rocks and fascinating displays including fossils which the owner himself has discovered. It is the perfect souvenir stop for kids!