We travel to Paris regularly with our 5-year-old and 3-year-old and, as such, we've spent a lot of time exploring the best playgrounds in Paris! Whether we're visiting the Louvre or the Eiffel Tower we always try and find an awesome Paris playground to make the day more fun. Read on for a guide to the best playgrounds in Paris!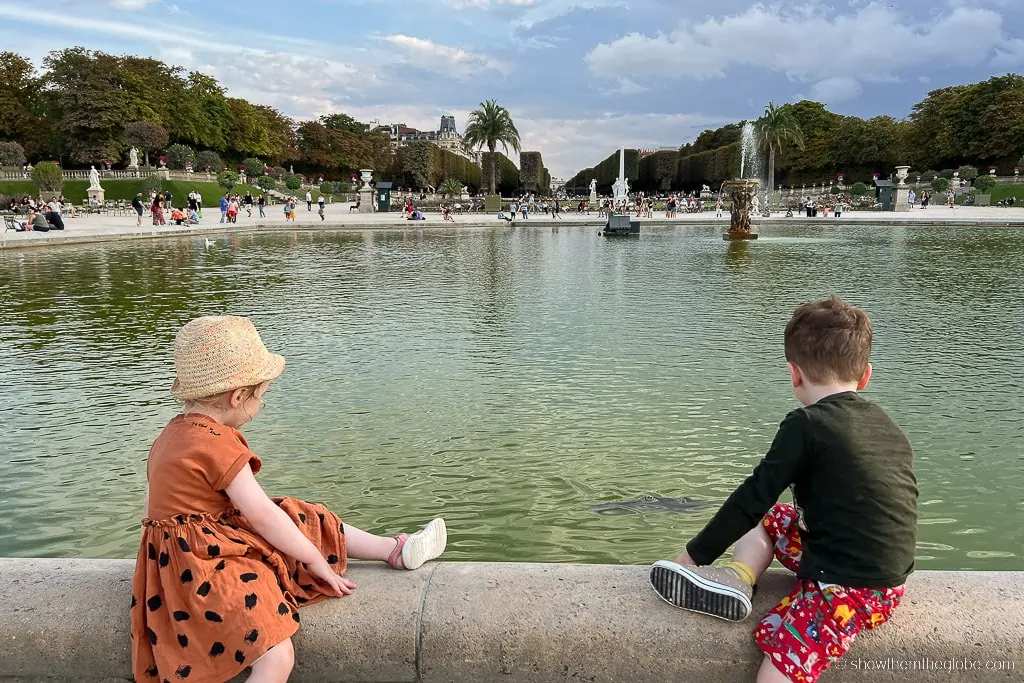 The Best Playgrounds in Paris
We've spent a lot of time in Paris with our young kids and found each of these playgrounds to be perfect for splitting up the sightseeing in the city.
Parc de la Villette
With two fantastic playgrounds featuring a giant dragon slide and a Hobbit-style play area with rolling dunes, Parc de la Villette is both my 5 and 3-year-old's top pick of the Paris playgrounds.
Best Playgrounds in Paris tip: as well as the two playgrounds there are other fun stops in the 55 acres of green space in Parc de la Villet. It is home to the Cité des Sciences et de l'Industrie, the biggest science museum in Europe and the Garden of Mirrors, the Garden of Trellises and the Bamboo Garden are among the 12 themed gardens in Parc de la Villet. Remember to check out the schedule of exhibitions in the Great Hall – our kids loved the 2022 Pop Art exhibition which featured inflatable and interactive art.
1 | Jardin du Dragon / Dragon Garden
Cost: Entry is free to Jardin du Dragon
The highlight of Jardin du Dragon is the colourful dragon structure which towers over the park. Kids climb across the giant steel and rope structure and venture inside the dragon before emerging from the dragon's mouth and whizzing down the 25-metre chute slide to the ground below.
Best Playgrounds in Paris tip: the dragon slide is designed for kids age 8+ (it requires climbing, is high and kids are out of sight for quite a while). We did see parents accompanying younger kids through the climbing structure and on the slide.
There are smaller climbing structures, merry-go-rounds and animal rockers for younger kids.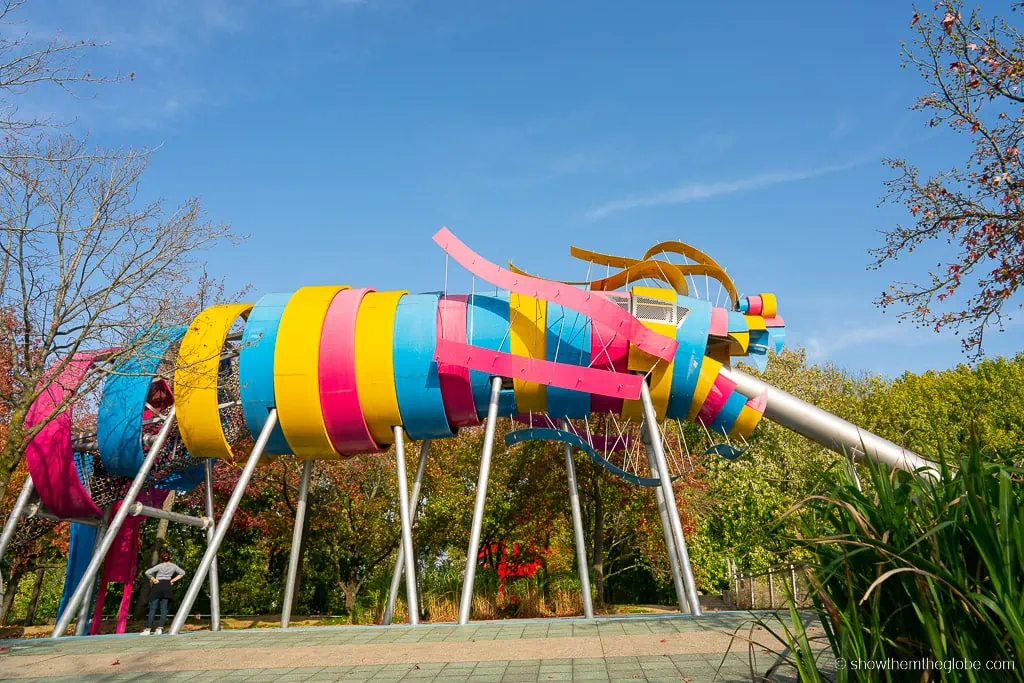 2 | Folie des vents et des dunes / Garden of Wind and Dunes
Cost: Entry is free to Folie des vents et des dunes
Parc de la Villette's second playground, Folie des vents et des dunes, is located across the canal from Jardin du Dragon. The playground is divided into play zones for different age groups and kids have so many play options to choose from – there are ground-level trampolines and bouncy castle-style sections, swings, spinning hamster wheels, zip-lines, climbing structures and slides.
There's also a Hobbit-like section with lush green rolling dunes which my 5-year-old makes a beeline for on every visit!
Best Playgrounds in Paris tip: the playground is accessed through the red building close to the carousel and entry is gated and monitored – at busy times you might have to wait to enter.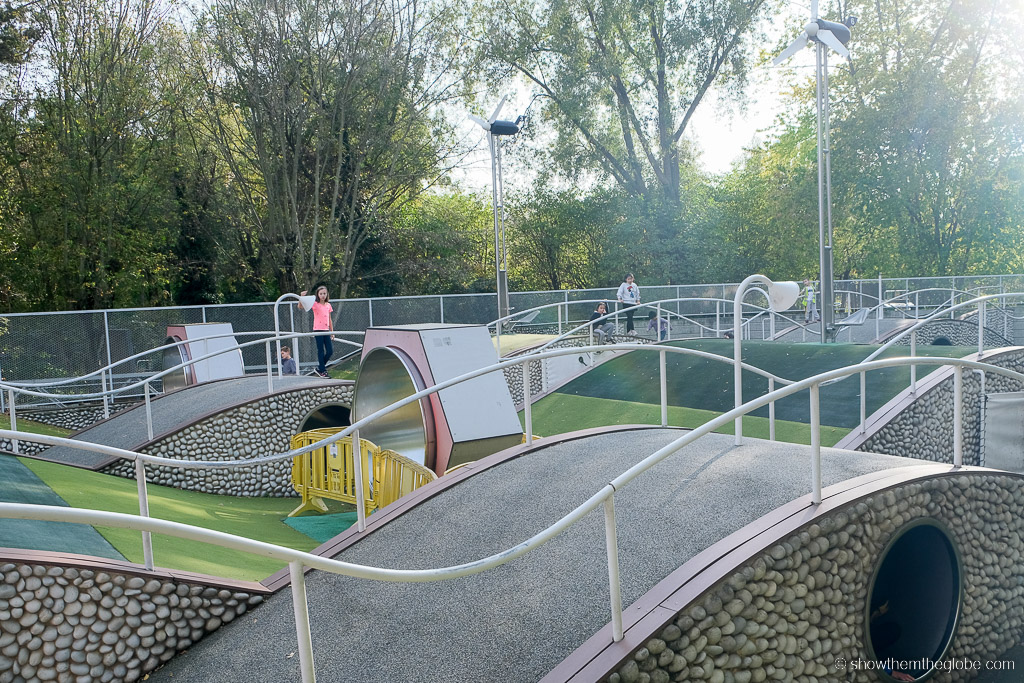 Jardin du Luxembourg
The majestic Jardin du Luxembourg is one of the most beautiful parks in Paris. Inspired by the Boboli Gardens in Florence, Jardin du Luxembourg was dedicated to the children of Paris by Napoleon. As such, there is lots for kids to do in Jardin du Luxembourg – as well as the playground, there are puppet shows at Theatre du Luxembourg, model sailboats for rent at the Grand Bassin pond and a traditional carousel to ride.
3 | Ludo Jardin
Cost: Entry is Eur 3 for children and Eur 1 for adults
Fenced off from the main Jardin du Luxembourg, Ludo Jardin is one of our favourite playgrounds in Paris.
For older kids (including our 5-year-old), the towering climbing fort with its chute slide, the zipline and the timber fort is sure to be a highlight.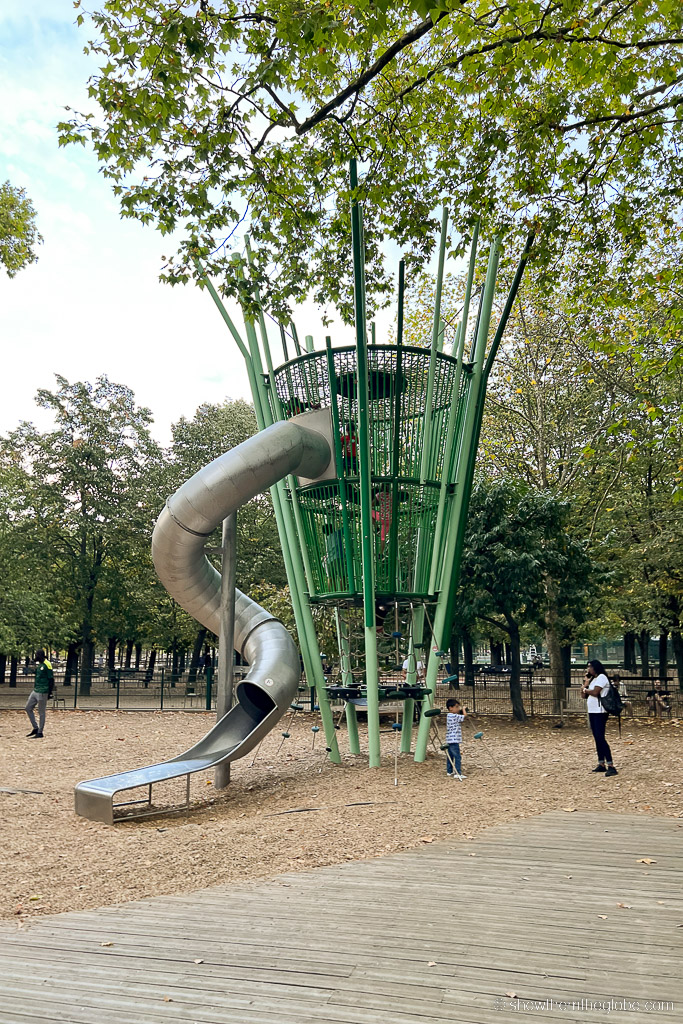 There's also plenty of equipment to keep younger kids entertained – my 3-year-old loves the mini obstacle course with its balance beams and net bridge as well as the animal rockers.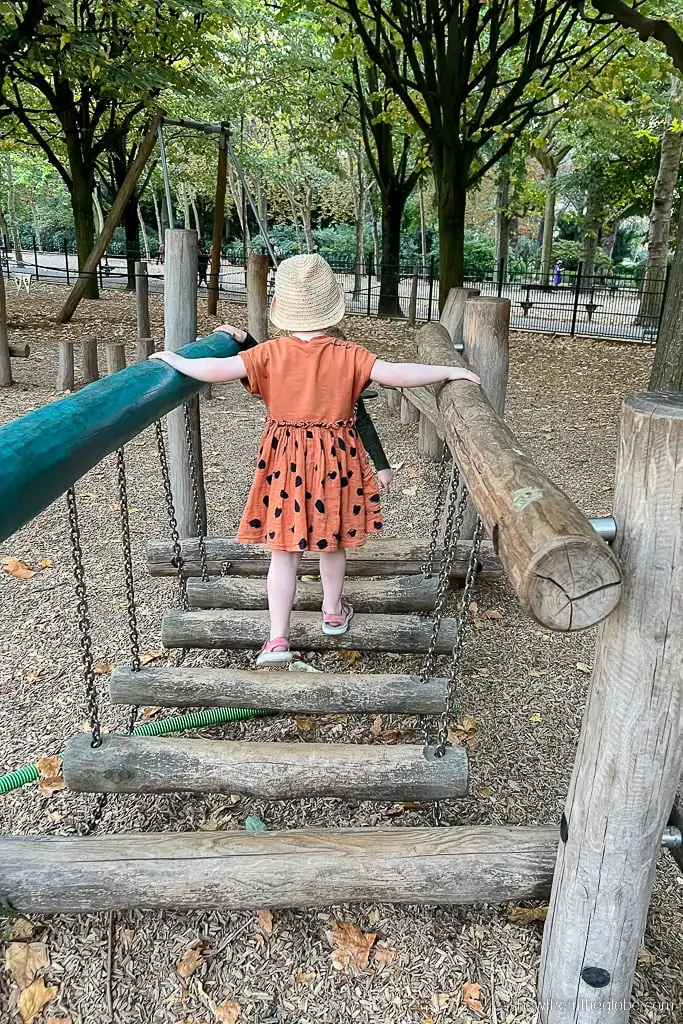 The giant sandpit with its diggers and pulleys are sure to appeal to all ages.
Jardin du Tuileries
If it's your first (or tenth!) visit to Paris, chances are the Louvre will be top of your list of things to do in Paris. Home to masterpieces including the Mona Lisa, the Venus de Milo, the Coronation of Napoleon and the Wedding at Cana, the Louvre is the most visited museum on the planet. Tickets sell out well in advance, especially during busy travel times – check ticket prices here!
Buy your timed entry tickets to the Louvre here
The wonderful Jardin du Tuileries is located in front of the Louvre and has one of the best playgrounds in Paris. The park itself is stunning and filled with manicured lawns and hedges, bronze sculptures, ponds and fountains.
4 | Aire de Jeux
Cost: Entry is free to Aire de Jeux in Jardin du Tuileries
Aire de Jeux is a wonderful playground in Jardin du Tuileries. Located in a fenced area of the park, the Aire de Jeux is a fun play stop after enjoying the Louvre. The highlight of the playground is a huge netted climbing structure with a chute slide which towers over the rest of the park. There's also some equipment for younger kids including smaller slides, rockers and balance beams.
Best Playgrounds in Paris tip: our 5 year old and 3 year old absolutely love the climbing frame although our 3 year old needs some assistance to make it safely up the metal ladder to the netted bridge. Once at the top the netted bridge is enclosed and you can watch your children as they cross over to the slide.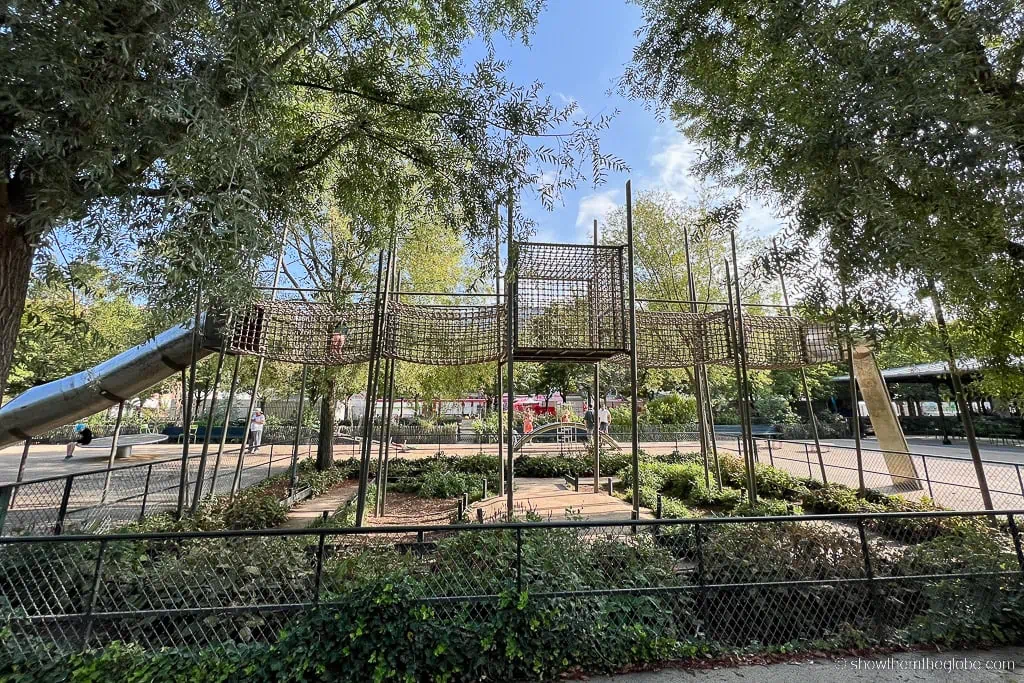 The 3 Eiffel Tower Playgrounds
Visible from all across the city, the iconic Eiffel Tower is a must-visit in Paris. Our kids love to visit the summit – if you need tickets, make sure to check out our guide on how to buy Eiffel Tower Summit tickets and secure tickets even on sold-out days.
The Eiffel Tower is within easy walking distance of three (yes, 3!) fun playgrounds – you can even try and have your kids spot them from the summit! There is also a beautiful carousel across the street on Quai Jacques Chirac which sits under the stunning backdrop of the Eiffel Tower.
5 | Jardin d'enfants, Trocadero Gardens
Cost: Entry is free
The Trocadero Gardens are a short walk across the Seine from the Eiffel Tower. You'll find a small little fenced playground, the Jardin d'Enfants, just off Avenue des Nations Unies, the main road adjacent to the Gardens.
The playground has some fun climbing structures and slides for younger kids together with a large climbing net for older kids.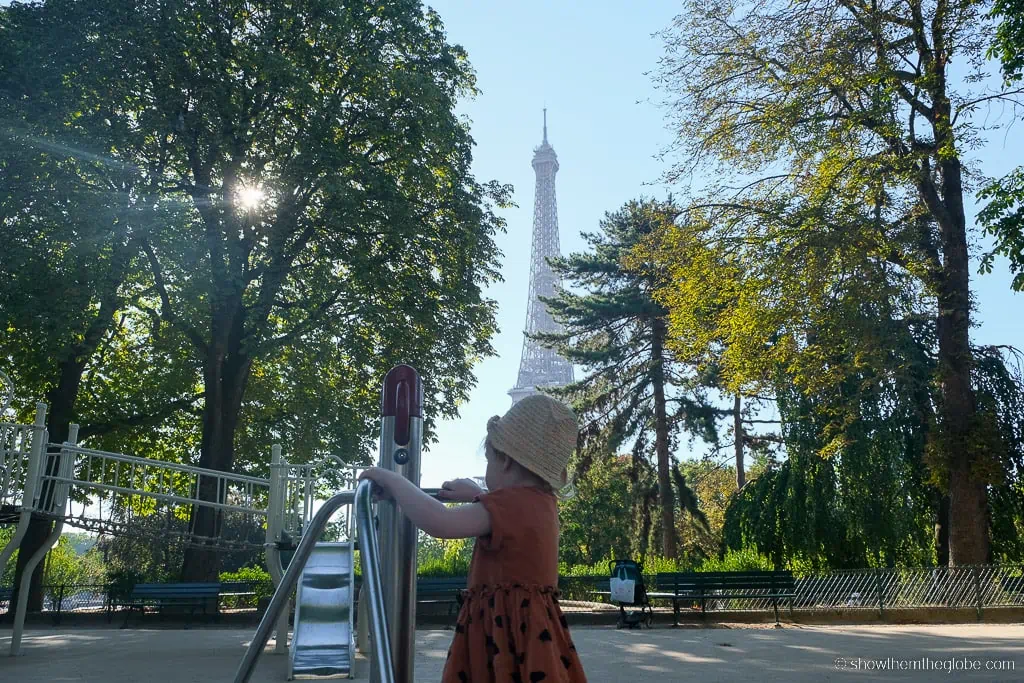 6 | Avenue Charles Risler/ Avenue Pierre Loti
Cost: Entry is free
There are two separate playgrounds located at the intersection of Avenue Charles Risler and Avenue Pierre Loti.
The first, located adjacent to the Creperie and Kiosk, is best for younger kids and has a fantastic sandpit and a small climbing frame and slide.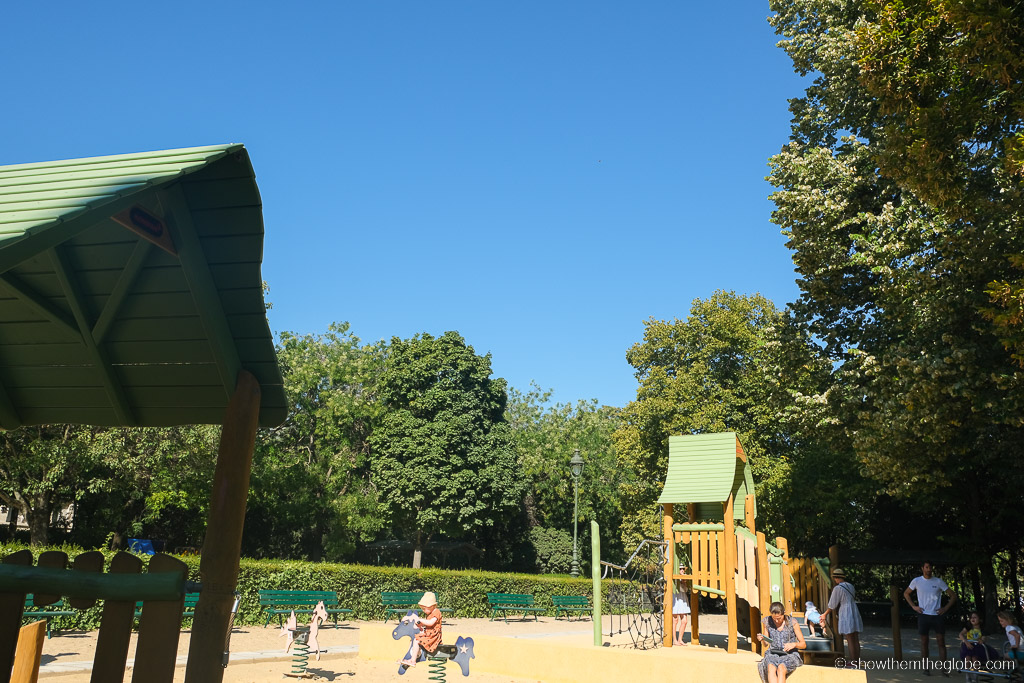 The second playground, located just across the path, has a fun train and some climbing structures suitable for toddlers and young kids. There is also a more challenging climbing frame.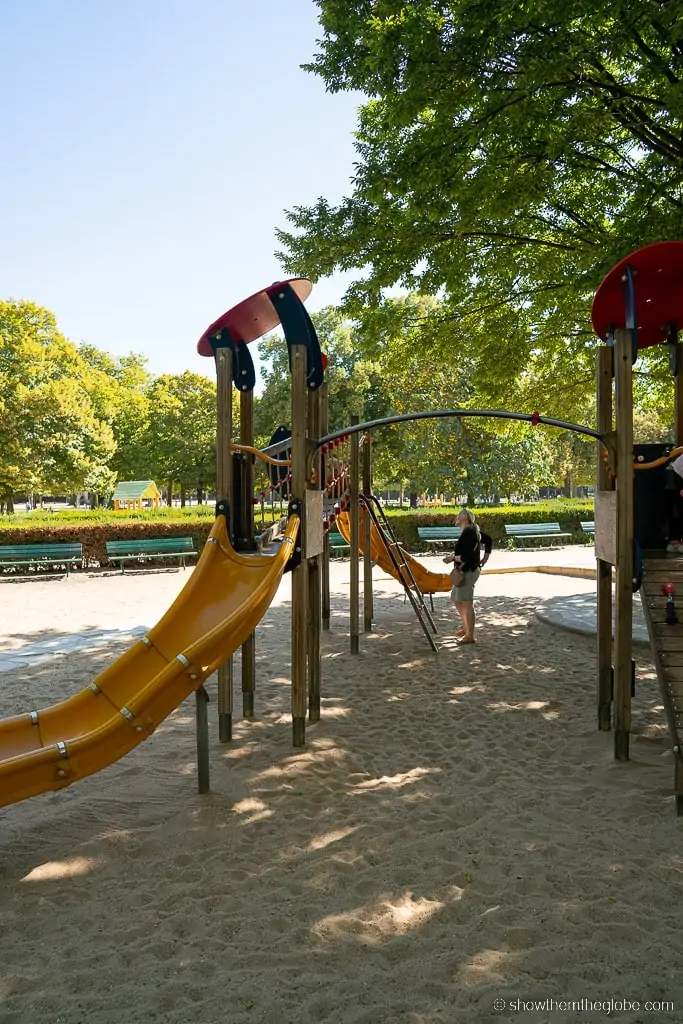 7 | Allée Thomy Thierry / Avenue Octave Gréard
Cost: Entry is free
If you have toddlers then check out this tiny playground under the shadow of the Eiffel Tower. There's a small slide and climbing frame which will likely appeal to very young kids.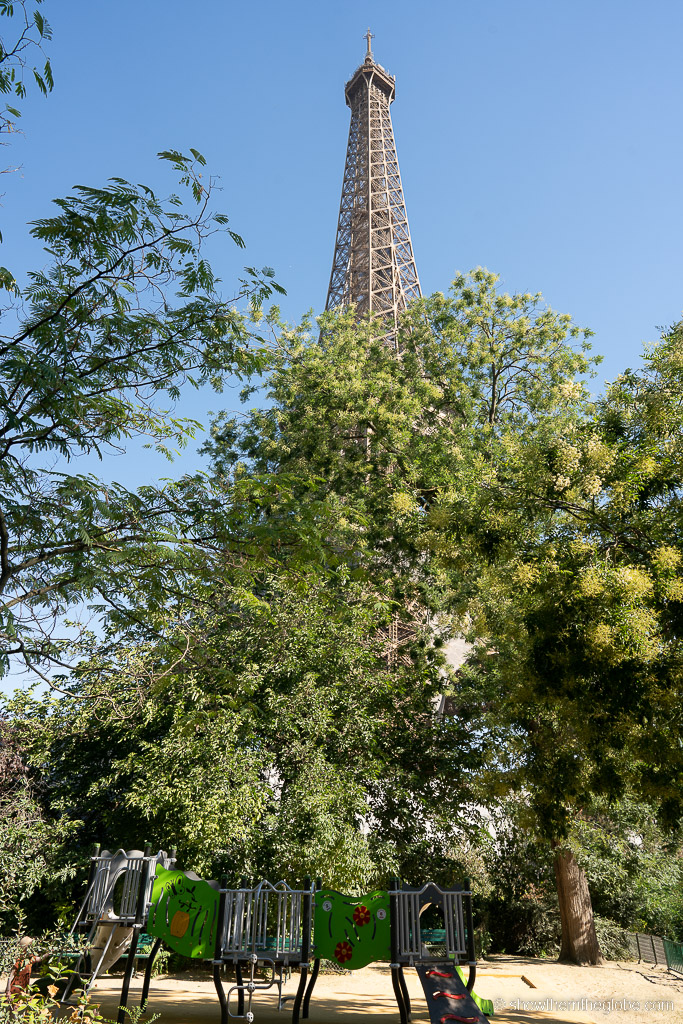 Jardin d'Acclimation
If you are visiting Paris with kids then you might want to check out the Jardin d'Acclimation amusement park with its 42 rides which range from carousels to rollercoasters – our young kids absolutely love it and insist we visit even when we're going to the nearby Disneyland Paris the next day!
If you plan on visiting the amusement park then make sure to pick up an unlimited ride pass before you go as it's heavily discounted compared to buying individual rides on the day – check prices here!
Buy your Jardin d'Acclimation tickets here
There is also an awesome playground and splash park that is free to enter within Jardin d'Acclimation once you have a basic entry ticket.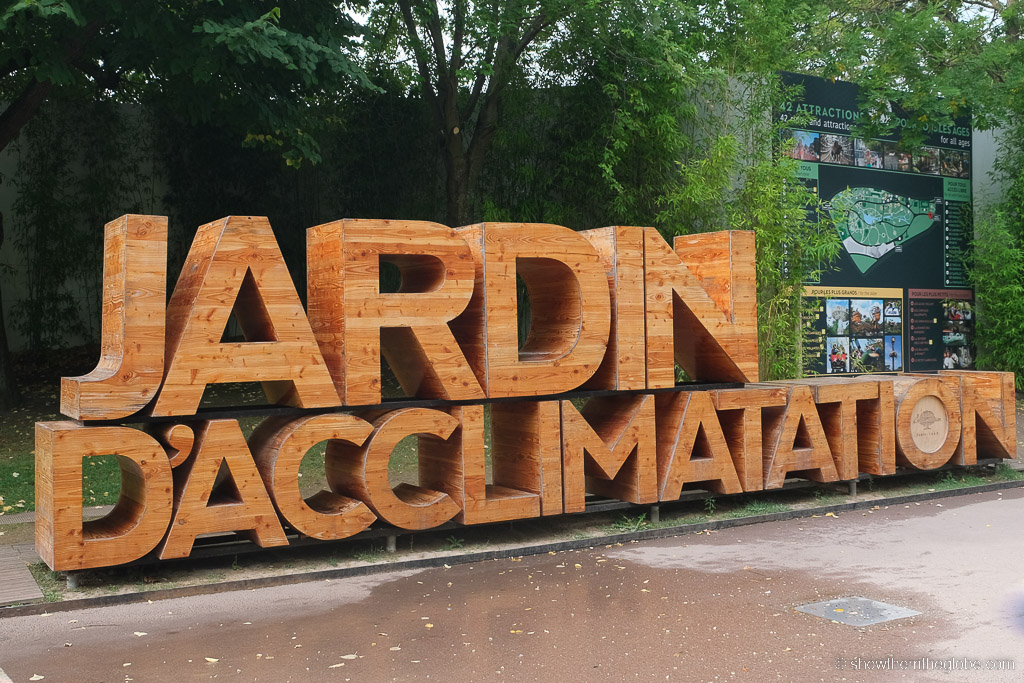 8 | The Playground at Jardin d'Acclimation
Cost: Entry to the playground requires a EUR 7 entry ticket to Jardin d'Acclimation or with entry included in the unlimited ride pass
On a summer's day the splash pad is the main attraction at Jardin D'Acclimation. It's surrounded by fun playgrounds with climbing nets, rope bridges, swings and a spider's web.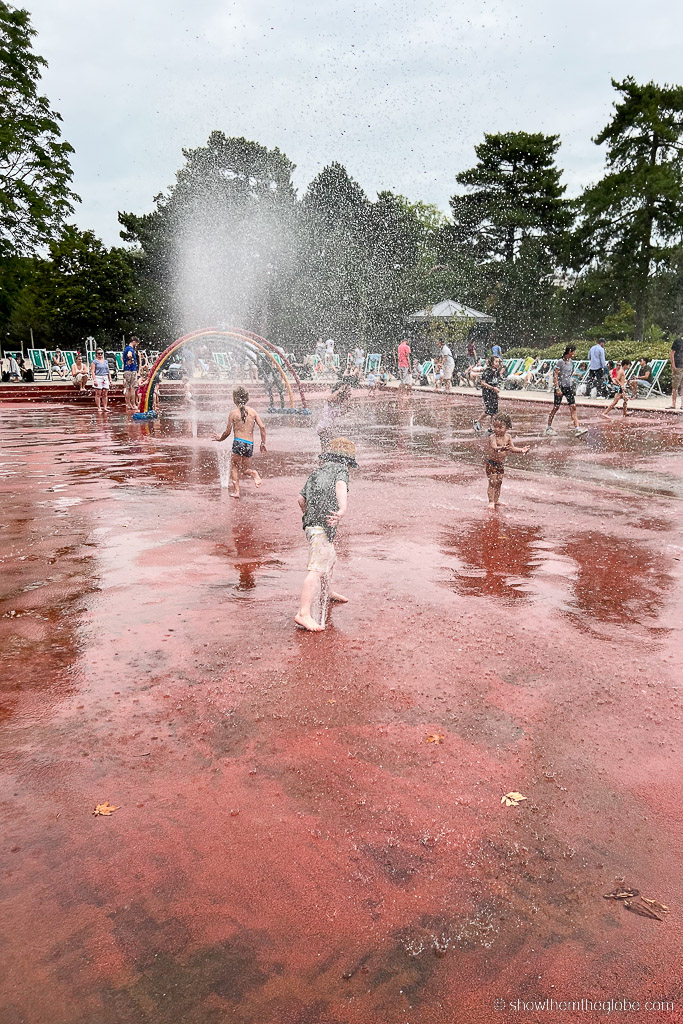 Map of the Best Playgrounds in Paris
We've put together this map with all the best playgrounds marked on it to save you time during your time in Paris.