Dubai is the perfect location for tiny adventurers and we loved the variety of things to in Dubai with toddlers. We travelled to Dubai with baby J when he was one year old and together, we explored its glittering skyscrapers, beautiful beaches and toddler-friendly sights.
Dubai is an awesome choice for a family vacation and we've put together our guide to the best things to do in Dubai with toddlers!

12 fun things to do in Dubai with toddlers
Dubai was a big hit with J and he was fascinated by its skyscrapers, extravagant displays and beautiful nature. Our favorite things to do in Dubai with toddlers include:
1 | The Flamingos at the Ras Al Khor Wildlife Sanctuary
A visit to the Ras Al Khor Wildlife Sanctuary is one of our favourite things to do in Dubai with toddlers. The sight of hundreds of pink flamingos feeding and chattering on a marshy wetland so close to the skyscrapers of Dubai is spectacular to see.
There are 3 viewing platforms located on the perimeter of the sanctuary known as Flamingo, Mangrove and Lagoon Hides. The air-conditioned viewing platform of Flamingo Hide offers amazing views of the flamingos while Mangrove and Lagoon Hide are great for birdwatchers hoping to catch a glimpse of some of the 170 species of birds in the Sanctuary.
Best things to do in Dubai with toddlers tip: for the best views of the Sanctuary's flamingo population, Flamingo Hide is the best platform. It is located close to the junction of the Al Wasl and Oud Metha roads. The Ras Al Khor Wildlife Sanctuary is free to visit.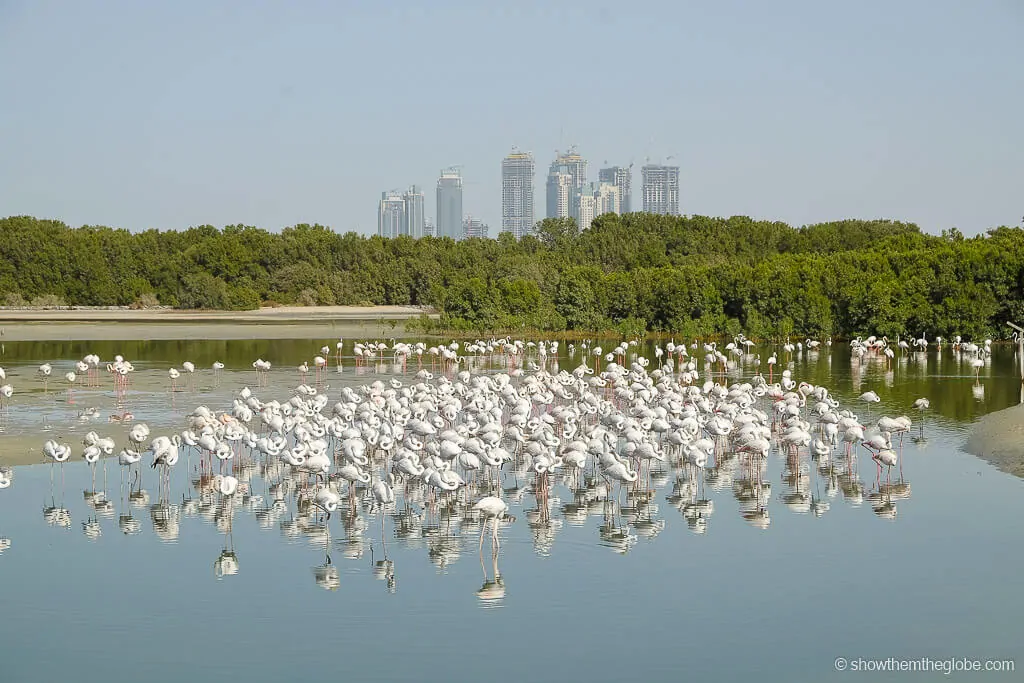 Where to stay in Dubai with toddlers
With water parks, children's clubs and even aquariums, Dubai hotels are a toddler's dream! Here's our pick of the best hotels in Dubai with toddlers
Atlantis the Palm: one of Dubai's best family-friendly options, the hotel has family rooms, an amazing water park, an aquarium, private beaches and a kids club. There is a wide choice of restaurants and a babysitting service available – check prices now!
Jumeirah Beach Hotel: with a kids club and unlimited access to the Wild Wadi Water Park for guests the Jumeirah Beach Hotel is another great option for families with toddlers. There are 13 restaurants, 5 swimming pools and a private beach – check prices now!
Waldorf Astoria Dubai Palm Jumeirah: kids age 3 to 12 can enjoy 2 complimentary hours in the kids club every day, scavenger hunts for the entire family and a babysitting service is available – check prices now!
2 | Dubai Miracle Garden
One of the most beautiful things to do with toddlers in Dubai, the Miracle Garden is a colourful and spectacular flower extravaganza. An astonishing 150 million flowers are arranged into unique flower sculptures, arches and patterns – check prices here!
Click here for tickets to the Dubai Miracle Garden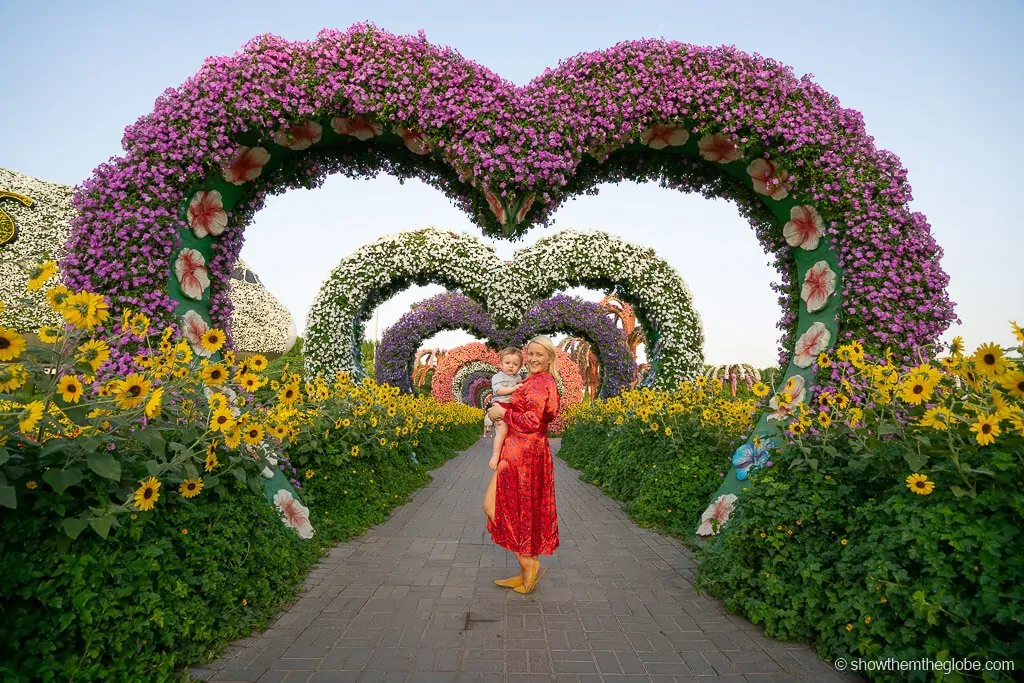 The garden changes every season: when we visited we loved the Disney contingent which included Mickey and Minnie Mouse and Donald Duck, a full-size Emirates A380 flower plane and the huge teddy bear. The Dubai Miracle Garden is absolutely breathtaking and we're certain J thought he was in a fairytale!
Best things to do in Dubai with toddlers tip: the garden is only open for 6 months of the year, usually from November to mid May, when the flowers are in full bloom. Kids under 3 are free. We visited in the evening when the temperatures were a little cooler and we found parking easy to come by close to the entrance.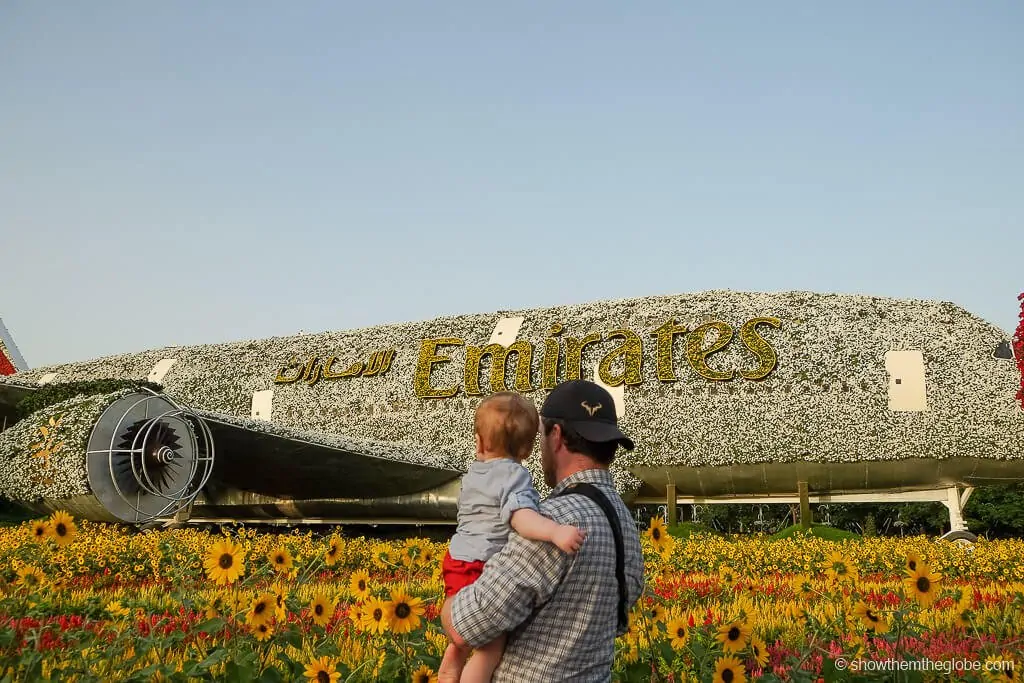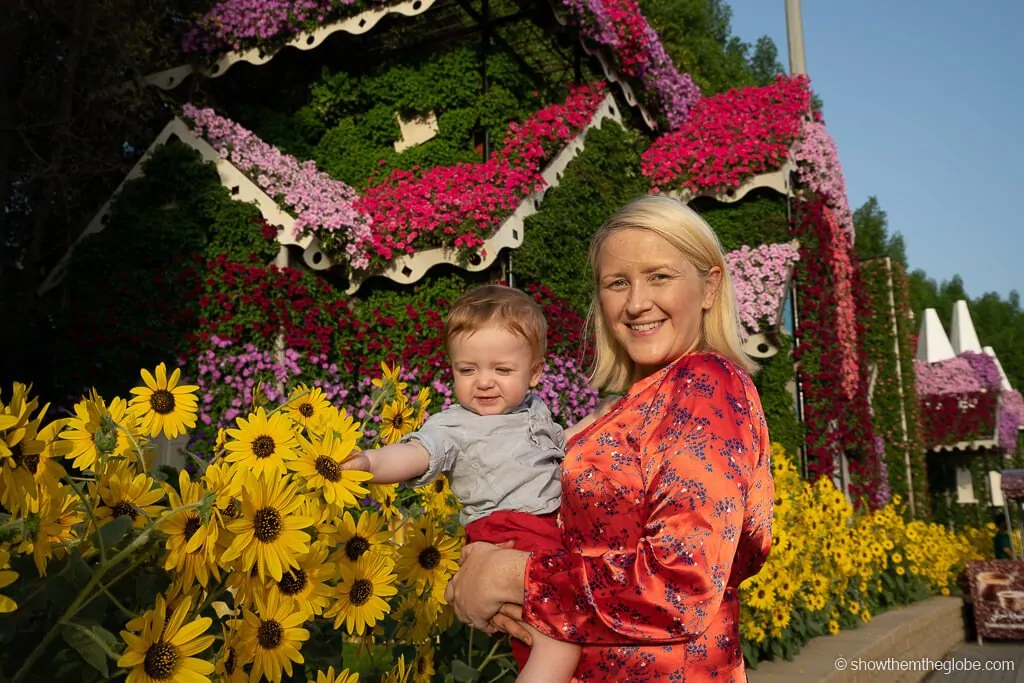 3 | Dubai Aquarium and Underwater Zoo
Located in the Dubai Mall, The Dubai Aquarium and Underwater Zoo is home to 140 species of sea life and is a fascinating experience for toddlers. The Aquarium is split over three floors with an underwater zoo, fish tanks and the Dubai Aquarium Tunnel, a 48-meter walk-through tunnel with a stunning array of sea life.
Walking through the aquarium surrounded by tanks full of stingrays, sharks, penguins and thousands of fish is a captivating experience and our toddler was mesmerized with the colorful fish and action-filled tanks.
Best things to do in Dubai with toddlers tip: Children under 3 are free. Make sure to purchase tickets to the Dubai Aquarium in advance as you can save a considerable amount. We bought our tickets through Klook and they were almost half price compared to purchasing at the Aquarium. – buy your Aquarium tickets in advance here
Click here to purchase Aquarium tickets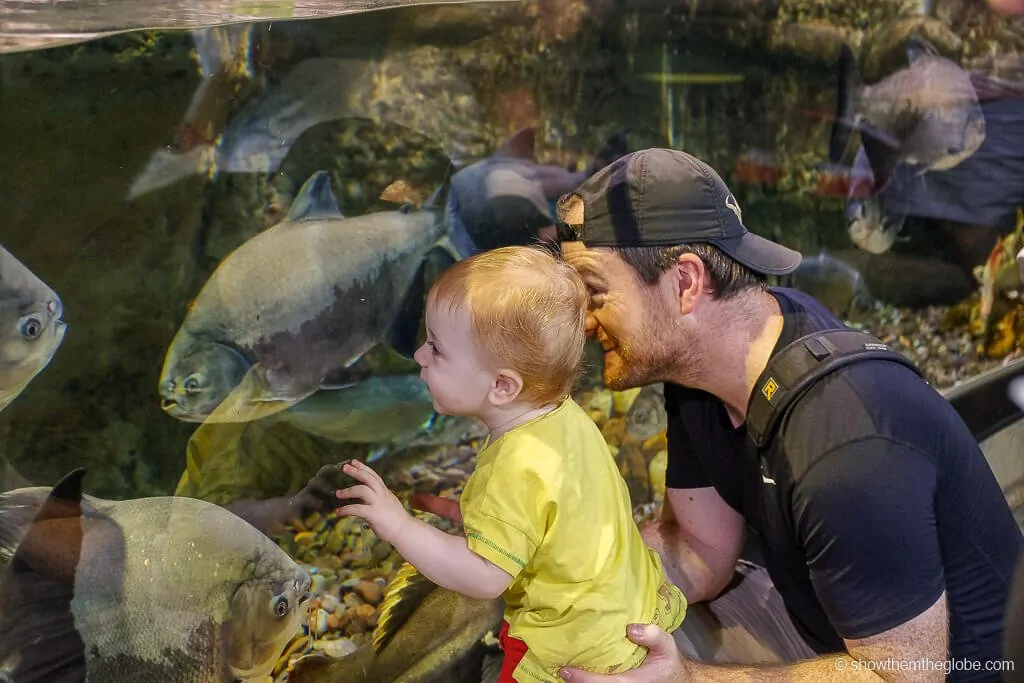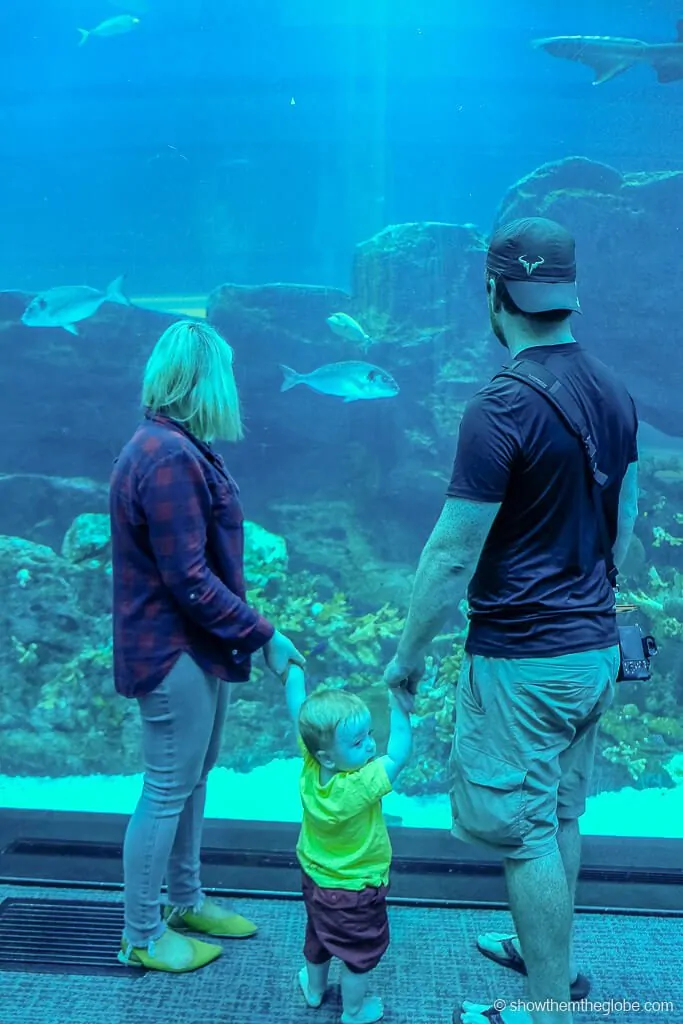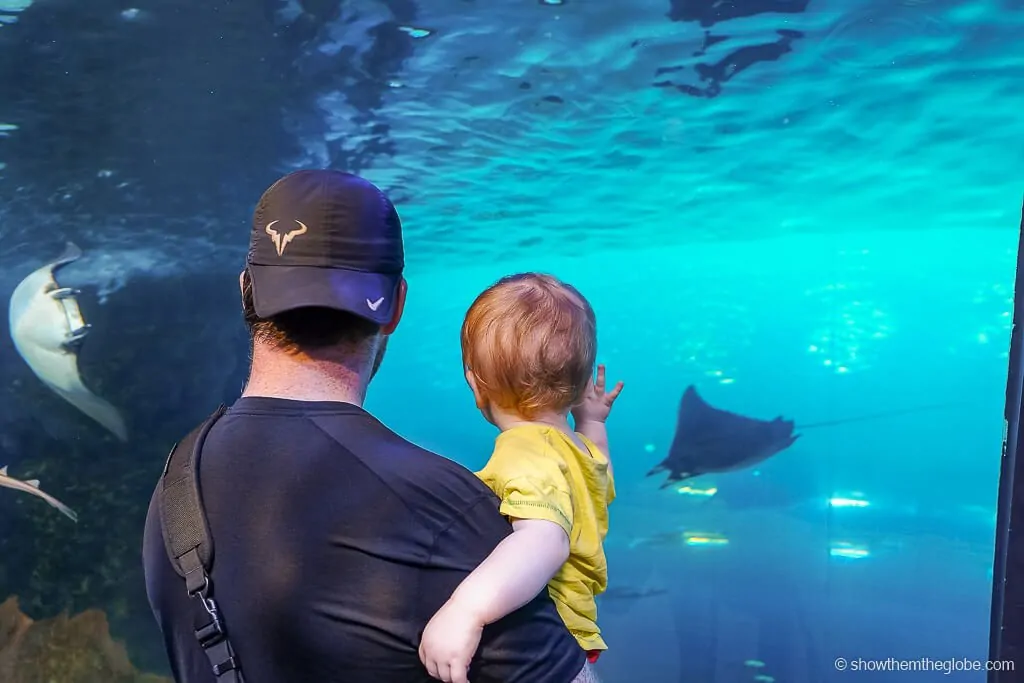 4 | The Dubai Fountain
The Dubai Fountain is a must on any Dubai itinerary and we all loved watching the colourful dancing water spectacle on the Burj Khalifa Lake. Designed by the creators of the Bellagio water show in Las Vegas, the Dubai Fountain is the world's largest choreographed fountains and the show is set to lights and an awesome soundtrack.
Against the backdrop of the majestic Burj Khalifa, the Dubai Fountain captures the glitz and glamour of the desert city. There's a lot of fun to be had watching the fountains soar 50 stories high and yet still look tiny compared to the Burj Khalifa looming in the background.
Best things to do in Dubai with toddlers tip: the show runs every 30minutes from 6pm to 11pm along with some lunchtime shows daily. Make sure to arrive early to secure a good waterside spot – the shows are busy and we had to wait for a while to get a spot where J could have a view of the action!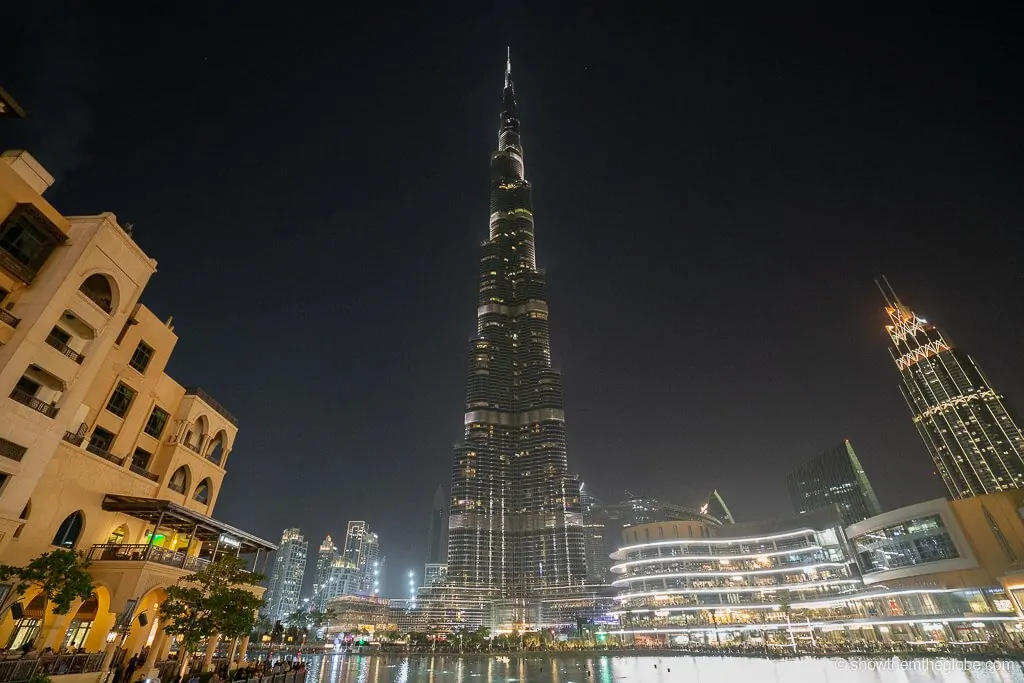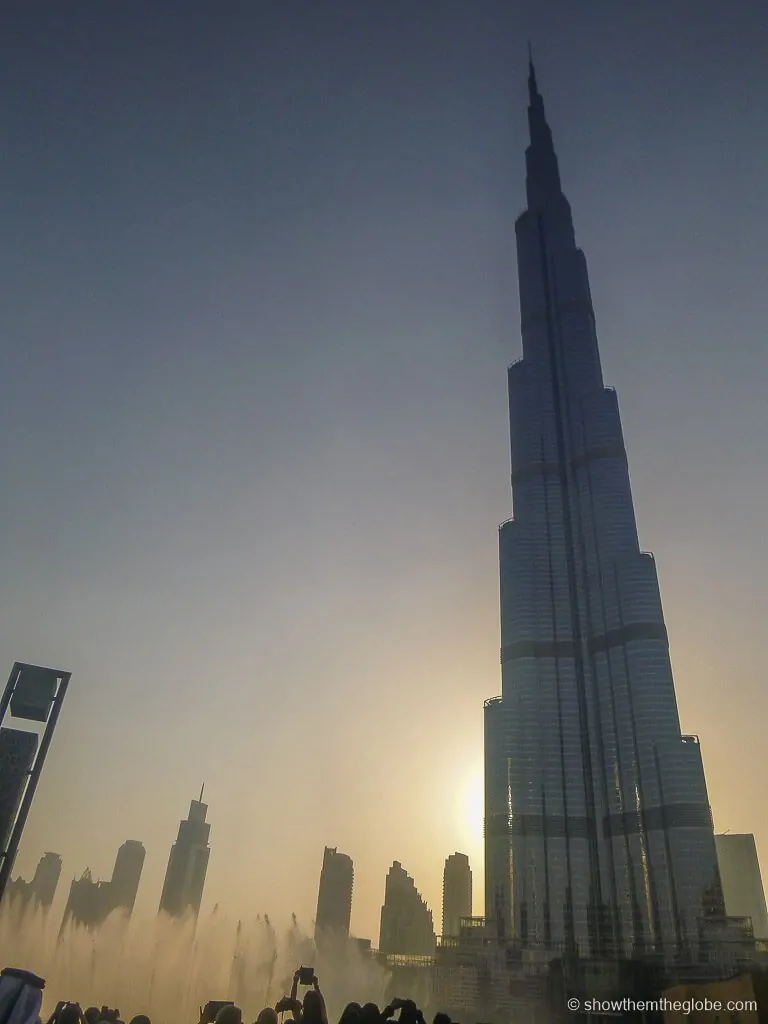 5 | City Walk
The super kid-friendly City Walk neighborhood in Jumeirah is a fantastic spot for a fun family afternoon. City Walk is great for dining, shopping, movies and entertainment as well as some awesome street art. City Walk is home to the Dubai Walls, a Middle East Street art initiative which brought the works of 16 street artists to the neighbourhood.
We loved wandering around City Walk, exploring the quirky artwork and indulging in some delicious desserts in the extravagant Secret Garden by L'ETO.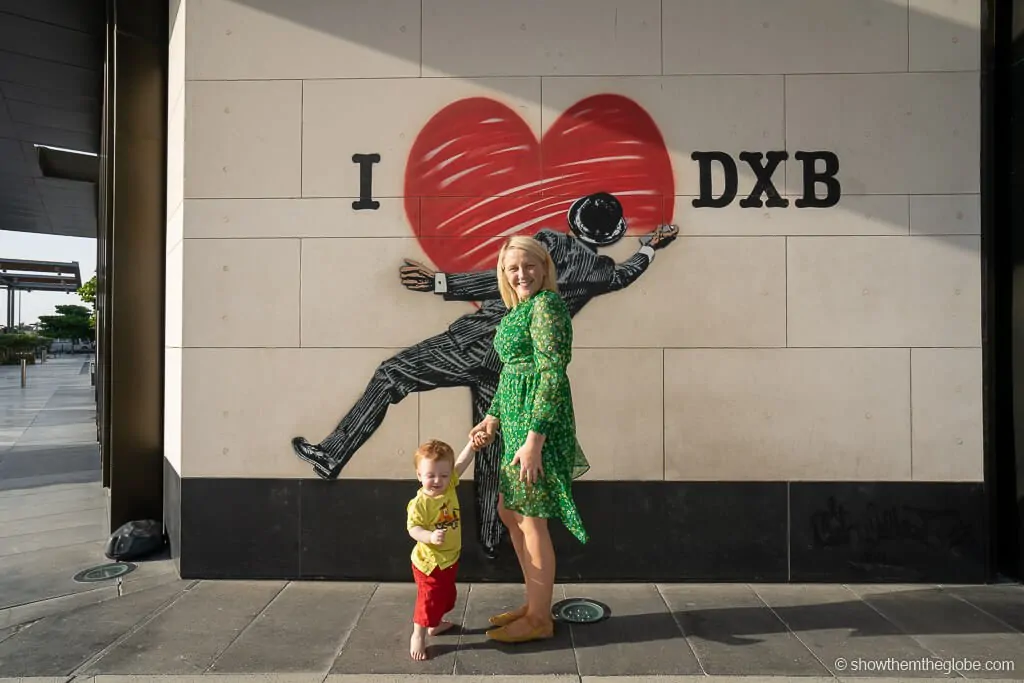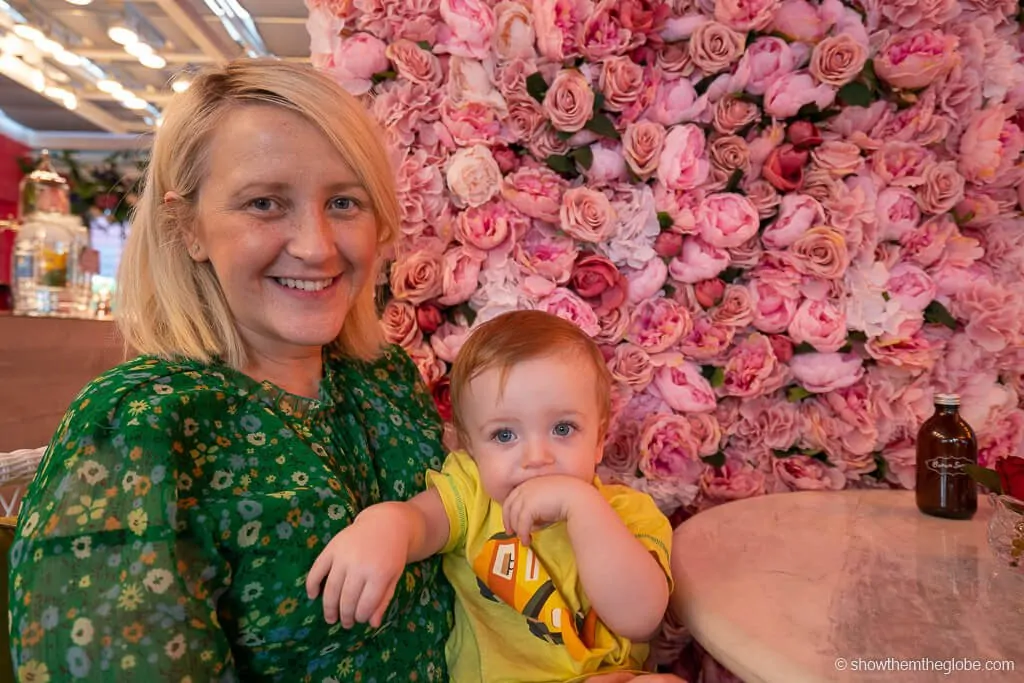 6 | Global Village
Dubai's Global Village is another great option for a family oriented evening out. The huge festival brings together the culture, food, shopping and entertainment from 78 countries across the globe.
The sprawling village is big on variety: there's a giant wheel of the world, replicas of famous architecture, a dancing fountain display, a stunt show with monster cars, a fun fair and a floating market to name a few!
If you are visiting with toddlers some of J's highlights included watching a puppet show, admiring the bright lights and dancing waters at the fountain show and riding the vintage carousel at the fun fair.
Best things to do in Dubai with toddlers: The Global Village is open in the cooler months and the dates vary every season. Children under 3 recieve free entry. We travelled by car and there was ample parking to support the huge crowds at the Global Village.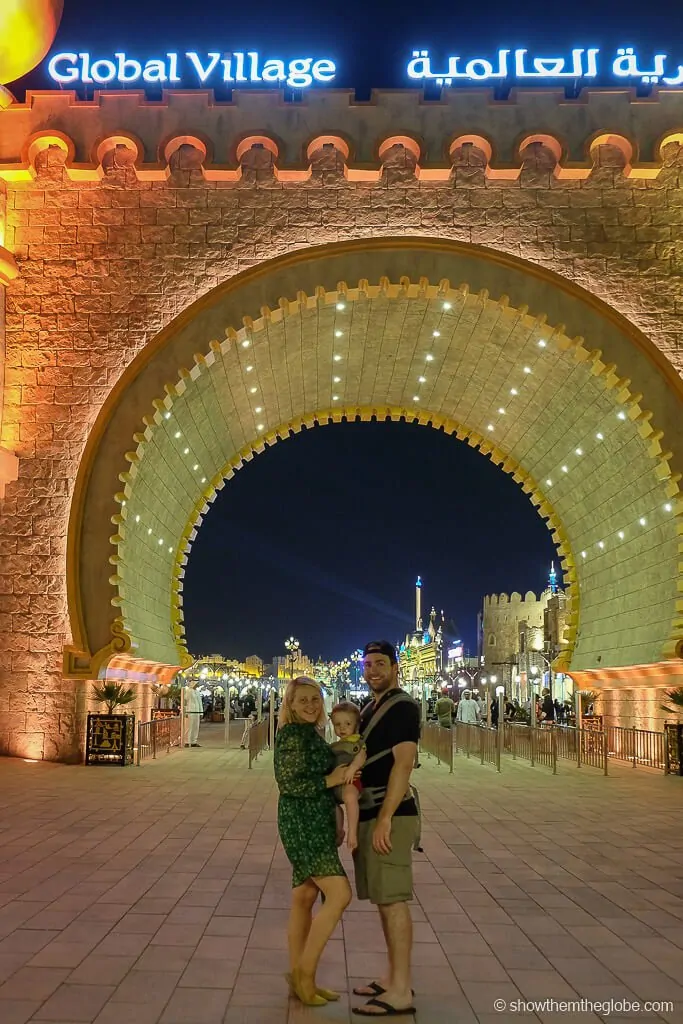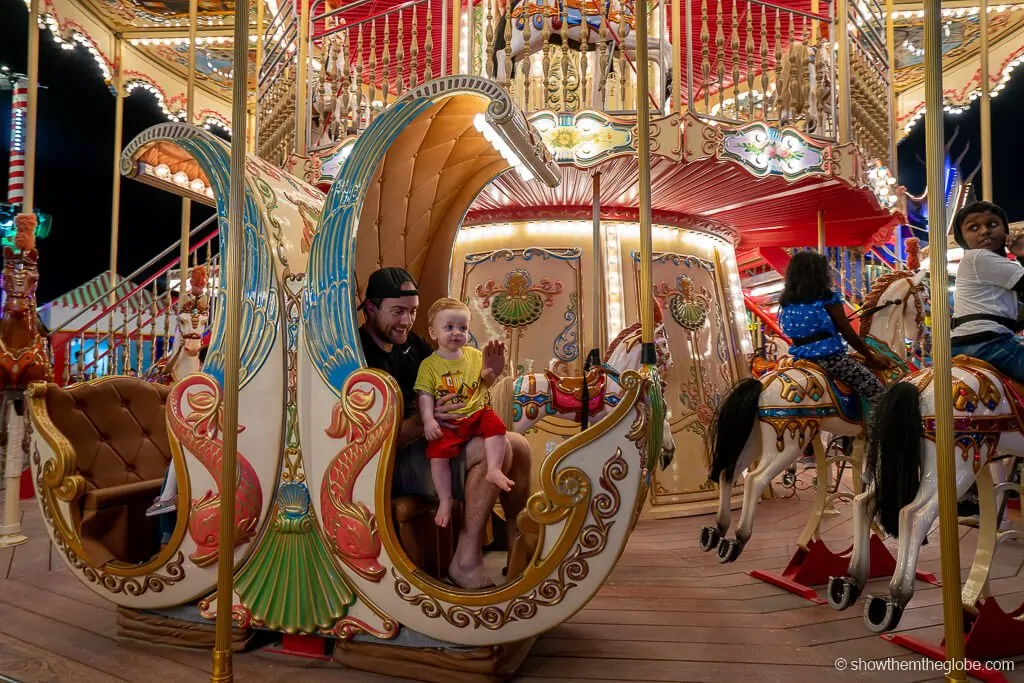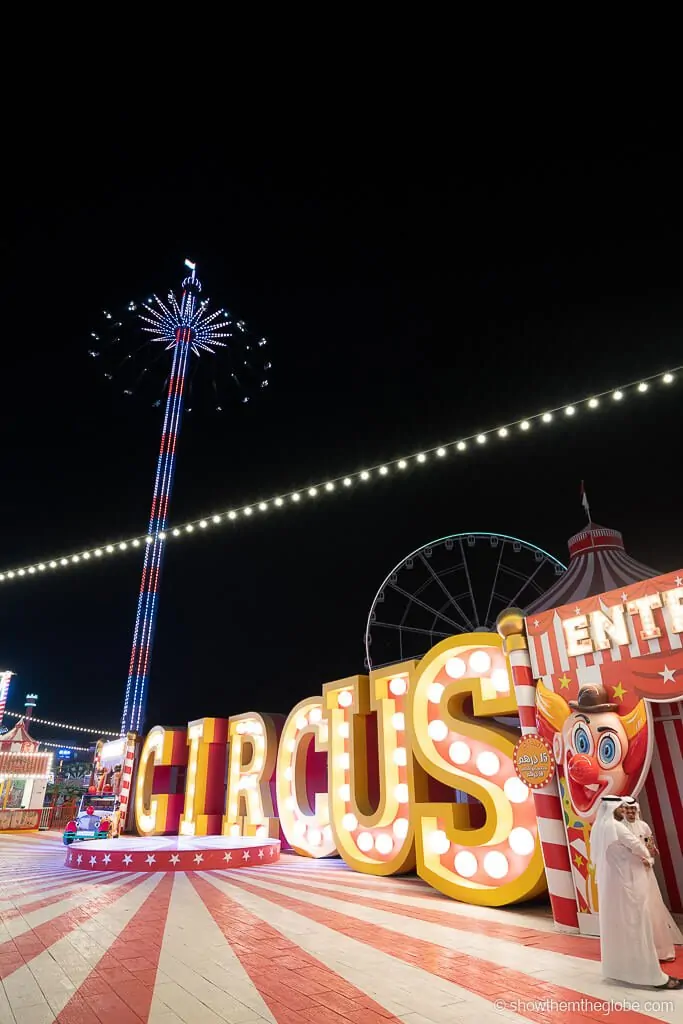 7 | 'At the Top' of the Burj at the Burj Khalifa
The Burj Khalifa is the world's tallest building and the stunning building towers over Dubai at a mindblowing 828metres tall. If you have a head for heights, check out the observation decks for outstanding views of Dubai.
The first observation deck, 'At the Top'. is on the 124th floor and is 452metres high. The second, 'At the Top Sky', is on the 148th floor at 555metres high. The very top floor of the Burj Khalifa is not accessible to the public but it's still a surreal experience standing on the observation deck and having the whole world at your feet!
Best things to do in Dubai with toddlers tip: again, make sure to buy tickets in advance as popular time slots sell out and queues can be long. Children under 3 are free. The 'At the Top Sky' ticket includes access to both the 148th and 124th floor observation decks – a stop on 124 is essential for the outdoor viewing platform – buy your Burj Khalifa tickets in advance here!
Click here to purchase Burj Khalifa tickets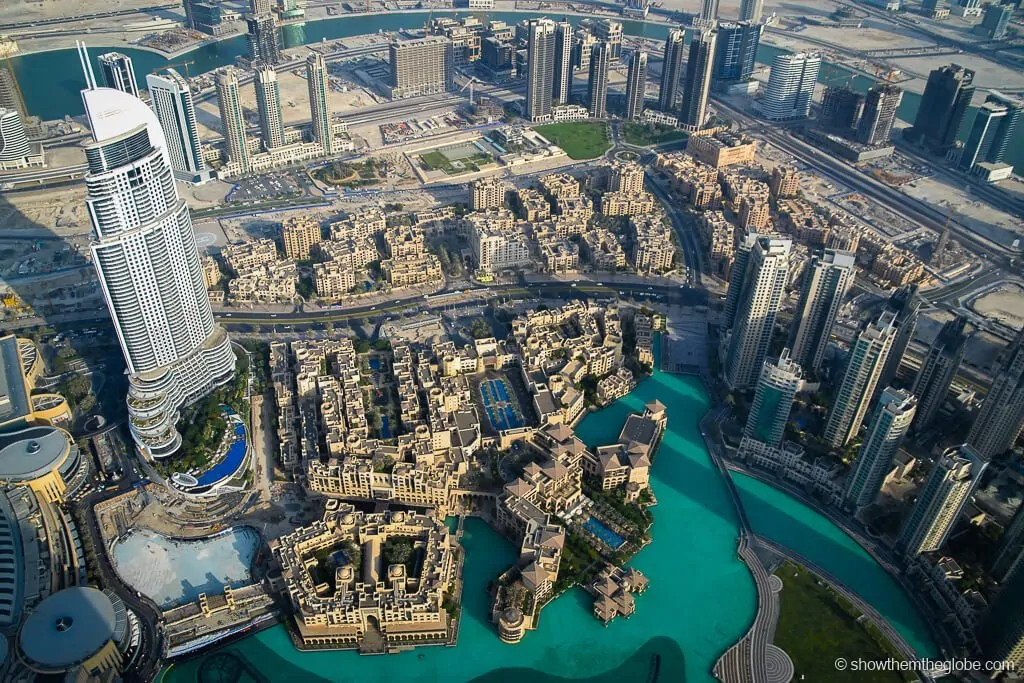 8 | Ski Dubai
If you have a toddler over 2, Ski Dubai is a fantastic place to visit! There's a Snow Park with bobsled rides, a tubing run, a playground, a climbing wall and a Zorb Ball all of which are sure to entertain even the most energetic toddlers.
Ski Dubai also offers a penguin experience where visitors can spend time in the company of the penguins.
Best things to do in Dubai with toddlers tip: again, make sure to buy tickets in advance. Children under two are not permitted inside Ski Dubai so we haven't visited with J but we've had a lot of fun there on previous trips! – buy your Ski Dubai tickets in advance here!
Click here to purchase Ski Dubai tickets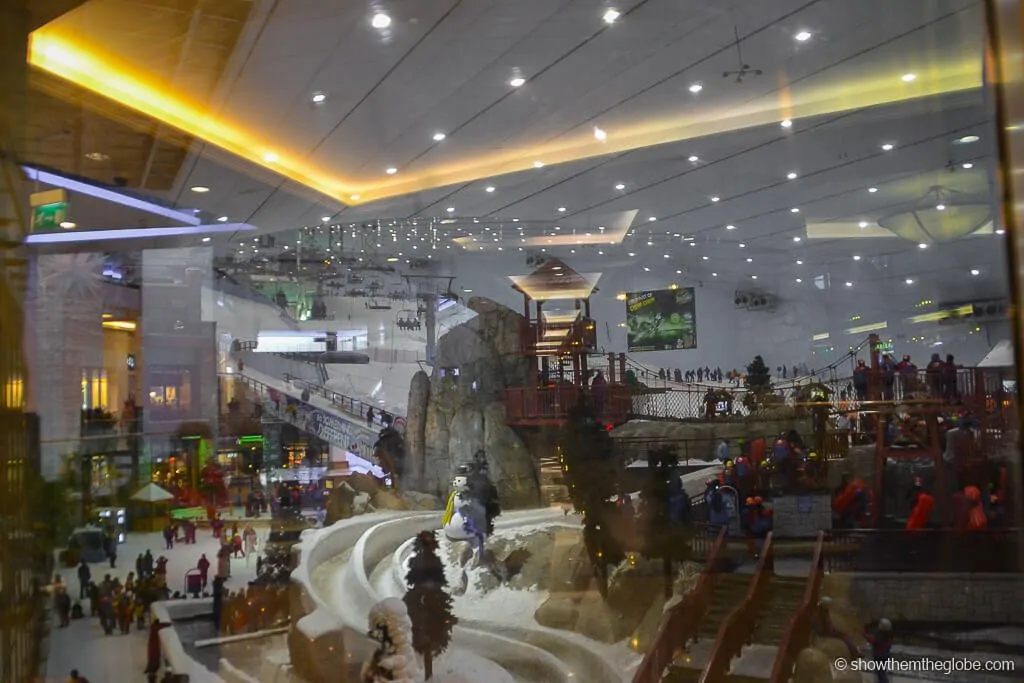 9 | Theme Parks and Water Parks
Dubai is home to some of the best water parks and theme parks in the Middle East. Some great toddler-friendly theme park and water park options in Dubai include Wild Wadi World, Aquaventure, Legoland and Motiongate.
Although many rides impose height and age restrictions these parks also have areas suitable for younger kids. A Dubai Park and Resorts day pass is a great option. The pass allows access to four popular Dubai parks: Motiongate, Bollywood Parks, Legoland and Legoland Waterpark – click here to check prices!
Click here to purchase a Dubai Park and Resorts Pass
Best things to do in Dubai with toddlers tip: J had just turned one on this visit so we gave the parks a miss but they can be a fun day out with older toddlers.
Aquaventure at the Atlantis is the world's largest waterpark and is a fantastic option for kids. Splasher's Island, part of the park reserved exclusively for kids, has seven kids' waterslides designed for children under 1.2m. Children under 3 go free – click here to check prices!
Click here to purchase tickets to Aquaventure at the Atlantis
10 | Jumeirah Beach
Dubai has lots of lovely beaches and the warm waters of the Persian Gulf mean swimming in the sea is quite like stepping into a warm bath! Although some beaches are owned by luxury hotels, there are a few beaches which are accessible to the public for free or for a small fee.
We love the Jumeirah Public Beach which is free to access and offers a great view of the Burj al Arab.
Best things to do in Dubai with toddlers tip: It is possible to rent sunbeds and umbrellas and, if you need refreshments, there are restaurants and coffee shops in the area. The beach has a running track and a children's park. We preferred visiting in the late afternoon when temperatures cooled a little and we were able to relax in the evening sun.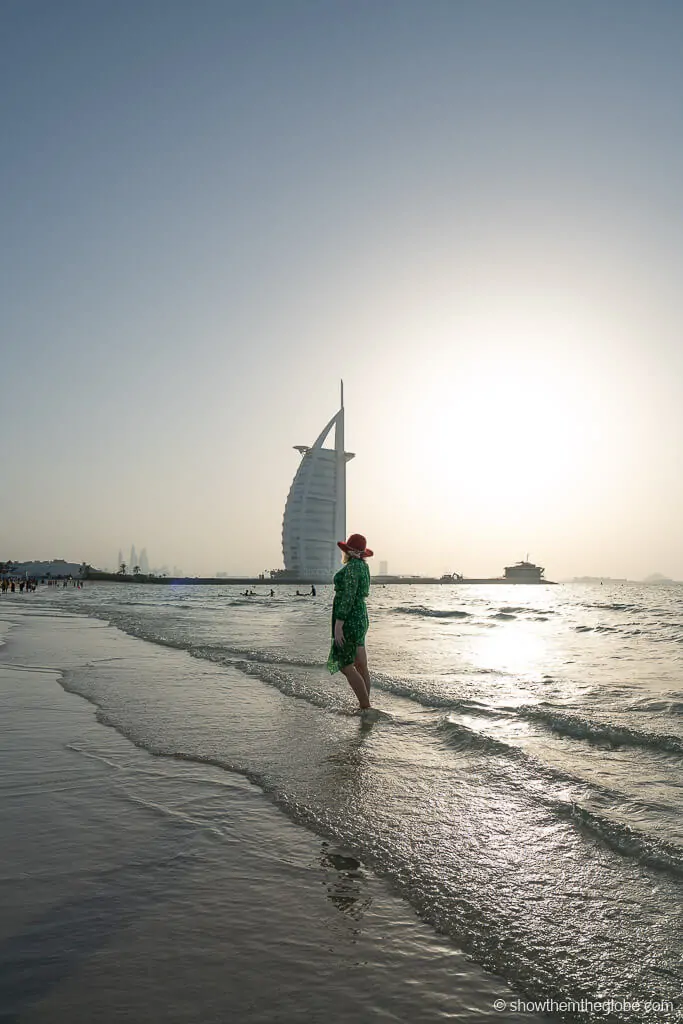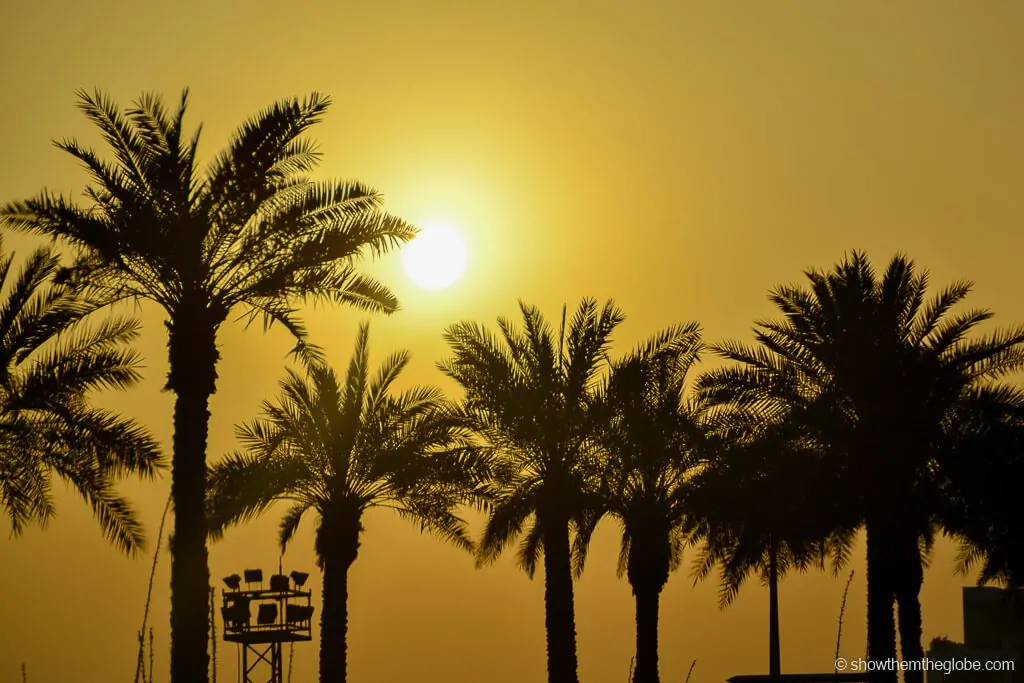 11 | Sheikh Zayed Grand Mosque, Abu Dhabi
Less than 90 minutes from Dubai, the Sheikh Zayed Grand Mosque is an elaborate and beautiful Abu Dhabi landmark and well worth a half day trip. The stunning mosque is the largest in the UAE, is open to non-Muslims and features over 80 domes, 1,000 columns and 30 different types of marble. Although J is still very young he loved his visit.
The gleaming white marble exterior, the giant chandelier and the colourful mosaics all captured his attention! We drove to Abu Dhabi in our rental car or there are half day tours from Dubai – check prices here
Click here for Abu Dhabi tours
Best things to do in Dubai with toddlers tip: remember to respect the dress code during a visit to the Sheikh Zayed Grand Mosuqe. Men and women should wear full length trousers or skirt and a long sleeved top. Female clothing should be loose and women are also required to have their hair covered. If not dressed appropriately, men are provided with robes and women with Hijab and Abaya free of cost at the entrance.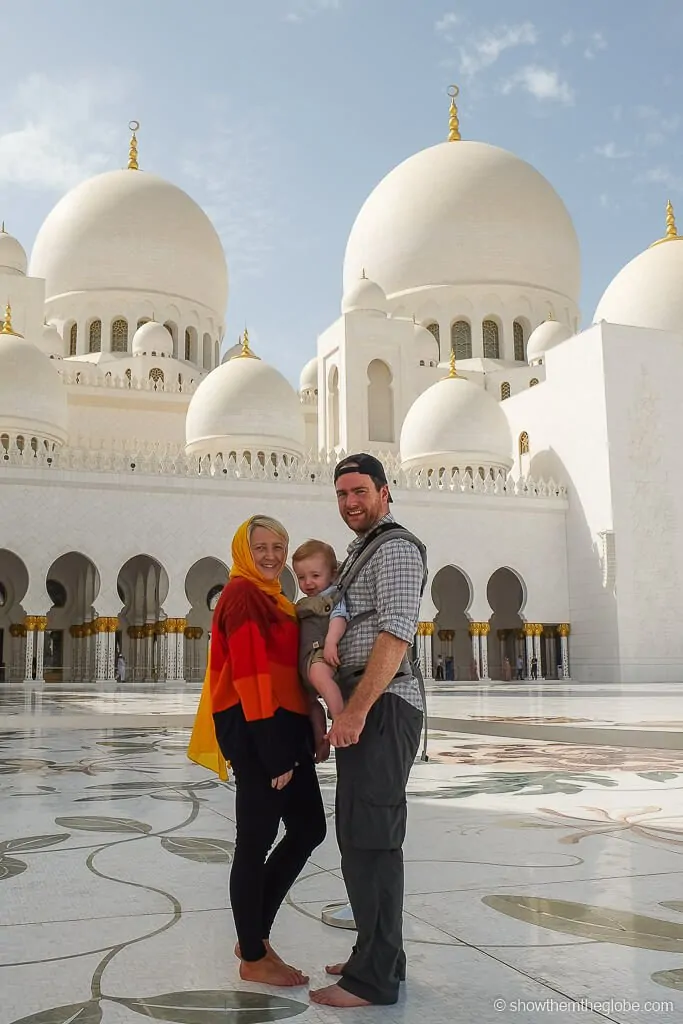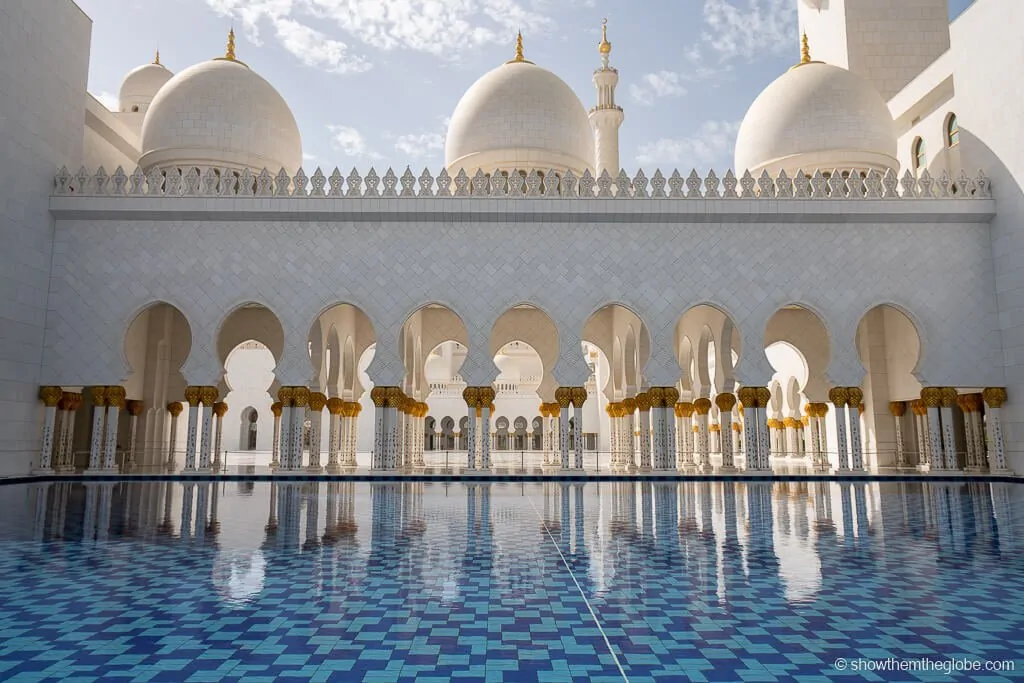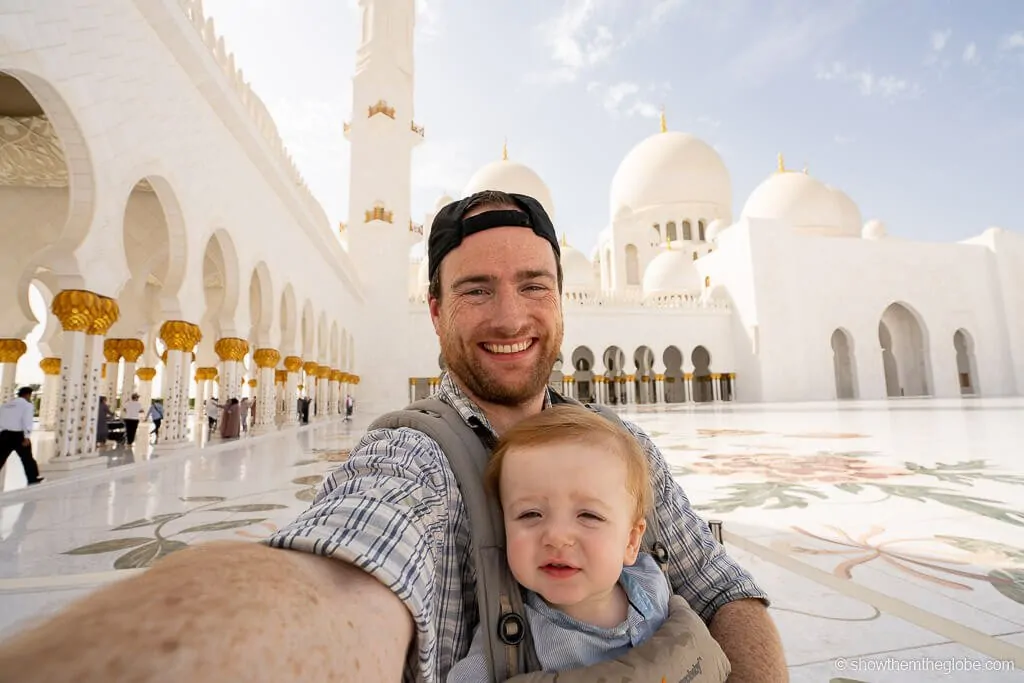 12 | Explore the Malls
Dubai is a shopping paradise and is home to every kind of store imaginable. As well as some of the attractions already mentioned, there are plenty more reasons to explore the malls a little further. The Dubai Mall has over 1,200 stores and is the largest shopping mall in the world: as well as the Dubai Aquarium and the Dubai Fountains there is an Olympic sized ice rink and a four-story waterfall.
Another favourite, the opulent Mall of the Emirates, is home to a family entertainment centre and the aforementioned Dubai Ski!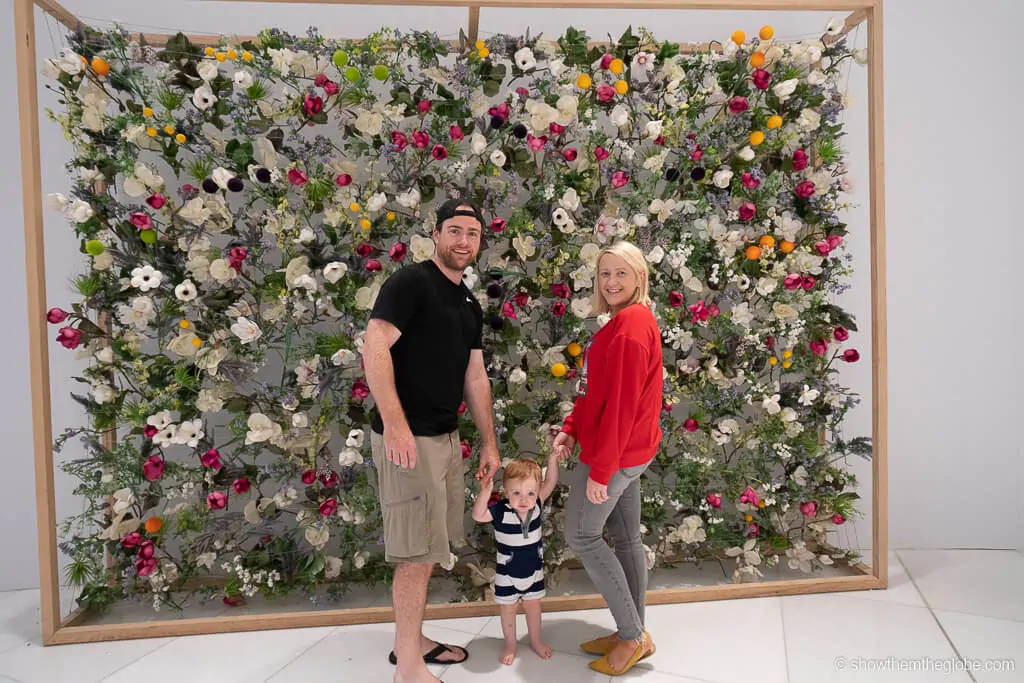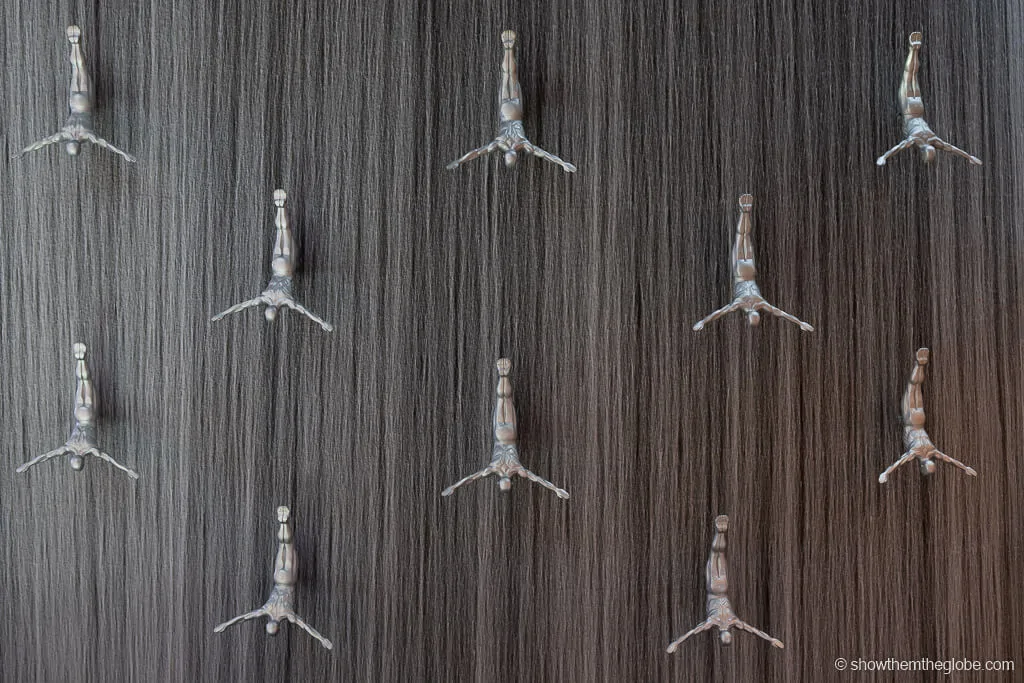 13 | Dubai Creek
Dubai Creek offers an amazing glimpse into the traditional side of an overtly modern city. Once the trading heart of Dubai, the Creek flows into the Persian Gulf and remains a hive of activity.
A walk along the creek is fascinating: we wandered through the area watching sailors unload their wares on the edge of the water, explored the nearby gold and spice souk and visited the Dubai Museum in the Al Fahidi Fort, the oldest remaining building in Dubai.
Best things to do in Dubai with toddlers tip: The creek is full of traditional wooden dhows and motor powered abra which act as water taxis ferrying passengers between the souks of Deira on the northeastern bank and the historic district of Bur Dubai on the southwestern bank. J loves getting out on the water and the 1 Dirham boat ride is a great Dubai activity with a todder!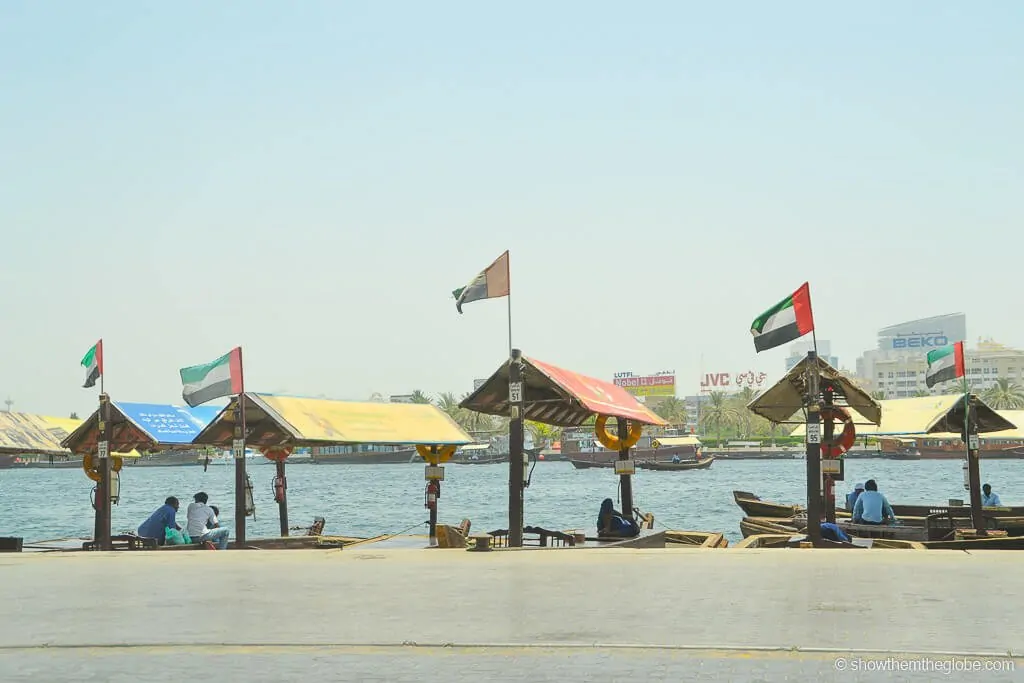 14 | The Desert
A visit to the Arabian desert is an essential part of any Dubai itinerary. There are a few ways to check out the desert in Dubai with jeep safari, a hot air balloon and a stay at a desert resort all popular options.
We arrived in Dubai from Oman where we had spent an amazing night in the Wahiba Sands desert with J and so we opted to use our rental car to visit the Big Red Sand Dune and say hello to some camels along the way! Check prices of Dubai Evening Desert Safaris here!
Click here for Dubai Desert Safaris
Best things to do in Dubai with toddlers tip: Many of the desert activities are toddler friendly but make sure to check in advance. Some tour operators offer a kid friendly lite version of Dune Bashing and some of the desert evenings are toddler friendly.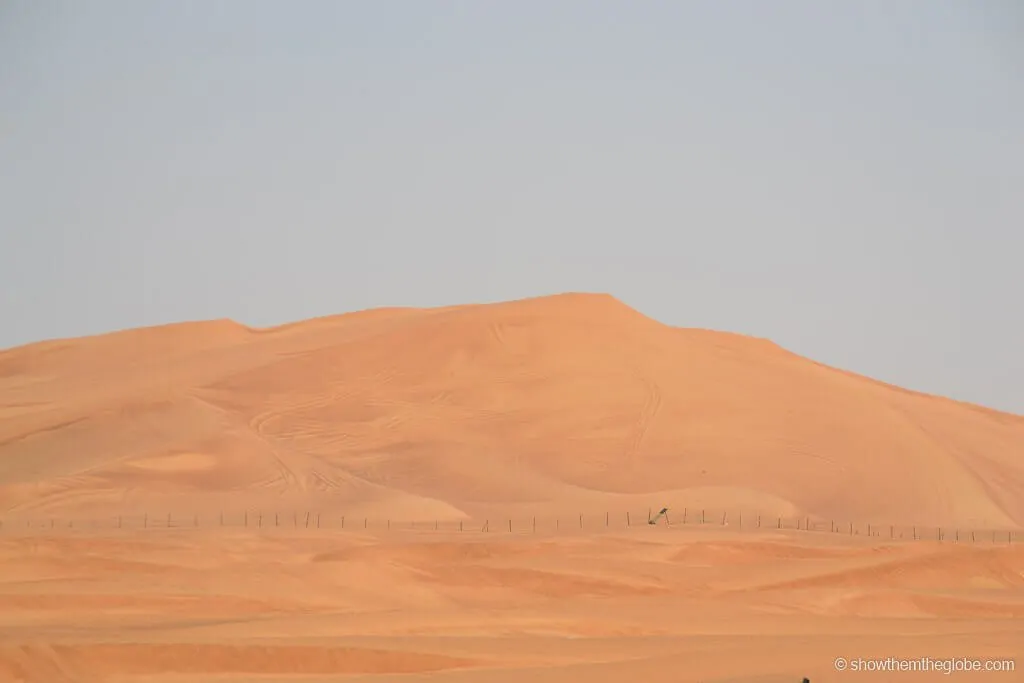 15 | Take a boat ride
Nothing beats being on the water and, since J loves all forms of transport, we opted to hop on a boat and explore the coastline. It's an awesome way to check out the palm tree-shaped Palm Jumeirah island which was built using reclaimed land and is home to the iconic luxury hotel, Atlantis the Palm as well as the Dubai Marina and the Burj Al Arab while enjoying a refreshing sea breeze!