We traveled to Cape Town with baby J when he was just 8 weeks old and loved our family time in one of the world's most beautiful cities. Cape Town is the perfect choice for a family holiday and it was the first international city we flew to with J. Together we explored its iconic sights from Table Mountain to Robben Island to the surrounding world-class vineyards and the stunning coastal drives. Here's our guide to traveling to Cape Town with a baby!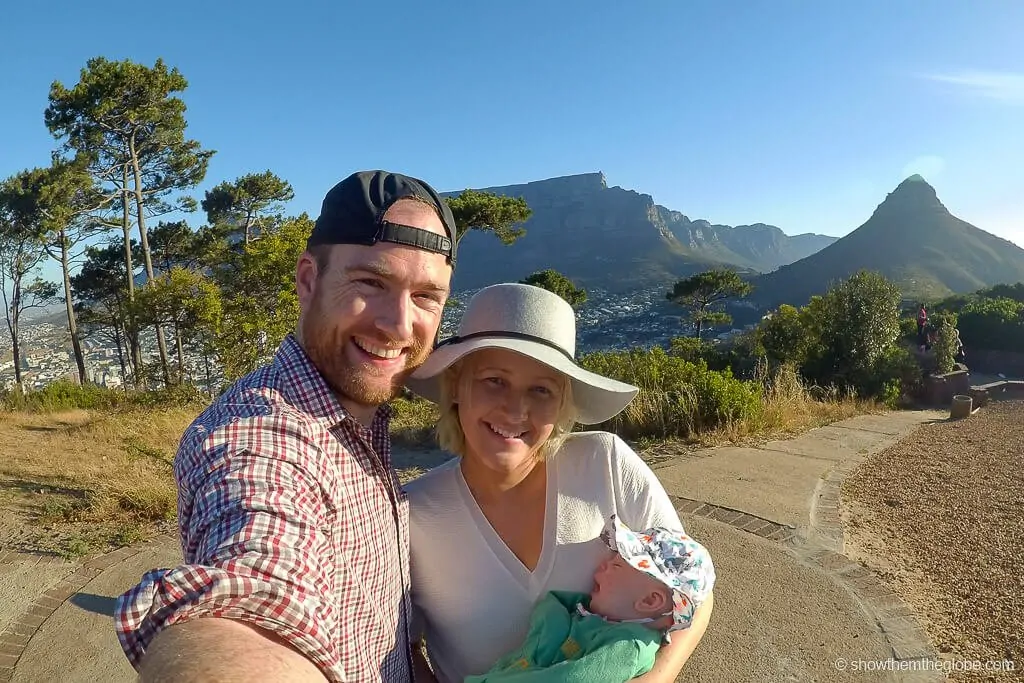 Traveling to South Africa with a baby
As well as a passport, there is a requirement for all children entering South Africa to travel with the original or a certified copy of their birth certificate which lists both parents.
If a child is traveling with only one of the parents listed on the birth certificate they also require a parental consent affidavit which is less than 4 months old or a letter of special circumstances issued by the director general of home affairs if this cannot be supplied.
Make sure to read the latest complete rules here.
Cape Town with a baby tip: please, please don't overlook this requirement as you will not be allowed to enter South Africa without the necessary documents
Where to stay in Cape Town with a baby
As we were spending a week in Cape Town and a month in Africa we wanted somewhere spacious with laundry facilities and a kitchen. Our picks are:
Protea Hotel Cape Town North Wharf: choice of 1,2 and 3 bedroom apartments, we spent 8 nights in a one bedroom apartment in this amazing family option. Highlights were the fully equipped kitchen with washer/dryer and huge living space – check prices now!
V and A Marina Waterfront Apartments: these spacious and modern apartments are a great option by the V&A Waterfront – check prices now!
If you prefer hotel room style accommodation, we love these hotels from previous Cape Town visits:
The Bay Hotel: a baby-friendly Camps Bay gem just one minute from the beach with beautiful views of the ocean – check prices now!
The Capital Mirage Hotel: between the city and the trendy De Waterkant neighborhood this is a great value option in Cape Town – check prices now!
Click here for the best Cape Town hotel prices
Getting around Cape Town with a baby
Cape Town is a great city to explore by car: it's easy to get around, the traffic isn't crazy and there's plenty of inexpensive parking. A car is also great for the numerous day trips from the city to popular spots including the Cape of Good Hope, the Cape Winelands, Chapman's Peak and everything in between! We rented a car from Cape Town International airport and brought our car seat from home.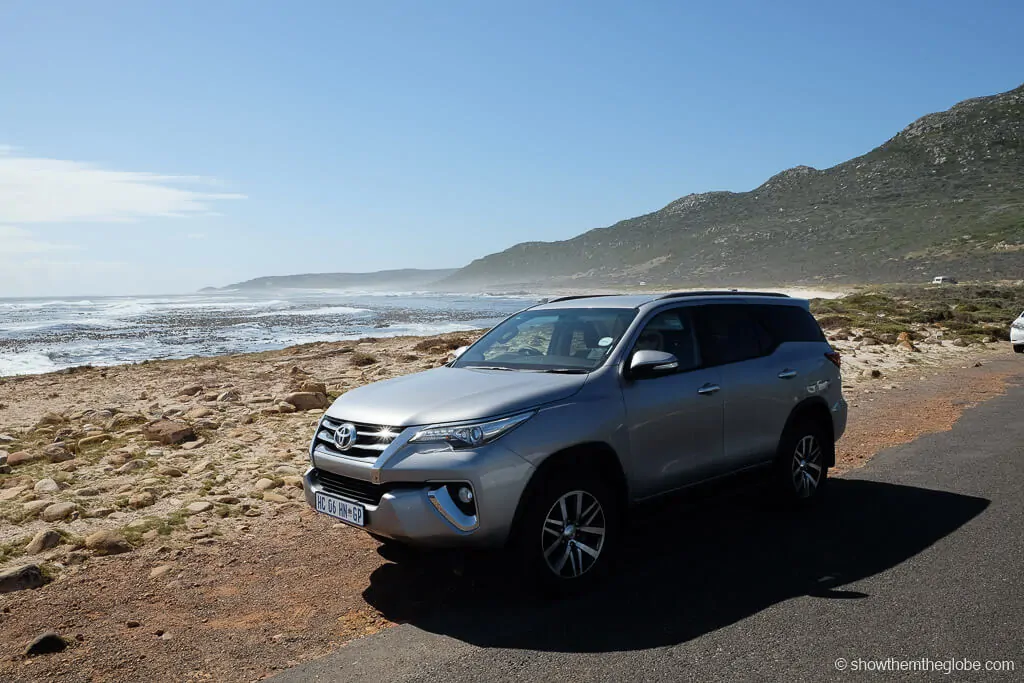 Uber is a popular option in Cape Town although the UberFamily cars only have forward facing car seats suitable for 12 months and above.
Hop on, hop off tours and various other group tours are available if you prefer to use public transport.
Cape Town with a baby tip: we always take our own car seat for trips lasting more than a few days as the cost of a car seat can really add to the expense of a car rental.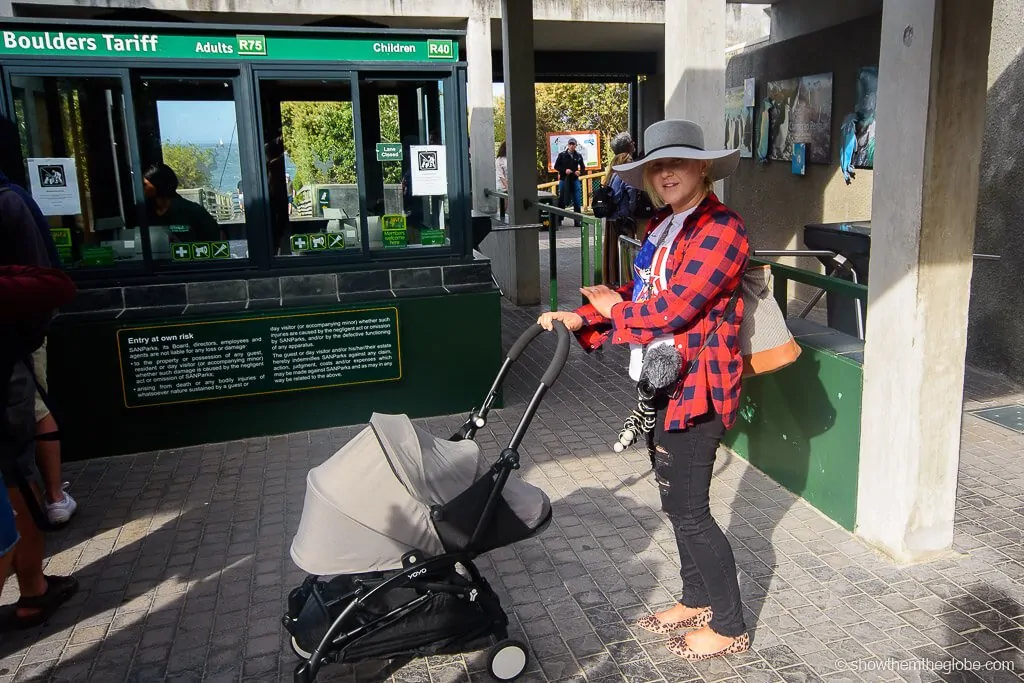 Things to do in Cape Town with a baby
Babies are great travelers and don't really impact sightseeing activities provided it's a baby friendly activity. As long as J was cuddled, fed and comfortable he didn't really mind what we got up to so our itinerary was almost identical to our pre-baby trips!
Our favorite things to do in Cape Town with a baby include:
1 | Table Mountain
Table Mountain is a Cape Town icon and, as soon as the skies are clear, make a beeline for the Cable Car. The queues for the Cable Car can get very long so book your tickets in advance on the official Table Mountain website to save some time.
Baby Tickets: Kids under 4 travel free on the Table Mountain Cable Car
Cape Town with a baby tip: both the Cable Car and the top of Table Mountain are stroller friendly so both a pram and a baby carrier are great options.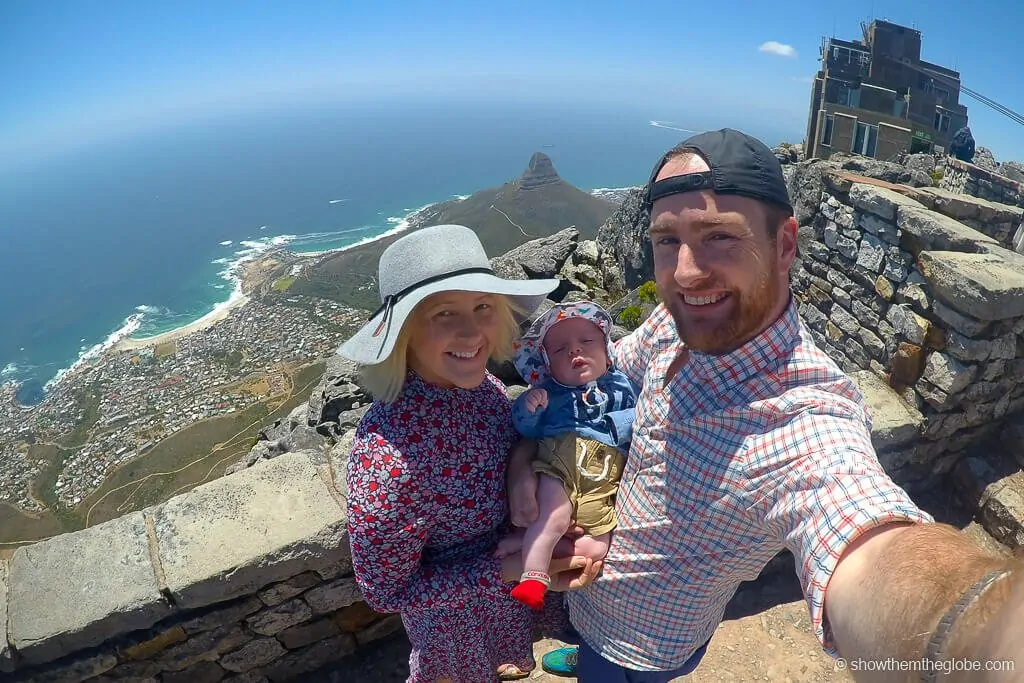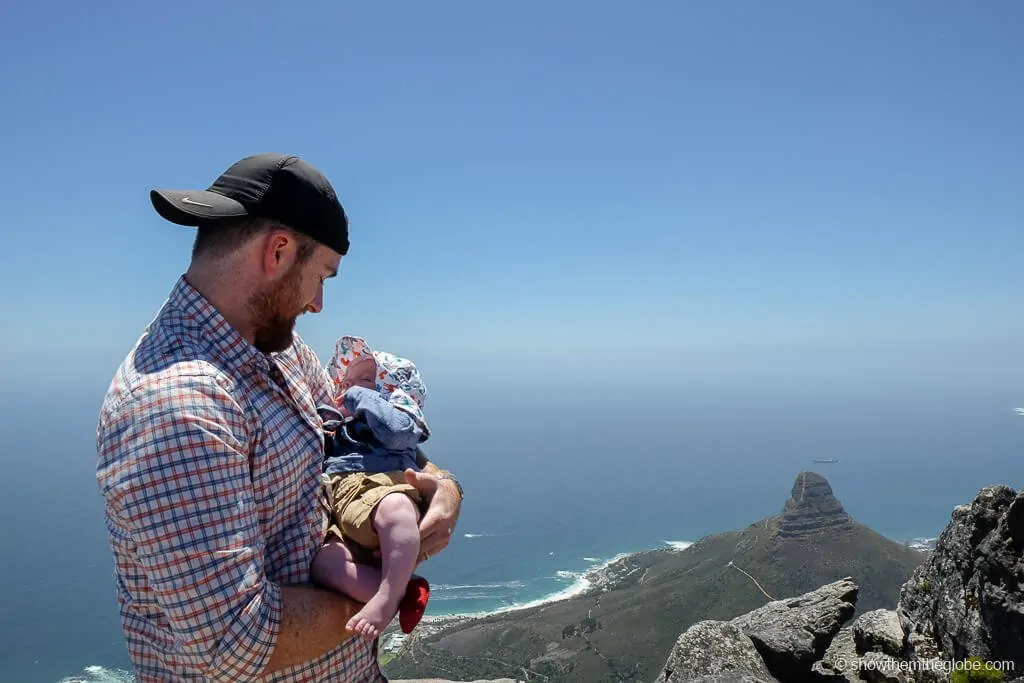 2 | Robben Island
Nelson Mandela was held in the prison on the island for 18 of the 27 years he was imprisoned before the fall of apartheid and Robben Island is a huge part of both Cape Town and South Africa history. Robben Island tours need to be booked well in advance and only operate when weather conditions permit the ferry crossing.
Baby tickets: babies (including an 8 week old!) require a paid ticket to Robben Island. Children's ticket run at a little over half the price of an adult ticket.
Cape Town with a baby tip: The tour to Robben Island takes around 4hours including the ferry to and from the Island so make sure to bring all your baby essentials for the duration of the trip. We brought our stroller as our tour coincided with nap time, but the frequent alighting and disembarking of the tour bus meant we would have preferred to use a baby carrier for convenience. You can check out what we carry in our diaper bag when travelling here!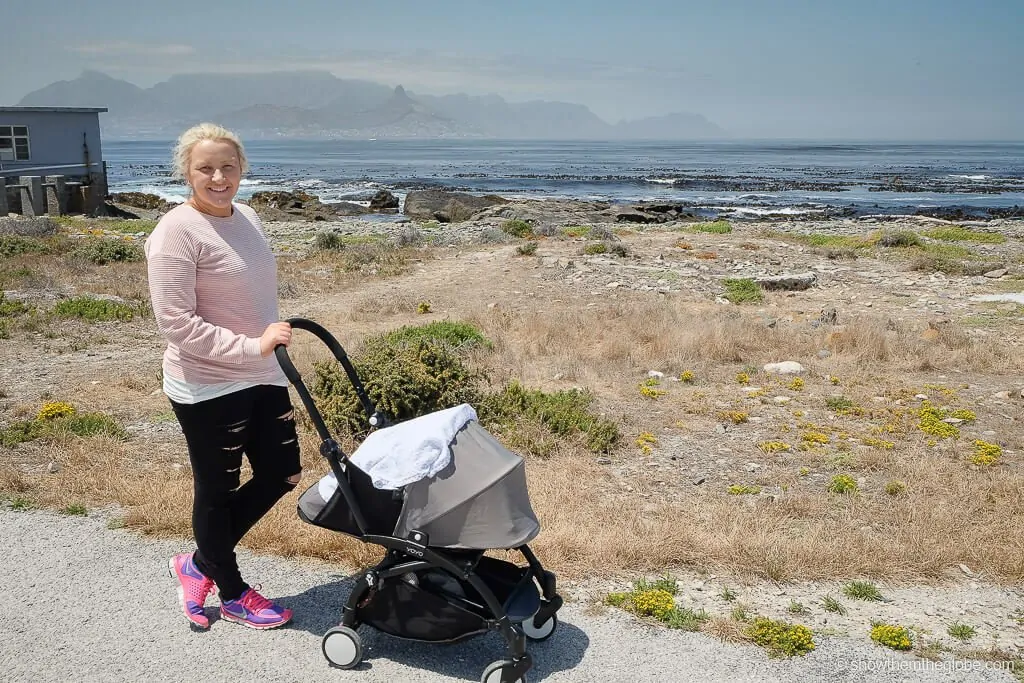 3 | V&A Waterfront
The V&A Waterfront is a tourist hub in Cape Town and is full of cutesy souvenir shops, food options (our favorite is the V&A Food Market with 40 street food stalls), street performers and great views of Table Mountain.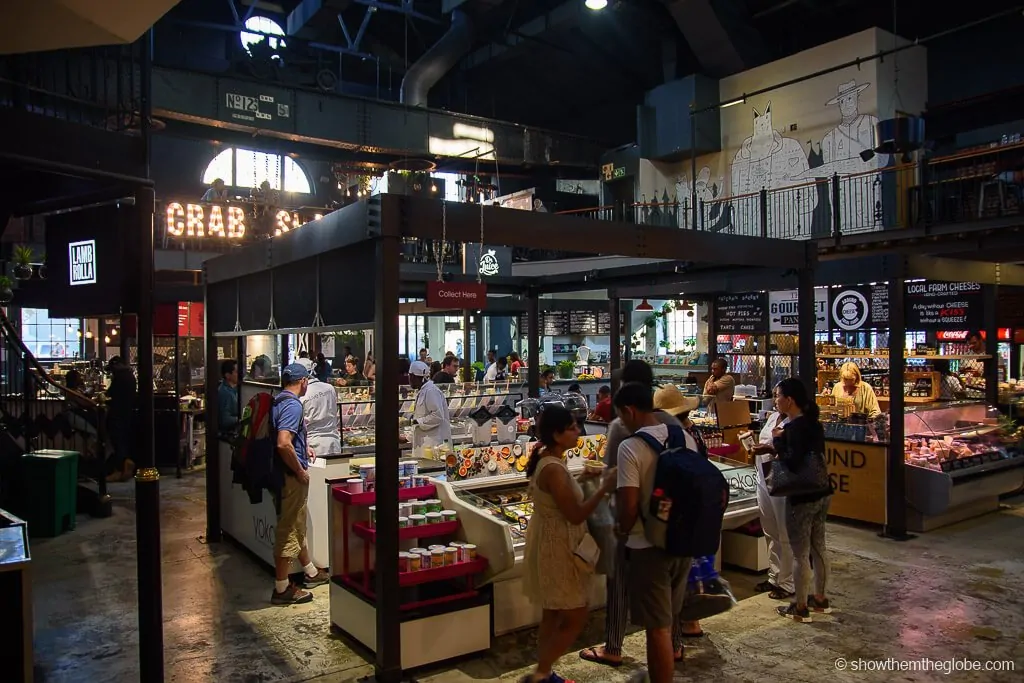 4 | Signal Hill
Signal Hill is an ever-popular Cape Town sunset spot the views are epic from the hillside vantage point.
Cape Town with a baby tip: bring a picnic blanket and a jacket with a hood for the little ones as it does get chilly and is often quite windy.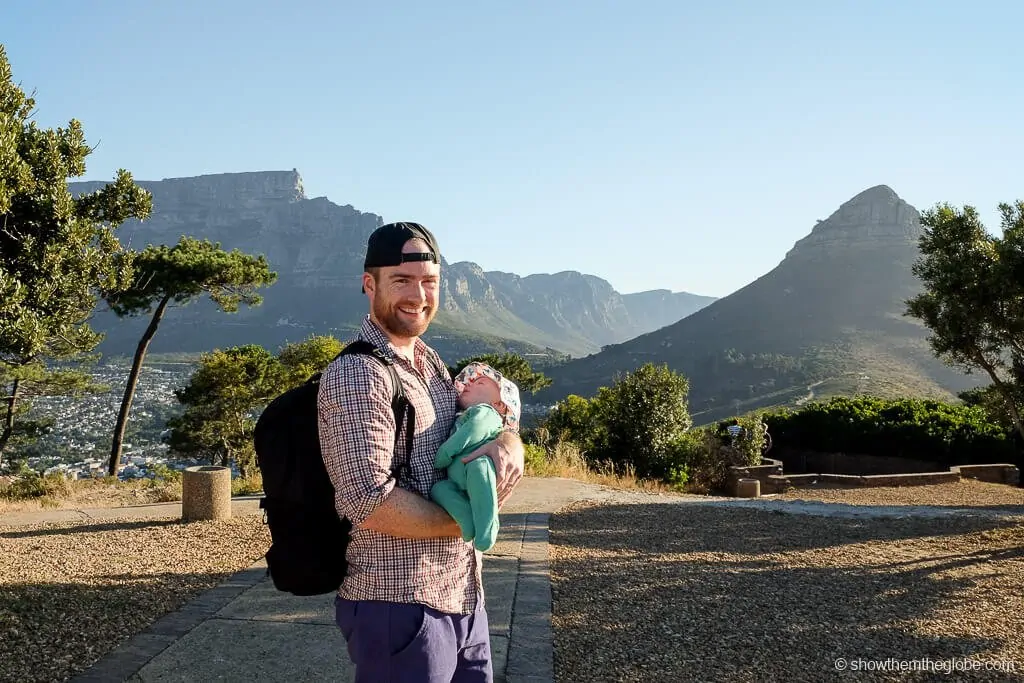 5 | Bo-Kaap
The colorful neighborhood of Bo-Kaap in the Malay Quarter of Cape Town is lovely to walk around and is where the streets are lined with brightly painted houses of all colors.
6 | Camps Bay
Camps Bay is a bustling Cape Town suburb with lots of restaurants and beautiful beaches nestled by the Twelve Apostles and the Atlantic Ocean. The Camps Bay tidal pools are great for a dip and are well protected from the ocean.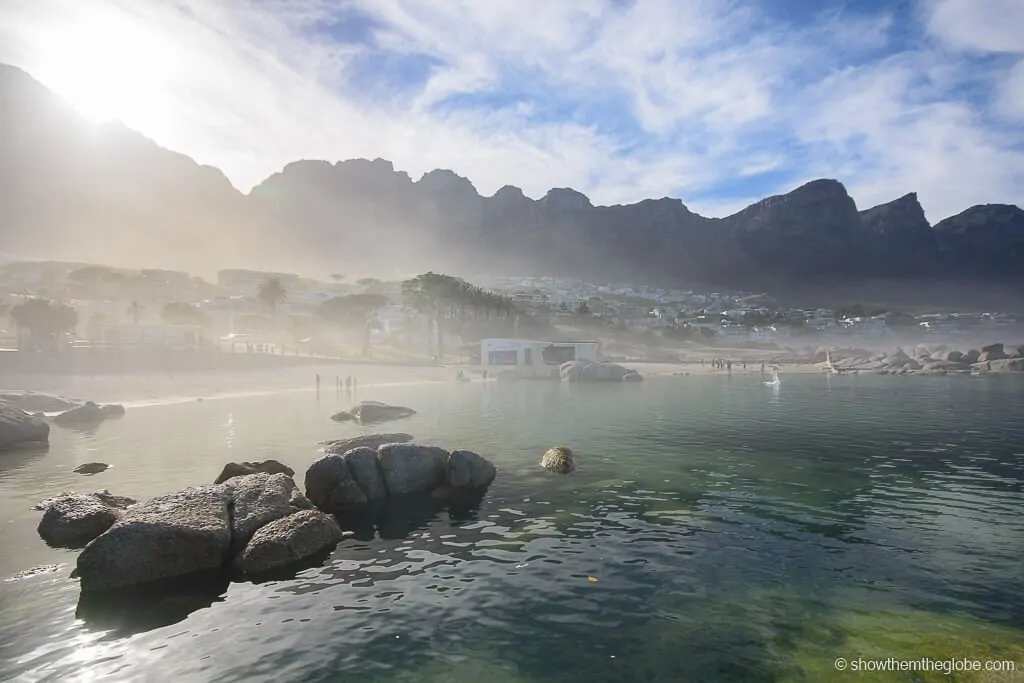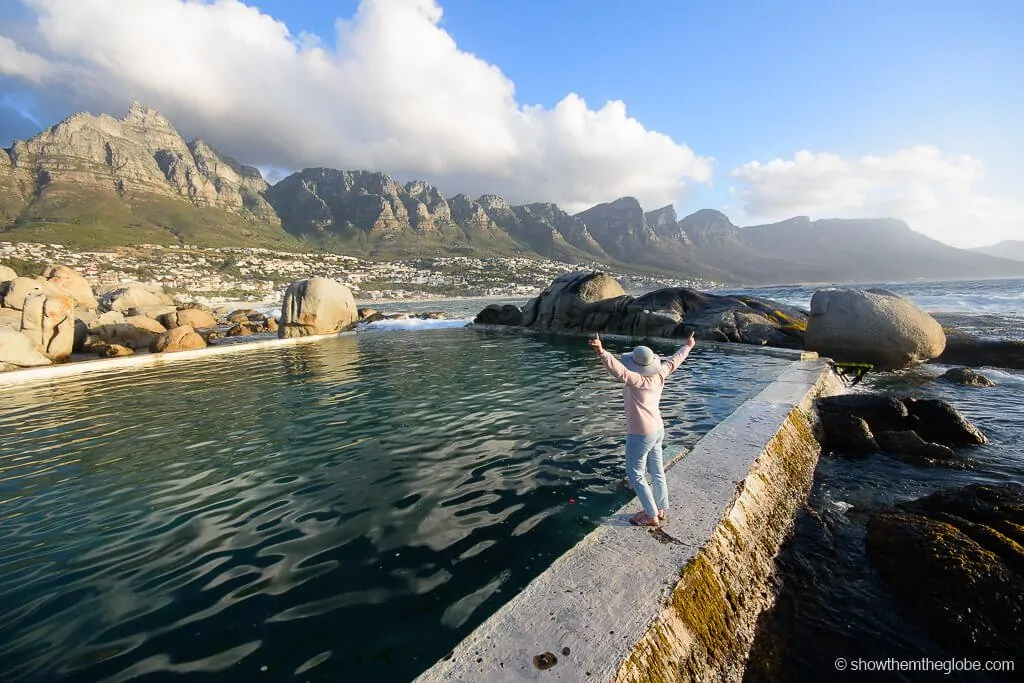 7 | Kirstenbosch National Botanical Gardens
Kirstenbosch is a short drive from Cape Town, the magnificent botanical gardens are a beautiful escape from the city. The sculpture garden and the Centenary Tree Canopy Walkway are fantastic and the tea rooms are delicious.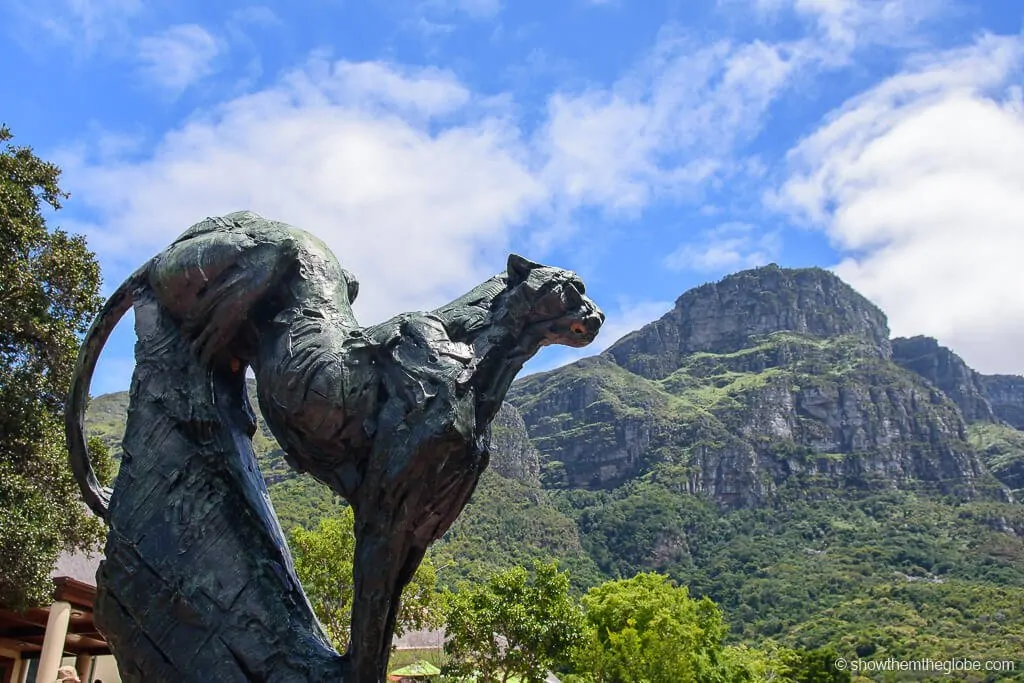 8 | Boulders Beach
Boulders Beach is home to an African Penguin colony which lives on its shores. Who can resist a baby photo with thousands of penguins going about their daily business in the background!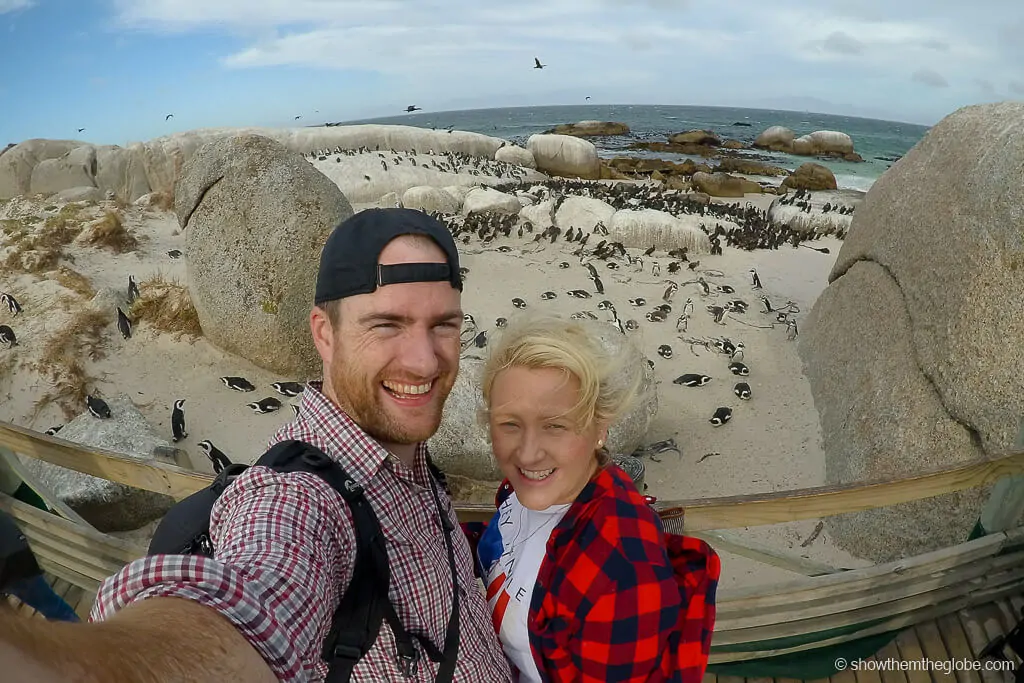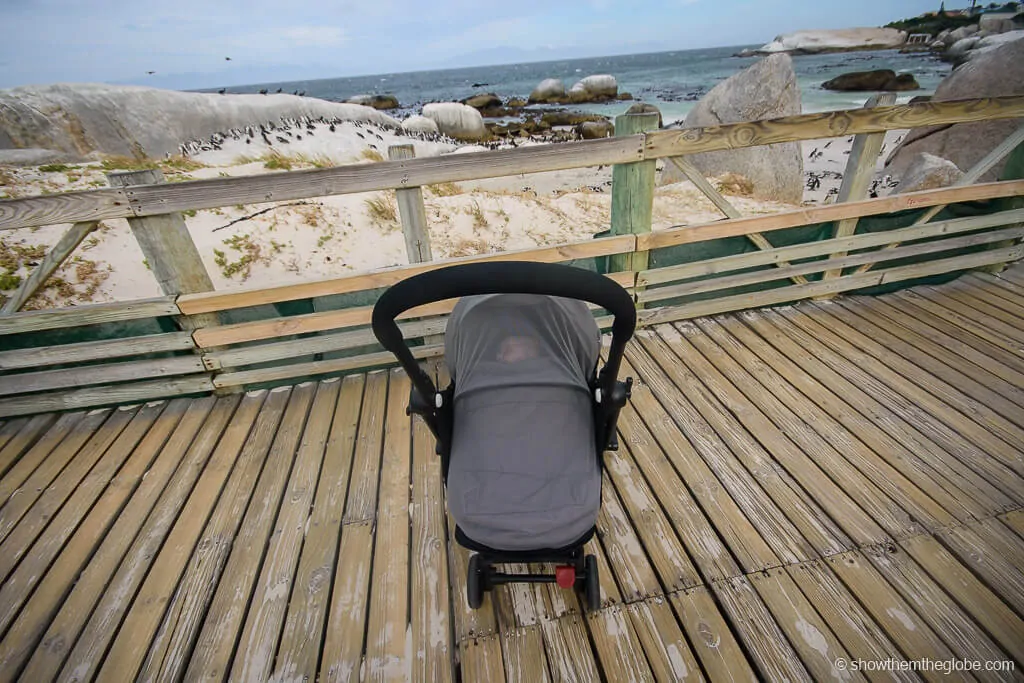 9 | Muizenberg Beach
Muizenberg Beach is a family-friendly stunning white sandy beach with blue flag status. As a bonus, the brightly colored beach huts are adorable!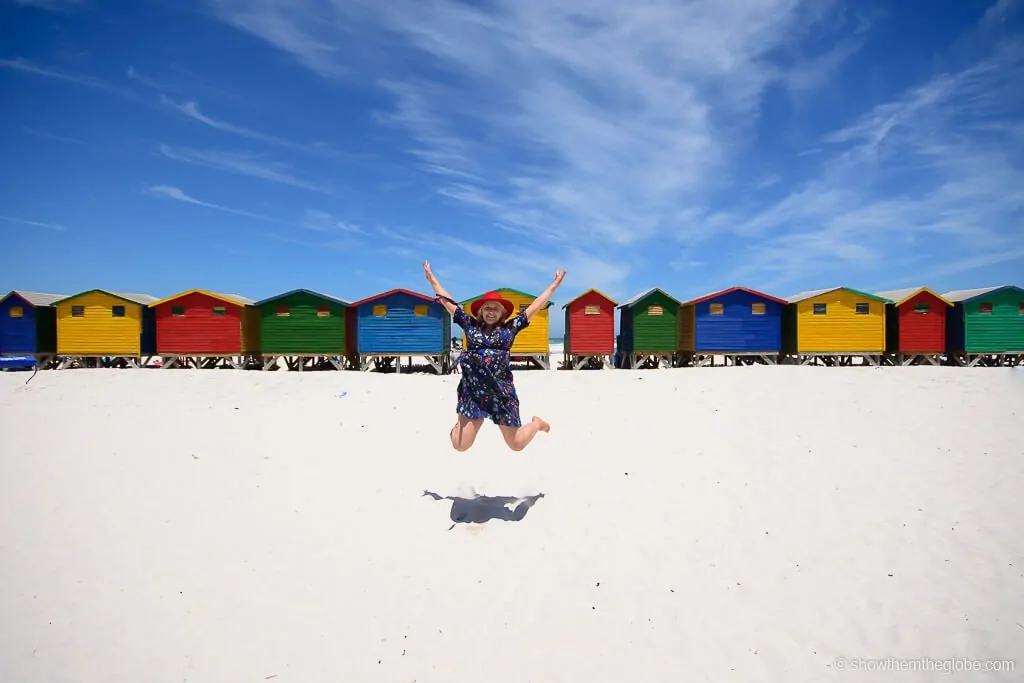 10 | Chapman's Peak Drive
Chapman's Peak Drive is a spectacular drive which captures the ocean road at its finest. It begins in the fishing village of Hout Bay and winds its way up to Chapman's Point before ending at Noordhoek.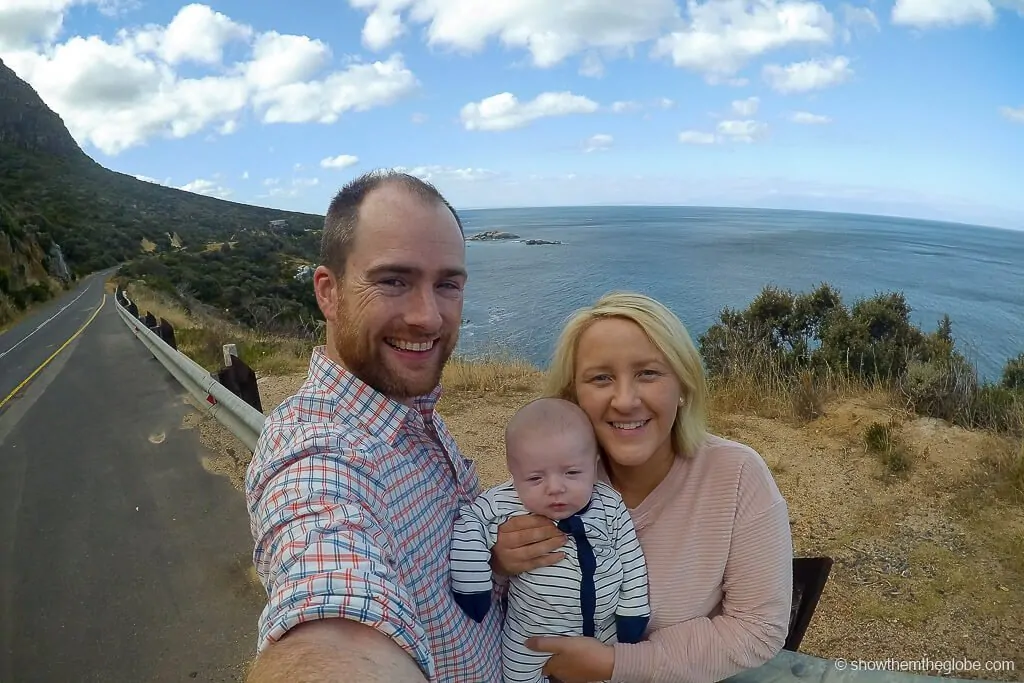 10 | Cape Town Photo Frames
Six giant yellow photo frames are dotted around Cape Town which perfectly frame the spectacular Table Mountain. Keep an eye out for them at popular spots like Signal Hill and the V&A Waterfront.
11 | Cape of Good Hope
The Cape of Good Hope is a great day trip option to the Cape Peninsula, a rocky headland jutting out over the Atlantic Ocean. The highlights are the Cape of Good Hope and the dramatic cliff faces and ocean views will make you feel like you are at the end of the earth. The drive will also take you through the Cape Floral Region, one of the richest plant areas in the world.
12 | Woodstock
Woodstock street art: Woodstock is a hip and gritty Cape Town neighborhood where the tiny side streets hide colorful murals and fascinating street art on the slopes of Devi's Peak. There is everything from superheroes, political statements and some incredible wildlife depictions.
Cape Town with a baby tip: we did our own tour by car on a relatively traffic free weekend morning so J hung out in his car seat.
13 | Old Biscuit Mill Market
Old Biscuit Mill: a courtyard of boutique shops and cafes in an old red brick factory, the Old Biscuit Mill transforms into the Neighbourhoods Market on Saturday mornings with artisan food and drink offerings.
Cape Town with a baby tip: the market gets quite crowded so we'd recommend using a baby carrier rather than a stroller to navigate.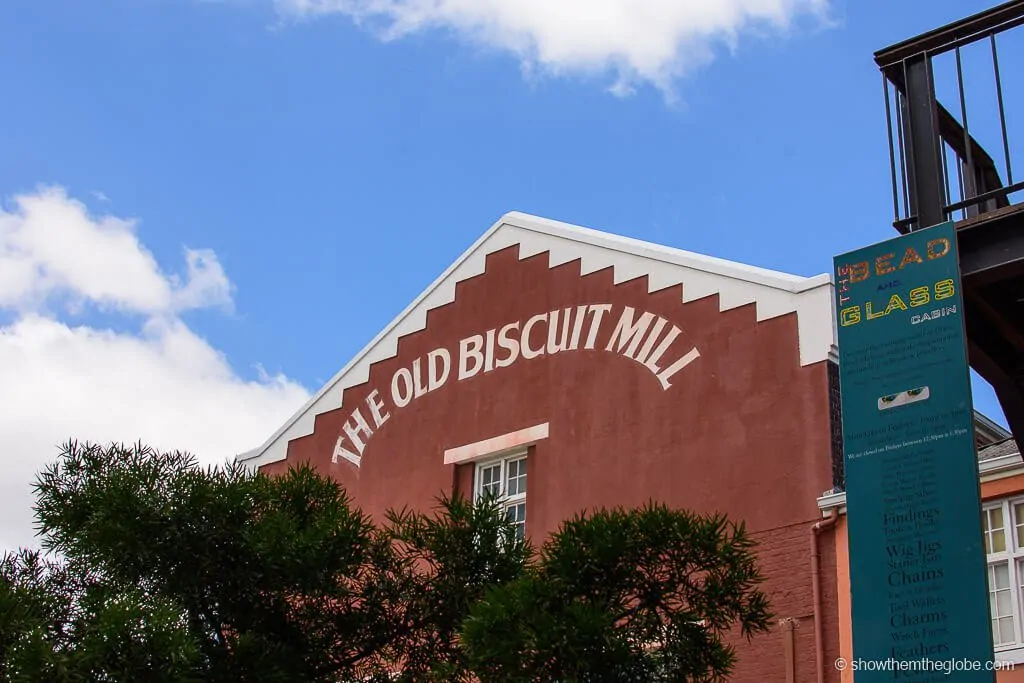 13 | Cape Winelands
Cape Winelands: Stellenbosch and Franschhoek are the Winelands two most popular stops and are just 45minutes outside Cape Town. If you prefer somewhere closer, Constantia is only 15 minutes away & has some of the oldest & very best wineries in South Africa. We took J for a picnic at Boschendal in Franschhoek and it was incredible!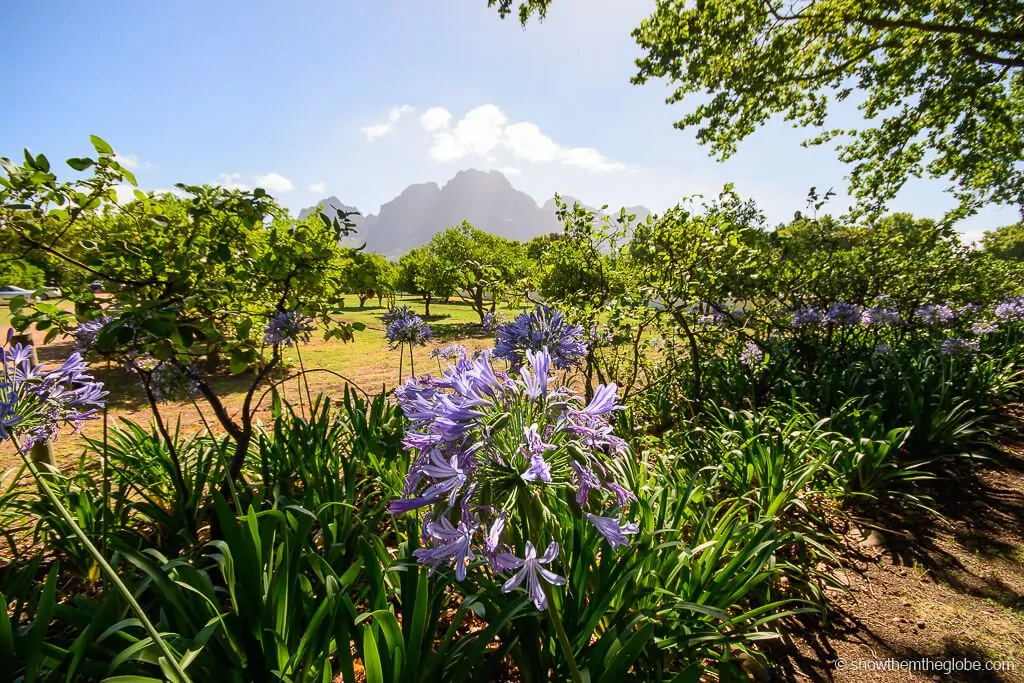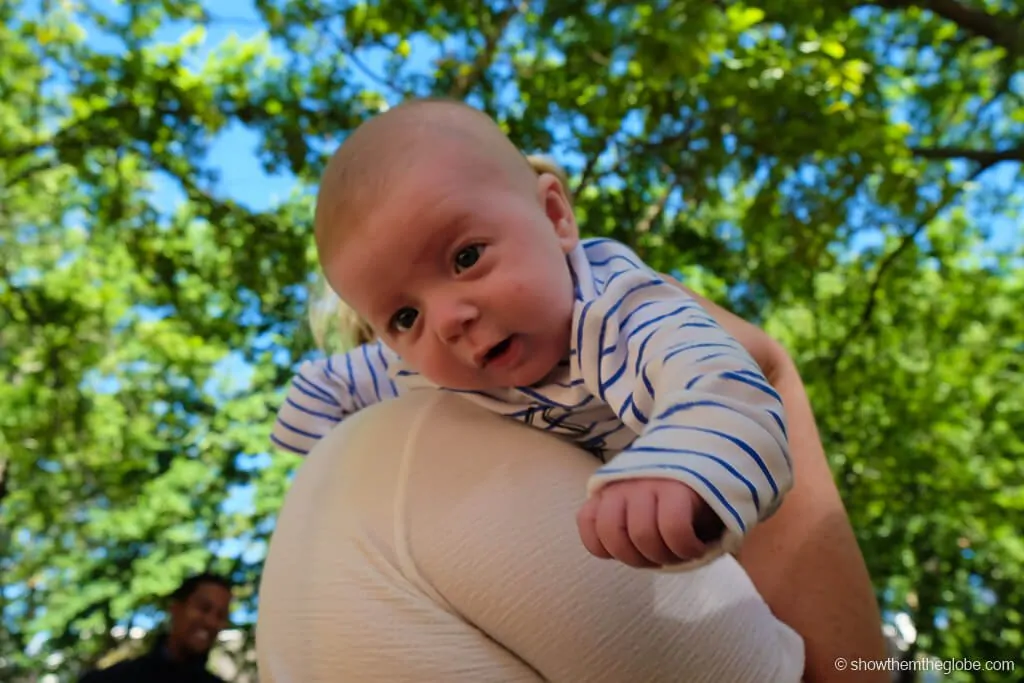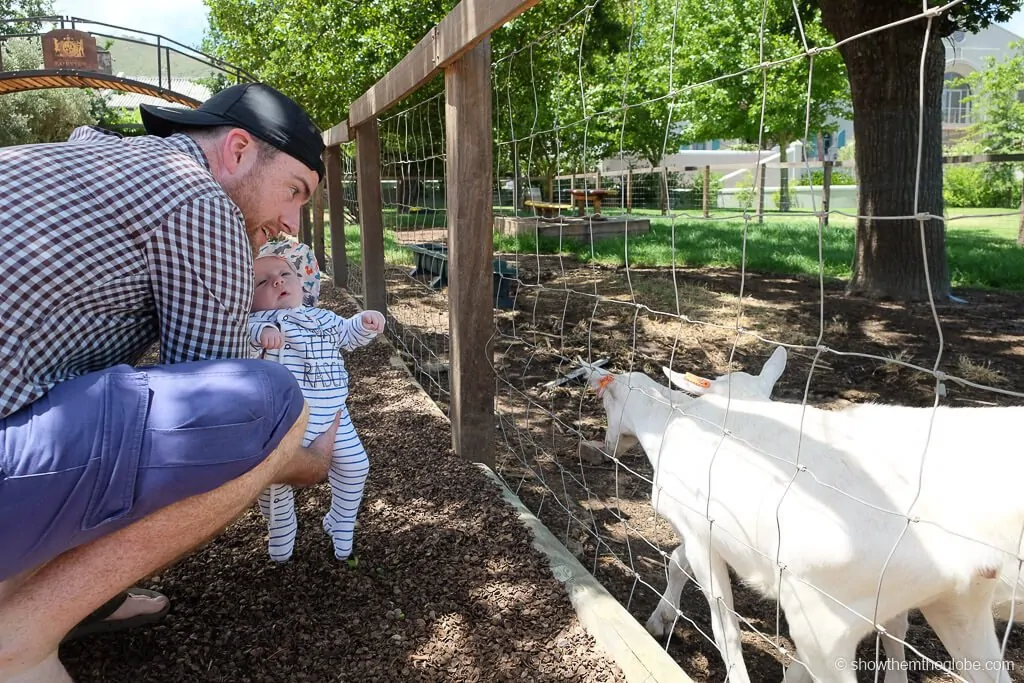 14 | Lion's Head
One of the most iconic Cape Town landmarks, Lion's Head is a challenging hike and an awesome spot to enjoy views of Table Mountain, Camps Bay and the Ocean. The full Lion's Head hike is too dangerous to bring a baby to the very top but a shorter route, returning to the base around halfway, is manageable.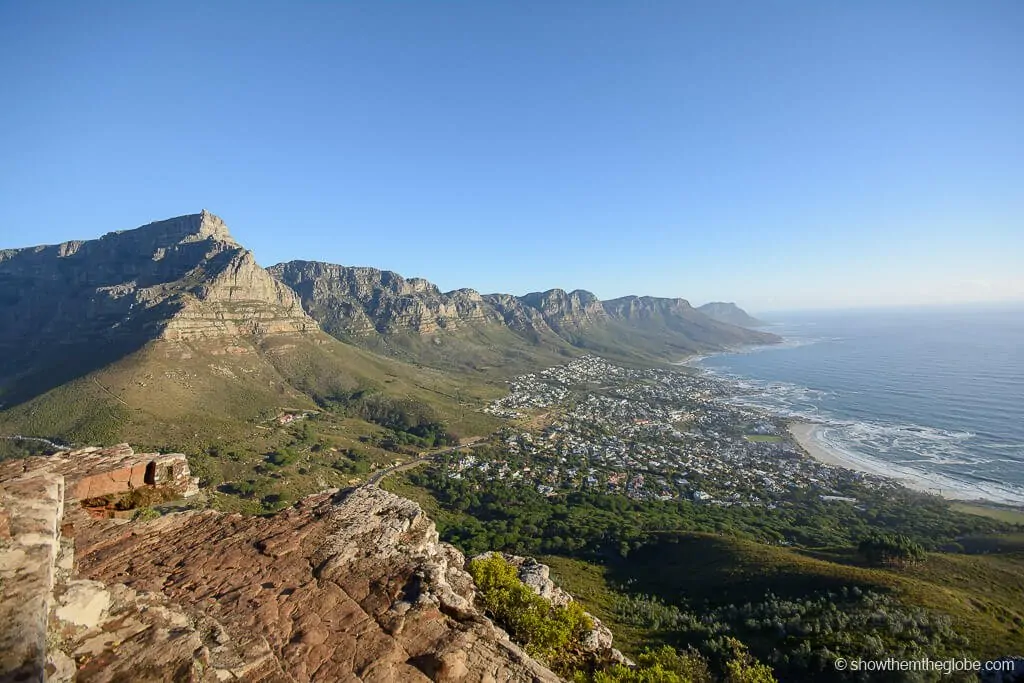 15 | District 6
A fascinating insight into Cape Town history, the District 6 museum documents a time when 60,000 people were forcibly removed and relocated to derelict areas and their houses in District Six were destroyed. The District 6 Museum website mentions that it doesn't cater to children under 10 but we can't confirm as we visited pre-baby so it might be worth a try!
16 | Kloof Corner
Kloof Corner is a super easy 30minute hike which rewards with magnificent views of Lion's Head, Camps Bay. The hike is fine for taking a baby in a carrier, however, there are steep drops at Kloof Corner itself so don't get too close to the edge.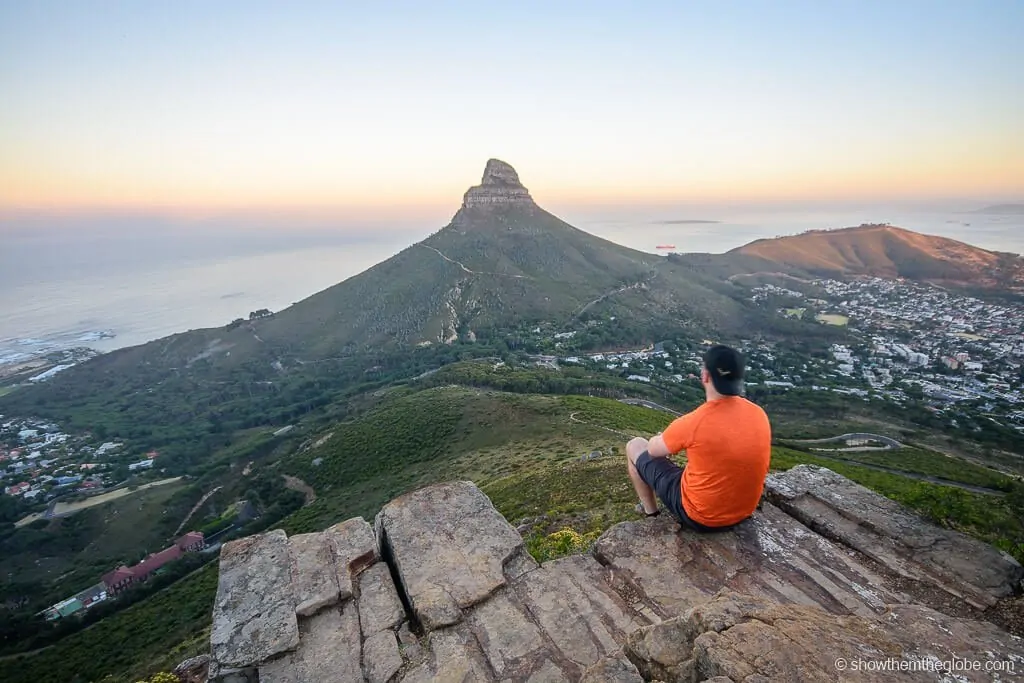 Tips for Cape Town with a baby
Cape Town is a world-class city and, as a result, we had no concerns traveling there with a baby. There is an extremely high standard of accommodation, transport and hygiene and the tap water is good quality and drinkable.
Other considerations include:
Travel insurance: always purchase travel insurance for the baby so you have access to private healthcare in the event of illness.
Healthcare: the standard of healthcare is excellent in Cape Town. Mediclinic is a good option if you do need to access private health care.
Eating out: Cape Town is baby friendly although not everywhere is equipped with high chairs so we preferred to bring our stroller for meals.
Supplies: supermarkets and pharmacies are well equipped with baby essentials and anything else you might need.