In a city renowned for both its gambling and its parties, there is actually a huge variety of fun things to do in Las Vegas with toddlers. Adventure parks, neon lights, decadent hotels and easy access to some incredible natural wonders mean there is plenty to keep little adventurers entertained. Here's our guide to the best things to do in Las Vegas with toddlers!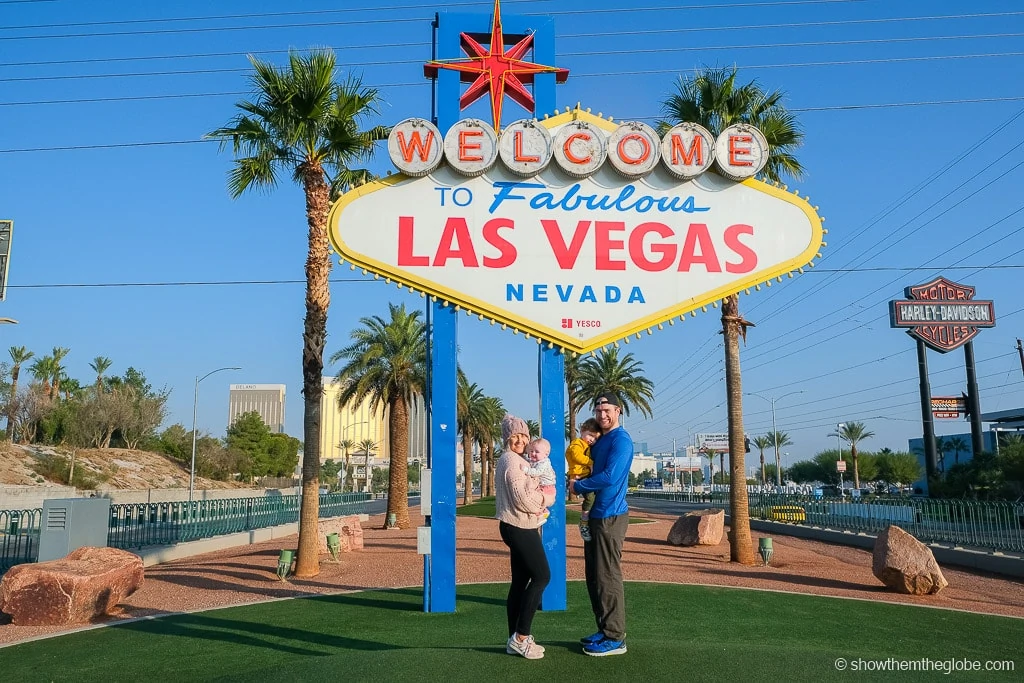 15 Best Things To Do in Las Vegas with Toddlers
From the fantastic children's museum to the dancing fountains at the Bellagio and the thrilling roller coaster at New York, New York, these are our 15 best things to do in Las Vegas with toddlers!
1 | Adventuredome at Circus Circus
Adventuredome is a 5 acre indoor amusement park at Circus Circus. Thrill seekers will love the 2 roller coasters and the flinging, soaring and flipping on rides like Inverter and Sling Shot. Younger kids will have fun on the traditional carousel and ferris wheel.
Things to do in Las Vegas with toddlers tip: we visited early on a weekday and there were no queues for any of the rides. Dave and I took turns at riding the roller coasters and the kids loved the family friendly options.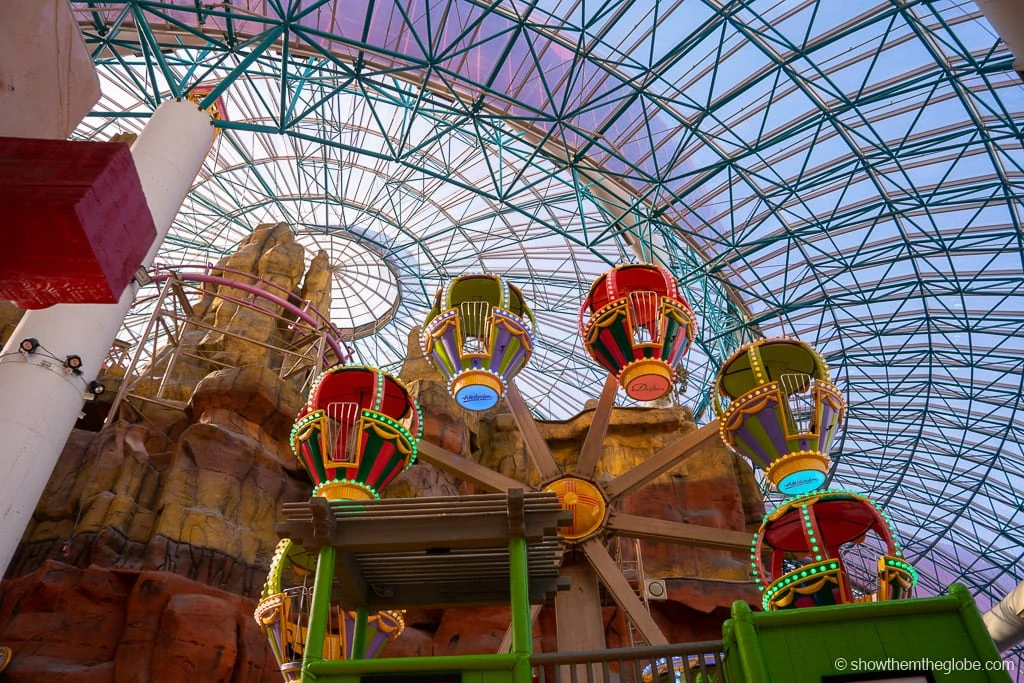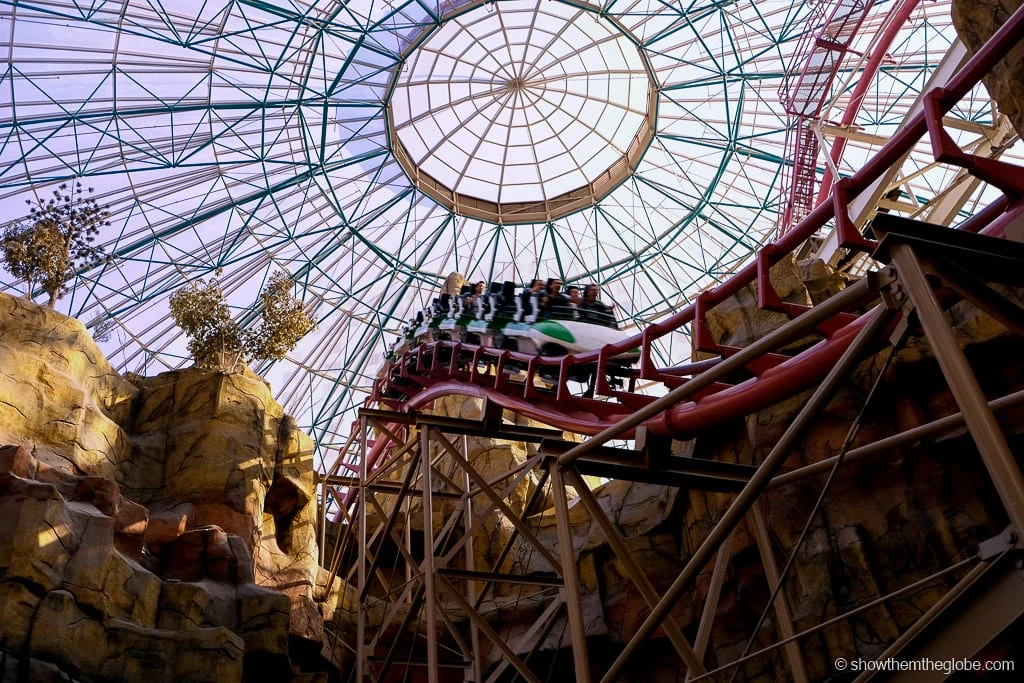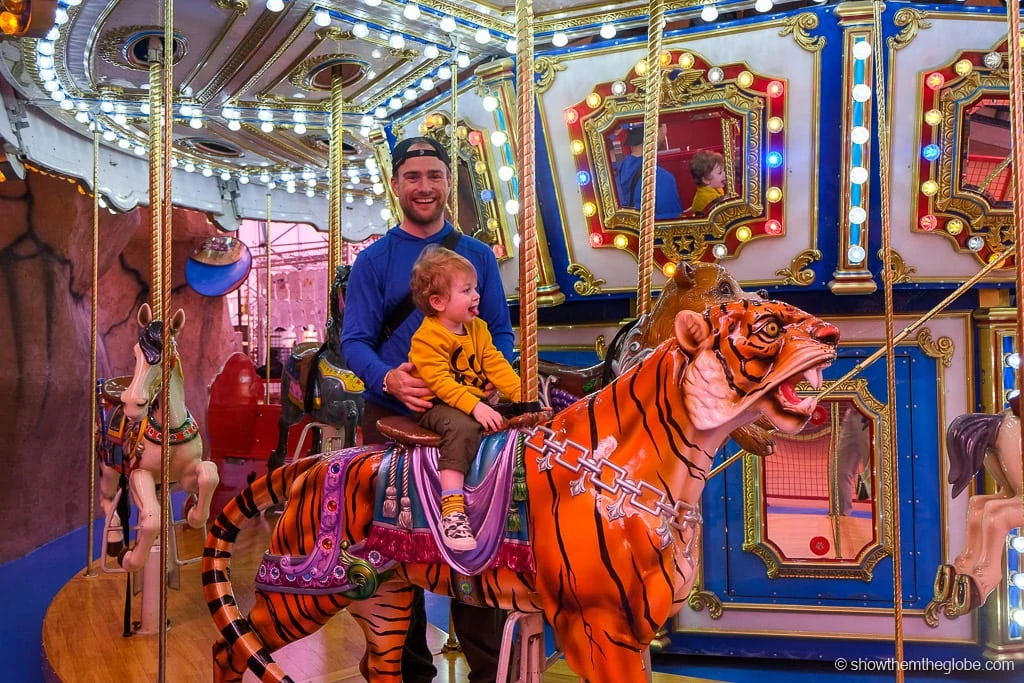 2 | Welcome to Fabulous Las Vegas!
The 'Welcome to Fabulous Las Vegas' sign is fabulous, retro and a Vegas icon. A family photo under the sign is a perfect memento for a Las Vegas trip. Depending on when you visit you can include other Vegas icons such as an Elvis impersonator in your pic!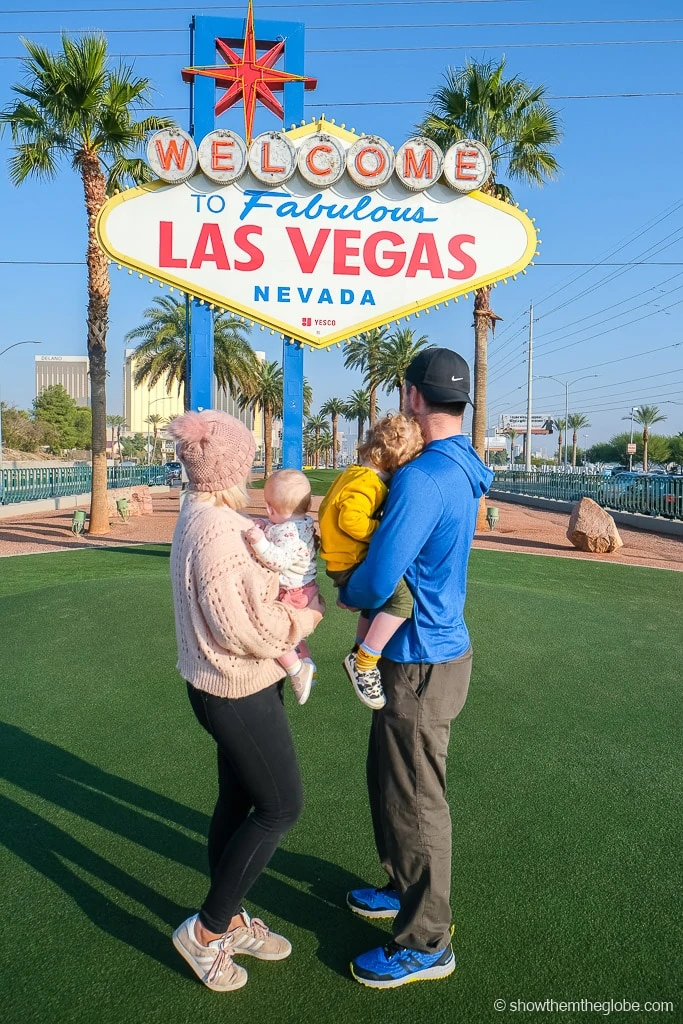 Things to do in Las Vegas with toddlers tip: the sign is extremely popular and attracts huge crowds but the queue tends to move quickly. There are a few people working the sign – they're not official staff but they do a great job of keeping the queue moving. They also offer to take photos and we got some awesome family photos in return for a small tip.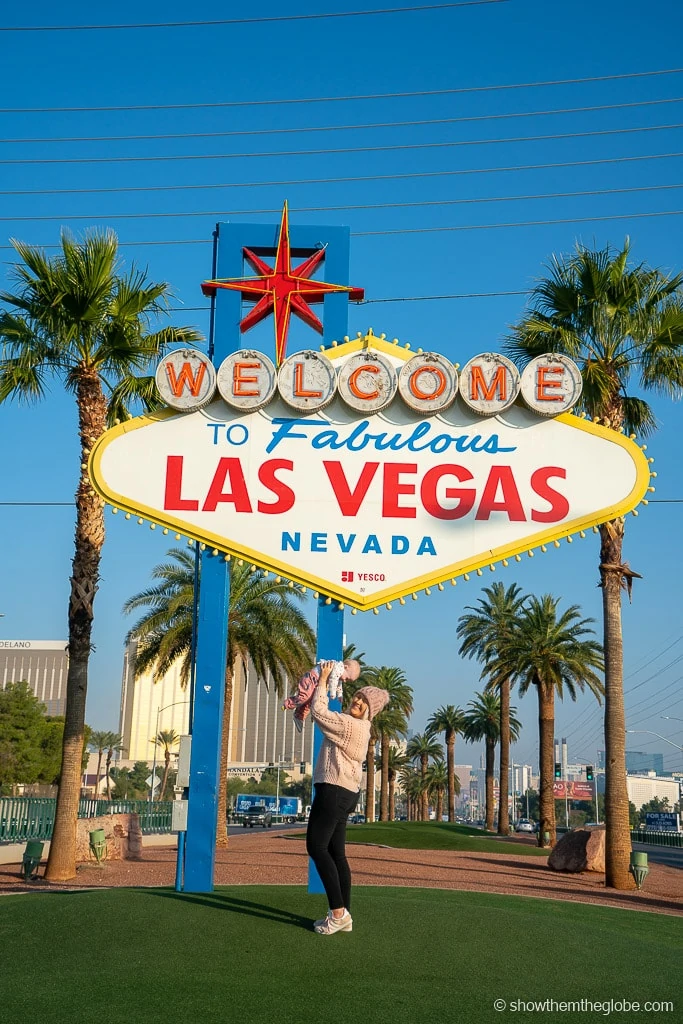 3 | Neon Museum
As art museums go, the Neon Museum is one of the most unique and fun! The Neon Museum exhibits Iconic neon signs which once lit up the Las Vegas strip in its Neon Boneyard. The retro signs are stacked along the museum's outdoor pathways and some are instantly recognizable – our favorite was the 82 foot tall original neon Hard Rock Café sign and the Stardust letters which has over 1,100 lightbulbs that are illuminated every evening.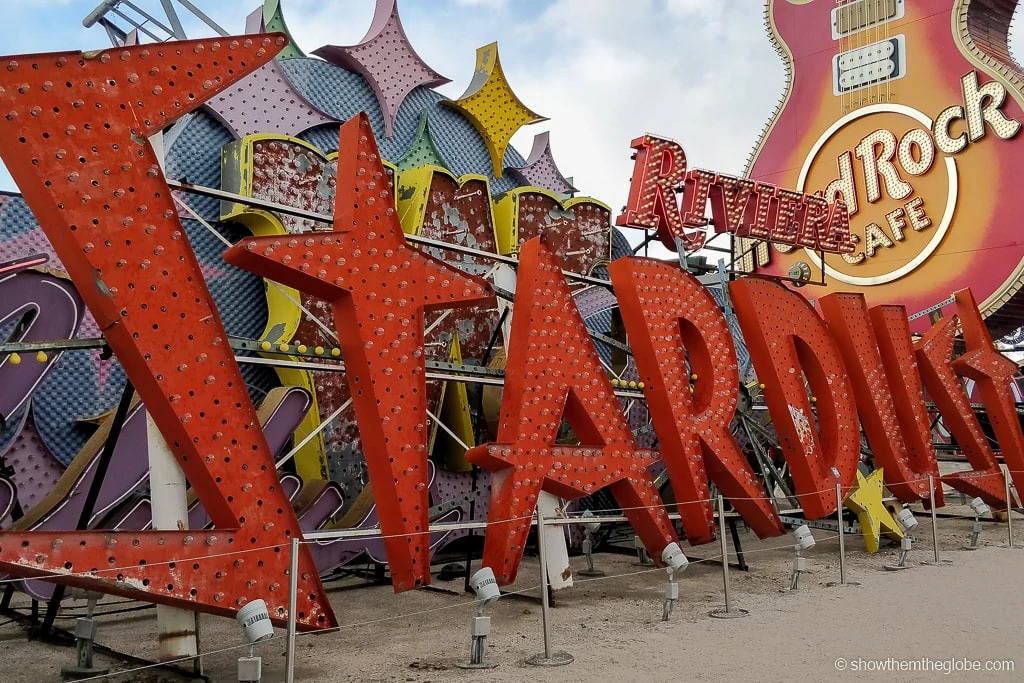 Things to do in Las Vegas with toddlers tip: the Neon Museum is a fun stop with kids in the afternoon when it tends to be quieter. Only cell phone photography is allowed.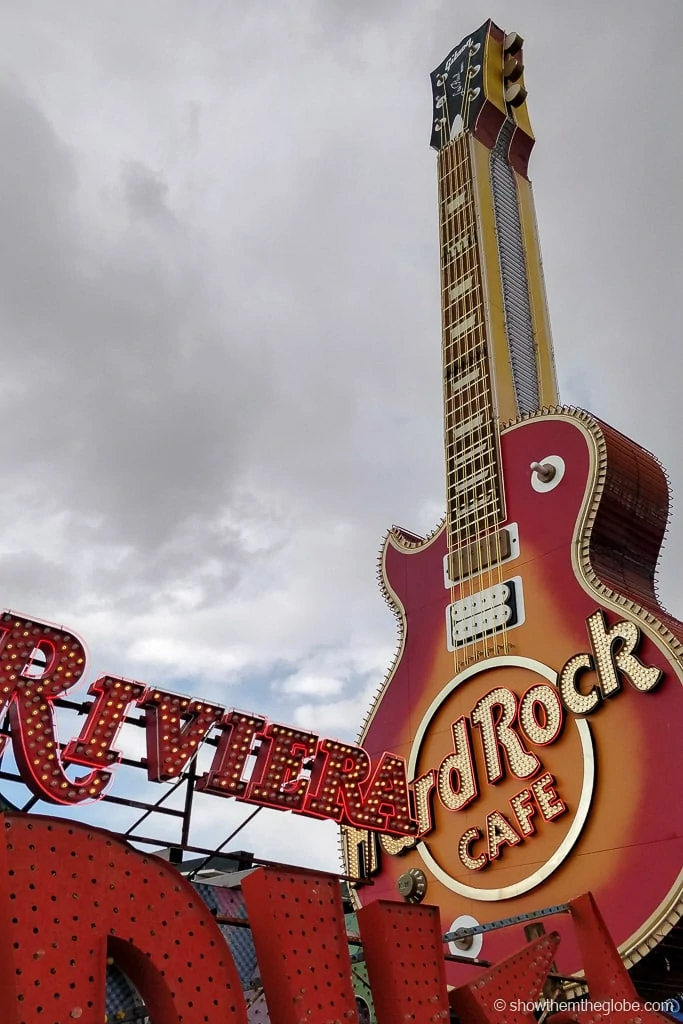 4 | Discovery Children's Museum
The Children's Discovery Museum in Las Vegas is three floors of interactive and educational exhibits. Ongoing exhibits include Water World, dedicated to water (no surprises there!), an investigative and puzzle solving exhibit called Solve It, and a hands on art exhibition 'Young at Art'. The giant jungle gym with its slide and climbing frames is a hit with kids of all ages!
Our two year old loved loading rocks and boulders in Toddler Town, where the youngest visitors become a miner for the day in the Nevada Desert!
Things to do in Las Vegas with toddlers tip: the Discovery Museum is best suited to younger kids and is likely to lose appeal as kids approach double figures in age!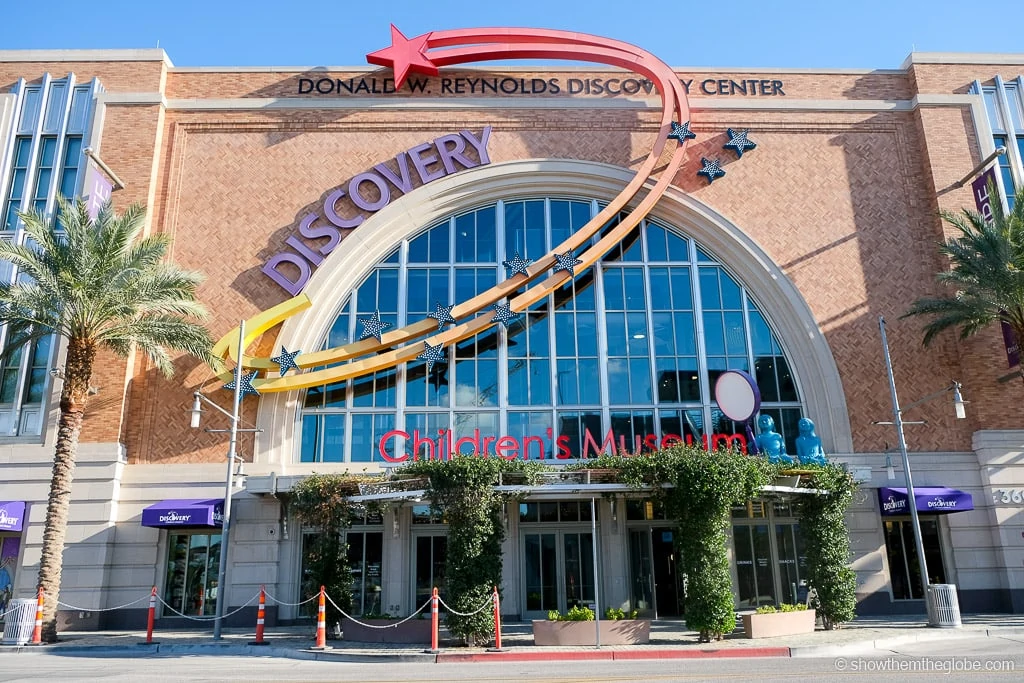 5 | Red Rock Canyon
Red Rock Canyon is a world away from the neon lights and casinos of the Strip. Covering almost 200,000 acres of the Mojave Desert, the 180 million year old Aztec Sandstone cliffs have a distinct red color due to iron oxide being present in the rock.
The 13 mile scenic loop can be explored by car or bike and is a great way to experience many of the canyon's highlights. If you want something more physical, there are 26 hikes and trails – we loved the toddler friendly Calico Basin outside the park and Calico Tanks, a 2.6 mile round trip best suited to kids who are experienced hikers. As well as Red Rock Canyon State Park there are lots of National Parks near Las Vegas.
Things to do in Las Vegas with toddlers tip: we used our rental car to make the 30 minute journey to Red Rock Canyon.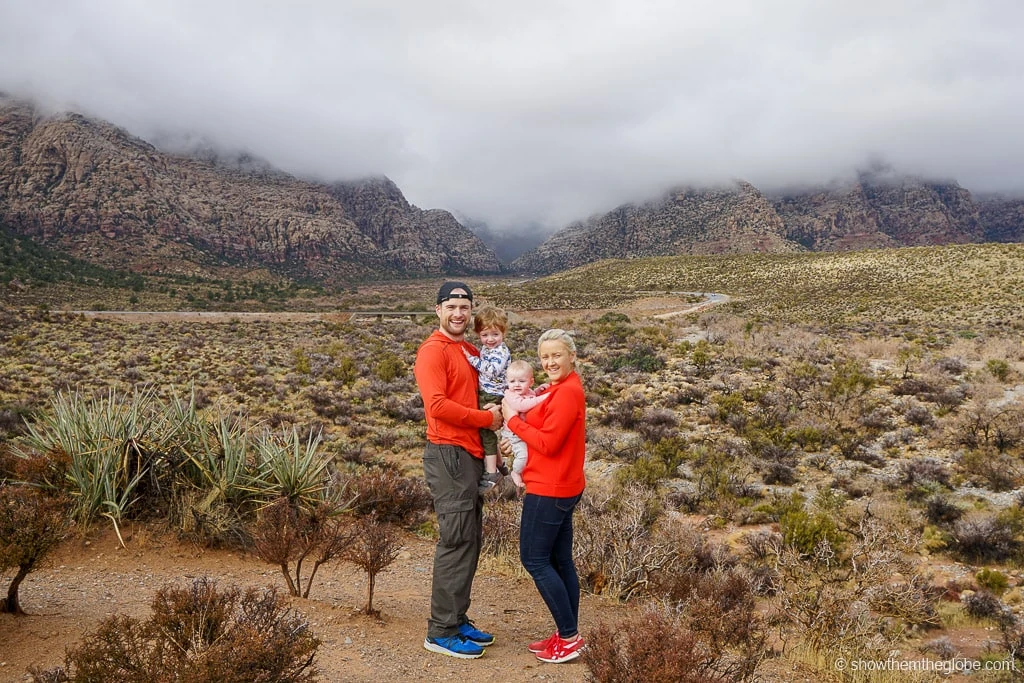 6 | Seven Magic Mountains
A public art installation by Swiss artist Ugo Rondinone, Seven Magic Mountains is made up colorful neon boulders stacked in seven giant towers. It's fun, free and colorful and it's amazing to see the colorful boulders against the backdrop of the desert. Our toddler was a huge fan of the Seven Magic Mountains – we visited early in the morning when it was quiet and he loved running around the colorful boulders while practicing his colors!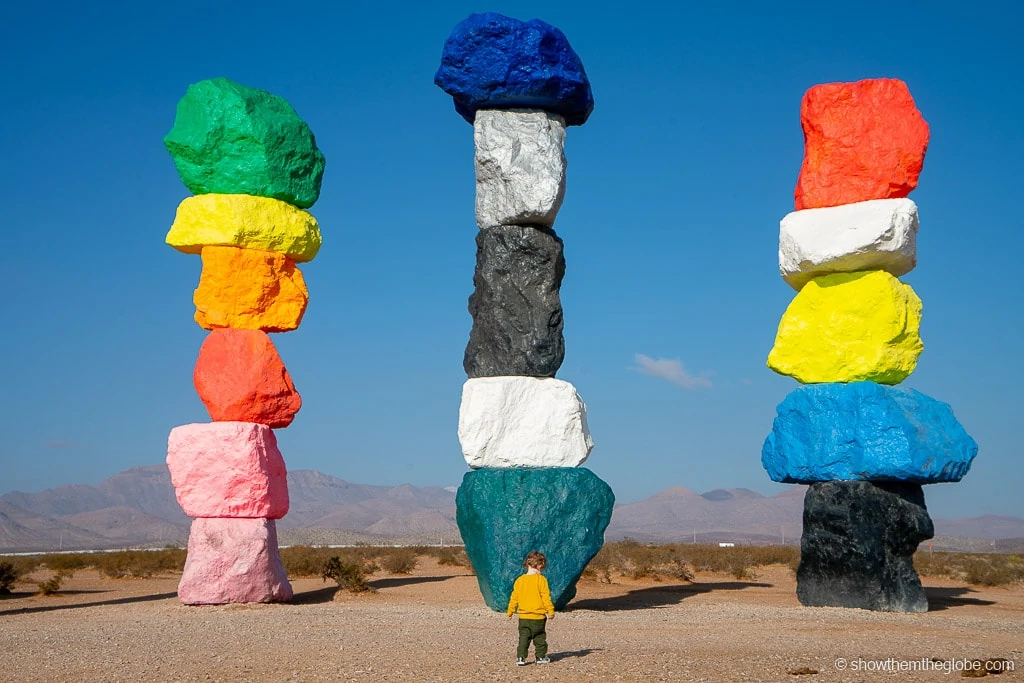 Things to do in Las Vegas with toddlers tip: we used our rental car to make the 30 minute journey to Seven Magic Mountains. There is no entry fee.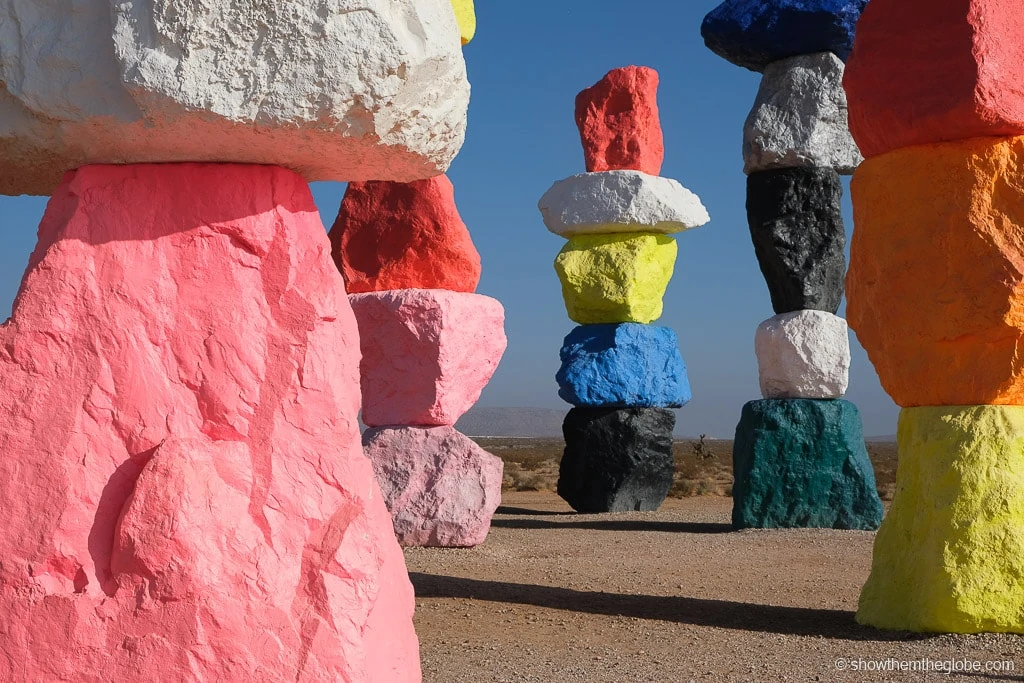 7 | The Bellagio Fountains
The Bellagio is one of the Strip's most iconic hotels and it is home to three of our favorite things to do in Las Vegas with toddlers. The bonus is that they are all free to experience!
First up are the Fountains at the Bellagio where a mezmerising water, music and light show captivates all who watch. The fountain show takes place daily and the schedule begins each afternoon. The show operates at intervals of 15 or 30 minutes depending on the time and day.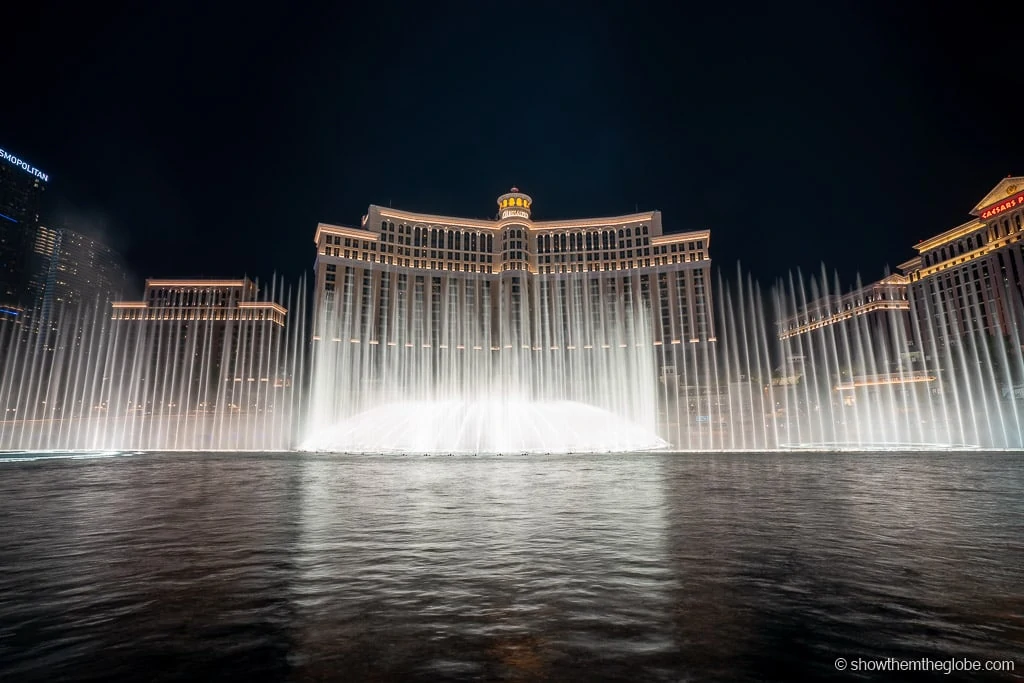 8 | Chihuly Sculpture and Conservatory
Inside the hotel, the glass topped conservatory has been transformed into an incredible Botanical Garden with a new theme each season. The Conservatory is a colorful explosion of flowers, plants, trees and sculptures and is beautiful to meander through.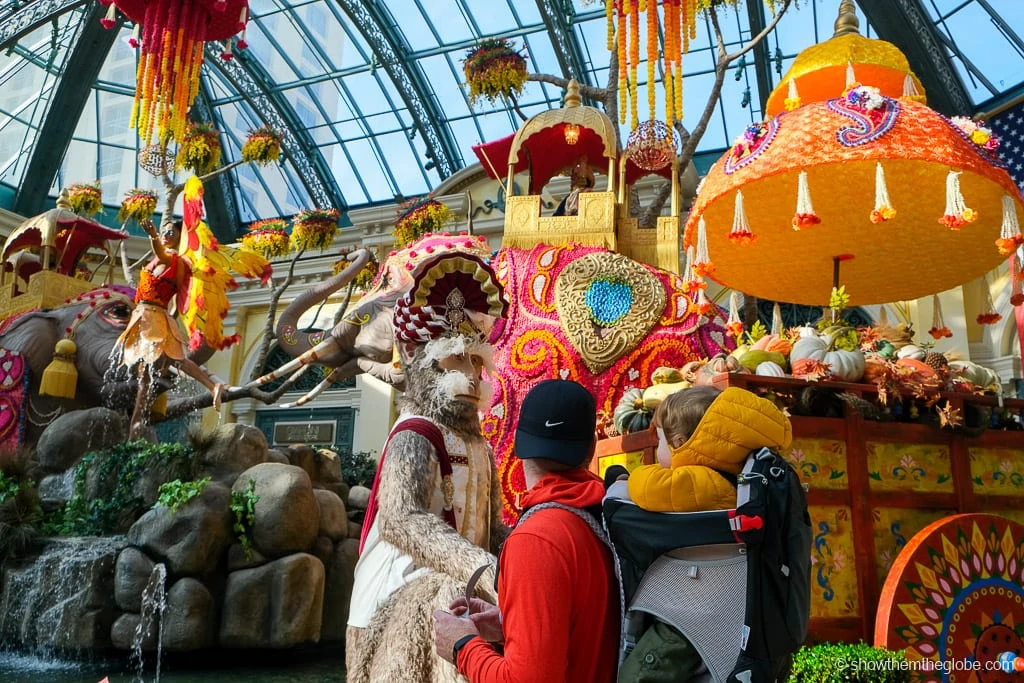 Make sure to take a moment, or an hour, to gaze skywards at the stunning lobby ceiling while you are in the Bellagio. The huge canopy of hand blown glass flowers is a stunning creation by the world renowned glass artist Dale Chihuly – if you've been to Seattle chances are you've come across the wonderful Chihuly Garden and Glass exhibition at the Seattle Center.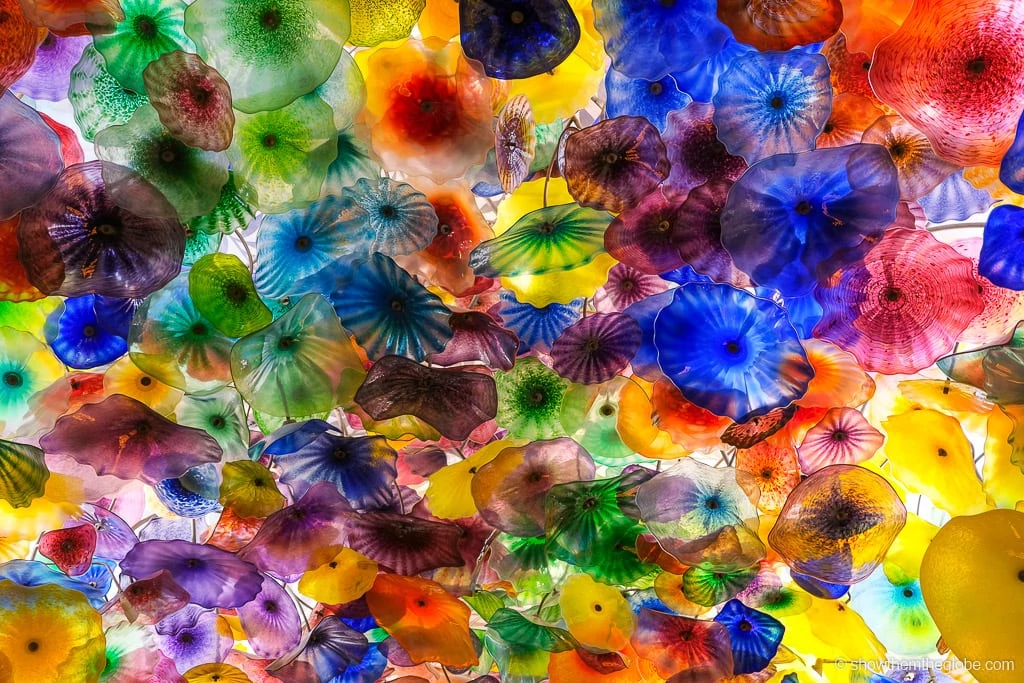 9 | High Roller Observation Wheel
The High Roller at the LINQ Hotel is the world's tallest ferris wheel and runs parallel to the Las Vegas Strip. The ferris wheel is more than 550 feet tall and passengers are treated to a 30 minute ride with awesome views high above the Strip.
Things to do in Las Vegas with toddlers tip: the pods hold up to 40 passengers so we opted for a day time visit with our kids. The sunset views and the Strip lit up at night are also awesome options.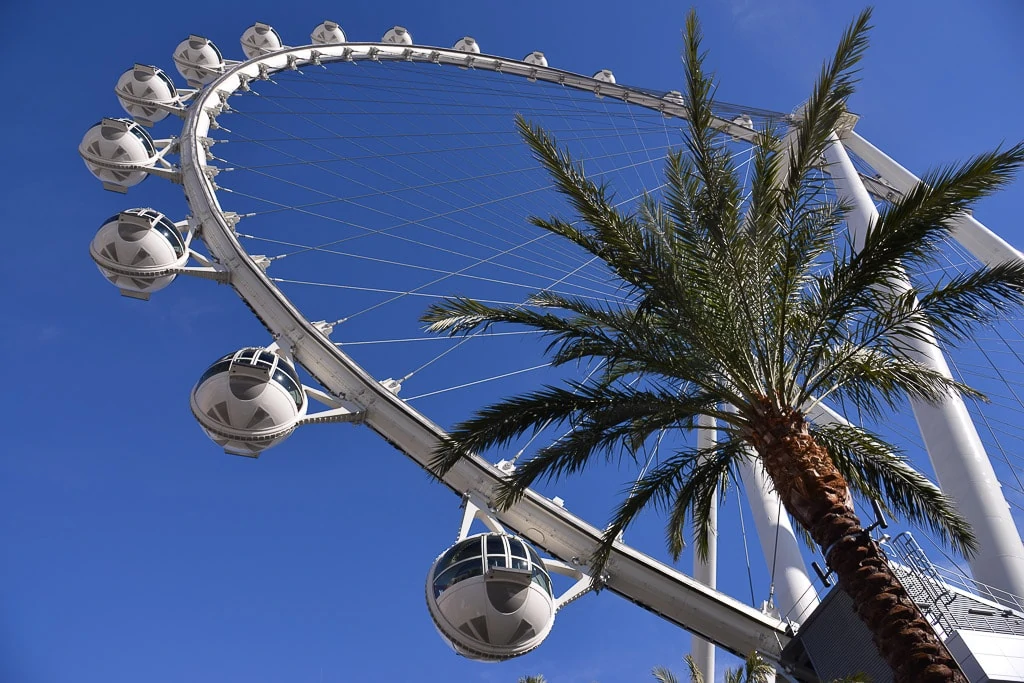 10 | Volcanoes at the Mirage
Explosions, soaring fires and pumping music make for a loud, bright and hot show at the Mirage. The show lasts around 10 minutes and takes place hourly from 6pm to 11pm daily.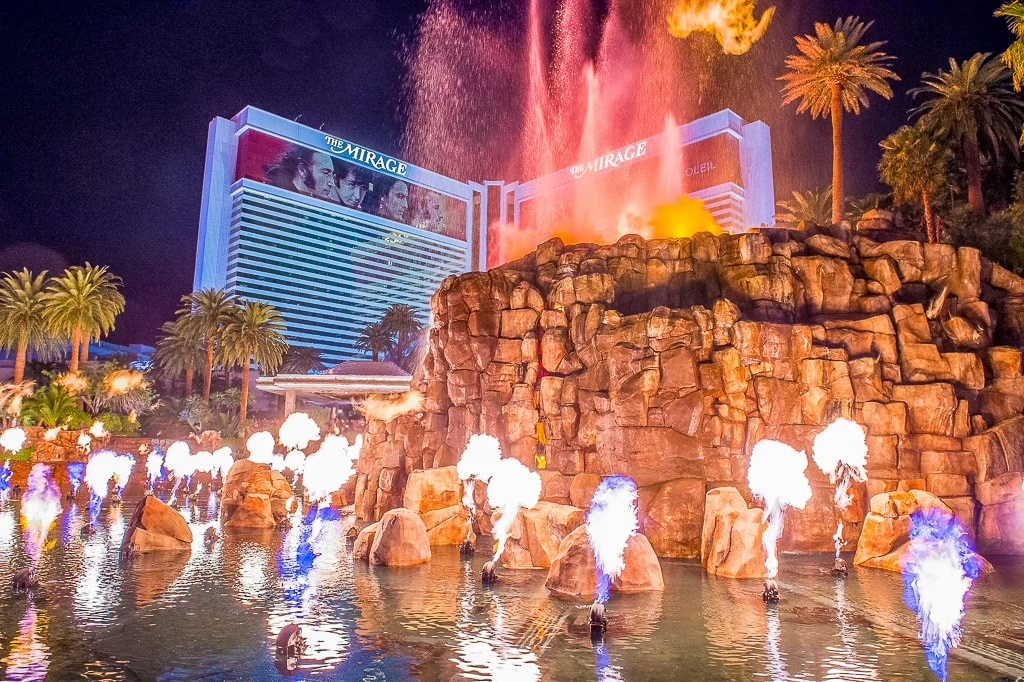 11 | Downtown Container Park
The Downtown Container Park was a huge hit on our Vegas trip and is a great venue for adults and kids to enjoy equally. Grown ups will love wandering around the shops and checking out some of the food and drink options in the open air park while the Children's Tree House and Play Zone is a sure-fire kid-pleaser. The tree house has a 33 foot slide and is surrounded by foam building blocks and a energy guzzling game which involves chasing flashing lights!
Kids will also love leaving a sticker and a message at the Pixel Sticker room and checking out the quirky sculptures which include a huge flame shooting praying mantis!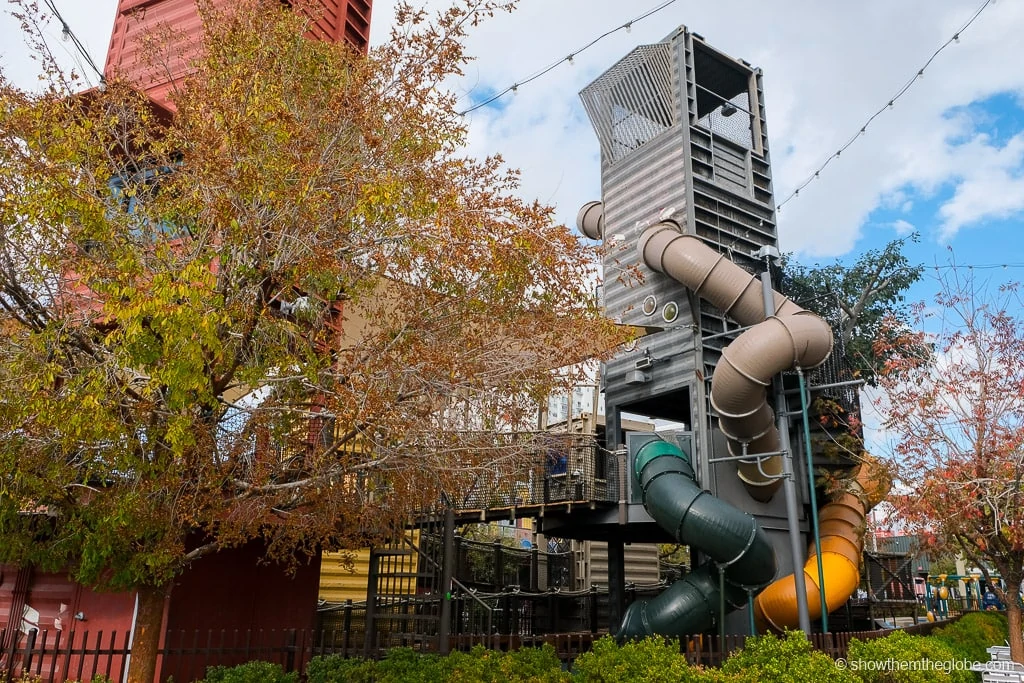 12 | Shark Reef Aquarium at Mandalay bay
With sting rays, green sea turtles, sharks and a Komodo Dragon, the Shark Reef Aquarium is a fantastic option for entertaining younger kids in Vegas. The small aquarium has over 2,000 residents and the highlight is a walk through the Aquarium tunnel surrounded by Aquatic life!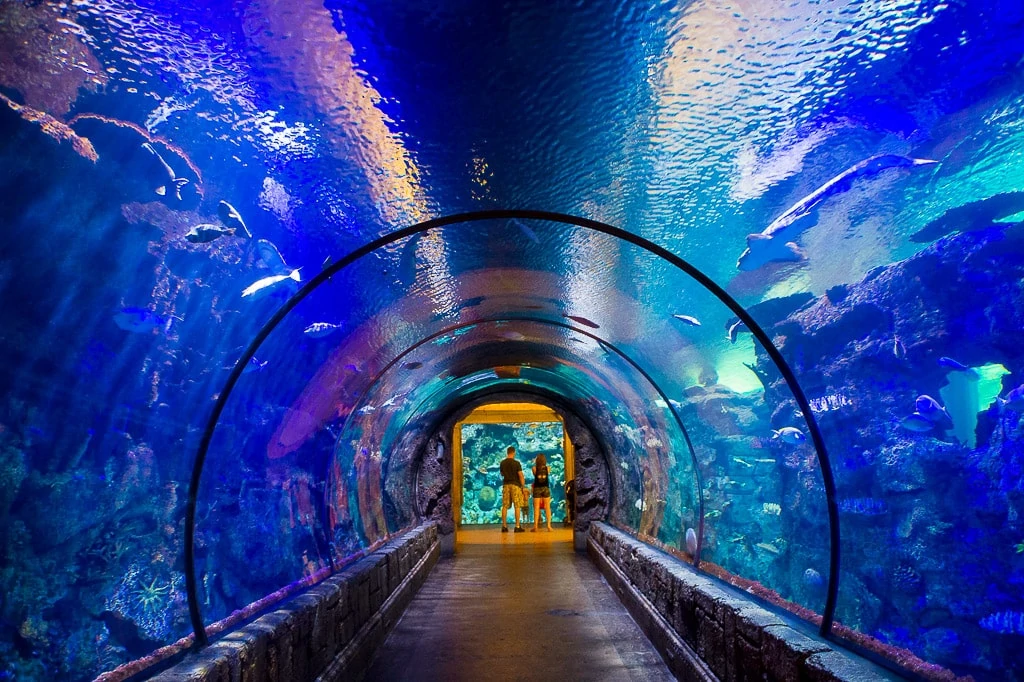 13 | Gondola Ride at the Venetian Hotel
A recreation of Venice Italy, the Grand Canal runs for a quarter of a mile through the streets of the Venetian Hotel. Just like in Venice itself, a gondola ride at the Venetian hotel is an amazing experience. There are outdoor and indoor rides (we prefer the indoor route) which pass under bridges and alongside Venice inspired streets. Kids will love the novelty factor and you might even be serenaded by one of the Venetian gondoliers!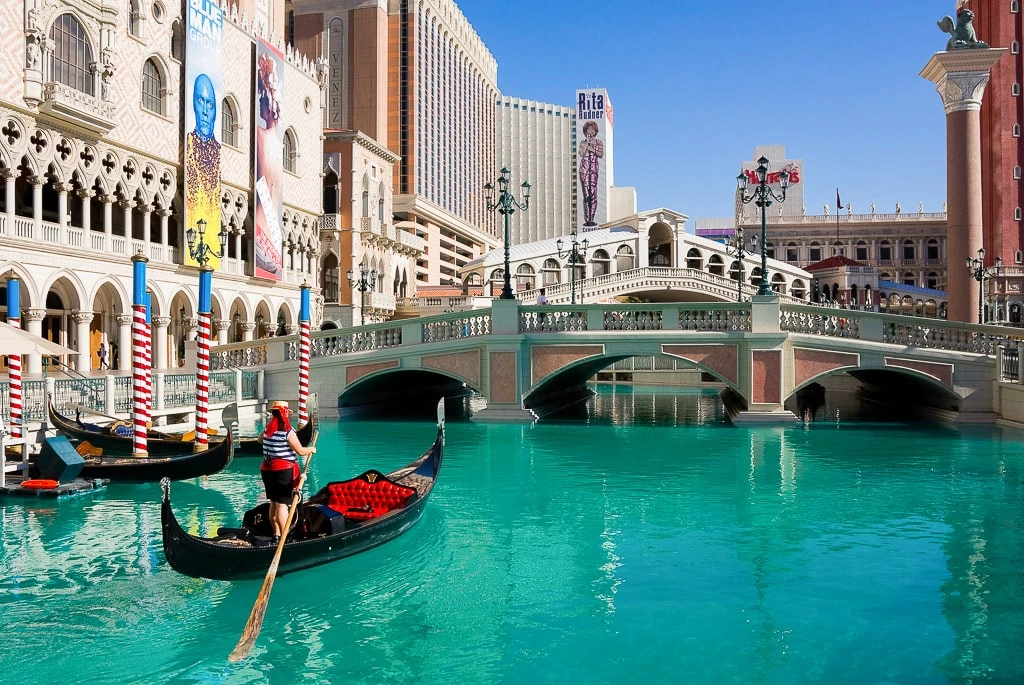 For older kids
If you have older kids, your toddlers might enjoy watching them take part in the ziplining at Freemont Street or the rollercoaster at New York New York.
14 | Zip lining at Freemont Street
Allowing visitors to soar above Freemont Street, the Slotzilla Zip line is a unique Las Vegas experience.
There are two zip lines: a standard zip line called the Zip line where guests fly in a seated position for 850 feet or a higher and longer version called Zoomline where guests fly like a superhero for 1,700 feet.
Things to do in Las Vegas with toddlers tip: The SlotZilla Zip line is open to kids with the only requirement being that visitors weigh at least 50 pounds for the Zipline and 80 pounds for the Zoomline. There is no other specific height or age requirement.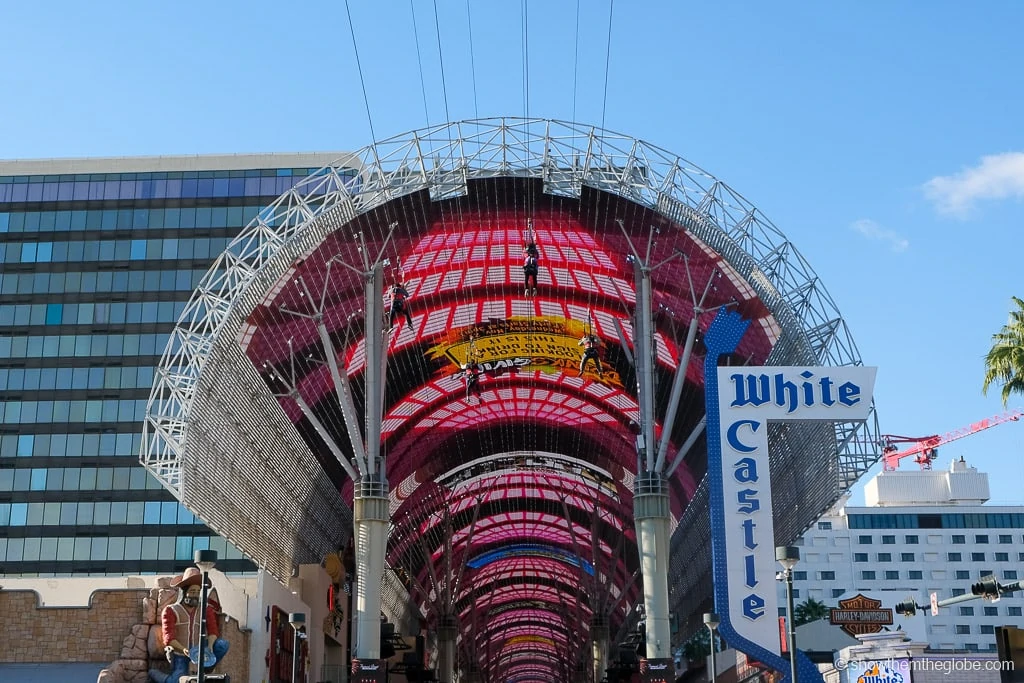 15 | New York New York Roller Coaster
The Big Apple Coaster at New York New York is a must do for older adrenaline junkie older kids! The views are amazing as the roller coaster loops, drops and corkscrews around the New York New York hotel.
Things to do in Las Vegas with toddlers tip: kids must be 54 inches/ 1.37 meters tall to ride the roller coaster at New York New York.