Famous for its white-sand beaches, sprawling Mayan ruins, crystal clear cenotes, and glamorous social scene, Tulum is also a great family destination and there are lots of fun things to do in Tulum with kids.
Having used Tulum as a base during our Yucatan adventures we've put together this list of the best 15 things to do in Tulum with kids. We hope you have as much fun exploring Tulum with kids as we did!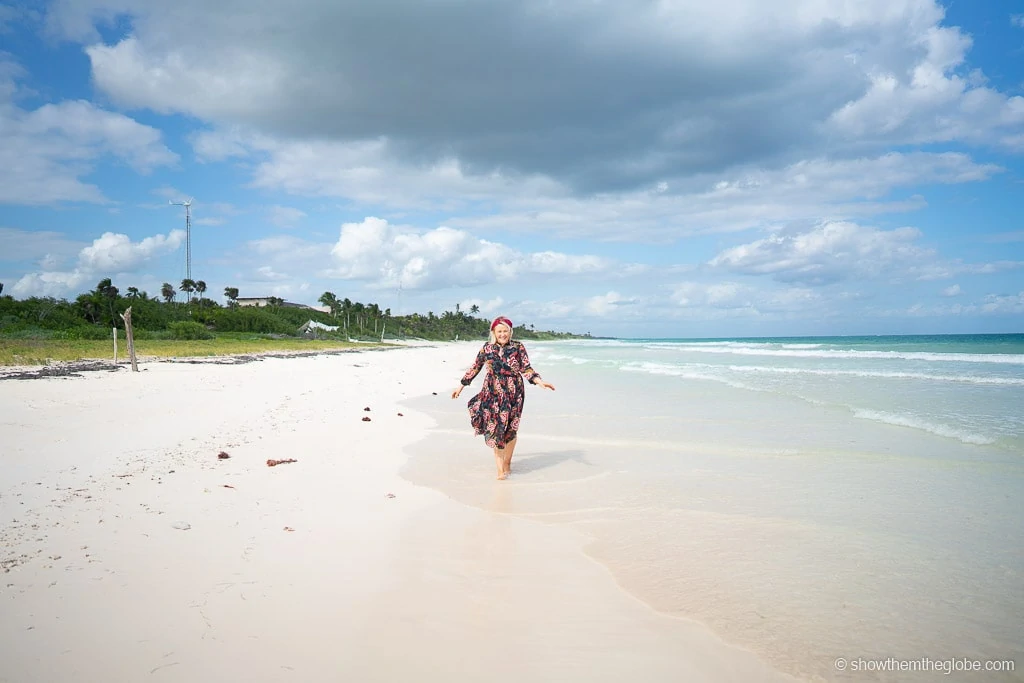 15 Best Things to do in Tulum with kids
From its family-friendly pristine beaches to its sprawling biosphere, turquoise lagoon and fascinating Mayan ruins there are lots of things to do in Tulum with kids.
Tulum Essentials
Sim Card and Internet
We highly recommend buying a local pre-paid sim card (preferably before you travel). Having a reliable data connection is very important when exploring the Yucatan Peninsula. It's great for researching sights and stops while on the road and it's also useful for other members in your group to stay in contact while on the trip. WiFi can also be sketchy in many areas and often only worked in the lobby of hotels rather than in the bedrooms.
There are a number of networks to choose from but trust us when we say Telcel is the best. We initially started our trip with AT&T but, by the time we had driven the short distance to Tulum, the coverage was so bad we swapped over to Telcel. Telcel has the best coverage throughout the Yucatan and pretty much worked everywhere for us. We recommend getting a larger data allowance as you will use a lot of data during your time in Mexico – check prices now!
Things to do in Tulum with kids tip: save time at the airport and pick up a Telcel sim card on Amazon before you travel. Make sure to buy credit online before you depart.
Where to stay in Tulum with Kids
Tulum's accommodation options are split between exclusive resorts with private beach access, lodgings near the public beaches and hotels and hostels in the town itself. All three options are great but, in terms of budget, the very expensive hotels tend to be located on the beach in the hotel-zone while you can get much better bang for your peso in Tulum town.
Casa Santiago: this small, family friendly boutique hotel is a perfect little oasis located close to the main street of Tulum town. We stayed here and loved the modern, clean rooms and reasonable prices – check prices now!
El Pez a Colibri Boutique Hotel: Located next to Sunrise Beach, El Pez a Colibri is one of the best family friendly hotels in the hotel zone. The views are lovely and the postcard perfect Tulum beaches are just a short walk away – check prices now!
Hotel Poc Na Tulum: this is a great option for those looking for a stunning beachfront hotel away from the busy hotel-zone. Hotel Poc Na Tulum is located on the beach inside the Tulum Archaeological site and has some great family options including bunk beds – check prices now!
Have fun on the Tulum Beaches
Tulum's idyllic white sands and turquoise Caribbean waters draw hundreds of thousands of visitors to the town every year.
There are two options for visiting the beach in Tulum: there are public access beaches to the north of the Beach Road and private beaches accessible only via hotels and beach clubs on the south of the Beach Road.
1 | Playa Pariso Beach
Playa Pariso, or Paradise Beach, is one of the best public beaches in Tulum and a great place to spend a relaxing morning or afternoon. There are a lot of food and drink options and snorkeling and boat rides are popular.
Things to do in Tulum with kids tip: sunbeds and umbrellas are available to rent from vendors on the beach. They usually require a rental fee and minimum food and drink spend depending on how long you wish to use them for. You can bring a beach towel and use them without cost.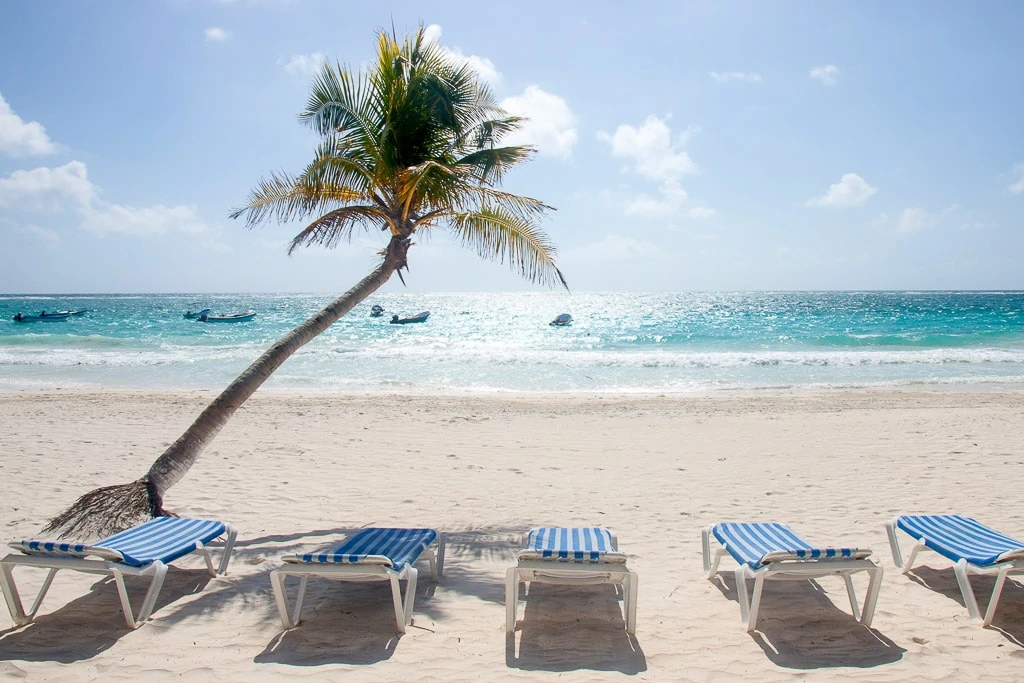 Playa Pariso can get very busy as the day progresses. If you prefer a quieter beach, Sante Fe Beach is located just north of Playa Pariso. It's a great option for a chilled out beach vibe.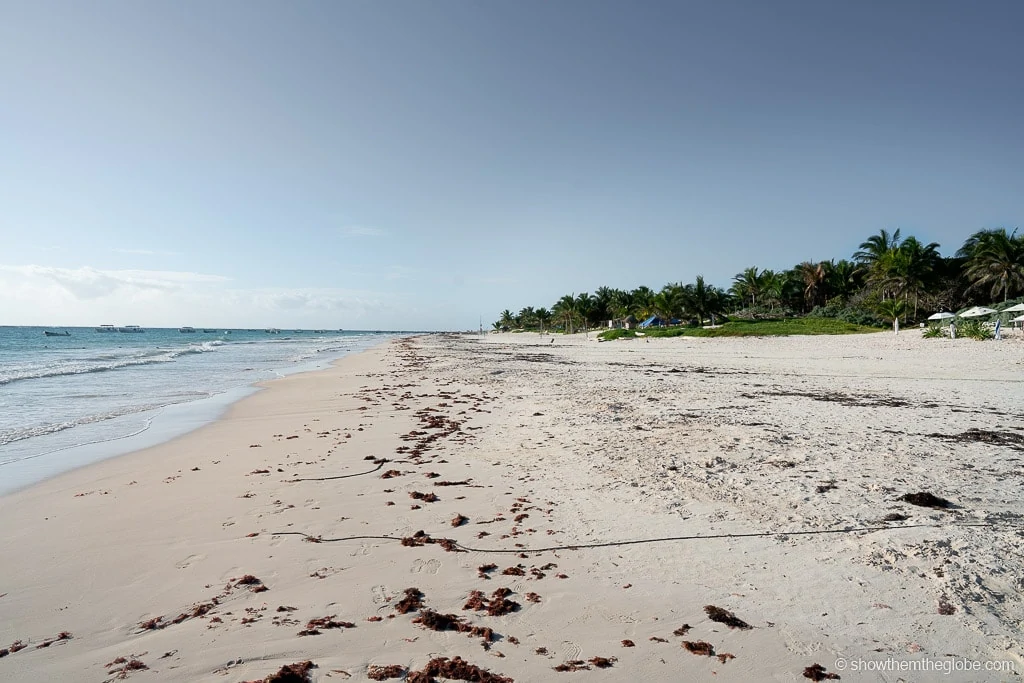 2 | Tulum Beach Clubs
Resorts and hotel guests have private access to much of the beach on the south of Beach Road. If you are not staying at these properties it is still possible to gain day access via their beach clubs where day guests can visit the beach and use facilities such as beach chairs and parasols – this is often in return for a fee which can be offset against food and drinks purchased or by imposing a minimum spend which must be met.
Things to do in Tulum with kids tip: Ziggy's Beach Club and La Zebra are two great options for a family-friendly beach club.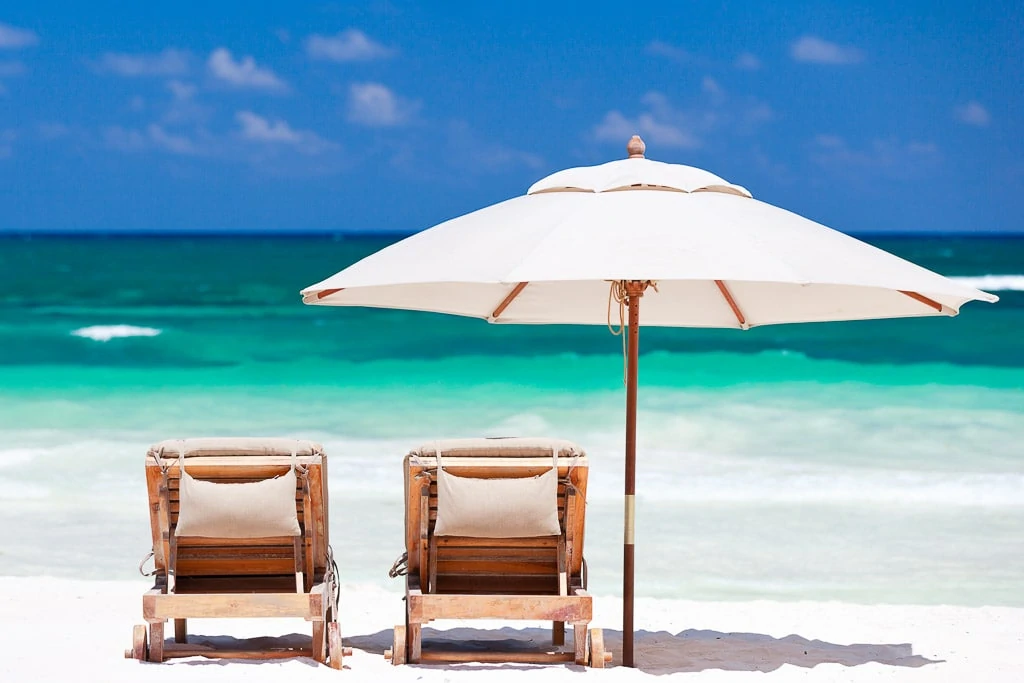 3 | Capture a family pic at the Tulum and Follow that Dream signs
Huge colorful letters spelling out the name of towns, cities and tourist attractions are a common sighting across the Yucatan. Constructed as part of a tourism campaign, they make for great family photo opportunities while exploring Mexico. Keep an eye out for one of the colorful Tulum signs and grab a pic!
The 'Follow that Dream' street sign, on Tulum's South Beach Road, is another great photo op and one of the cutest sights in town.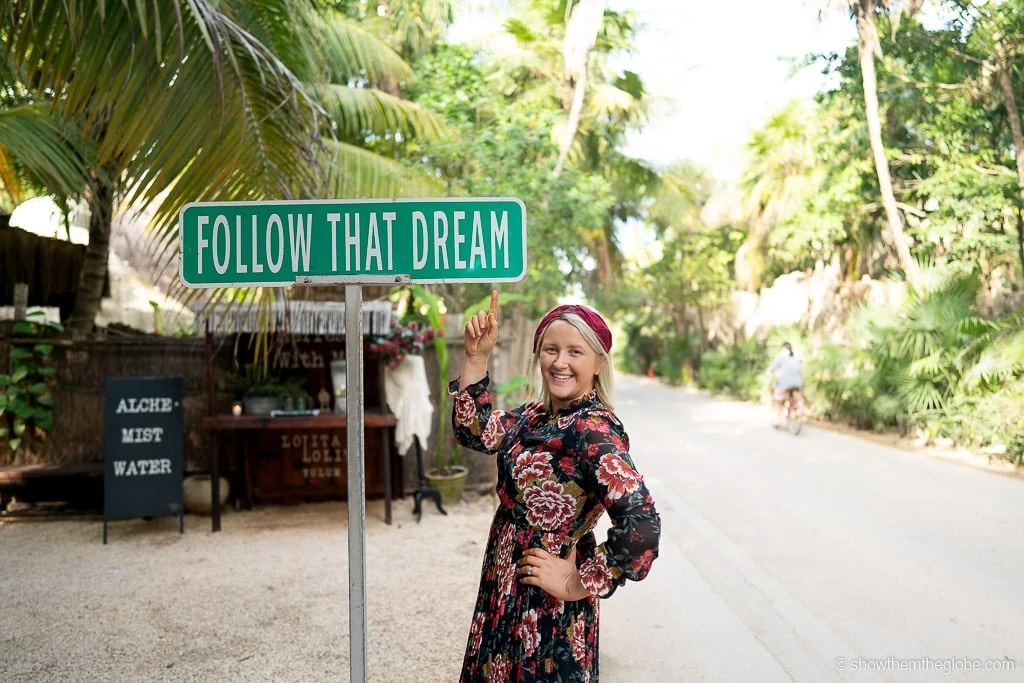 Explore ancient Mayan ruins
There are many incredible ancient ruins located across the Yucatan Peninsula and it's possible to visit at least 4 from Tulum: as well as the Tulum Ruins, the Muyil ruins are just south of town and Chichen Itza and Coba are all within driving distance.
4 | Tulum Ruins
Perched on a cliff side overlooking the Caribbean Sea, the Tulum ruins are one of the most spectacular in the Yucatan Peninsula. The Tulum Ruins date back to the 13th Century and the Castillo and Temple of Frescoes are two of its best-preserved buildings.
After exploring the ruins, walk down the wooden staircase to the tiny beach under the ruins. It's possible to swim in the clear blue waters outside of the summer months when the beach is protected due to nesting sea turtles.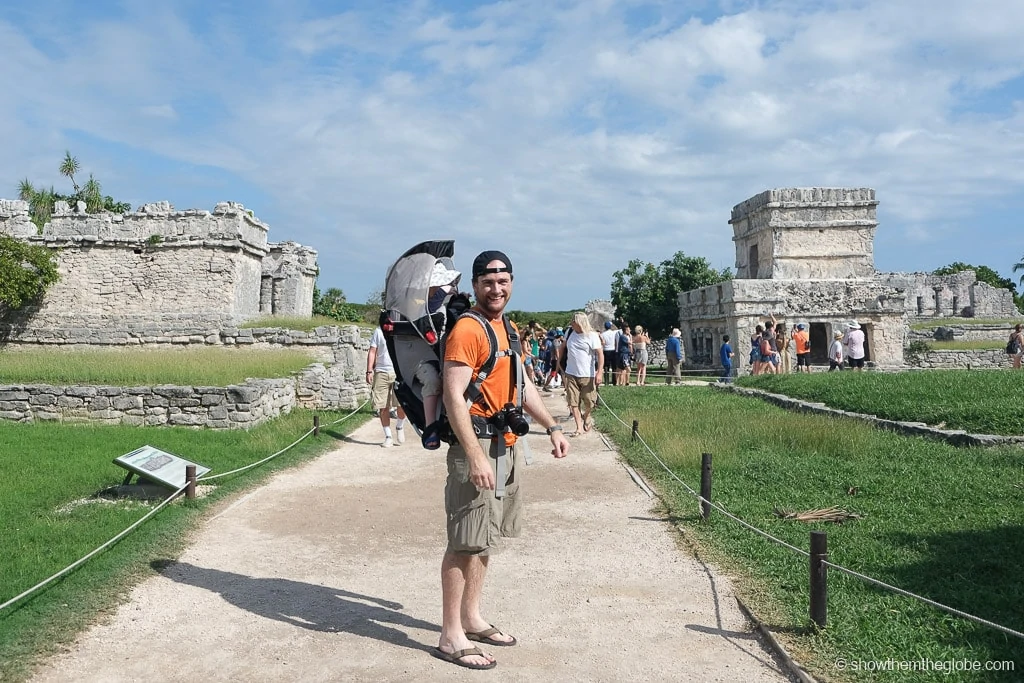 Make sure to catch a Palo Volador, or the dance of the flyers, performance at the entrance to the Tulum Ruins. The ancient Mexican fertility ritual involves four dancers scaling a high wooden pole before securing themselves to a platform and gradually spinning and twirling back to the ground. A fifth person remains on the top platform playing musical instruments.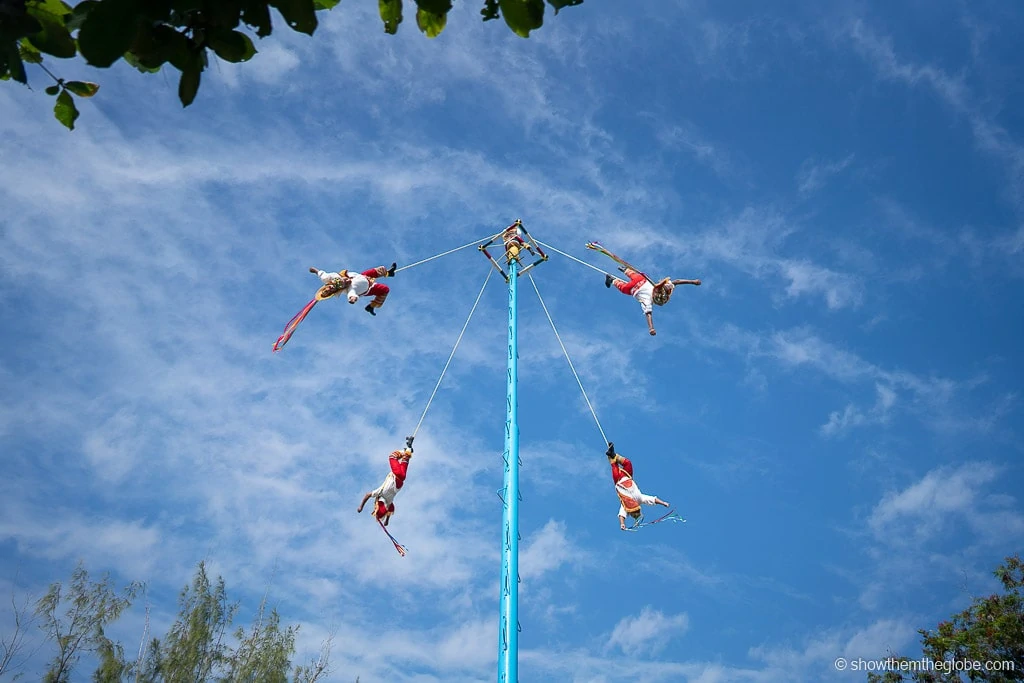 Things to do in Tulum with kids tip: it's possible to use a stroller while navigating some parts of the Tulum site but a baby carrier is a much easier option and will allow easy access to all parts.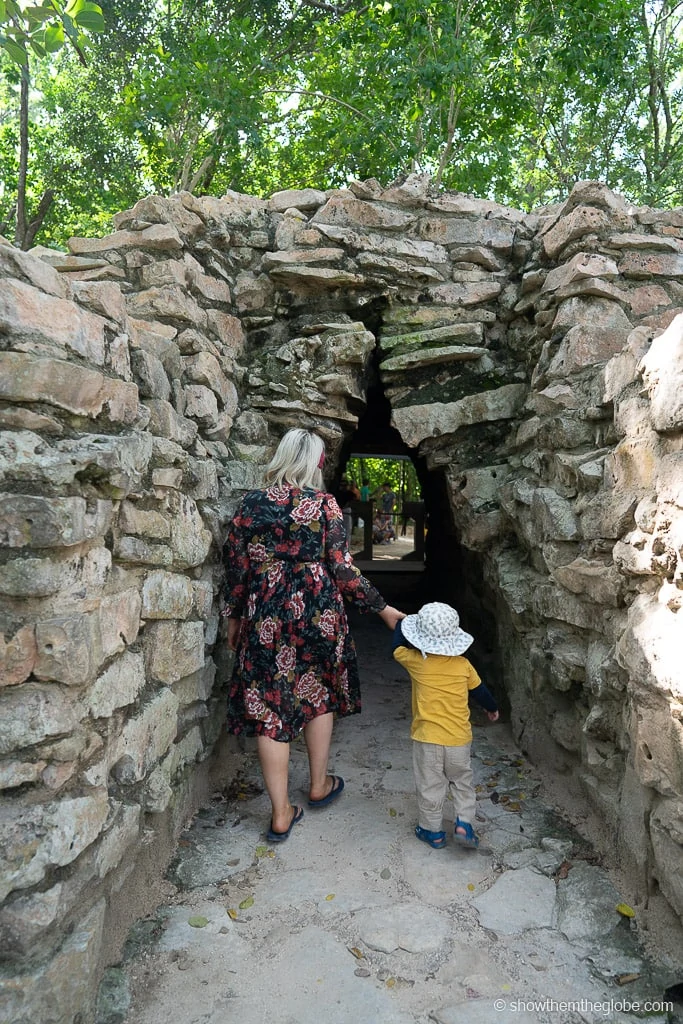 5 | Coba
A 45-minute drive from Tulum, the jungle ruins of Coba are fantastic to visit with kids.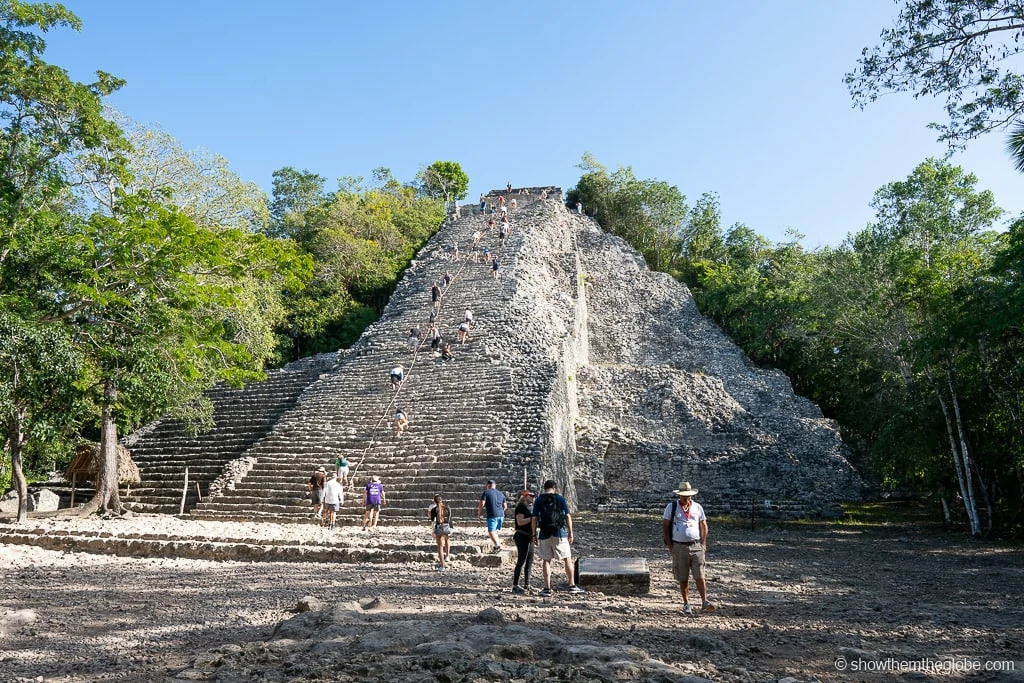 Coba is most famous for its Nohoch Mul, or 'Great Mound' pyramid, which visitors are still allowed to climb: the 130-foot climb and descent is a fun adventure and the beautiful jungle views are just reward – click here for tour prices!
Things to do in Tulum with kids: The Coba ruins are located deep in the jungle and most visitors either rent a bike to cycle to Nochol Mul or make the ride in a bicycle taxi. Younger kids will love the novelty of sitting upfront and whizzing through the jungles paths on a bicycle taxi!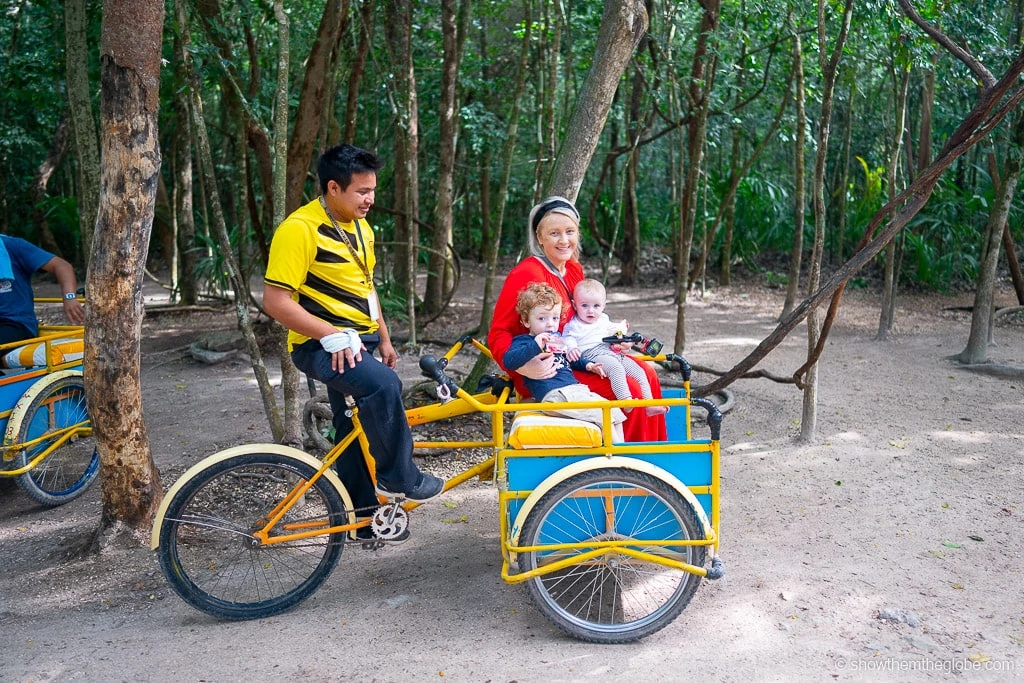 6 | Chichen Itza
The most famous sight in the Yucatan, and probably in Mexico, Chichen Itza is a 2-hour drive from Tulum but it is absolutely worth a day trip from the town – after all, it's not every day you have the opportunity to show your kids one of the New Seven Wonders of the World!
The El Castillo pyramid is instantly recognizable and breathtaking to see in person as is the imposing Temple of Warriors. The Great Ballcourt is also fascinating. The huge court, where a basketball-style Mayan ball game reportedly led to the beheading of the winning captain, is adorned with carvings illustrating a beheading along with the rules of the game – check tour prices here!
Click here for Chichen Itza tours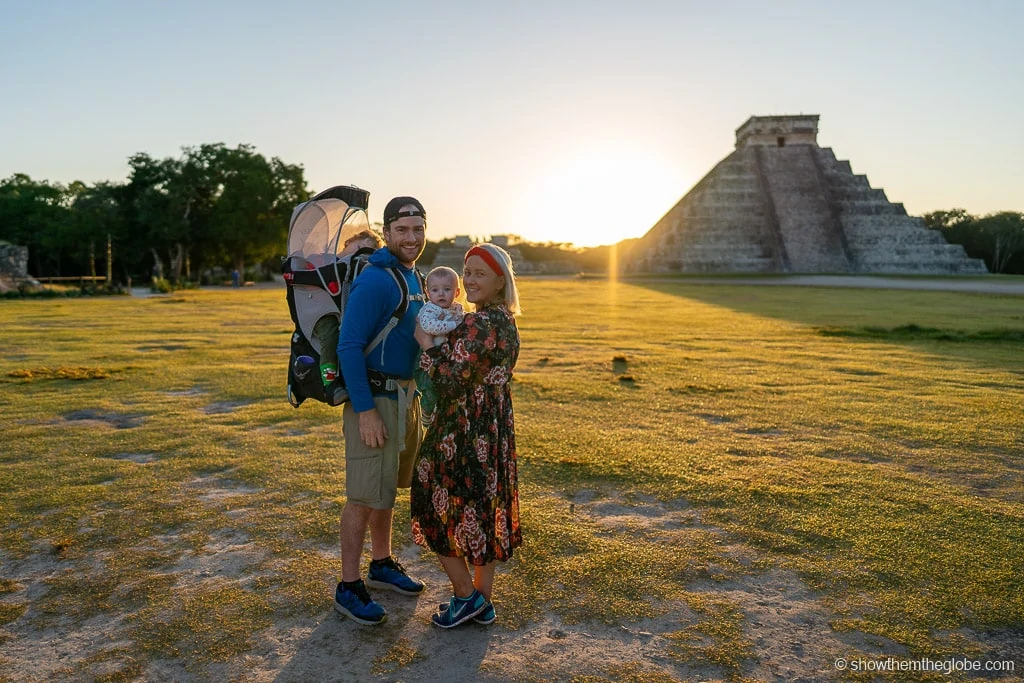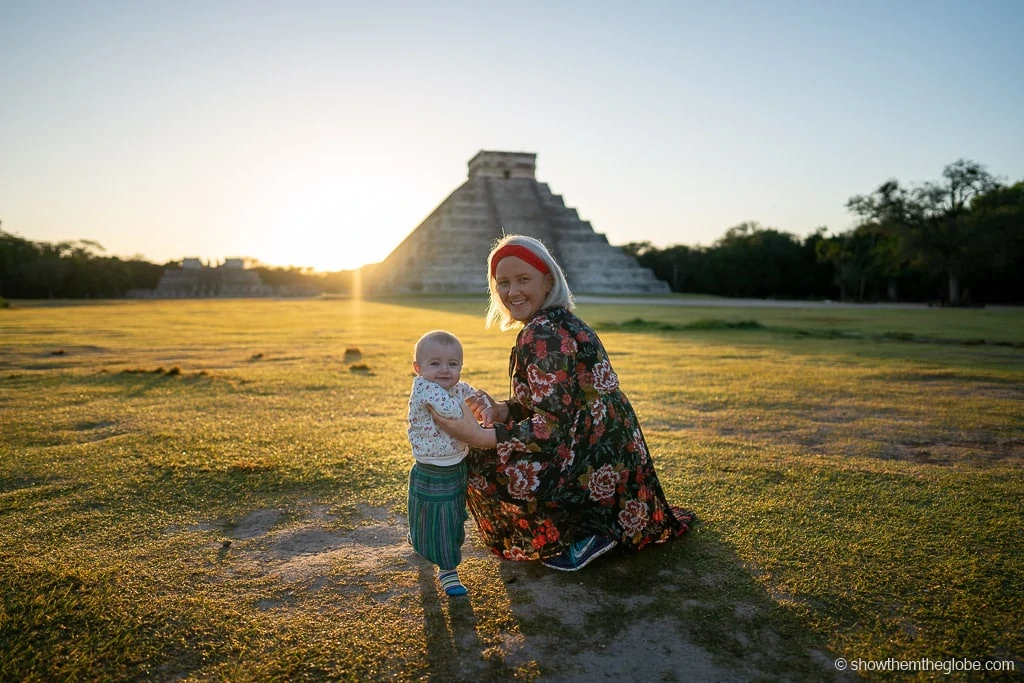 Things to do in Tulum with kids tip: the Tulum and Coba ruins are easily accessible from Tulum, Cancun and Playa Del Carmen and, as a result, are extremely popular. As is the world-famous Chichen Itza, a feature on most visitors bucket lists. The ruins are much nicer to experience when crowds are low so plan to visit at the opening. As with most government sights, there is free entry for Mexican Nationals on Sunday's and crowds are typically higher on this day.
7 | Muyil Ruins
The less-visited Muyil Ruins are located just south of Tulum and are regarded as one of the earliest settlements on the Caribbean coast. The highlight includes the towering Castillo, the Observation Tower and the raised boardwalk which navigates through the lush jungle.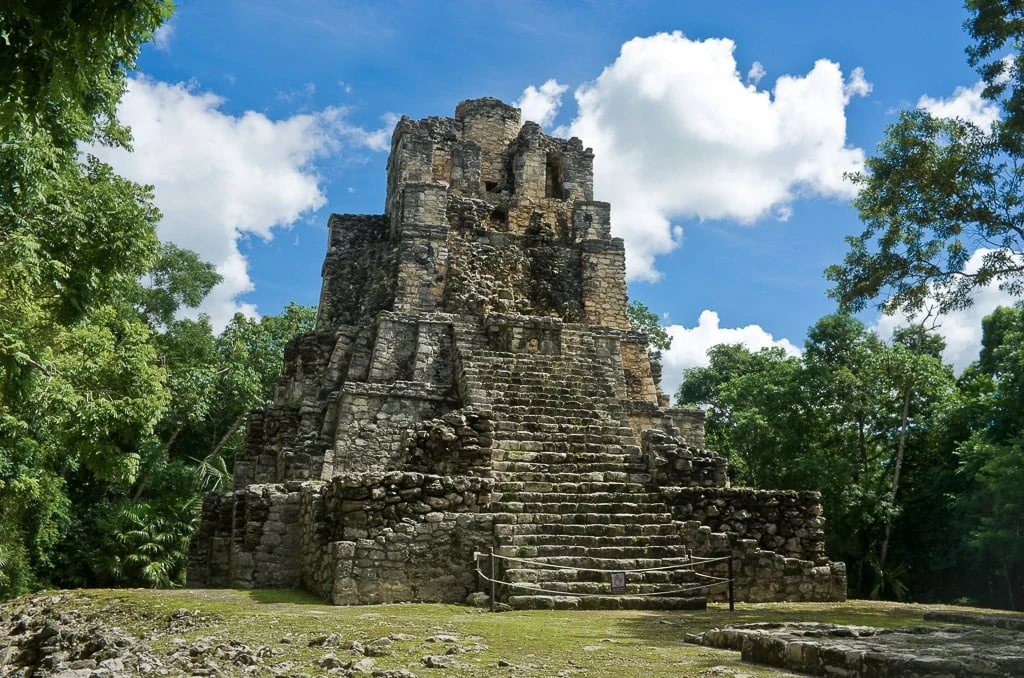 8 | Sian Kh'an Biosphere
A trip through the Sian Kh'an Biosphere is a fun adventure with kids. Located just south of Tulum, the sprawling biosphere is one of Mexico's finest natural wonders. The ocean side of the biosphere is home to quiet beaches and a coral reef while inland, turtles, land crabs, manatees and crocodiles reside in the pristine mangrove canals and saltwater lagoons. The Sian Kh'an Biosphere is a UNESCO World Heritage site.
Things to do in Tulum with kids: the Muyil Ruins are located close to the Muyil entrance to the Sian Kh'an Biosphere so the two are easily combined. In fact, there's even a short jungle trail between the ruins and the entrance.
It is possible to explore parts of the Si'an Khan reserve independently – we were able to drive just south of the visitors center from the Punta Allen entrance gate, make stops at the beaches and viewpoints and even spotted a sunbathing crocodile under the bridge.
However, if you want to experience the reserve more fully you will need to join a guided tour. There are a few stands inside the reserve where drivers and boat captains offer 4×4 excursions and boats through the canals. There is a limit on the number of boats that can go through the reserve on a given day so it's best to book a tour which includes a boat ride or arrive early to avoid disappointment.
Si'an Khan tours tend to be expensive but it is a remarkable place to experience and also includes a visit to the Muyil Ruins– check tour prices here!
Click here to reserve Sian Kh'an and Muyil tour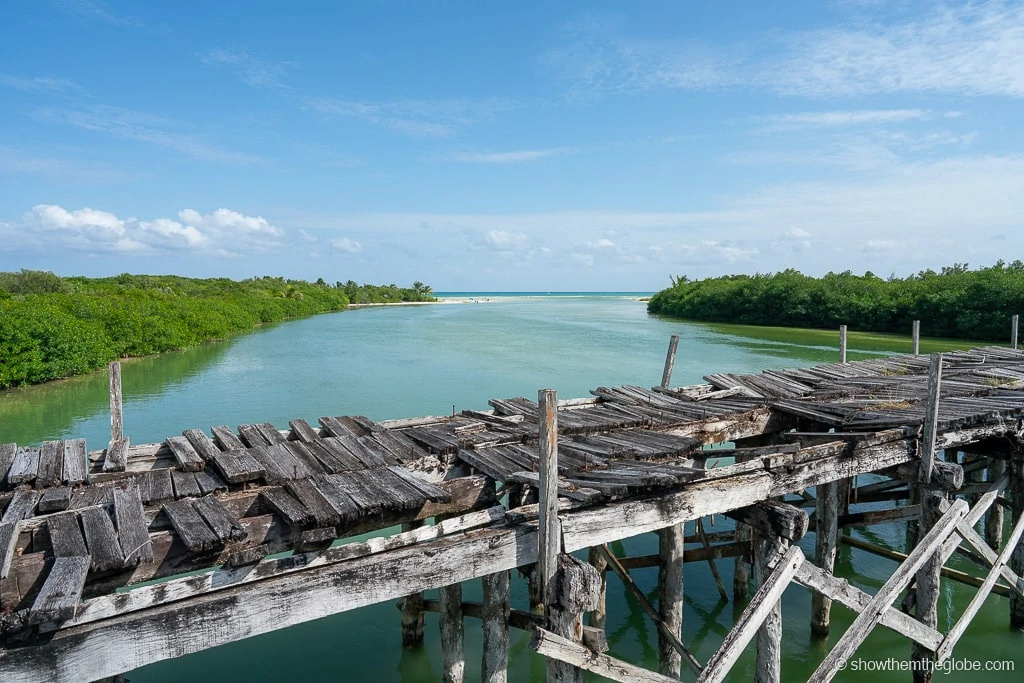 Swim in a Cenote
A cenote is a naturally occurring water-filled sinkhole and you will find some of the Yucatan Peninsula's best cenotes near Tulum. A swim in the cool, clear waters of a cenote is one of our absolute favourite things to do in Tulum with kids.
Things to do in Tulum with kids tip: the cenotes in the Yucatan Peninsula are a mix of open, semi-open or underground. The open cenotes, where the sky is exposed, are our favourite to visit with younger kids as it is unlikely there will be a steep climb down into the swimming area – the semi-open and closed cenotes, while stunning to see, are underground and typically require descending many flights of stairs to access.
Our favorite family-friendly cenotes near Tulum were Gran Cenote, Cenote Dos Ojos, Cenote Ak Tun Ha (or Car Wash Cenote), Zachil Ha and Cenote Azul in Playa Del Carmen.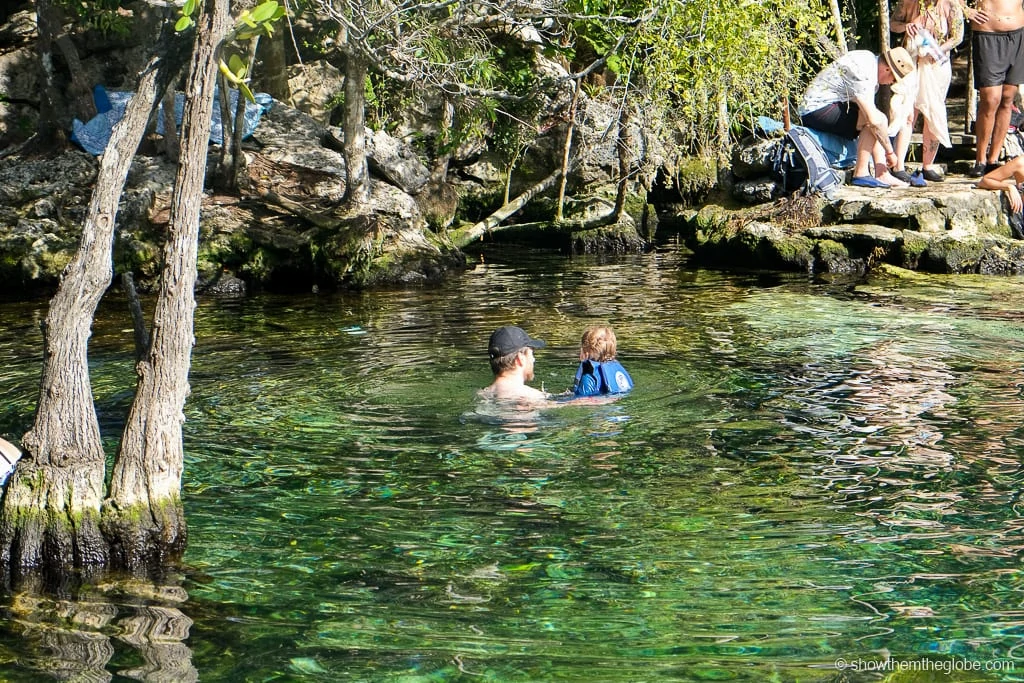 9 | Cenote Zacil-Ha
A neighbor of Cenote Car Wash mentioned below, Cenote Zachil-Ha is one of the best options in Tulum for families. The shallow waters, about 10 feet deep, make it ideal for younger kids, and the zip line running above adds an element of adventure for older kids! Plus there are also regular swimming pools beside the cenote which are great for kids.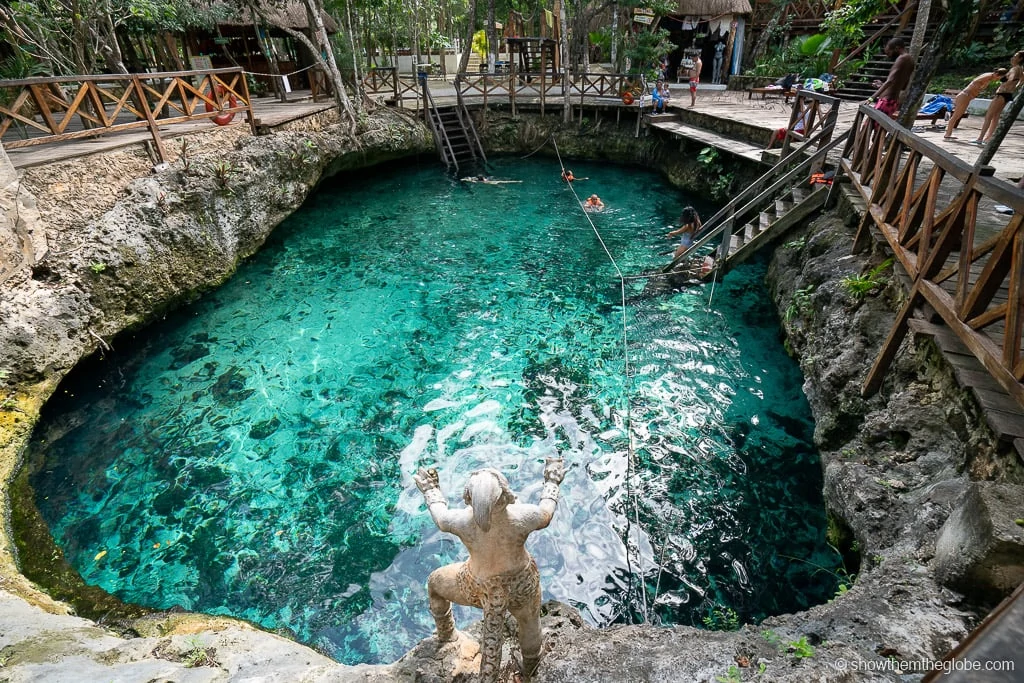 10 | Cenote Car Wash/Ak Tun Ha
This laid back, open-air cenote is located just beside the car park making it a great option for visiting with kids. There's a diving platform, fish and turtles swimming in its clear waters and a cave section which divers can explore. It got the name Car Wash Cenote as it was once used as a convenient stop by taxi drivers to wash their car but now is a relaxed cenote with easy access.
Things to do in Tulum with kids tip: the waters at Cenote Car Wash reach up to 50 feet in depth so make sure that any younger kids or less strong swimmers rent one of the life jackets available at the entrance.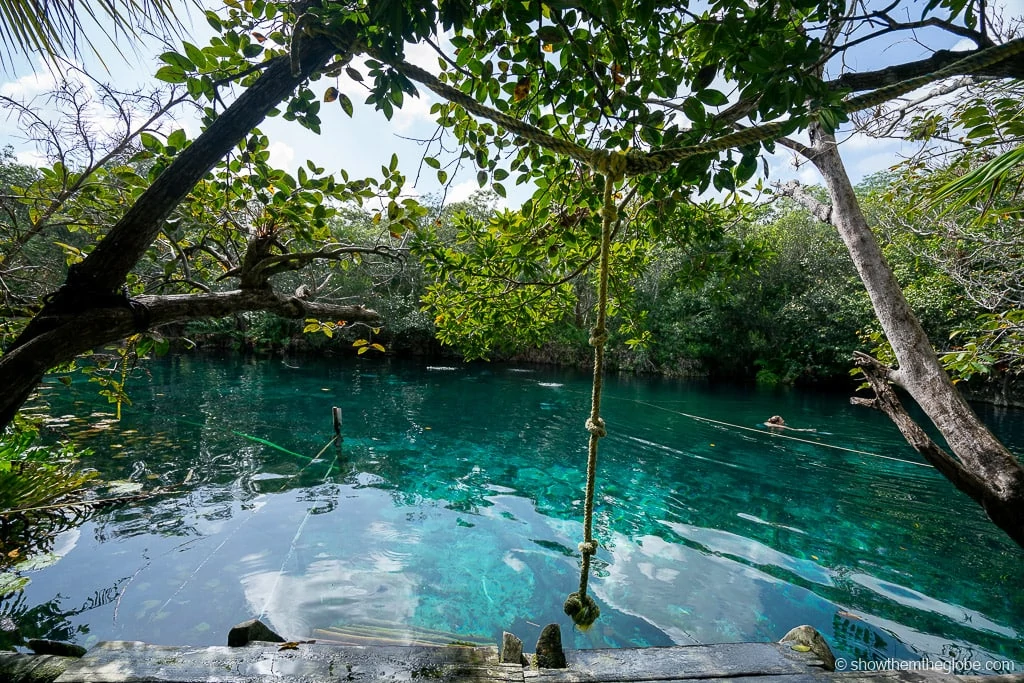 11 | Gran Cenote
Gran Cenote is one of Tulum's most well-known cenotes and, as its name suggests, it is also one of the bigger cenotes! Gran Cenote consists of a series of pools connected by wooden boardwalks. The shallow pools are great for younger kids or those inexperienced in the water. The crystal clear waters make it possible to see the bottom and offer a glimpse into underwater life and the limestone formations. Diving and snorkeling are popular at Gran Cenote.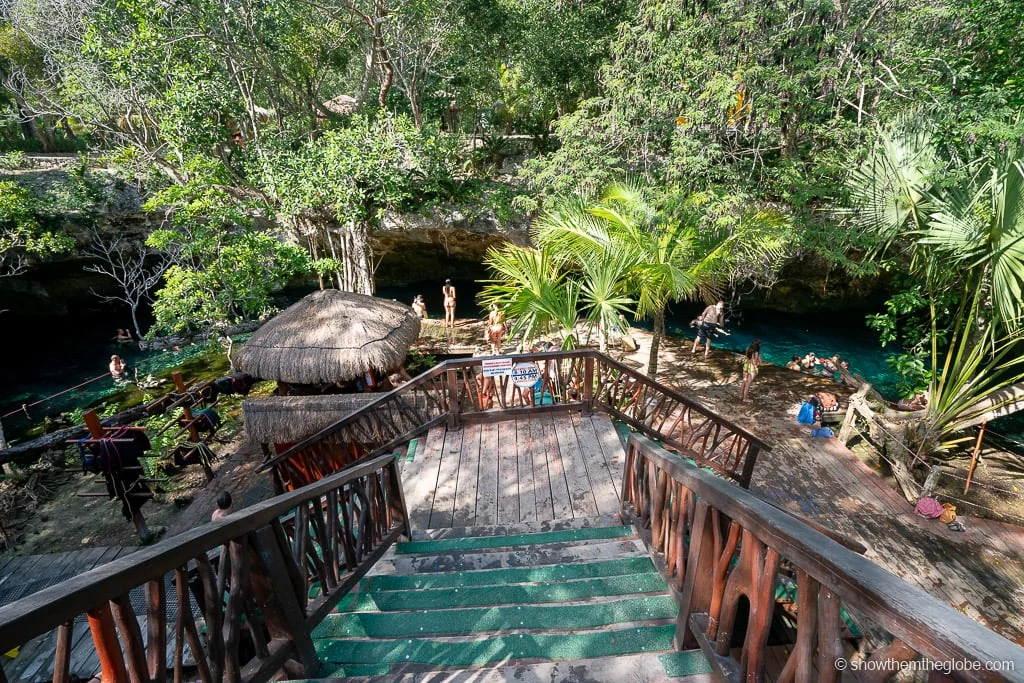 12 | Cenote Dos Ojos
Located between Tulum and Playa Del Carmen, Cenote Dos Ojos is another of Tulum's most beautiful cenotes. Although most popular for its cave system, the double sinkhole cenotes, one large and one small, are suitable for kids.
Its clear waters make it possible to see the ground and it is quite shallow. Older kids who are strong swimmers will be able to explore part of the cave system.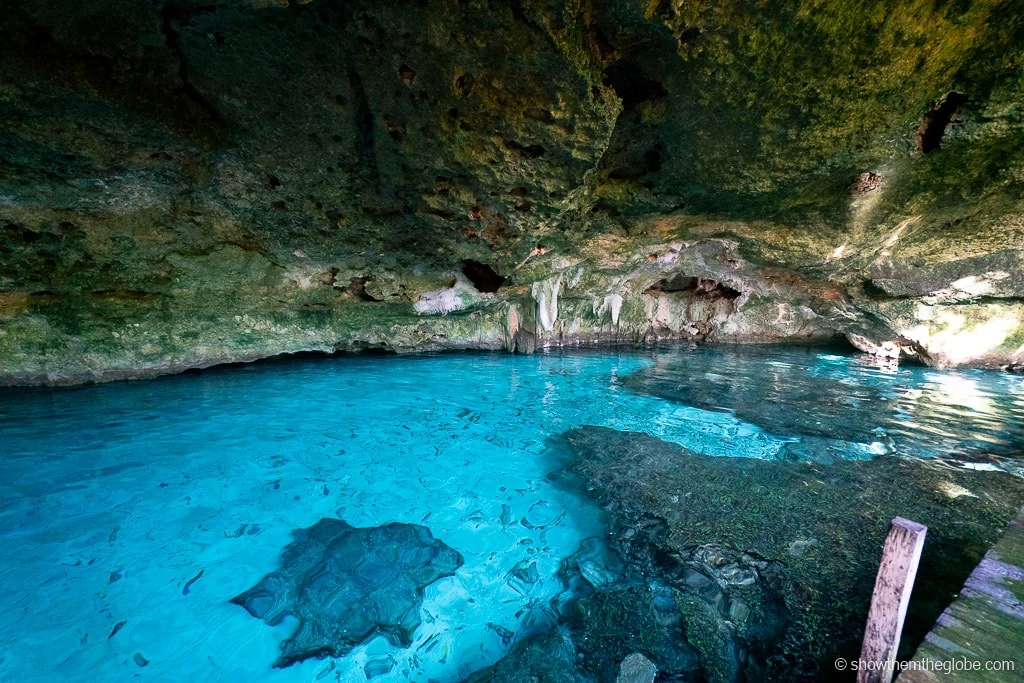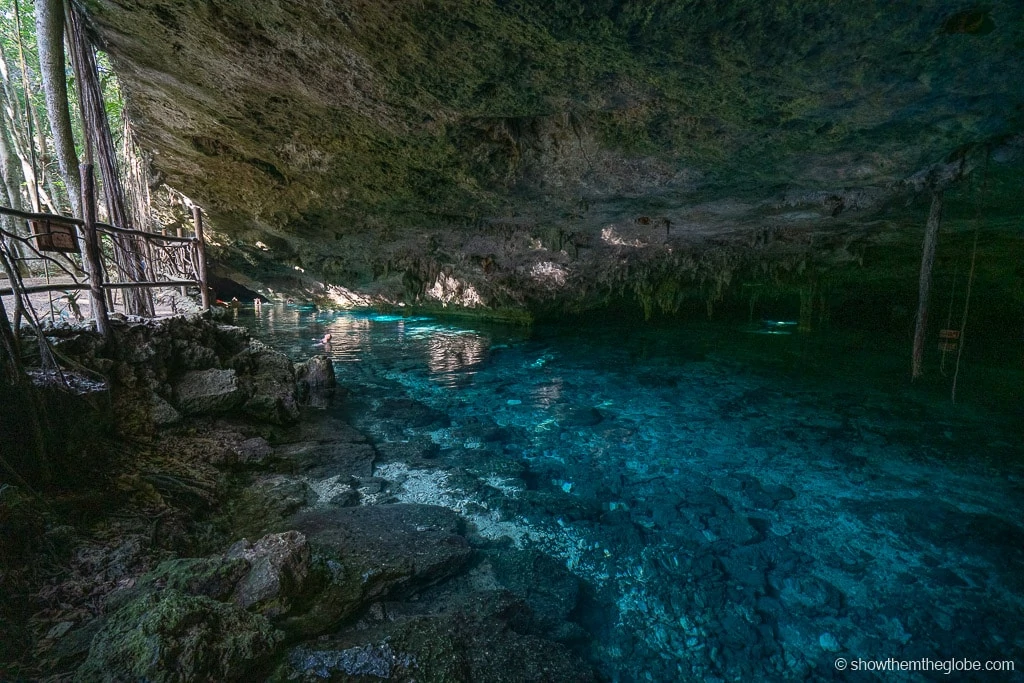 13 | Cenote Azul
Cenote Azul is a popular open-air cenote located in Playa Del Carmen, about 30 minutes north of Tulum town. It's shallow waters mean it is one of the most popular cenotes with families. The main swimming area at Cenote Azul is divided into two connecting pools which make it great for families with kids of varying ages – younger kids can splash around and taller kids can stand in the waters of the shallow pool while the deeper pool has a low cliff jumping area, snorkeling and swimming and is great for older kids wanting to have some fun.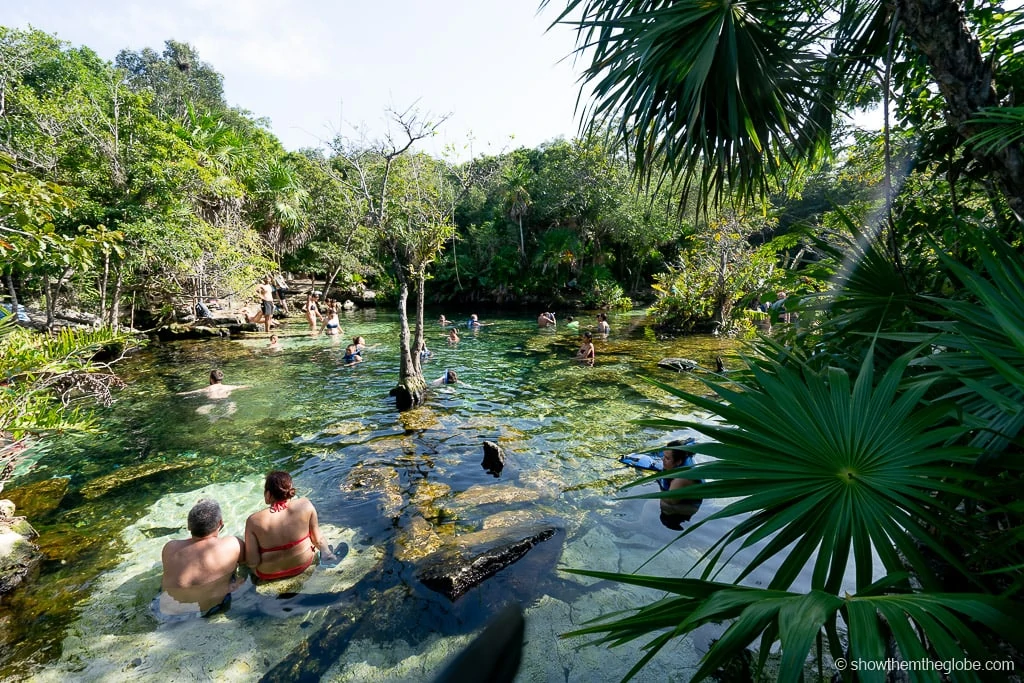 14 | Kaan Luum Lagoon
The shallow, turquoise waters of the Kaan Luum Lagoon are warm year-round. The low key lagoon is a local swimming spot so it's often less crowded than the better known Tulum sights.
Things to do in Tulum with kids tip: A cenote sits in the middle of the lagoon's turquoise waters but it is typically roped off due to strong currents. Do not use bug spray or sunscreen if you are swimming in the lagoon or the cenotes.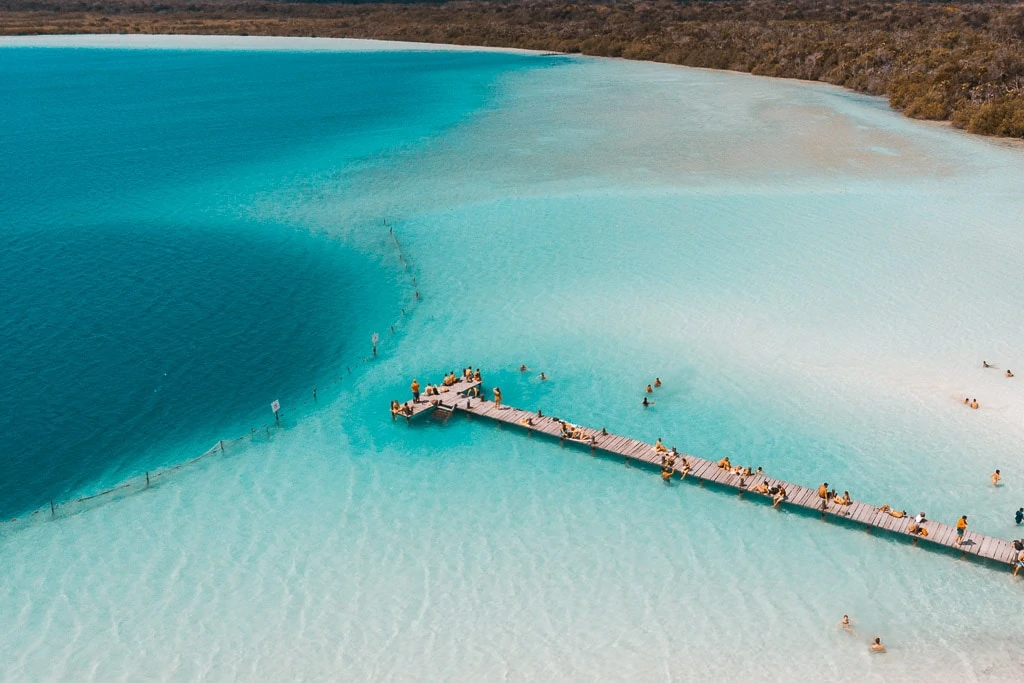 15 | Have fun at an adventure park
In the heart of a tropical rain forest, Atkun-Chen Nature Park is a beautiful National Park with zip lining, caving, snorkeling and hiking. The cave walk, which boasts spectacular rock formations and a stunning cenote finale, was named as one of the top 10 underground walks in the world by Nat Geo.