On some recent flights between London Heathrow and New York's JFK and Newark we flew Virgin Atlantic Upper Class with our baby, J, who was 7 months old at the time. It was J's fifth long haul flight and our first time flying Virgin Upper Class with a baby. From our pre-flight dealings to the Virgin Clubhouses to the onboard experience here's the lowdown on our Virgin Business Class flights with a baby in tow!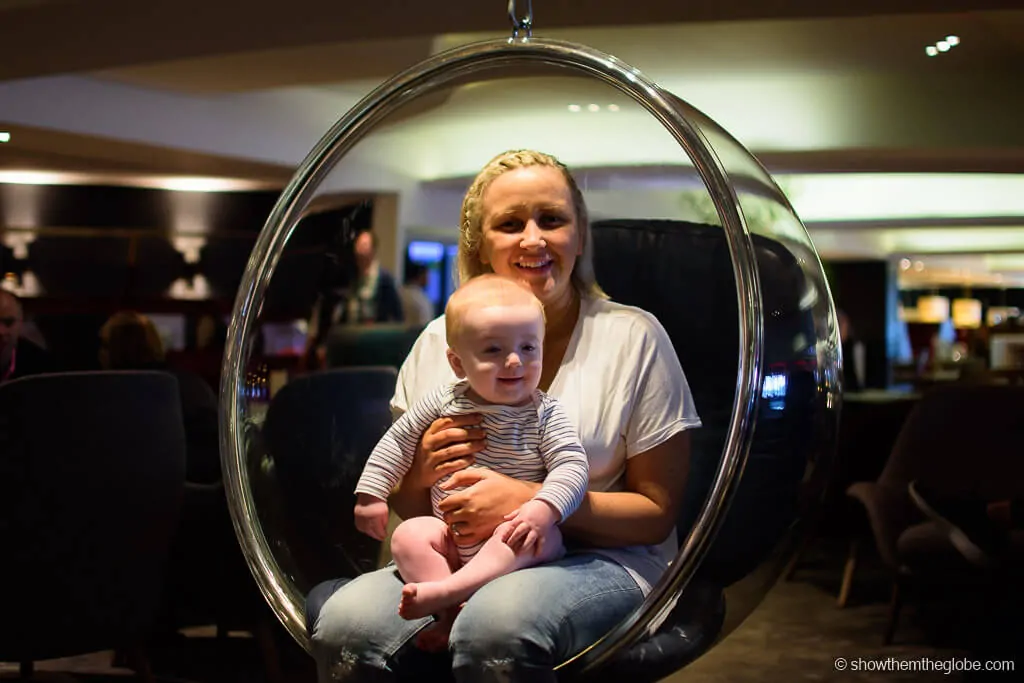 Virgin Upper Class with a baby
Preflight: infant fares, bassinets and seat selection
Lap infant or own seat: car seats are not permitted in Virgin Upper Class as airbags are fitted in the seats so we opted to take J as a lap infant.
Fare: Lap infants are charged 10% of an adult fare.
Bassinet availability: bassinets are available in most of the Virgin Upper-Class cabins and their location varies depending on the aircraft. There are no upper-class bassinets in the Boeing 747-400s which service Gatwick, Manchester and Belfast.
Seat selection: as with all our flights to date with J, we requested bassinet seats when booking our flights. At that time we were allocated non-bassinet seats in rows 2 and 3 and advised that the bassinet would be allocated at check in with the youngest infant in the cabin having priority.
J has been getting progressively more energetic on flights (with the exception of feeds he slept through almost the entire trip from Dublin to Addis Ababa to Cape Town at 8 weeks but had stayed awake for most of the return journey between Dublin and Istanbul at 5 months) so while a bassinet is a nice bonus we didn't mind too much either way.
Cabin baggage: infants are allowed one cabin bag weighing up to 6kg. We took a baby bag as J's cabin piece and we took his stroller, a cabin friendly BabyZen Yoyo, as one of our second pieces.
Checked baggage: lap infants are allocated a 23kg bag as well as a fully collapsible pushchair and a car seat in addition.
Check-in
Both our aircraft, the B787-9 Dreamliner and the A330, had a 1-1-1 herringbone configuration and we were allocated 1G, the bassinet seat, at check-in. Our preferred seats for traveling together are either in either directly in front/behind each other as we find it easier to chat.
The Lounges
London Heathrow Clubhouse
The Virgin Clubhouses welcomes young flyers and J was warmly welcomed on arrival.
We ate in the dining area, where high chairs were available, and the staff delivered some boiling water for us to heat J's food. Only one bathroom, which was located along the back of the lounge, had baby changing facilities.
There weren't any other explicit facilities for infants but we did quite like the cinema area beside the back bathrooms – it was furnished with chaise lounges and was relatively quiet. The games room might be useful for entertaining older kids.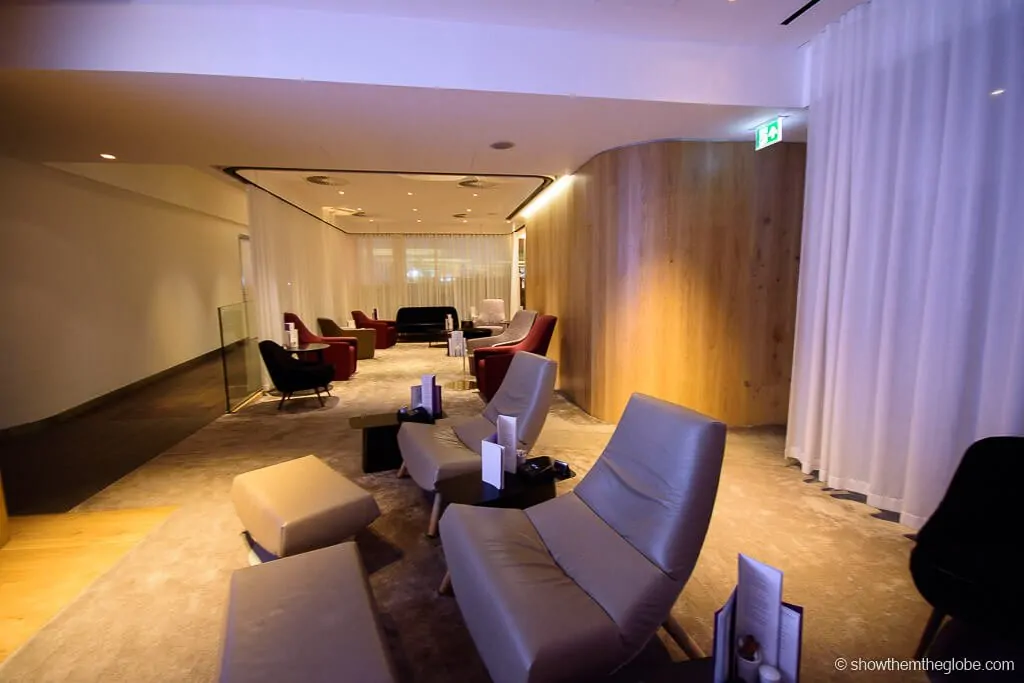 Newark Clubhouse
Highchairs and toilets with baby changing facilities are available in the Virgin Clubhouse in Newark.
The Newark Clubhouse is understandably much smaller than its London Heathrow counterpart so we would suggest arriving early and securing some quieter, more comfortable seats when traveling with an infant.
Given the mood lighting and lack of windows in the Newark lounge, it was relatively easy to find a dark spot to get J to sleep as the evening wore on – we use a Snooze Shade over the stroller to keep out light and distractions.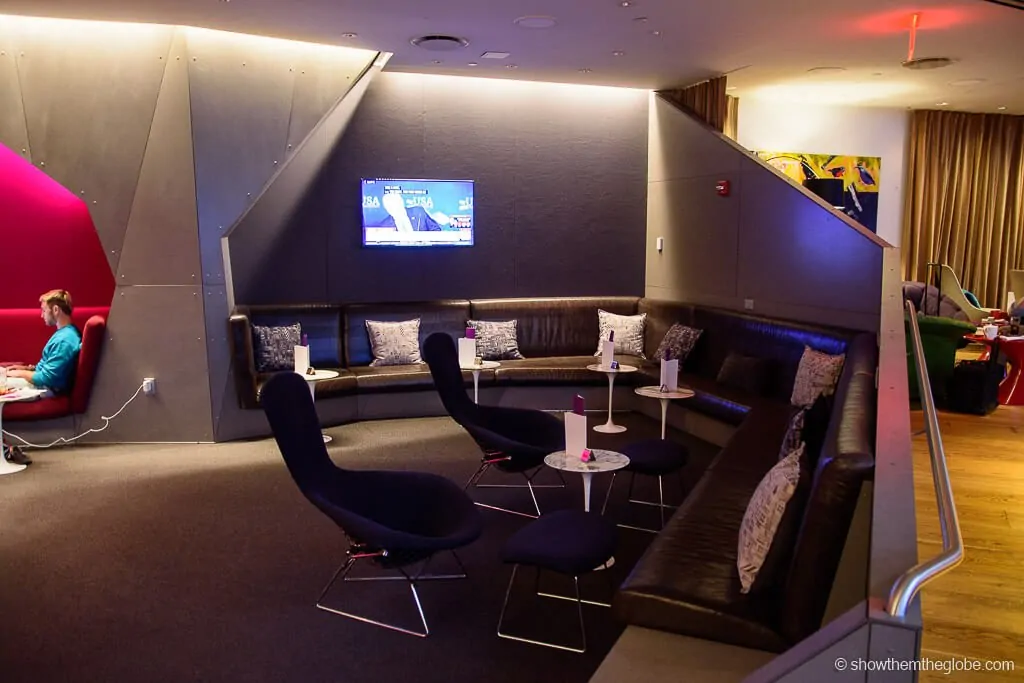 On Board
The Upper-Class Seats and Bassinet
London Heathrow to JFK (B787-9 Dreamliner)
The Upper-Class seats are comfortable and spacious and we were happy to spend seven hours lounging in them. Each seating area comprises of the seat itself, an ottoman, a back of seat tv and some in-seat storage.
The bassinet in Virgin's Upper Class sits above the bulkhead seat build rather than the typical free hanging bassinet attached to the front seat partition.
We were pleasantly surprised when J fitted snuggly into his bassinet as we'd assumed he'd be too big at 7 months! Luckily he slept comfortably in the bassinet for a good portion of the flight and it was easy to keep a close eye on him at all times.
Virgin Upper-Class Bassinet Dimensions: on the 747-400, Boeing 787-9 and Airbus A330 the Upper-Class bassinet measures 35cm wide x 24cm deep x 76cm long, has a maximum weight capacity of 11kg and a maximum height of 75cm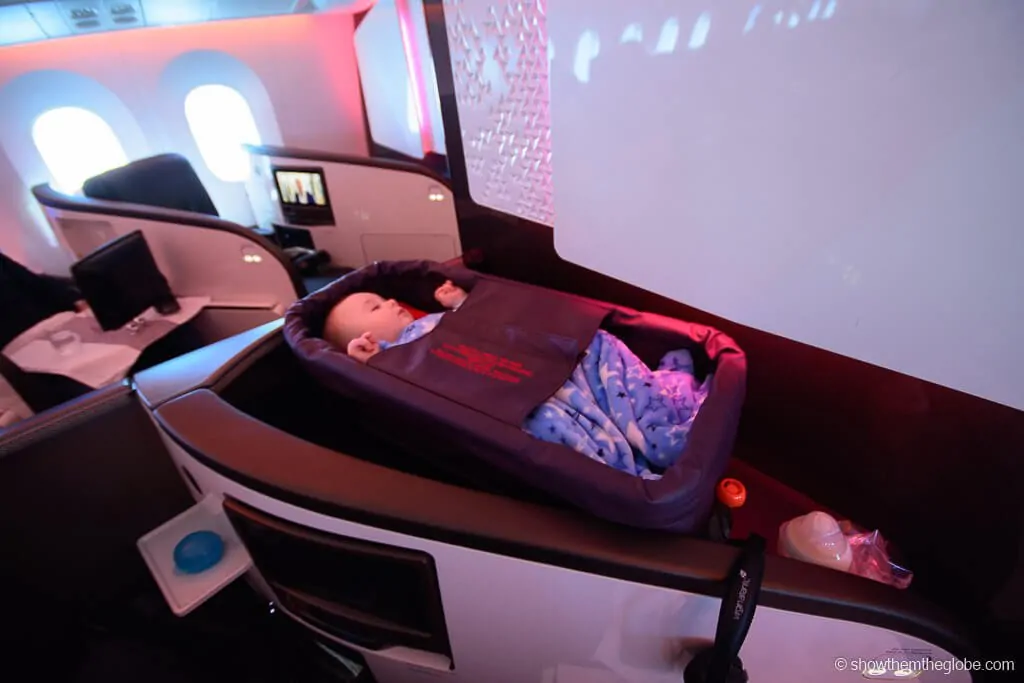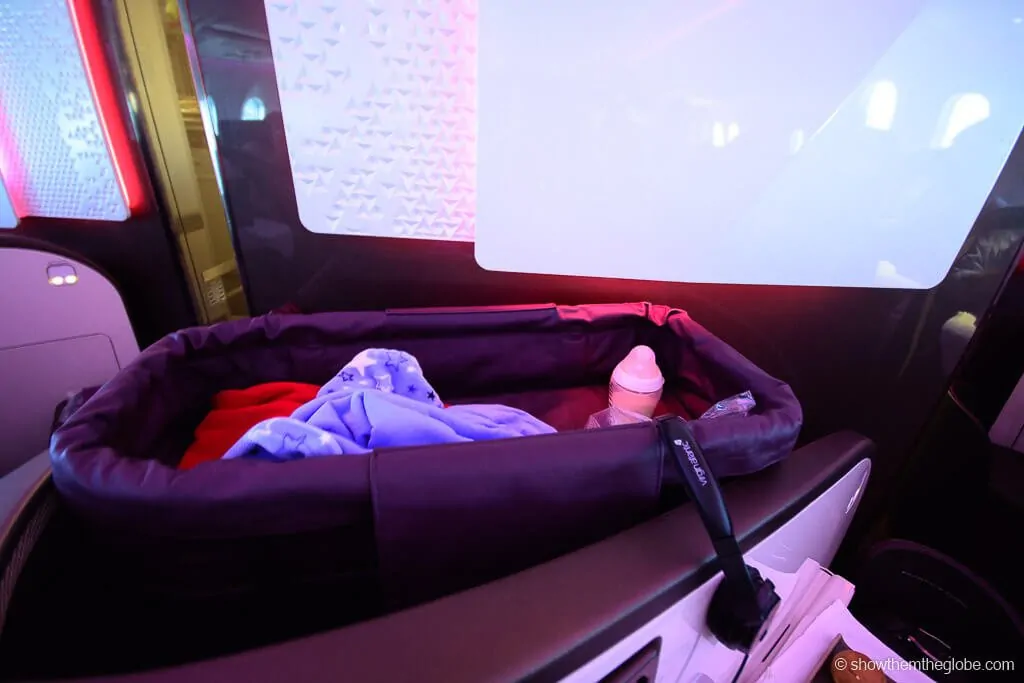 Newark to London Heathrow (A330)
The Upper-Class seats on the A330 seemed narrower than the outbound aircraft and there was definitely more elbow banging when holding J on this leg of the journey.
The bassinet appeared identical to the Dreamliner and the set up the same.
There happened to be a spare seat next to us on board and the crew offered it to us as an option for naps. As it was a night flight J was already asleep when we boarded and he slept soundly for the first 4 or 5 hours of the journey to London while we took turns at napping and watching him.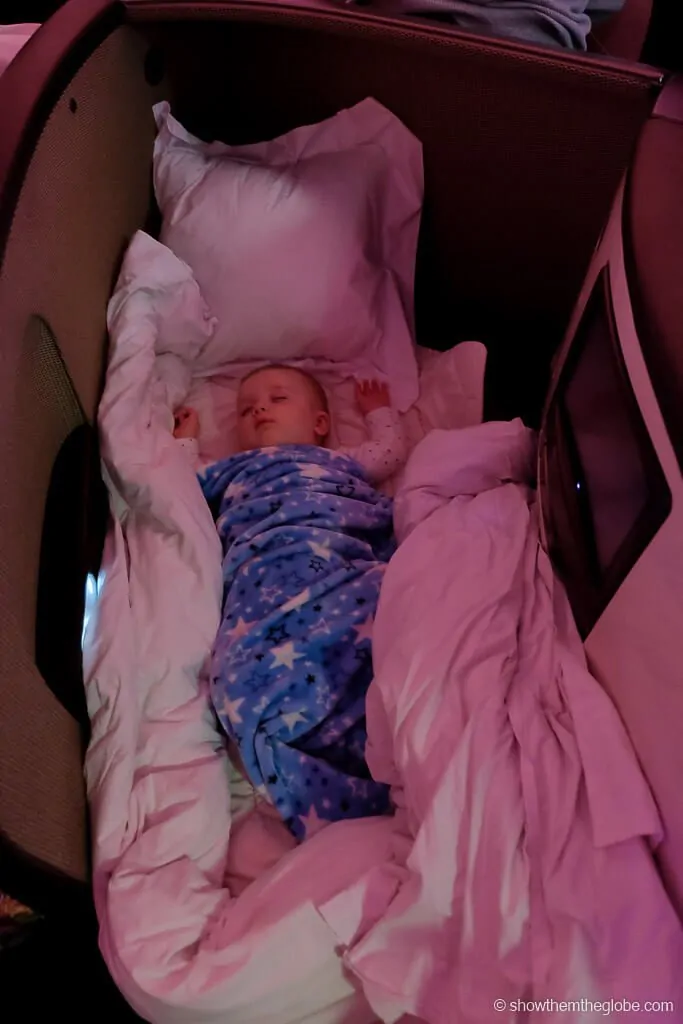 Baby Food and Drinks
We had selected the baby food option when reserving our flights and Ella's Kitchen pouches were available with J allocated 3 of the medium pouches for the 7-hour flight duration. It was nice to see that the pouches offered were milk and meat-free as well as organic.
As J was only eight months when we flew we took our own sterile water and he didn't have anything to drink on board.
Changing Facilities
There was a changing table in the Upper-Class bathroom on both aircraft.
Take off, landing and turbulence
J was given a seat belt extension which attached to the standard seatbelt and was required to use it during take-off, landing and any time the seat belt sign came on.
Overall
Virgin Upper Class was a great choice for us when traveling with a baby. The strong lounges and bassinet facilities were more than welcome for a transatlantic flight.
As always, the Virgin crew were super welcoming to us and made an extra special fuss over J whenever he was awake. He was ecstatic with the constant flow of attention! The crew and other Upper-Class passengers were so helpful and we had many offers of help when stowing cabin luggage and getting settled.
Thankfully, J was a star on both legs of the trip and he got lots of compliments from crew and passengers alike as we disembarked! Overall, Virgin Upper Class was a great choice for us with a lap infant.
For our full review of Virgin Upper Class
We've focused this review on flying Virgin Atlantic Upper Class with a baby. If you want more detailed reviews on flying Virgin Upper Class, both on board and tin the lounges then check out our full reviews below.