After two recent visits to Disneyland Paris with our youngest at 4-month-old and 6-months-old we were surprised to discover how many rides were baby-friendly – in fact, we were able to take our baby on over 15 rides at Disneyland Paris! We've put together this list of all baby-friendly rides in Disneyland Paris to help with your Disney planning.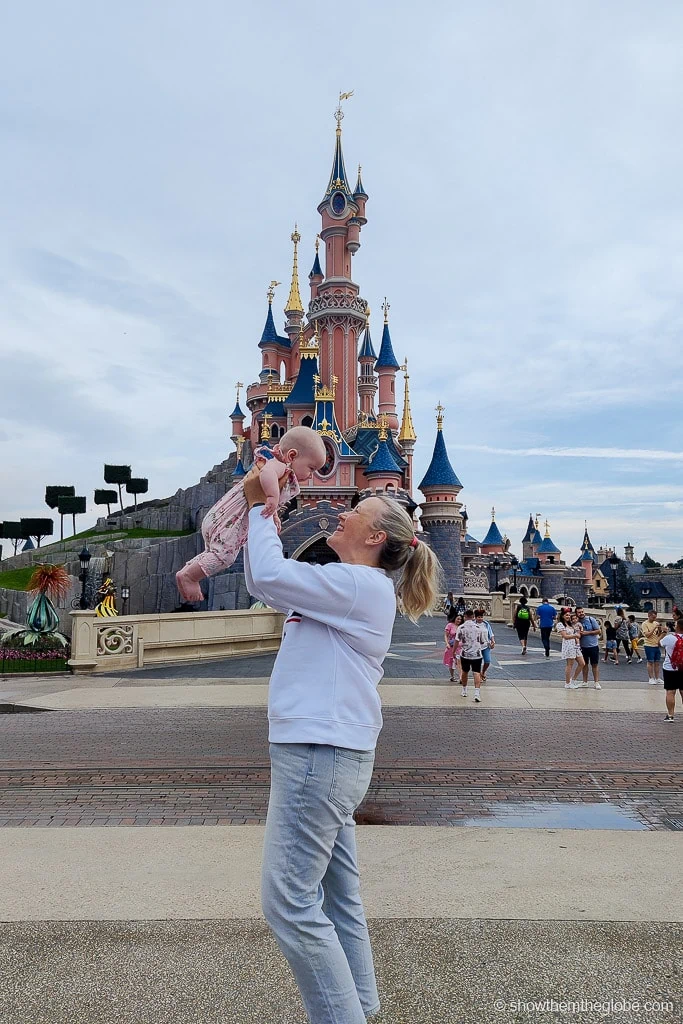 Baby Friendly Rides at Disneyland Paris
From Dumbo and Peter Pan to Pirates of the Caribbean and Ratatouille, babies can join parents on many of the most popular rides at Disneyland Paris.
Below is a quick summary of the rides that babies can and can't ride at Disneyland Paris: this is based on our experience in the park in August 2022 with our 4-month-old baby. I've included more details on each ride further down.
Disneyland Paris rides with baby tip: From what I understand, there are no fixed rules for babies under 1 so it can depend on the Cast Member (the Disney employees) on duty whether a baby under 12 months is permitted to ride.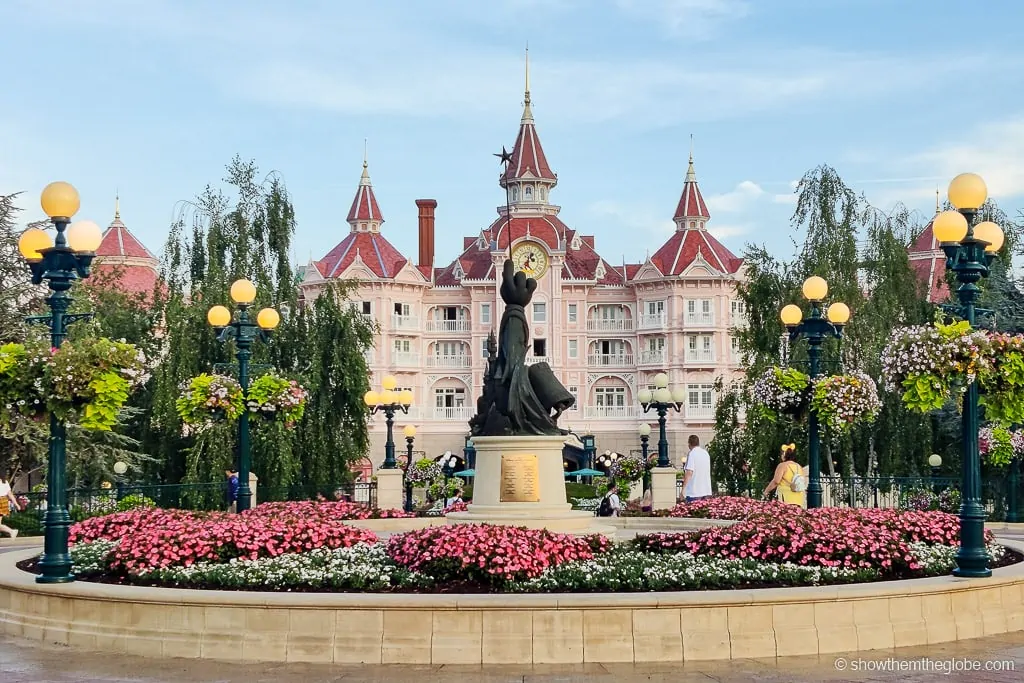 Disneyland Park: Fantasy Land
Baby can Ride: Dumbo, Peter Pan, Lancelot's Carousel, Mad Hatter's Tea Cups, Casey Jr Circus Train, Snow White, Pinocchio, Alice's Curious Labyrinth
Disneyland Park: Adventureland
Baby Can Ride: Pirates of the Caribbean, Aladdin's Enchanted Passage
Baby Can't Ride: Indiana Jones
Disneyland Park: Frontierland
Baby can ride: Phantom Manor, Thunder Mesa Riverboat Landing
Baby Can't Ride: Big Thunder Mountain
Disneyland Park: Discoveryland
Baby can Ride: Buzz Lightyear Laser Blast, Orbitron
Baby Can't Ride: Autopia, Star Wars Hyperspace Mountain, Star Tours: The Adventures Continue
Walt Disney Studios
Baby can Ride: Cars Road Trip, Ratatouille, Flying Carpets Over Agrabah, Spider-Man W.E.B. Adventure
Baby Can't Ride: Crush's Coaster, Cars Quatre Roues Rallye, RC Racer, Slinky Dog Zigzag Spin, Toy Soldiers Parachute Drop, Avengers Assemble, The Twilight Zone Tower of Terror
What about the Disneyland Paris rides that aren't suitable for a baby?
Two words: Rider Switch! For big thrill rides including Big Thunder Mountain, Indiana Jones, Crush's Coaster, Avengers Assemble: Flight Force and Hyperspace Mountain parents can ride separately while only having to brave the queue once. I've included a detailed explanation of Rider Switch later on. We used rider switch a few times and it worked great, allowing us the older kids to go on the faster rides!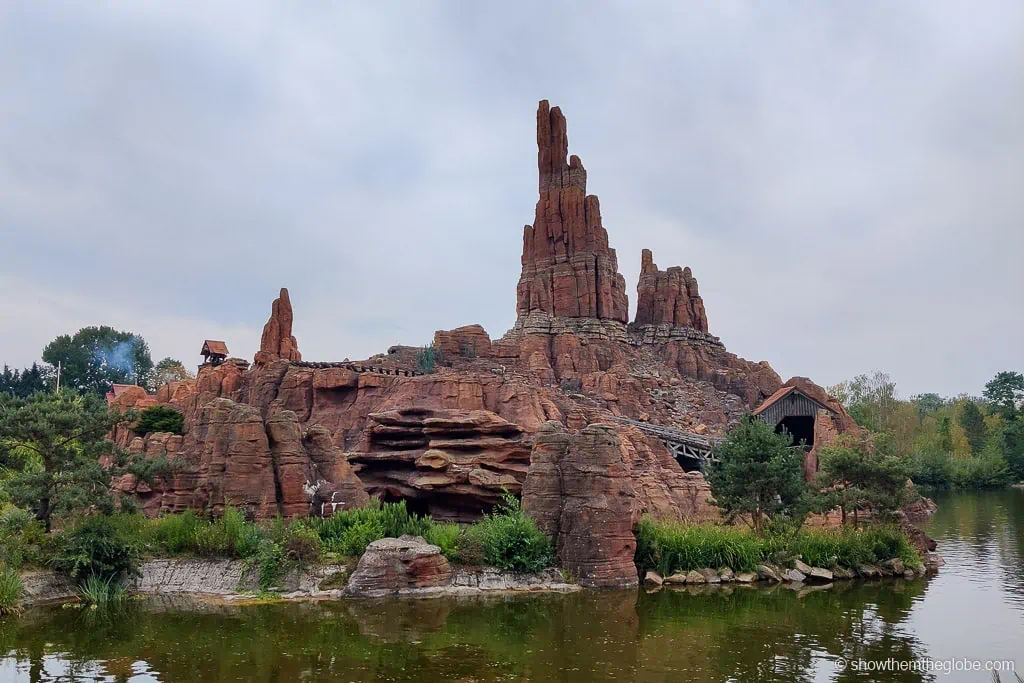 How Rider Switch Works
Ask a Cast Member about rider switch when you enter the queue for the ride and they will direct you on how it works. Typically, a cast member will issue a Rider Switch ticket when you exit the ride and this allows the adult waiting with the baby to access the ride through the premier access lane. If you are riding with another child they can usually ride again with the other parent. On most rides, you can reenter with the ticket at any time. However, on Crush's Coaster, the other rider has to be waiting at the exit to ride immediately.
Where to stay at Disneyland Paris with Kids
We try to stay at the Disneyland Paris Disney hotels when visiting Disneyland Paris. If you book through the Disneyland Paris website tickets are included with the hotel and cover park access from the day of arrival to departure. There are some major benefits to staying on-site with kids that make your time at the parks extra special:
Walk to parks: most of the Disney hotels are within easy walking distance of the parks (especially if you have a stroller) so you don't have to get shuttle buses or do any advance planning!
Extra Magic Hour: This is one of the biggest benefits of staying at a Disney property! Disney hotel guests have an extra hour in the park before it opens for general entry (so you can enter the park at 8.30am compared to the general entry at 9.30am). This is an amazing time to get on some of the most popular rides with very little queuing.
Late morning downtime: young kids will be exhausted in Disneyland Paris so it's really handy to take a break back at the hotel for some rest and chill time.
Character meets: Disney characters visit Disneyland Paris hotels for special meet and greets in the morning or evening. Our kids really looked forward to these at the hotels
Disneyland Paris: Stroller or Baby Carrier?
Both! We used a mix of stroller and baby carrier!
A stroller is fantastic for naps and walking through the park and a carrier works great in queues or if you want to breastfeed on the go and it can be worn on many of the rides. We also took advantage of the stroller to attach a buggy board for our 4-year-old and had a second travel stroller for our 3-year-old.
We brought our Babyzen Yoyo for our 4-month-old – the Yoyo is a compact travel stroller which can be taken on board most airplanes and stored in the overhead locker during flights – and our Ergobaby 360 baby carrier. These have accompanied us on our travels for almost 5 years through 3 babies and we highly recommend both!
Sale
Ergobaby Omni 360 All-Position Baby Carrier for Newborn to Toddler with Lumbar Support (7-45 Pounds), Pearl Grey, One Size (Pack of 1)
BEST SELLING & TOP RATED: The Omni Breeze baby carrier is rated #1 in airflow: Designed with SoftFlex Mesh to maximize airflow and keep you and baby cool and dry all day. This carrier...
THE CARRIER THAT DOES IT ALL: Omni Breeze Baby Carrier grows with your baby from newborn to toddler (~0-48 Months; 7-45lbs), a reliable essential for your baby at all stages of growth
ALL CARRY POSITIONS: This carrier is incredibly versatile, position it from any angle with ease - position baby outward or inward from the front, switch it to your back as a backpack...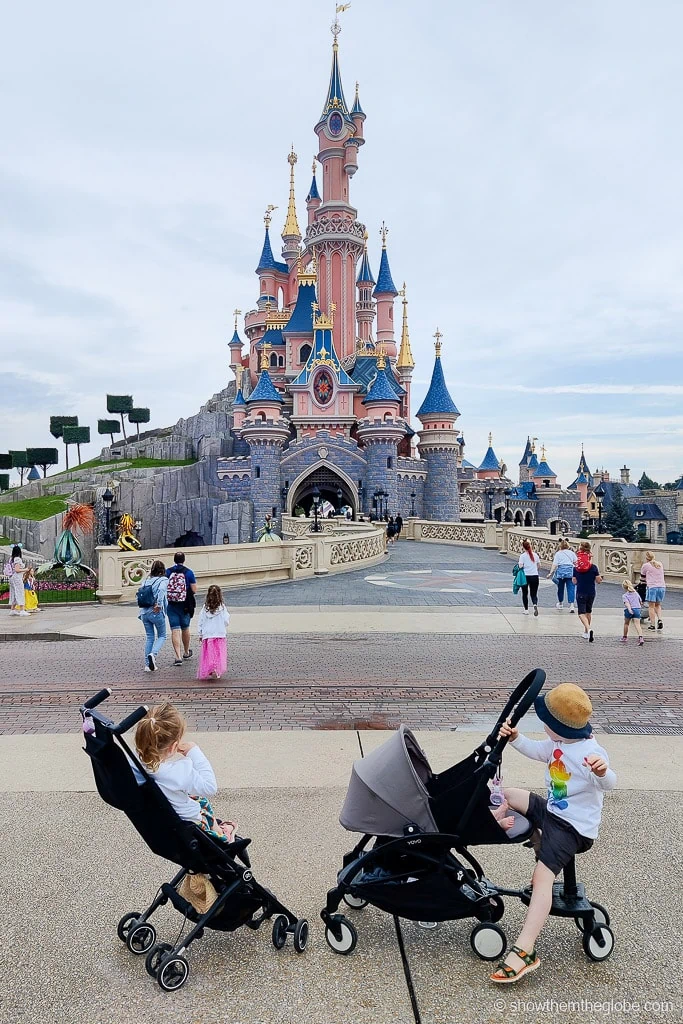 We attached a buggy board to the Babyzen Yoyo (check prices now)so the older kids could hop on as they wished and we brought a GB Pockit (another lightweight, cabin-friendly travel stroller – check prices now) so both had somewhere to sit. It's pretty standard to cover 20,000 to 30,000 steps a day at Disneyland Paris so our 3 and 4 year old were exhausted and it meant we could walk fast when we wanted to get across the park (like during Extra Magic Hours when we were keen to get on the popular rides early). It was the perfect combination for us!
BABYZEN YOYO2 Stroller - Lightweight & Compact - Includes White Frame, Black Seat Cushion + Matching Canopy - Suitable for Children Up to 48.5 Lbs
EASY TO USE - BABYZEN YOYO2 is one of the most lightweight, compact, full-feature strollers available. Designed for every situation, every day, you can steer with one hand, carry it on...
TAKE IT EVERYWHERE - It's never been easier to meet up with friends, catch a cab, or hop onto the subway. The YOYO2 not only folds & unfolds with one hand, it's so compact that you...
GROWS WITH YOUR CHILD - Now you only need one stroller! Our all-in-one frame accommodates your growing child, from newborn to toddler (up to 48.5 lbs), with a comfortable seat cushion,...
gb Pockit Air All Terrain Ultra Compact Lightweight Travel Stroller with Breathable Fabric in Velvet Black
The revolutionary ultra-compact folding mechanism of the Pocket Air All-Terrain reduces the stroller into a handbag-shaped package in seconds and is airplane hand luggage compliant.
Take to the skies with confidence. The ultra-compact folding mechanism of the Pocket Air All-Terrain is airplane hand luggage compliant, freeing you to travel with your stroller without...
Weighing only 4.6 kg, the Pocket Air All-Terrain is the perfect travel companion. Its super-lightweight frame is easy to man oeuvre, lift and carry. Perfect for the city, on vacation,...
Disneyland Paris rides with baby tip: make sure not to leave valuables or souvenirs in your stroller unattended. Many visitors to Disneyland Paris, us included, lock their strollers when they park outside rides as there haven been reports of strollers being stolen. We use a bike lock (check prices here) and thread it through the wheels of the stroller – this means it can't be wheeled away but a Cast Member can easily move it if they need to.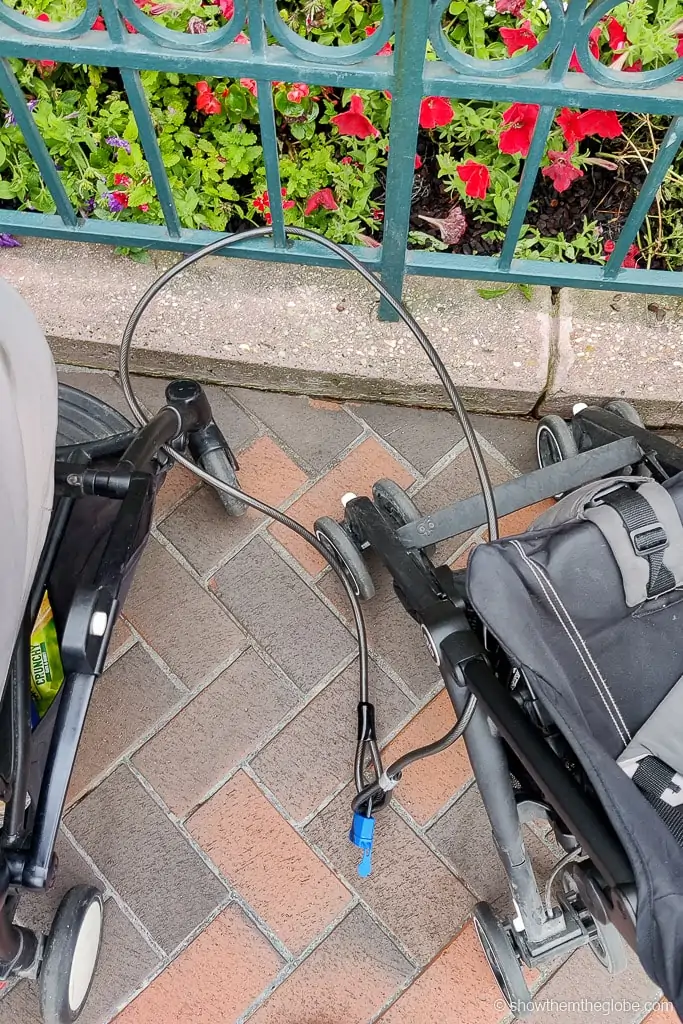 Bestseller No. 1
Bestseller No. 2
Tips for Disneyland Paris rides with a baby
We have a number of tips for anyone planning to visit Disneyland Paris with a baby. These tips will help you enjoy your time in the park even more and make your trip a lot easier.
Use a baby carrier in queues and on permitted rides: strollers aren't allowed in queues so a baby carrier is fantastic for both queuing and the ride itself. It's also great for breastfeeding on the move. The baby can remain in the carrier for many of the rides although you may be asked to switch to front facing – I was asked to switch my baby to front facing in the carrier before riding Orbiton.
Hold on tight: a lot of the rides at DLP have jerks and drops so make sure you support the baby's head/neck at all times. We found this was the case on Peter Pan and Pirates of the Caribbean.
Keep Baby Away from the safety bar: be careful on rides with bars to keep the baby clear from the bar when it is brought down. The bars can come down quickly so make sure to keep baby safe as it comes down. Babies must ride on the inside of the carriage and be positioned under the safety bar.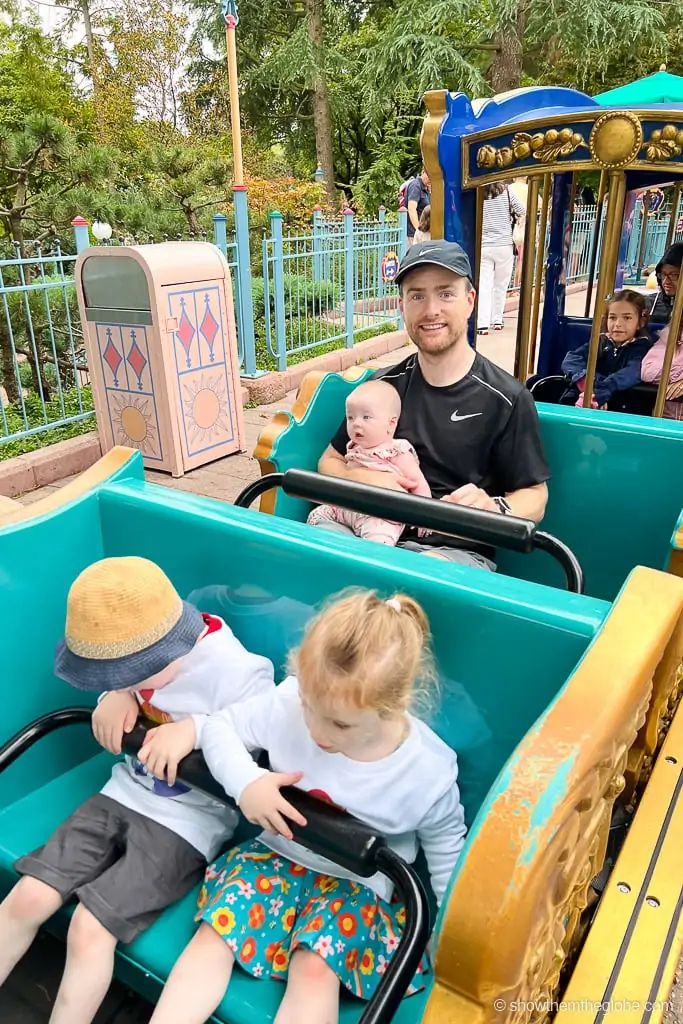 Younger baby vs older baby: we were happy to ride all of the baby-friendly rides with our 4-month-old but I'd be much more conscious of the ride content if they were approaching 1 and more able to process the visuals. If you have an older baby you might want to avoid some of the 'scarier' rides listed.
Use Rider Switch for non baby friendly rides: for the rest of the rides, Rider Switch is an amazing offering which allows parents to ride separately with the second rider avoiding having to join the queue again. It's a huge time saver on the ever-popular big thrill rides including Big Thunder Mountain, Indiana Jones, Crush's Coaster, Avengers Assemble: Flight Force and Hyperspace Mountain.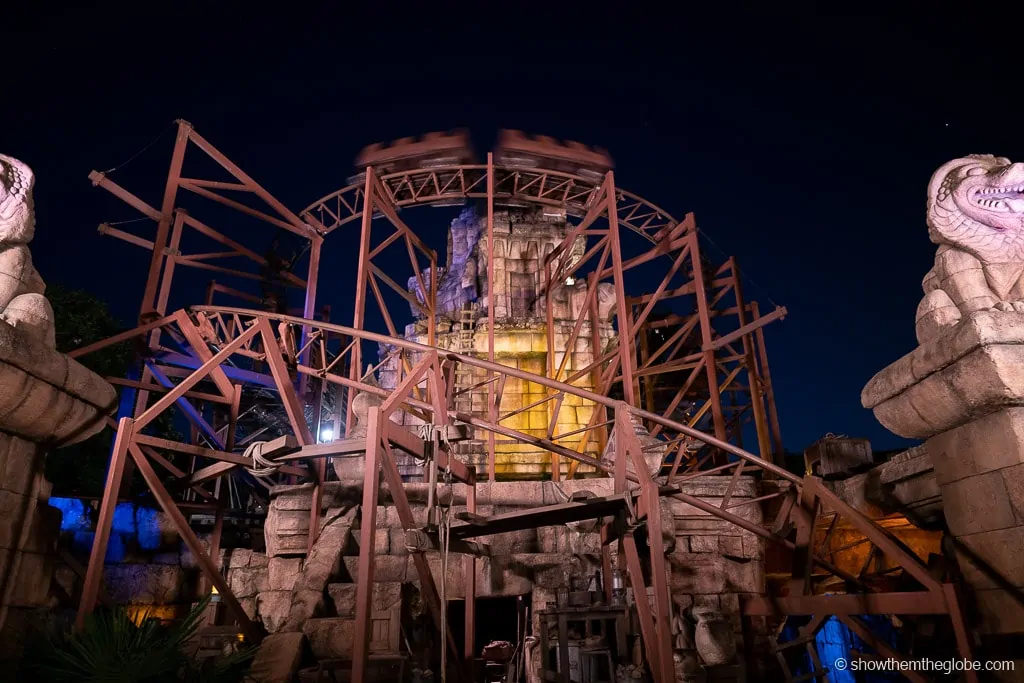 Baby Friendly Rides at Disneyland Paris
If you are like me and like lots of information when planning your trip to Disneyland Paris trip, read on for a detailed description of taking a baby on some of the most popular rides:
1 | Pirates of the Caribbean
Pirates of the Caribbean is a boat ride which takes passengers on a voyage to 17th Century Caribbean sea towns culminating in a band of pirates attacking a port. There are some drops during the ride.
It's dark, noisy and has lots of action but our 4-month-old was more than happy to sleep through most of it! Older babies who are more aware of their surroundings might find this one a little overwhelming. Our 4-year-old loved the ride but our 3-year-old was scared by the darkness, noise and pirates on Pirates of the Caribbean.
Disneyland Paris rides with baby tip: Pirates of the Caribbean has a indoor queue and is great for escaping the heat or cold outside.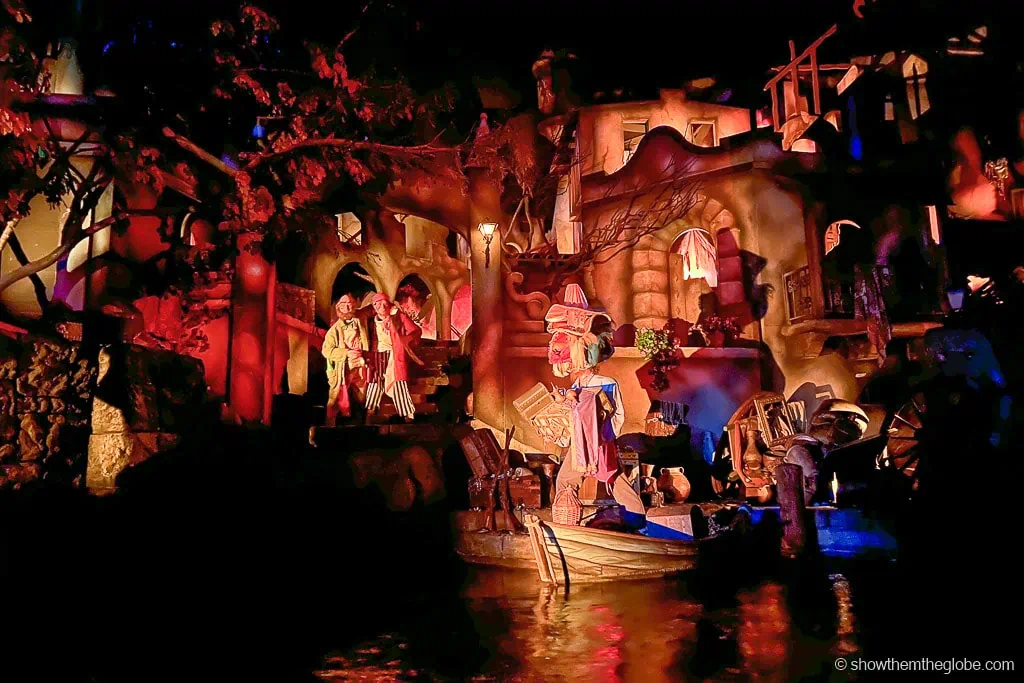 2 | Dumbo the Flying Elephant / Orbitron / Flying Carpets Over Agrabah
Dumbo, Orbitron and the Flying Carpets are all very similar rides where riders board themed carriages which circle around as part of an aerial carousel. Each carriage has a control lever which allows riders to move the carriage up and down.
The carriages can fly as high as 7 metres so I preferred to have my 4-month-old in a baby carrier for these rides. I was asked to switch my little one to front-facing on Orbitron.
Disneyland Paris rides with baby tip: a Disney icon, Dumbo is ever popular and typically has long queues. If you have access to the park during Extra Magic Hours (you will have this if you are staying in a Disney hotel or have an annual pass) then Dumbo is a must do during this quierter period in the park. Our 3 and 4 year old loved the ride and we took advantage of the lack of queues to ride it twice each morning during Extra Magic Hours. This is our 3 year old's favourite ride in all of Disneyland Paris!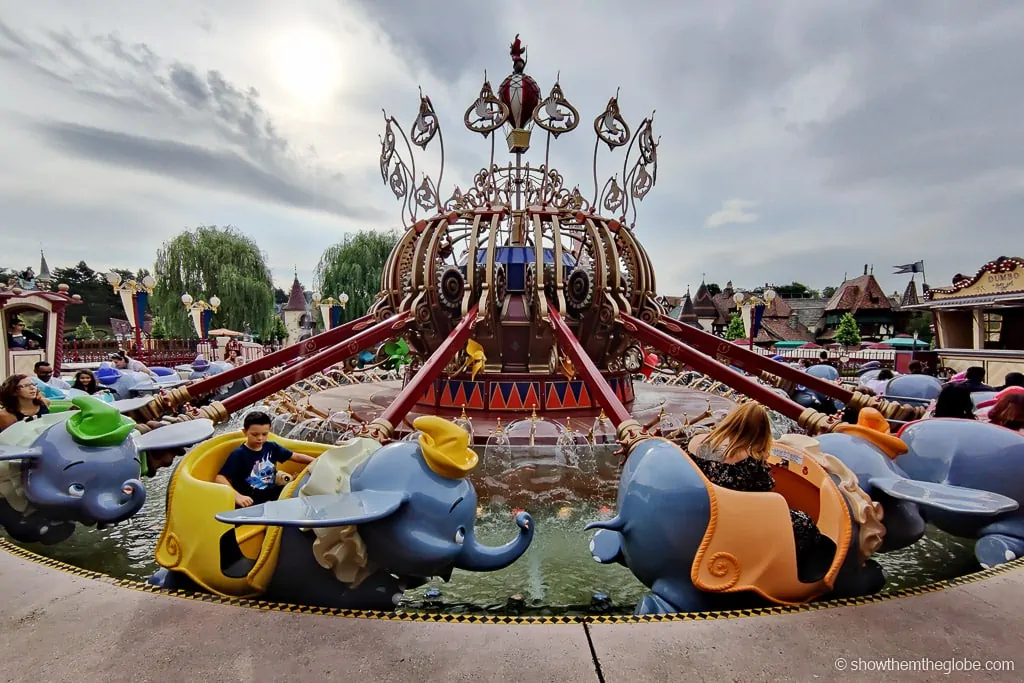 3 | Buzz Lightyear Laser Bash
It's Buzz Lightyear versus the evil emperor Zurg on this relatively gentle ride through the Gamma Quadrant. Riders become junior space rangers and score points by hitting targets with a laser cannon as they cruise through the toy universe in a XP-37 star cruiser.
Our 4-month-old was mesmerised by all the vivid colours and lights although older babies might be overwhelmed. Our 4-year-old loved the ride but our 3-year-old isn't a fan of any of the indoor dark rides at Disneyland Paris. She did enjoy it a little more than rides like Pirates of the Caribbean or Peter Pan.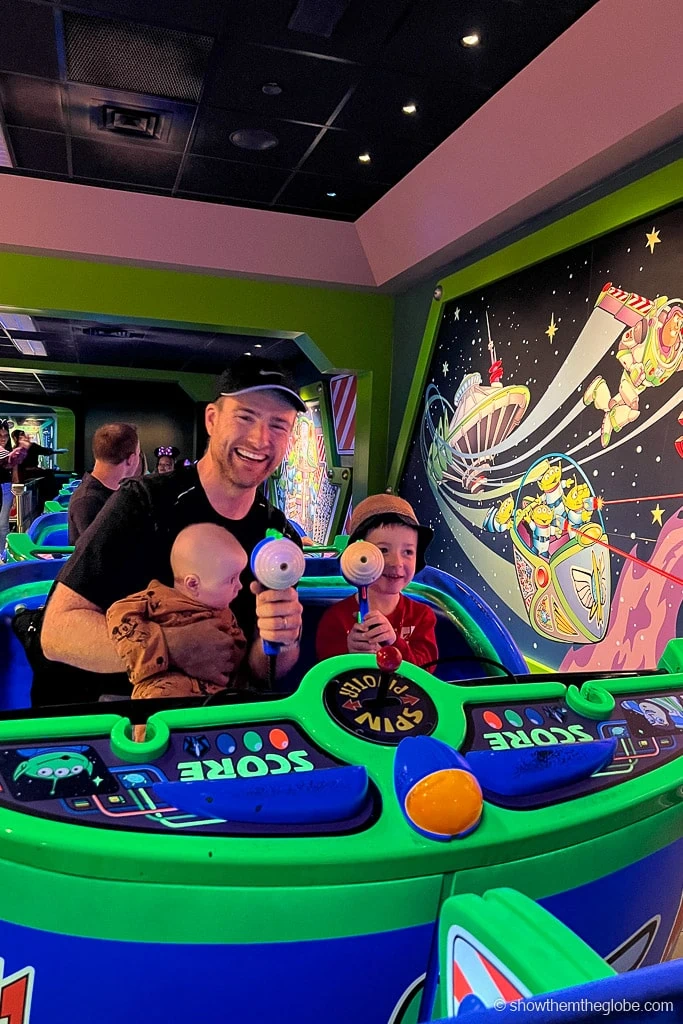 Disneyland Paris rides with baby tip: another popular ride where queues can be long. If you have access to the park during Extra Magic Hours then Buzz Lightyear Laser Bash is another must ride during this time.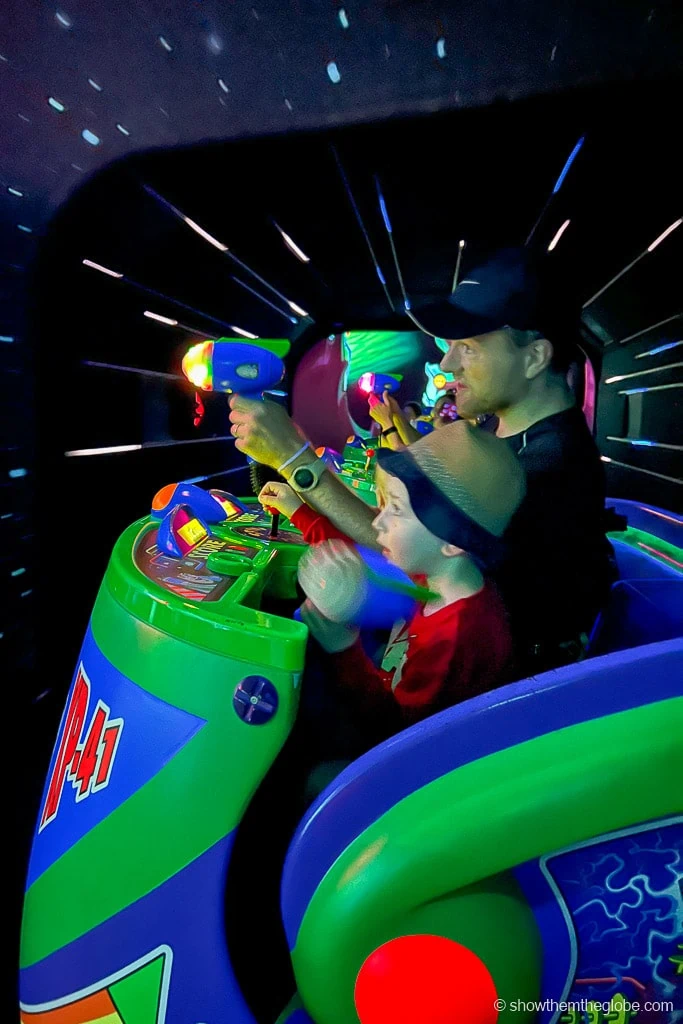 4 | Ratatouille
A relatively gentle 4D trackless ride where you shrink to the size of a rat to join Remy and friends as they are chased through Gusteau's Restaurant by Chef Skinner. The visuals are fantastic and our 4-month-old was happy riding through the Ratatouille restaurant! Older babies who are more aware of their surroundings might find this one a little overwhelming.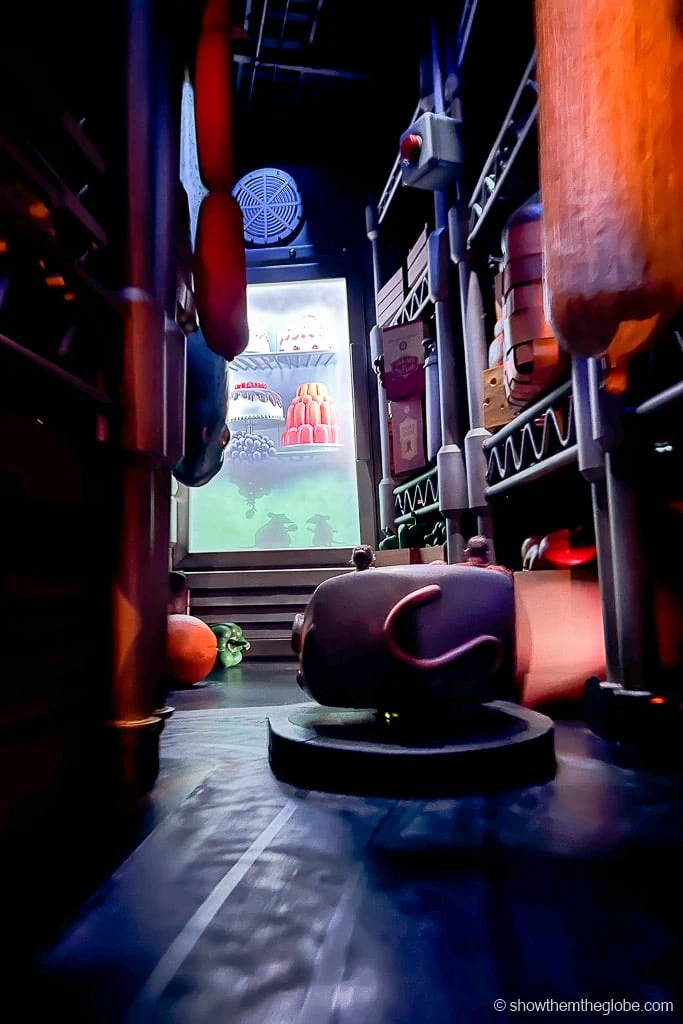 5 | Peter Pan's Flight
Riders board a flying sail ship for a journey over London and Never Never Land on the ever-popular Peter Pan's Flight. It's a magical experience with the boats soaring over some impressive London and Never Never Land scenery before Captain Hook makes an appearance.
There are two things to be mindful of when riding with a baby on Peter Pan: the carriages can be quite jerky throughout the ride and a safety bar is lowered before the ride commences.
Disneyland Paris rides with baby tip: Peter Pan's Flight has some of the longest queues in the park. If you have access to the park during Extra Magic Hours then make a beeline for Peter Pan or consider purchasing premier access to skip the queue.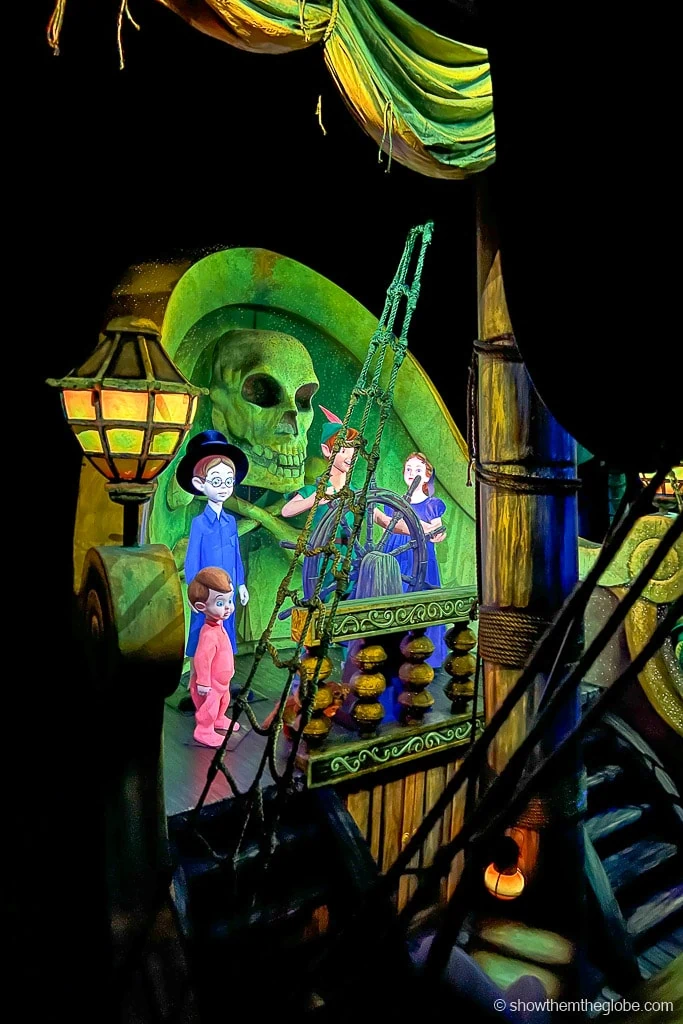 6 | Spider Man W.E.B Adventure
An interactive ride where guests have to use their arms to sling webs to help capture the spider bots which are multiplying and wreaking havoc. The smooth ride is easy to navigate with a baby but you can't really participate in the web-slinging with a babe in arms! If you want to take part in the ride we'd recommend
This ride was a real highlight for our 4-year-old Marvel fan.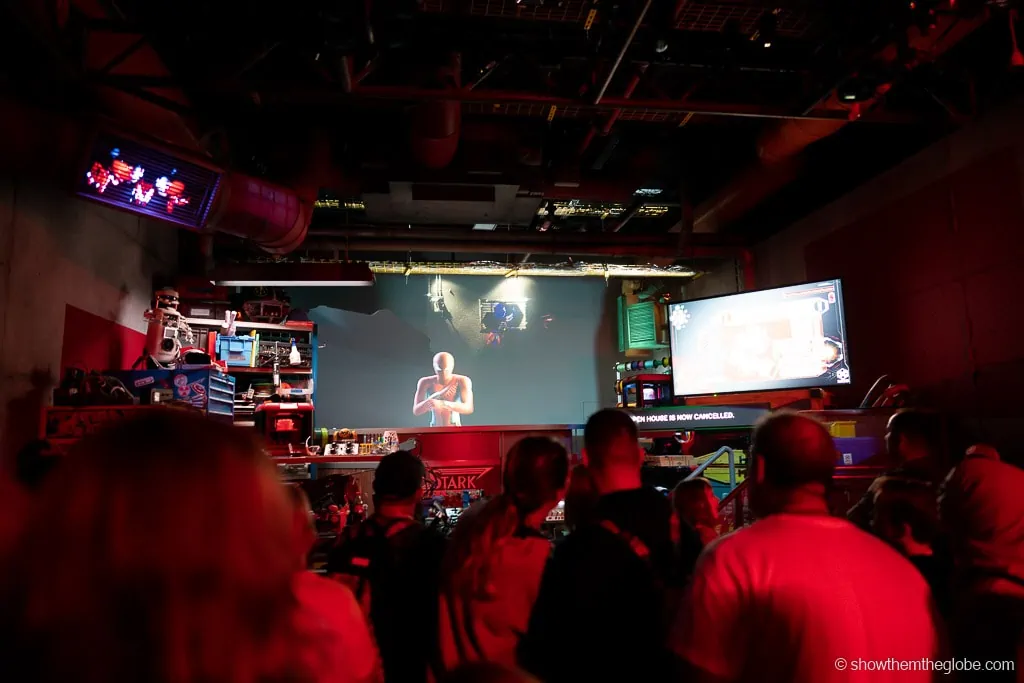 7 | Cars Road Trip
Riders hop aboard the Cars Tram for a scenic drive along Route 66. All the action occurs in the Canyon when a fire breaks out on a diesel tanker but the rest of the journey is slow-paced and relaxed.
There's some rocking/vibrations/heat and water used when the tram pulls up in the Canyon so make sure to keep your baby to the right side of you in the car.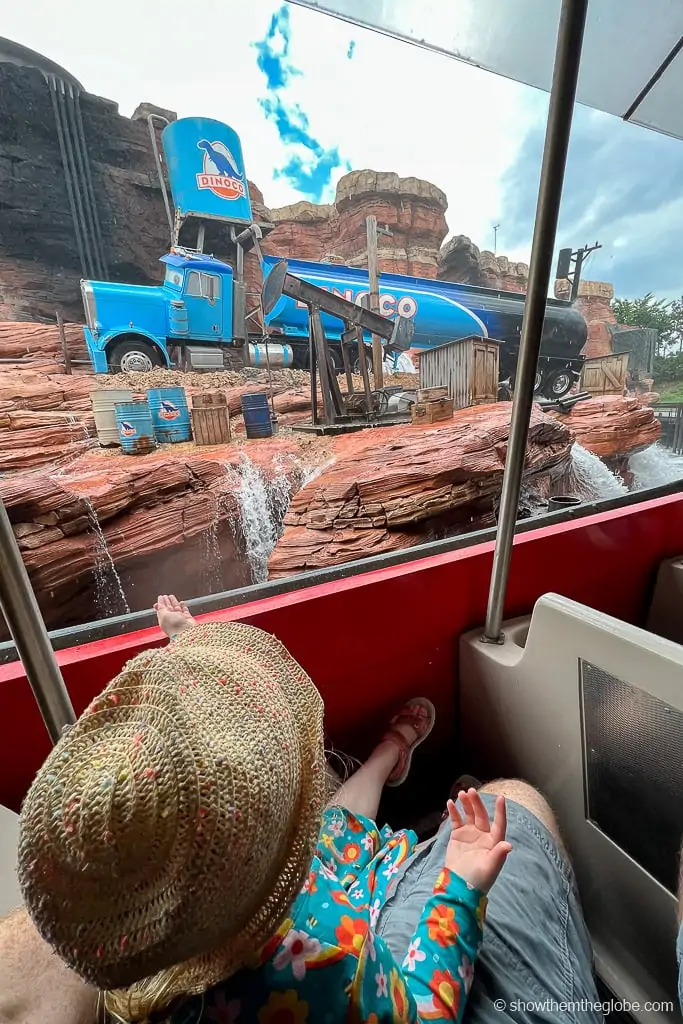 8 | Casey Jr: Le Petit Train du Cirque
Another Dumbo-inspired ride, Casey Jr takes a journey through Storybook Land on a roller coaster style ride for kids. Similar to Le Pays de Contes de Fees, the ride passes miniature scenes from Disney classics.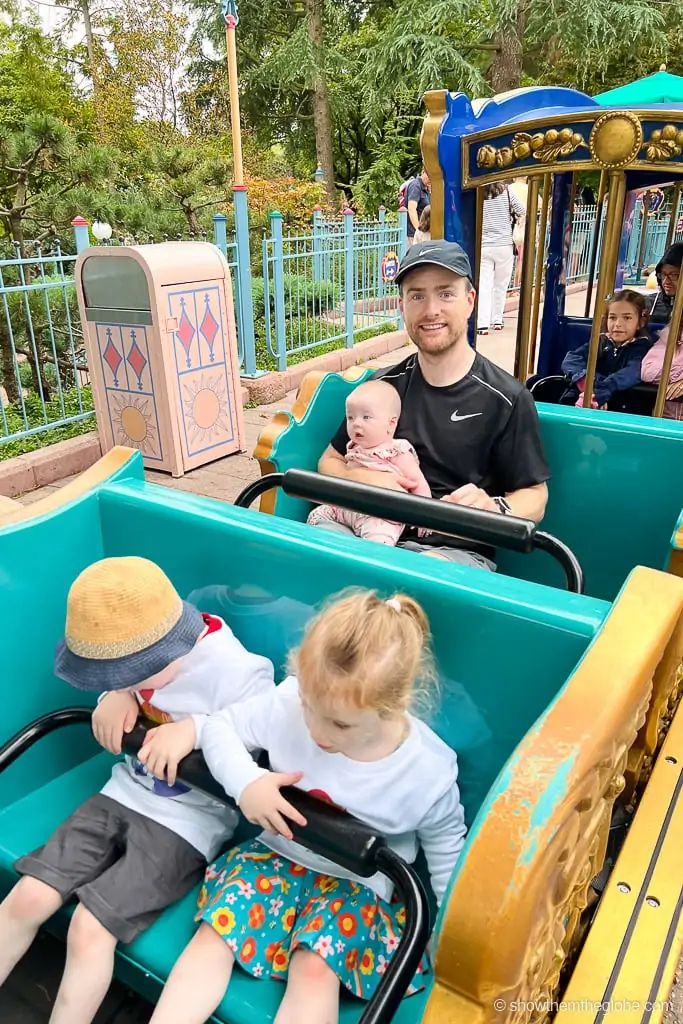 It's a fun ride and our 4-month-old seemed happy with the pace. The seats on Casey Jr have a metal safety bar so be careful with your little one as it is lowered.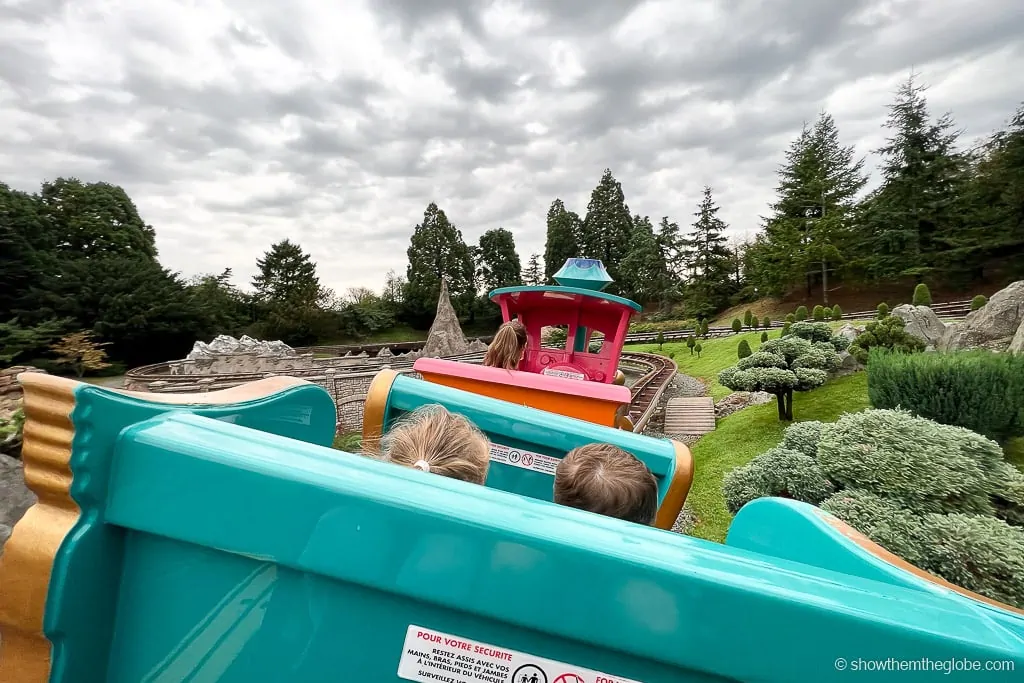 9 | Mad Hatter's Tea Cups
The Alice and Wonderland themed Mad Hatter's Tea Cups are a Disney must do with kids. The colourful oversized teacups whiz and spin across the platform round and round the garden!
The ride itself has some spinning and whizzing but additional spinning is controlled by the riders in each individual teacup. This means you can have a relatively gentle ride if you have a baby on board.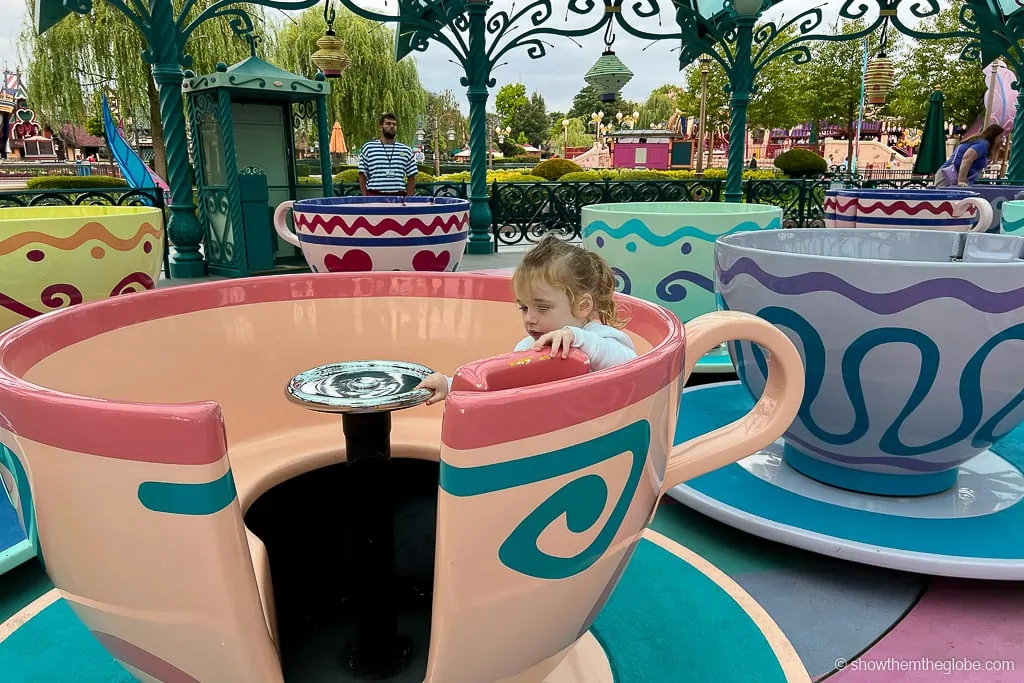 10 | Lancelot's Carousel
The beautifully ornate Lancelot's Carousel is a popular family ride at Disneyland Paris and our 3 and 4-year-old made a beeline for the horses every time we passed through Fantasyland!
If you are riding with a baby there are carriages that are suitable while older kids can ride the oscillating horses.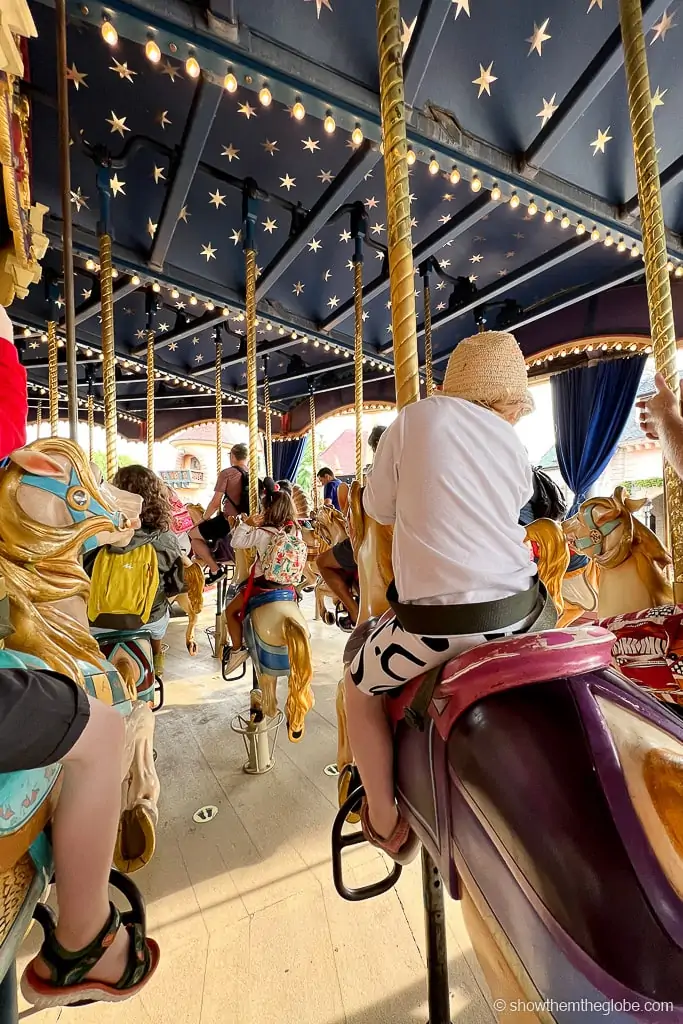 11 | Le Pays de Contes de Fees
Take a gentle boat ride through Disney's Storybook Land on Le Pays de Contes de Fees. The ride features miniature scenes from Disney classics including Snow White, the Little Mermaid and Rapunzel.
This slow-paced, open-air ride is perfect for babies.
Disneyland Paris rides with baby tip: this is an outdoor ride so make sure to bring a sunhat for babies. When we last visited in August 2022 temperatures were over 30 degrees so we were glad we brought a sunhat for this ride.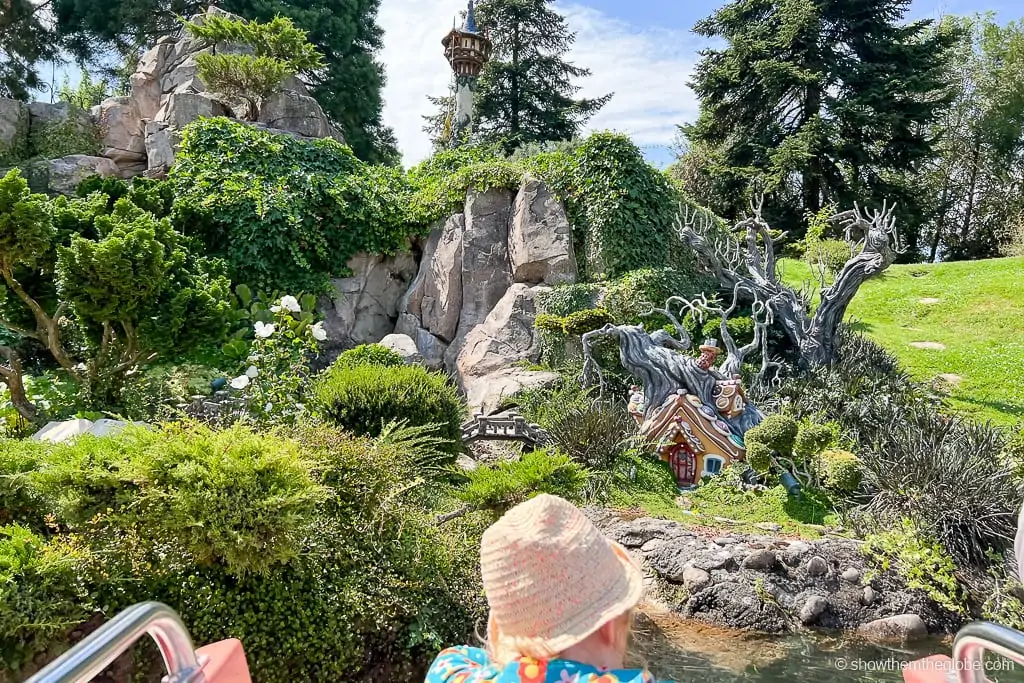 12 | Phantom Manor
Disneyland Paris' famous haunted house tells the tale of the manor's resident, a heartbroken young woman who faced heartbreak from four suitors. Riders explore the house aboard moving carriages which roam through the manor as the story unfolds.
Although the ride is accessible for all ages, I'd only recommend it for younger babies who are unaware of their surroundings. Otherwise, they might find the ghoulish sights and sounds unsettling. We didn't take our 3-year-old through Phantom Manor as she would have been terrified but our 4-year-old loves it!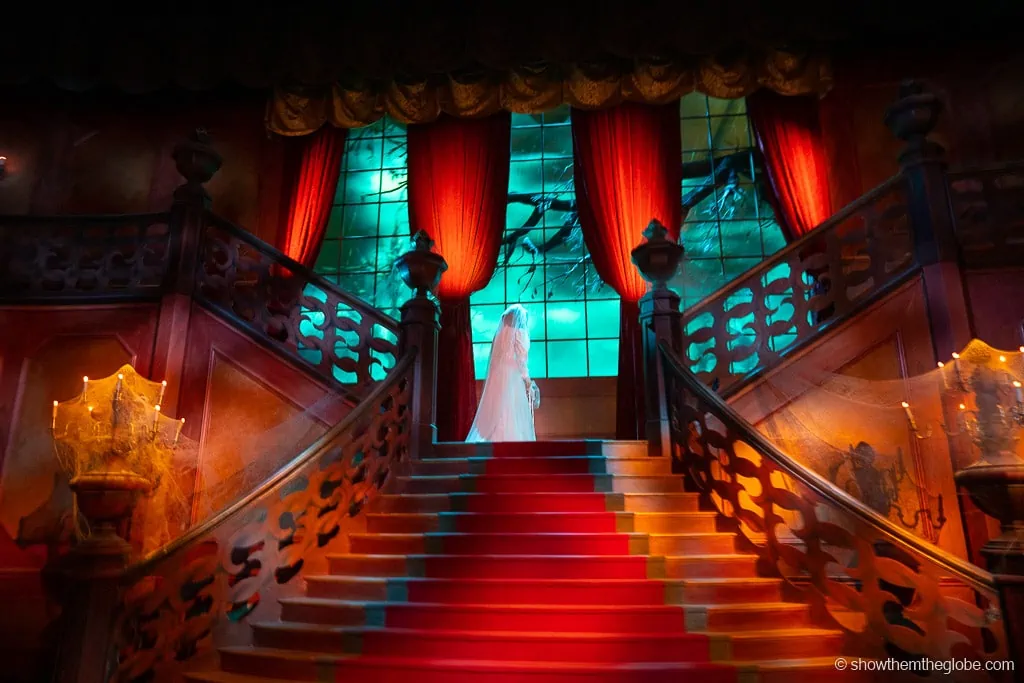 13 | Les Vogaes de Pinocchio / Snow White and the Seven Dwarfs (Blanche-Neige et les Sept Nains)
Both the Pinocchio and Snow White rides at Disneyland Paris are very similar with riders boarding wooden carriages for a journey through each of the fairytales. Like Peter Pan, Pinocchio and Snow White are dark rides and there is lots of noise and enchanting scenes throughout the rides – there are also some scenes that younger toddlers might find scary on Snow White and our 3-year-old was keen for the ride to end!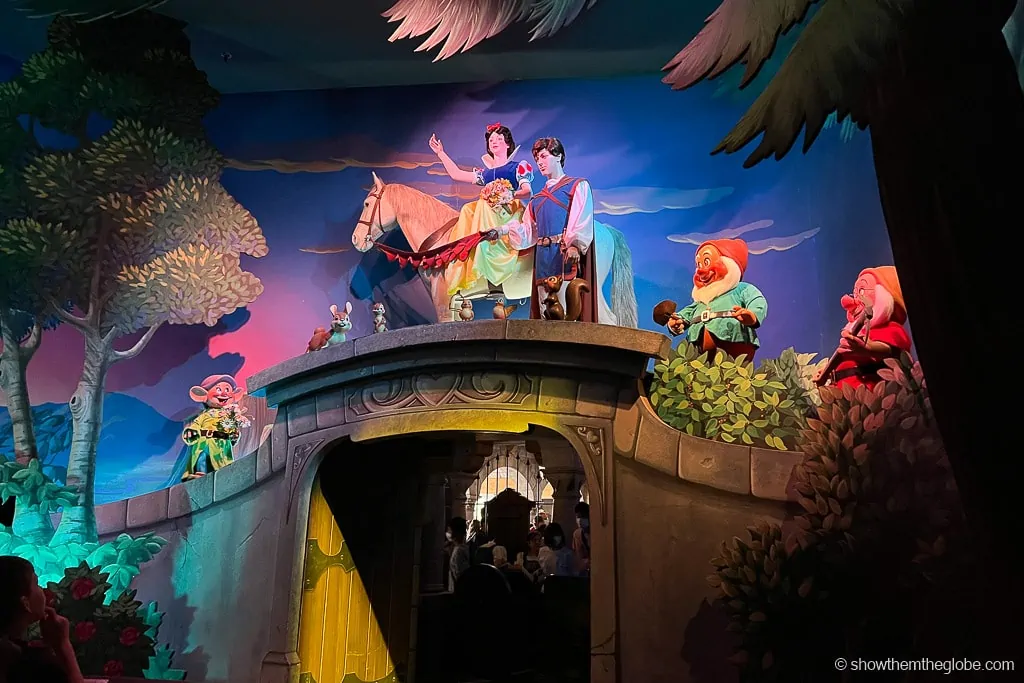 Other things to do with babies in Disneyland Paris
There is loads to do with a baby in Disneyland Paris aside from the rides.
The daily parades encompass everything Disney and are suitable for all ages. The energy in the park is magical with the mix of colourful floats, dancing Disney characters and fun music.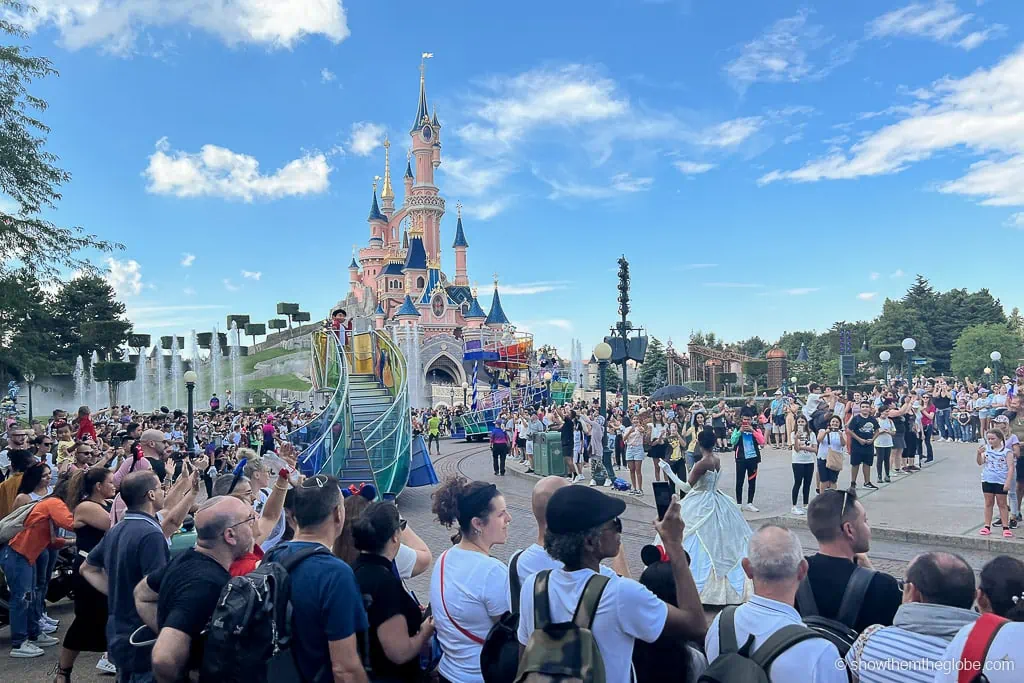 Babies are often welcome in the live shows that take place in the parks: we watched Mickey and the Magician, Frozen and the Lion King and our kids loved all three. The shows can also be a welcome escape from the weather and we loved escaping the midday summer sun. It's best to check if babies are permitted before you join the queue – I've heard of babies being turned away and I would skip the show if your baby is likely to be unsettled by all the action on stage and in the audience!
Babies can also participate in the meet and greets – Fantasyland has two permanent meet and greets with both the Princess Pavillion and Meet Mickey Mouse and you can find other popular characters at meet and greet stations throughout both the parks.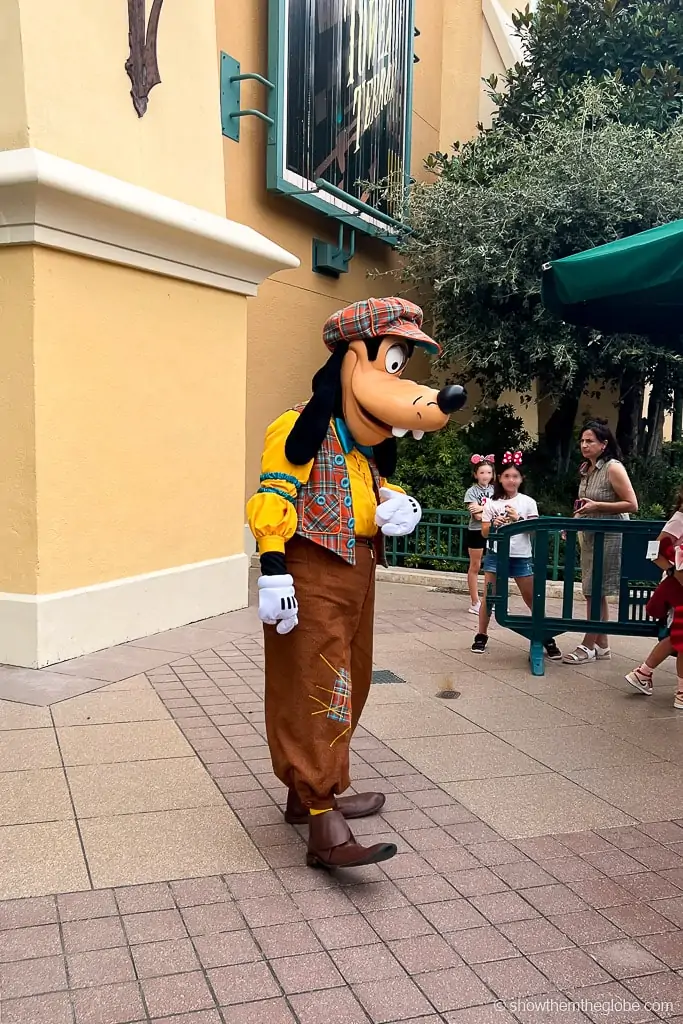 Visitors can also board the Disney Railroad for a scenic journey through the park or take to the water on the Thunder Mesa Riverboat landing for a leisurely ride through the Old West aboard an old paddle steamer.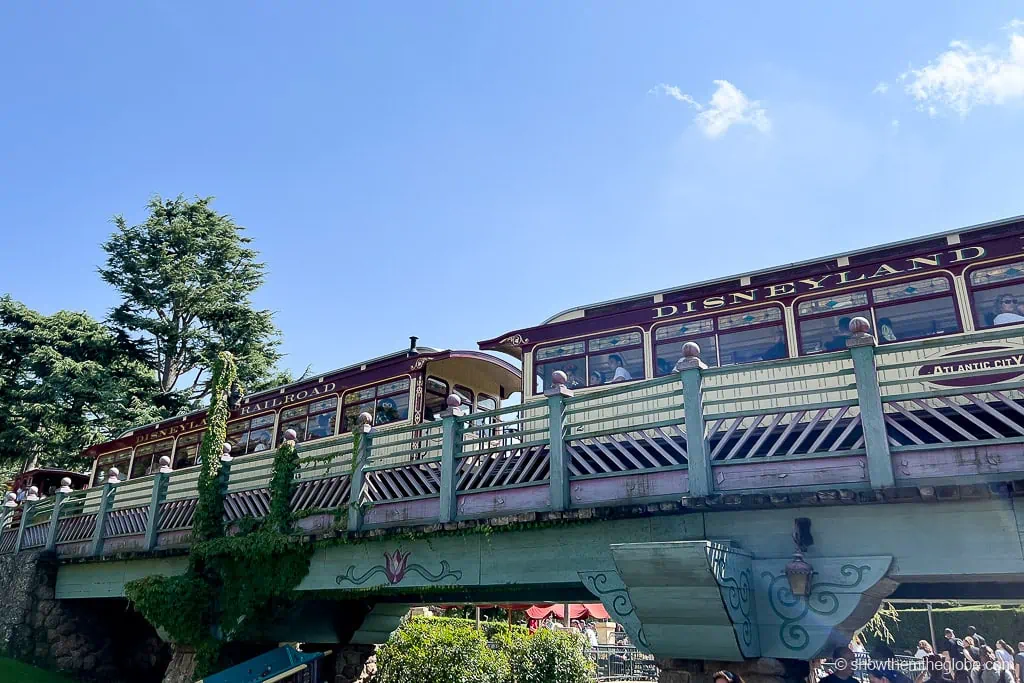 All the lands feature walkthrough attractions which are suitable for babies.
You can carry babies through the Sleeping Beauty Castle and the Dragon's Lair or walk through the hedged maze known as Alice's Curious Labyrinth. Le Passage Enchanté d'Aladdin showcases scenes from Aladdin as visitors pass through the winding streets of Agrabah.
If you also have young kids, Adventure Isle and the Frontierland Playground are both great stops. You can carry a baby through Adventure Isle with its suspension bridge, pathways and caves in search of buried treasure.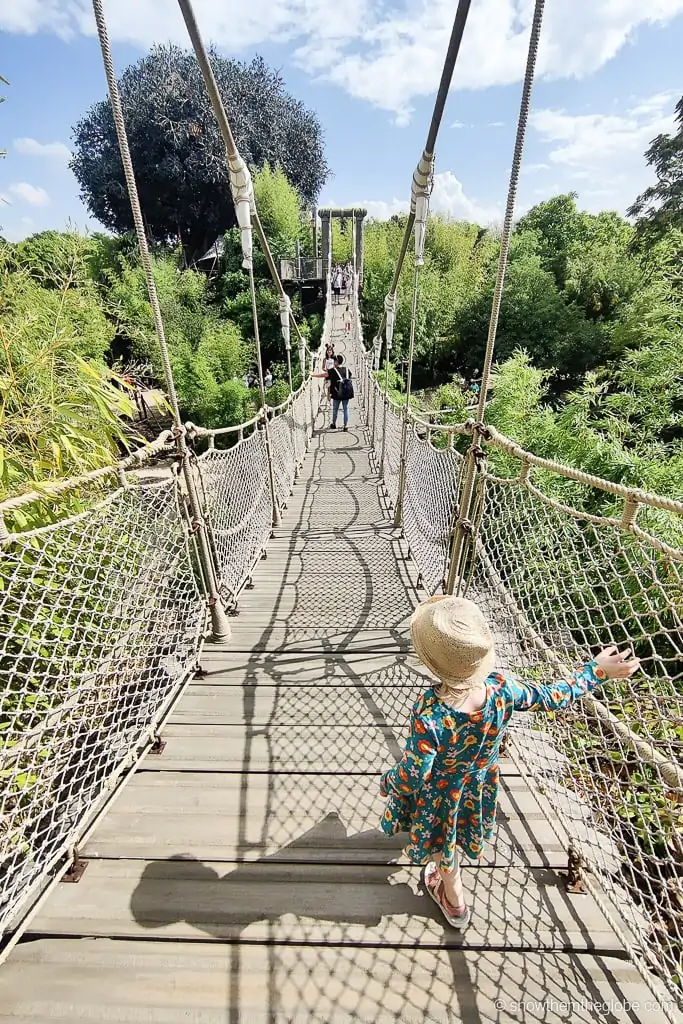 Babies can hang out with parents in the Frontierland Playground but strollers must be left at the entrance.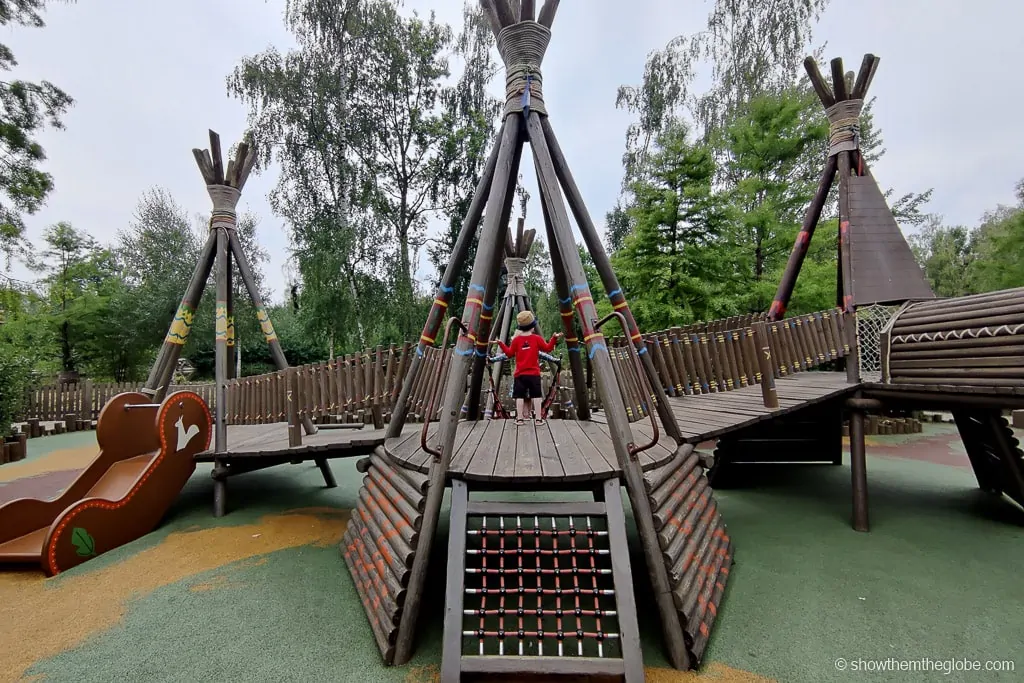 For more on Disneyland Paris check out our guides to: