As a mum to three young kids, I've enjoyed four recent trips to Disneyland Paris with toddlers. We've navigated the rides and character meets and sussed out the play areas and parades. Having had many magical moments, we wanted to share everything we've learned and all our tips and tricks for visiting Disneyland Paris with toddlers.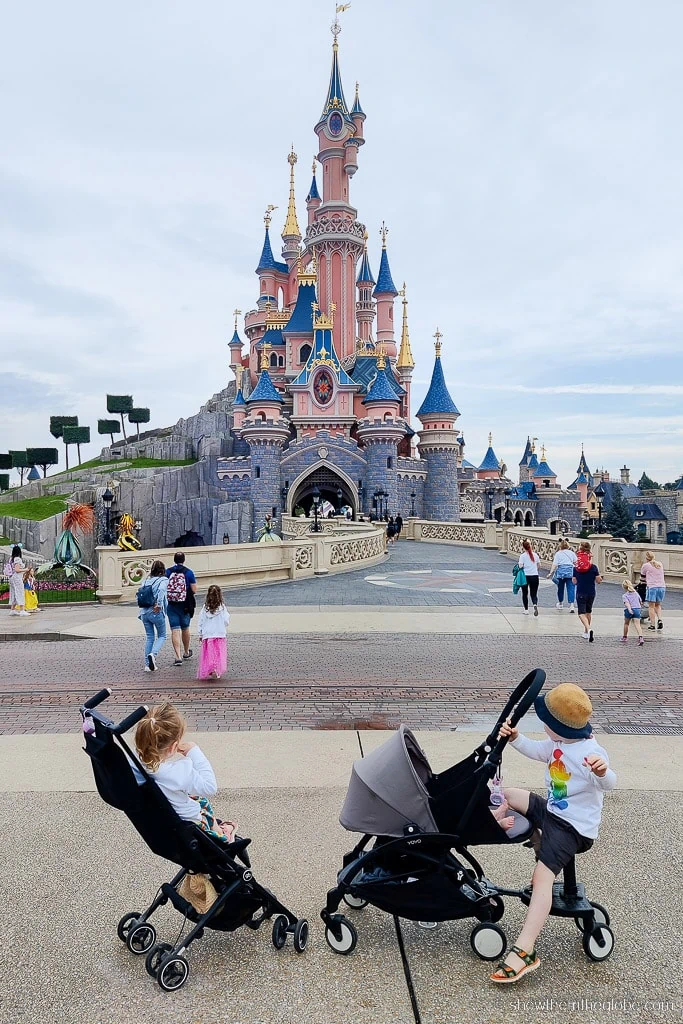 Everything you need to know about visiting Disneyland Paris with toddlers
Disneyland Paris is a magical place and there's so much to do with toddlers of any age. Here's everything you need to know:
1 | Are toddlers free at Disneyland Paris?
One of the best things about travelling with young kids is that you don't need a ticket or a meal plan for children aged 2 and under at Disneyland Paris. Children aged 3 and over pay a reduced price for tickets and meal plans.
Do I need to buy a park ticket for toddlers at Disneyland Paris?
Children under 3 can enter the park for free and without a ticket. If you are staying onsite you will notice that you don't get a Magic Pass for your children aged 2 and under.
Do toddlers need a meal plan/ do toddlers eat free at Disneyland Paris?
You can't reserve a meal plan for a child aged 2 or under. The child can eat from their parent's plates or you can purchase extra food for them at the time of dining.
2 | Where to stay at Disneyland Paris with Toddlers
There are 6 onsite hotels at Disneyland Paris and lots of convenient offsite options close to the park.
Onsite hotels
Staying at one of the onsite Disney hotels is a great option with toddlers – remember, if you book through the Disneyland Paris website tickets are included with the hotel and cover park access from the day of arrival to departure.
We've stayed in all the hotels onsite and found they are all great with toddlers. All the hotels have rooms to accommodate 2 adults, 2 children and an infant (age 2 and under) so it's a great option for our family of 5.
Book your Stay at a Disneyland hotel now
Cheyenne: the Toy Story-themed Cheyenne is perfect for toddlers. A 10 to 15-minute walk from the Disney Village, Cheyenne is mid-priced among the Disney hotel options. Woody and Jessie appear regularly to meet Toy Story fans – check prices here!
Newport Bay Club: the nautical-themed Newport Bay boasts a fantastic location and quiet and well-equipped rooms. The swimming pool and gift shop are a huge hit with our toddlers – check prices here!
Marvel: the most luxurious of the Disney onsite hotels, the Marvel hotel is only a 10-minute walk to the park, has an amazing Superhero Station (an area where you can book meet and greets with a Marvel character) and has a swimming pool – check prices here!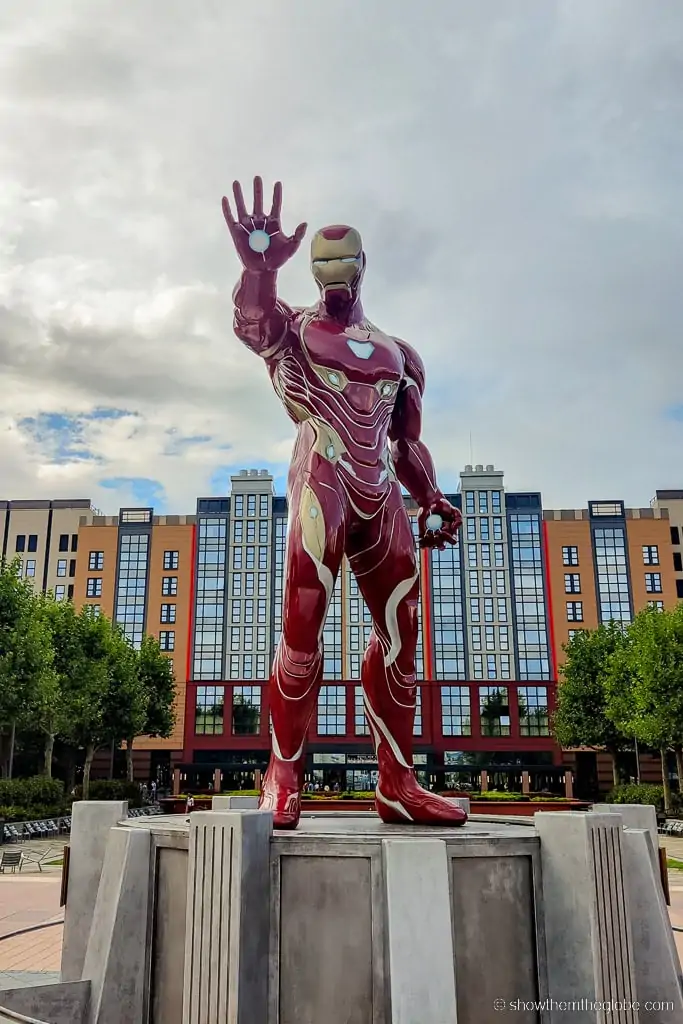 Sequoia Lodge: National Park inspired lodge with a great swimming pool. It is within an easy walk to the park – check prices here!
Santa Fe: perfect for any Lightning McQueen and Cars fans, the Santa Fe is a homage to Route 66. Rooms are Cars themed and there is an indoor play area – check prices now!
Offsite Hotels
There are also some great options offsite:
Explorers: a great base for Disneyland Paris, Explorers has basic and clean rooms with options for larger families. The hotel is 10 minutes from Disneyland Paris and a shuttle service is provided. The highlight for toddlers is the amazing swimming pool with slides and a pirate ship, the playground and the games arcade – check prices now!
Relais Spa Val d'Europe: if you prefer a regular hotel the Relais Spa Val d'Europe is a fantastic option. Rooms are spacious with excellent suite options for families and there is a hotel run shuttle to Disneyland Paris – check prices now!
Smart apartment Val d'Europe 7/9 pers: a lovely two-bedroom apartment located a 20 minute walk from Disney, 10 minutes from the Val D'Europe shopping center and within easy reach of the trains to both the park and Paris. Excellent choice if you want access to a kitchen – check prices now!
Book your hotel at Disneyland Paris now
We always try to stay on site:
Walk to parks: most of the Disney hotels are within easy walking distance of the parks (especially if you have a stroller) so you don't have to get shuttle buses or do any advance planning!
Extra Magic Hour: This is one of the biggest benefits of staying at a Disney property! Disney hotel guests have an extra hour in the park before it opens for general entry (so you can enter the park at 8.30am compared to the general entry at 9.30am). This is an amazing time to get on some of the most popular rides with very little queuing – we usually make our way to Fantasyland and ride Peter Pan, Dumbo, the carousel, the teacups or to Discoveryland for an early ride on Buzz Lightyear. Ratatouille, Toy Soldiers, Cars Quatre Roues Rallye, Flying Carpets and Slinky Dog were all walk-ons during Extra Magic Hour during our most recent visit in October 2022.
Late morning downtime: it's really nice to pop back to the hotel for a break from the chaos of the park! We usually leave the hotel at 7:45am to walk over to the park for Extra Magic Hour so, by 10:30am/11am the kids are ready for some downtime. Our toddlers don't nap anymore so it's lovely to return to our bedroom for some chill-out time or to go for a swim in the hotel pool.
Character meets: Disney characters visit Disneyland Paris hotels for special meet and greets in the morning or evening. The characters are themed to the hotel so expect characters like Thor in Marvel, Minnie in Newport Bay, Pluto in Sequoia and Woody in Cheyenne
Disney Davy Crockett Ranch
If you are driving to Disneyland Paris and are a family or group wanting extra space then Disney Davy Crockett Ranch is a fantastic option and, if booked directly, includes park tickets – check availability and prices here!
Should I bring a Stroller to Disneyland Paris?
It's very likely you are going to do a lot of walking at Disneyland Paris – we usually cover 20,000 to 30,000 steps during a full day at the park!
We always bring strollers as it means we can plan the day without worrying about tired little legs and do some speed walking when we have to cover longer distances! The strollers are also great for storing snacks and spare clothes and everything else we need for a day at Disneyland Paris!
Our older kids (now 4 and 5-years-old) share a GB Pockit (a lightweight, cabin-friendly travel stroller – check prices now) and a buggy board attached to a Babyzen Yoyo (check prices now) so both have somewhere to sit.
For our youngest (just turned 1) we use a Bayzen Yoyo (a compact travel stroller which can be taken on board most airplanes and stored in the overhead locker during flights – check prices now) and an Ergobaby 360 baby carrier – check prices now!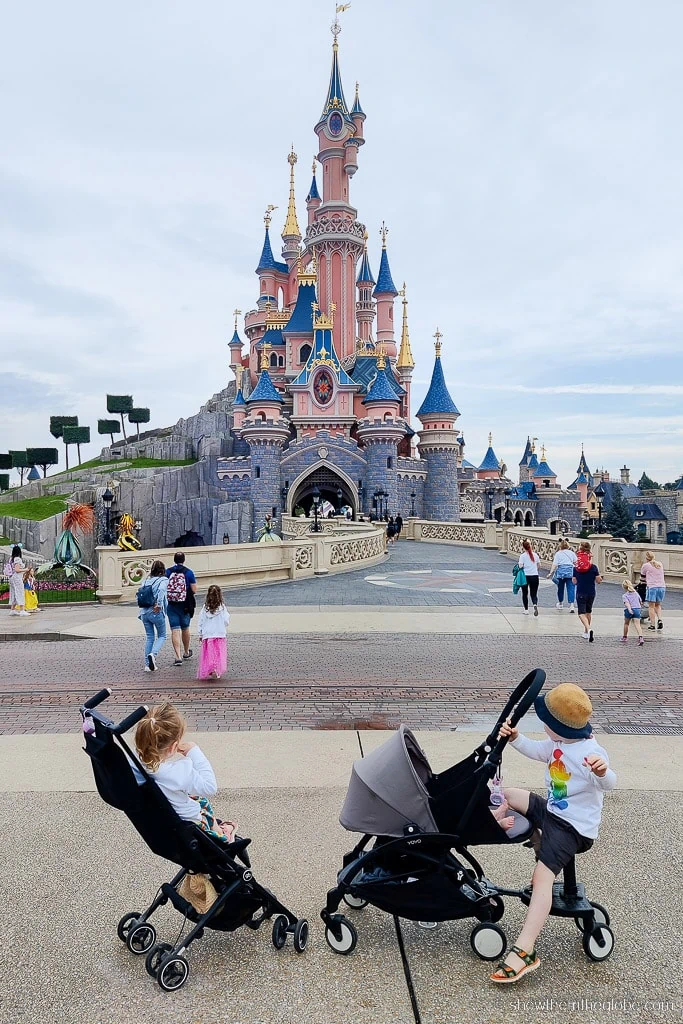 Rent a stroller: if you decide to leave the stroller at home you can always hire one while at the park – it is EUR 25 per day for a basic single stroller. There are no double strollers for rent in the park.
Locking Strollers
Make sure not to leave valuables or souvenirs in your stroller unattended. Some guests use a bike lock and thread it through the wheels of the stroller to secure it – this means it can't be wheeled away but a Cast Member can easily move it if they need to.
Tips for visiting Disneyland Paris with toddlers
Take advantage of off-peak visits: if you're not tied to school holidays and weekends then I highly recommend visiting Disneyland Paris on weekdays outside school holidays. You'll benefit from cheaper accommodation rates and shorter queues. French school holidays usually run from mid-February to early March, mid-April to early May and through July and August.
Fireworks and Illuminations are earlier in winter: a spectacular fireworks and illuminations show takes place daily at park closing. During the summer months, the park can be open until 11pm so it's a real challenge for toddlers to stay awake for the show! However, during the winter months, the park tends to close earlier (on weekdays it can close as early as 7pm) meaning toddlers can enjoy the fireworks and illuminations show too!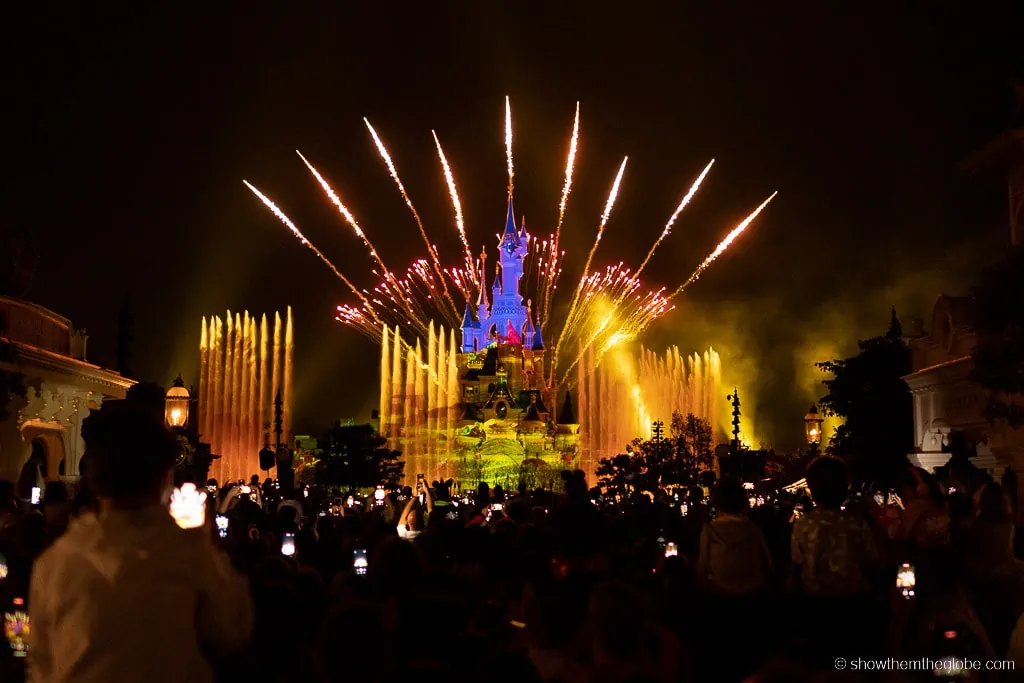 Bring snacks and drinks into the park: if your toddler is anything like ours, chances are they will like to enjoy a constant supply of snacks and drinks during the day! We pack a stash of snacks (things like crackers, veggie sticks, flapjacks and bananas) under our stroller to save time, money and tantrums! Top tip, snacks are a lifesaver for passing time in the queues! If you bring a reusable water bottle there are water fountains available in the park for refills.
Bring a stroller: even if you're toddler is a stroller refuser they'll probably happily use it during a long day at Disneyland Paris. It's also great for storing snacks, drinks, nappies and changes of clothes.
Use rider switch: if you want to ride the rollercoasters and thrill rides without your toddler then rider switch is a great option. It allows one adult to queue and ride and then switch with the other adult who is granted access to the premier lane so they don't have to queue again. Typically, a cast member will issue a Rider Switch ticket when you exit the ride. On most rides, you can reenter with the ticket at any time. However, on Crush's Coaster, the other rider has to be waiting at the exit to ride immediately.
Use the mobile app to pre-order at quick service restaurants: a hungry toddler and long queues don't mix well! We always pre-order our quick service food orders to save time queuing- you just order and pay on the mobile app, alert the restaurant to your arrival and join the preorder queue.
Stay onsite for Extra Magic Hour: Extra Magic Hour is the biggest benefit of staying onsite in a Disney hotel. Disney Hotel guests are granted access to both parks one hour before the regular opening time. There are short queues (or no queue!) for most of the rides, especially those that are popular with toddlers – Fantasyland, the most toddler-friendly part of the park, is a joy to explore during Extra Magic Hour!
There's more to Disney than rides: the rides are a huge part of Disney but there's so much more for toddlers to enjoy. From character meets to playgrounds and boat rides to face painting and fantastic theatre shows make sure to allow time to experience everything Disneyland Paris has to offer for toddlers.
Plan your rides in advance: get familiar with the toddler-friendly rides before you visit the park. There's nothing more heartbreaking for a 2 or 3-year-old than being turned away from a queue due to a height requirement or having a scary experience on a ride!
Pack some Disney clothes and accessories: it's a good idea to bring some clothes/costumes/accessories as prices are high in the parks. Etsy is great for accessories like mouse ears and Disney-themed nails. If you're in the UK, check out stores like Asda, H&M, Tu and Matalan as they often have great pieces for kids and Amazon is excellent for costumes and Disney themed items.
Follow your toddler's lead: it's easy for younger kids to be get overwhelmed with all the chaos so follow their lead. It's perfectly ok to take a day off or cancel a reservation to allow them some downtime – we often take time out at the hotel in the middle of the day or have a sit down in one of the food spots in the adjacent Disney Village
What rides can toddlers go on at Disneyland Paris?
One of the best things about Disneyland Paris is that many of the rides are accessible to children of all ages. Toddlers will have a blast trying out everything from gentle rollercoasters to flying carriages and spinning teacups.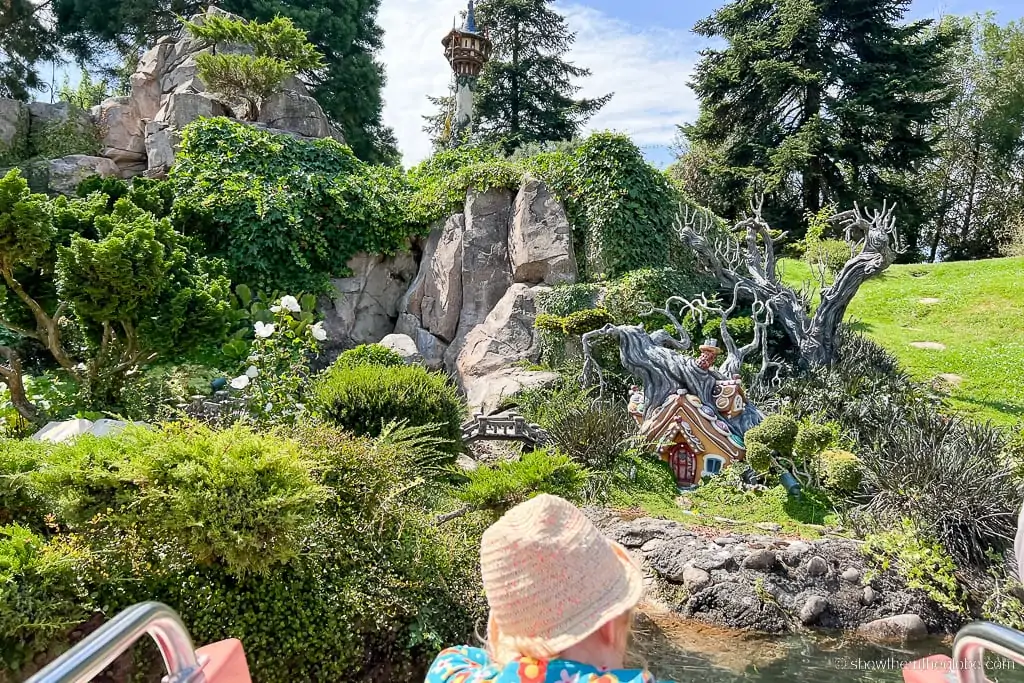 Rides for Toddlers at Disneyland Paris
Disnelyland Paris with toddlers tip: although toddlers meet the entry requirements for rides like Phantom Manor, it really depends on your toddler's personality whether they should ride or not. My 4 year old has loved Phantom Manor since he turned 3 but I wouldn't take my now 3 year old on it as it would terrify her. For age specific recommnedations check out our guide to baby-friendly rides in Disneyland Paris and our guide to the best rides for 3 year olds in Disneyland Paris.
Below is a quick summary of the rides that most toddlers can and can't ride at Disneyland Paris: this is based on our experience in the park in July 2023.
Disneyland Park: Fantasy Land
Toddlers can Ride: Dumbo, Peter Pan, Lancelot's Carousel, Mad Hatter's Tea Cups, Casey Jr Circus Train, Snow White, Pinocchio, It's a Small World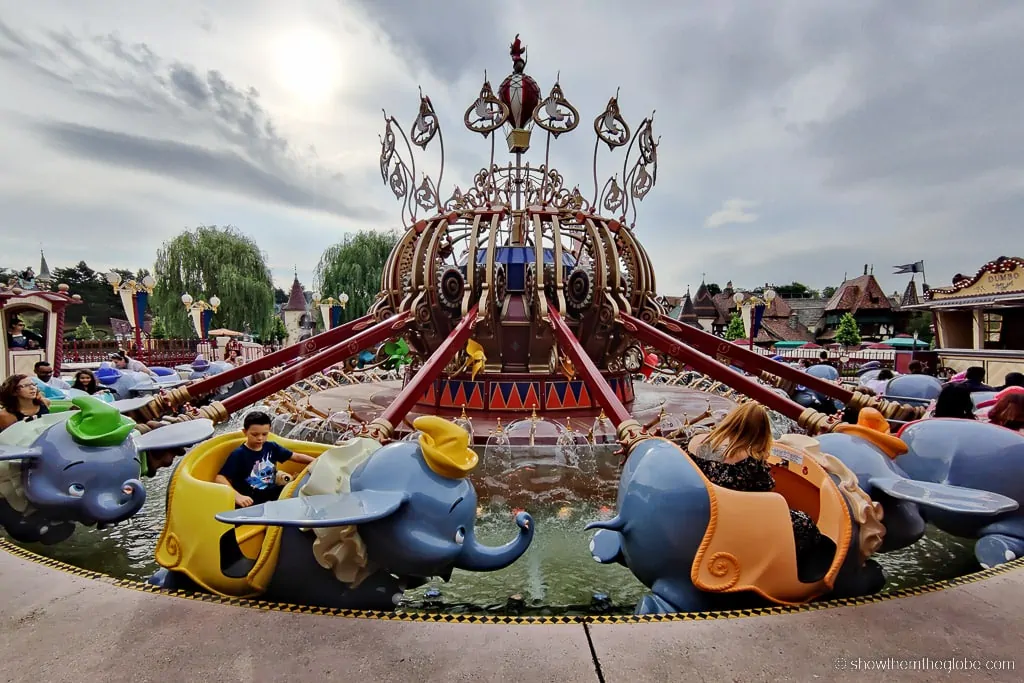 Toddlers will love: Dumbo the Flying Elephant, an aerial carousel taking riders on Dumbo's first flight, is a huge hit and the beautifully ornate Lancelot's Carousel is a must for carousel fans. The spinning teacups whiz and spin to music and Casey Jr is a fantastic and gentle introduction to rollercoasters. Le Pays de Contes de Fees is a slow paced, gentle boat ride through miniature scenes from Disney classics including Snow White, the Little Mermaid and Rapunzel.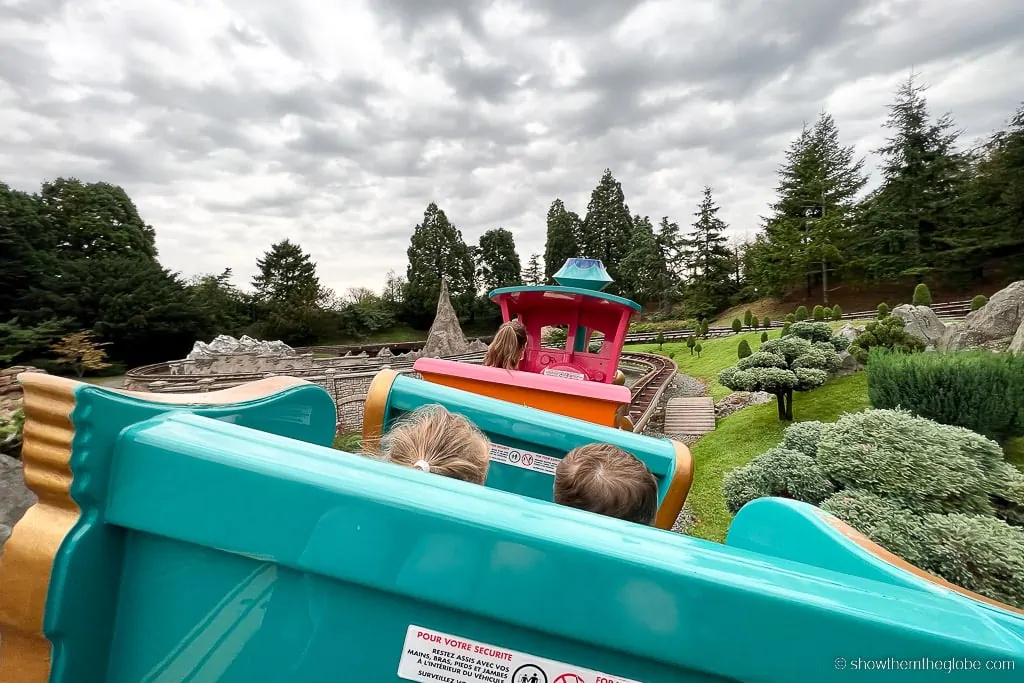 Depends on your toddler: on Peter Pan riders board a flying sailship for a journey over London and Never Never Land but some toddlers might not be keen on riding through the darkness. Both the Pinocchio and Snow White rides are very similar with riders boarding wooden carriages for a journey in the dark through each of the fairytales and the witch makes an appearance in Snow White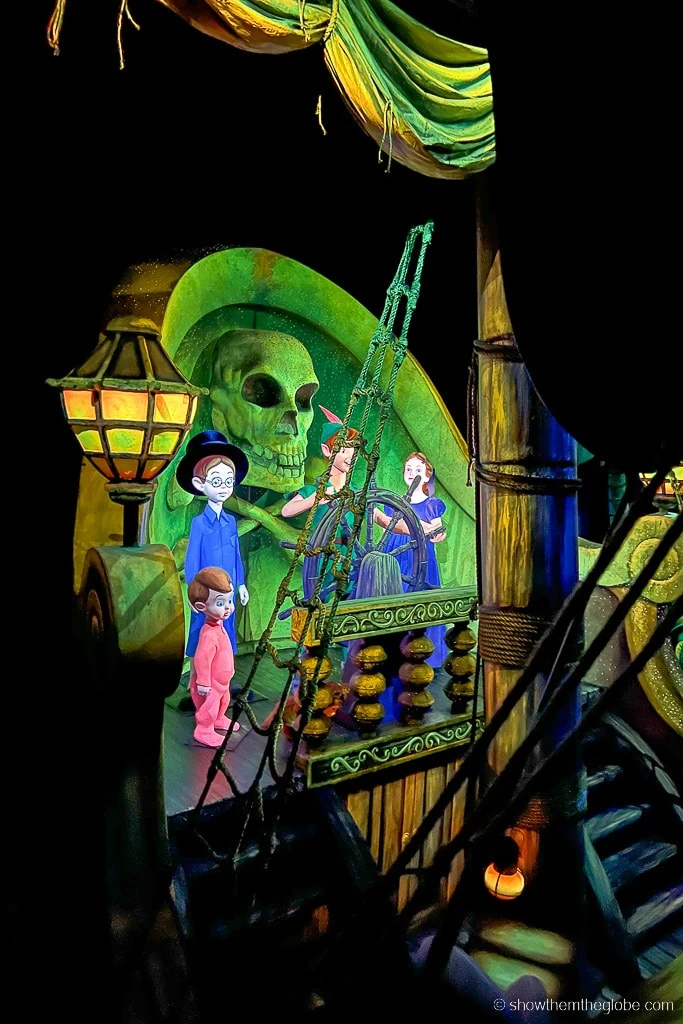 Disneyland Park: Adventureland
Toddlers Can Ride: Pirates of the Caribbean, Aladdin's Enchanted Passage
Toddlers Can't Ride: Indiana Jones
Toddlers will love: Le Passage Enchanté d'Aladdin is a walk-through ride showcasing scenes from Aladdin as visitors pass through the winding streets of Agrabah.
Depends on your toddler: Pirates of the Caribbean is a boat ride which takes passengers on a voyage to 17th Century Caribbean sea towns culminating in a band of pirates attacking a port. There are some drops during the ride and it's dark and noisy with lots of pirate action scenes.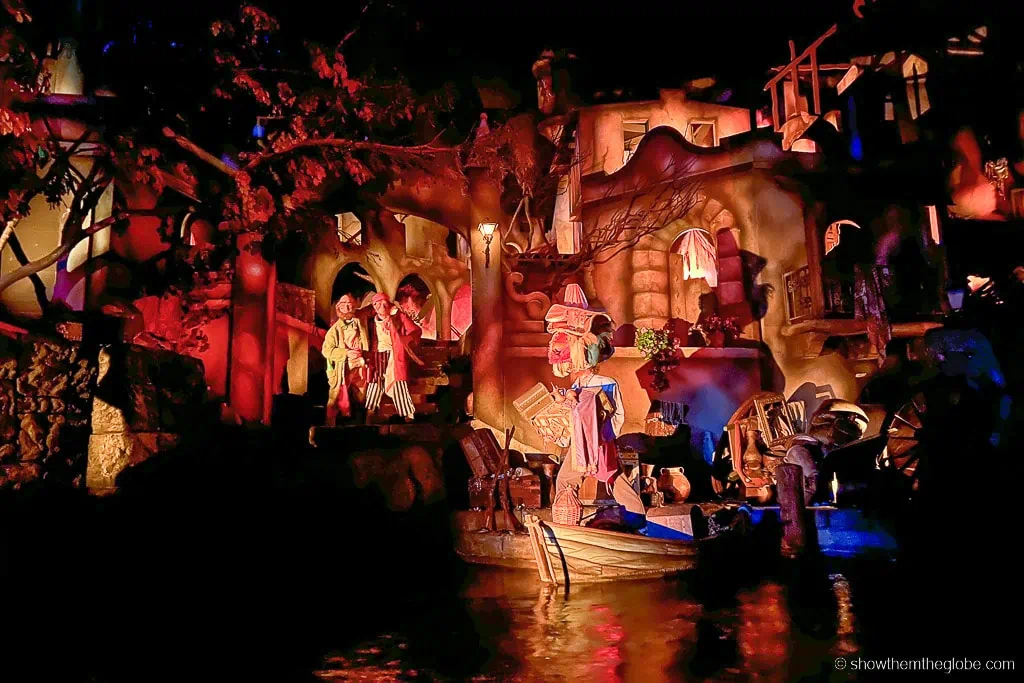 Disneyland Park: Frontierland
Toddlers can ride: Phantom Manor
Toddlers can't Ride: Big Thunder Mountain
Depends on your toddler: a haunted house style ride aboard moving carriages which roam through the manor. My 3-year-old doesn't ride this one but my now 4-year-old has loved it since he was little!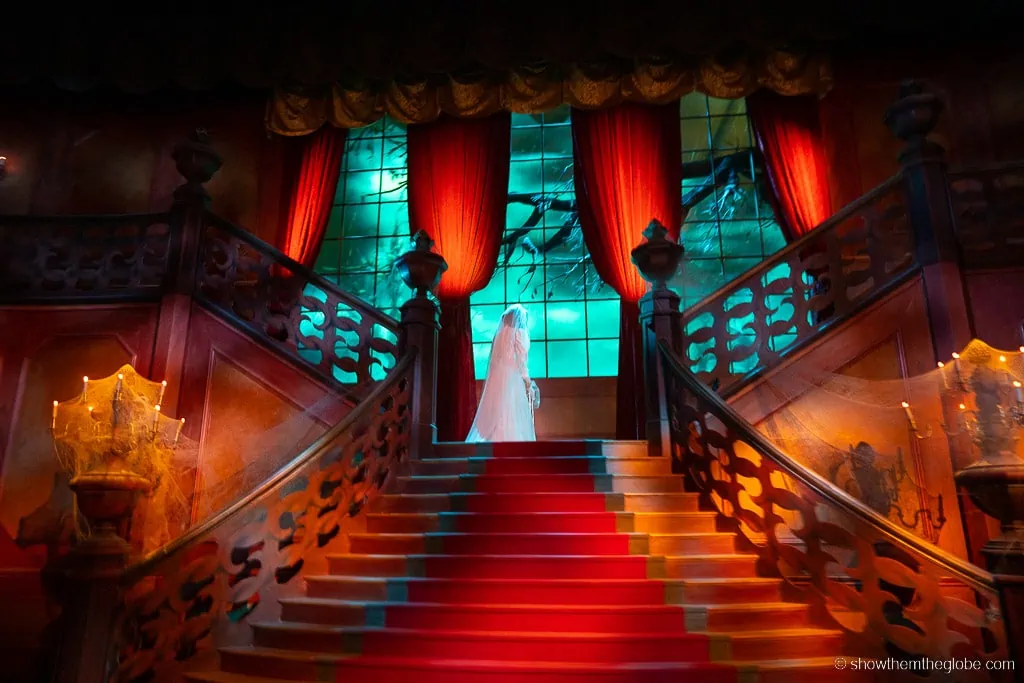 Disneyland Park: Discoveryland
Toddlers can Ride: Buzz Lightyear Laser Blast, Orbitron
Rides with height Requirement: Autopia (81cm)
Toddlers can't Ride: Star Wars Hyperspace Mountain, Star Tours: The Adventures Continue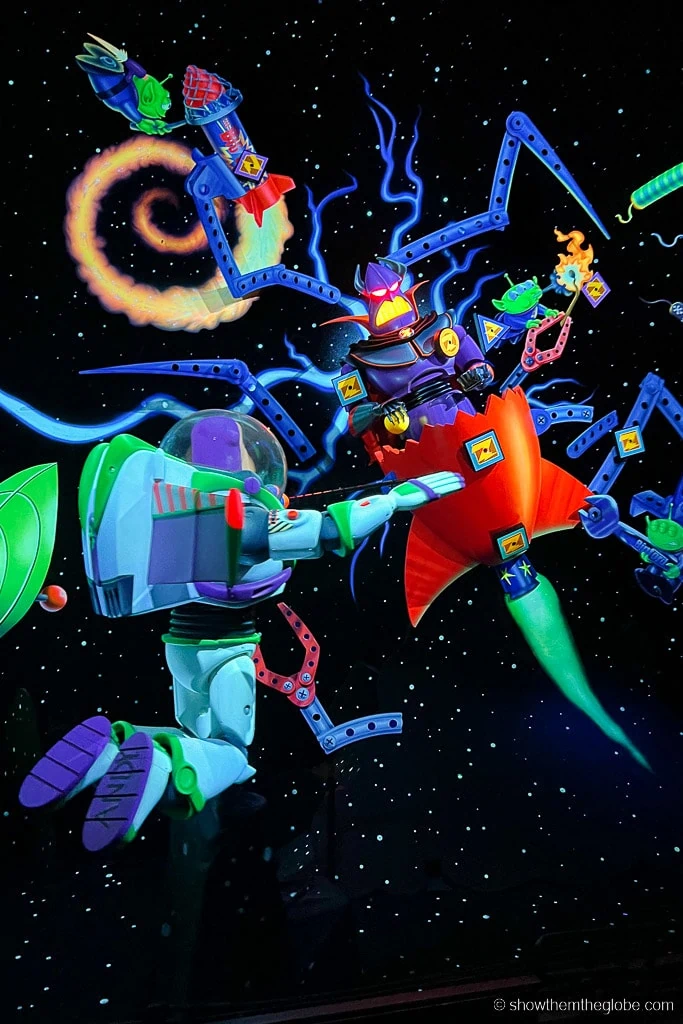 Toddlers will love: Buzz Lightyear Laser Blast sees riders become junior space rangers and score points by hitting targets with a laser cannon as they cruise through the toy universe in an XP-37 star cruiser. Orbitron is based upon Leonardo Da Vinchi's solar system drawings and is similar to Dumbo with riders boarding a spaceship to soar high above Fantasyland. Autopia (81cm) gives riders the chance to practice their driving skills in a petrol powered car on a futuristic track and is one of our toddler favourites.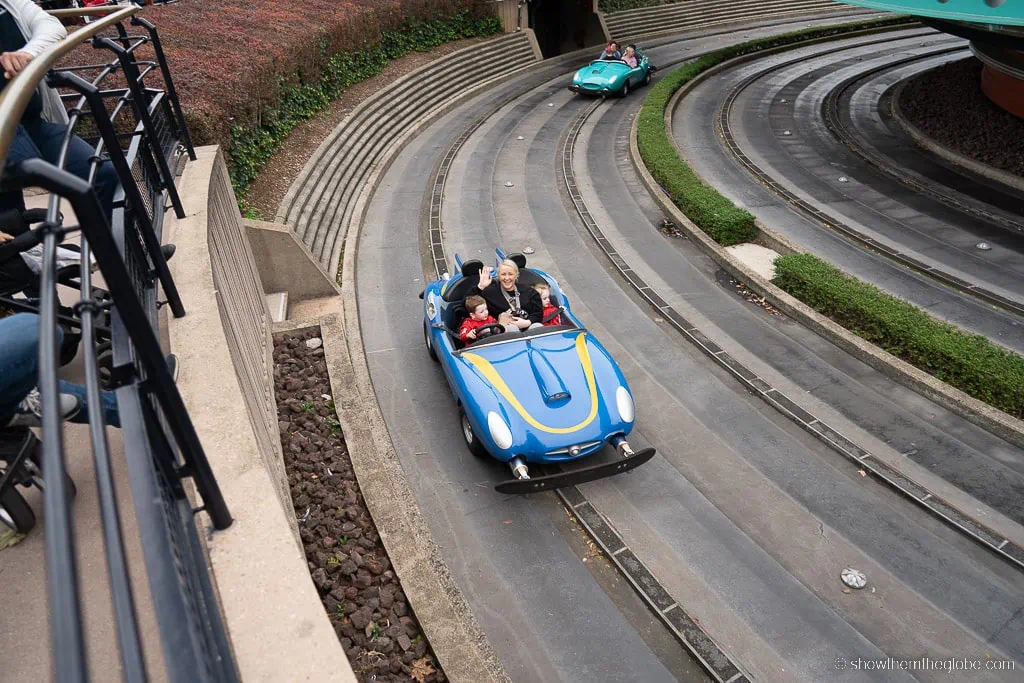 Walt Disney Studios
Toddlers can Ride: Cars Road Trip, Ratatouille, Flying Carpets Over Agrabah, Spider-Man W.E.B. Adventure
Rides with Age Requirement: Slinky Dog Zigzag Spin, Cars Quatre Roues Rallye (must be 12 months old)
Rides with Height Requirement: Toy Soldiers Parachute Drop (81cm)
Toddlers can't Ride: Crush's Coaster, RC Racer, Avengers Assemble, The Twilight Zone Tower of Terror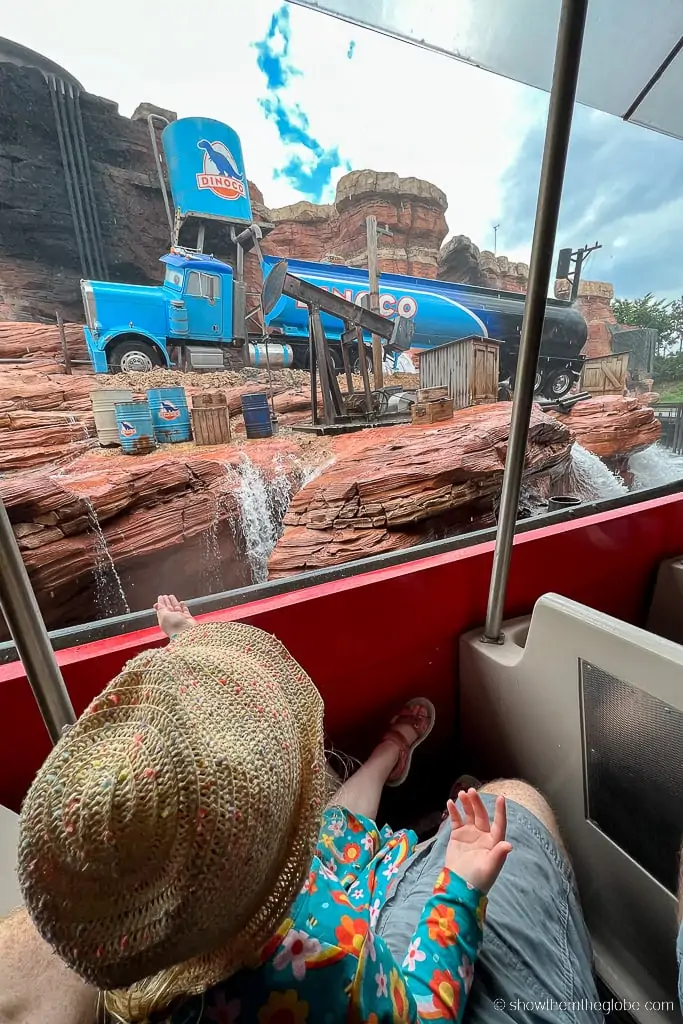 Toddlers will love: Cars Road Trip takes a scenic drive along Route 66 on a tram with some fun scenes along the way. Ratatouille is a gentle 4D ride through Gusteau's Restaurant (3D glasses are provided for Ratatouille) and Slinky Dog is a relatively tame rollercoaster where Slinky Dog chases his tale round and round his dog bowl. The Flying Carpets Over Agrabah is similar to Dumbo and Orbitron with riders boarding a magic carpet which soars over Agrabah. Spiderman W.E.B Adventure is an interactive ride where guests have to use their arms to sling webs to help capture the spider bots. Cars Quatre Roues Rallye is like a bumper car version of the Mad Hatter's Tea Cups with the cars spinning across turntables.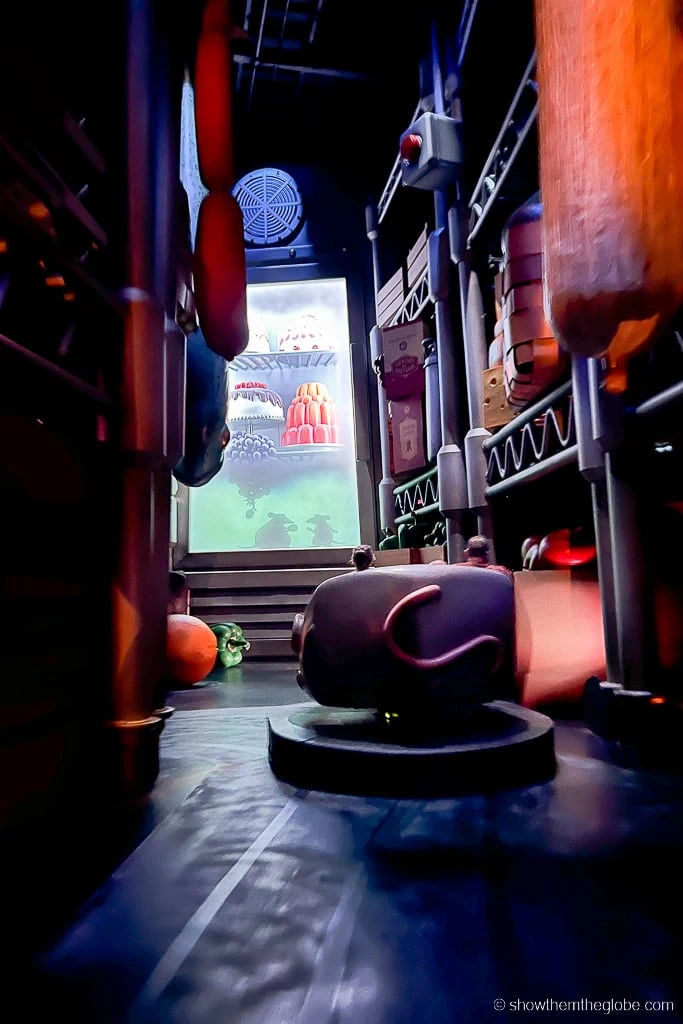 Depends on your toddler: Toy Soldiers is an 80 feet high parachute jump style ride where the parachutes climb slowly before freefalling to the ground (riders must be 81cm). My 3 year old loves this ride!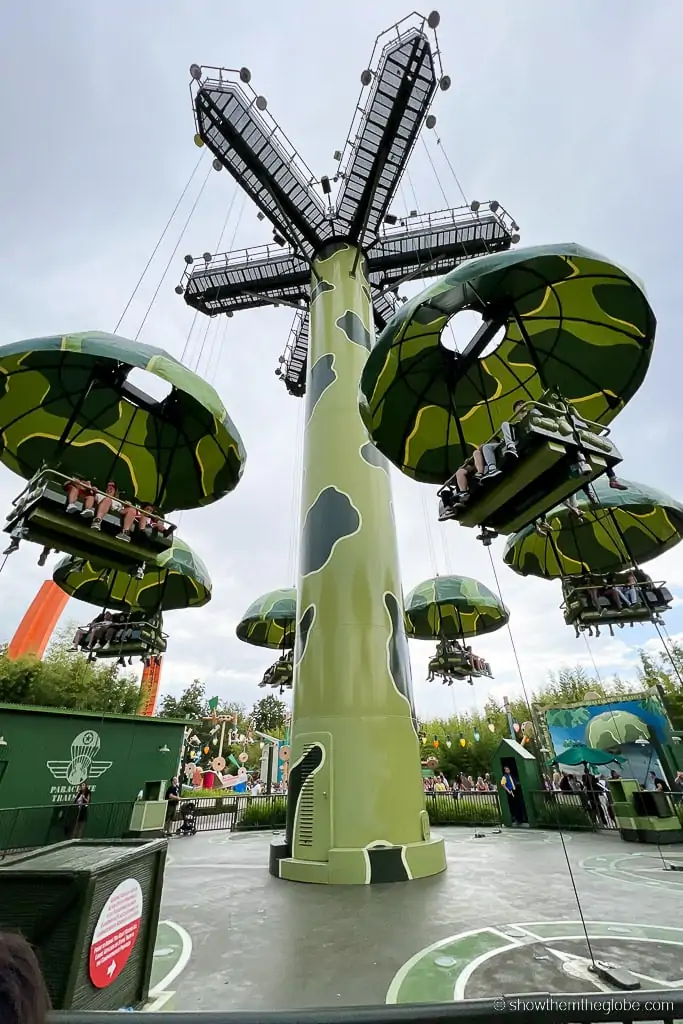 Other things for toddlers to do at Disneyland Paris
There are loads of things to do with toddlers in Disneyland Paris aside from the rides.
The daily parades encompass everything Disney and are suitable for all ages.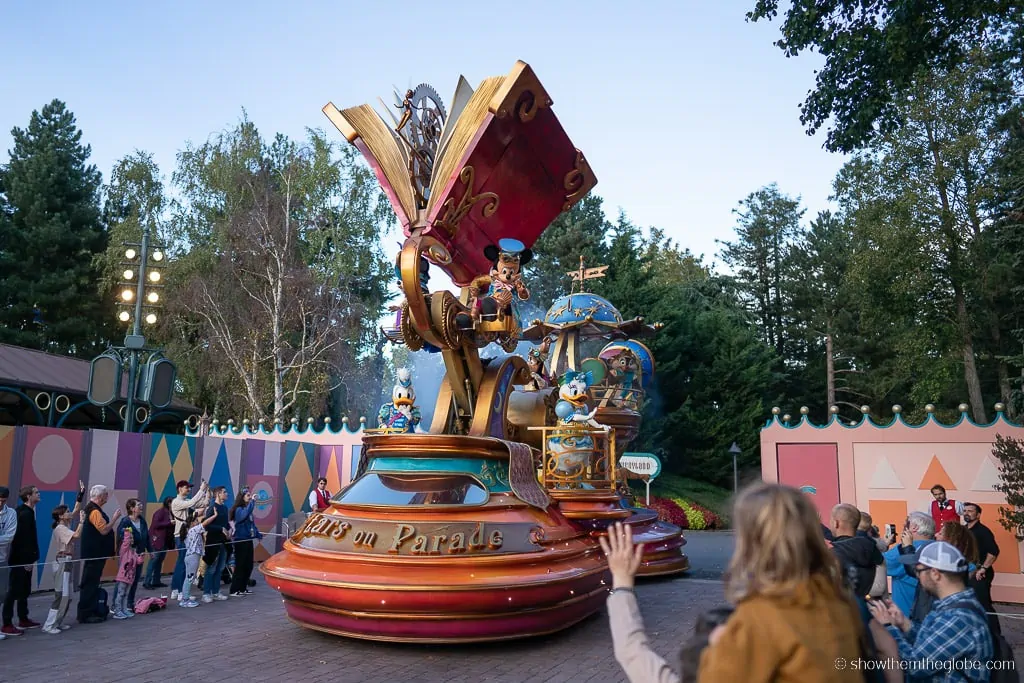 The energy in the park is magical with the mix of colourful floats, dancing Disney characters and fun music.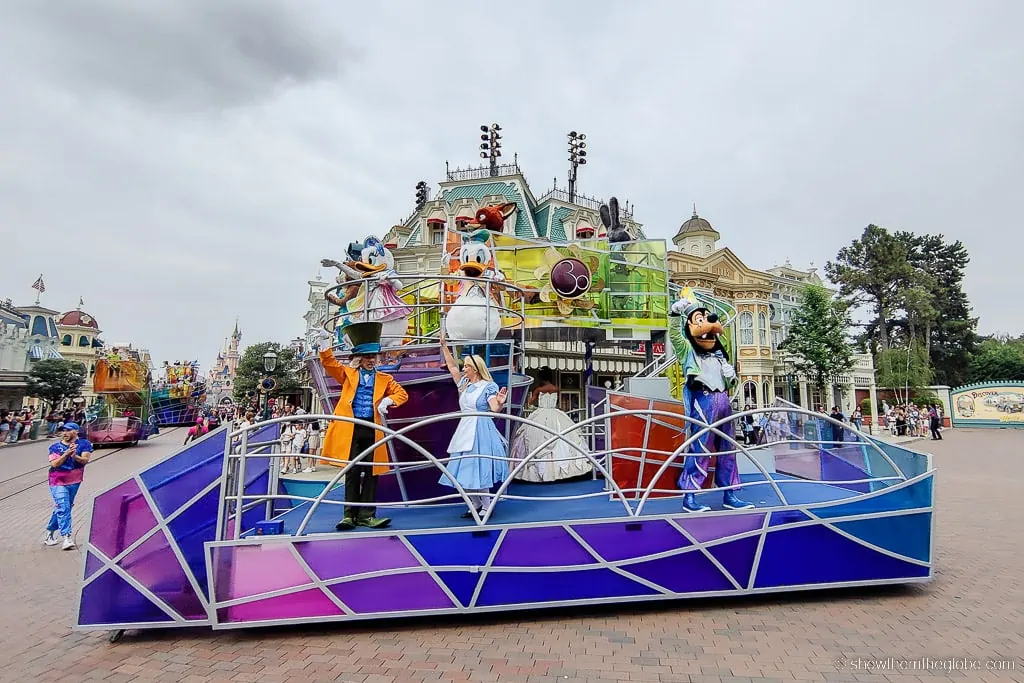 Vibrant and energetic live shows take place in the parks: we watched Mickey and the Magician, Frozen, the Lion King, Together: A Pixar Adventure, Stich Live and Disney Junior Dream Factory. The shows can also be a welcome escape from the weather and we love escaping the midday summer sun and the winter cold!
Fantasyland has two permanent meet and greets with both the Princess Pavillion and Meet Mickey Mouse. You can find other popular characters at meet-and-greet stations throughout both parks by checking the app.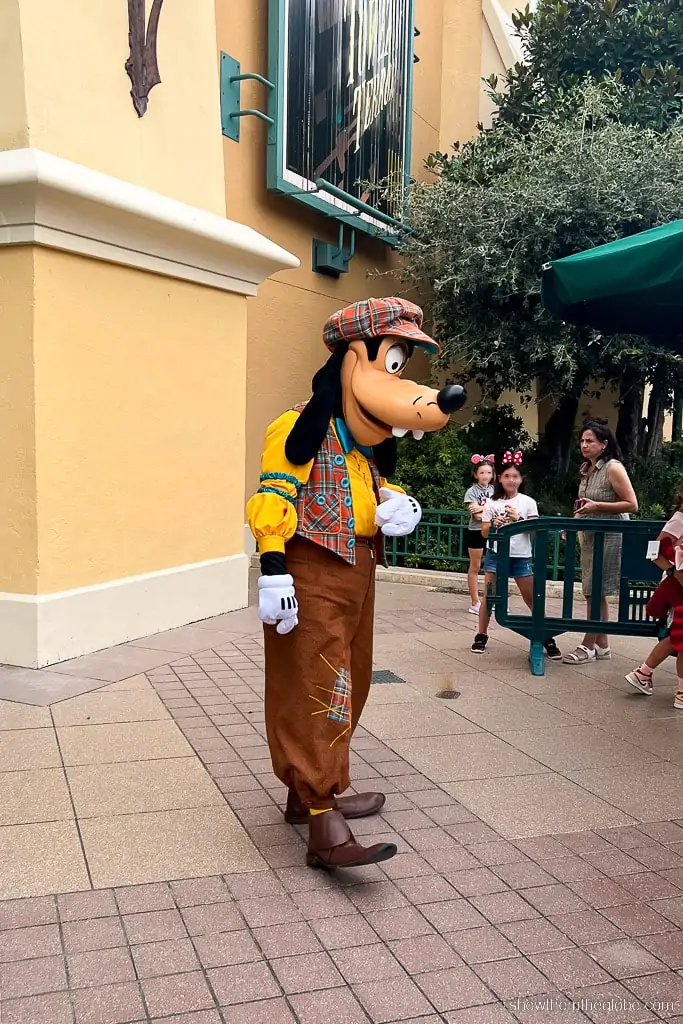 Character meals are hugely popular and book up months in advance. The Disney Princesses join guests for lunch and breakfast at Auberge de Cendrillon and the traditional Disney characters (like Mickey, Pluto and Captain Hook) host breakfast and dinner at the Plaza Gardens.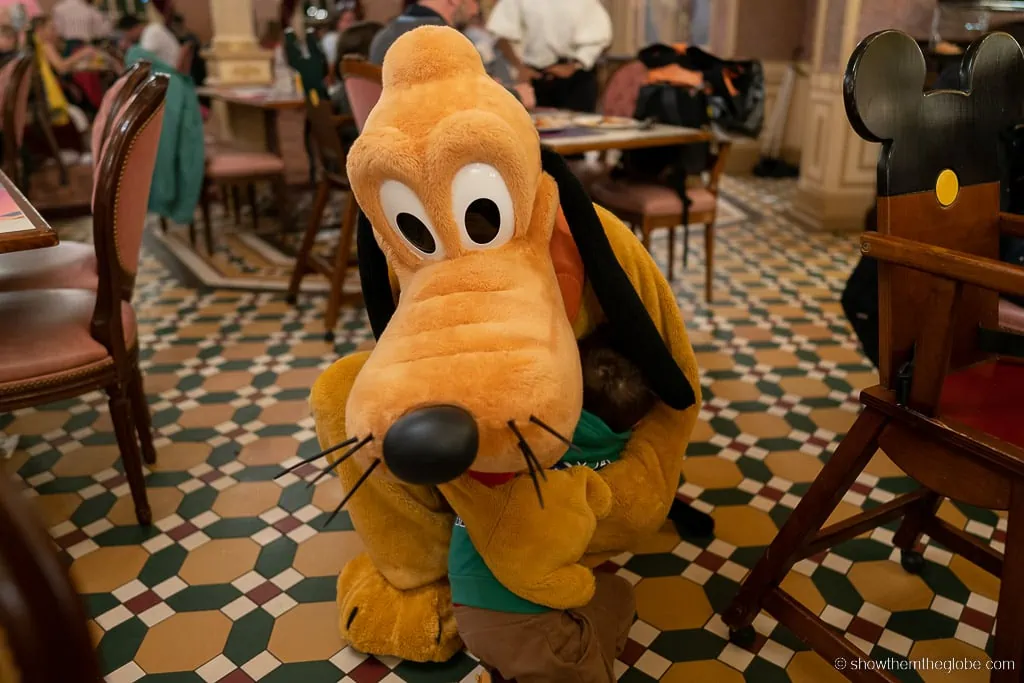 Visitors can also board the Disney Railroad for a scenic journey through the park or take to the water on the Thunder Mesa Riverboat landing for a leisurely ride through the Old West aboard an old paddle steamer.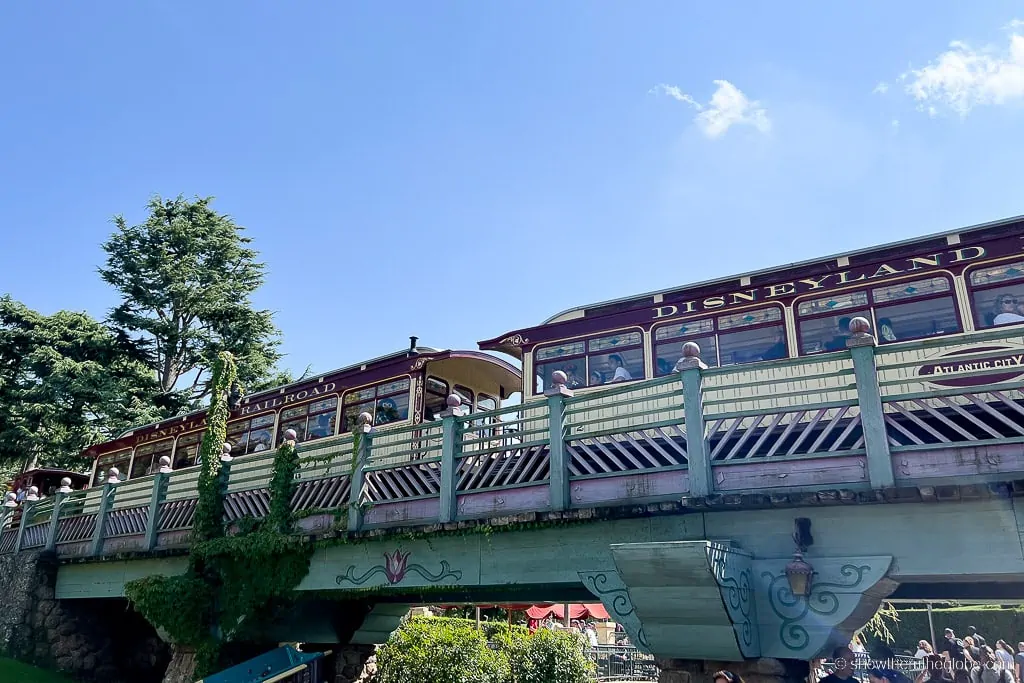 The Sleeping Beauty Castle and the Dragon's Lair are nice to experience and it's fun to walk through the hedged maze known as Alice's Curious Labyrinth.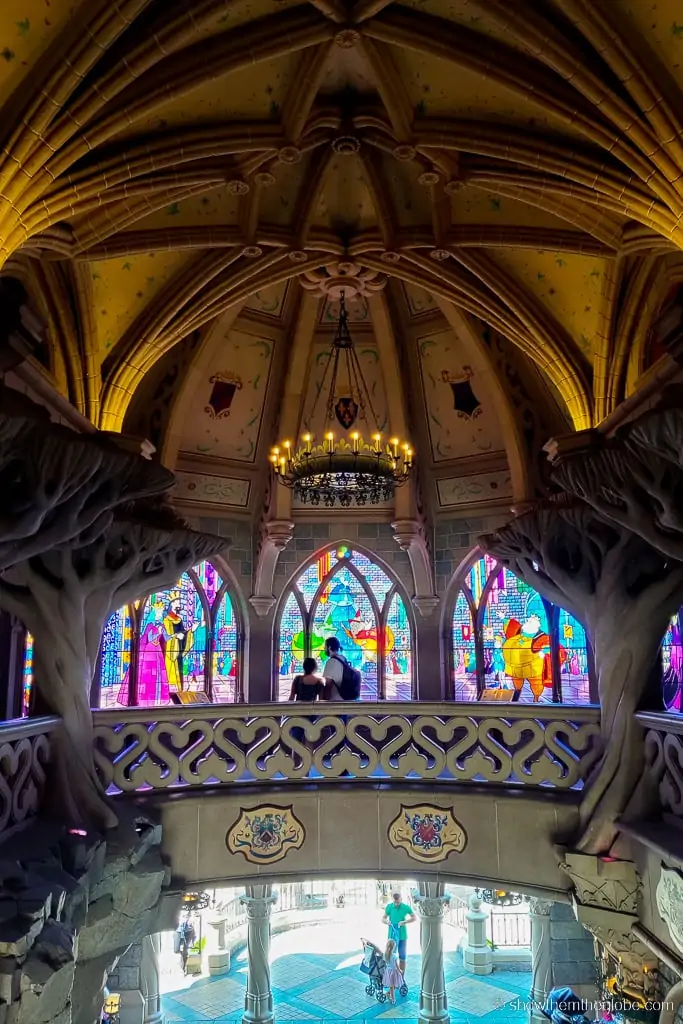 Adventure Isle is fun to navigate with its suspension bridge, pathways and caves in search of buried treasure.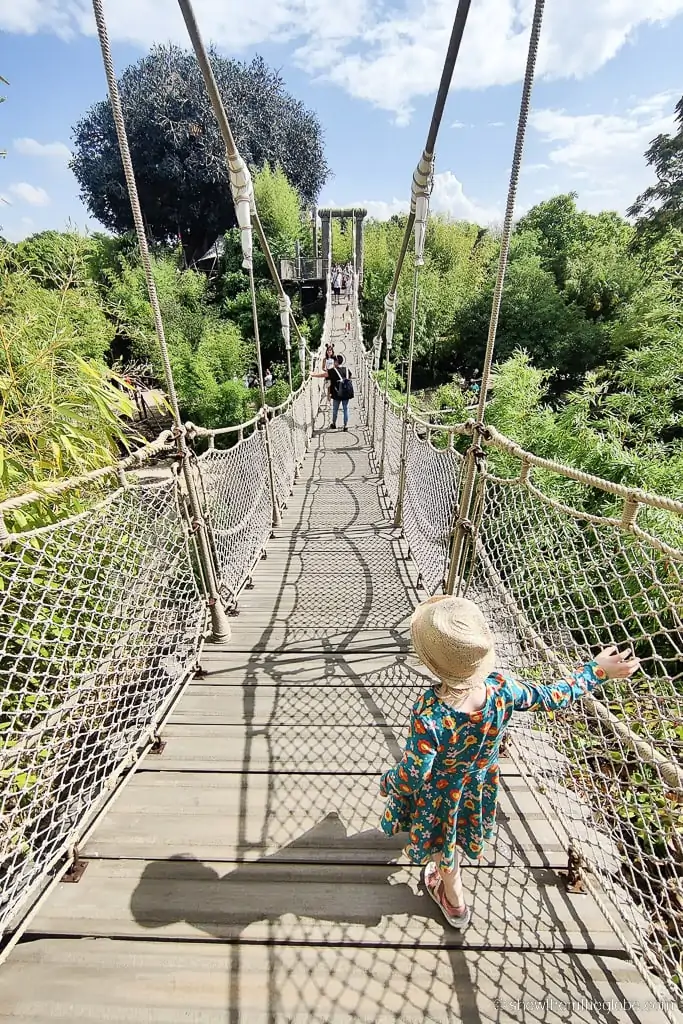 Some playtime in the Frontier Playground is a great way to regroup and burn off some steam away from the rides – young kids will have a blast climbing and sliding in the playground!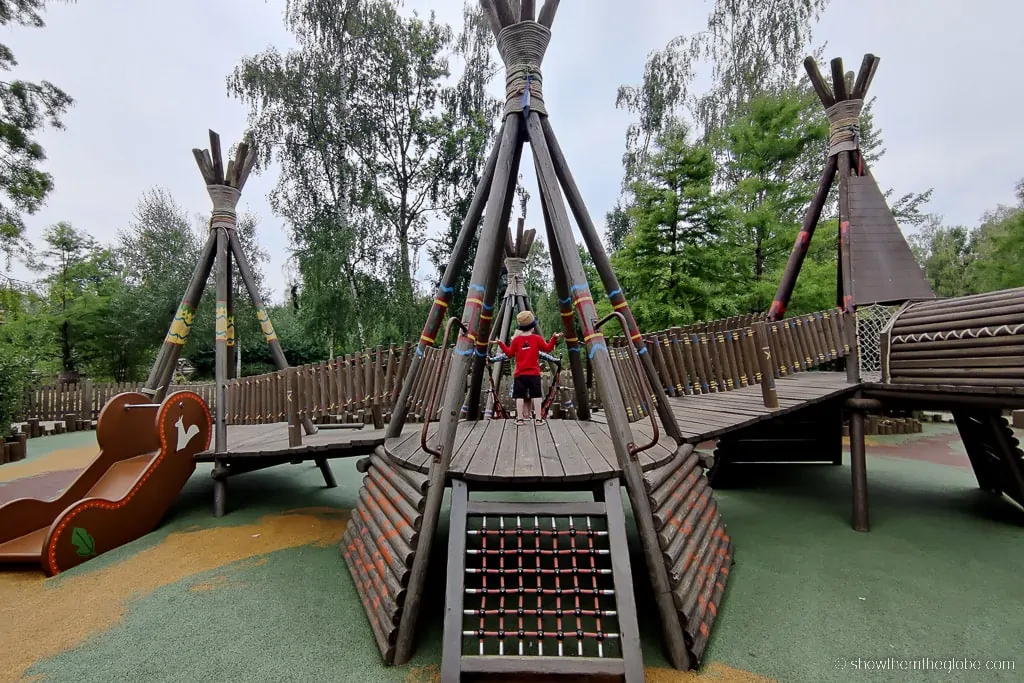 For more on Disneyland Paris you can check out our full guide to: