Hakone is an awesome choice for a family adventure and there are lots of fun and adventurous things to do in Hakone with kids. We visited with J and loved our family time enjoying its inviting hot springs, outstanding natural beauty and mesmerizing Mount Fuji backdrop. Less than 100km from Tokyo, it's an awesome change of pace and is the perfect spot for kids to explore. Here's our guide to the best things to do in Hakone with kids!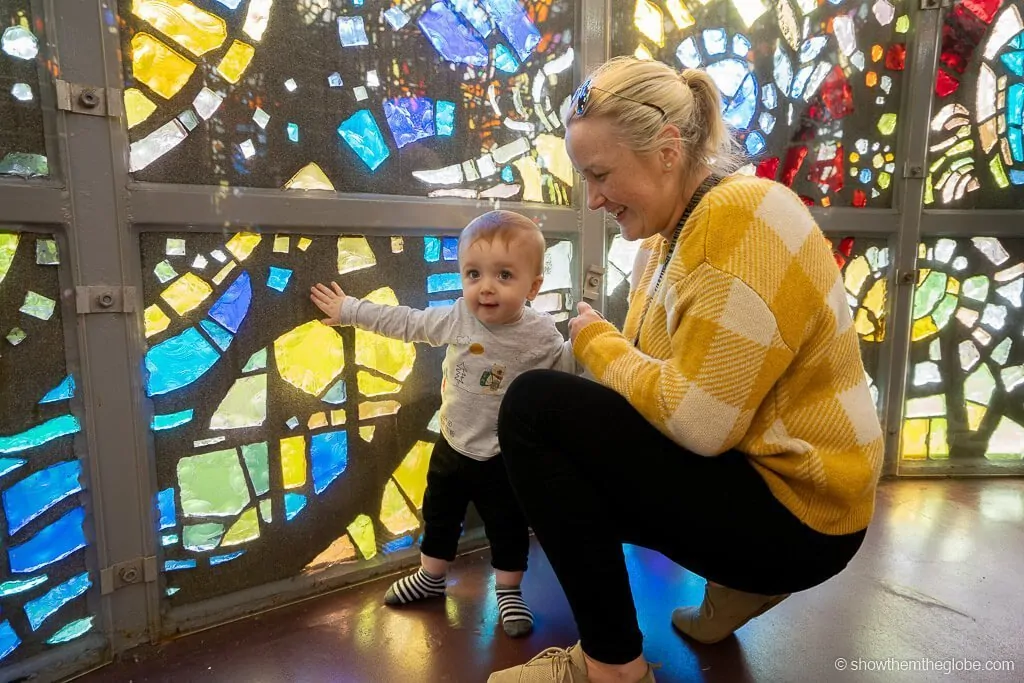 How to get to Hakone
There are 3 popular options for travelling between Tokyo and Hakone:
Train from Shinjuku Station in Tokyo
The Odakyu Line runs from Shinjuku Station in Tokyo to Hakone-Yumoto Station. The express train requires a transfer at Odawara Station or, for an additional fare, take the direct Romance Car. From Hakone-Yumoto Station the bus and railway service Hakone.
Best things to do in Hakone with kids tip: if you are travelling from Hakone make sure to purchase a Hakone Free Pass.:The pass covers the return train journey on the Express train between Shinjuku and Hakone-Yumoto together with transport in Hakone. It allows for free travel on the bus, the Hakone Ropeway, the Hakone Tozan train and the pirate ship on Lake Ashi. There are also discounts on entry to many Hakone attractions – purchase a Hakone Free Pass here!
Book your Hakone Free Pass now
Full day tours from Tokyo are a popular way to see Hakone – book a Hakone tour here
We rented a car in Tokyo and drove to Hakone. As our hotel was beside Tokyo Station, we rented with Nissan through RentalCars.com. If you opt for a rental car, be aware that the tolls on the way back into Tokyo are expensive.
Click here for the best rental car prices
The 10 Best Things to do in Hakone with kids
From open air museums to adventurous cable car rides and fun boat trips, here's our guide to the best things to do in Hakone with kids!
1 | Visit an Onsen
Hakone is famous for its plentiful hot springs, known as onsen in Japan. Their mineral rich waters have therapeutic qualities and a rejuvenating bath in the warm onsen waters is a must do in Hakone. Many of Hakone's ryokans (the traditional Japanese inn style accommodation) have private onsen for guests and some accept paying day visitors.
There are also public bathing houses – our favourite is Hakone Yuryo which has a lovely public setting. Children aged 6 and over are permitted and families who want to bathe together can rent a private bath. For younger kids, the Hakone Kowakien Yunessun theme park style onsen is a great choice – book tickets to Hakone Kowakien Yunessun here!
Click here for tickets to Hakone Kowakien Yunessun
2 | Stay in a Ryokan 
Most visitors to Japan want to experience staying in a Ryokan, a traditional Japanese Inn. Ryokans are typically small establishments with straw floors and Japanese style futon mats for sleeping. Many have hot springs and serve Kaiseki , a traditional Japanese meal with many dishes..Guests often wear a yukata, a casual kimono, in communal areas and most ryokans provide a yukata for guests during their stay.
The Fukuzumiro Ryokan is a good choice for an authentic ryokan experience in Hakone. Overlooking the river, Fukuzumiro has a private onsen, traditional Japanese style rooms and a good food offering – check prices here!
Click here to book Fukuzumiro Ryokan
Best things to do in Hakone with kids tip: Tattoos are usually not allowed in public onsen. If you have tattoos then a ryokan with a private onsen is often the best chance to experience bathing in the Japanese hot springs.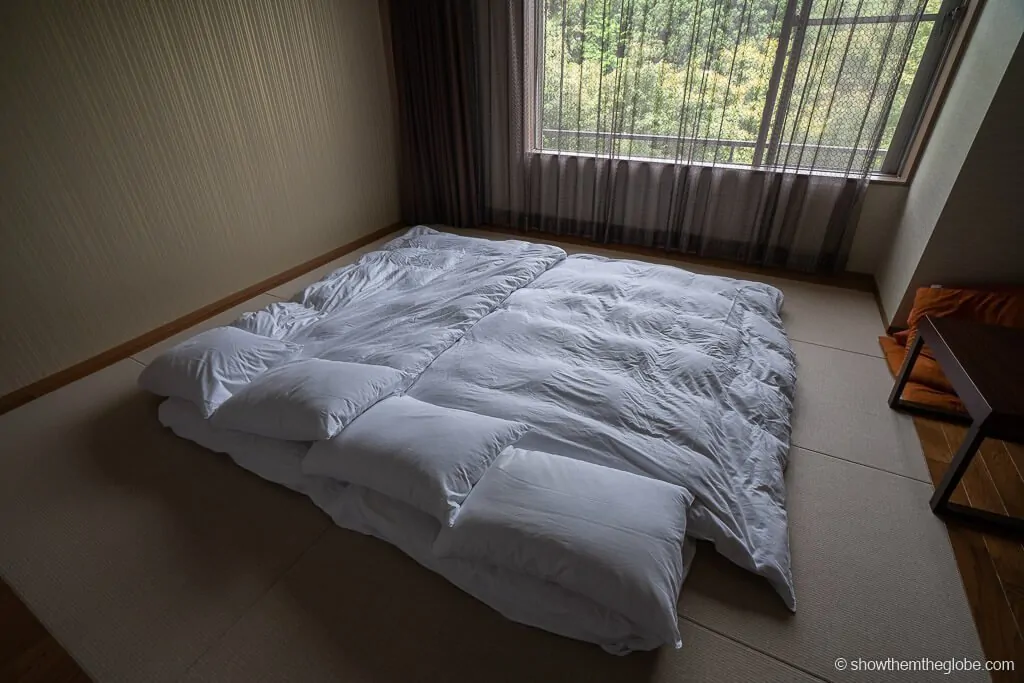 3 | Hakone Open Air museum
Japan's first outdoor museum, the Hakone Open Air Museum is home to sculptures and art work set against a backdrop of nature and mountains. There are wonderful sculptures by artists including Henry Moore and Joan Miro among other international and Japanese artists. A permanent exhibition hall with over 300 Picasso works is a highlight.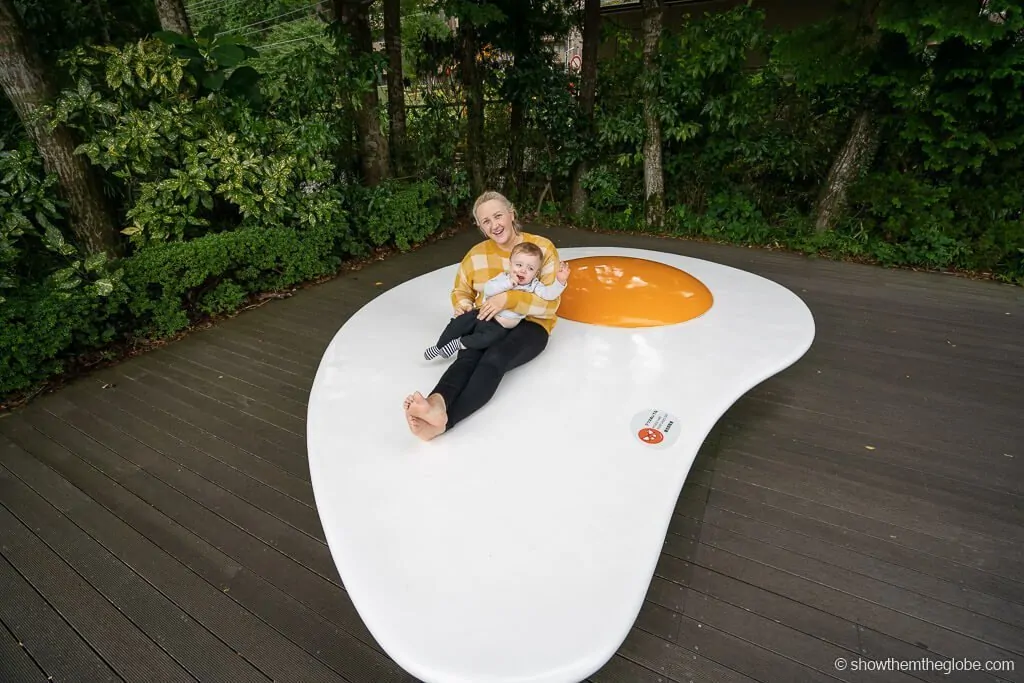 Kids will love the Symphonic Sculpture, a tower with colorful stained glass windows and the Woods of Net, a Jenga style wooden sculpture with a hand knitted web of net designed for children to clamber over. The outdoor hot spring foot bath is another fantastic family friendly addition.
Hakone Free Pass: Admission fee to the Hakone Open Air Museum is discounted with the Hakone Free Pass – purchase a Hakone Free Pass here!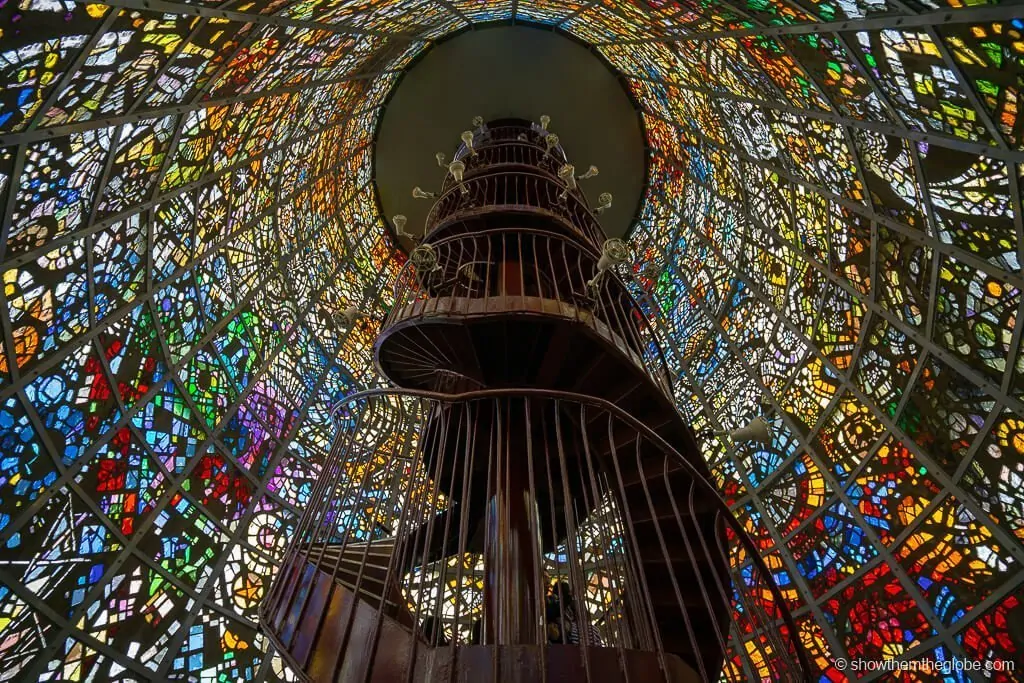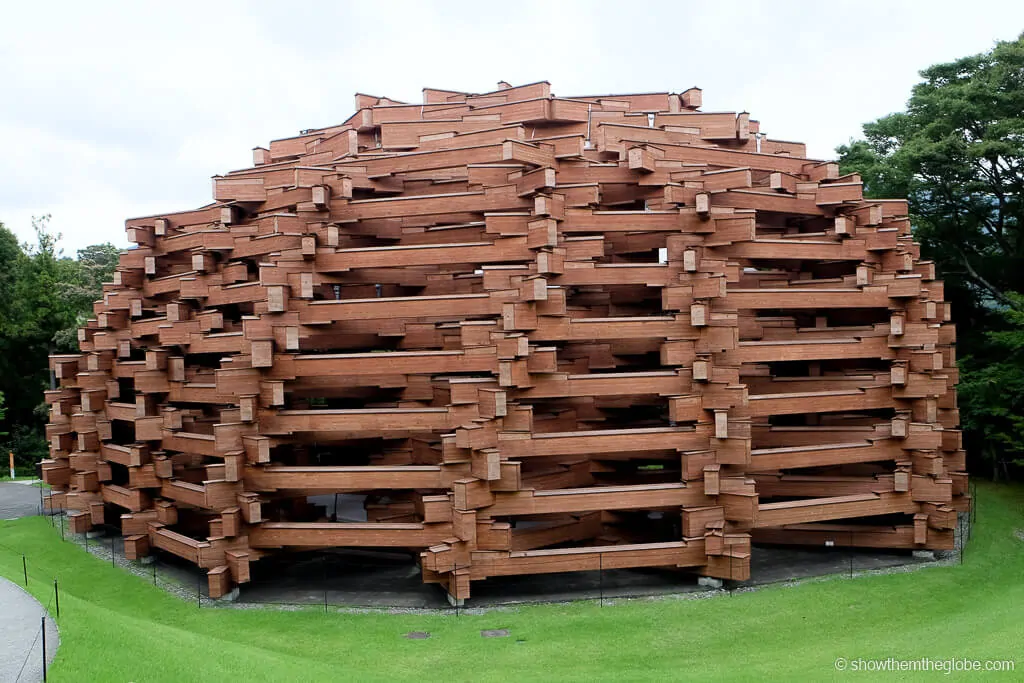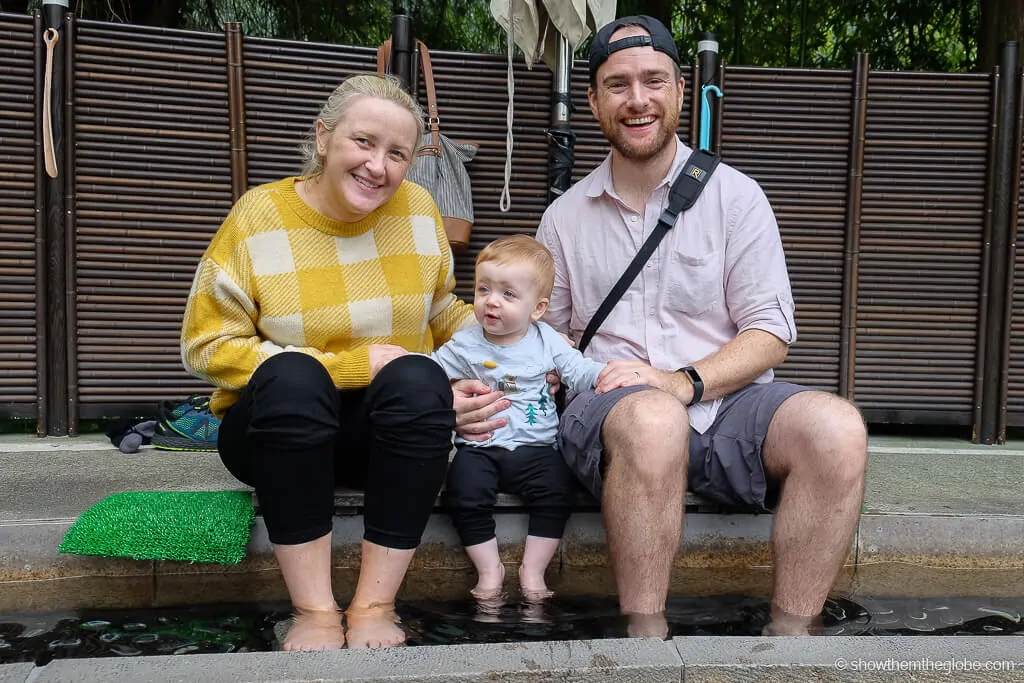 Where to stay in Hakone
Laforet Club Hakone Gora Yunosumika: we spent two nights in the Laforet Club and opted for a room with a Japanese Tatami area. We were all huge fans of the Japanese style sleeping arrangement and loved the outdoor onsen and wearing the traditional Yukatas. For families, consider booking a room with an open air bath so kids can experience outdoor bathing – check prices here!
Hotel Okada: Japanese style accommodation with indoor and outdoor hot spring baths and a kids pool. There is a karaoke room and games corner for kids and private hot spring baths are a great option for families – check prices here!
Hotel Green Plaza: with Mount Fuji views from the open air hot springs and lovely Japanese style rooms suitable for families, this is a great choice. The location, a few minutes walk from the Ubaiko Ropeway Station, is excellent for sightseeing – check prices here!
4 | Hakone Kowakien Yunessun Hot Springs
With a wine bath, a green tea bath, a sake bath and a coffee bath, these novelty hot springs are often described as an onsen style theme park! The Hakone Kowakien Yunessun hot springs are a great opportunity for families to experience a Japanese onsen and it also affords the opportunity to keep your swimsuit on (most onsens are separated by gender and are entered naked!). Kids will love the flavoured baths, especially the noodle and soda themed pools, and the outdoor slides. It's possible to purchase tickets that include entry to the Mori no Yu section where the open air hot springs and mountain views are a real treat.
Make sure to purchase your tickets in advance – we reserved through Klook and the online price was heavily discounted compared to the on the day tickets being sold on entry – check prices now!
Click here for tickets to Hakone Kowakien Yunessun hot springs
Best things to do in Hakone with kids tip: children under two are free and there are infant and child tickets available. In Japan, people with visible tattoos are often not allowed entry to an onsen and the Hakone Kowakien Yunessun Hot Springs has a no tattoo policy. Use a long sleeved swimming top to cover them if you can.
5 | Owakudani Valley
Over 3000 years ago, the eruption of Mount Hakone resulted in the creation of a volcanic valley known as the Owakudani Valley. It's incredible to watch the clouds of sulfur rise over the hot springs and feel the tremendous power of nature. On a clear day it is possible to see the majestic Mount Fuji from Owakudani.
The best views of Owakundi are from the Hakone Ropeway as it passes over the desolate valley below. Wet hand towels are provided on the ropeway which can be used to protect your mouth and nose. The operation of the cable car is dependent on weather conditions and gas concentration in the valley. There's also parking and viewing platforms close to the Owakundi Station which also offer great views of Owakundi and Mount Fuji.
Hakone Free Pass: the Hakone Free Pass covers rides on the Hakone Ropeway, one of the best ways to see the Owakundani Valley – purchase a Hakone Free Pass here!
Best things to do in Hakone with kids: Young kids or those with respiratory problems, are pregnant or are sensitive to smell are advised not to ride the ropeway. The hiking trails around the valley are currently closed due to gas levels in the area.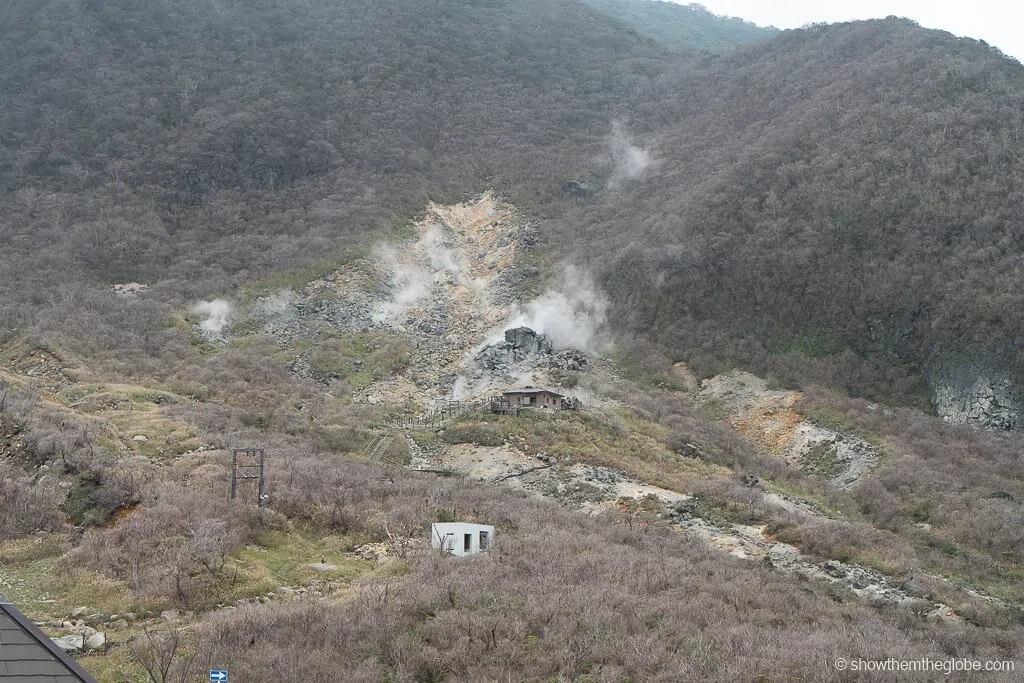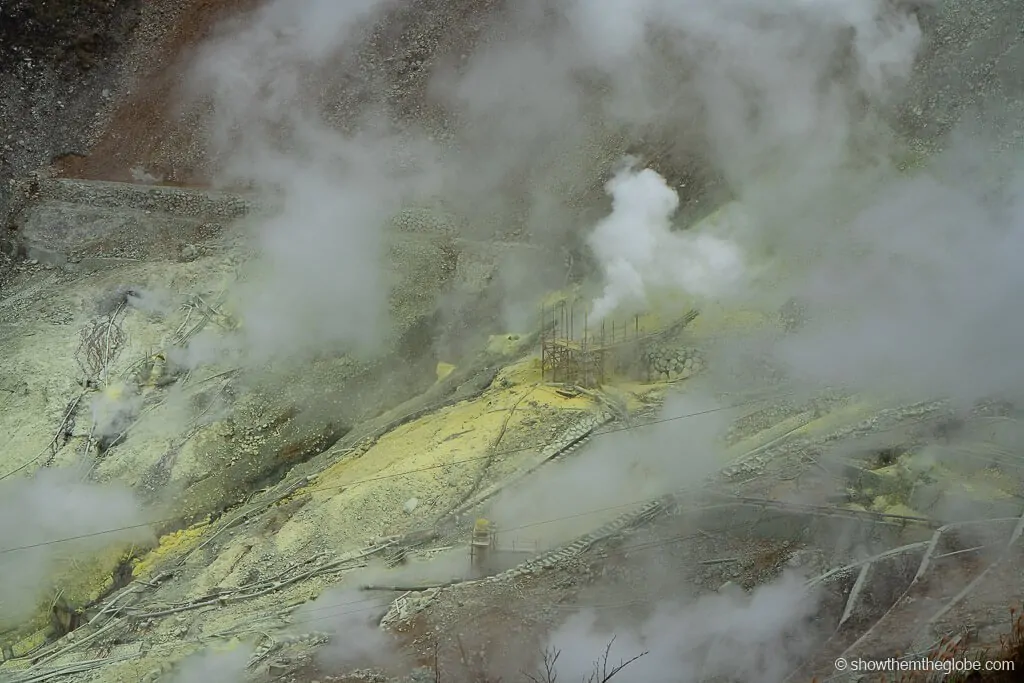 Kuro-Tamago: the black eggs
Owakudani is famous for its black eggs and eating one is said to prolong one's life by 7 years so make sure to indulge! The eggs are boiled in the hot springs and are black after cooking due to the minerals in the water.
Best things to do in Hakone with kids tip: the eggs taste quite like a regular hard boiled egg so don't be afraid to try them!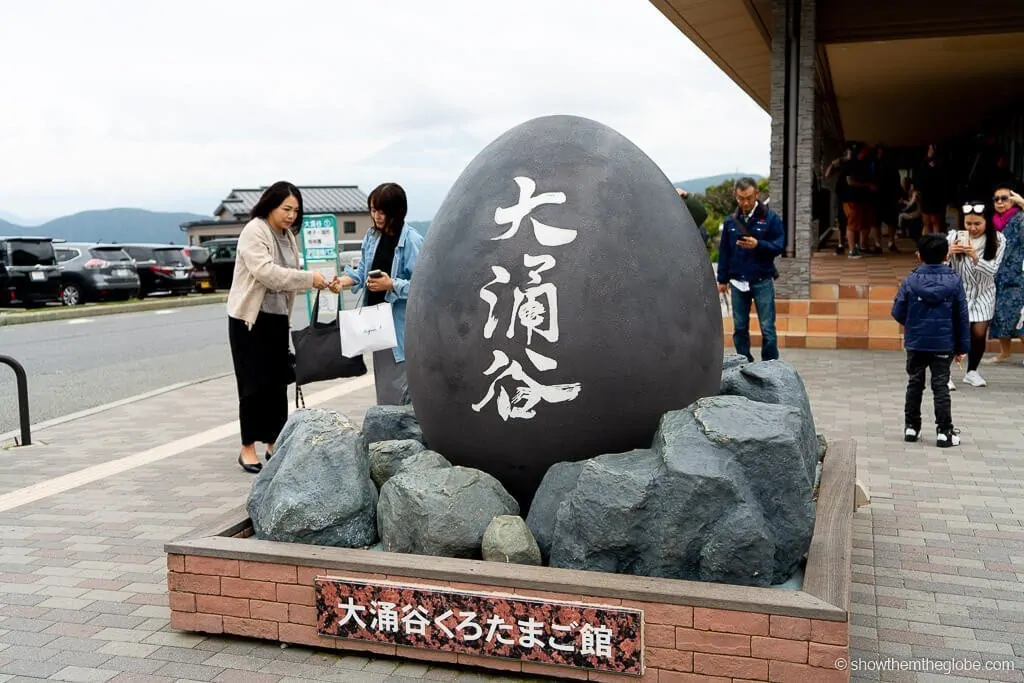 6 | Hakone Ropeway
The Hakone Ropeway is a series of gondolas which travel between the Sounzan Station and the Togendai Station in the Hakone area, The ropeway offers incredible views of the Owakudani Valley, Mount Fuji and Lake Ashinoko. A ride on the ropeway takes 30 minutes and kids will love travelling by gondola across the land!
Hakone Free Pass: fares for the Hakone Ropeway are included in the Hakone Free Pass – purchase a Hakone Free Pass here!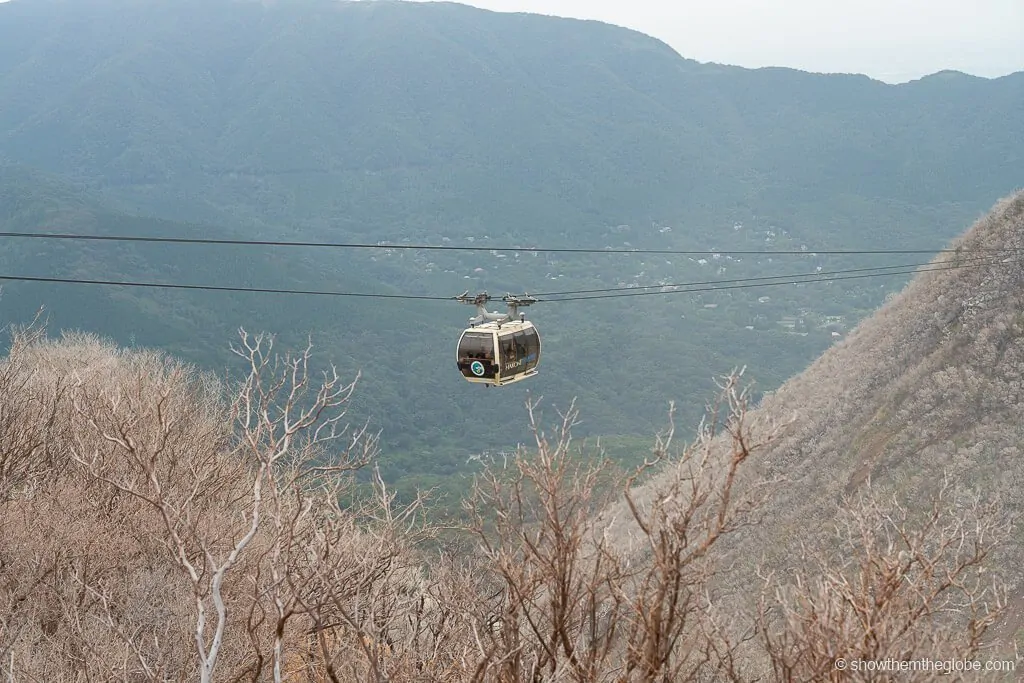 7 | Hakone Tozan Railway
Japan's oldest mountain railway, the Hakone Tozan Railway, is a scenic train ride and its upper section is a Hakone highlight. The train winds through dense forest, mountain tunnels and three switchbacks during the 35 minute journey from Hakone-Yumoto to Gora.
Hakone Free Pass: fares for the Hakone Tozan Railway are included in the Hakone Free Pass –purchase a Hakone Free Pass here!
Things to do in Hakone with Kids tip: if you are visiting during June and July, thousands of hydrangea bloom along the tracks.
Moto Hakone
Moto Hakone is a village on Lake Ashinoko and is home to some of Hakone's best sights.
8 | Hakone Shrine and floating Torii Gate
Located on the shores of Lake Ashinoko at the foot of Mount Hakone. A lantern lined path through the forest leads to the Shinto shrine.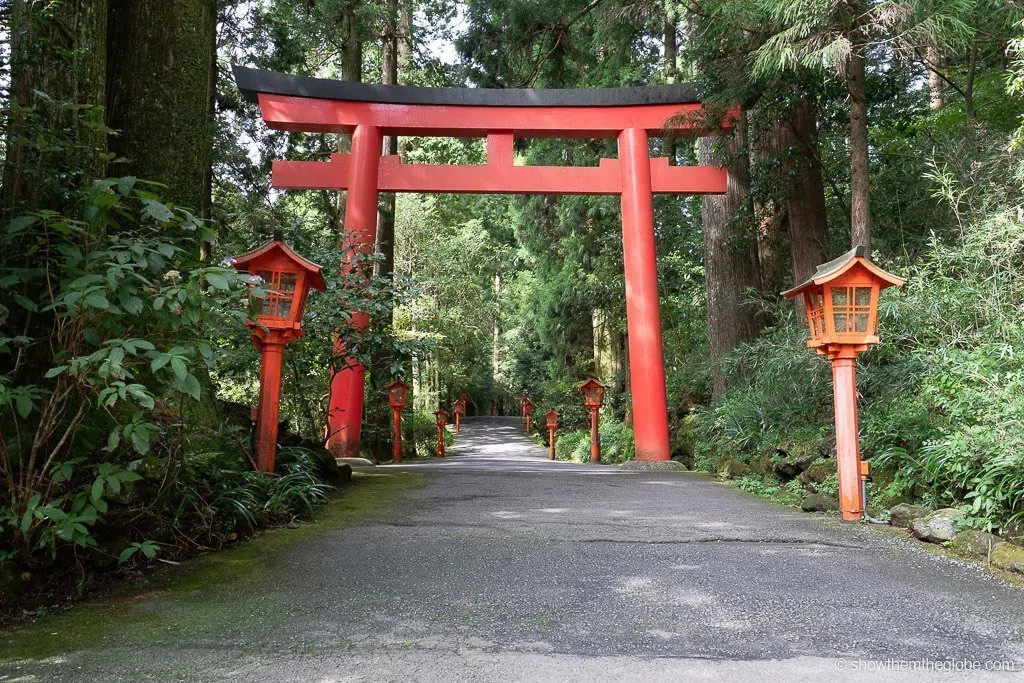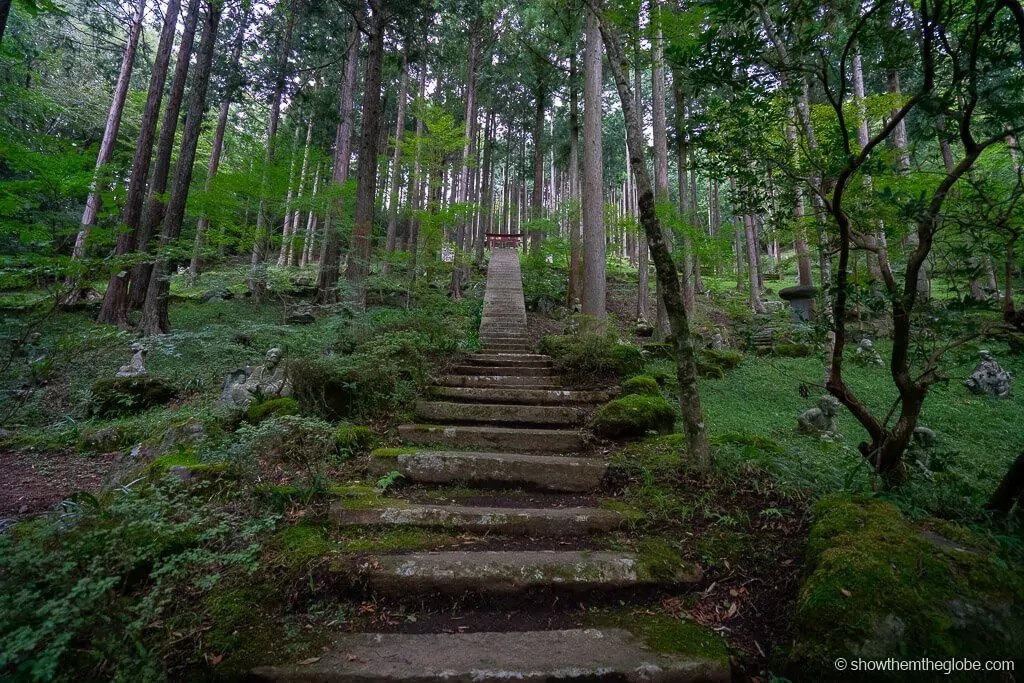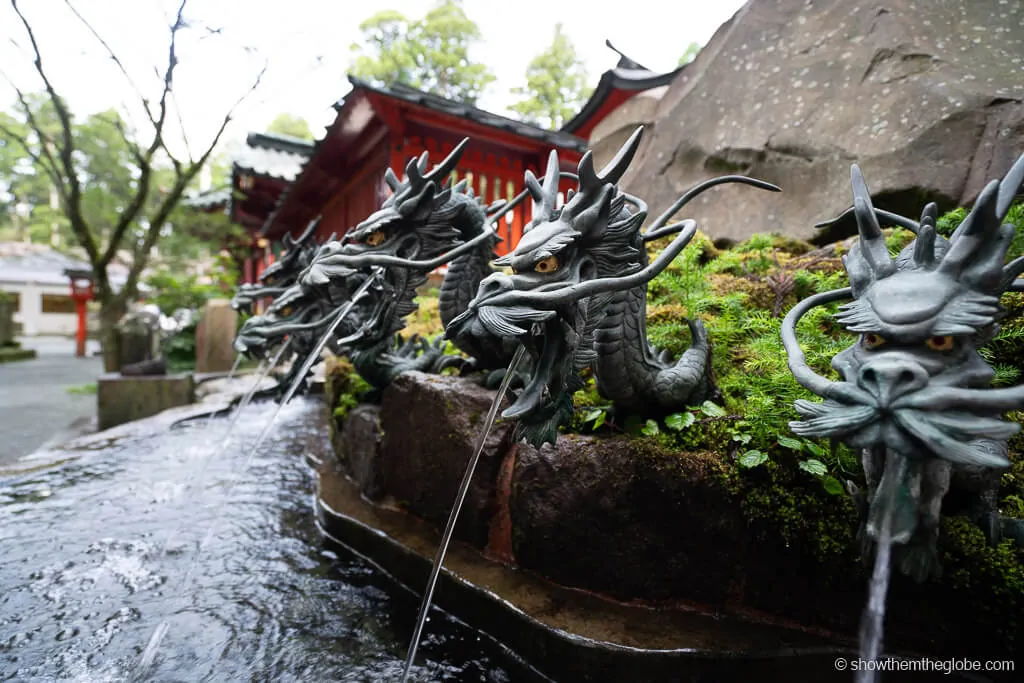 The red floating Torii, located on the shores of Lake Ashi, is our favourite spot in Hakone. The torii was erected in commemoration of the 1951 Peace Treaty between Japan and 49 nations to formally end the World War II. With the waters of Lake Ashi gently lapping the base of the torii, it's an incredibly serene and beautiful place to spend time.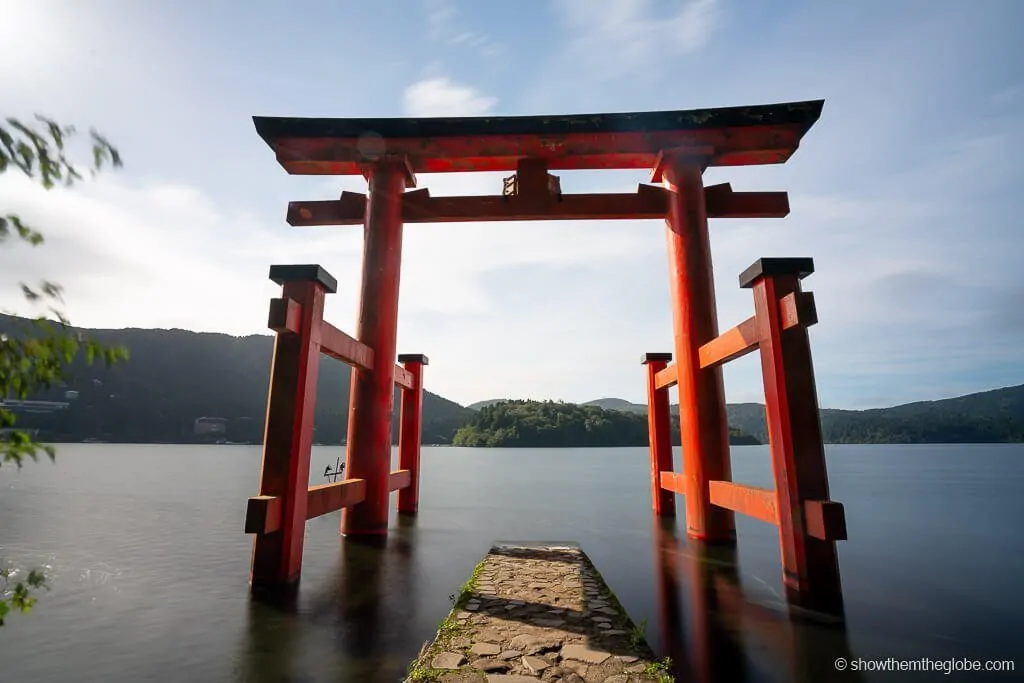 The torii is also the location of one of our favourite family photos! Dave and I visited together in 2016 and we captured a photo of us together at torii. We recreated the image when we returned with J on our recent trip!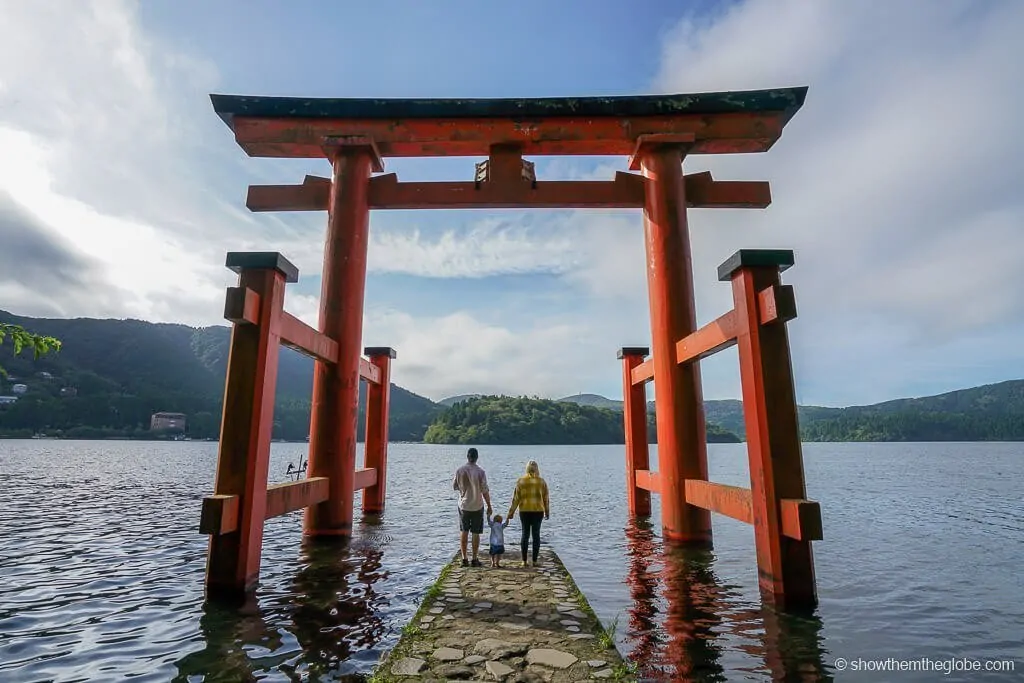 9 | Old Tokaido Road
The Old Tokaido highway linked Tokyo and Kyoto in the early 1600s. A checkpoint was located in Hakone complete with a prison and a lookout tower. Today, a cedar lined pathway between Moto Hakone and Hatajuku retains the original stone paths and the Hakone checkpoint has been recreated. We loved following in the footsteps of those who took the path over 400 years ago.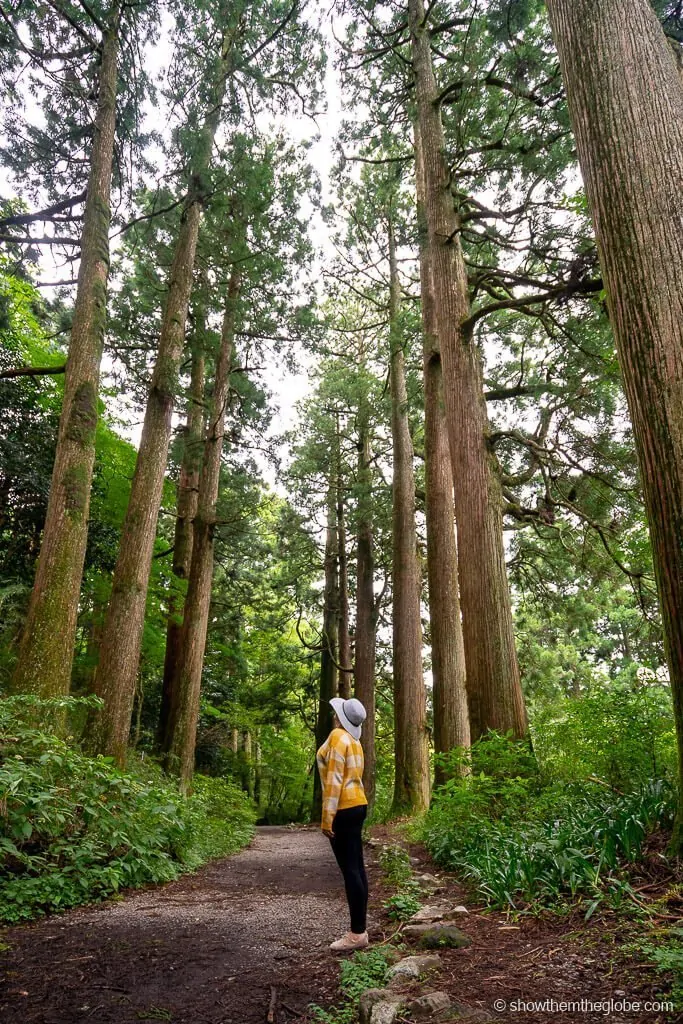 10 | Lake Ashinoko
The volcanic crater lake, also known as Lake Ashi, is a scenic lake formed when Mount Hakone erupted 3,000 years ago. At Moto Hakone, the shores of the lake offer great views of Mount Fuji and the floating torri at the Hakone Shrine. Boat trips on the lake are popular and passengers are transported between the north and south ports of Lake Ashi during a 30 minute crossing. Interestingly, some of the boats resemble warships and pirate ships!
Hakone Free Pass: covers a second class ticket on the pirate ship. It's possible to pay a top up fee for the first class fare and this allows access to the front half of the ship – purchase a Hakone Free Pass here!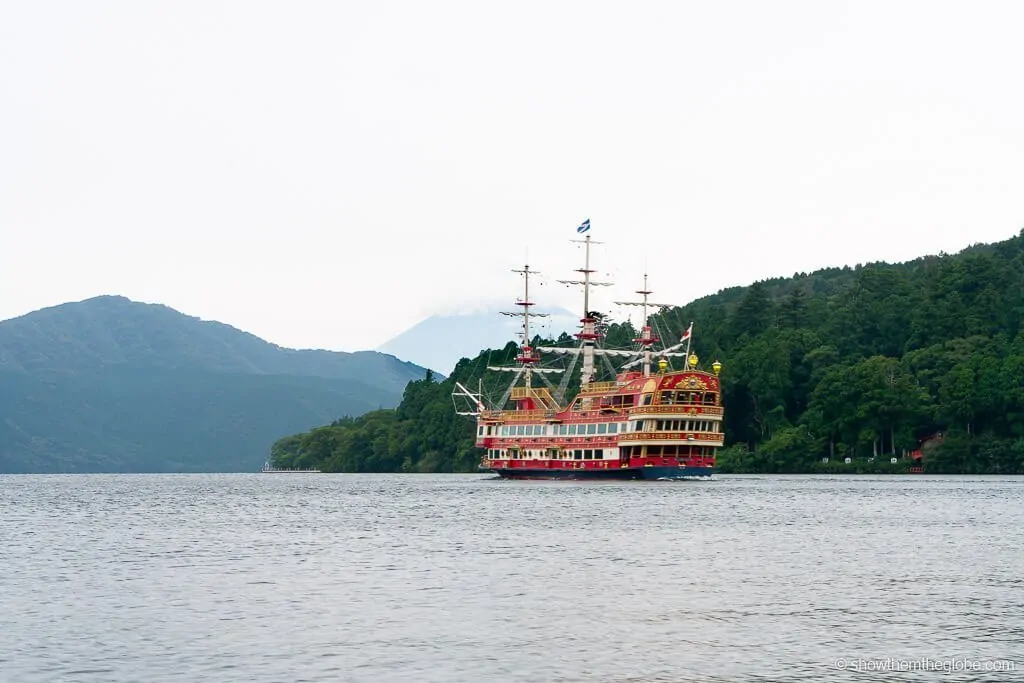 11 | Mount Fuji
Mount Fuji is Japan's tallest peak and one of its three sacred mountains, The snowcapped peak of the still active volcano is a Japan icon and Hakone has some great views of Mount Fuji. Lake Ashinoko in Moto Hakone and the observation platform at the Ōwakudani Valley both have great views of Mount Fuji.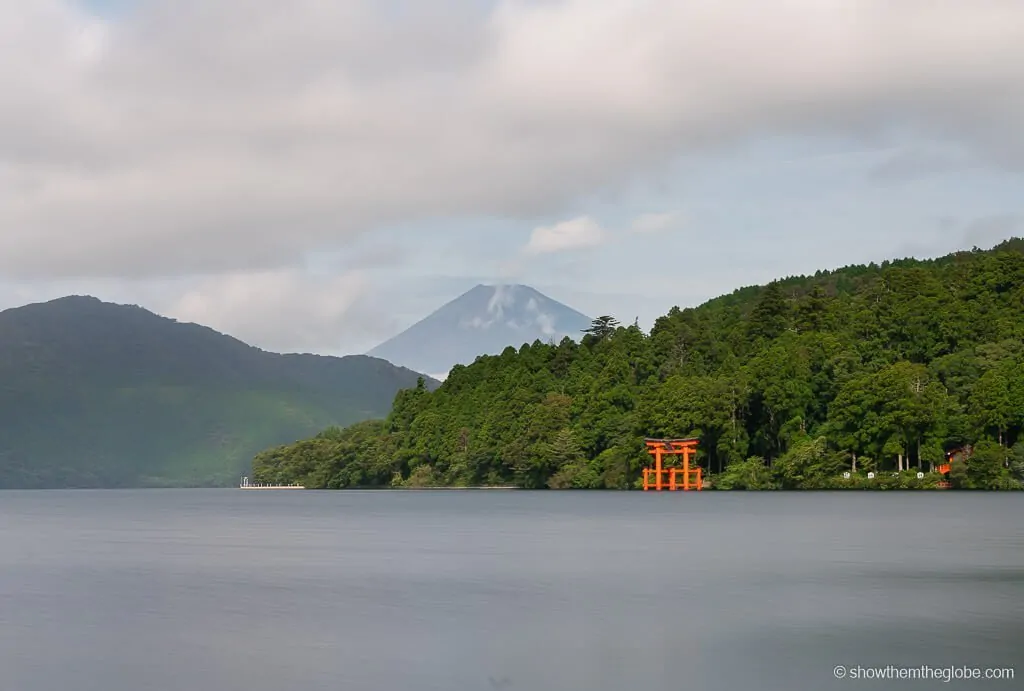 12 | Chureito Pagoda
With a snowcapped Mount Fuji nestled majestically in the background, the iconic five story Chureito Pagoda is one of the most recognisable images of Japan. A 90-minute drive from Hakone, it's officially called the Fujiyoshida Cenotaph Monument but everyone refers to it as the Chureito Pagoda. Overlooking Fujiyoshida City, the pagoda itself is part of a much larger shrine known as the Arakura Sengen Shrine. The pagoda is extremely popular with photographers aiming to capture the majestic Mount Fuji and is a major attraction during cherry blossom season.
We spent a night in the Fuji Marriott Lake Yamanaka, a 30 minute drive from the Chureito Pagoda, before visiting Hakone, Our room had a private onsen, a great way for kids to experience the Japanese Hot Springs – check prices here!
Clich here to reserve Fuji Marriott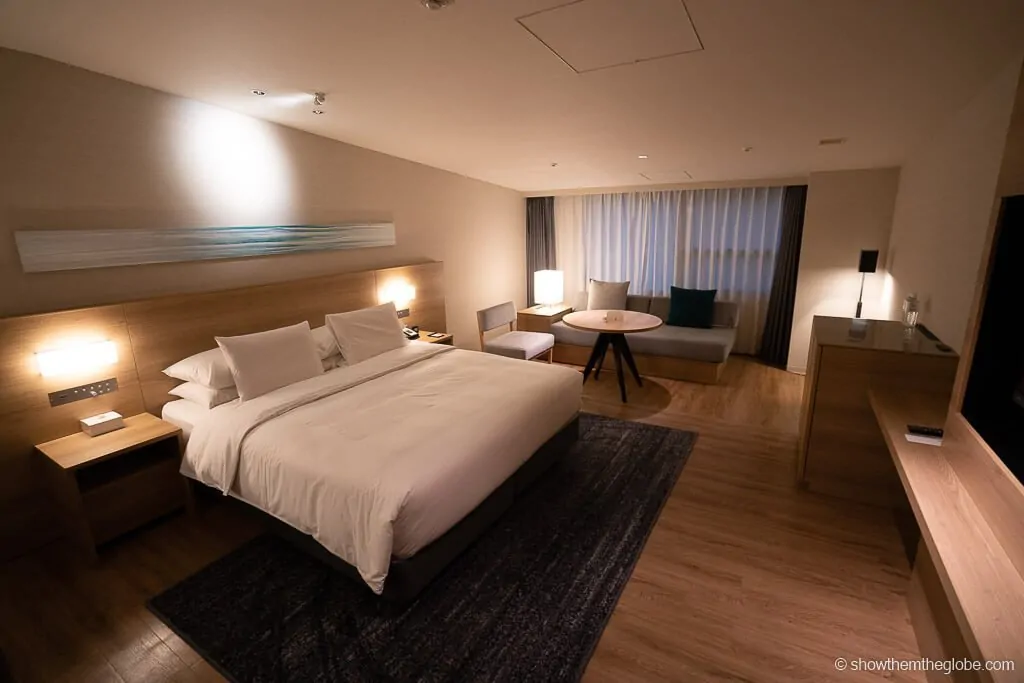 Things to do in Hakone with kids tip: visit early in the morning for the best chance of a clear view of Mount Fuji. The clouds tend to roll in in the afternoons and cover its peak.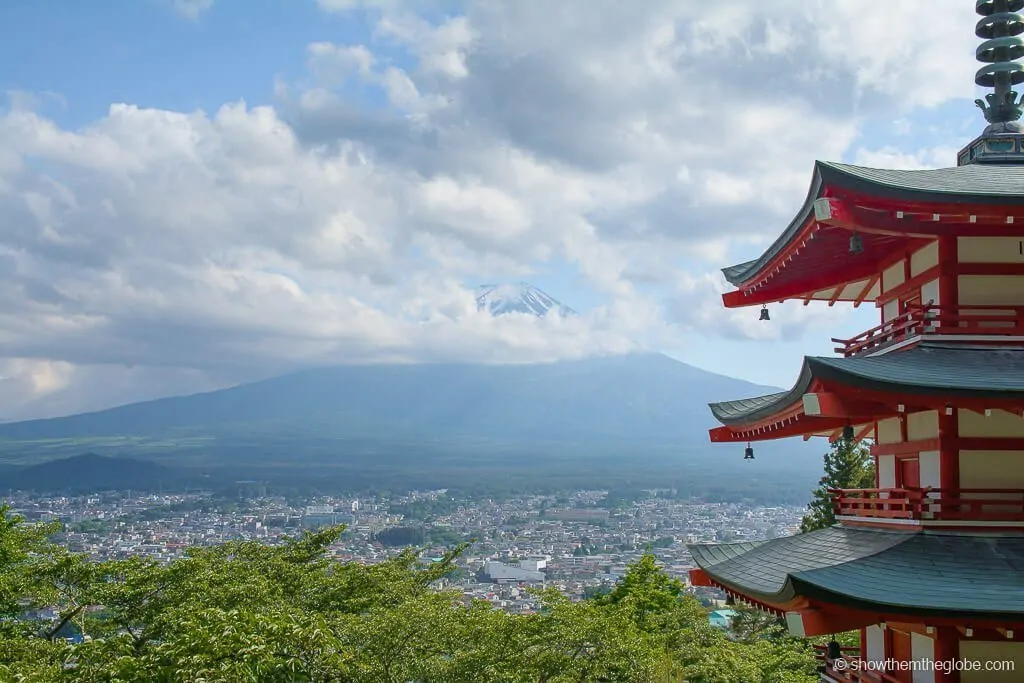 For more on Japan family travel
Check out our other articles on family travel in Japan: