With its white sand beaches, turquoise waters and laid-back island vibes, Isla Holbox is a great family destination and there are lots of fun things to do in Isla Holbox with kids.
It's the perfect getaway from Cancun, or in fact anywhere on the Yucatan Peninsula, and we adored our family time on the idyllic island. After visiting with our two kids in 2020 we wanted to share our list of the best 10 things to do in Isla Holbox with kids. We hope you have as much fun exploring Isla Holbox with kids as we did!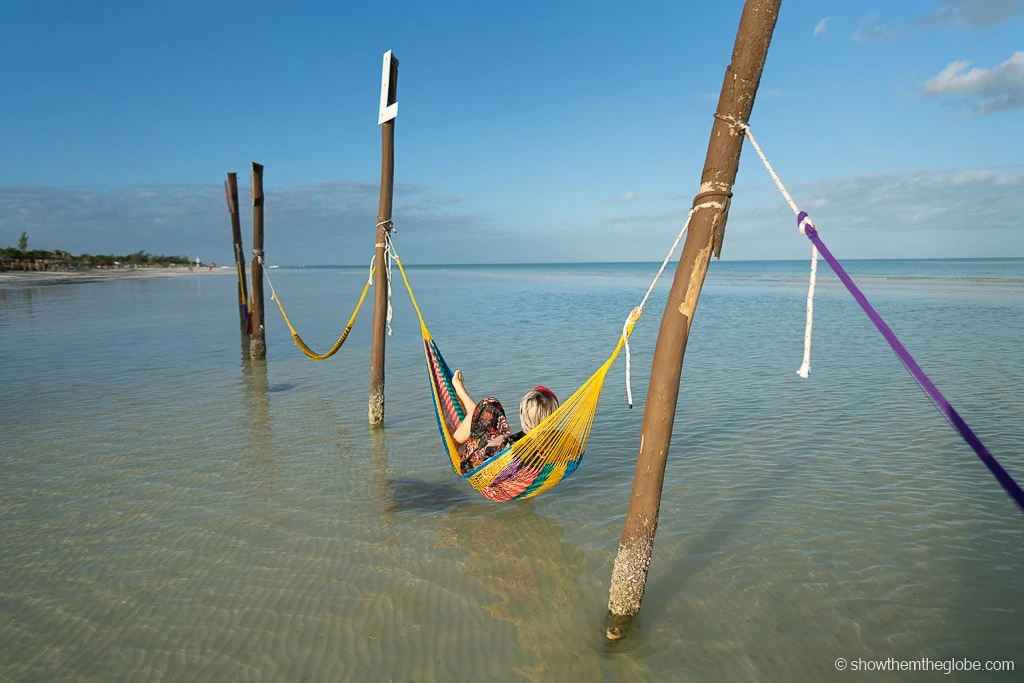 Isla Holbox essentials
First up, here are some Isla Holbox essentials with kids:
Sim Card and Internet
We highly recommend buying a local pre-paid sim card, preferably before you travel to Holbox. There is wifi on the island but we found it quite unpredictable so were glad to have mobile data as well.
Telcel has the best coverage throughout the Yucatan (we've tried a few networks!). You can pick up a sim car in Cancun airport on arrival or, to save time at the airport, pick up a Telcel sim card on Amazon before you travel.
Where to stay on Isla Holbox
There are some great hotel options on Isla Holbox from beachfront resorts to beautiful oceanfront boutique hotels.
Isla Holbox with kids tip: we recommend booking accommodation in advance as it the best places tend to book up quickly and it can be hard somewhere you like.
Villa Flamingos– we stayed here during our 2020 trip. Villa Flamingos is beautiful beachfront hotel located at the far end of the Holbox beach. It is expensive but having direct access to the beach is always amazing when traveling with kids. We loved being away from the crowds of Holbox center but that does mean it's a 20 minute walk/50 peso taxi ride to the center – check prices now!
Hotel Mawimbi– a small boutique hotel comprising of just 10 rooms and located right on the beach on the edge of the centre of Holbox town. It's perfect for those seeking a calm tranquil place to stay while being within easy walking distance of Holbox town – check prices now!
Click here for the best Isla Holbox Hotel prices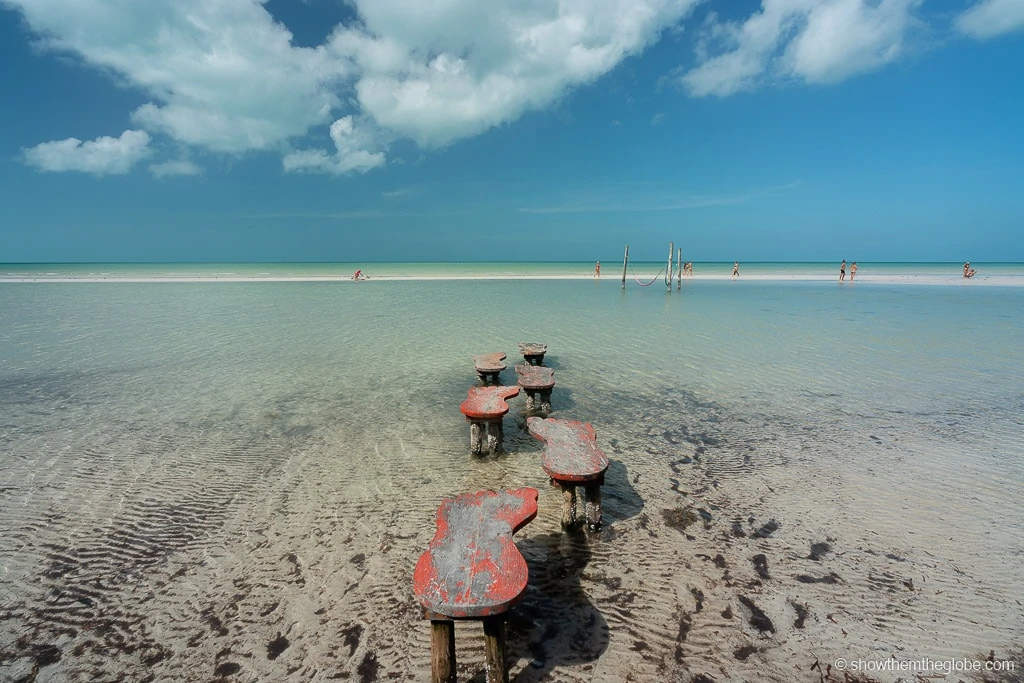 9 Best things to do in Isla Holbox with kids
From paddling in the warm waters of its pristine beaches to discovering colorful street art and marveling at the island's flamingos, there are lots of fun things to do in Isla Holbox with kids.
1 | Enjoy the water at Playa Holbox Beach
The 3 kilometre stretch of beach known as Playa Holbox is a white sand beach located behind the center of Holbox. The turquoise waters are calm and warm making it perfect for families visiting Holbox with kids.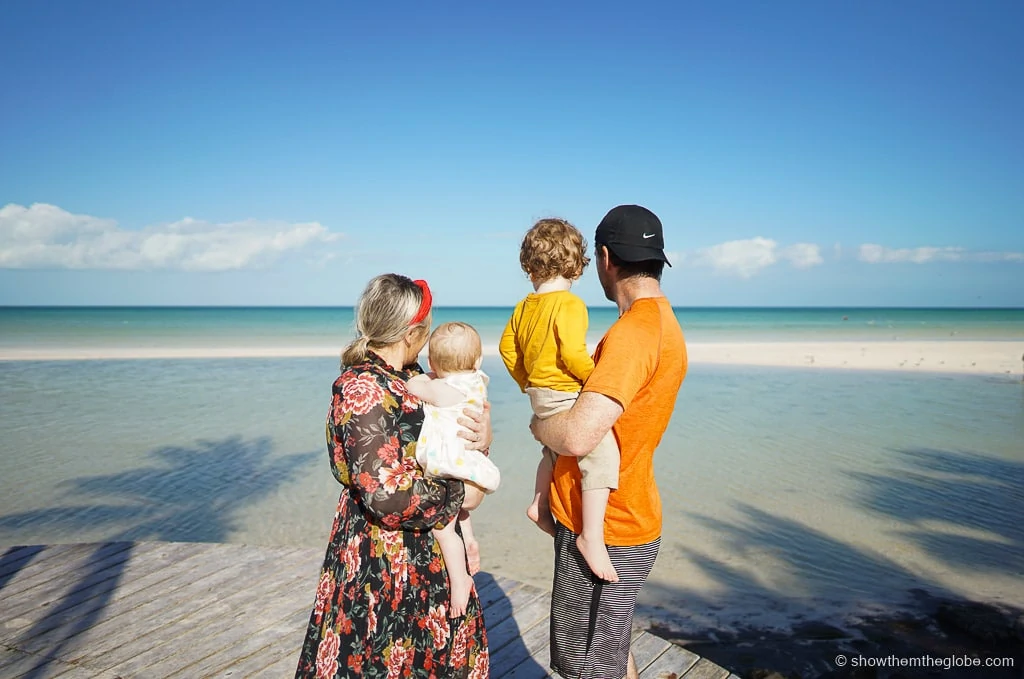 If you are in search of a more energetic activity, paddle boarding and kayaking are great options and can be rented along the beach.
Things to do in Isla Holbox with kids tip: Beach clubs, bars and hotels mean that much of Playa Holbox is for private use so you may have to buy a drink to grab some food to use the sun loungers. Many of Holbox's beach front hotels are also located along Playa Holbox and guests have direct access to the beach – we loved walking straight out of our room onto the beach at Villas Flamingos.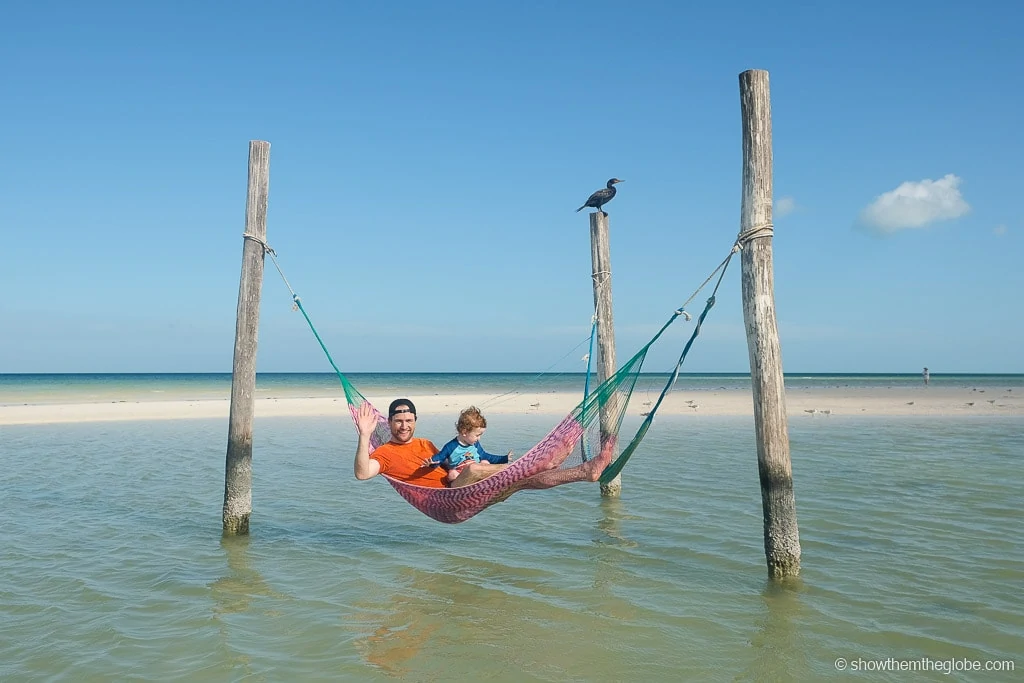 2 | Relax in the Holbox Hammocks
Note: we've read reports that the Holbox hammocks were due to be removed in early 2020 due to conservation efforts. The hammocks were still in place during our visit to Holbox in January 2020.
The hammocks are one of the most famous sights on the Holbox and they pop up in almost every idyllic photo of island life!
We found 5 sets of Hammocks during our days exploring Holbox. One of the sets of hammocks is located on Punta Cocos Beach and the others are on Playa Holbox
Punta Cocos Beach: a beautiful beach on the western side of Holbox about 2.5km from the center.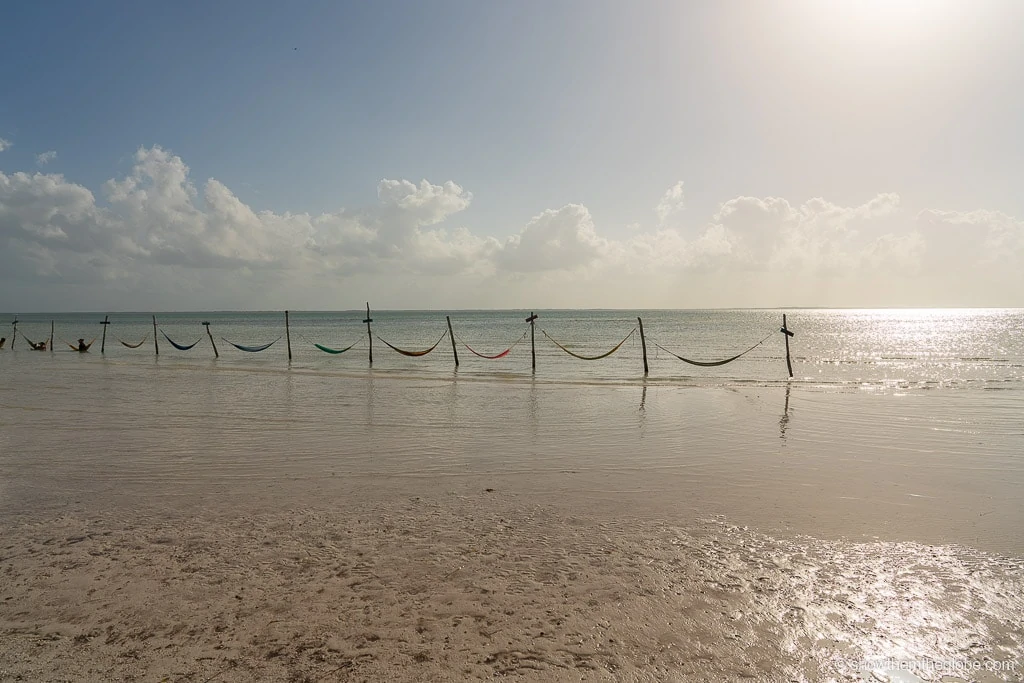 Carolinda Beach Club: three colorful hammocks with a set of swings on either side of them.
Mantarraya Beach Club & Hammocks: a set of 4 hammocks with Holbox spelled out on the poles.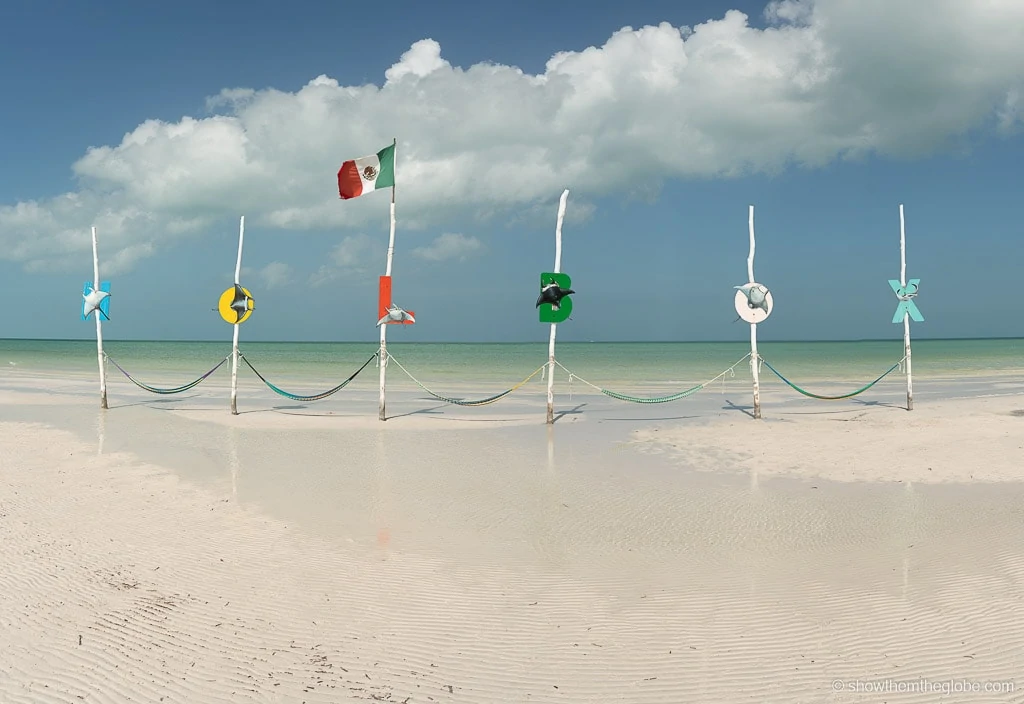 Villas Tiburon: another set of hammocks with Holbox spelled out in colorful letters on the poles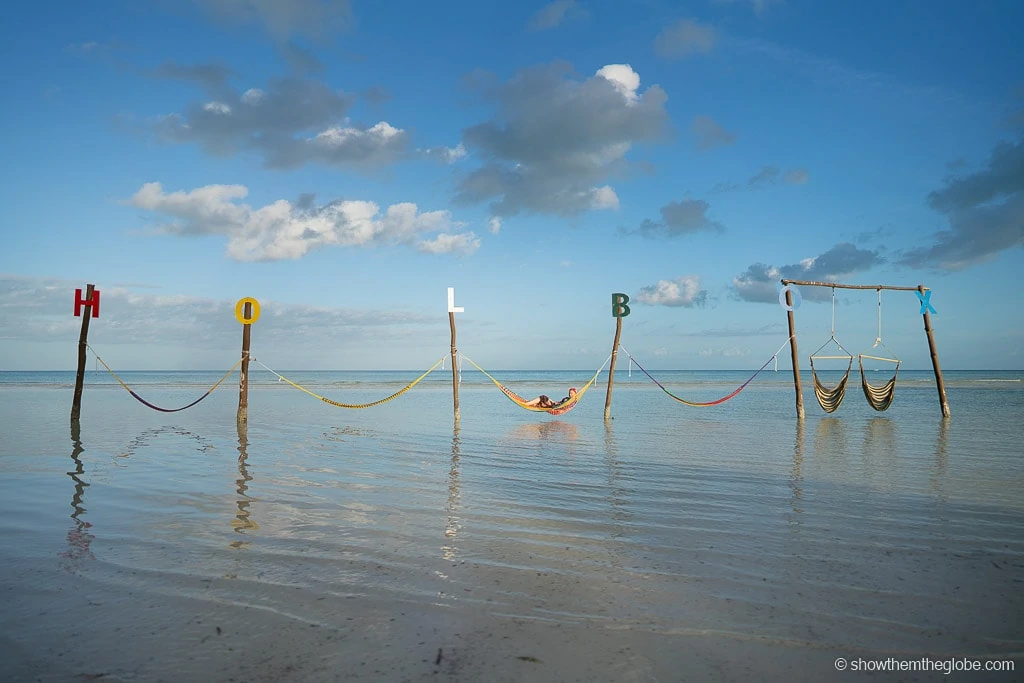 Villa Flamingos: 2 hammocks in the water in front of Villa Flamingos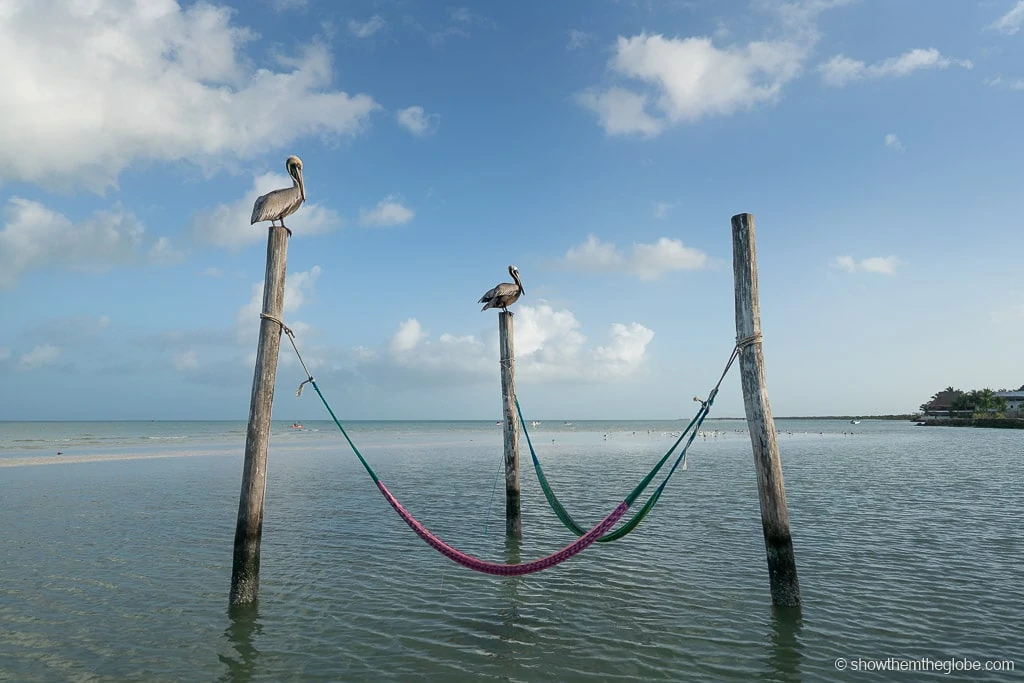 Things to do in Isla Holbox with kids tip: some of hammocks belong to the hotels and beach clubs so a food/drinks purchase may be required.
3 | Walk the sandbar to Punta Mosquito
During low tide a stunning sandbar is exposed on Playa Holbox which leads all the way to Punta Mosquito on the north of the island. It takes about 90 minutes to walk to Punta Mosquito.
Punta Mosquito is an uninhabited area of the island which is only accessible by foot. The area is part of the Yum Balam Nature Reserve, a 380,000 acre protected nature reserve, and is rich with birds. It is here you can spot the island's pink flamingos and the abundant herons.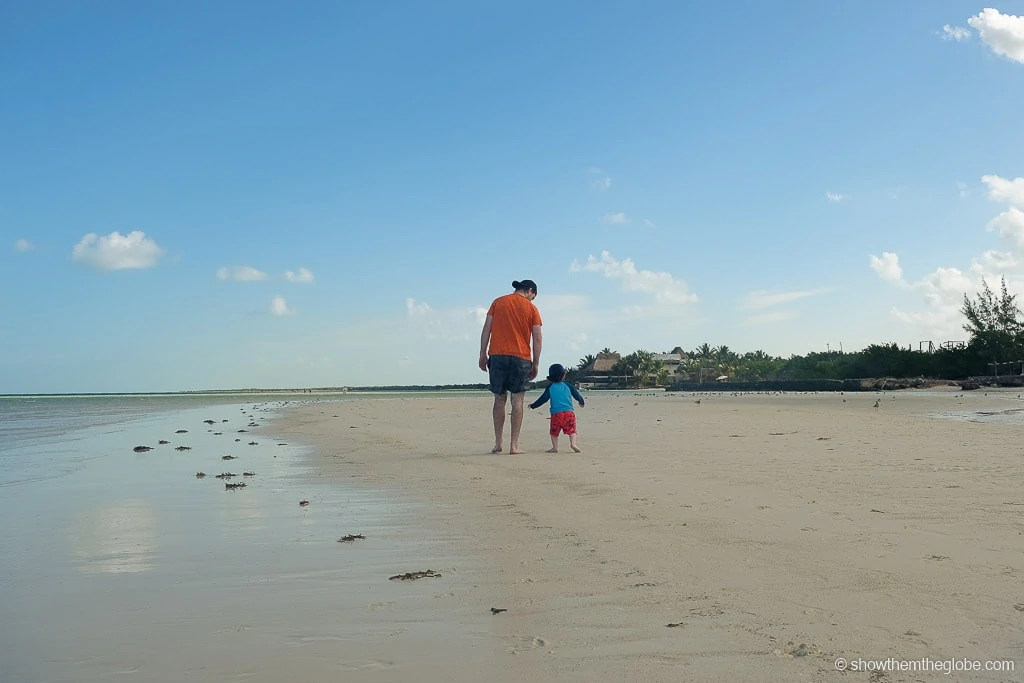 Things to do in Isla Holbox with kids tip: bring lots of water, snacks and sunscreen if you plan to walk the sandbar to Punta Mosquito. Depending on tide times, early morning is the best time to make the walk when temperatures are low. As the name suggests, mosquitos can be abundant so pack some biodegradable repellent if you are prone to bites.
Note: Make sure to check the tide times and follow the sandbar. If you walk along the beach to Punta Mosquito there is a river crossing to contend with and crossing is not recommended – who knows what resides in the river's waters!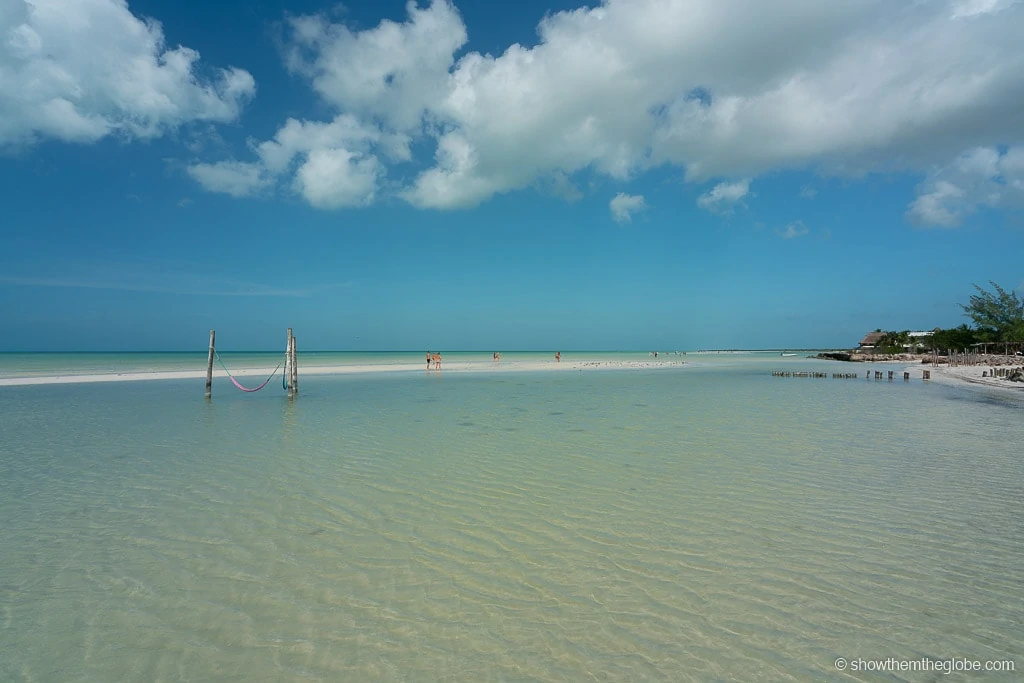 4 | Beach time at Punta Cocos
Punta Cocos Beach is a beautiful beach on the western side of Holbox about 2.5km from the center. Punta Cocos is awesome for families: the turquoise waters are warm and shallow, and the beach is typically quiet. Sun loungers are available for rent or you can lounge in the hammocks on the water.
Things to do in Holbox with kids tip: it takes around 30 minutes to walk from the center of Holbox to Punta Cocos and it's a lovely walk. We drove over in our golf cart and it's also easy to grab a golf cart taxi anywhere on the island.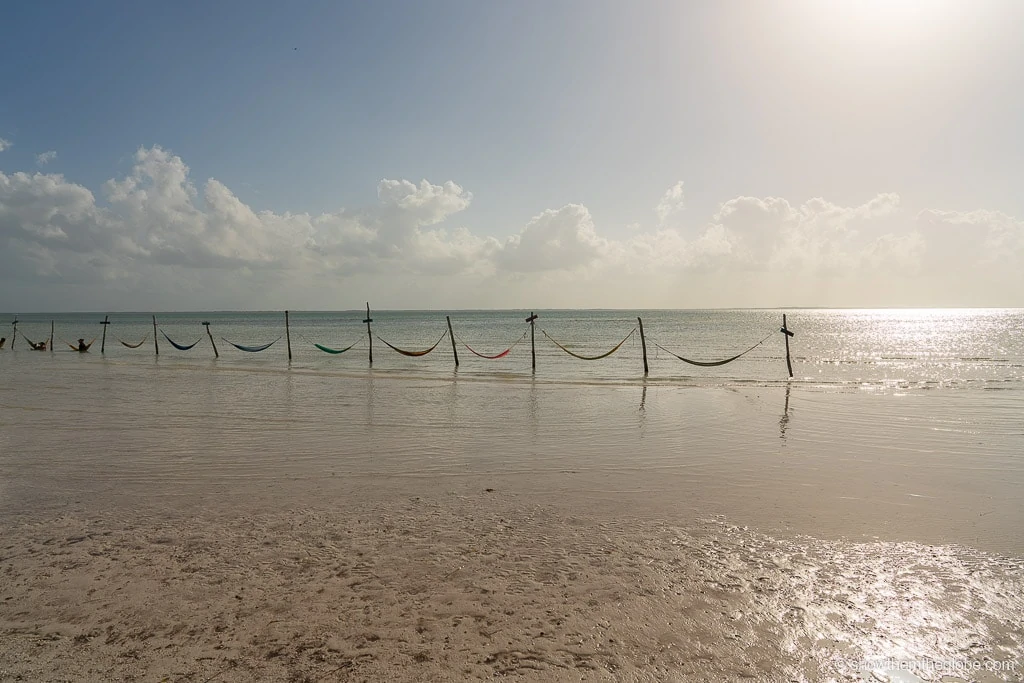 5 | Explore the island by golf cart
Holbox is easy to navigate on foot or by bicycle but renting a golf cart is definitely the most unique way to get around. Our kids had so much fun navigating Holbox in our golf cart!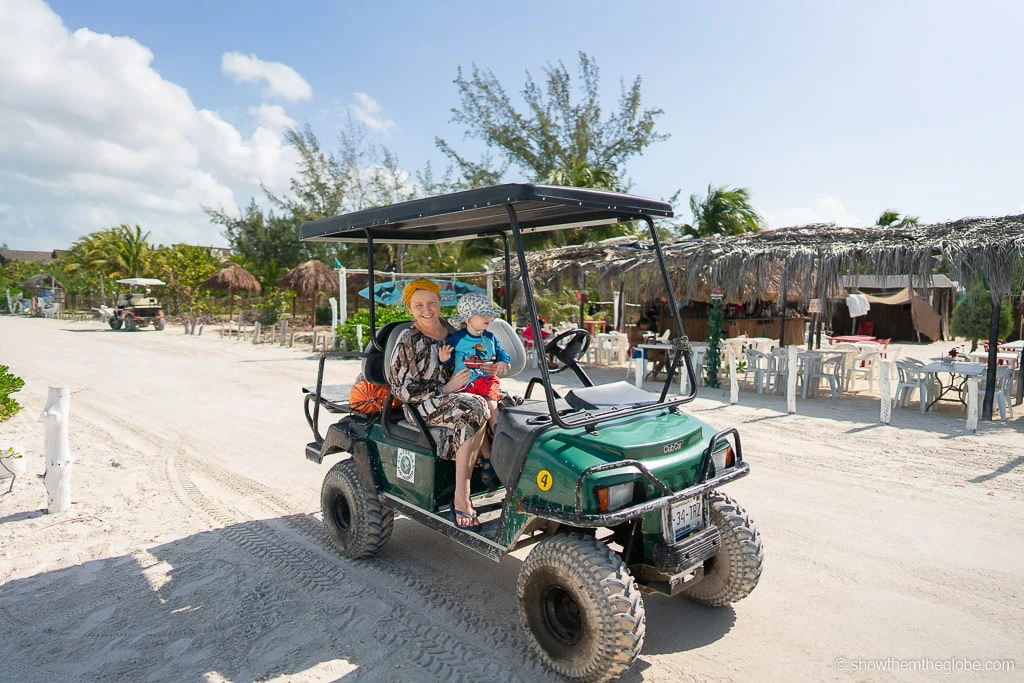 Golf cart safety: if you do opt to rent a golf cart make sure to hold on tightly to younger kids and drive slowly in case you hit an unexpected bump in the road. There are no cars on the island although you might see the occasional commercial vehicle.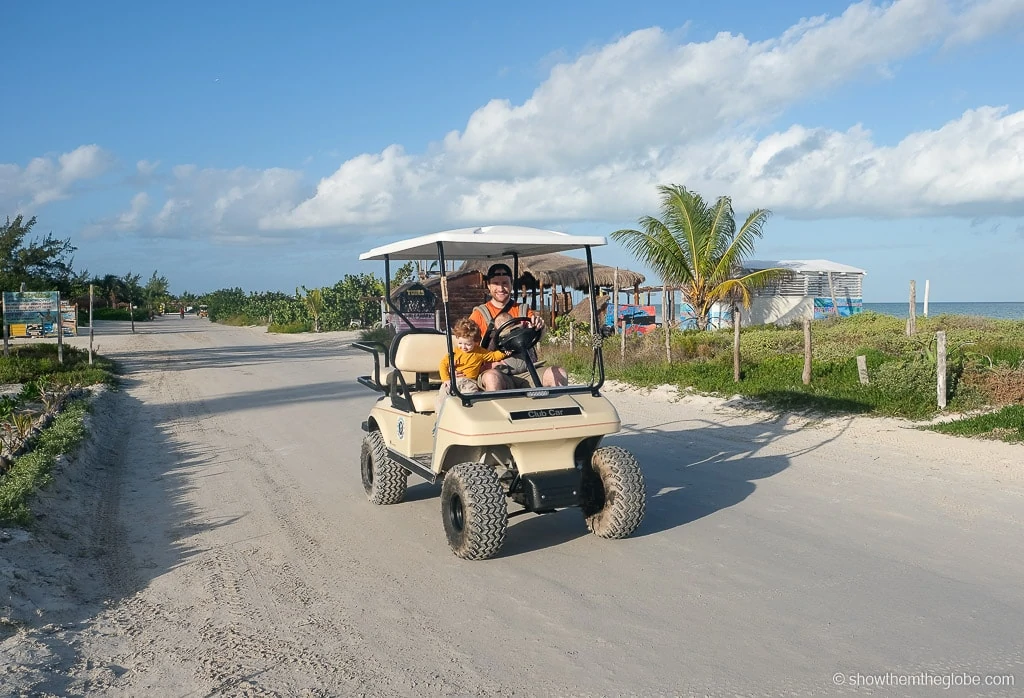 6 | Pose at the Holbox Sign
Located at the beach pier, Tiburón Ballena, the colorful Holbox sign is a fun spot for a family pic! The sign has a missing L which allows for some creative posing!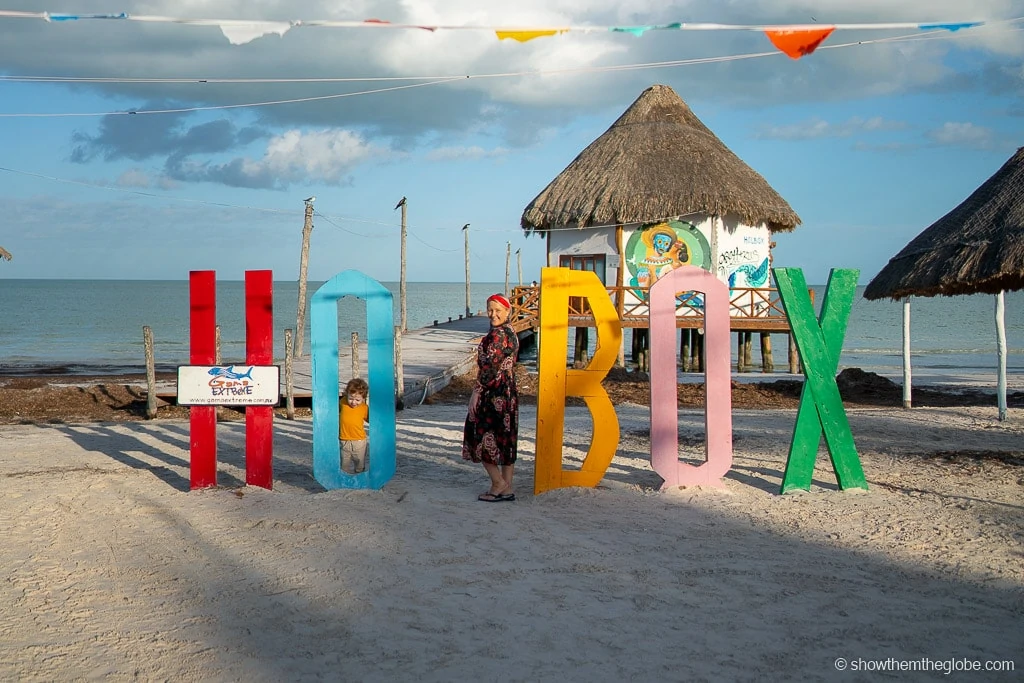 7 | Watch the sunset over the water
Holbox sunsets are truly magical and the sky is filled with stunning shades of red, purple, orange and pink. Anywhere along the main Playa Holbox beach works for a sunset view. Punta Cocos is another great sunset vantage point.
Things to do in Holbox with kids tip: The beach pier, Tiburón Ballena, is one of the most popular Holbox sunset spots. Crowds gather on the pier every evening to watch the sun go down on the Holbox day.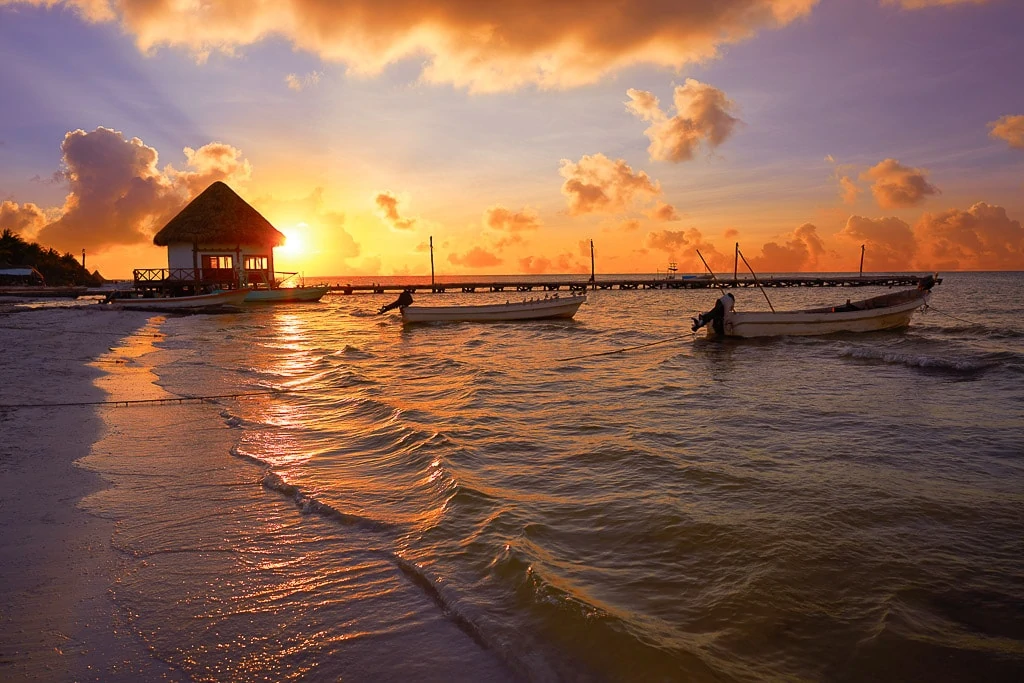 8 | Spot the Island's Street Art
Huge murals adorn the walls of many buildings in the center of Hollbox and the combination of island paradise and street art makes for a compelling mix.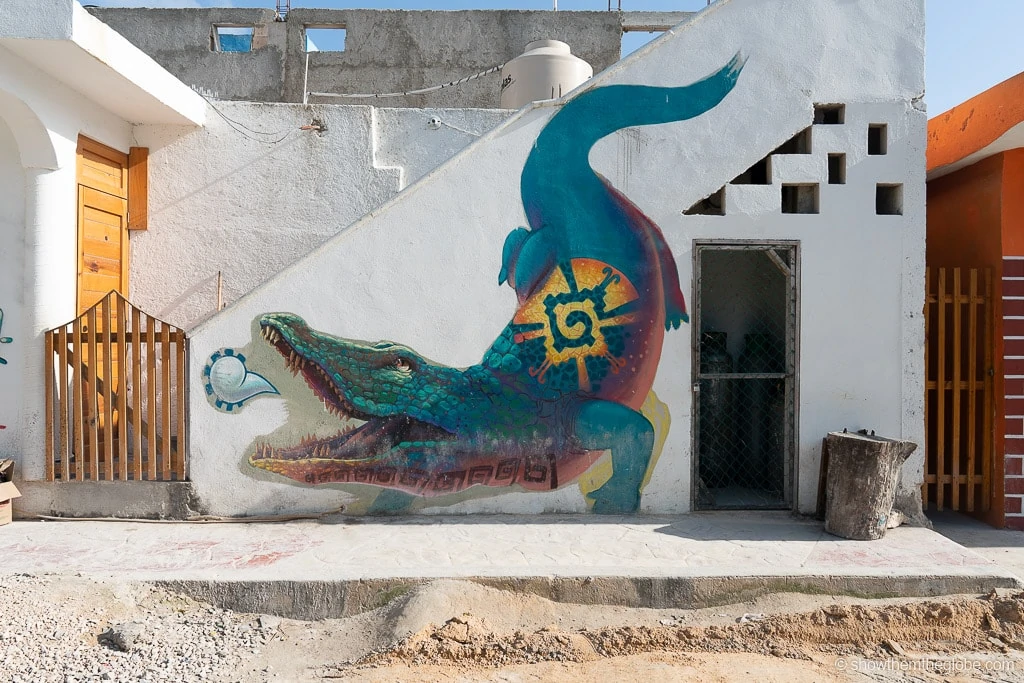 The murals first popped up when Holbox hosted the 2014 International Public Art Festival which aimed to capture the dreams of citizens through the murals.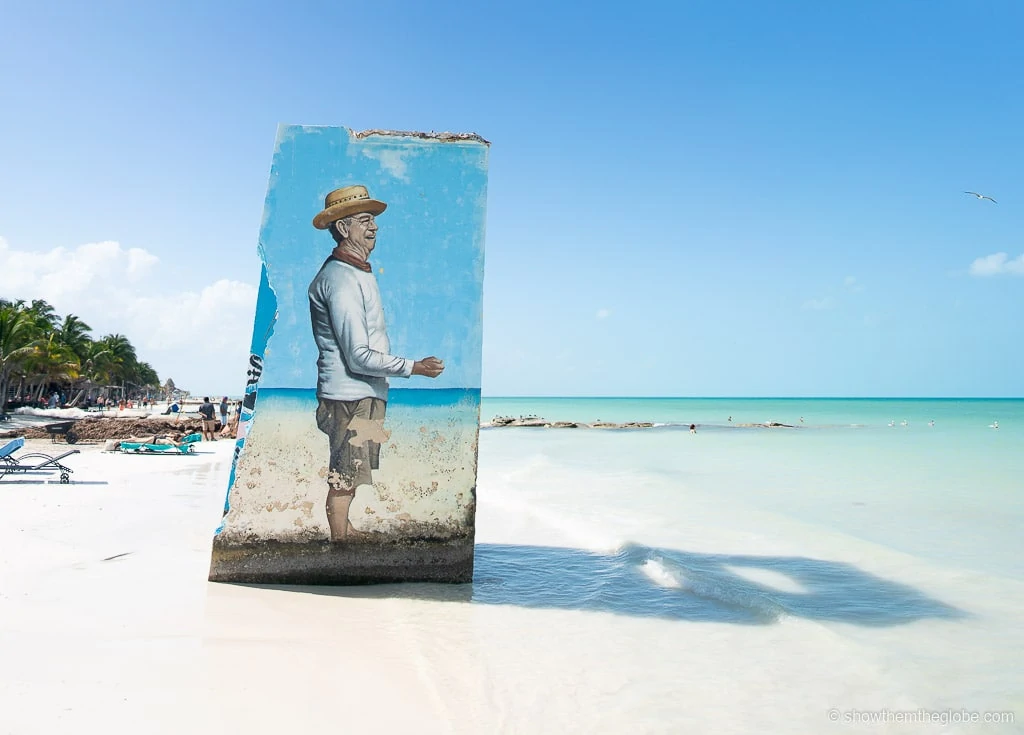 One of the most famous murals, 'Himalaya Maya' by Jano Jace, depicts a Himalayan girl in Mexico and the image is synonymous with Holbox. The globe on the girl's hat signifies the breaking of borders and that we are all similar. The mural was painted as part of the 2014 festival but has since been restored. The mural, and another by the same artist, are located in front of Painapol Holbox, a café which serves healthy options and fantastic smoothie bowls.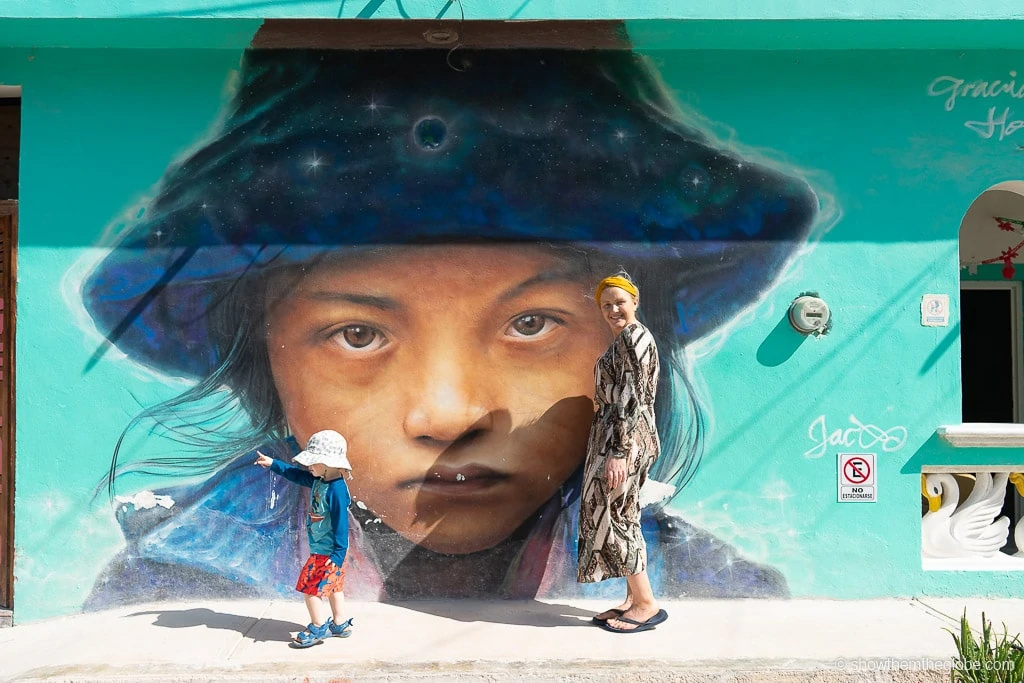 9 | Enjoy some downtime at a beach resort
Holbox is idyllic and we made sure to schedule in plenty of downtime to make the most of those island vibes. We spent each afternoon relaxing in our accommodation and enjoying the pool, the hotel beach and the sun loungers!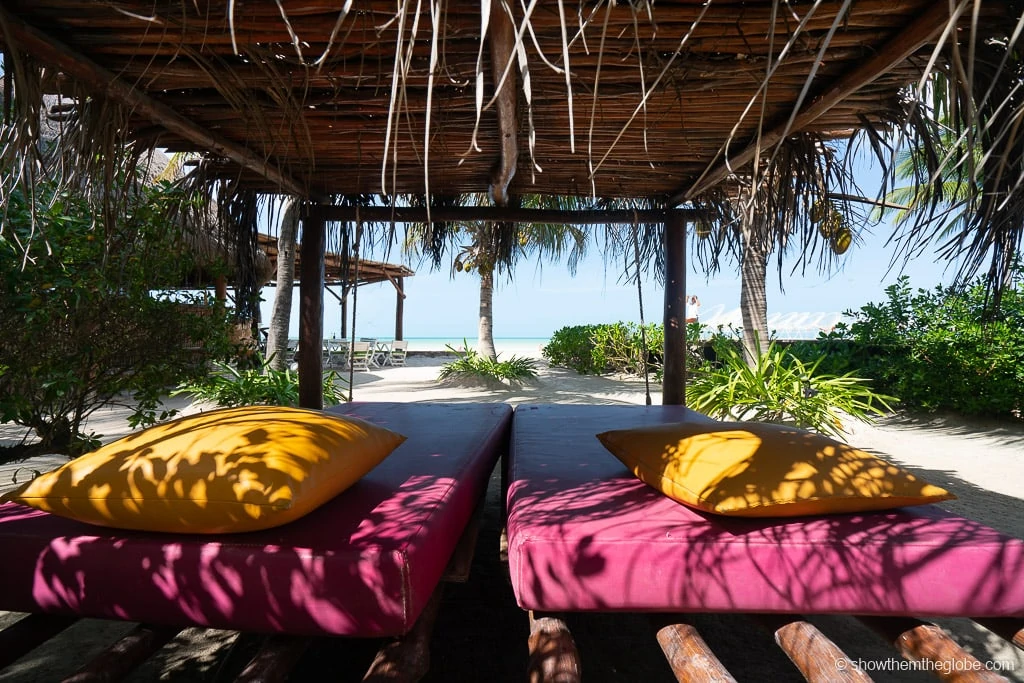 There are lots of beachfront accommodation options: we stayed at Villas Flamingos and loved being able to walk out of our room and straight onto the beach!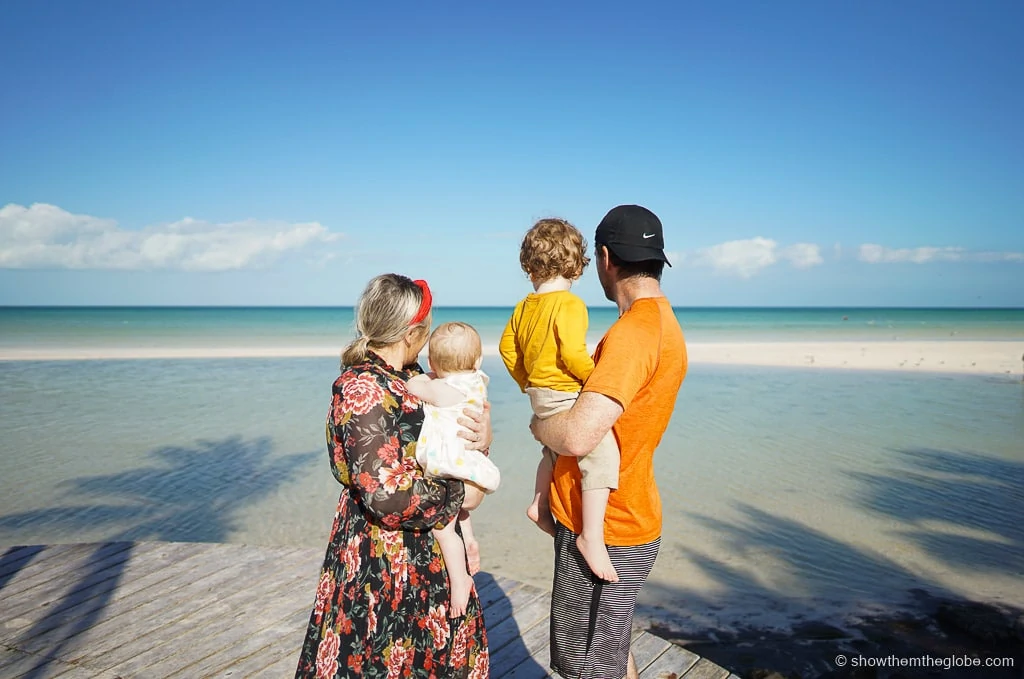 Things to do in Isla Holbox with kids: If your kids are anything like ours they will love some Holbox beach time and many of Holbox's beach front hotels allow guests direct access to a private section of the beach.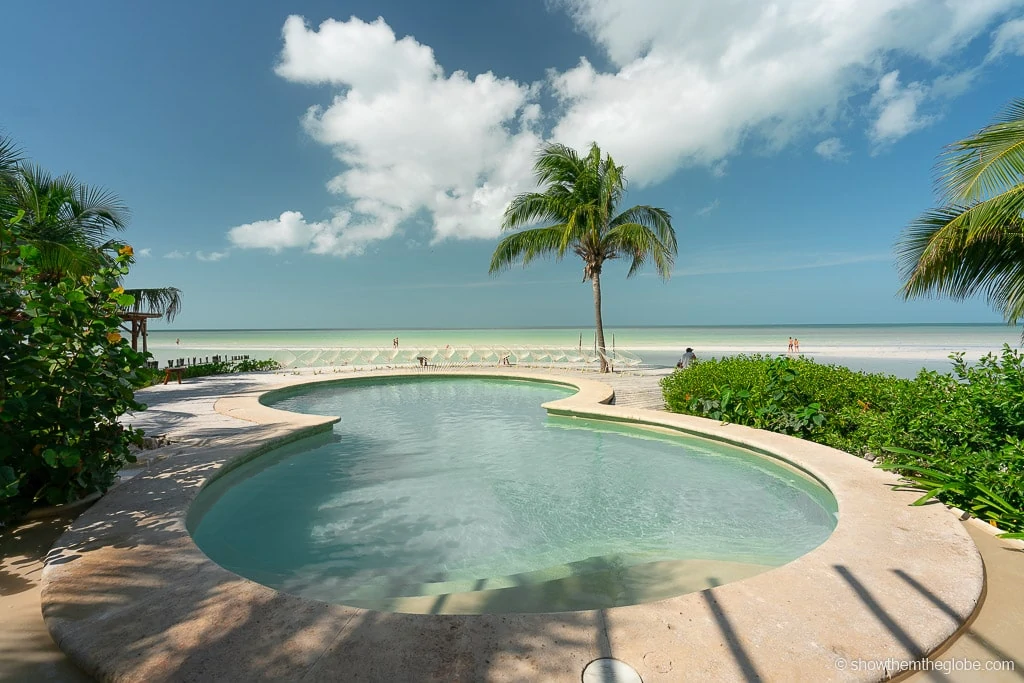 Tips for visiting Isla Holbox with kids
Getting to Holbox: there are a few options but the most common is to drive/take a shuttle from Cancun to the ferry at Chiquila and get the ferry across to Holbox. You can read our detailed guide on how to get to Isla Holbox for more detailed information on getting to the island.
Bring pesos: ATM facilities are limited on the island and they are sometimes out of operation.
Getting around: a line of taxi golf carts await the arrival of each ferry to the island and provide easy transport to accommodation. Walking, bikes and renting a golf cart are other great ways to get around the island.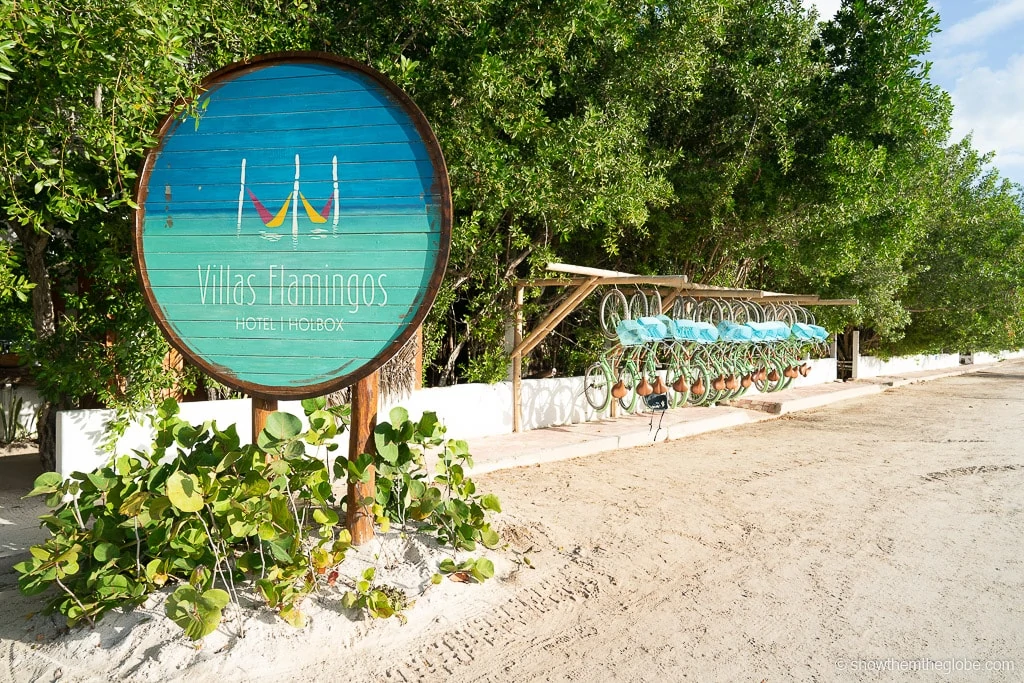 Mosquito repellent: bring eco friendly insect repellent. We still talk about the morning we left our hotel at 6am and were descended upon by what felt like millions of mosquitos. Dave and the kids came out unscathed but, unfortunately, mosquitoes love me!
For more Mexico inspiration
Check out our other Mexico guides: