Seoul is an awesome choice for family travel and there are lots of things to do in Seoul with kids. We visited Seoul with J and loved our family time in the colourful and chaotic city where modern and historic seamlessly mix.
Together we explored its iconic sights from its Grand Palaces to its quirky street art and colourful cafes. Here's our guide to the best things to do in Seoul with kids!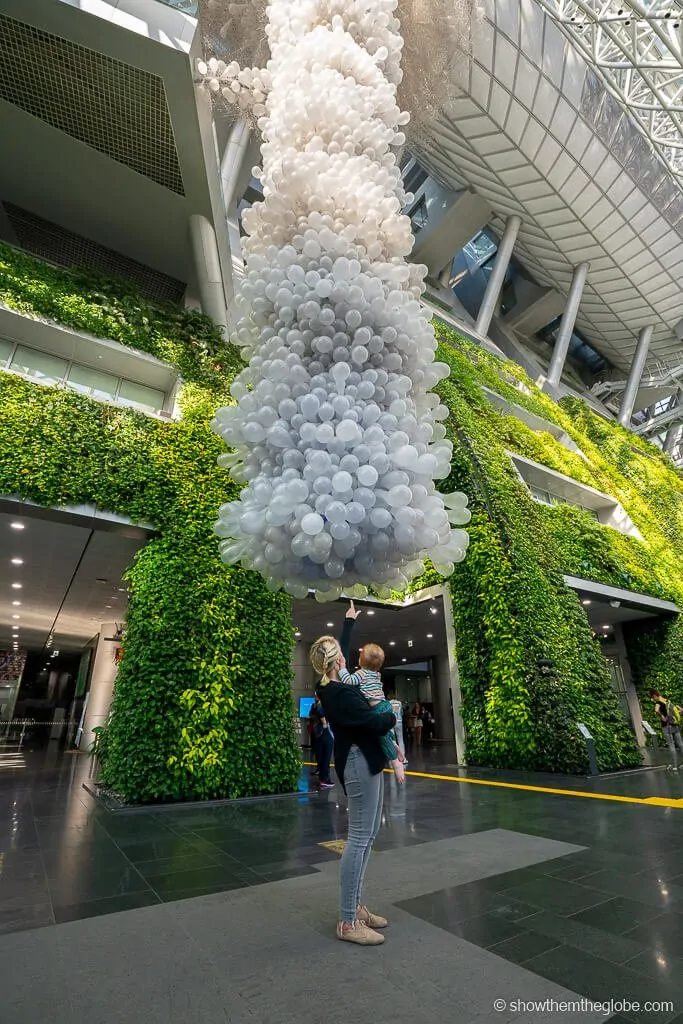 1 | Dress up in a traditional Hanbok
Dressing up is always fun and Seoul is the perfect spot for the whole family to indulge! The colourful hanbok dress is a 1,600-year-old Korean tradition and the celebratory outfit is worn by men, women and children.
The city streets are full of Koreans and tourists visiting its palaces and historic areas dressed in hanboks. Renting a hanbok is an awesome way to embrace Korean culture and have some family-friendly fun in Seoul.
Where to rent a hanbok in Seoul
We used the Klook app to reserve our hanbok's and saved almost 50% on the in-store price. There are lots of shops offering hanbok rental in Seoul but we highly recommend this Hanbok rental store located in Gyeongbokgung.
The location is perfect as it's close to the Bukchon Hanok Village and the Gyeongbokgung Palace and the Changdeokgung Palace and the selection of clothes is extensive – we were able to find awesome hanboks for men, women and kids.
Click here to book your Hanbok now
Best things to do in Seoul with kids tip: plan to visit a palace and the Bukchon Hanok Village on the day you rent a hanbok. We recommend a 3.5hour rental as is the perfect amount of time to explore a little and capture lots of photos.

Remember, many tourist sites close on Monday's in South Korea. If you only have a Monday free, the Gyeongbokgung Palace is the only palace open.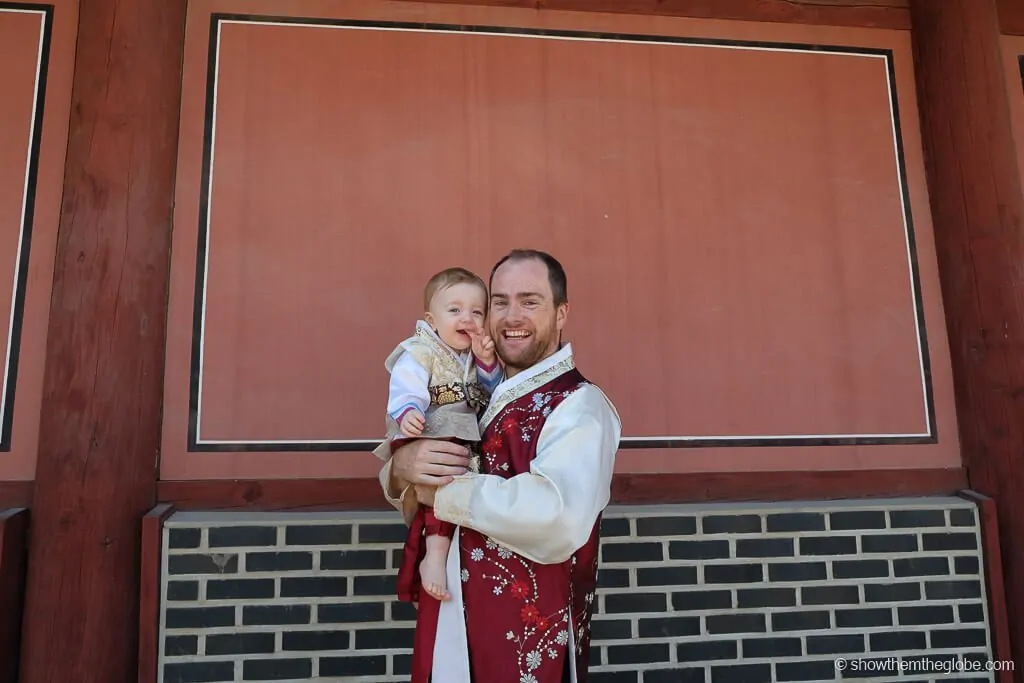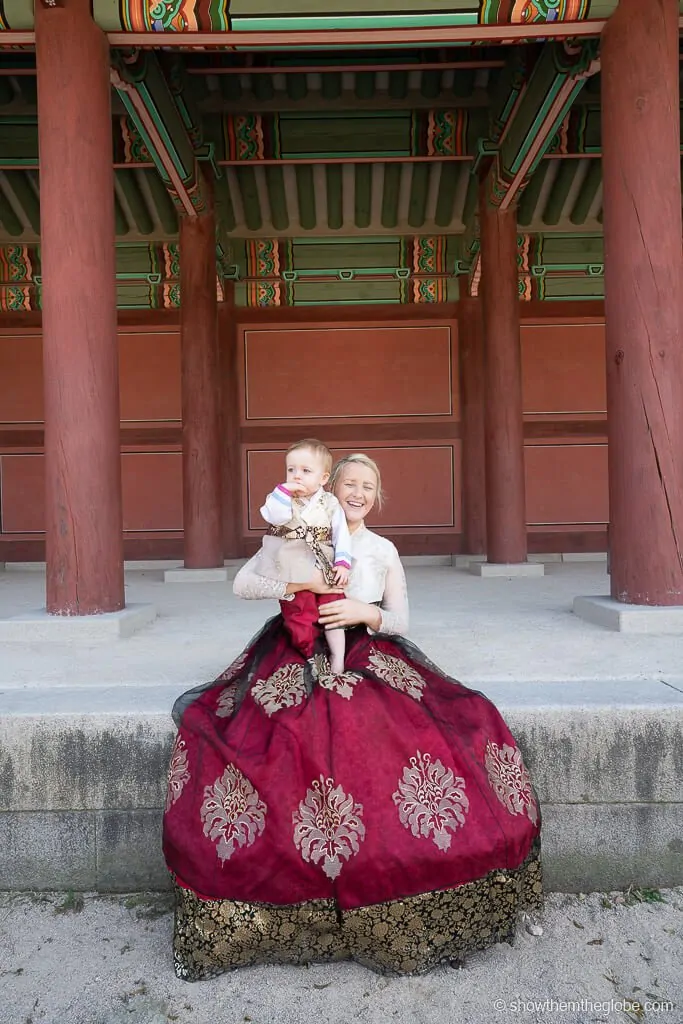 Where to Stay in Seoul
Seoul is a massive city and choosing where to stay can be very confusing. To make the most of your time in Seoul we recommend staying as central as possible. The areas that are best to base yourself are Namdaemun, Myeong-dong and Insa-dong
Click here for Seoul hotel prices
Discover Seoul Pass
One of the best ways to save money when visiting Seoul is with the Discover Seoul Pass. The pass gives holders free entrance to a selection of 42 tourist attractions in Seoul. There are three passes available, 24, 48 and 72 hours depending on how long you have in the city.
The pass works for most of the best places to visit in Seoul, including Lotte Park, N Seoul Tower, COEX Aquarium, Alive museum and more – check prices now!
Buy your Discover Seoul Pass now
4G Internet
We purchased Sim card on Klook and it was super-useful during our time in Seoul. Having mobile data while exploring the city was invaluable. We recommend the KT Olleh sim card provider which we used without any problems during our time in South Korea, plus it's cheaper if you order in advance with Klook – click here to order now!
If you have more than one device and don't want to get separate sim cards you should consider renting a 4G Wifi portable hotspot. They're great if you need to connect more than just your phone while on the go – click here to order now!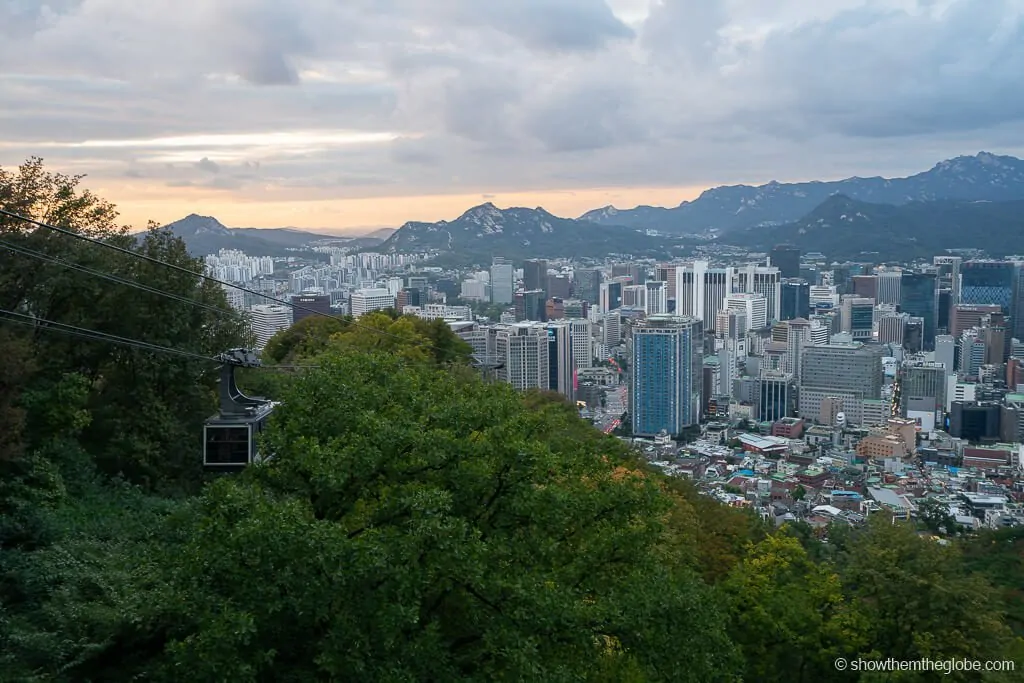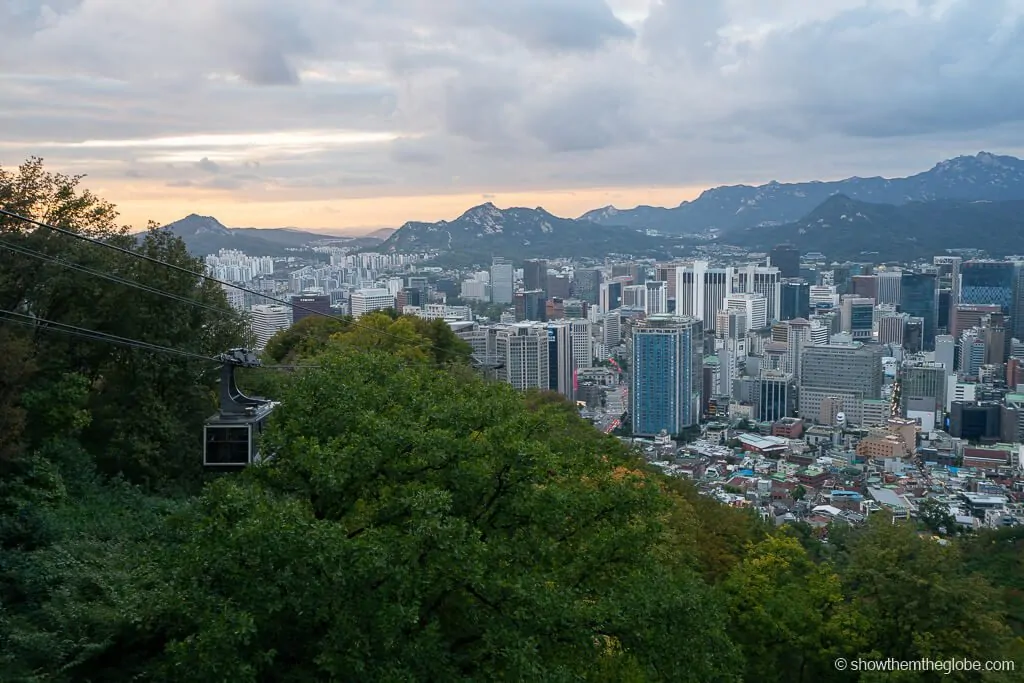 2 | Iwha Mural Village
The street art scene in Seoul is colourful and fun and exploring the Iwha Mural Village on Mount Naksan is one of our favourite things to do in Seoul with kids. From an 'I love Seoul' declaration to a pair of hugely popular angel wings, the winding streets of the Iwha Mural Village are filled with works of art which appeal to both adults and kids.
The village, situated on a hilltop overlooking Seoul, is full of quirky clothes and souvenir shops and is a great place to spend an afternoon.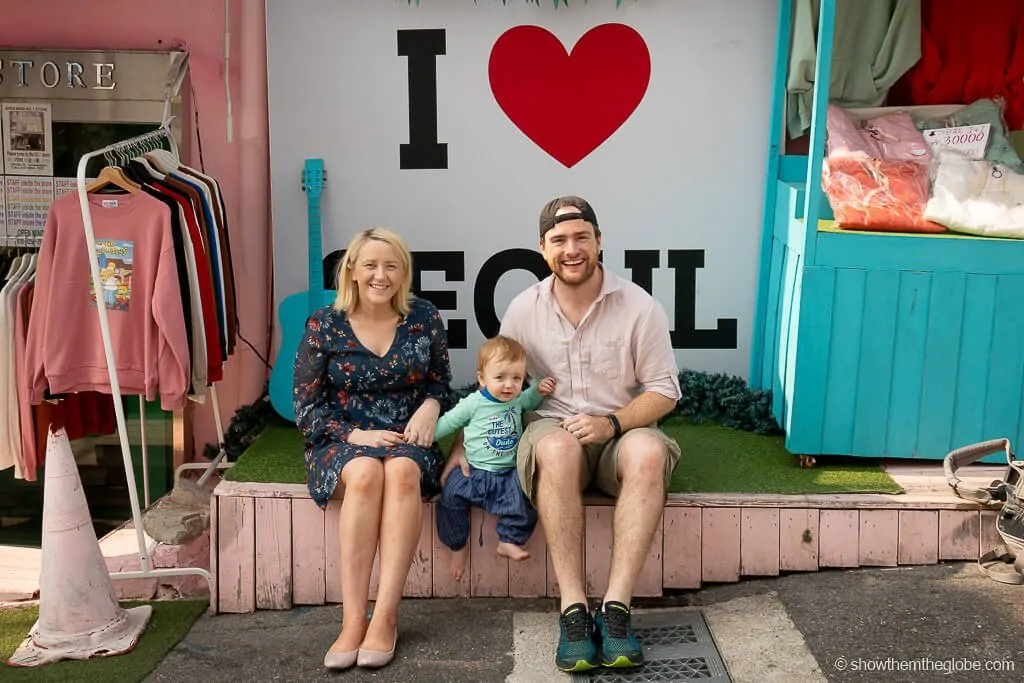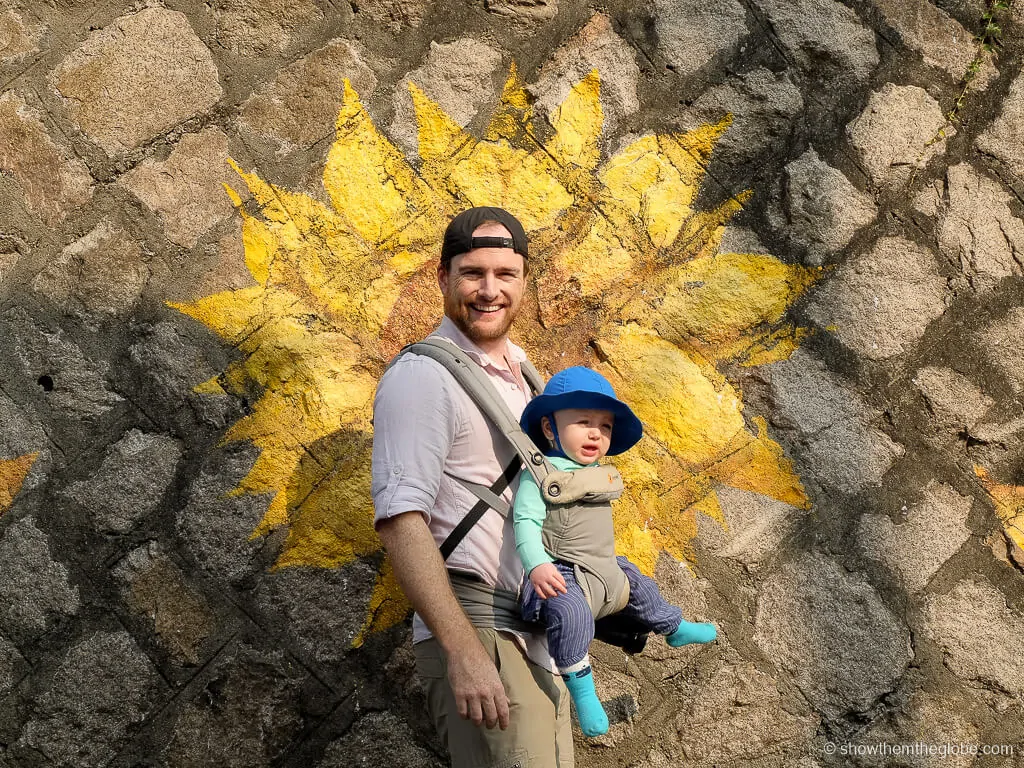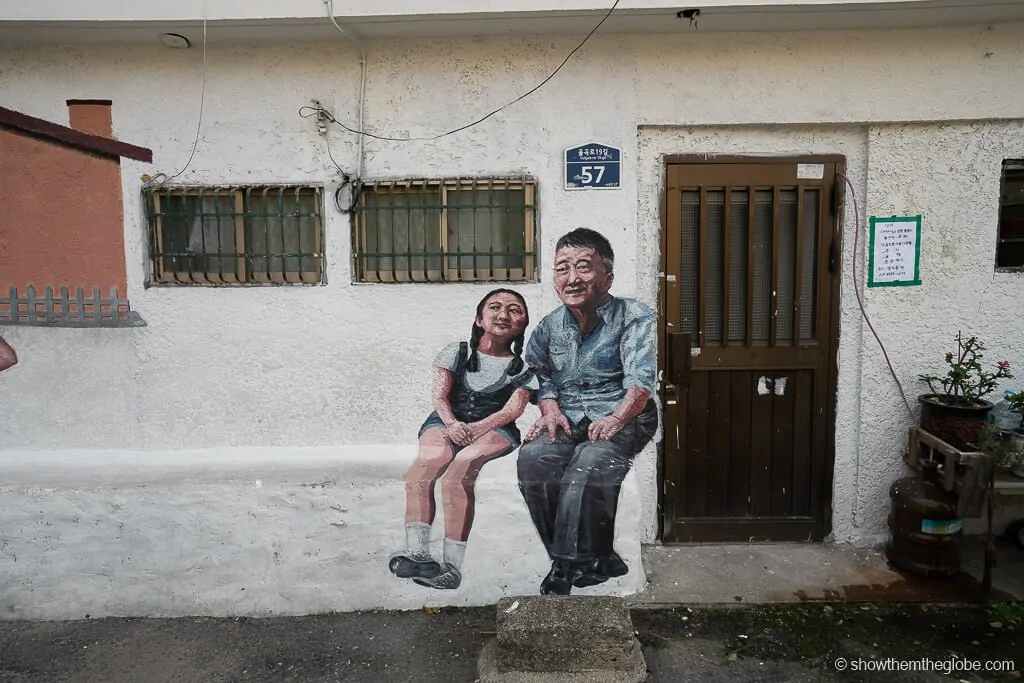 3 | Starfield Library, Coex Mall
We really hope that J shares our love of books and we always seek out beautiful libraries and bookstores to explore on our travels. The Starfield Library in Gangnam's Coex Mall is a book lovers dream.
The towering shelves are filled to the brim with over 50,000 books and there's plenty of seating to sit down and enjoy. The library often hosts children's entertainment on Saturdays.
Best things to do in Seoul with kids tip: The Starfield Library is located in the kid-friendly Starfield Coex Mall which also houses an aquarium and cinema as well as pop up stalls and events: J loved the Minions pop up store and the BrickLive Lego playground during our visit.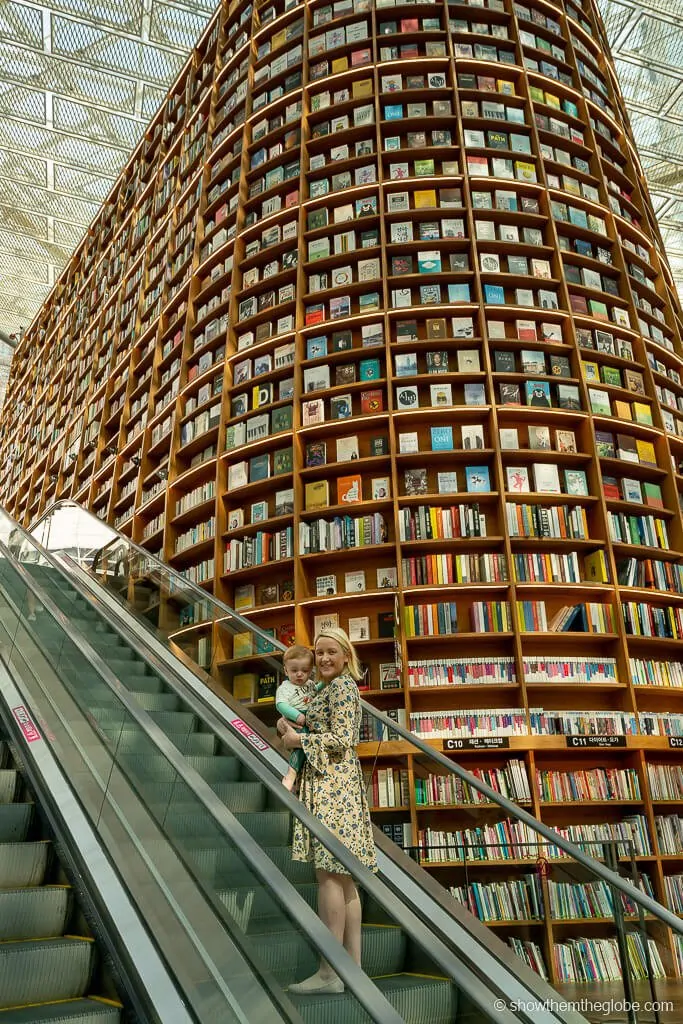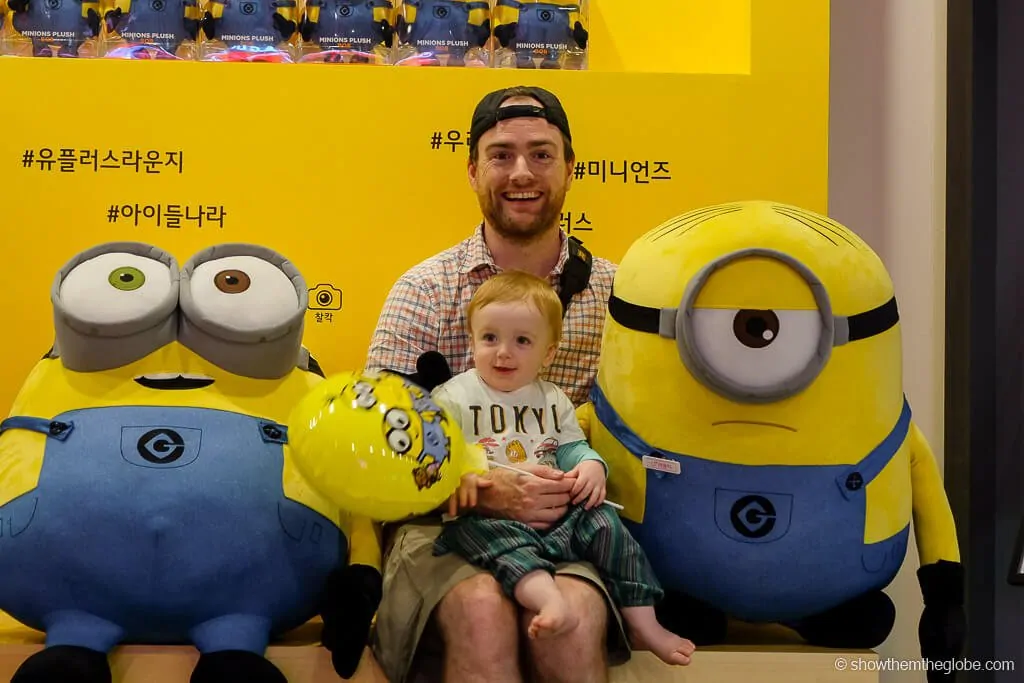 Coex Aquarium
If you visit the Starfield Coex Mall the make sure to check out the Coex Aquarium. It's the largest aquarium in Seoul and home to over 40,000 sea creatures. Kids and adults will love walking around and exploring all the aquatic animals – check prices now!
Buy your Coes Aquarium tickets now
3 | The DMZ: the Korean Demilitarized Zone
Founded at the end of the Korean War in 1953, the Korean Demilitarized Zone and covers a 4km wide land area along the border of North and South Korea. The DMZ is only accessible through a tour and it is one of the most popular day trips from Seoul.
Depending on the tour, visitors are offered a glimpse into North Korea with stops including the infiltration tunnels, Freedom House, the Dora Observatory and the Bridge of No Return.
Visiting the DMZ with kids
Visitors can opt for a DMZ tour, a JSA tour or a tour which covers both the DMZ and the JSA. The Joint Security Area is known as Panmunjom and includes Freedom House which acts as a meeting place between North and South Korea.
If you are travelling with children the tour options are as follows:
Children over 11: the JSA is only accessible to children 11 or over. This is due to the fact that tourists cannot interact or approach the North Korean side. The JSA is currently closed for tours and is expected to remain closed until June 2019 at the earliest.
Children under 11: a tour of the DMZ is accessible to all ages and suitable for children under 11 – click here to reserve a DMZ tour
Click here to reserve a DMZ tour
4 | The War Memorial of Korea
The War Memorial in Seoul was built to commemorate the Korean war that led to the modern day Korea and its outdoor displays are fascinating for kids. There are incredible bronze statues as well as aircraft, tanks and vessels which children can explore.
There is an accompanying children's museum which, although obviously war-themed, has interactive exhibits and soft play areas which appeal to kids of all ages. Make sure to stop by the playground outside the museum where the slides and climbing frames are perfect for letting the kids burn off steam!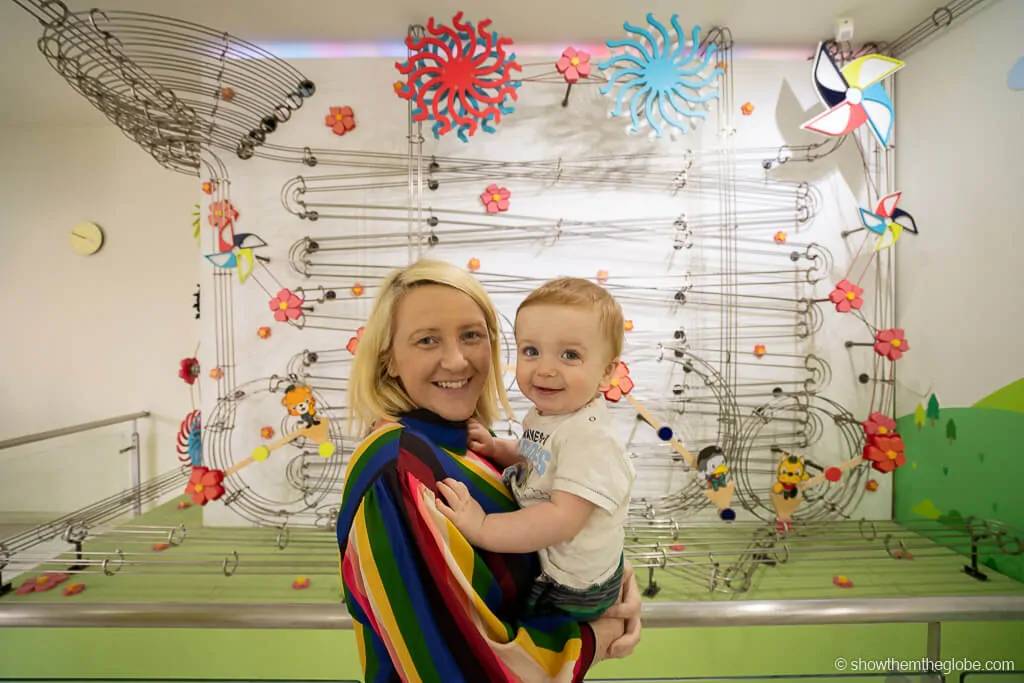 5 | Bukchon Hanok Village
The Bukchon Hanok Village is a traditional Korean village in the heart of Seoul. Its narrow and winding streets are filled with hanoks, the traditional Korean houses which date back to the Joseon Dynasty.
Local handmade craft souvenirs are sold in some of the hanoks and offer a peek inside the traditional houses. Given its traditional setting, the picturesque village is one of the most popular areas to venture when renting hanboks.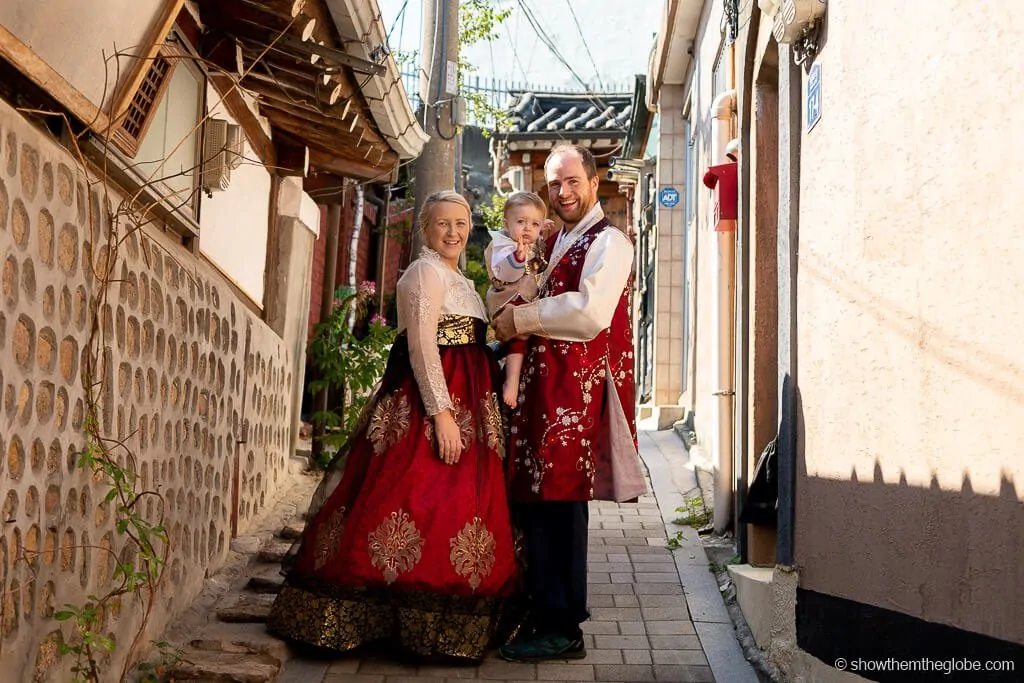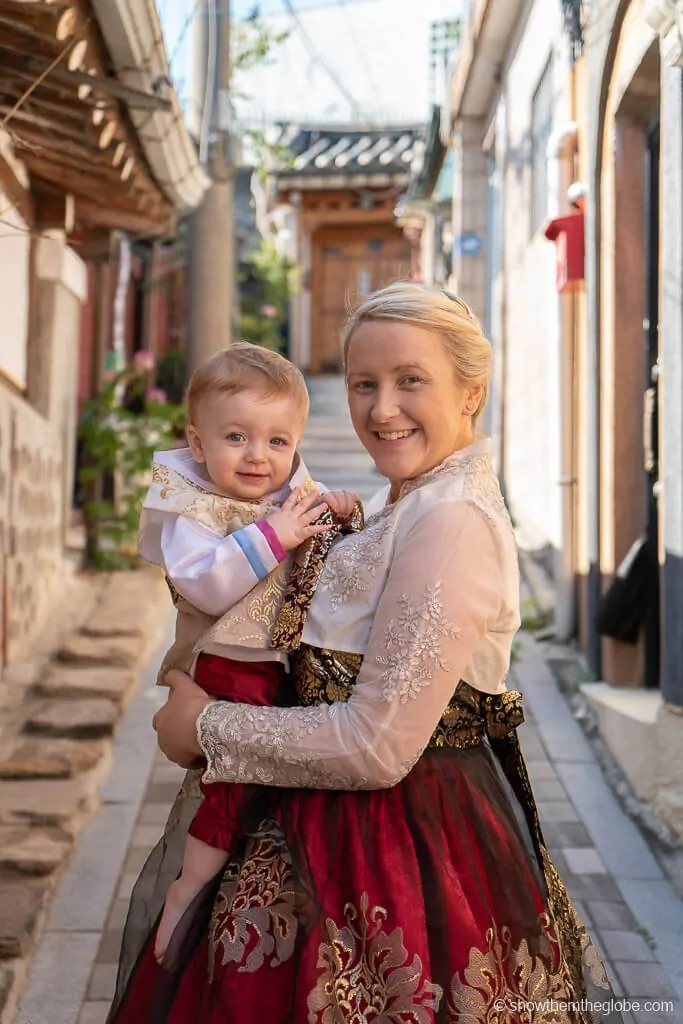 6 | Seoul Sky, Lotte World Tower
The 555 metre Lotte World Tower is the 5th tallest building in the world and it dominates the skyline of Seoul. The Lotte World Tower observation deck, Seoul Sky, has 360-degree views of Seoul and is a fantastic spot to visit with kids.
The experience starts with a double-decker elevator ride, known as the Sky Shuttle, which has an awesome interactive display and the floor-to-ceiling windows on the 118th floor offer endless skyline views. The highlights are peering through the glass-bottomed observation deck with its birds-eye perspective of the city and the outdoor terrace on the 120th floor. Lotte World Tower is included in the Discover Seoul Pass – check prices here!
Buy your Discover Seoul Pass now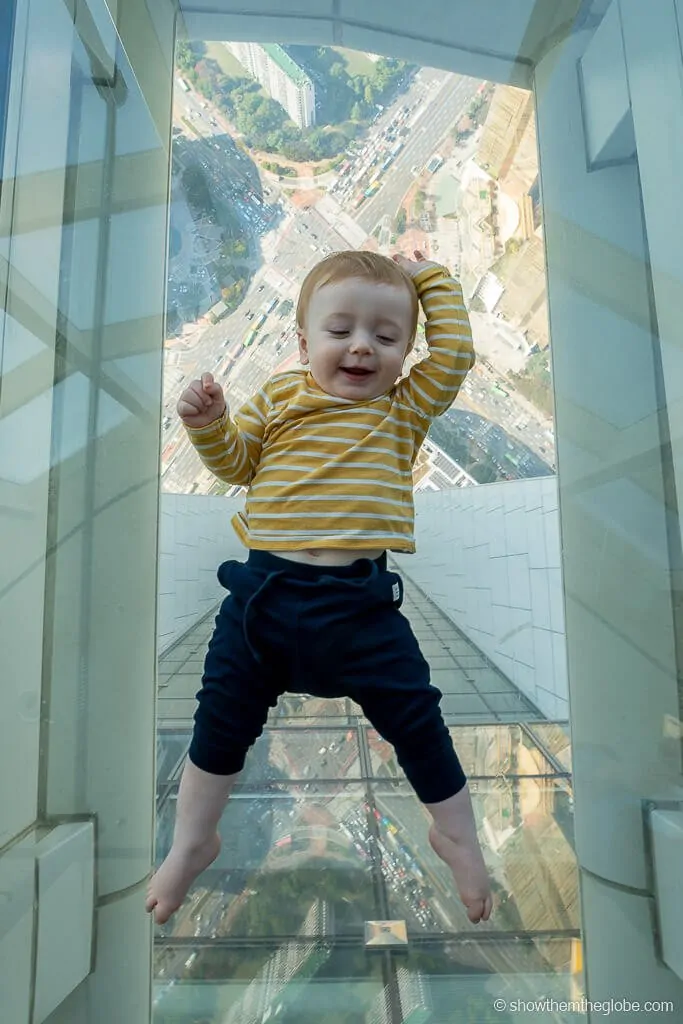 7 | Jogyesa Temple
The beautiful Jogyesa Temple is located in the heart of Seoul and represents the centre of Korean Buddhism. We visited during the annual flower festival and the temple grounds were awash with sculpted flowers and hedges in the shape of Buddha, elephants and dragons.
The temple is colourful and beautiful and the grounds contains ancient trees which are 500 years old. Jogyesa is also famous for the Lotus Lantern Festival when the courtyard is decorated with paper lanterns during the Buddha's birthday celebrations.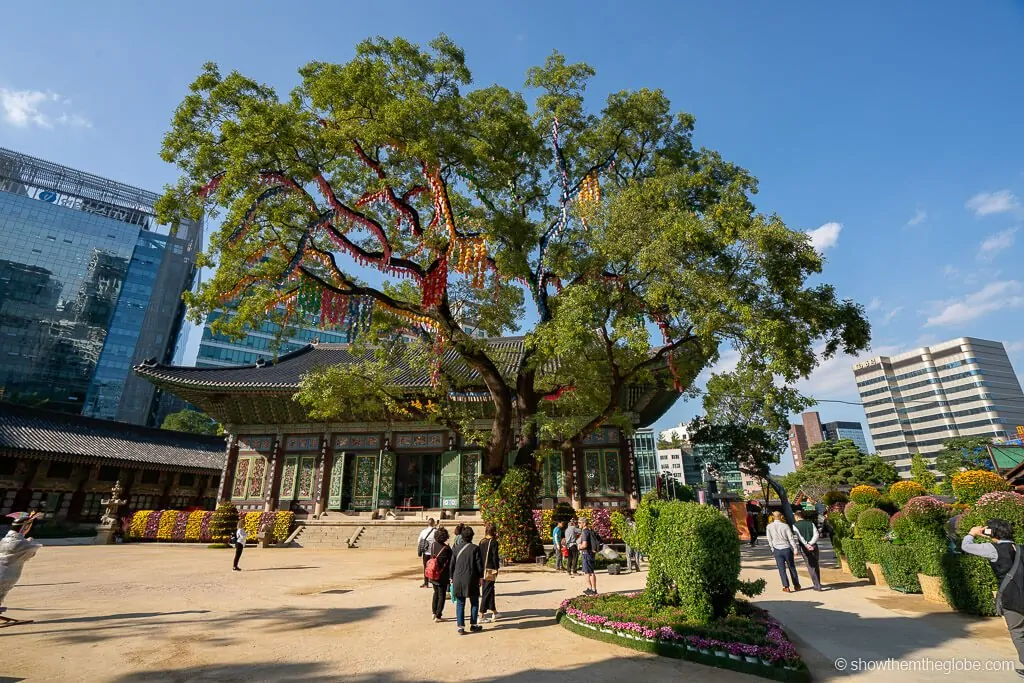 8 | Gyeongbokgung Palace
One of the 5 grand palaces of Seoul, Gyeongbokgung is the biggest and was the main royal palace of the Joseon dynasty. The grounds are beautiful and perfect for a wander: we loved the traditional wooden buildings and the beautiful lakes.
Make sure to catch the changing of the guards' ceremony which takes place at 10am and 2pm at Gwanghwamun, the main gate of Gyeongbokgung.
Best things to do in Seoul with kids tip: the Gyeongbokgung Palace is closed on Tuesdays while most of the other historical sites close on Monday.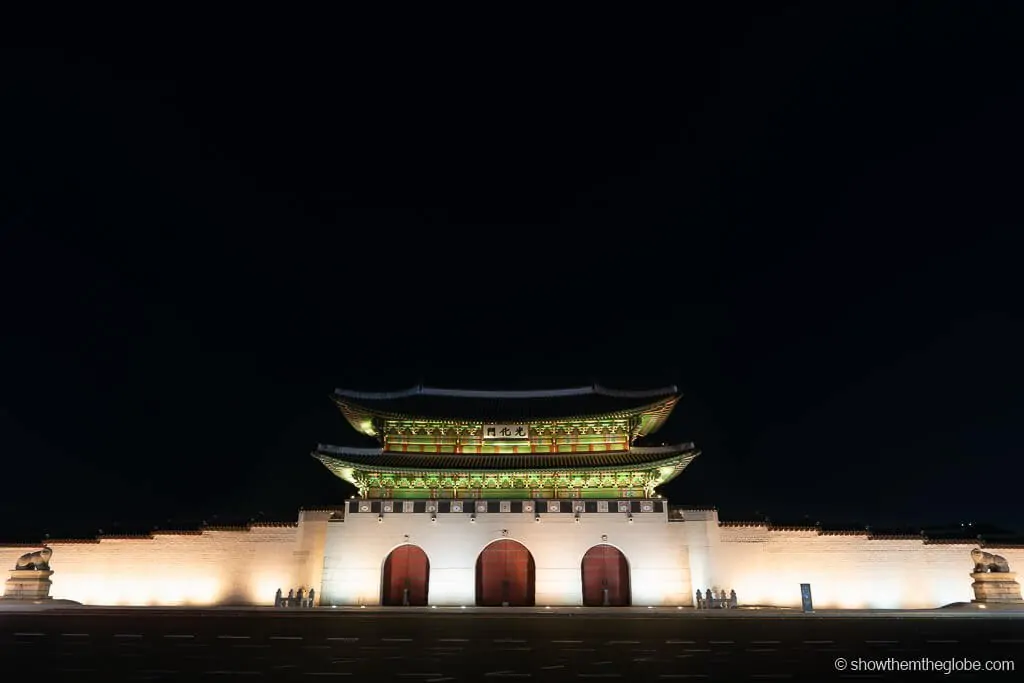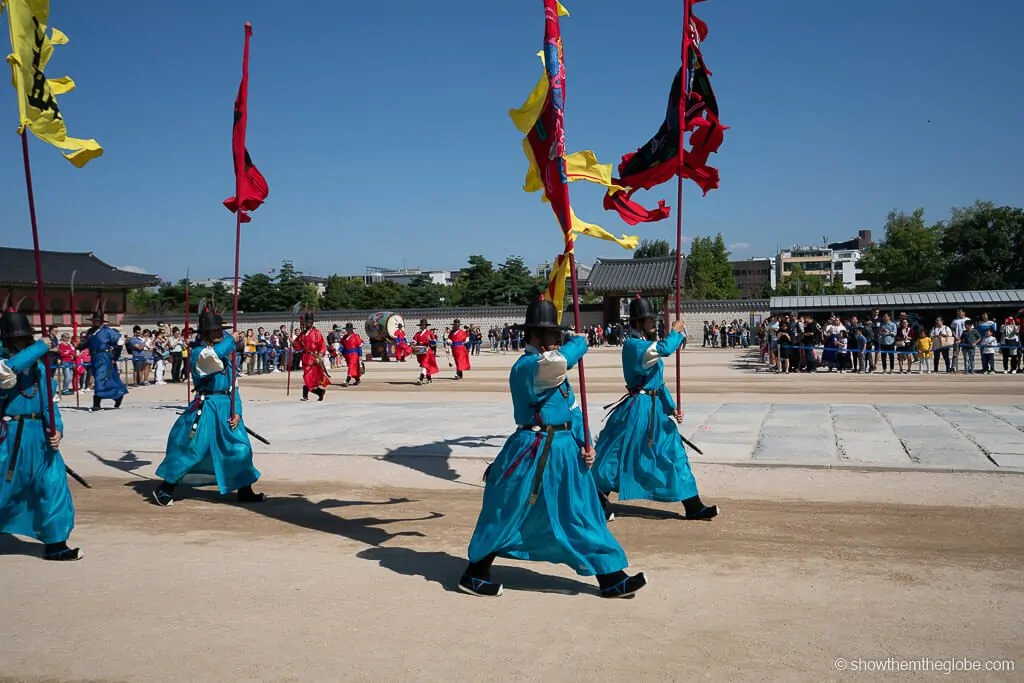 9 | N Seoul Tower and Namsan Cable Car
The iconic N Seoul Tower sits atop Namsam Mountain and is one of the most recognisable landmarks in Seoul. The tower is accessible by either cable car or a hike and the views from the top are awesome.
We hopped on the Namsan Cable Car and then to the top of the N Seoul Tower Observatory and were rewarded with panoramic views of the city. There's also a love locks tree and a Hello Kitty house to visit while up there!
Seoul best photo locations tip: If you plan to visit the N Seoul Tower itself, make sure to book you tickets in advance on Klook. We used the Klook app extensively in South Korea, where you get a decent discount on most entry tickets, including N Seoul Tower – check prices here!
Click here for N Seoul Tower tickets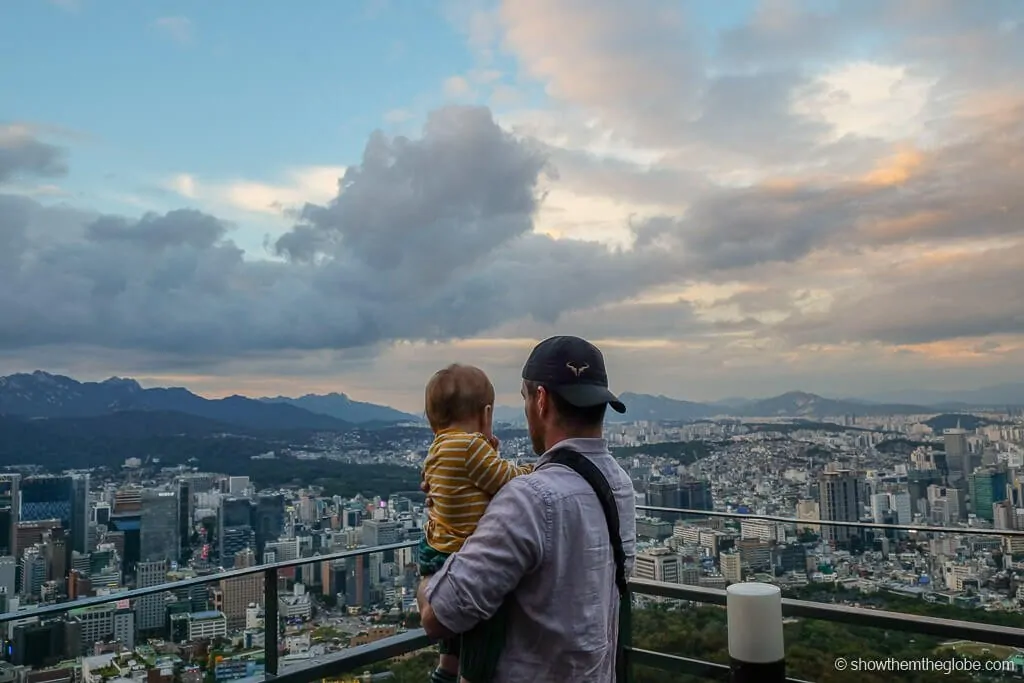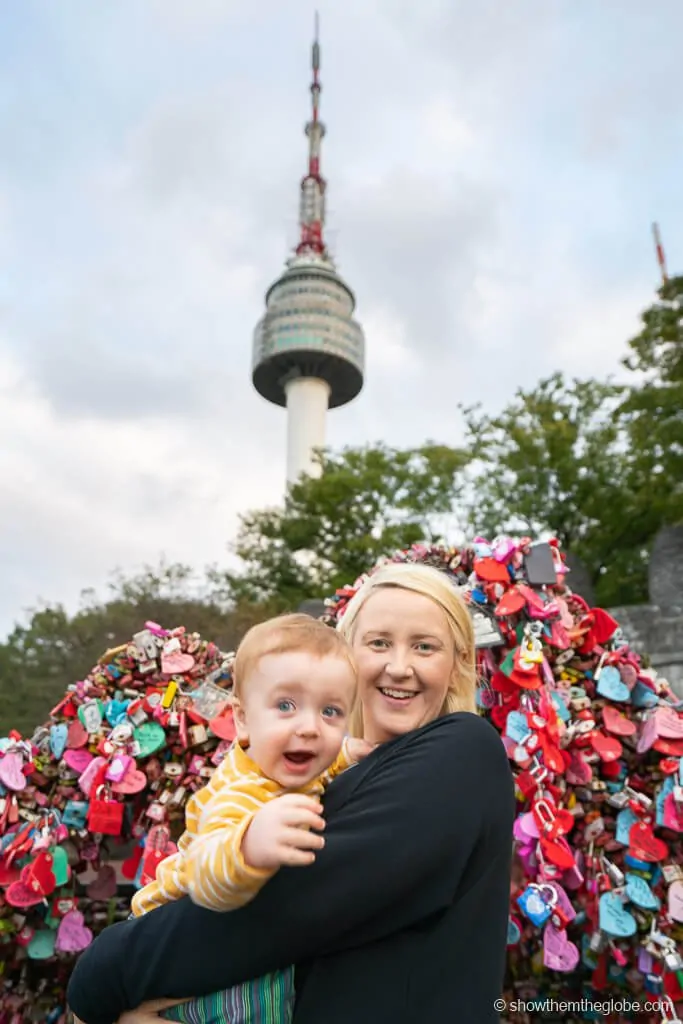 10 | Changdeokgung Palace Secret Garden
Changdeokgung Palace, a UNESCO World Heritage site, is home to the Secret Garden, once a haven of relaxation for the Royal Family dating as far back as the 15th Century.
The lush gardens are wonderful to explore and are home to a lotus pond as well as pavilions and pagodas.
Best things to do in Seoul with kids tip: the Secret Garden is only accessible by joining a tour and requires a separate ticket in addition to the palace entrance.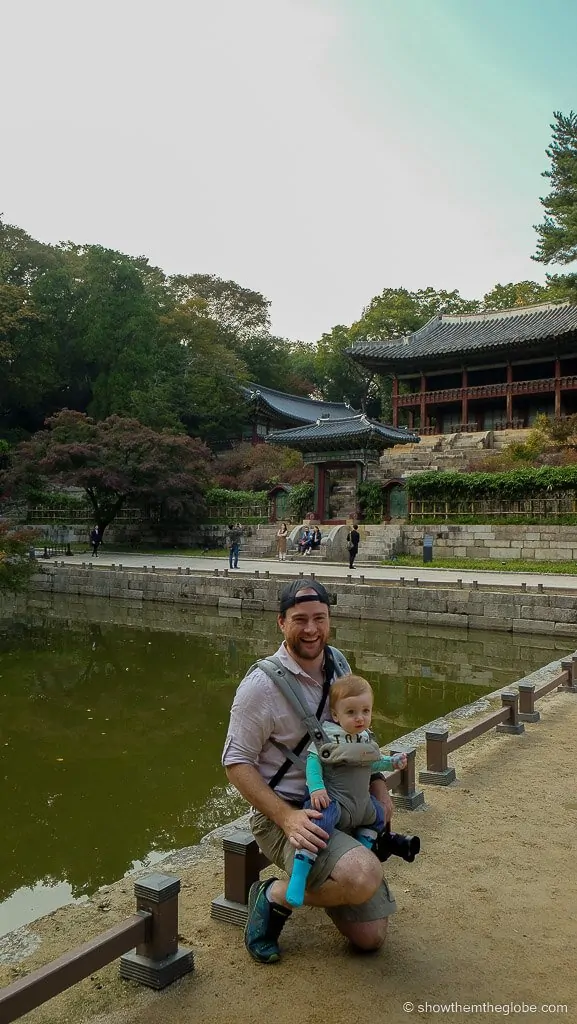 11 | Seoul Children's Grand Park
With a playground, botanical garden, children's museum and amusement rides, the Seoul Children's Park is an awesome public park for a family adventure.
The park is at its prettiest in the summer months and the creative and interactive Children's Museum is a real treat for younger kids.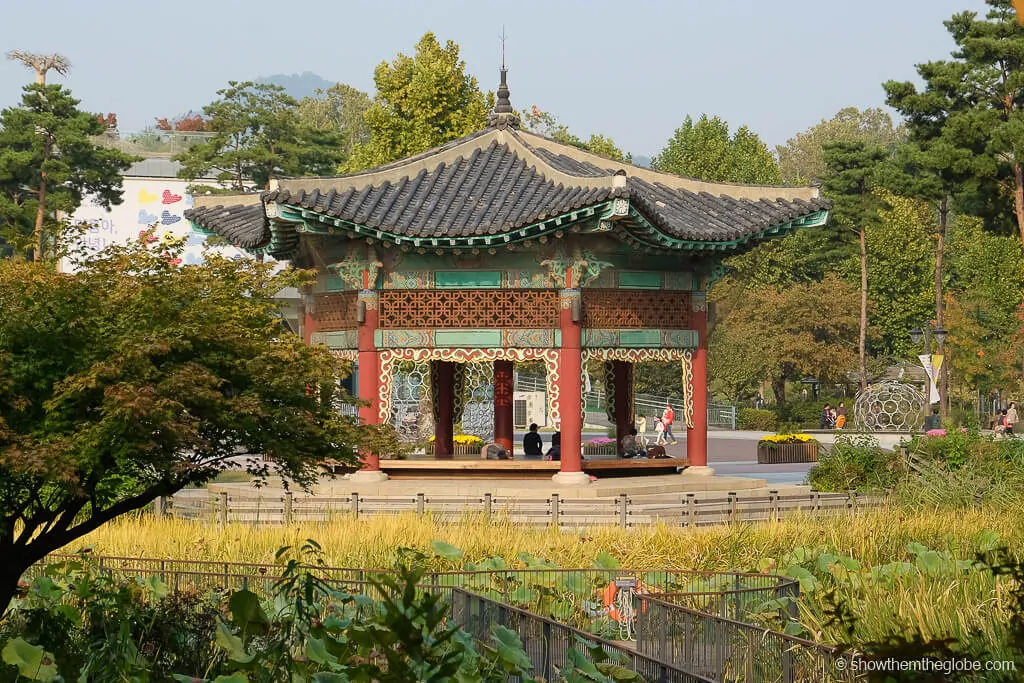 12 | Theme Parks
With a choice between two of the biggest theme parks in South Korea: Everland and Lotte World, a visit to a theme park is a must do. Both parks are a great family-friendly option and can be accessed relatively easily from Seoul.
Book your daytrip to Everland now
We opted for the more toddler-friendly Lotte World which consists of Lotte World Adventure, the biggest indoor amusement park in the world, and the outdoor Magic Island which is located on a man-made lake. Height restrictions mean the rides are limited but under 3s receive free admission.
Book your Lotte World ticket now
Make sure to purchase Seoul theme park tickets in advance as they are usually discounted and many offer shuttle buses to transport visitors from the city.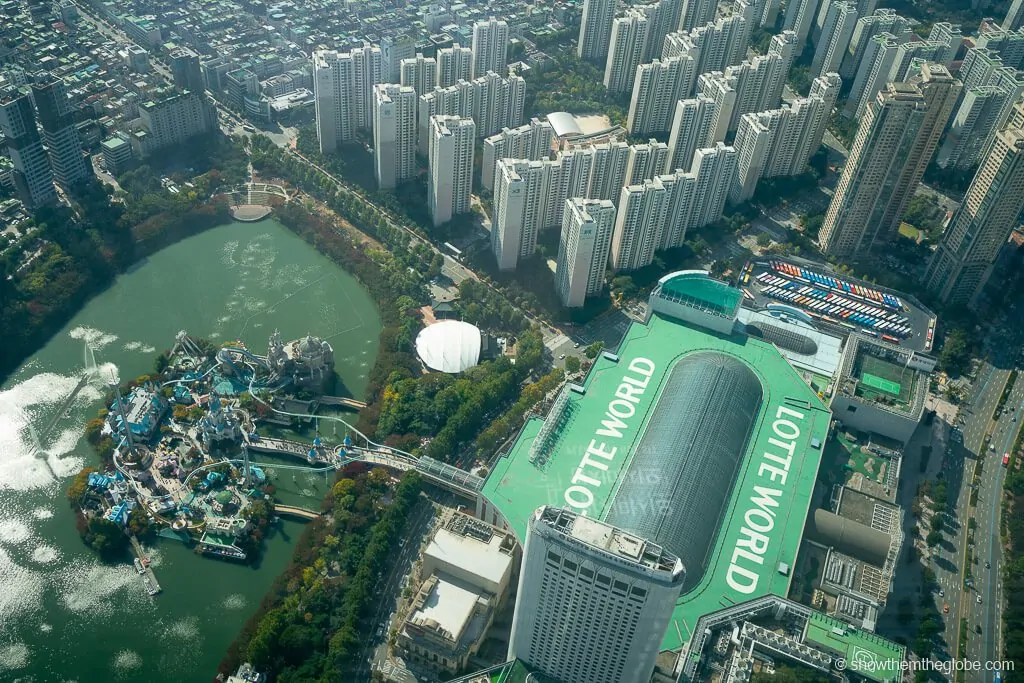 13 | Cheonggyecheon Plaza and Stream
The Cheonggyecheon Stream runs through North Seoul and its walkway is an oasis of calm compared to the busy city streets. The stream runs for miles and passes under 22 bridges.
Our favourite spot was the umbrella covered plaza close to City Hall and J loved watching the fish and ducks along the way! Spring Tower, the Candlelight Fountain and the stepping stone are also highlights of a walk along the stream.
Best things to do in Seoul with kids tip: be sure to venture to the nearby Seoul City Hall where the vertical gardens and quirky exhibitions are a treat. There's also an I Seoul U sign in the adjoining Seoul Plaza which makes for great pics.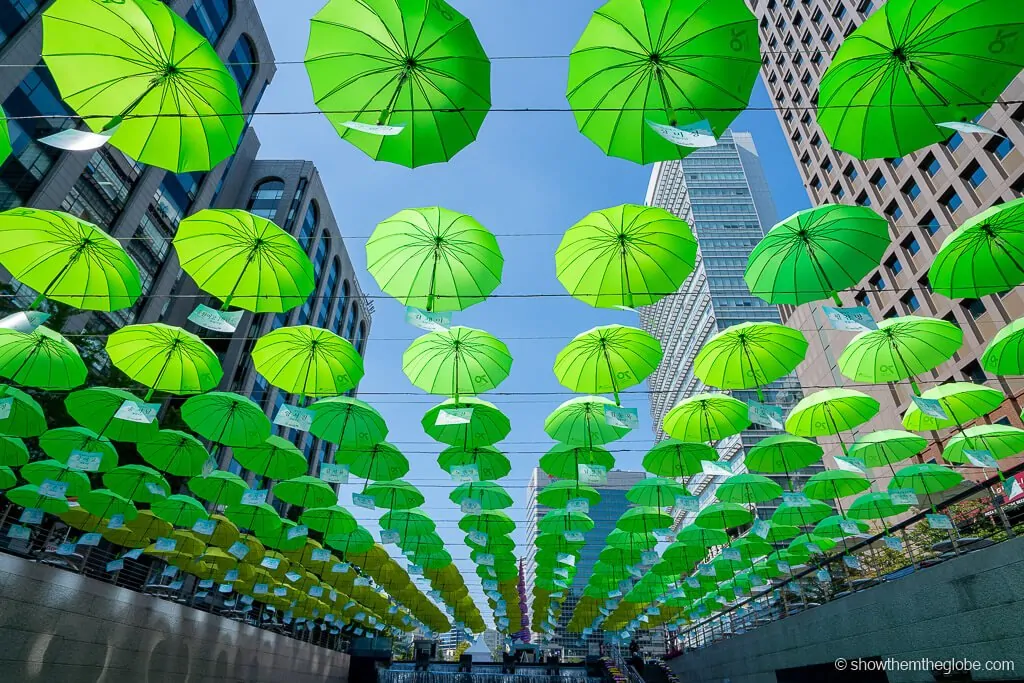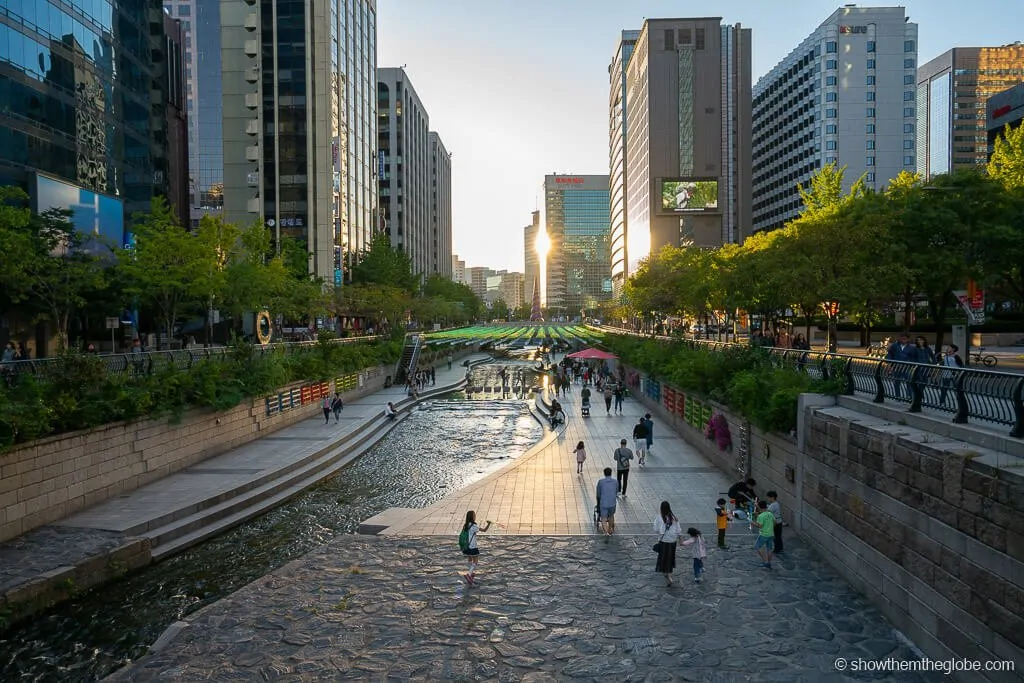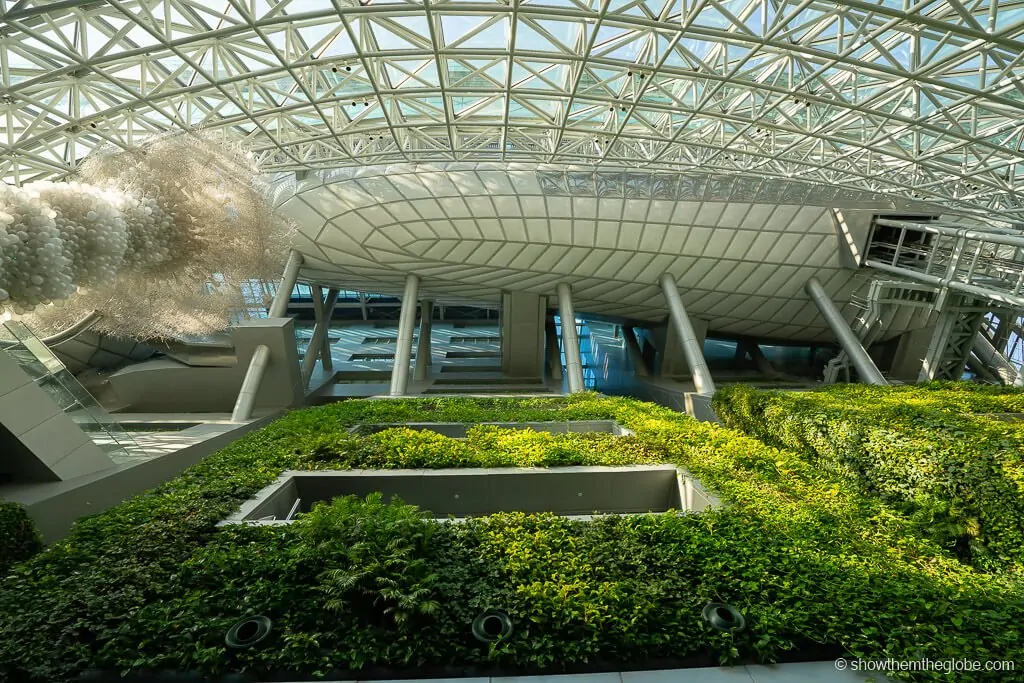 14 | Visit a Themed Café
Seoul sure knows how to do a themed cafe! Thanks Nature has two sheep manning its patio, Hello Kitty is an institution and the Princess Diary Cafe indulges every princess fantasy a little one might possess!
Then there's Ddo-Ong, a poo themed paradise, where food is served in miniature toilets (we visited Taipei's poo themed equivalent and it certainly gave us a giggle!)
15 | Alive Museum /Trick Eye
The Alive Museum in Insadong, a 4D museum full of optical illusions and peculiar art, is a really fun place to visit with kids in Seoul. The museum is totally interactive and there are lots of awesome photo opportunities.
It's Dynamic Maze, which requires the completion of a series of challenges to find the exit, is great for older kids – check prices here!
Click here to book Alive Museum tickets
The Trick Eye Museum, a 3D optical illusion art exhibit, is another great option. Visitors download an augmented reality app which brings the paintings to life. As well as the paintings, there is an Ice Museum, a Carnival Street and a Mirror Maze to explore – check prices here!
Click here to book Trick Eye tickets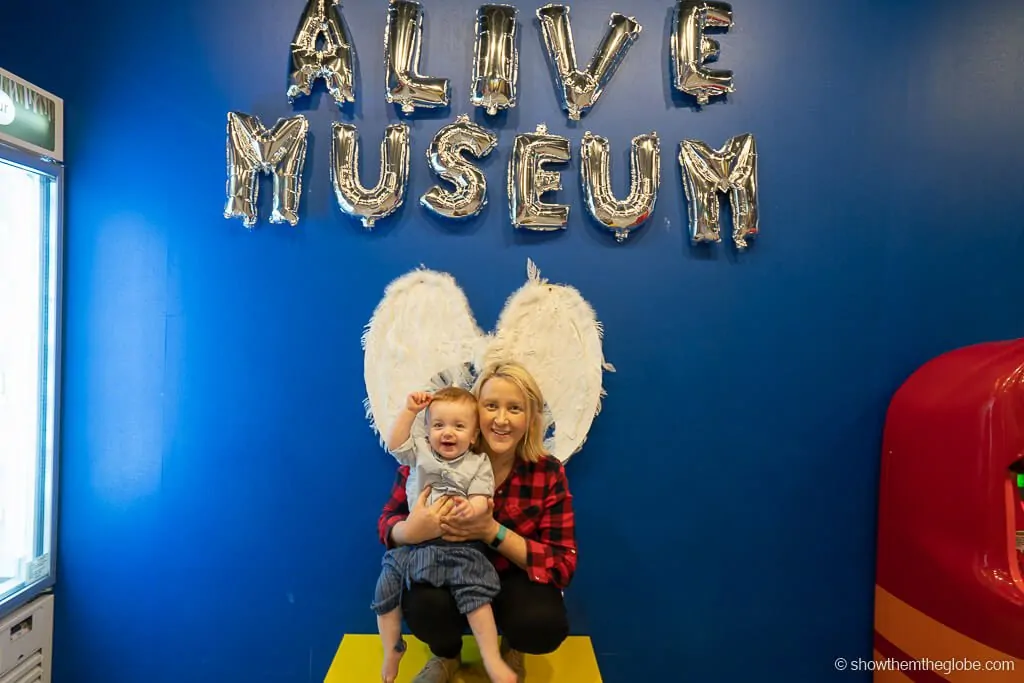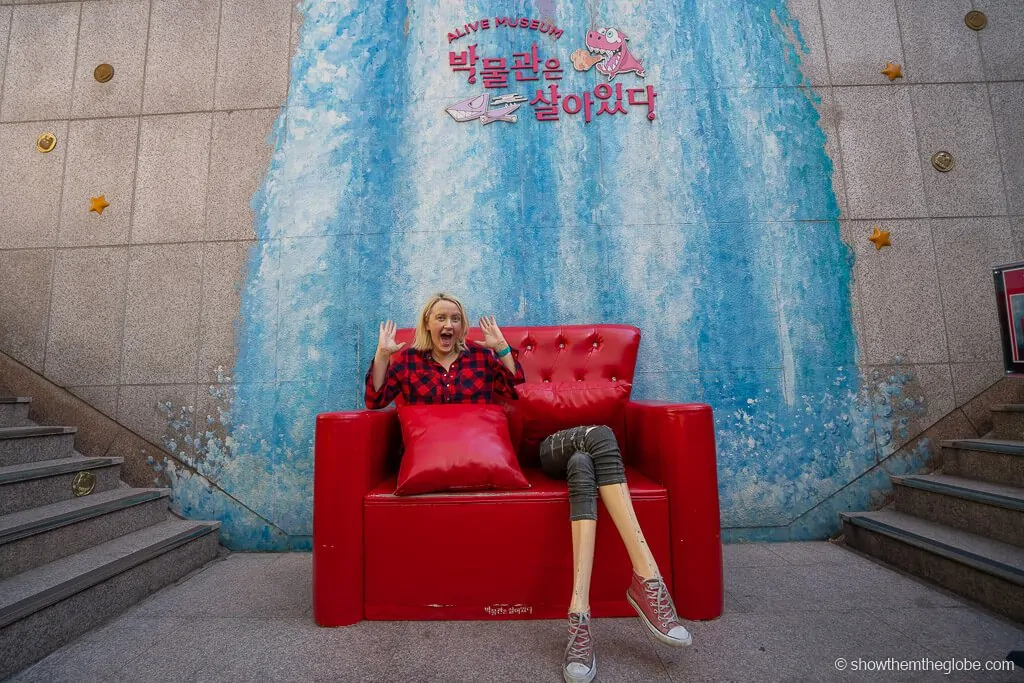 For more on South Korea with kids
Check out our Korea with kids itinerary and our guide to the best things to do in Jeju!