Having recently completed an amazing Korea with kids itinerary we wanted to share our favourite sights and experiences from travelling in South Korea as a family. South Korea has many incredible things to do from the historical and cultural to the quirky and fun. When visiting with kids, we recommend focusing on Seoul and Jeju, both of which have an abundance of family-friendly activities. For those of you planning your own South Korea with kids itinerary, we wanted to share our South Korea travel guide including our recommended South Korea with kids itinerary!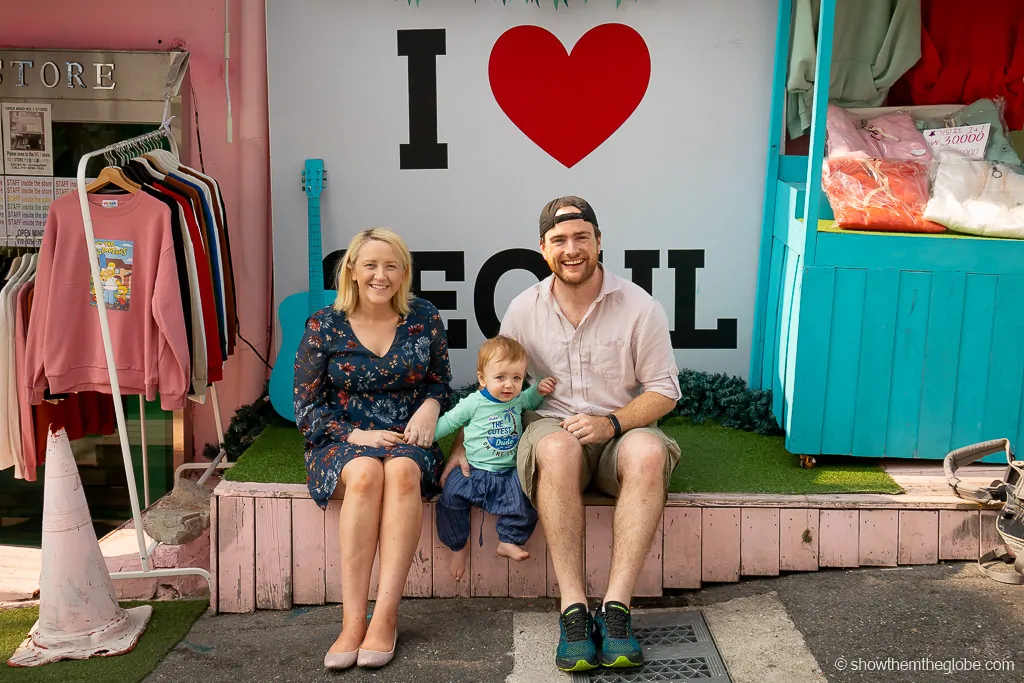 Korea with Kids Itinerary and Route
We used a mixture of subway, walking and car to navigate our Korea with kids itinerary. We rented a car with Rentalcars.com to explore Korea and it was really easy and fun. Seoul is easy to navigate by walking and using the subway while Jeju is best explored by renting a car – check rental car prices here!
If you are planning on travelling around Korea by train then a Korea Rail Pass is a great option. It's only available to those with passports issued outside Korea and children under 5 travel free – check Korea Rail Pass prices here!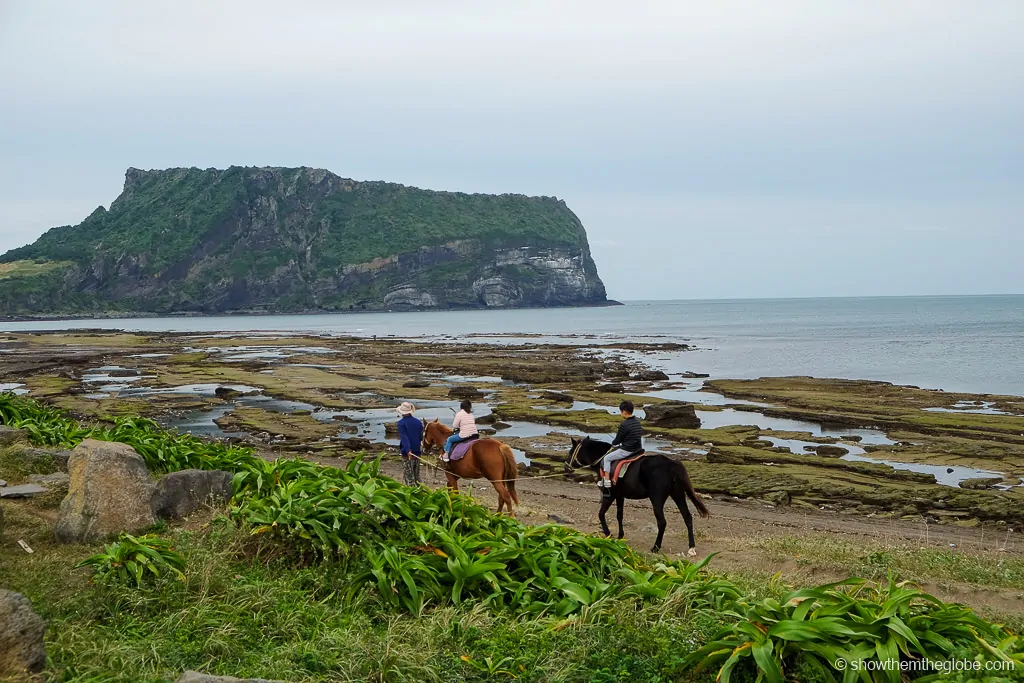 Korea with Kids Route
Seoul and Jeju are the two most popular stops in South Korea and most visitors spend at least a week between the two. We travelled all around South Korea and consider these the highlights while travelling in Korea with kids.
The Route: Seoul – Jeju – Seoul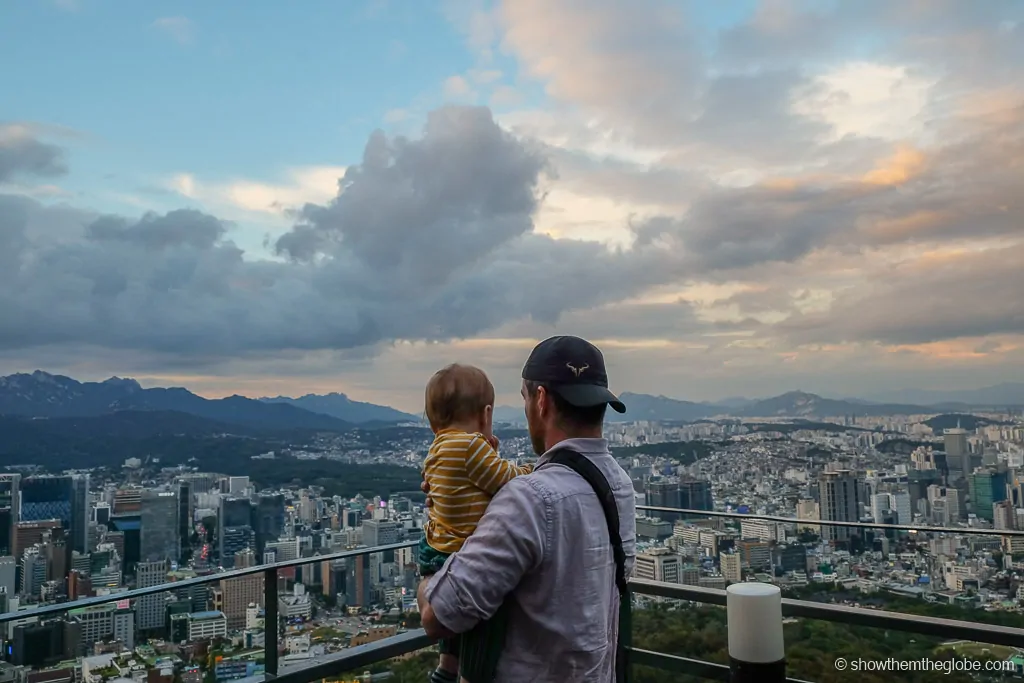 If you have longer to spend in Korea, we recommend including some nights in either Gyeongiu or Busan to extend the itinerary
Extended Route: Seoul – Jeju – Gyeongju/Busan – Seoul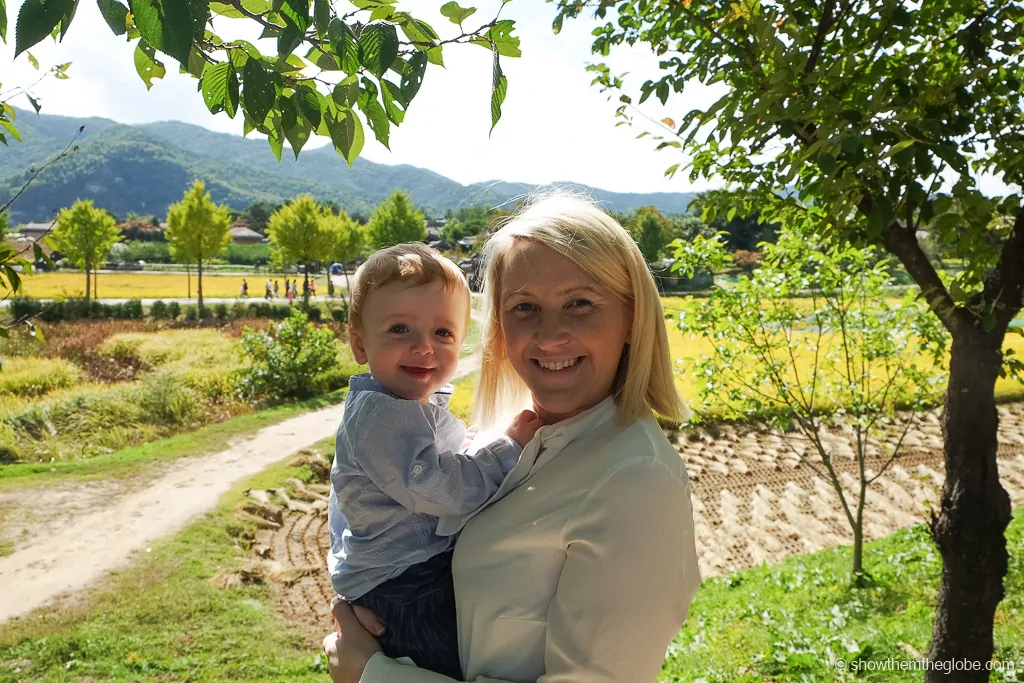 How long to spend in Korea with kids
Depending on how long you have, we recommend at least 8 nights in South Korea with kids. We spent a month travelling through the country and, if you have the time, 6 nights in Seoul and 4 nights in Jeju is ideal. If you have longer to spend in South Korea, Gyeongju or Busan are excellent additions to a Korea with kids itinerary. We visited both and had a lot of fun in both cities.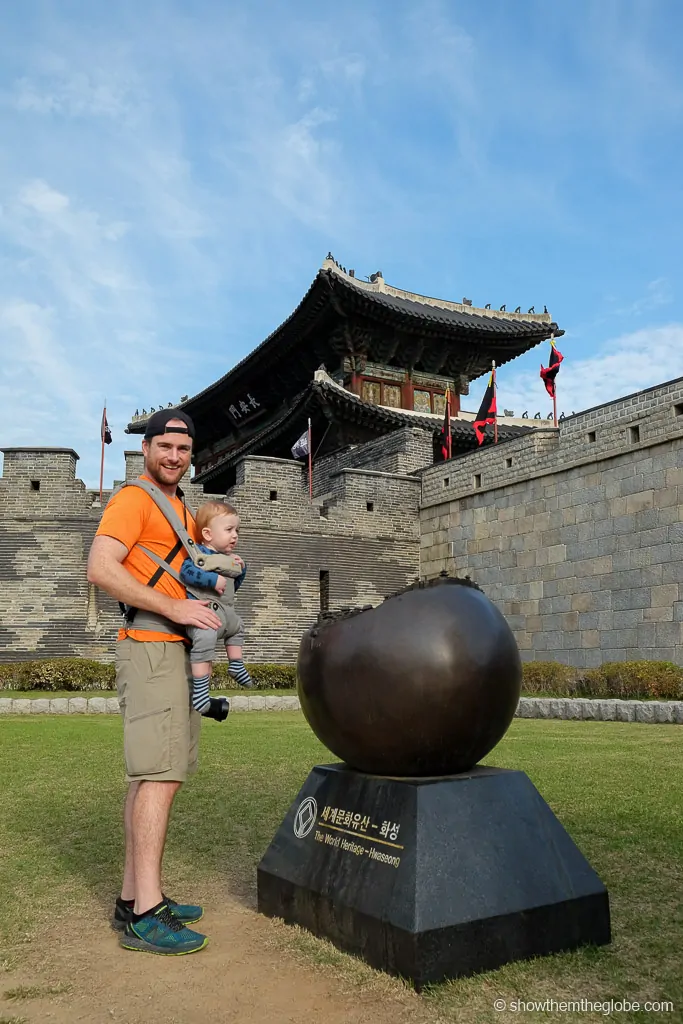 Best months to visit Korea with kids
When visiting South Korea with kids it is best to plan your visit to coincide with the more moderate weather months! The warm and sunny days that often occur from March to June and September to November make these months a great time to visit South. During the summer, temperatures are consistently high and South Korea enters typhoon season. In winter it's icy cold.
South Korea with kids itinerary tip: We visited South Korea at the beginning of October and it was warm and sunny on most days. Typhoon Kong-Rey was in full swing during our trip but luckily we didn't have any serious concerns or disruptions.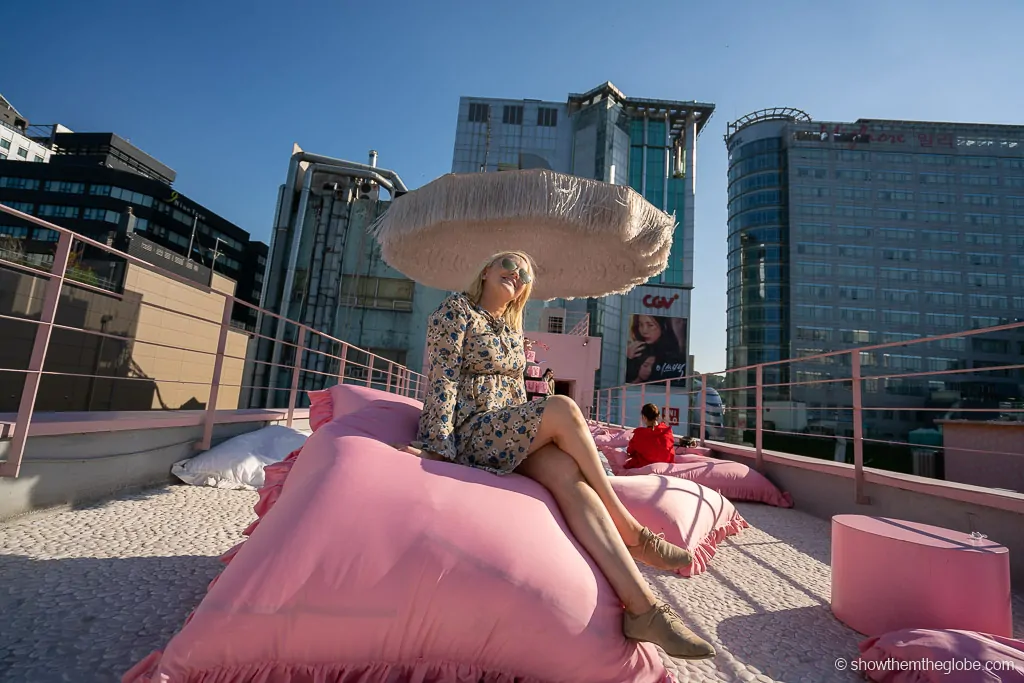 Sim Card and Internet
As with most countries, having mobile data during a trip is invaluable for navigation and research (as well as providing some emergency entertainment to amuse the kids when required!). There are lots of options on arrival at Seoul and Jeju airports – we reserved a KT Olleh 4G sim at Seoul airport through Klook who offer a slightly discounted rate on the airport price – reserve your Seoul sim card here!
Click here to reserve a SIM card in Seoul!
If you have more than one device and don't want to get separate sim cards you should consider renting a 4G Wifi portable hotspot. They're great if you need to connect more than just your phone (like the kids tablets) while on the go– click here to order now!
If you are flying straight to Jeju first, you can reserve a sim to pick up on arrival at the airport – reserve your Jeju sim card here!
Click here to reserve a SIM card in Jeju!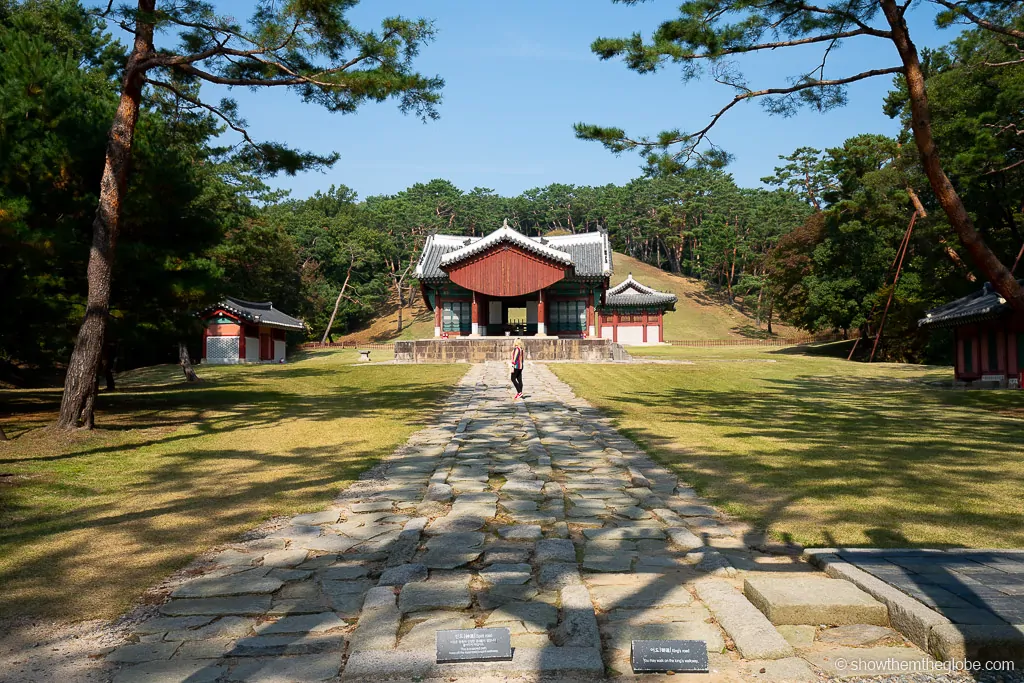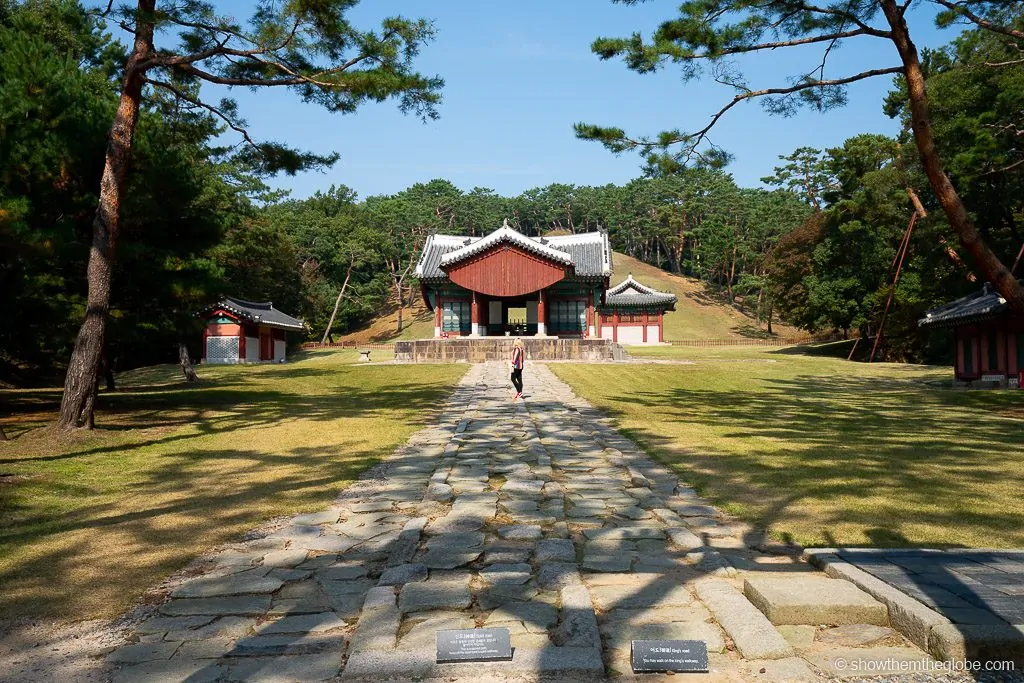 Discover Seoul Pass
One of the best ways to save money when visiting Seoul is with the Discover Seoul Pass. The pass gives holders free entrance to a selection of 42 tourist attractions in Seoul. There are three passes available, 24, 48 and 72 hours depending on how long you have in the city.
The pass works for most of the best places to visit in Seoul, including Lotte Park, N Seoul Tower, COEX Aquarium, Alive museum and more – check prices now!
Buy your Discover Seoul Pass now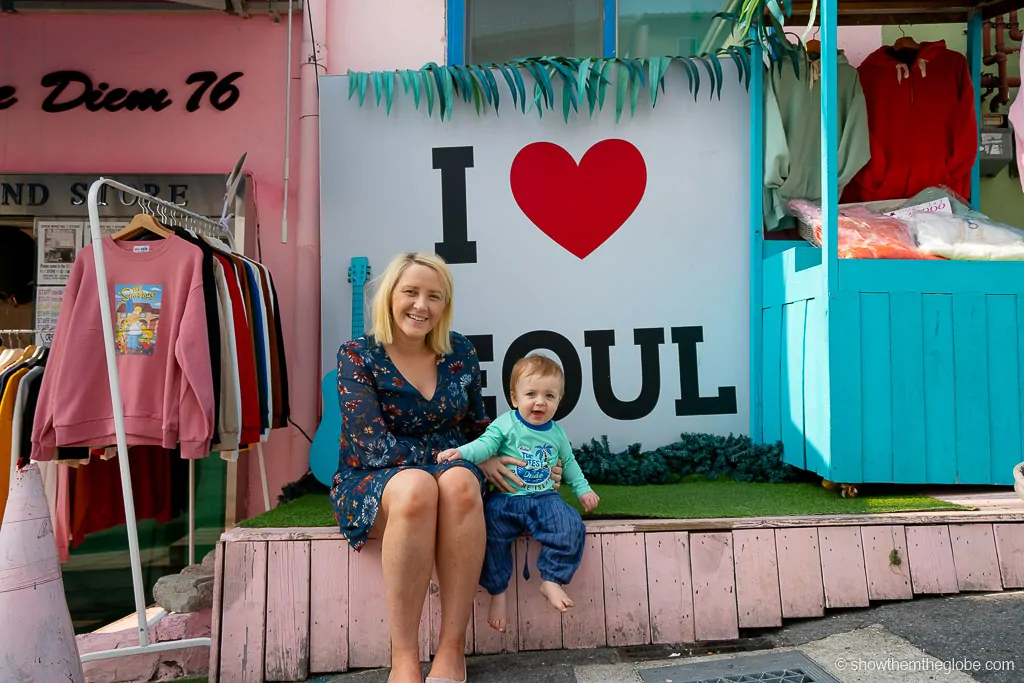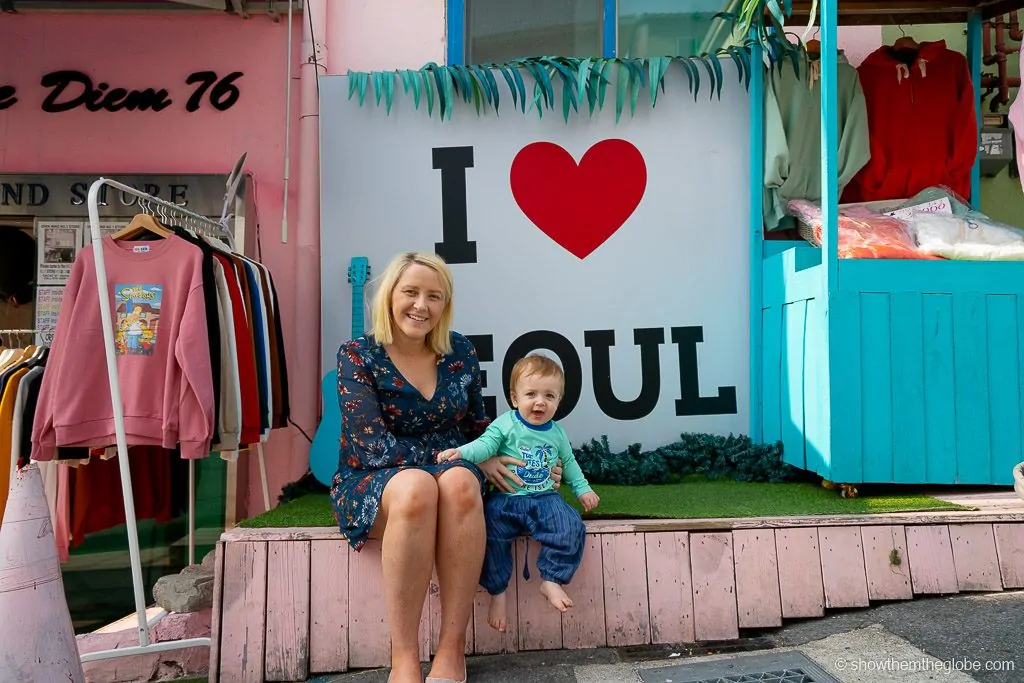 Daily South Korea with Kids Itinerary
We've outlined our day-to-day South Korea with kids itinerary as a starting point for planning your own South Korea experience.
Days 1 to 6: Seoul
Seoul, with its abundance of things to see and do, was a big hit in our South Korea itinerary. After arriving at Seoul's Incheon Airport we recommend spending the next six nights in Seoul. This will allow you to explore the main sights, manage kids jetlag and enjoy everything that this fun and the chaotic city has to offer.
Depending on how long you are spending in Seoul, it's easy to mix and match and cut days out of our daily itinerary which we've detailed below.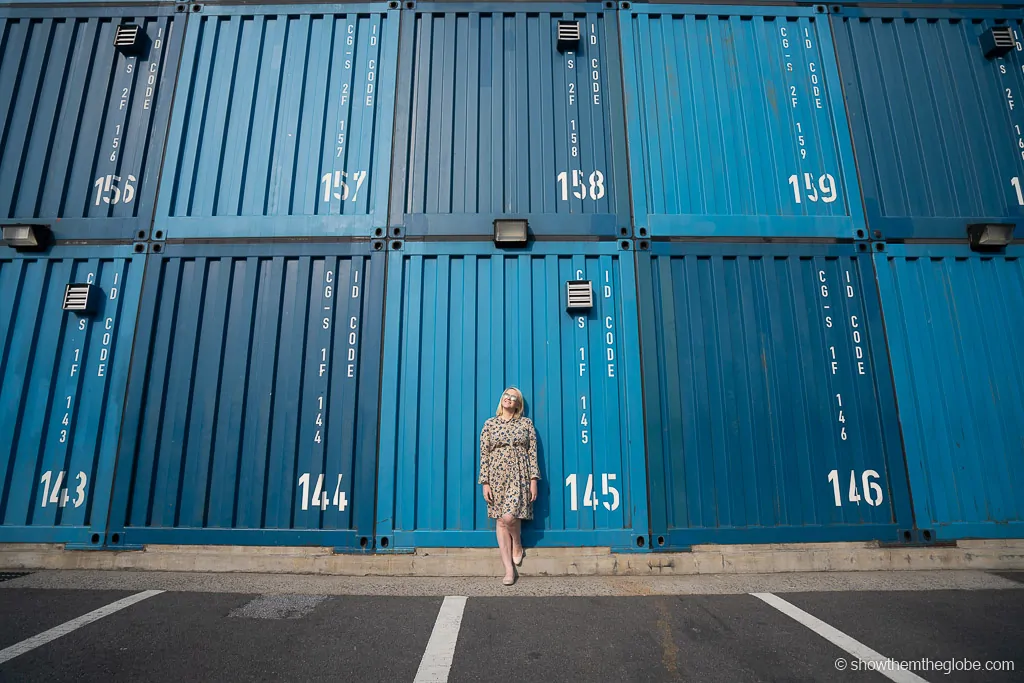 Where to Stay in Seoul
To make the most of your time in Seoul we recommend staying as central as possible. Our favourite areas to use as a base are Namdaemun, Myeong-dong and Insa-dong.
Click here for Seoul hotel prices
Days 1 to 6: Explore Seoul
Seoul is an awesome choice for family travel and there are lots of things to do in Seoul with kids. It's colourful and chaotic and modern and historic seamlessly mix. There's plenty to squeeze into 6 days in Seoul and, if you have more time to spend in South Korea, it's easy to spend more time in Seoul.
Getting from Seoul Incheon: with a journey time of 43 minutes, the AREX train is the fastest way to get from Incheon Airport to Seoul Station. It's also easy to grab a cab at the airport. A train ticket is less than US$10 compared to around US$70 for a taxi – check prices now!
Click here to purchase airport train tickets
Korea with kids itinerary tip: Seoul is kid friendly with children under the age of 6 typically granted free admission to the major attractions. Children under 6 also tavel for free on the Seoul subway. Concessions are sometimes available for older children, usually up to the age of 12.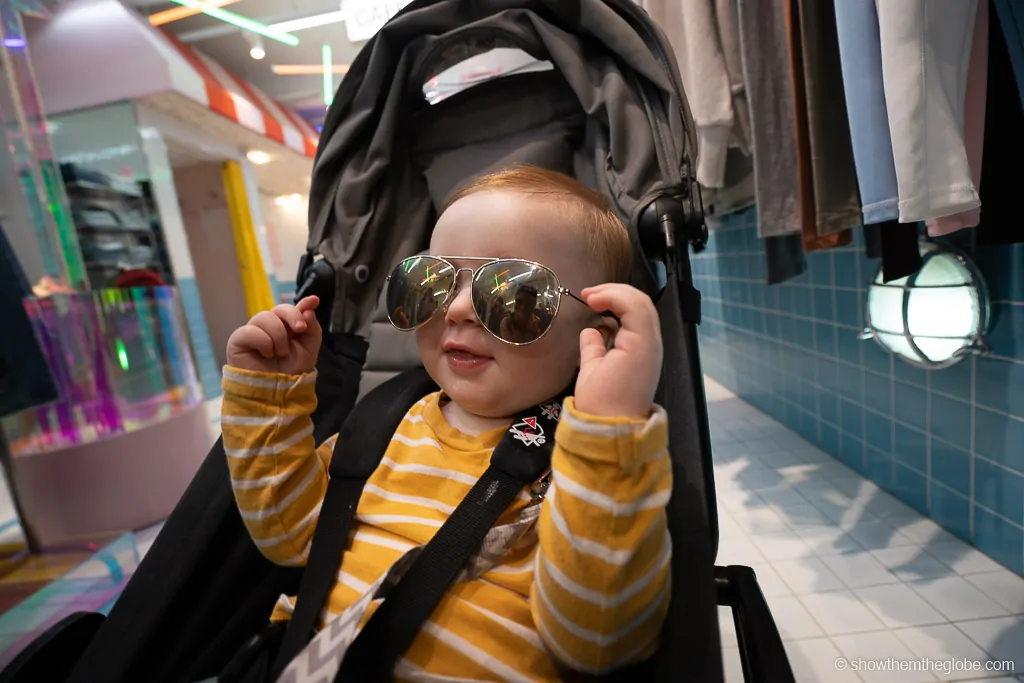 Day 1: Palaces and Hanboks
A visit to one of the five Grand Palaces of Seoul while dressed in a colourful Hanbok is a Seoul must do. In fact, the Seoul streets are full of Koreans and tourists visiting its palaces dressed in hanboks! Kids will love the colourful traditional Korean dress and it makes for a fun day in Seoul. As a bonus, entry to the palaces is free when one is dressed in a Hanbok.
Korea with kids itinerary tip: we used the Klook app to reserve our hanboks and saved almost 50% on the in-store price. There are lots of shops offering hanbok rental in Seoul but we highly recommend this Hanbok rental store located in Gyeongbokgung. The location is perfect as it's close to the Bukchon Hanok Village and the Gyeongbokgung and Changdeokgung Palaces. The selection of clothes is extensive – we were able to find awesome hanboks for men, women and kids.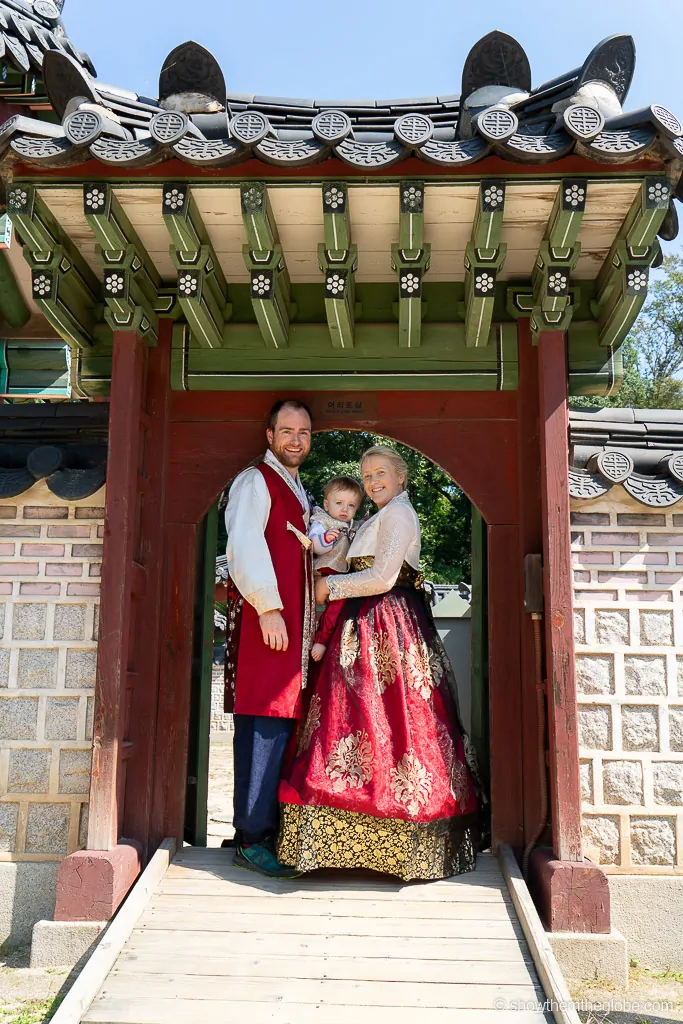 After renting the Hanboks, Gyeongbokgung Palace is the first stop of the day. It is the biggest of the five grand palaces and was the main royal palace of the Joseon dynasty. Make sure to catch the changing of the guards' ceremony which takes place at 10am and 2pm at Gwanghwamun, the main gate of Gyeongbokgung.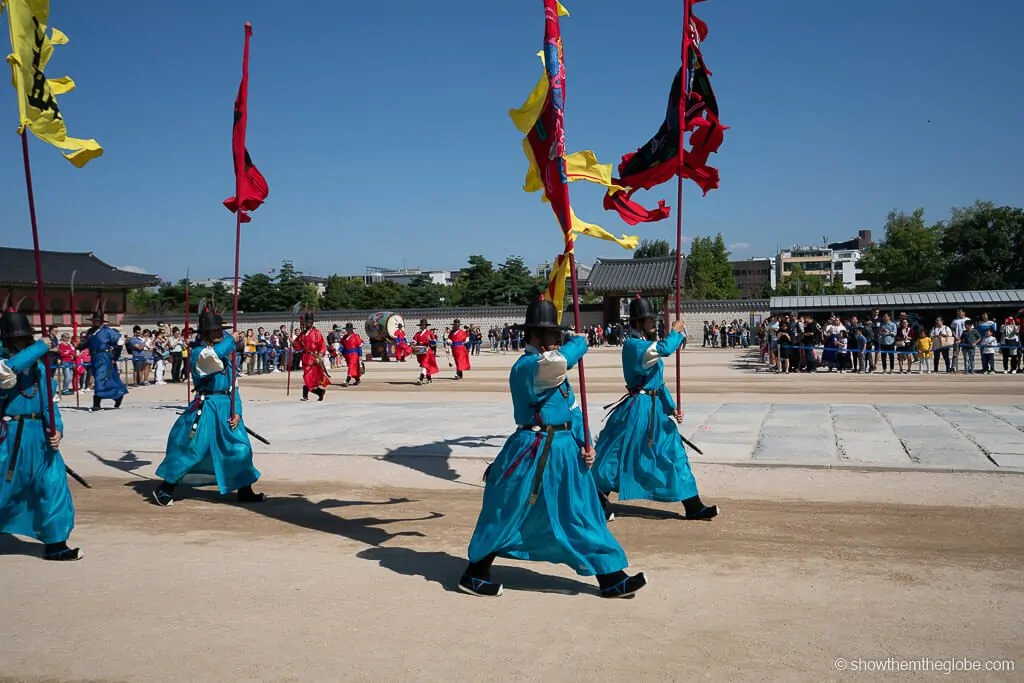 From Gyeongbokgung Palace walk to the Bukchon Hanok Village, a traditional Korean village in the heart of Seoul. Its narrow and winding streets are filled with hanoks, the traditional Korean houses which date back to the Joseon Dynasty.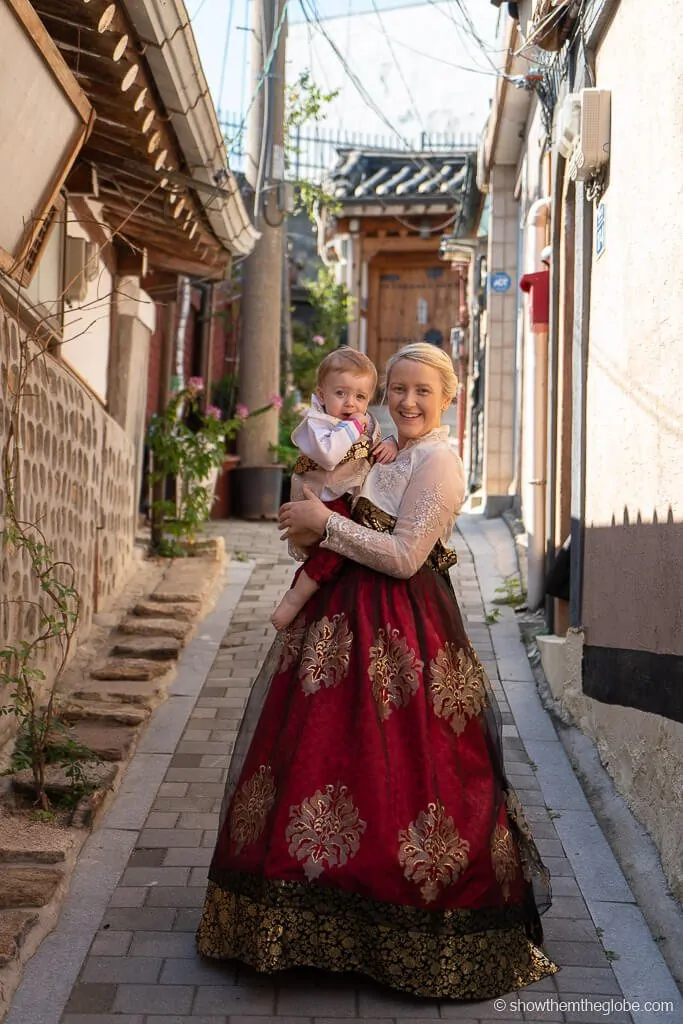 Finish the Hanbok sightseeing with a stop at the Changdeokgung Palace, a UNESCO World Heritage site, and its Secret Garden. Tickets to the Secret Garden need to be purchased separately. Once a haven of relaxation for the Royal Family dating, the lush gardens are wonderful to explore and are home to a lotus pond as well as pavilions and pagodas.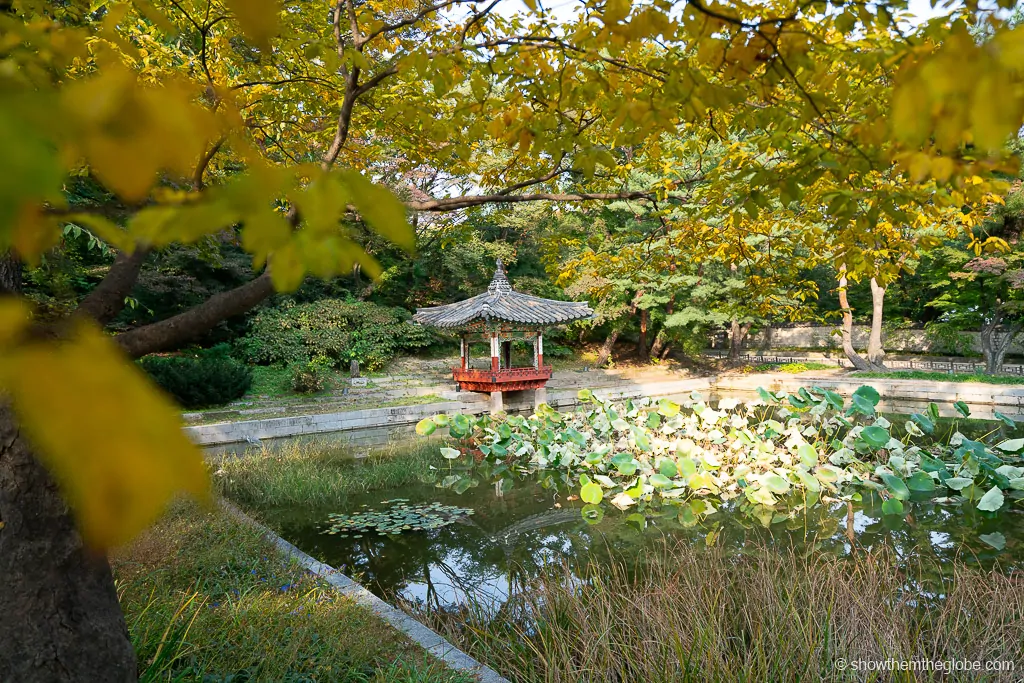 Korea with kids itinerary tip: if your first day in Seoul falls on a Monday or Tuesday then switch this day to later in the trip.The Gyeongbokgung Palace is closed on Tuesdays while most of the other historical sites close on Monday.
After returning the hanboks, stop by the ever-popular Insadong neigbourhood for a glimpse into the traditional culture of Korea. The streets are lined with souvenir shops, food stalls and wooden tea houses. Insagdong's Alive Museum is a really fun place to visit with kids. It's full of optical illusions and peculiar art. It is totally interactive and the Dynamic Maze is a fantastic challenge for older kids – check prices here!
Click here to book Alive Museum tickets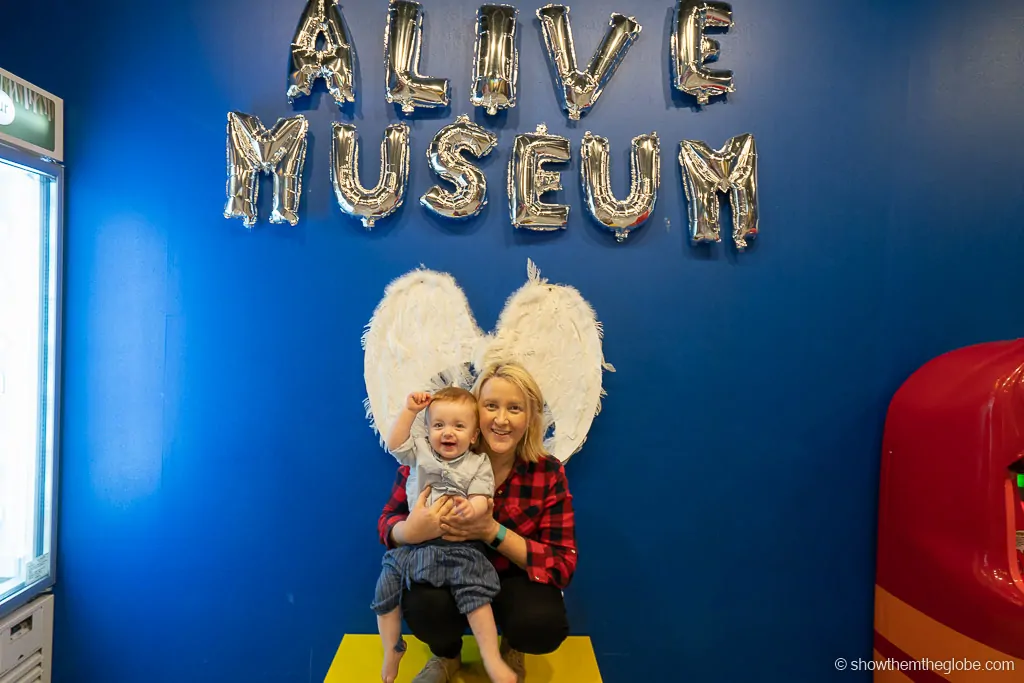 Day 2: Theme Park
South Korea has some incredible theme parks and a visit to a theme park is a must-do when visiting Korea with kids. Seoul is home to two of the best in South Korea: Everland, and Lotte World. All three parks are a great family-friendly option and can be accessed relatively easily from Seoul. We opted for the more toddler-friendly Lotte World which consists of Lotte World Adventure, the biggest indoor amusement park in the world, and the outdoor Magic Island which is located on a man-made lake.
Book your daytrip to Everland now
Make sure to purchase Seoul theme park tickets in advance as they are usually discounted and many offer shuttle buses to transport visitors from the city.
Book your Lotte World ticket now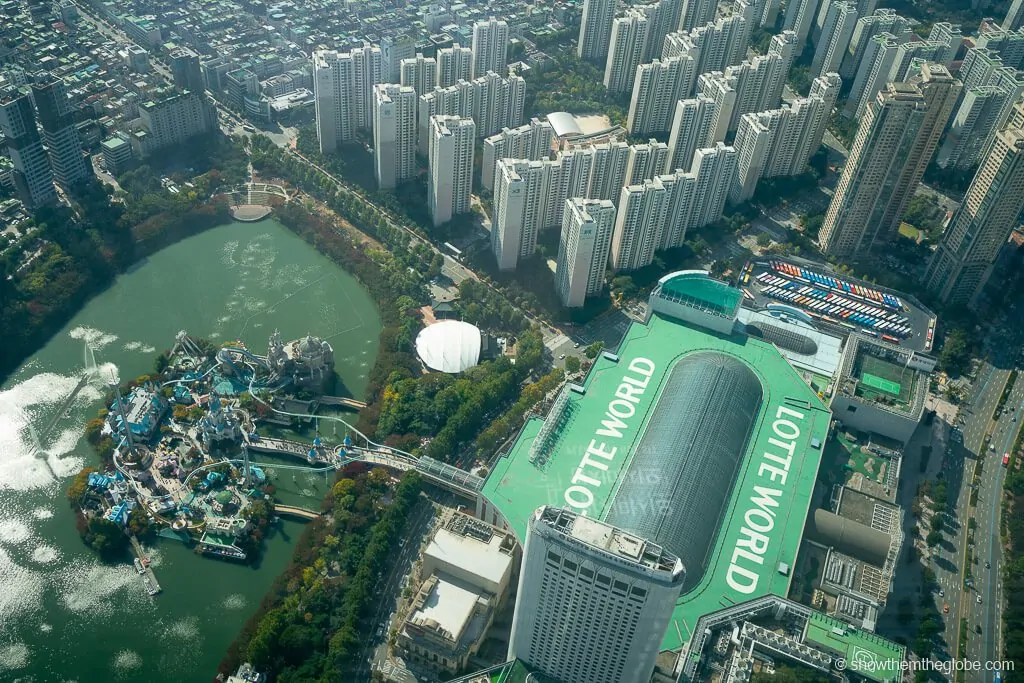 Day 3: Myeongdong and N Seoul Tower
Start the day with a stroll along the arty walkway which runs alongside the Cheonggyecheon Stream. The stream runs for miles through North Seoul and the walkway passes under 22 bridges. Our favourite spot was the umbrella covered plaza close to City Hall and J loved watching the fish and ducks along the way! Spring Tower, the Candlelight Fountain and the stepping stone are also highlights of the walk.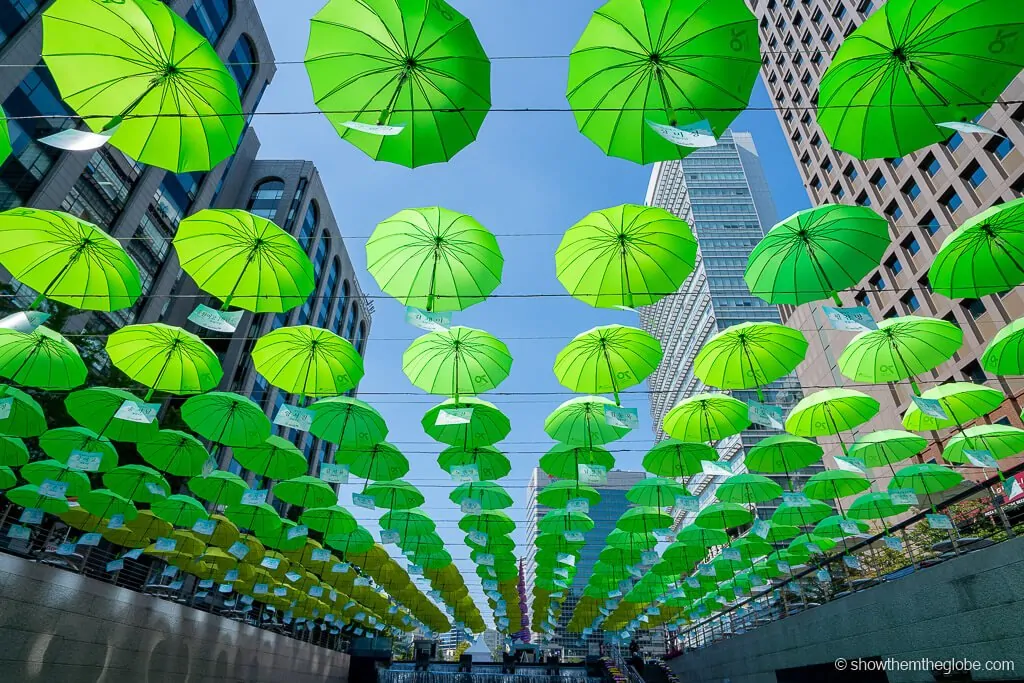 Aim to exit the stream walk close to Seoul City Hall and make a quick visit to its vertical gardens before grabbing a quick pic at the I Seoul U sign in the adjoining Seoul Plaza.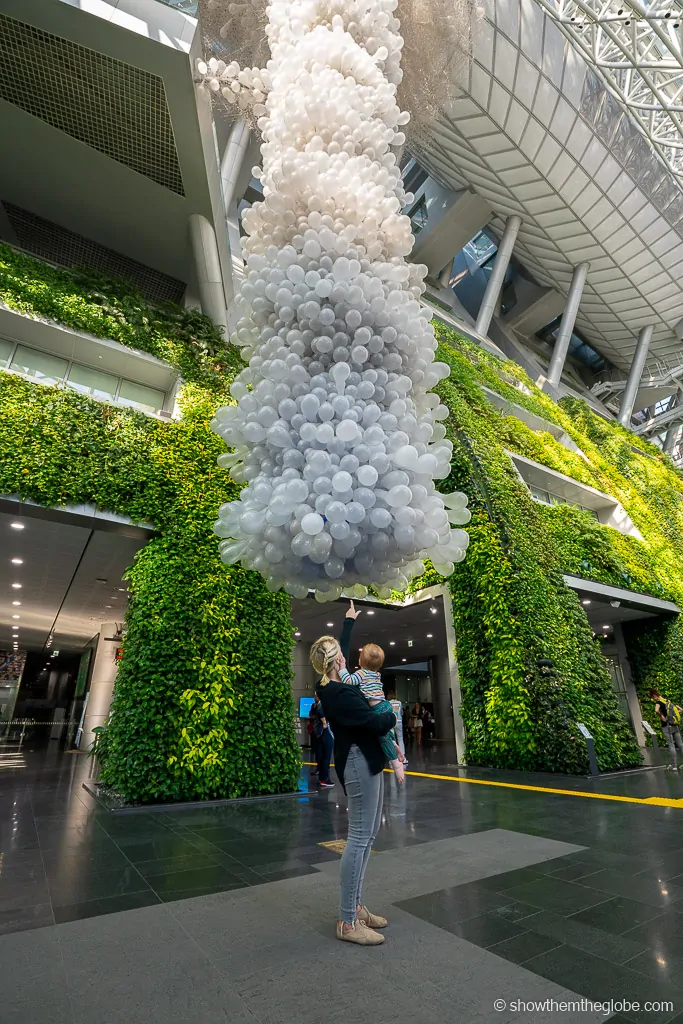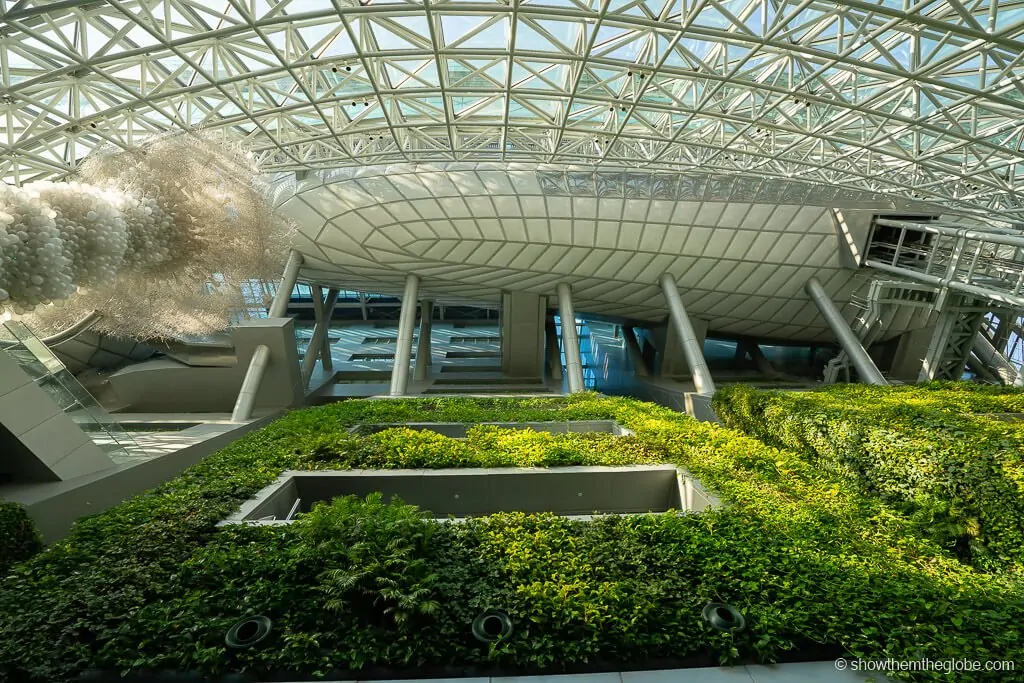 Next is Myeongdong, a chaotic and fun neighbourhood filled with quirky shops and great food options. Kids will love the 2 foot long ice creams, the quirky animal themed cafes, the fun shops and the street food stall along the way. A pic with the giant brown teddy bear at Line Friends is a must as is a wander through Daiso, where everything is priced low.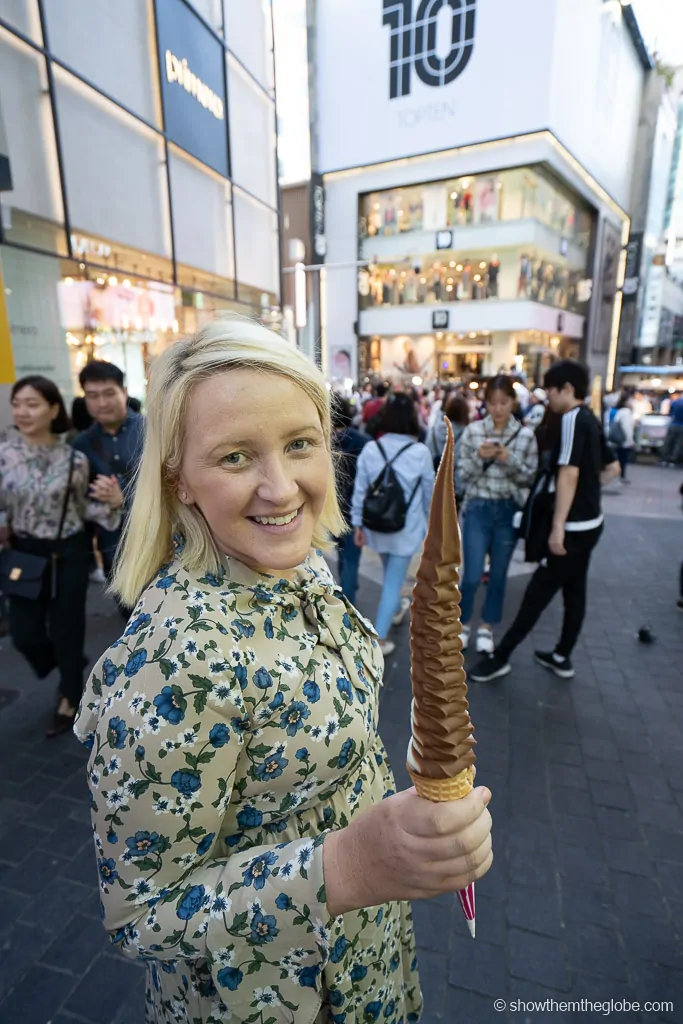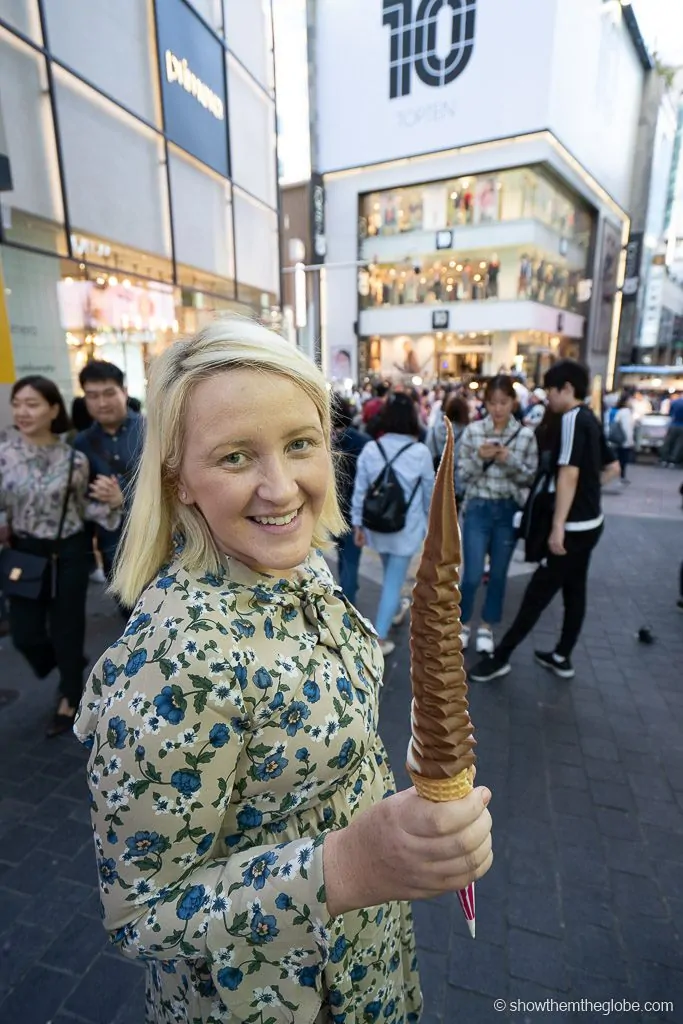 Lunch options are plenty but Chimaek, Seoul's fried chicken and beer staple, is an inevitable winner! We loved BHC in Myeongdong and returned many times to indulge!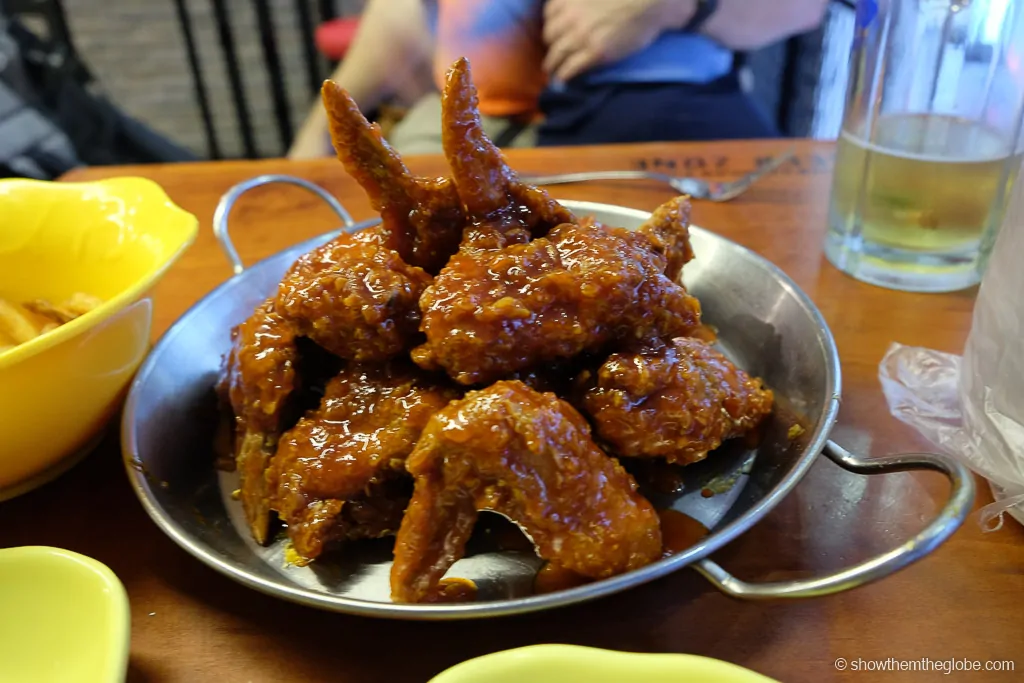 It's a short jaunt from Myeongdong to the cable car which climbs to the iconic N Seoul Tower atop Namsam Mountain. The N Seoul Tower is one of the most recognisable sights in Seoul and the observatory has fantastic panoramic views over Seoul. There's also a love locks tree and a Hello Kitty house to visit.
Korea for kids itinerary tip: If you plan to visit the N Seoul Tower itself, make sure to book you tickets in advance on Klook which has a decent discount on most entry tickets, including N Seoul Tower – check prices here!
Click here for N Seoul Tower tickets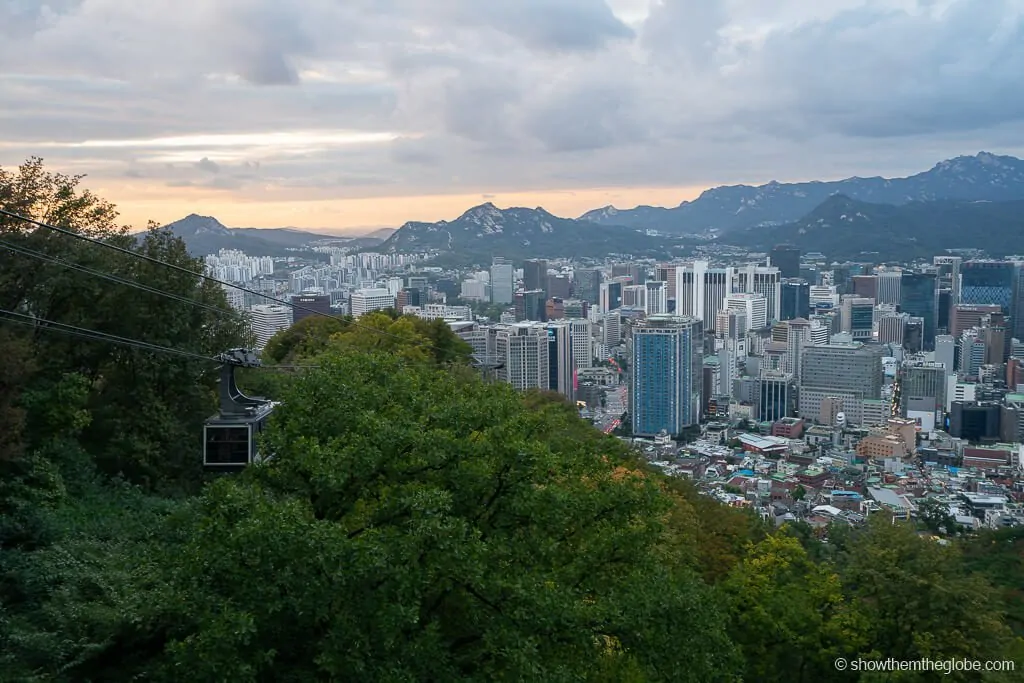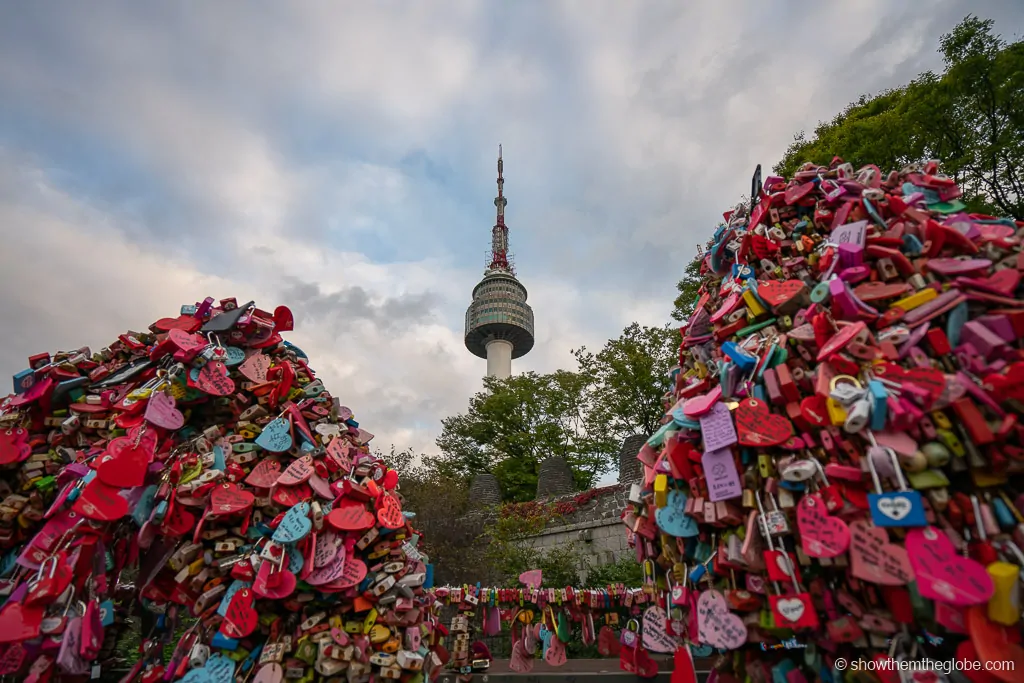 Finish up the day with a visit to the Namdaemun Market which is the largest traditional Market in Korea. Wander among the stalls laden with clothes, luggage, accessories, stationery and toys. The food stalls are mouthwateringly good and the Hotteok Stall at Gate 2 is a must visit. The vegetable noodle stuffed pancakes are so popular that the owner is rumoured to be a millionaire.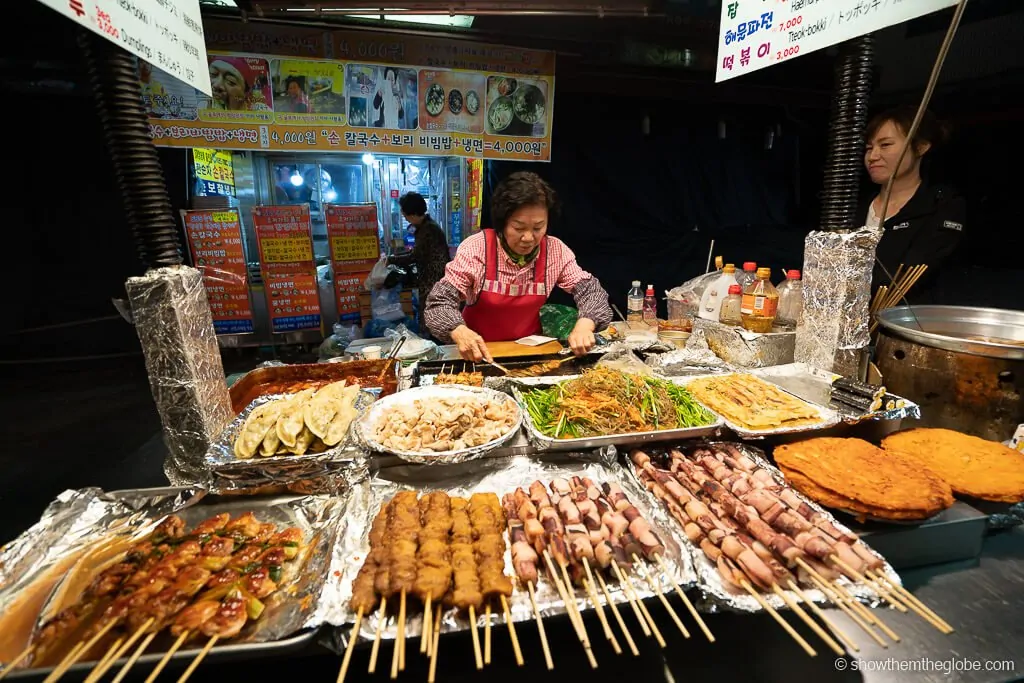 Day 4: Nami Island
Located about 90 minutes from Seoul, the picturesque Nami Island is famous for its tree-lined avenues and riverside walks. It's also the filming location of countless Korean dramas including Winter Sonata. If you visit during April, the cherry blossoms typically come into bloom at the beginning of the month. This is the most popular time to visit Nami Island but it is beautiful in all seasons. Nami Island is accessible by public transport (Gyeongchun Line subway or ITX-Cheongchun and get off at Gapyeong Station and walk/taxi to Nami Island) but the easiest way to visit is by taking a tour from Seoul – check prices here!
Book your Nami Island day tour now
Many visitors to Nami island also stop by Peite France, a lovely quaint little village dotted with colourful buildings, and the beautiful gardens at the Garden of Morning Calm. This tour includes all three locations and also includes the Gangchon Rail Bike experience.
Day 5: Gangham and Lotte World
The Starfield Coex Mall is the perfect place to start Day 5 in Korea with kids! It houses an aquarium, a cinema, pop up stalls and events. When we visited, J loved the Minions pop-up, the BrickLive Lego exhibition and the Coex Aquarium.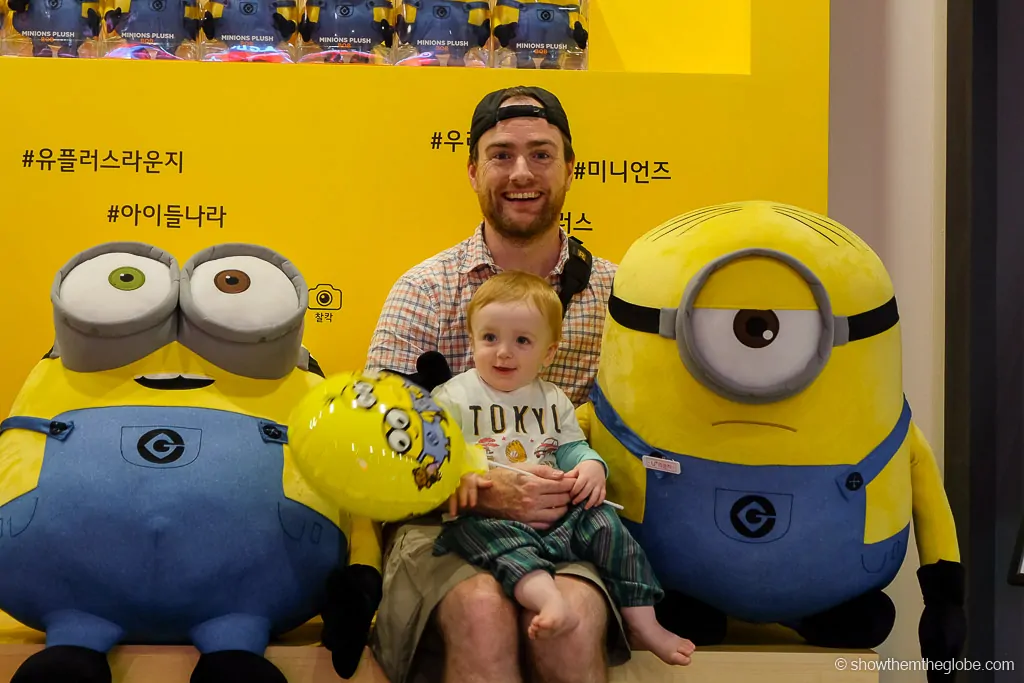 The Starfield Library, located in the mall, is a book lovers dream. Kids will be in awe of the towering shelves, filled to the brim with over 50,000 books. If you visit on a Saturday, there is often children's entertainment provided.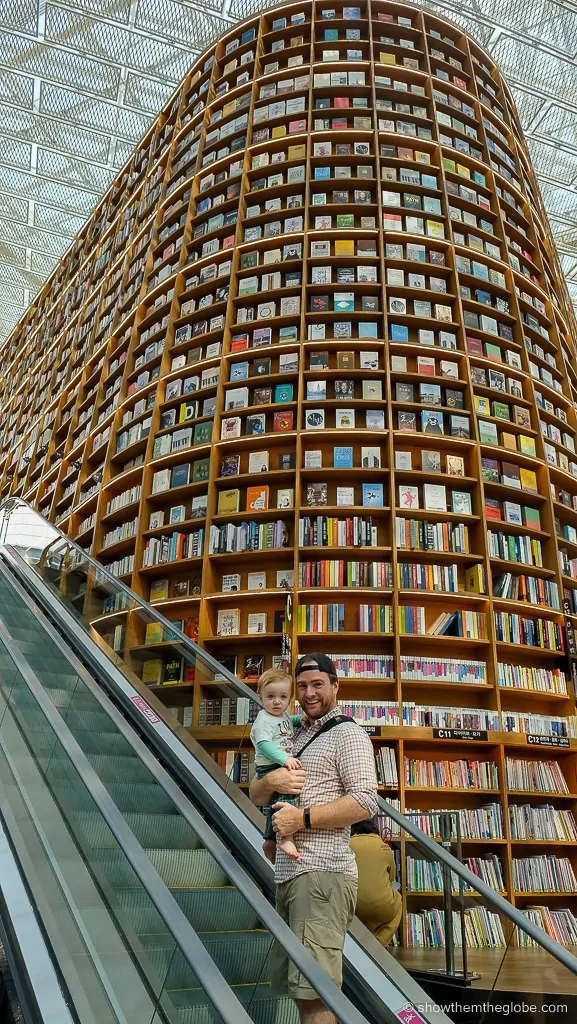 Korea with kids itinerary tip: The viral song Gangham Style put South Korea on the map in 2012 and a statue celebrating the artist PSY is located just outside the mall. The kids likely won't know the song, but adults probably will!
Lotte World Tower
The observation deck at the Lotte World Tower is next on the agenda. It's the 5th tallest building in the world and the observation deck has 360-degree views of Seoul. The double-decker elevator and the glass-bottomed observation deck are sure to be a hit with kids. Lotte World Tower is included in the Discover Seoul Pass – check prices here!
Buy your Discover Seoul Pass now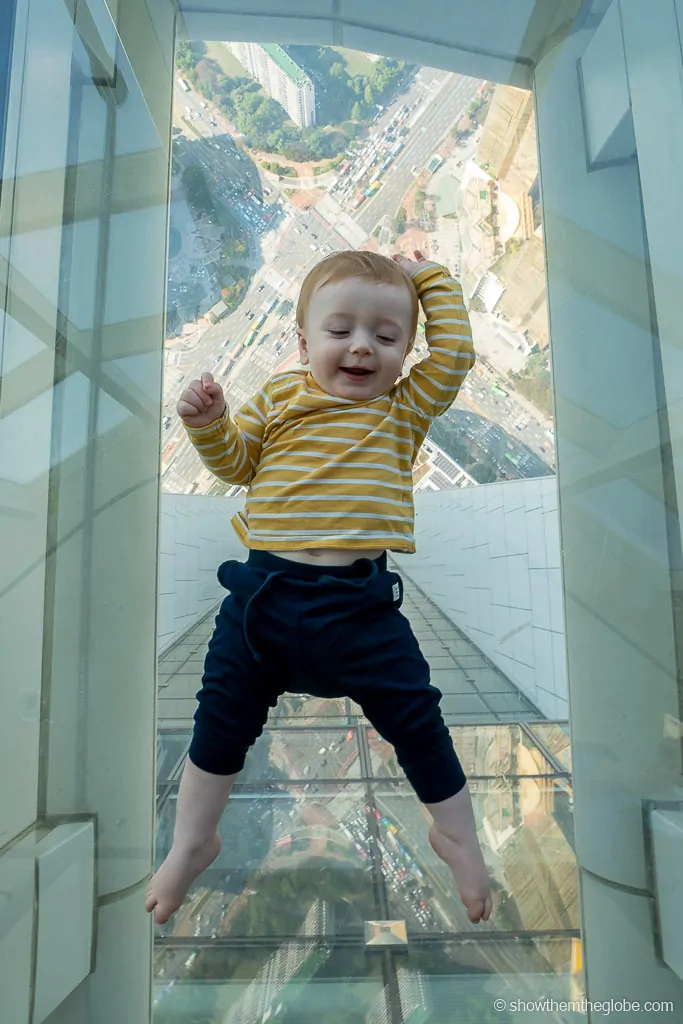 Coex Aquarium
No visit to the Starfield Coex Mall is complete without a visit to the Coex Aquarium. It's the largest aquarium in Seoul and home to over 40,000 sea creatures. Kids and adults will love walking around and exploring all the aquatic animals – check prices now!
Buy your Coes Aquarium tickets now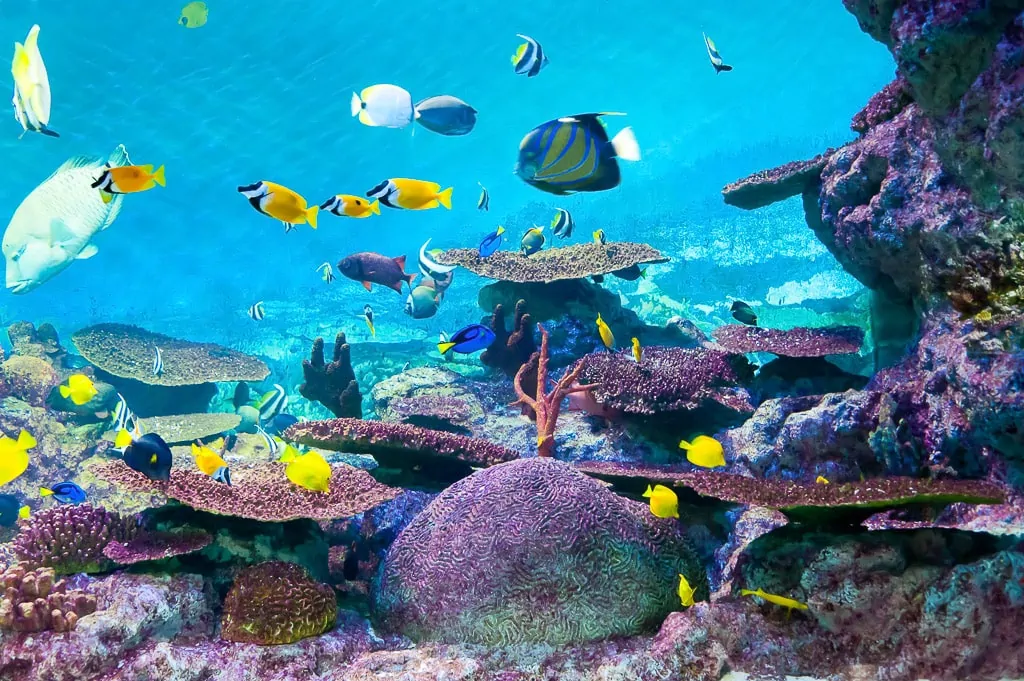 Korea with kids tip: The Bongeunsa Temple is located across the street from the mall and the Giant Buddha is a highlight.
Finish the day's sightseeing with a late afternoon visit to Iwha Mural Village on Mount Naksan. The streets of the village are filled with quirky boutiques and adorned with street art and it's a colourful and fun place to visit. The 'I love Seoul' sign is perfect for a family pic and the angel wings are always popular!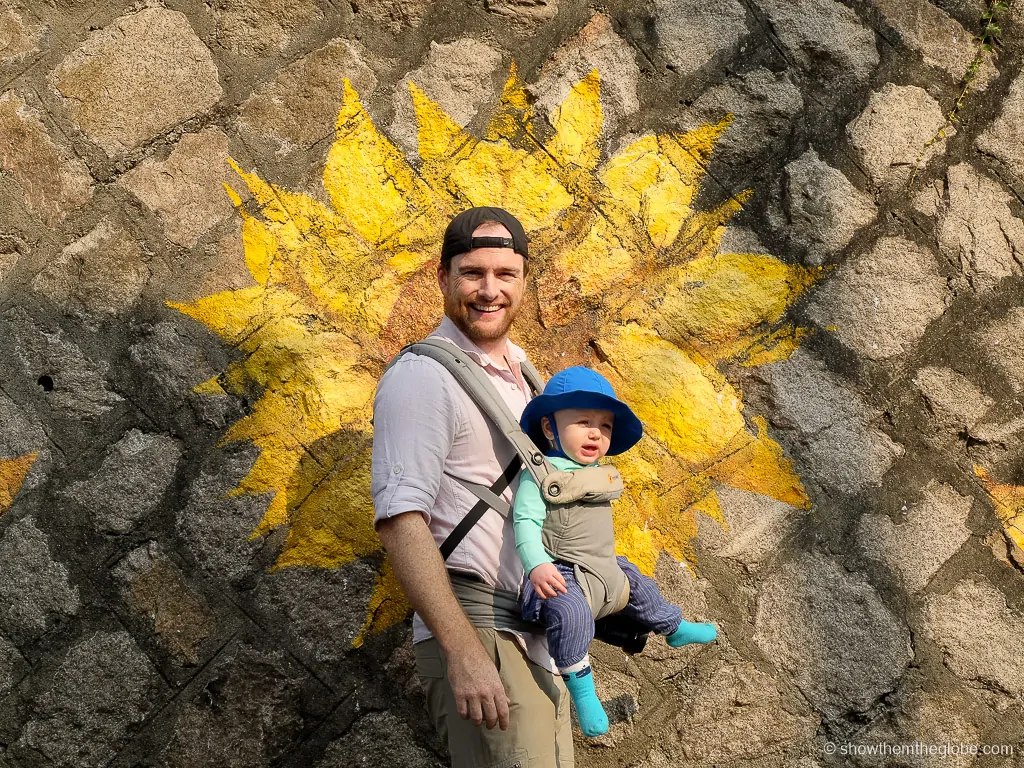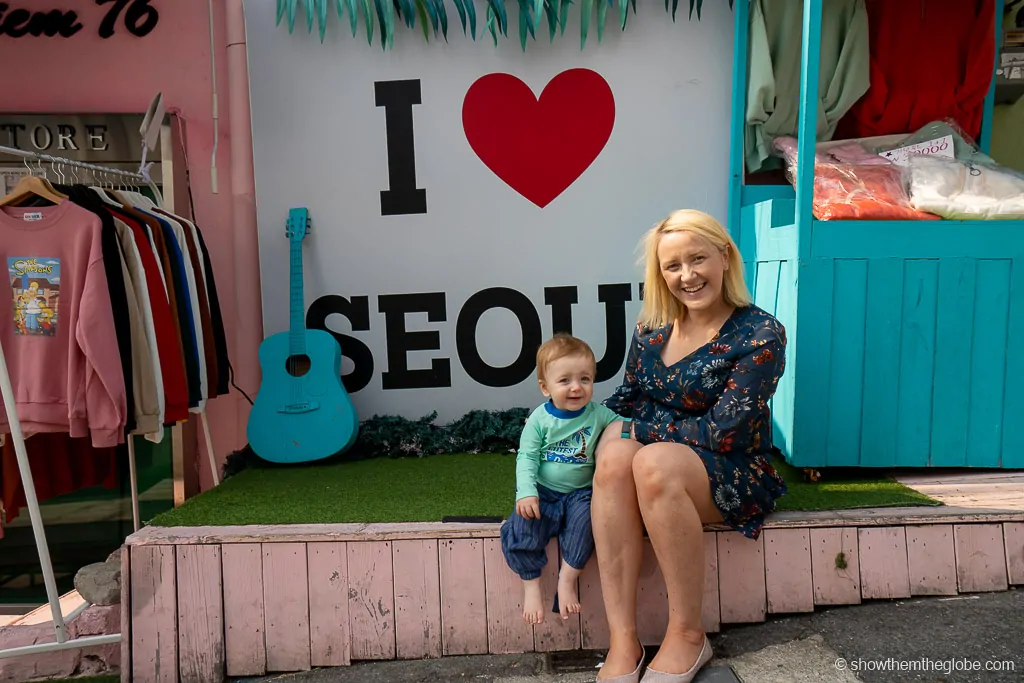 Day 6: DMZ (The Korean Demilitarized Zone)
The DMZ is a fascinating day trip from Seoul. The 4km wide area which runs along the border of North and South Korea was founded at the end of the Korean War. The DMZ is only accessible through a tour. It offers a glimpse into North Korea with stops at the infiltration tunnel, Freedom House (JSA/Panmunjom tour), the Dora Observatory and the Bridge of No Return – click here to reserve a DMZ tour
Click here to reserve a DMZ tour
Korea with kids itinerary tip: Visitors can opt for a DMZ tour, a JSA/Panmunjom tour or a tour which covers both. The JSA, known as the Joint Security Area, includes Freedom House, a meeting place between North and South Korea. The JSA is only accessible to children aged 11 or over due to the fact that tourist are not allowed to interact or approach the North Korean side. The DMZ tour is accessible to children of all ages.
Day 7 to 11: Jeju
The island of Jeju is an awesome choice for family travel and there are lots of fun and adventurous things to do in Jeju with kids. The island has incredible natural beauty, a rugged coastline, beautiful waterfalls and quirky museums and parks.
Korea with kids itinerary tip: Jeju is a quick flight from Seoul. We flew with Jin Air but there a few airlines operating on the route. Make sure to book in advance as Jeju to Seoul is the busiest airline route in the world!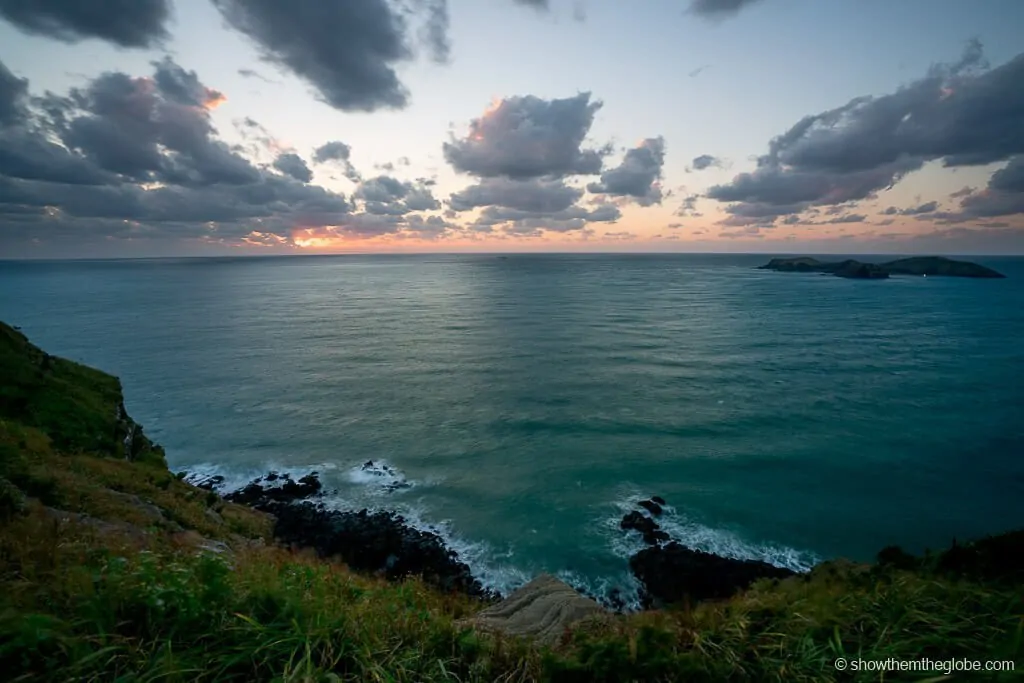 How to get around in Jeju
Navigating Jeju by rental car is relatively easy and we highly recommend renting a car if you are comfortable driving. The roads are high-quality, driving standards are generally good, fuel is extremely cheap and parking is freely available in most locations. We rented our car through RentalCars.com and secured a great price on an Avis rental – check rental car prices here!
Korea with kids itinerary tip: An International Driving Permit is mandatory when renting a car in South Korea so make sure to get an IDP in your home country before departure if you are planning on driving a rental car in Jeju
If you prefer, it's easy to jump on a day tour which generally focus on one part of the island: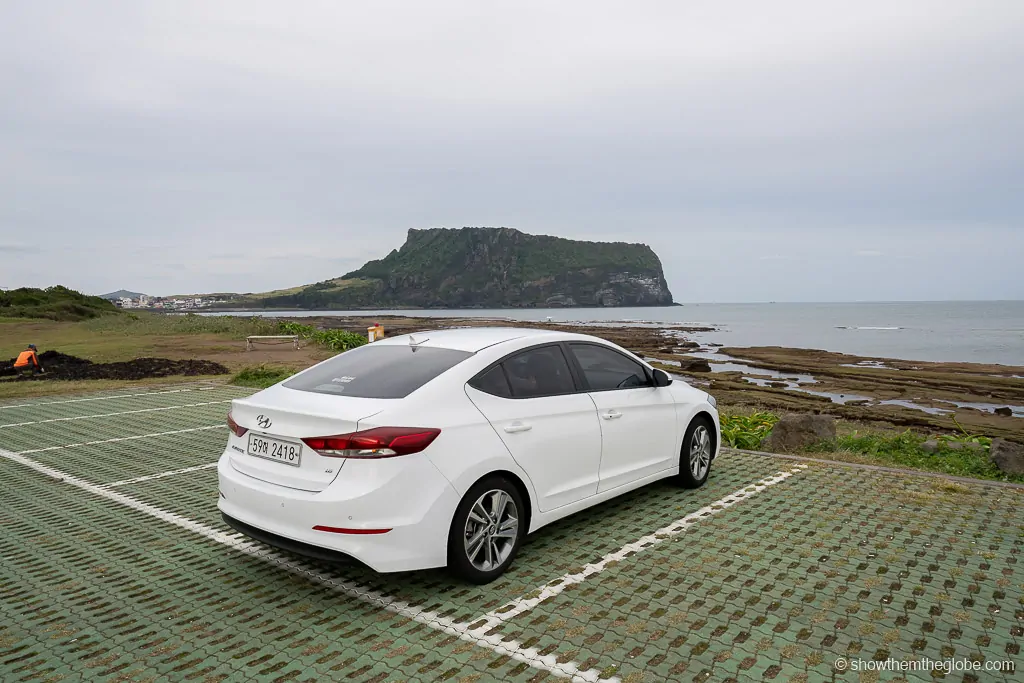 Where to Stay in Jeju
There are so many options for places to stay on Jeju that choosing is quite difficult! These are the hotels we recommend:
Howard Johnston Hotel Jeju: We spent a night at the Howard Johnson and found it perfect for a short stay before/after a flight at Jeju International The hotel is centrally located and very close to the airport, with lots of restaurants and facilities within a short walking distance. Parking is also available for free as part of the room rate – check prices now!
Marriott Jeju Shinhwa World Hotels & Resorts: this incredible resort was one of our favourite hotels in South Korea and was a great base for exploring Jeju. The resort itself is amazing, with stunning rooms, a beautiful pool and an incredible breakfast. Did we mention there is an actual theme park attached to the hotel? – check prices now!
Kensington Jeju Hotel: located close to Jungmun Beach on the south of the island it's easy to see why the Kensington Jeju Hotel is one of Jeju's highest rated hotels. The breakfast and dinner buffets are insane and the views from the rooftop infinity pools are some of the best in Jeju – check prices now!
Click here for the best Jeju Hotel prices
Day 7: Sunrise Peak, Aqua Planet, Maze Land and Manjanggul Cave
Start the day with a short hike up Seongsan Ilchulbong Peak. It is one of the new 7 Wonders of the World and one of the three sites which make up Jeju's UNESCO World Heritage Listing. It's also known as Sunrise Peak due to its incredible sunrise views. If you are early risers, you can consider watching the sunrise from its crown. On the way down, make a stop at the viewing platform to try and catch a glimpse of the Jeju haenyeo, Jeju's traditional women divers.
Korea with kids itinerary tip: the hike from the car park the summit takes about 30 minutes and is a mix of paved paths and wooden stairs. It's a relatively easy hike for those of average fitness. On colder days, make sure to wrap kids up well as it can get chilly on the exposed trail.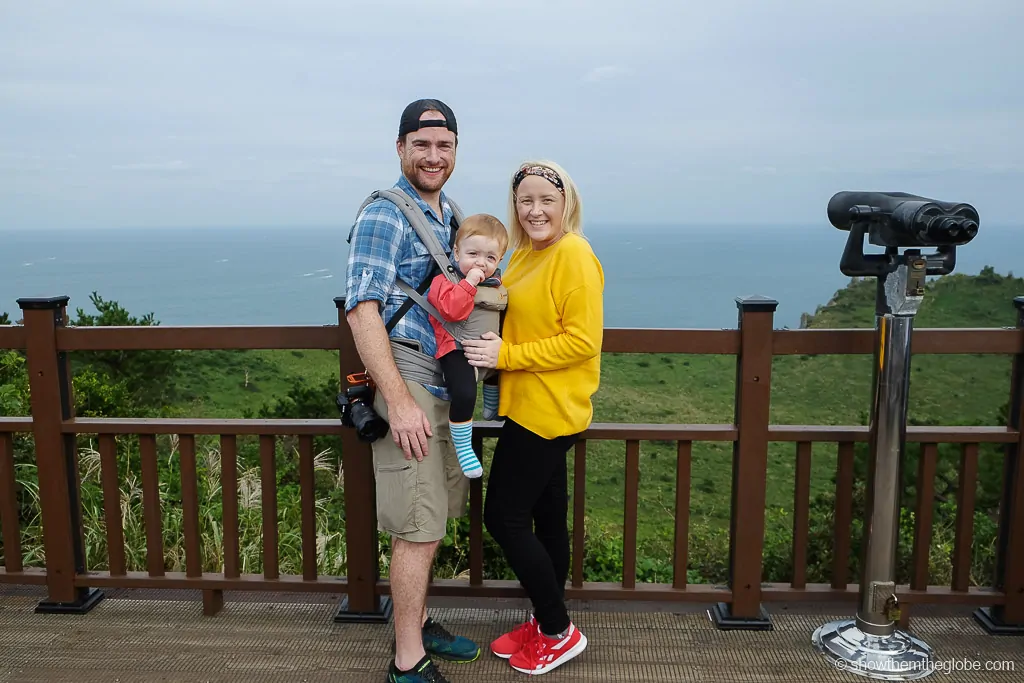 Famous for the yellow canola which bloom during spring, the Seopikoji Coast Walk offers beautiful coastal views. It is a nice, easy walk for kids and nice to include if they have the energy.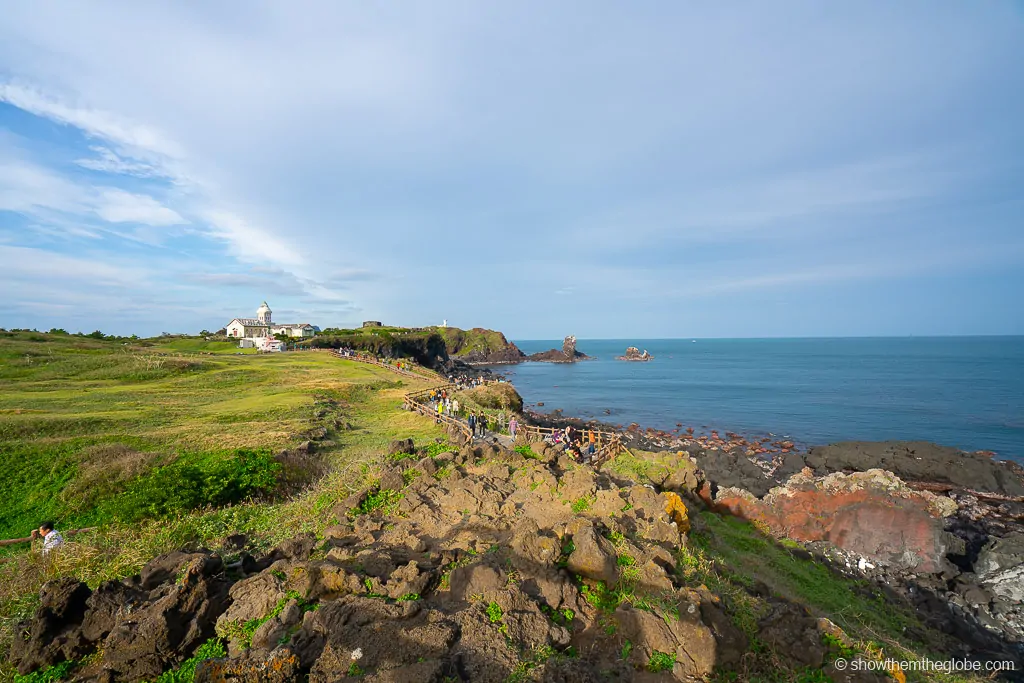 Aqua Planet and Maze Land are two great options for an afternoon that kids will love.
Jeju's Maze Land is home to the world's longest stone maze and kids will love trying to crack the three mazes. There's music, lights, a stream and sprinklers during the course of the maze and a viewing observatory gives a fantastic aerial view.
Aqua Planet is the largest aquarium in all of Asia and 50,000 animals and 500 plants live there. Kids will be fascinated by the variety of marine life on display. The stingrays, sharks, seals, penguins and otters were our highlights among the thousands of sea creatures – buy tickets here!
Click here to purchase tickets to Aqua Planet
The final stop is the Manjanggul Lava tubes. The lava tubes are another of the three sites which make up the Jeju Volcanic Island and Lava Tubes UNESCO World Heritage Site. Considered one of the finest lava tunnels in the world, one kilometre of the Manjanggul Cave is accessible to visitors.
Korea with kids itinerary tip: bring a rain jacket into the caves as it can get chilly and wet. The ground is uneven at times and can be slippery so make sure to wear proper footwear and ensure kids mind their step.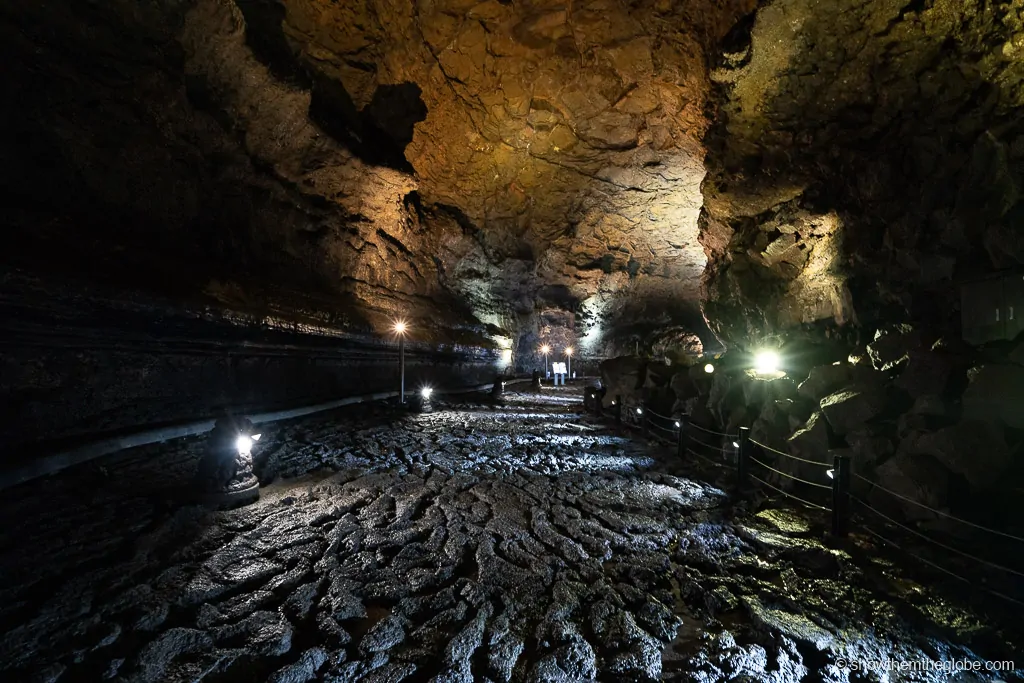 Day 8: Jusangjelloi Cliffs, Jungmun Beach, Yeomiji Botanical Gardens and Oedolgae Rock
Today's itinerary is focused on the South of the island where some of Jeju's most incredible sights are located within a short drive of each other.
The first stop is the incredible Jusangjelloi Cliffs. The cliffs are comprised of hundreds of hexagonal basalt Oedolgae Rock stone. The columns are visible from the wooden boardwalk which meanders around the cliff and it is an easy walk with kids.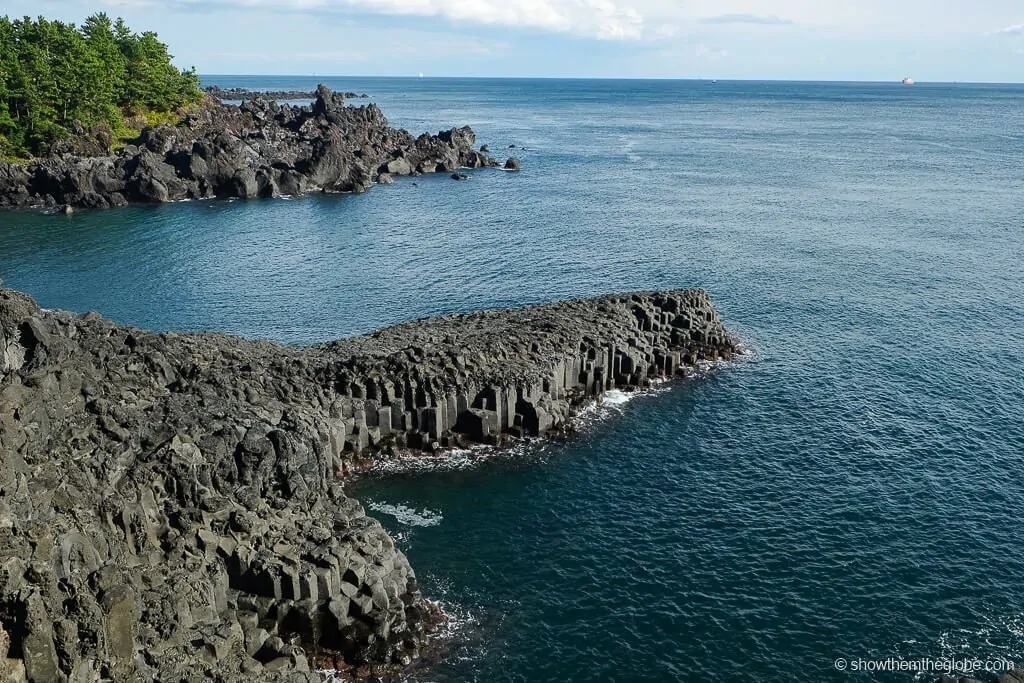 If the weather is nice, the golden sands of Jungmun Beach draw lots of families. On wet days, the Yeomiji Botanical Gardens are a great rainy day activity with kids. The gardens are home to thousands of rare plants and flowers and the cactus garden and aquatic garden were our favourite.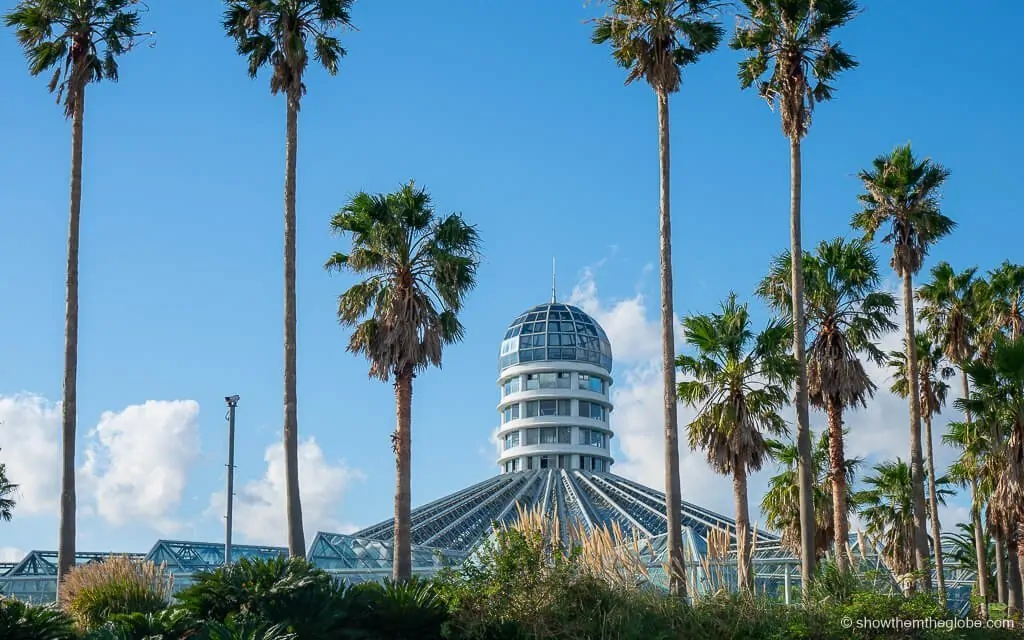 Later in the day, take to the Olle trail for a relaxing and scenic walk. The Olie trail is a series of trails which stretch across Jeju – our favourite is the section close to Oedolgae Rock. The impressive rock formation towers over the South Sea against the backdrop of the beautiful Bum and Sae Islands.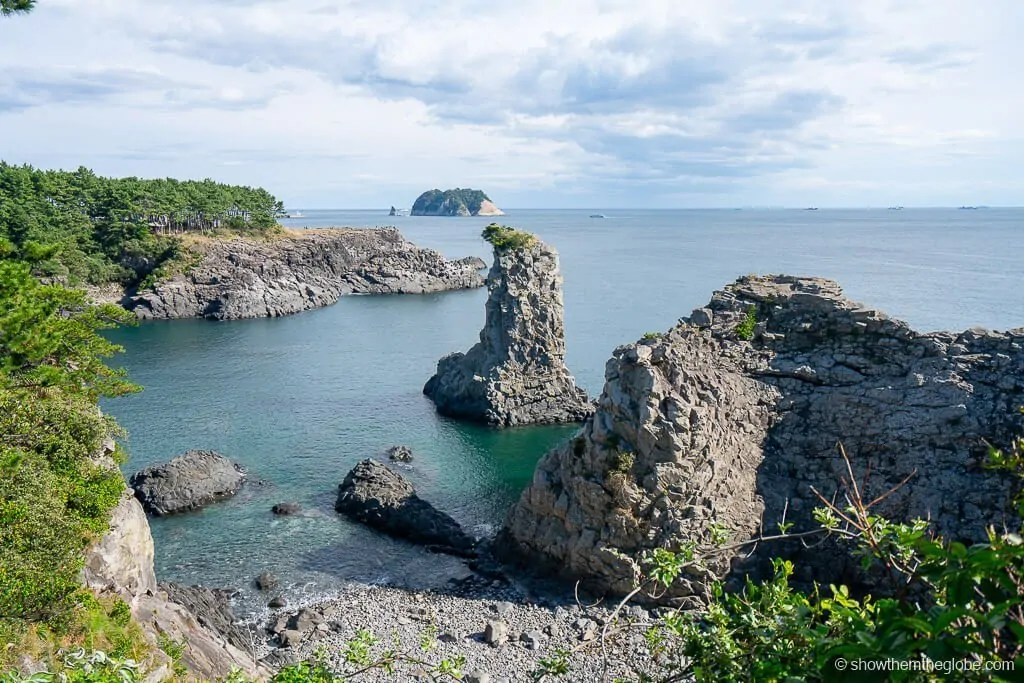 Day 9: Jeonbang Waterfall, Teddy Bear Museum and Mount Hallashan
Jeju has some wonderful waterfalls and Jeongbang, Cheonjiyeon and Cheonjeyeon are three of its most famous. We visited all three but, if you want to visit just one, we recommend Jeongbang Waterfall. The 23-metre tall waterfall is set in a secluded cove surrounded by giant boulders. Kids will love clambering over the rocks and feeling the waterfall spray on their faces!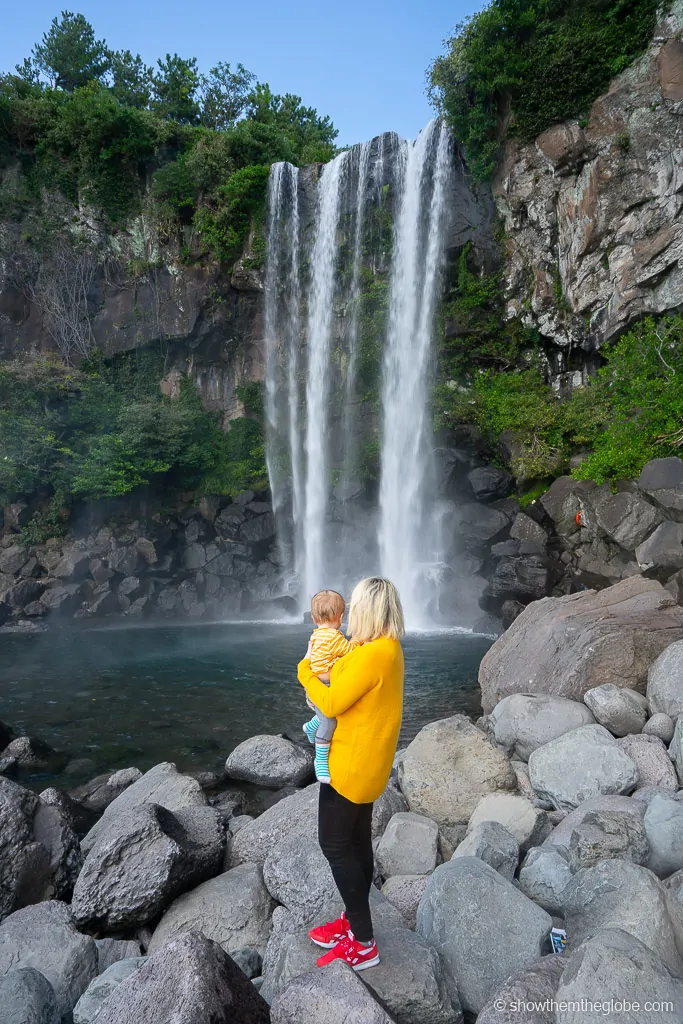 The Teddy Museum is, unsurprisingly, a museum dedicated to teddy bears! Thousands of teddies from all over the world are displayed throughout the museum. Our highlights were a teddy bear depiction of a scene from Gulliver's Travels, the smallest teddy in the world and the Vitruvian Teddy, a nod to Leonardo Da Vinci's Vitruvian Man painting – check prices here!
Click here to purchase tickets to the Teddy Bear Museum
Spend the afternoon on South Korea's tallest mountain, Mount Hallashan. The hiking trails range from a 30-minute jaunt to an epic 5 hour adventure so it's relatively easy to tailor a Hallashan visit to suit little adventurers.
If you wish to reach the summit and its views of the crater lake you will need to dedicate a full day as two trails are around 5hours each way, We opted for the Yeongsil trail which is 3.7km long and, despite plenty of stairs, is more manageable with kids. The views were spectacular and the scenery lovely.
Korea with kids itinerary tip: the weather changes fast on Hallashan so make sure to bring warm clothes and rain jackets. If you are using a carrier, make sure to wrap up any infants as they're colder from not moving around.
Day 10: Jeju Shinhwa World
Jeju Shinhwa World is a huge leisure development on Jeju which includes a theme park and a water park. The theme park has three zones: a steam punked themed zone, an Inca and Mya civilization themed zone and a larva character area. Shinhwa Water Park is the latest addition to the development and has a variety of waves, slides and pools including a 230-meter-high slide – check prices now!
Book your Shinhwa World tickets now
Korea with kids itinerary tip: when we visited it seemed that development had stalled at Shinhwa World. The theme park was very quiet and the resulting lack of queues made it a lot easier to keep kids entertained!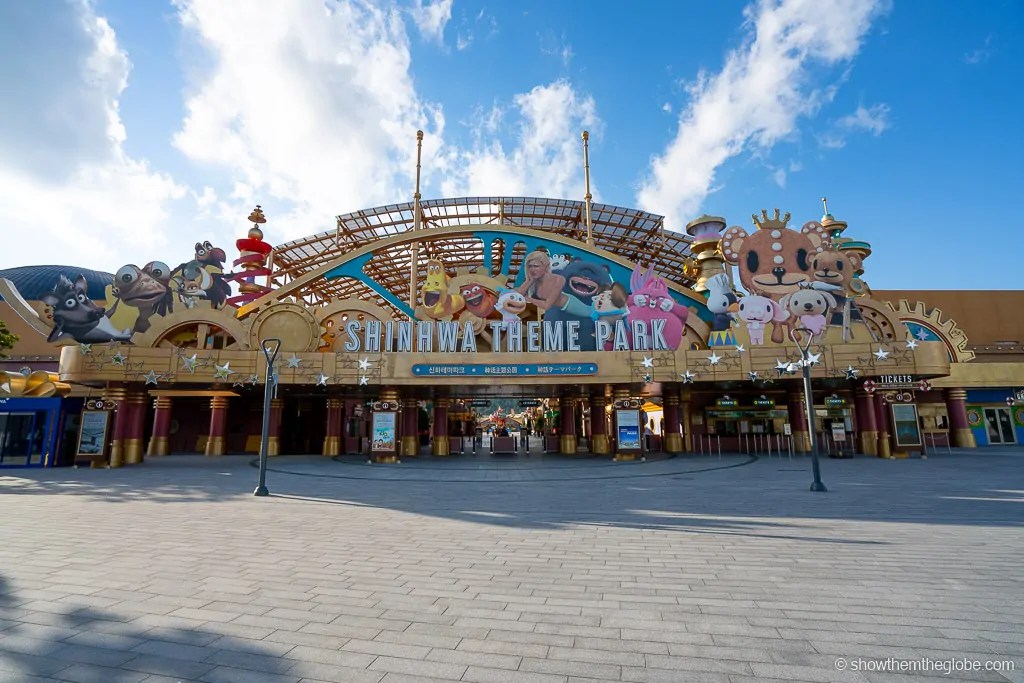 Day 11: Seogwipo Submarine or Alive Museum and fly to Seoul
For a unique experience, take a morning ride on the Seogwipo Submarine before leaving for Seoul. Although expensive, kids will love the opportunity to board a submarine and descend 40 feet below the sea. There's a small shipwreck on the route and, depending on the water conditions, it's often possible to see scores of colourful fish.
The interactive 4D Alive Museum, with its optical illusions and peculiar art, is another great option – check prices here!
Click here to book Alive Museum tickets
Day 12: Depart Seoul
Day 12 is a day of leisure until it's time to depart from Seoul. If you have a free morning consider sights such as the UNESCO World Heritage Jongmyo Shrine or the Seoul Children's Park.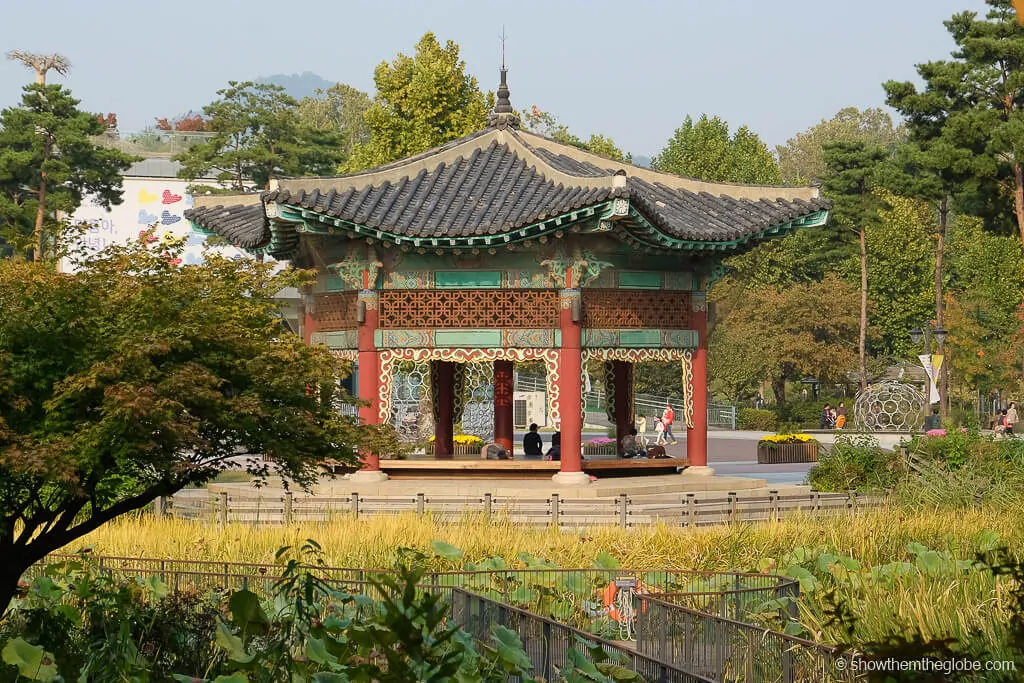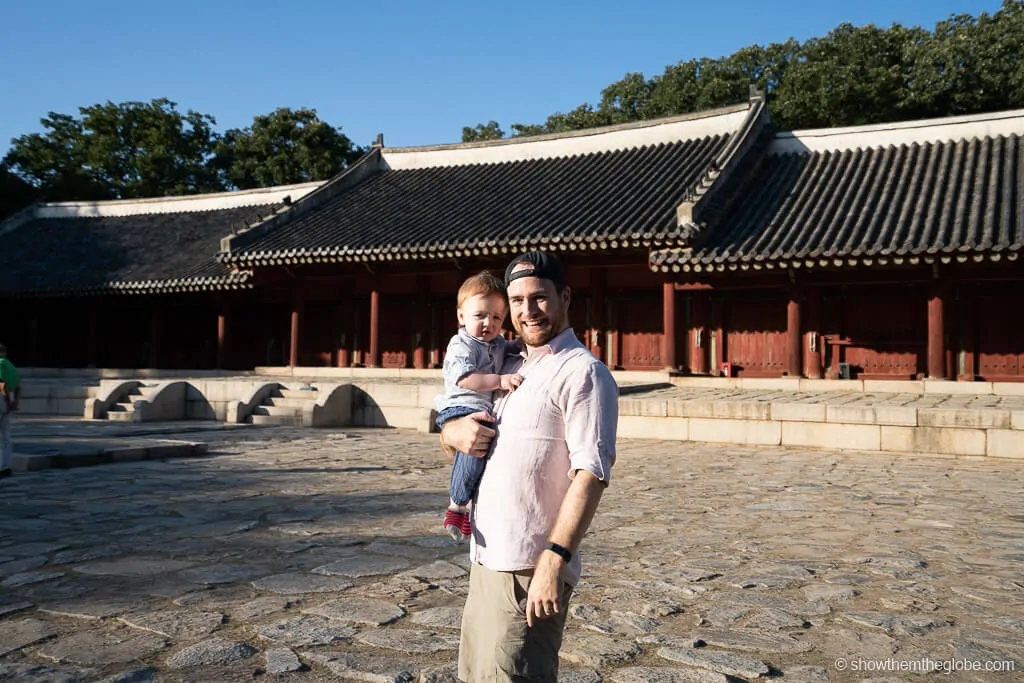 Getting to Seoul Incheon: with a journey time of 43 minutes, the AREX train is the fastest way to get to Incheon Airport from Seoul Station. It's also easy to grab a cab to the airport. A train ticket is less than US$10 compared to around US$70 for a taxi – click here for airport train tickets!
Click here to purchase airport train tickets
Extending Korea with kids itinerary
We loved Busan, a coastal city with lots of outdoor activities. It's easily reached from Seoul by train or car. We flew to Jeju from Busan, so it's easy to incorporate into a Korea with kids itinerary.
Once the capital of the ancient Shilla dynasty, Gyeongju is described as a museum without walls. There are 5 UNESCO World Heritage Sites within the surrounding region.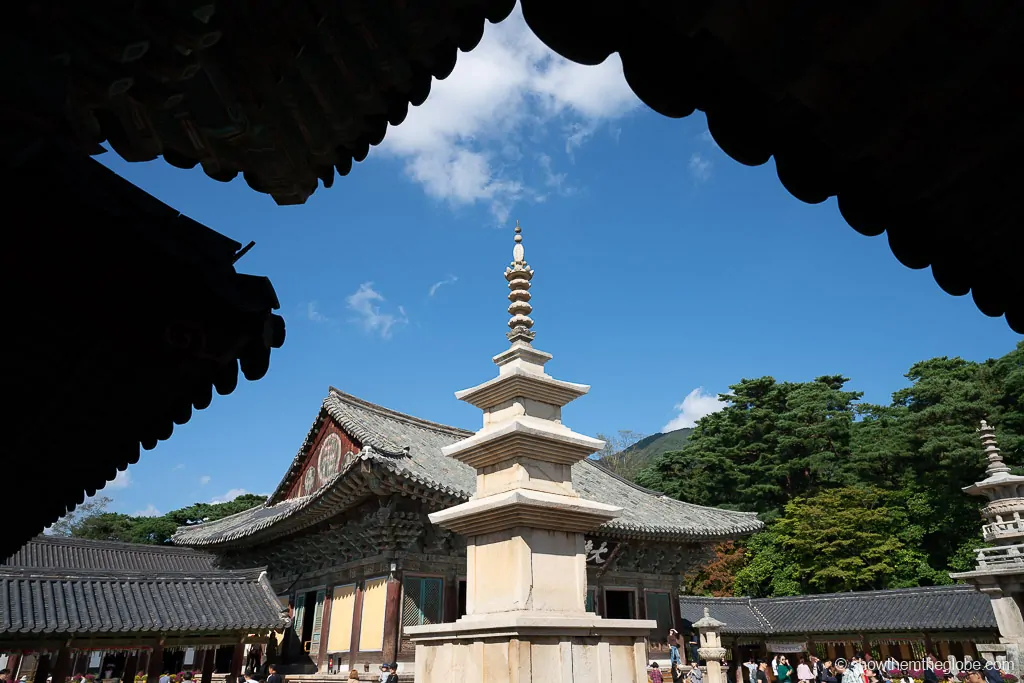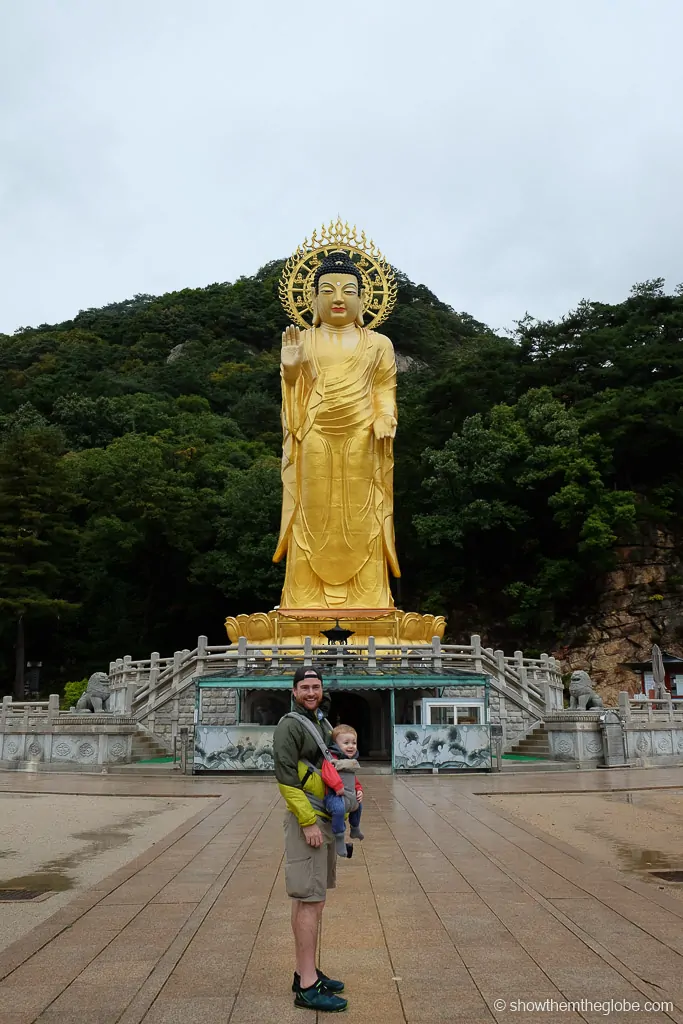 <