The island of Jeju is an awesome choice for family travel and there are lots of fun and adventurous things to do in Jeju with kids. We visited with J and loved our family time enjoying Jeju's incredible natural beauty, rugged coastline, beautiful waterfalls and quirky museums and parks. Here's our guide to the best things to do in Jeju with kids!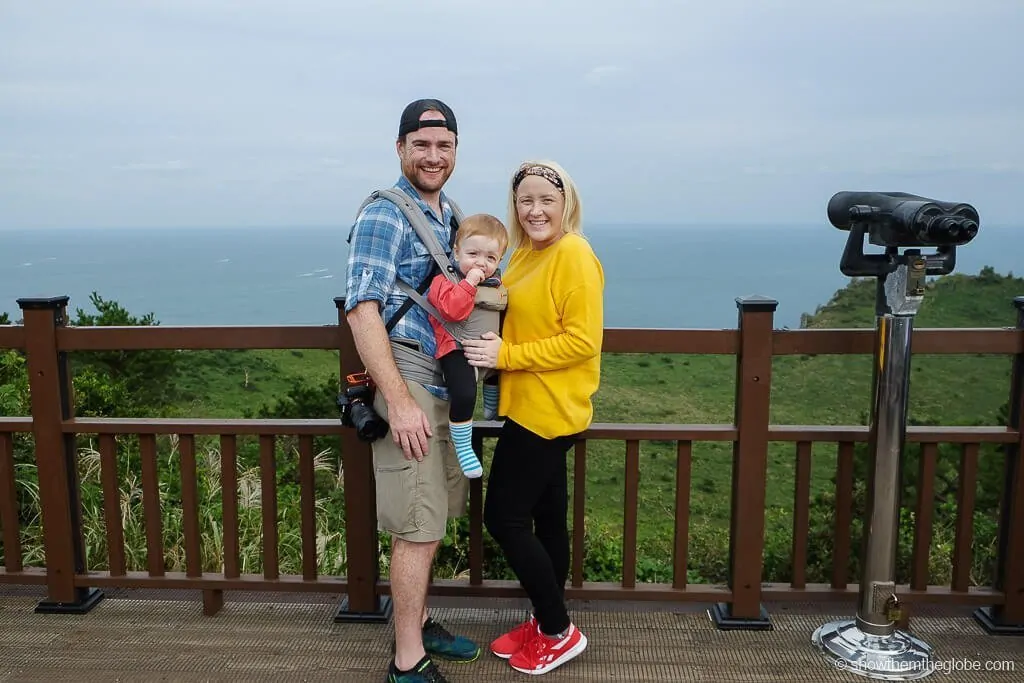 Getting around Jeju
Renting a car in Jeju is the best way to explore the island plus driving is relatively easy. Having your own car gives you the flexibility to travel at your own pace and see places that are simply not possible on group tours or public transport. We're huge fans of road trips and have driven rental cars in almost 50 countries so we have a lot of experience renting cars in foreign countries. We rented with AJC/Avis through RentalCars.com, which we found to have very competitive rental car prices.
Make sure to book your rental car well in advance for the best price and to ensure availability. Jeju is an island with a lot of visitors: Seoul Gimpo to Jeju is the busiest air route in the world and 26 million passengers use the tiny Jeju International Airport every year! As such, demand for rental cars on the island is high, especially during busy periods and holidays. Make sure to shop around and book your rental car well in advance. We recommend using RentalCars.com to reserve your car as they have a great selection of cars and very competitive prices– click here to book now!
Book your car now with RentalCars.com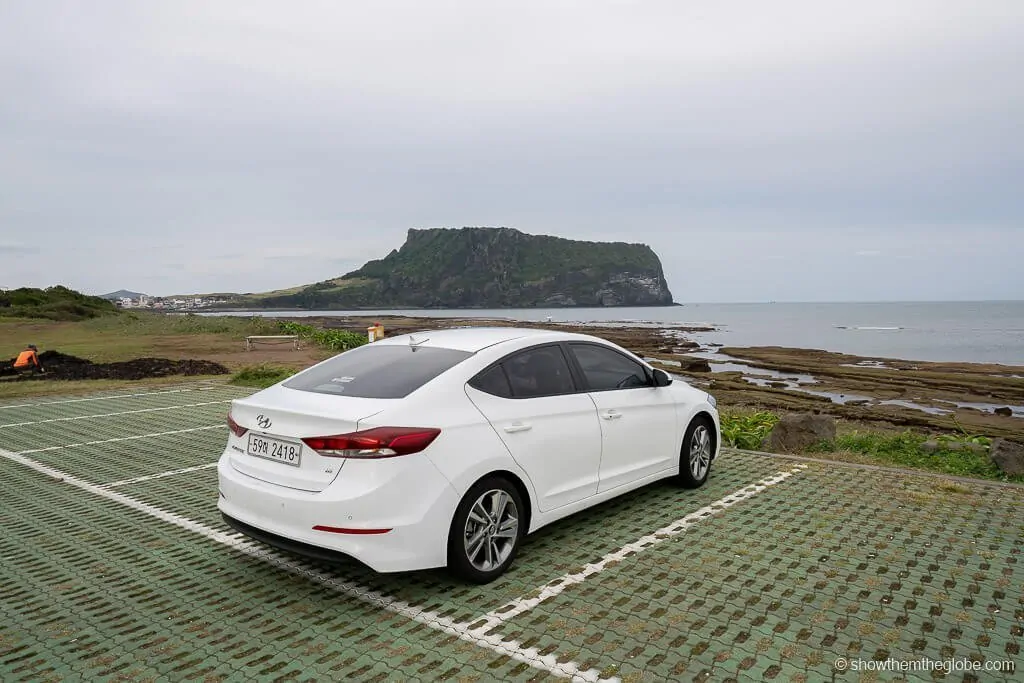 4G Internet
We found having mobile data invaluable in Jeju and it was extremely useful in the rental car. Being able to research a place to visit and having real-time navigation was invaluable and we highly recommend purchasing a sim when you arrive in South Korea. We prebooked our sim cards through Klook and picked up in the airport – check prices now!
The 20 best things to do in Jeju with kids
From themed parks and museums to exploring natural wonders created by its rich volcanic activity, Jeju is an essential inclusion in a Korea with kids itinerary. Here's our guide to the best things to do in Jeju with kids
1 | Jeongbang Falls
Jeju is home to some stunning waterfalls. In fact, chasing waterfalls was one of our favourite things to do in Jeju with kids! The Jeongbang, Cheonjiyeon and Cheonjeyeon Waterfalls are the most famous on the island. The 23 meter tall Jeongbang waterfall is set in a secluded cove surrounded by giant boulders and ocean. It's often described as the only waterfall in Asia to fall directly into the ocean. Kids will love clambering over the rocks, posing in front of the waterfall and feeling the spray of the water on their faces!
Best things to do in Jeju with kids tip: Make sure to indulge in some of the local food stalls dotted around the carpark of the Jeongbang Falls.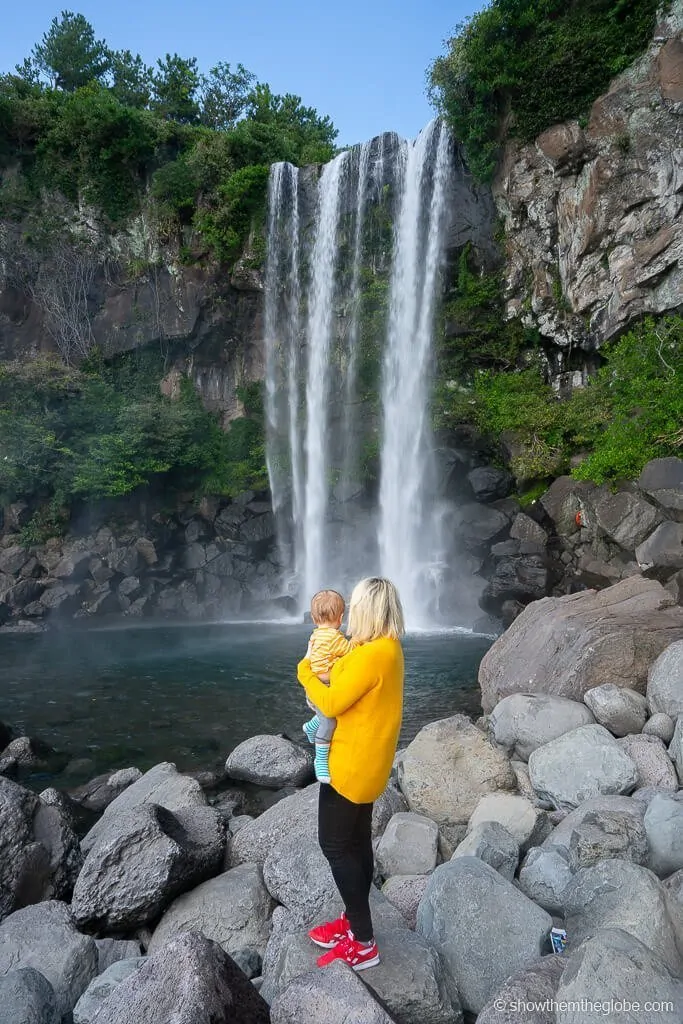 Where to Stay in Jeju
There are so many options for places to stay on Jeju that choosing is quite difficult! These are the hotels we recommend:
Howard Johnston Hotel Jeju: We spent a night at the Howard Johnson and found it perfect for a short stay before/after a flight at Jeju International The hotel is centrally located and very close to the airport, with lots of restaurants and facilities within a short walking distance. Parking is also available for free as part of the room rate – check prices now!
Marriott Jeju Shinhwa World Hotels & Resorts: this incredible resort was one of our favourite hotels in South Korea and was a great base for exploring Jeju. The resort itself is amazing, with stunning rooms, a beautiful pool and an incredible breakfast. Did we mention there is an actual theme park attached to the hotel? – check prices now!
Kensington Jeju Hotel: located close to Jungmun Beach on the south of the island it's easy to see why the Kensington Jeju Hotel is one of Jeju's highest rated hotels. The breakfast and dinner buffets are insane and the views from the rooftop infinity pools are some of the best in Jeju – check prices now!
Click here for Jeju Hotel prices
2 | Seongsan Ilchulbong Peak, Sunrise Peak
One of the new 7 Wonders of the World, Sunrise Peak is a 5,000 year old volcanic cone shaped crater. It was created by hydro volcanic eruptions and is topped by 99 jagged rocks which resemble a crown. Seongsan Ilchulbong Peak is one of the three sites making up the Jeju UNESCO World Heritage listing.
Named Sunrise Peak due to its incredible sunrise views, it's a lovely hike at any time of the day. Hikers are rewarded with stunning views of the ocean and the city while ascending Sunrise Peak. On the descent, a path leads to a viewing platform where it's often possible to catch a glimpse of the Jeju haenyeo. The Jeju haenyeo are Jeju's women divers who fish 10 metres under the sea without oxygen masks. It's a long standing Jeju tradition with some of the women divers are aged 80 and older.
Best things to do in Jeju with kids tip: the hike from the car park the summit takes about 30 minutes and is a mix of paved paths and wooden stairs. It's a relatively easy hike for those of average fitness. On colder days, make sure to wrap kids up well as it can get chilly on the exposed trail.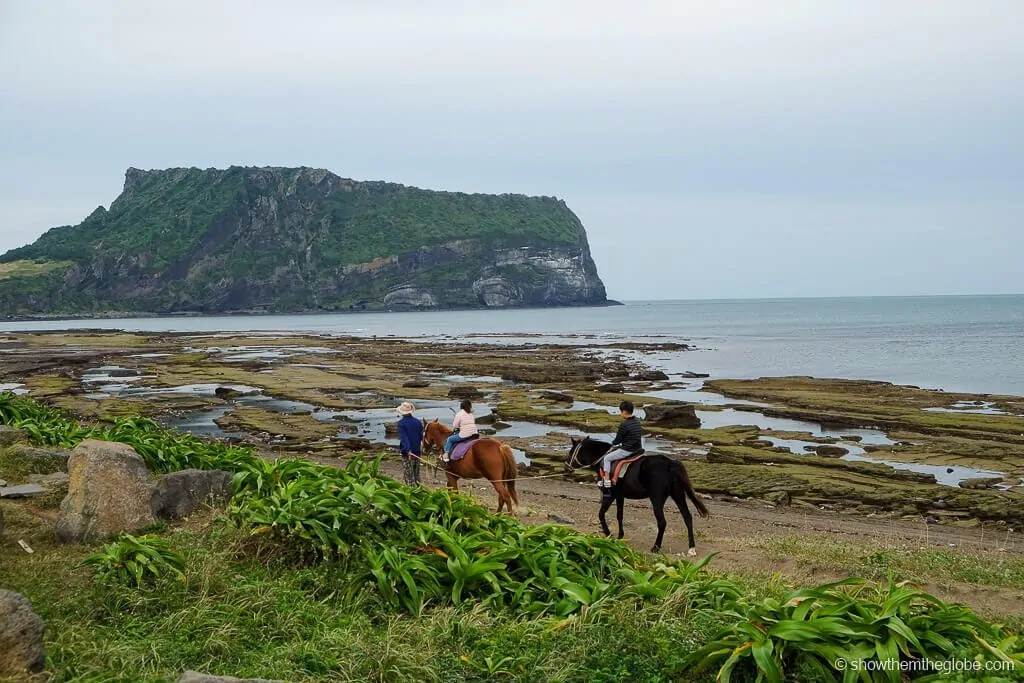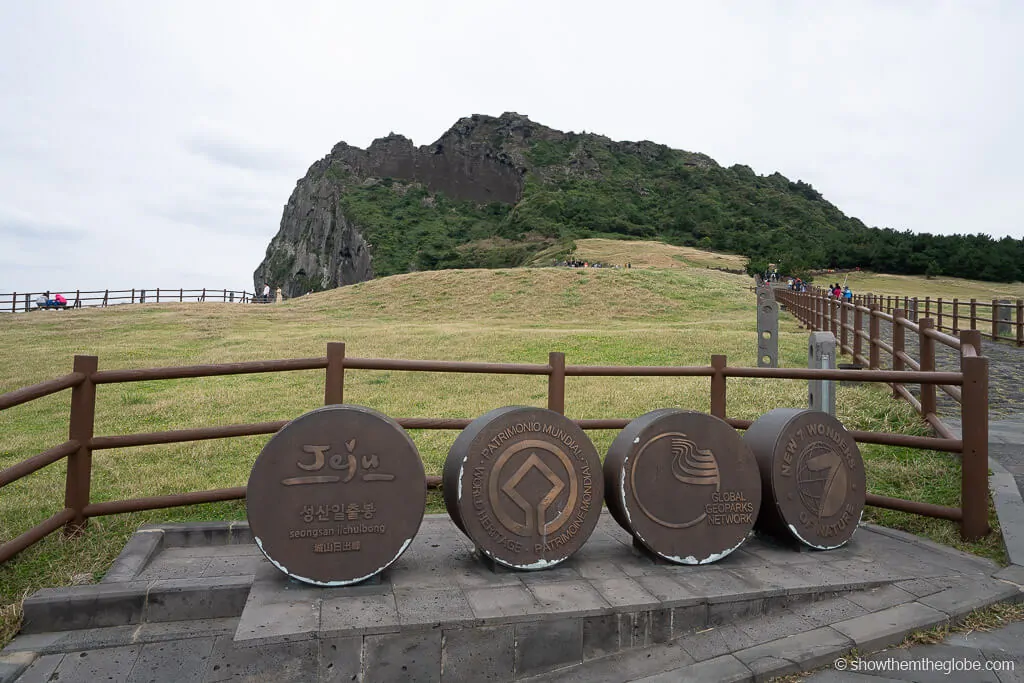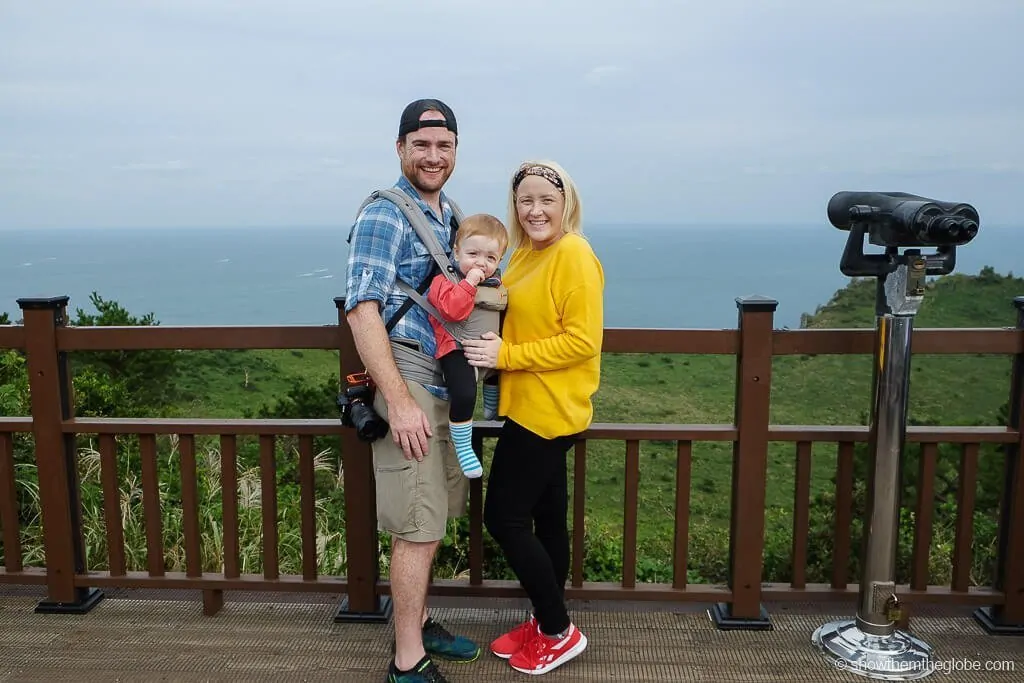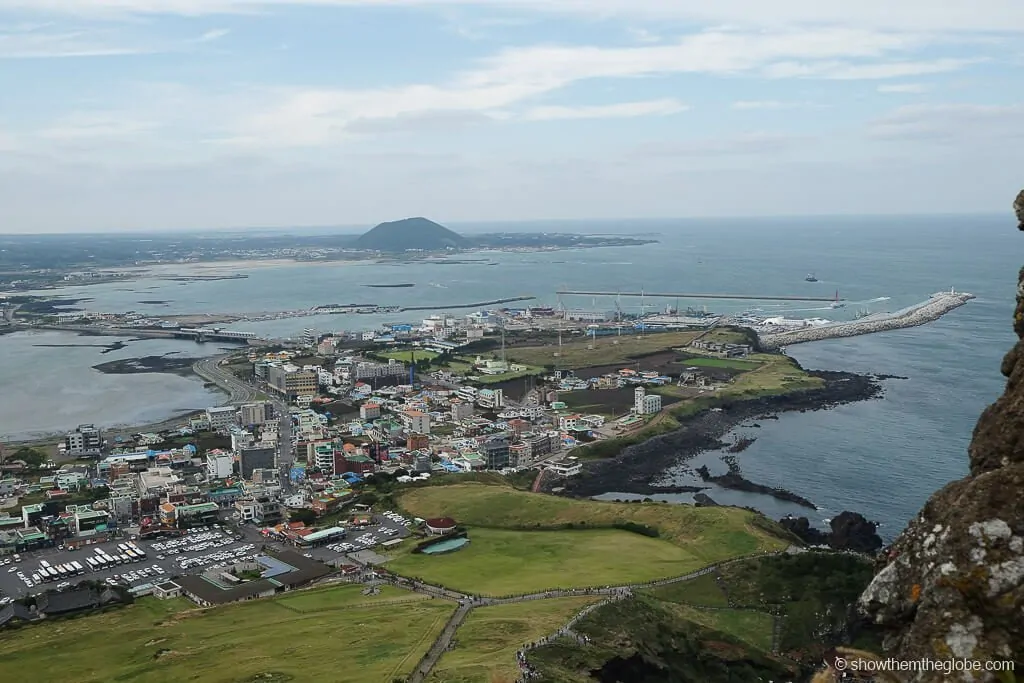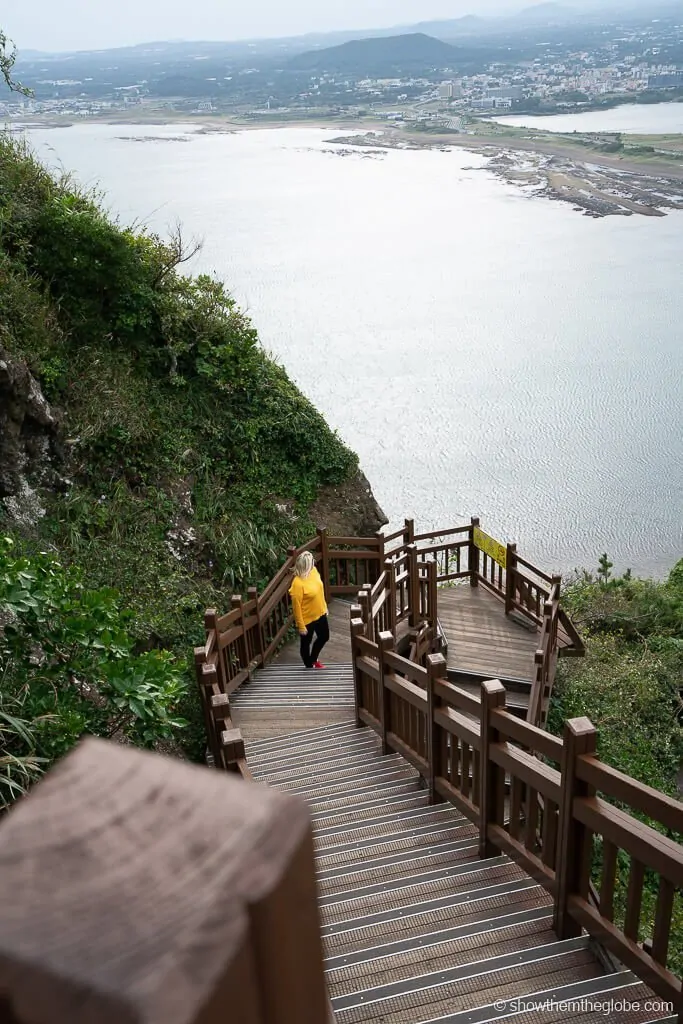 3 | Mount Hallashan
Jeju boasts the tallest mountain in South Korea with Mount Hallashan standing at almost 2,000 tall. Hallashan is visible from all over Jeju although its peak is often hidden by the clouds. The hiking trails range from a 30 minute jaunt to an epic 5 hour adventure so it's relatively easy to tailor a Hallashan visit to suit little adventurers.
Only two of the five hiking trails lead to the summit and have awesome views of the crater lake: the Seongpanak Trail is the less challenging of the two trails and the 9.7km hike takes 4.5 hours each way. The Gwaneumsa Trail is 8.7km and takes 5 hours each way.
We opted for the Yeongsil trail which is 3.7km long and, despite plenty of stairs, is more manageable with kids. The views were spectacular and the scenery lovely.
Best things to do with kids in Jeju with kids: the weather changes fast on Hallashan so make sure to bring warm clothes and rain jackets. Our little guy, J, got very cold in his carrier on the way up because he wasn't running around, so make sure to wrap up any infants.
4 | Wonang Falls
The Wonang Falls are located in the Donnaeko Valley and its icy cold waters flow directly from Hallasan Mountain. Set in lush green surroundings, the crystal clear waters of Wonang are a popular spot within the valley. Swimming is allowed at the falls but, due to the icy cold waters, a dip is not for the faint hearted!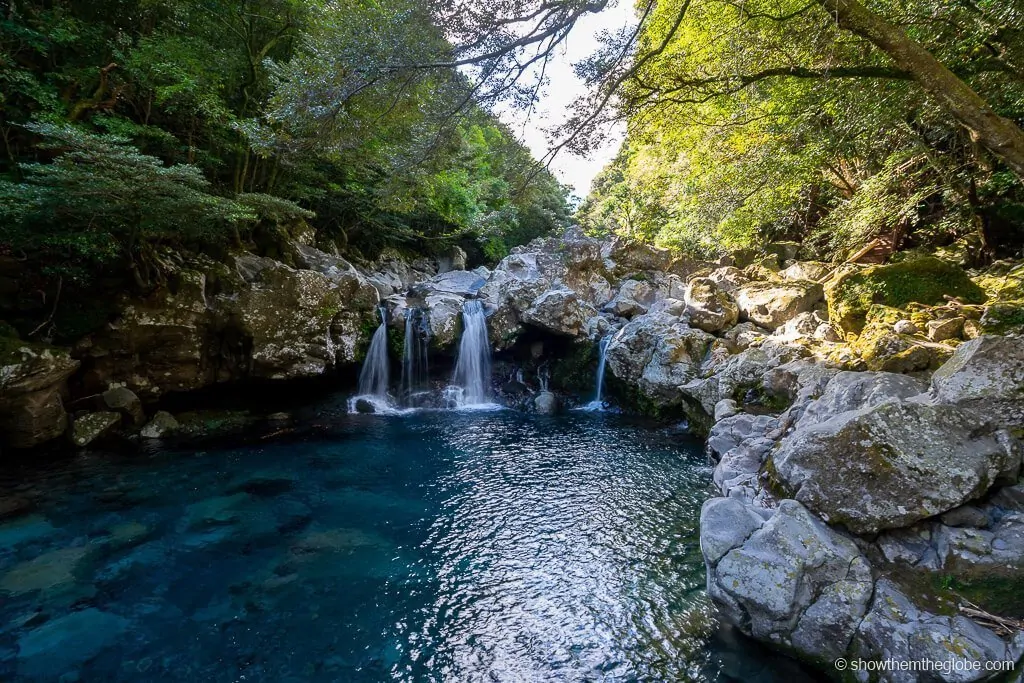 5 | Manjanggul Lava Tubes at Manjanggul Cave
Along with Seongsan Ilchulbong and Mount Hallasan, the Manjanggul Lava tubes are one of the three sites which make up the Jeju Volcanic Island and Lava Tubes UNESCO World Heritage Site. Considered one of the finest lava tunnels in the world, one kilometre of the Manjanggul Cave is accessible to visitors. The tunnels were formed over 2 million years ago and kids will love exploring the tunnel and admiring the natural formations which include stalactites and lava toes. A lava stone known as the 'Stone Turtle' resembles the shape of Jeju Island. Those who manage to make the full 1km trek through the cave are rewarded with a close up view of the largest lava column in the world, which stands at almost 8 metres tall.
Best things to do in Jeju with kids: bring a rain jacket as it can get chilly in the cave. Water also drips from the roof of the caves after rainfall and you can get very wet during a visit! The ground is uneven at timesand can be slippery so make sure to wear proper footwear and ensure kids mind their step.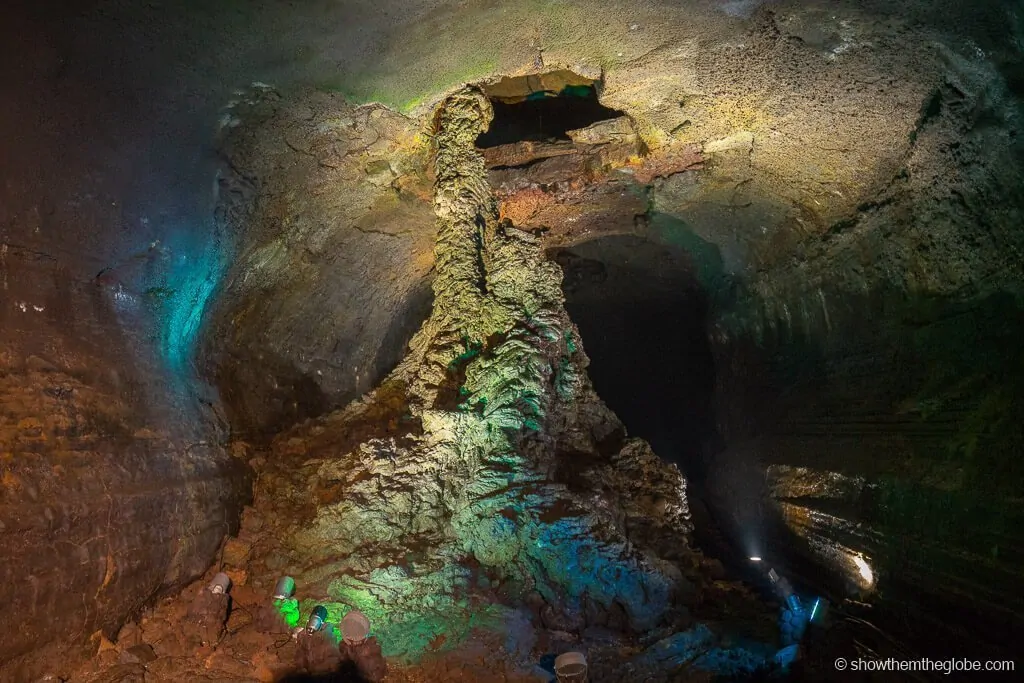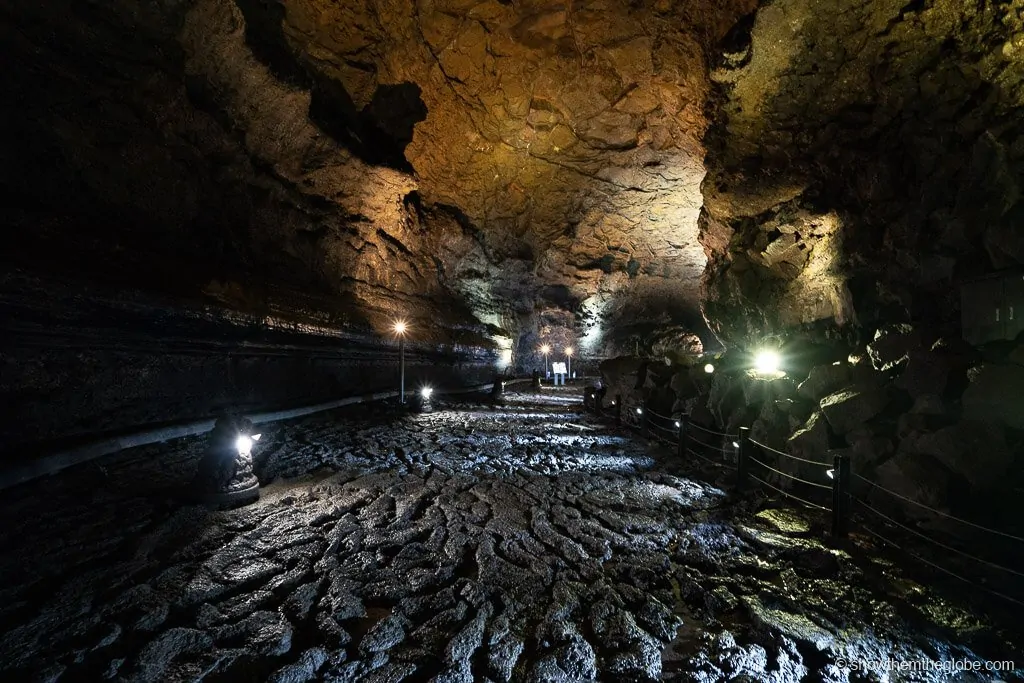 6 | Cheonjeyeon Falls
The turquoise waters of Cheonjeyeon, known as the Pond of God, cascade through a series of three waterfalls before finally reaching the ocean. The walk to Cheonjeyon passes through a tropical forest. Legend has it that f you stand under the waterfall on the 15th day of the 7th lunar month then diseases will be cured: note swimming is only allowed during the Chilseonyeo Festival in May!
The Seonimgyo Bridge, with seven nymphs carved on its side, arches over the Cheonjeyeon Falls and the bridge offers some nice views of the three waterfalls. Legend has it that seven nymphs descended from the heavens at night and came to bathe in the waters of the Cheonjeyeon Falls.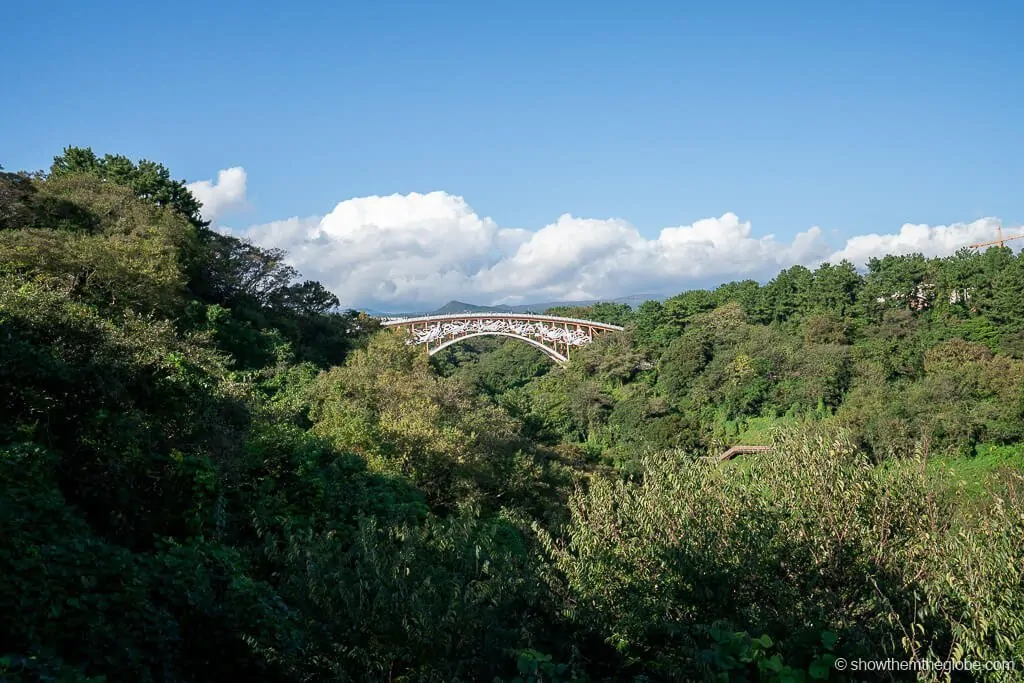 7 | Jungmun Beach
Jeju is known for its beautiful beaches. From the white sands of Hyeopjae and Geumnneung to the sunsets at Iho Tewoo and the surfing at Jingmun, there are plenty of great beaches to explore in Jeju with kids. The golden sands and quality waves at Jungmun draw lots of families and it is conveniently located close to the Jungmun Tourism Complex. Jungmun has featured in some Korean TV shows and is popular with fans of the shows.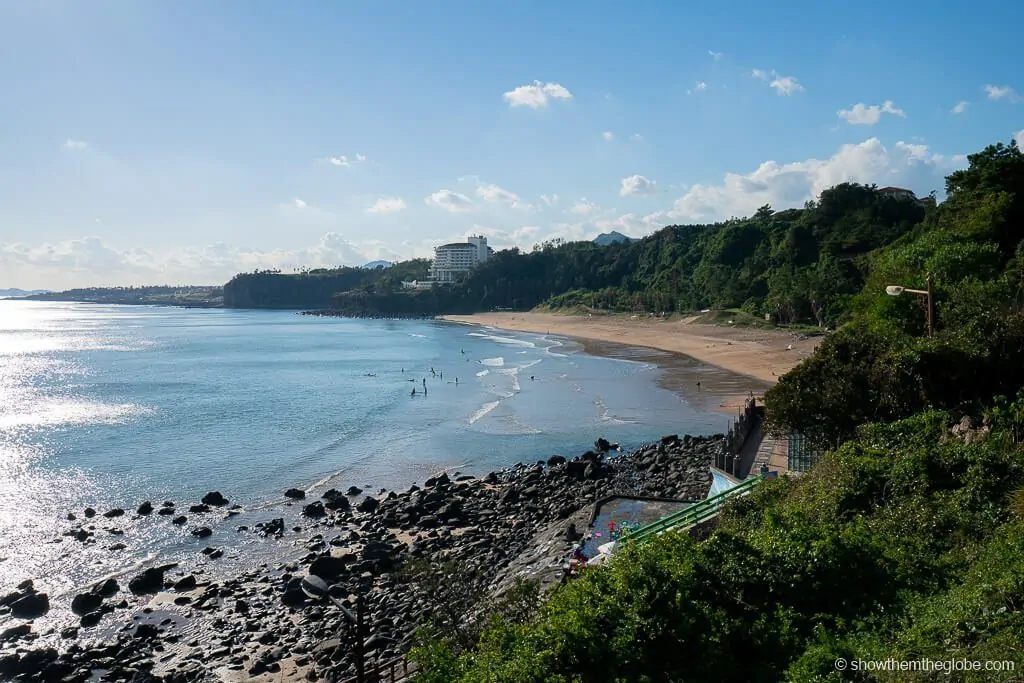 8 | Maze Land
Jeju's Maze Land is home to the world's longest stone maze. There's music, lights, a stream and sprinklers during the course of the maze and a viewing observatory gives a fantastic aerial view. There are three mazes to crack and it is a fun way to keep kids entertained in Jeju!
9 | Sojeongbang Falls
Close to the Jeongbang Falls, Sojeongbang Falls has 10 streams. Swimming is permitted at Sojeongbang but, similar to Wonang, its waters are icy cold!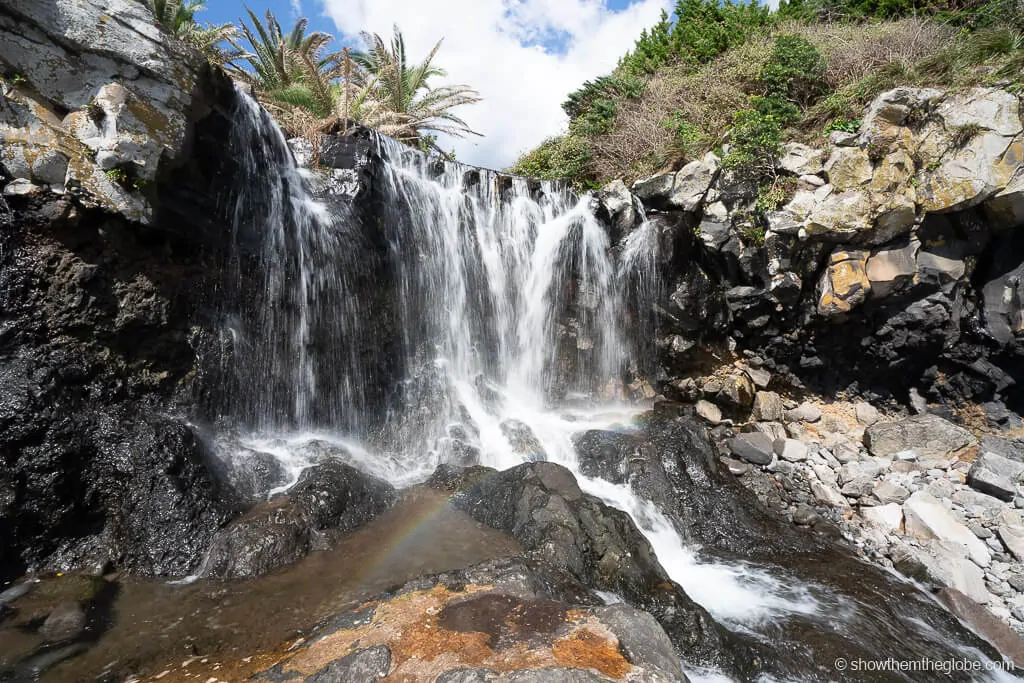 10 | Teddy bear museum
One of South Korea's most famous museums, the Teddy Museum is, unsurprisingly, a museum dedicated to teddy bears! Thousands of teddies from all over the world are displayed throughout the museum. Our highlights were a teddy bear depiction of a scene from Gulliver's Travels, the smallest teddy in the world and the Vitruvian Teddy, a nod to Leonardo Da Vinci's Vitruvian Man painting – check prices here!
Click here to book Teddy bear museum tickets
11 | Cheonjiyeon Falls
The Cheonjiyeon Falls, translating as 'where the sky connects with the land', is one of Jeju's three great waterfalls. Cheonjiyeon is set in scenic surrounds and the walk to the falls is serene and beautiful, especially during cherry blossom season. The turquoise waters and the resident ducks are a highlight at the Cheonjiyeon Falls!
Best things to do in Jeju with kids tip: squid biscuit is a popular local snack and is sold at the entrance of Cheonjiyeon.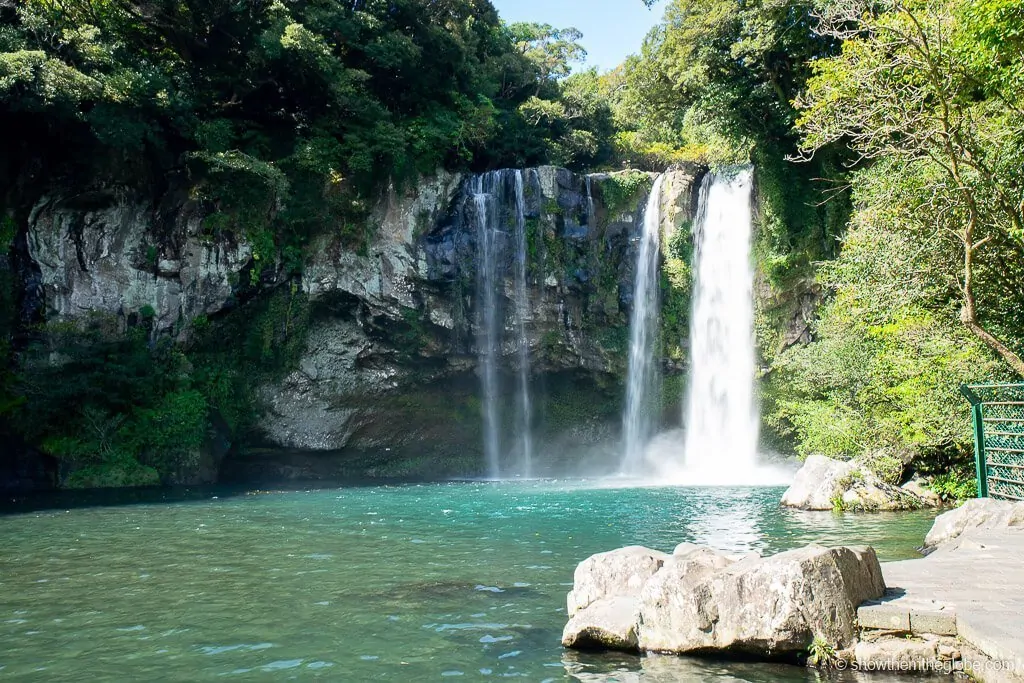 12 | Jusangjeolli Cliffs
The Jusangjelloi Cliffs were one of our Jeju highlights and it is amazing to see such a wonder of nature. The cliffs comprise hundreds of hexagonal basalt stone which were formed when the lava of Mount Hallasan erupted into the sea at Jungmun. The columns are visible from the wooden boardwalk which meanders around the cliff and it is an easy walk with kids.
Best things to do in Jeju with kids tip: Although not quite as vast, the Jusangjeolli Cliffs are a similar formation to the famous Giant's Causeway in Northern Ireland. For us, it was a little bit of home in South Korea!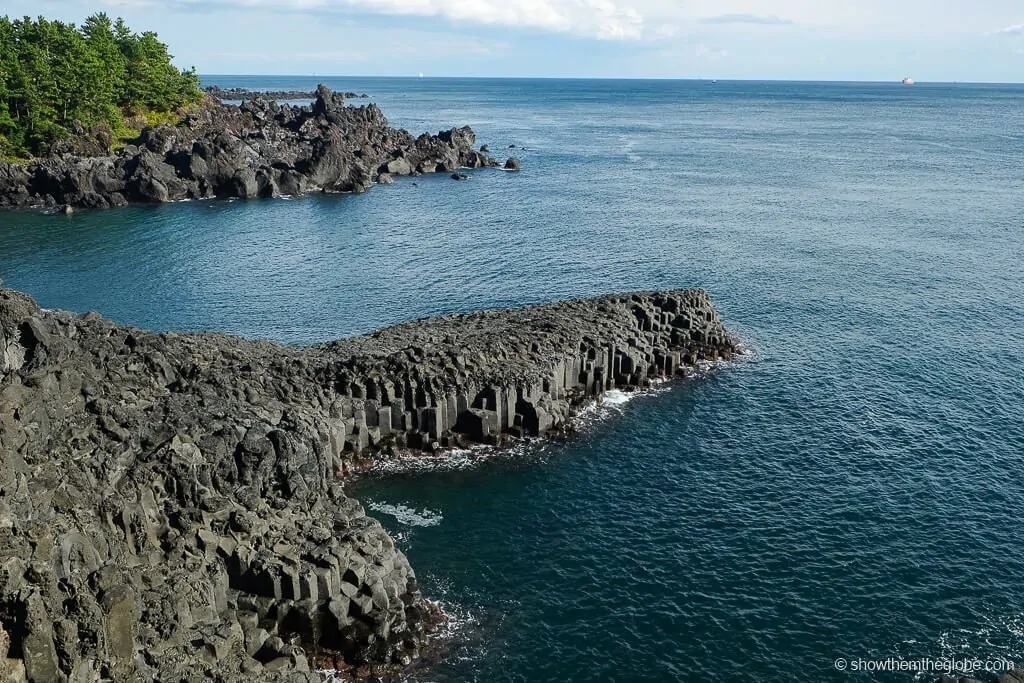 13 | Aqua Planet
Aqua Planet is the largest aquarium in all of Asia and 50,000 animals and 500 plants live there. Kids will be fascinated by the variety of marine life on show. The stingrays, sharks, seals, penguins and otters were our highlights among the thousands of sea creatures – check prices now!
Buy your Aqua Planet tickets now
14 | Oedolgae Rock
The towering Oedolgae Rock is an impressive rock formation towering over the South Sea. The best views are from the Olle trail, a series of trails which stretch across Jeju. The Odelogae Rock is surrounded by the beautiful Bum Island and Sae Island.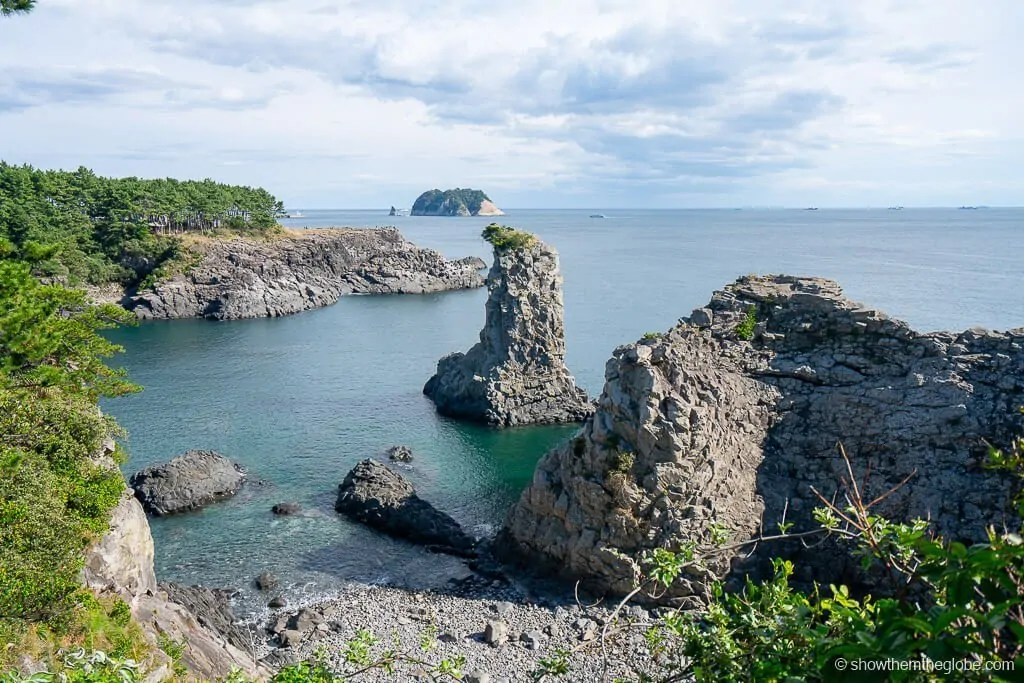 15 | Seopjikoji Coast Walk
Famous for the yellow canola which bloom during spring, the Seopikoji Coast Walk offers beautiful coastal views. It is a nice, easy walk for kids.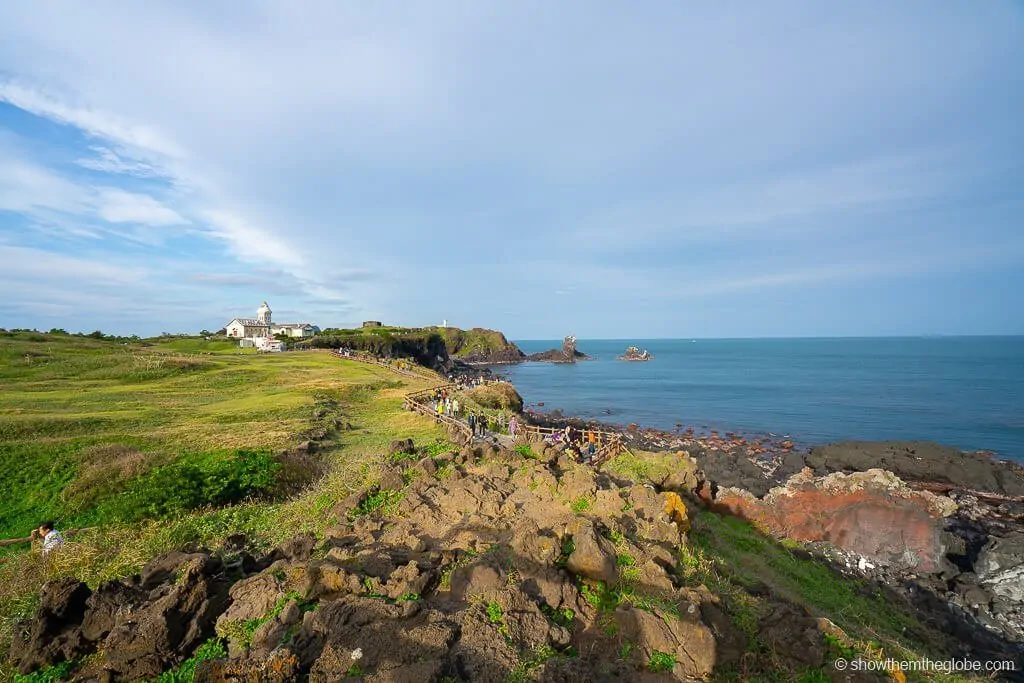 16 | Alive Museum Trick Eye Museum
The Alive Museum, a 4D museum full of optical illusions and peculiar art, is a really fun place to visit in Jeju with kids. The museum is totally interactive and there are lots of awesome photo opportunities – click here for the best ticket prices!
The Trick Eye Museum, a 3D optical illusion art exhibit, is another good option.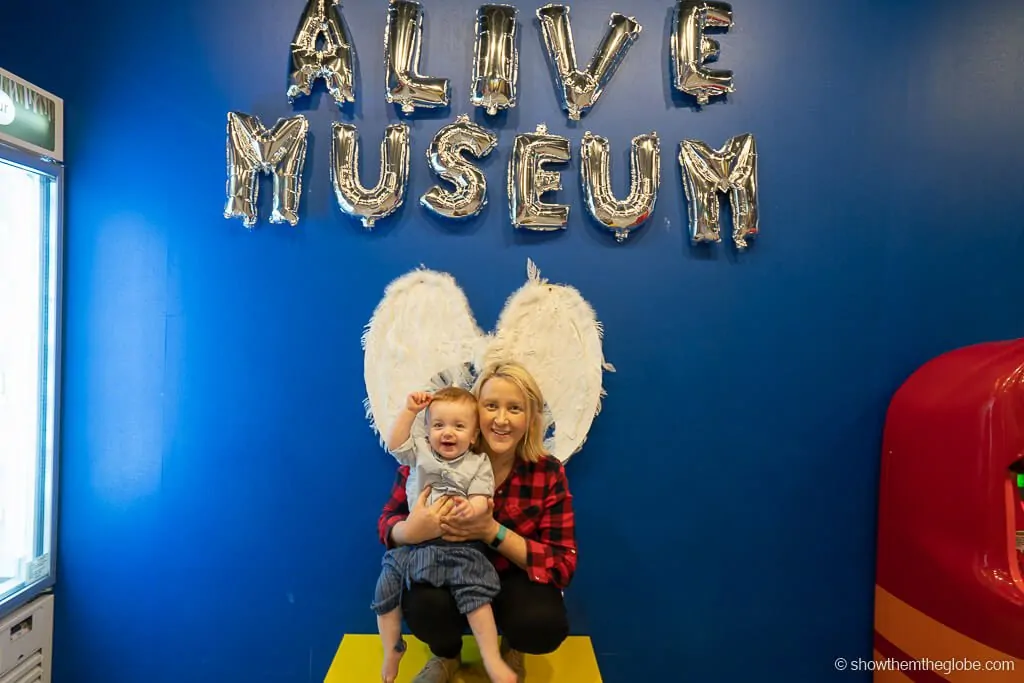 17 | Jeju Shinhwa World
Jeju Shinhwa World is a huge leisure development on Jeju which includes a theme park and a water park. The theme park has three zones: a steam punked themed zone, an Inca and Mya civilization themed zone and a larva character area. Shinhwa Water Park is the latest addition to the development and has a variety of waves, slides and pools including a 230 meter high slide – check prices now!
Best things to do with kids in Jeju with kids: when we visited it seemed that development had stalled at Shinhwa World. The theme park was very quiet and the resulting lack of queues made it a lot easier to keep kids entertained!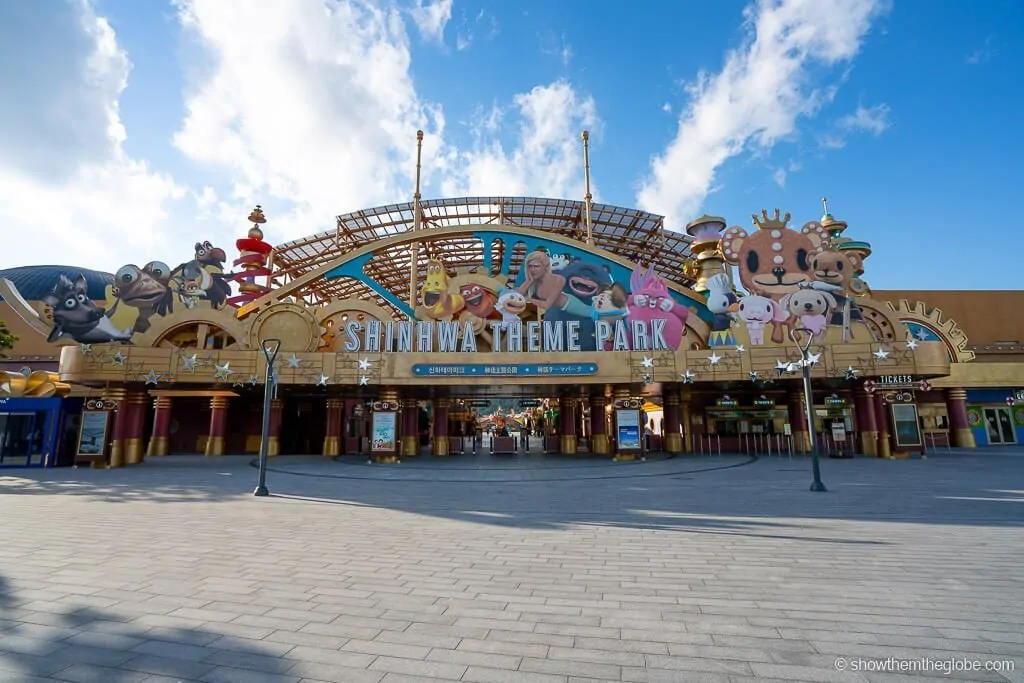 18 | Eco Land Jeju
Set in the Gotjawal primeval forest, a train transfers visitors to four stops which showcase the ecosystem of the forest. With picnic gardens, a lake, an eco bridge and windmill and a European garden to explore, Eco Land is a great family friendly activity in Jeju,
19 | Yeomiji Botanical Gardens
The Yeomiji Botanical Gardens has thousands of rare tropical and subtropical plants and flowers. The cactus garden and the aquatic garden were our favourites. It's also a great rainy day activity with kids.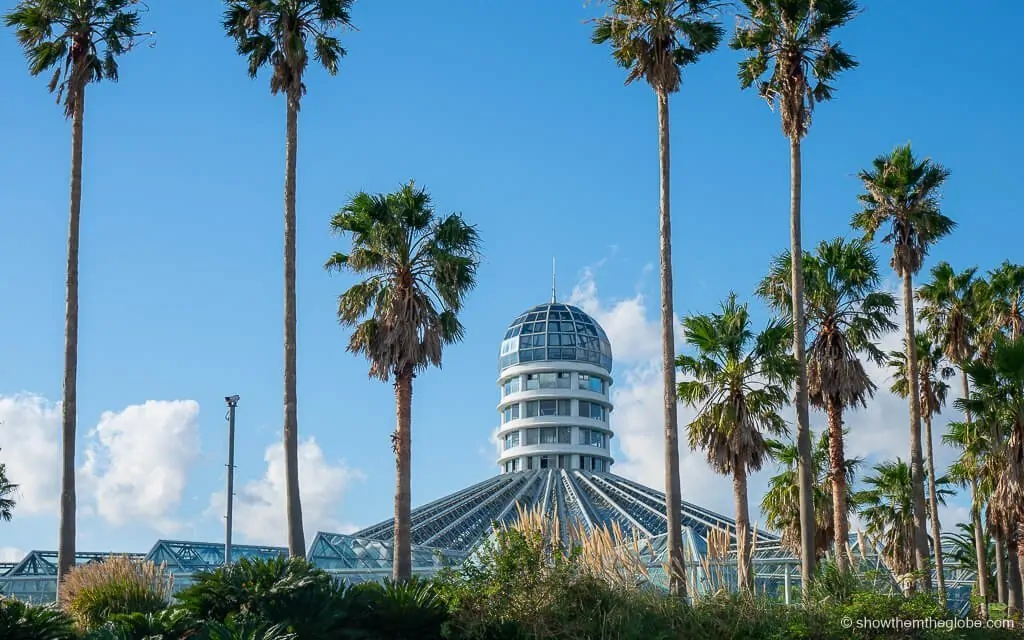 20 | Iho Tewoo Beach
Close to downtown Jeju and the airport, the conveniently located Iho Tewoo Beach is popular with tourists. Swimming and kayaking are fun activities during the day while at night the great restaurants draw visitors. There's an outdoor swimming pool which is perfect for kids. Iho Tewoo is a popular sunset spot and the horse shaped lighthouses are fun to see!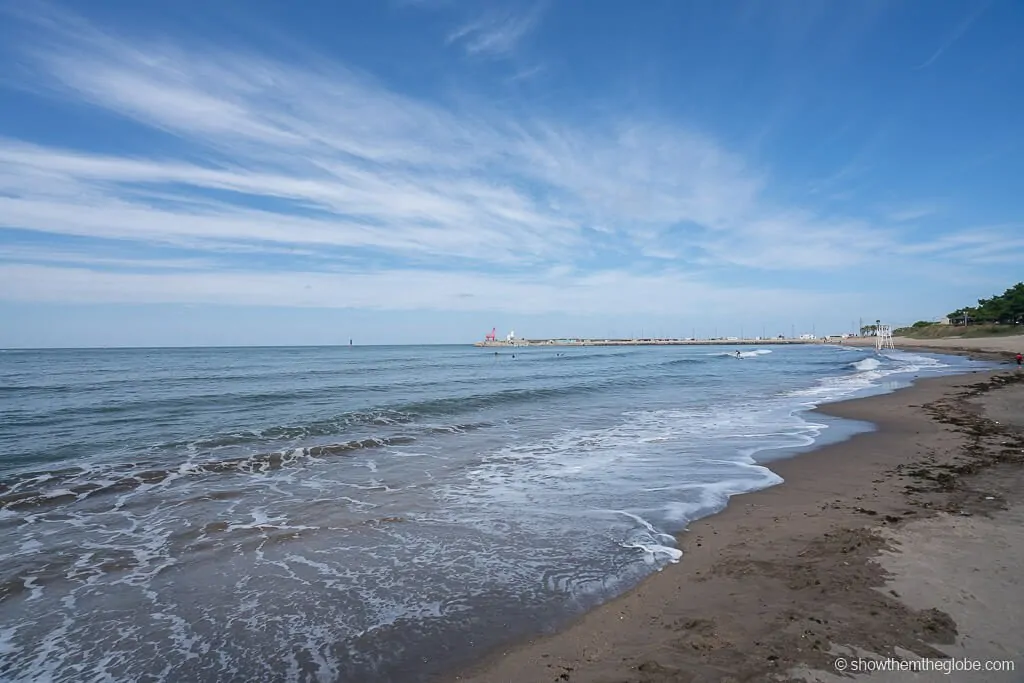 For more family travel in South Korea:
Check out our guide on things to do in Seoul with kids and our Korea with kids itinerary.