Taipei is an awesome choice for a family adventure and there are lots of fun and adventurous things to do in Taipei with kids. We visited Taipei with J and loved our family time in the colourful and chaotic city with an eclectic mix of influences. Together we explored its night markets, colourful cafes and epic scenery. Here's our guide to the best things to do in Taipei with kids!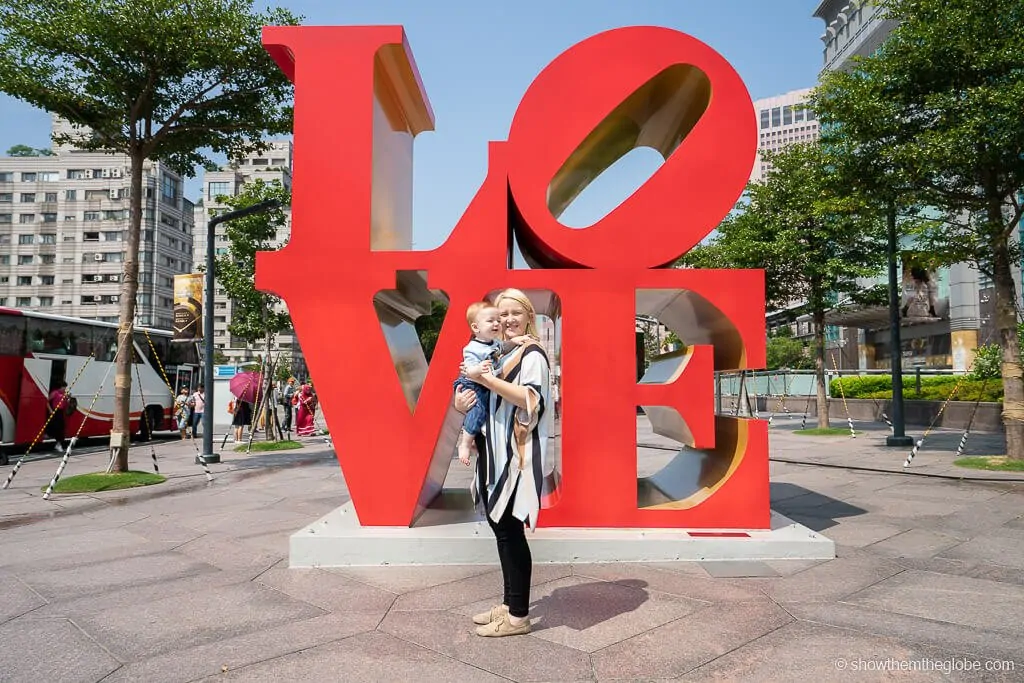 The 15 best things to do in Taipei with kids
From toilet-themed restaurants to colourful temples and stunning nature, here's our guide to the best things to do in Taipei with kids! If you are planning a wider Taiwan trip make sure to check out our Taiwan with kids itinerary!
1 | Ximending and Modern Toilet Restaurant
Ximending is one of the quirkiest neighbourhoods in the city. Although Ximending is often touted as the party centre of Taipei, there's plenty to do during the day and exploring there is one of our favourite things to do in Taipei with kids. The neighbourhood is full to the brim with shops and fashion boutiques, great cafes and restaurants, gallons of bubble tea, awesome street art and bright neon lights.
The modern side of Ximending interacts seamlessly with its historical side: the Tian Hou Temple is almost 300 years old, and local arts and crafts are sold in the Red House, Ximending's oldest building.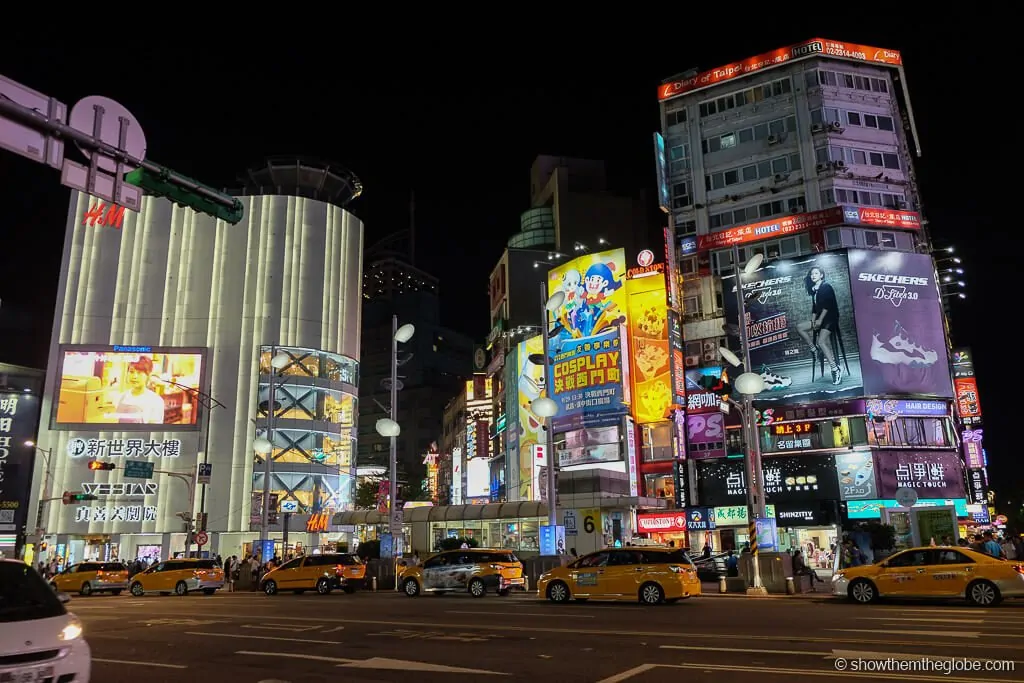 Best things to do in Taipei with kids tip: our absolute favourite thing to do in Ximending with J has to be lunch at the Modern Toilet Restaurant where the novelty factor is huge! The entire restaurant is toilet themed: the menu is toilet themed, diners sit on toilets to eat and food and drinks are served in toilet paraphernalia. After dining at Modern Toilet, we discovered first hand that there is nothing funnier to kids than toilet themed humour!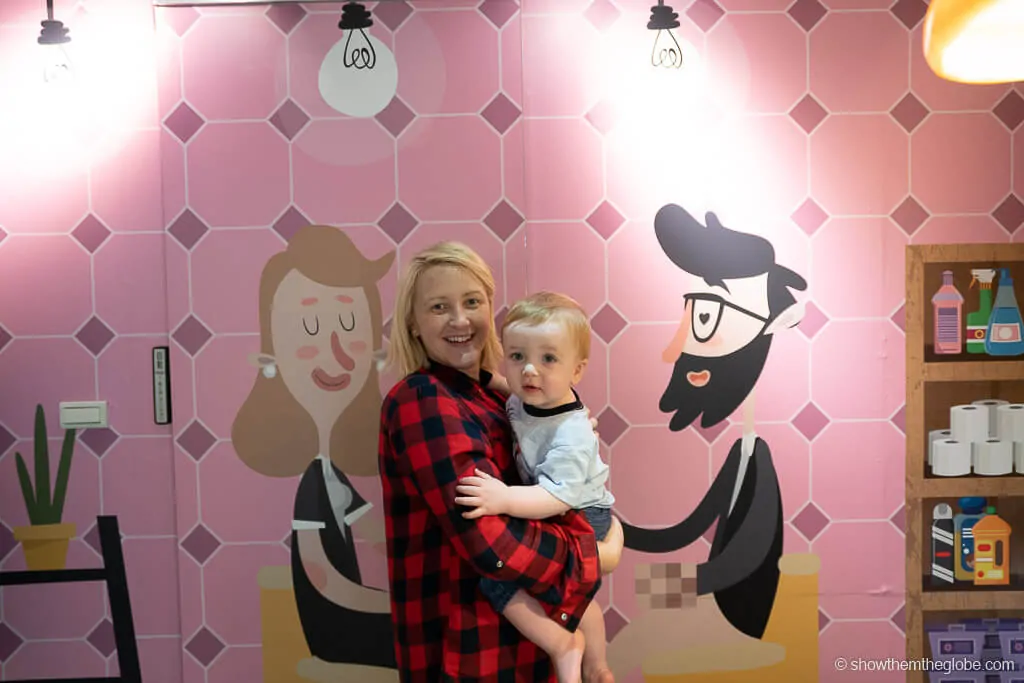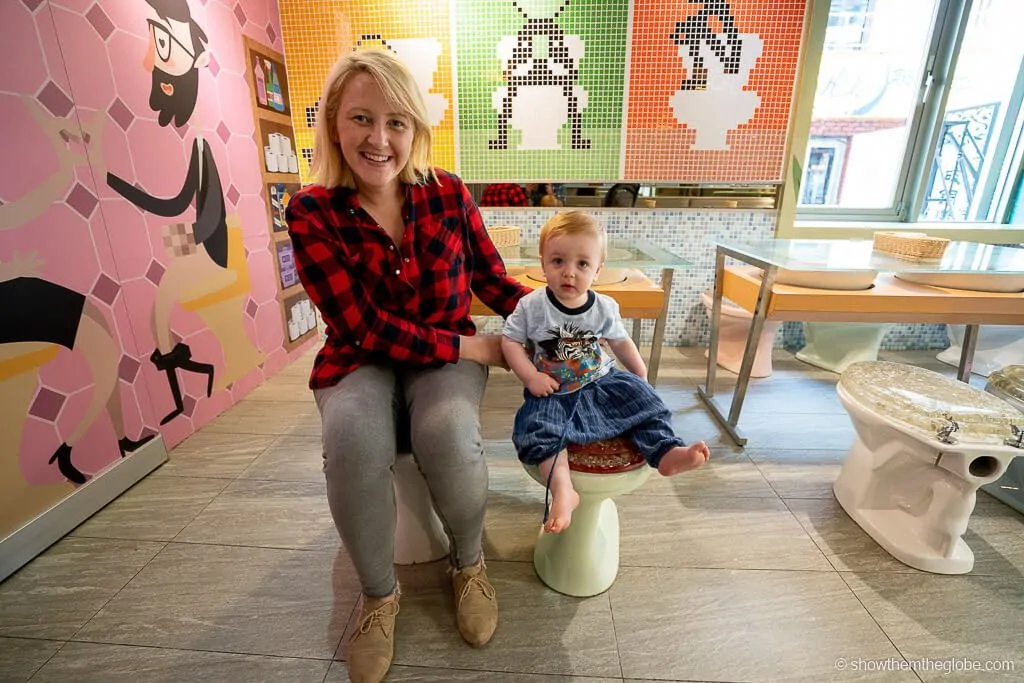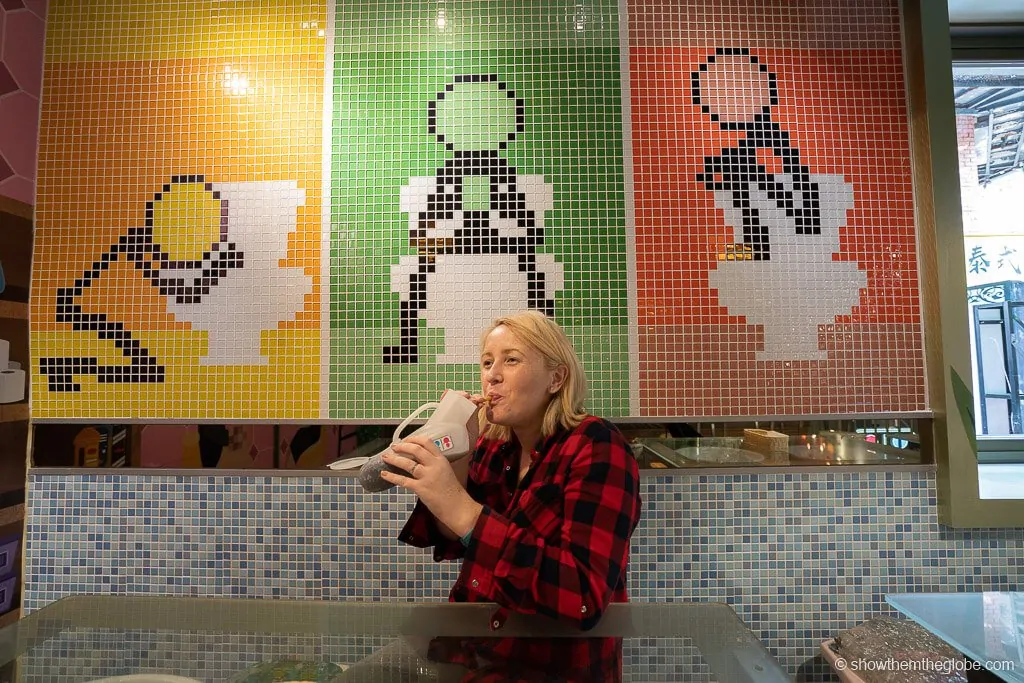 2 | Taipei Zoo
Taipei is home to one of the largest zoos in Asia and a trip to the sprawling Taipei zoo is one of the best things to do with kids in Taipei. The zoo's 90 acres are full to the brim of wildlife including giraffes, lions, flamingos, elephants, pandas and penguins.
The zoo is easily accessible by public transport and entrance is only NT $60 for adults while pre-schoolers are free.
Best things to do in Taipei with kids tip: take the shuttle uphill to the top of the zoo. Walking downhill towards the entrance as you explore the zoo will save little legs from getting tired!
Where to Stay in Taipei with kids
There are many great accommodation options in Taipei to suit all budgets. When visiting Taipei we'd highly recommend a hotel in close proximity to the MRT as it's the easiest and fastest way to get around the city. Ximending is our favourite area for a city break in Taipei.
CityInn Hotel Plus: Ximending Branch – we stayed in the CityInn Ximending branch and highly recommend both the location and the hotel. Rooms are compact but fantastic value, service is excellent and the hotel is just a few moments walk from the MRT, a Taipei essential – check prices now!
Taipei Garden Hotel –another great family-friendly option located close to Longshan Temple and Ximending – check prices now!
Dandy Hotel, Daan Park – clean, comfortable and located across the street from Taipei's biggest park, Daan Forest Park – check prices now!
Click here for the best Taipei hotel prices
3 | Elephant Mountain
Known locally as the Nangang District Hiking Trail, Elephant Mountain is a short but challenging hike which rewards with one of the best views of Taipei. The hike takes less than 20 minutes and there are lots of steps as well as frequent rest points.
There are 3 viewing platforms en route and the views of Taipei 101 and the city are incredible: our favourite spot for photos is the 6 boulder viewing platform.
Best things to do in Taipei with kids tip: Sunrise and sunset are the best times to hike. Bring water and bug spray as it gets very hot and there are lots of mosquitoes. The trail is well maintained and safe: we'd recommend using a carrier for younger kids and being especially careful if it's raining as the trail can get slippy.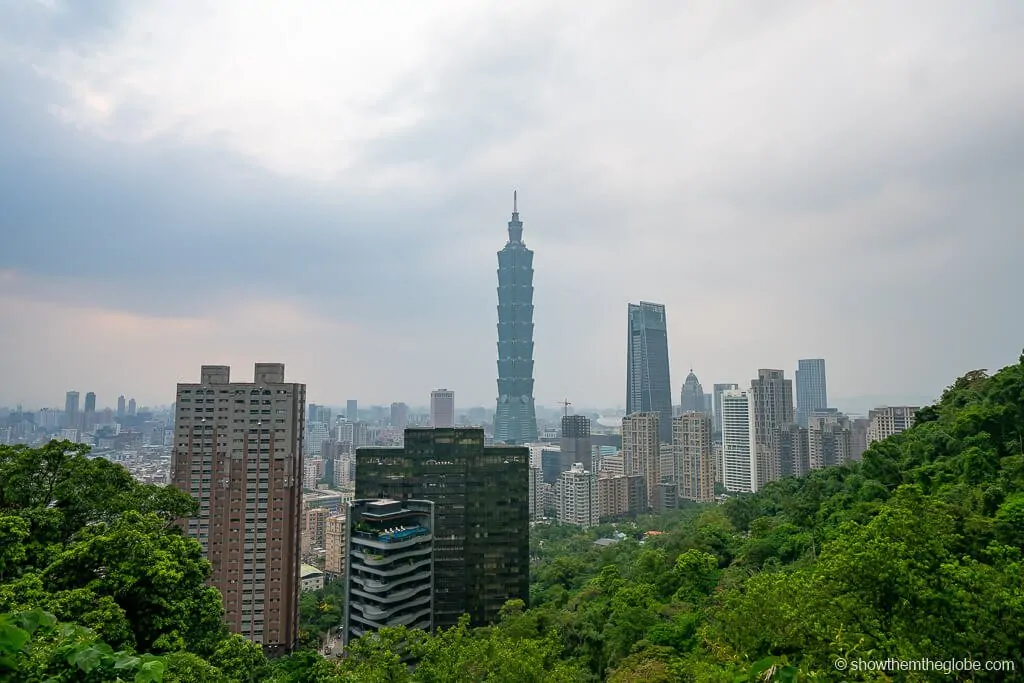 4 | Taipei Children's Amusement Park
Kids will love the Taipei Children's Amusement Park which has children's fairground rides, a playground and a children's theatre. The traditional fairground rides are a hit with kids of all ages and include classics such as a Ferris Wheel, a carousel, spinning teacups and bumper cars.
There's also an indoor play area with a ball pool and slot machines which is a saviour during rainy days in Taipei.
5 | Taipei 101
Designed to resemble a giant bamboo stick, the 101 floors of Taipei 101 tower above the city and a trip to the observation deck is a fantastic family-friendly activity in Taipei. As well as the riding the world's fastest elevator, we loved the outdoor observation deck on the 91st floor and its unobstructed views of the city. The 88th floor houses the Taipei 101 wind damper, a 660-ton weight and engineering marvel which helps Taipei 101 stay upright.
Another great option for experiencing the views from Taipei 101 is to reserve a spot at the world's highest Starbucks, Starbucks Taipei 101 on the 35th floor. There's no charge for a ticket but they do enforce a minimum spend of NT $250 per customer. Reservations are made by phone and it's best to ask your hotel to arrange as you need to speak Mandarin. We visited the Taipei 101 observatory first thing in the morning and then made a trip to Starbucks Taipei 101 for sunset a few days later! Read our guide to find out how to visit Starbucks Taipei 101 for more information!
Best things to do in Taipei with kids tip: we purchased our tickets for Taipei 101 through Klook as our Taiwan activities were usually discounted when we booked in advance – click here to reserve tickets to Taipei 101
Click here to reserve tickets to Taipei 101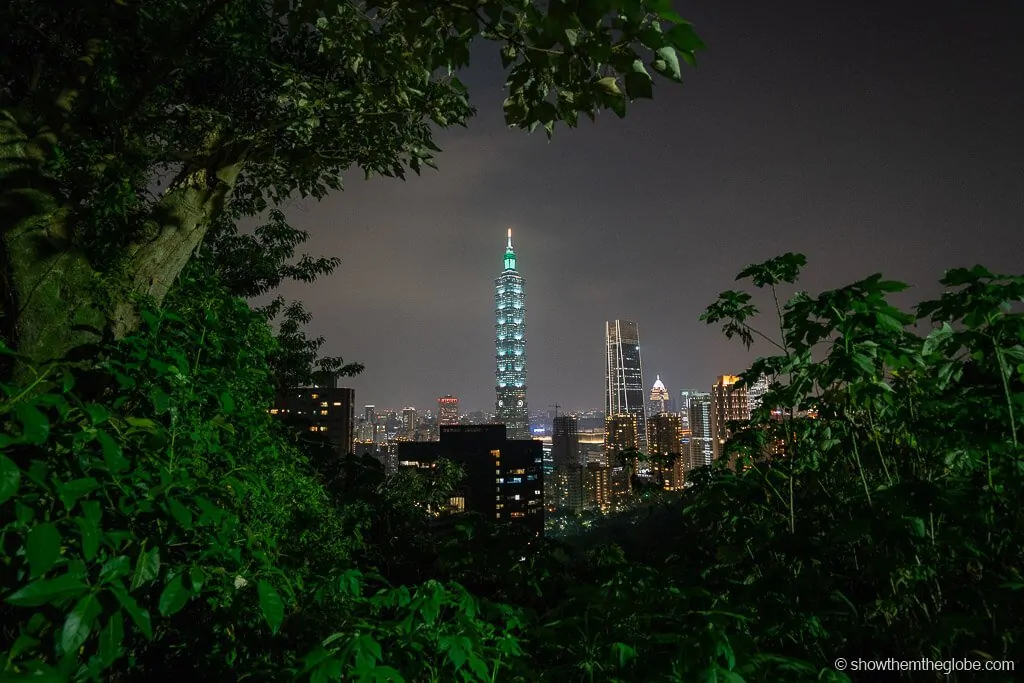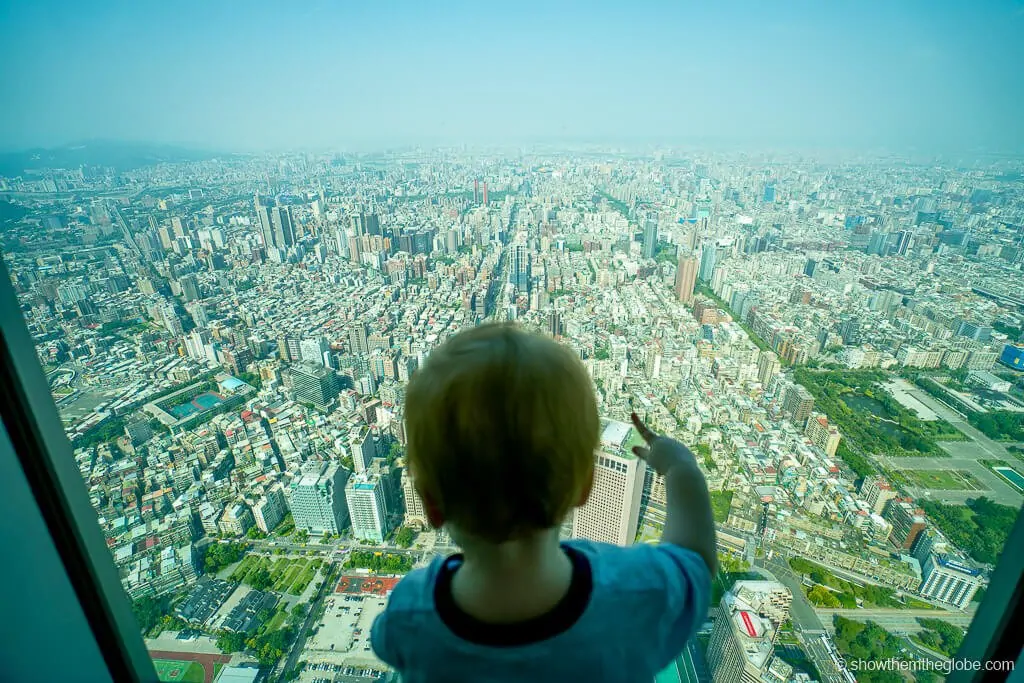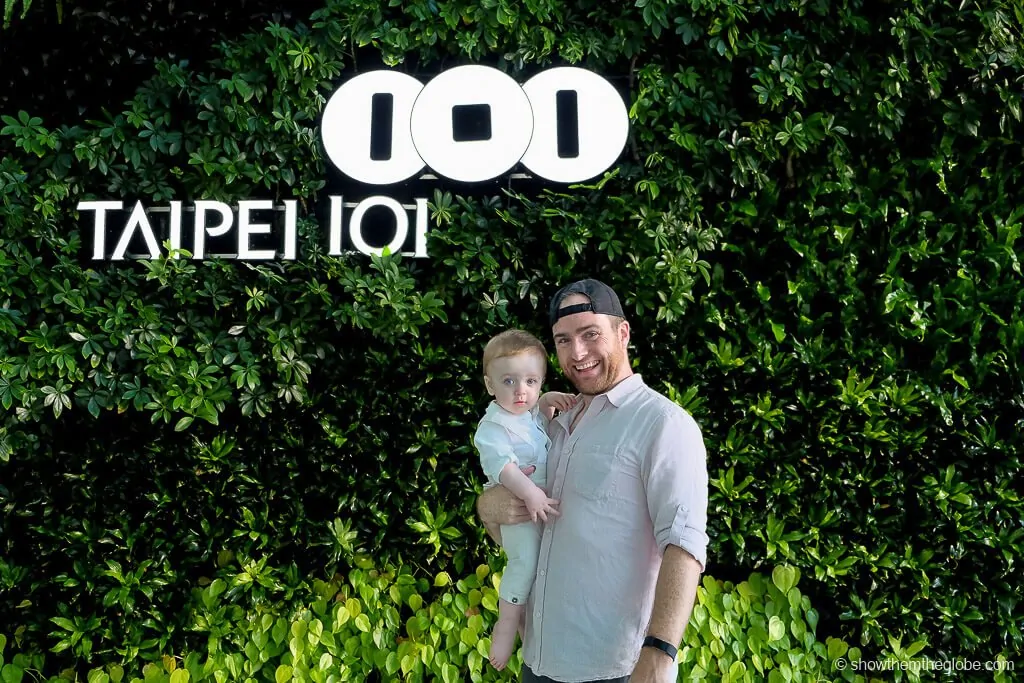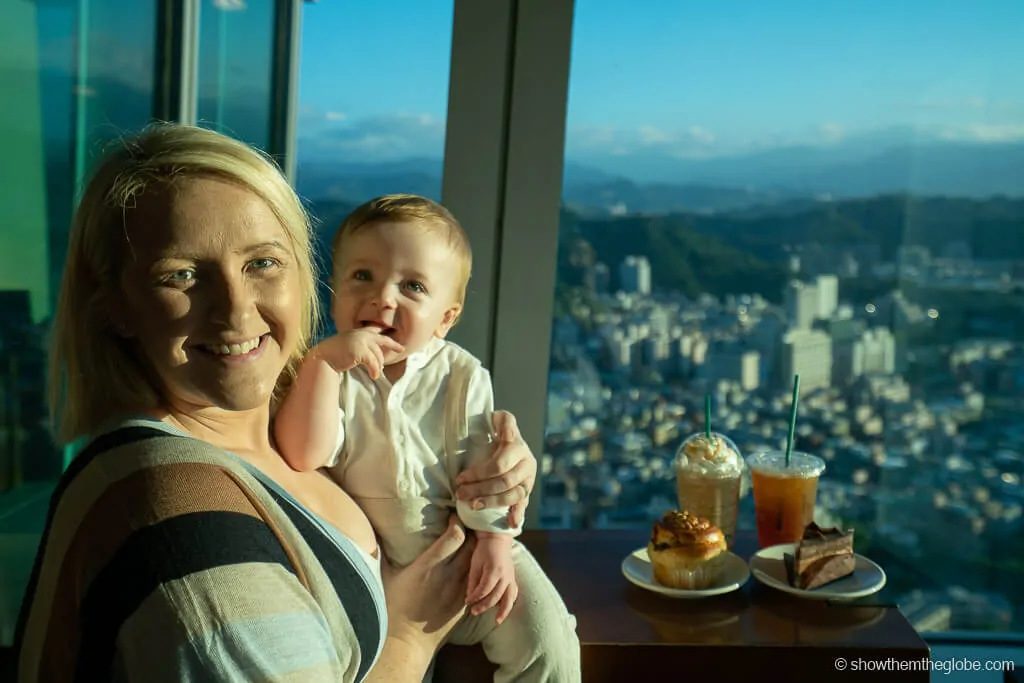 6 | Taipei Night Markets
Taiwanese night markets are a magnet for locals and tourists in search of good food and a great evening out. 10 stalls in the Taipei night markets even made it into the Michelin Guide and were awarded a street food Bib Gourmand which recognises a quality meal at a lower price.
Kids will love the tempting snacks while embracing the hot and noisy atmosphere and colourful side stalls with arcade style games and cheap souvenirs.
Don't miss the night market classics such as bubble tea, fried pork chop on rice, oyster noodles and shui jian bao as well as the many other small bites which can be found at the stalls.
Best things to do in Taipei with kids tip: when visiting the night markets with kids consider avoiding the evening rush which tends to happen between 7pm and 10pm. Taipei's night markets typically open in the late afternoon and we found this the perfect time to explore with J and comfortably navigate the stalls with a stroller.
Raohe Night Market
Raohe was one of our favourites and the night market is popular with tourists: we returned multiple times to feast on the Fuzhou Shizu Black Pepper Buns which, along with the Chen Dong Pork Ribs Medicinal Herbs Soup and Shi Boss Spicy Tofu, hold a Bib Gourmand and attract long queues.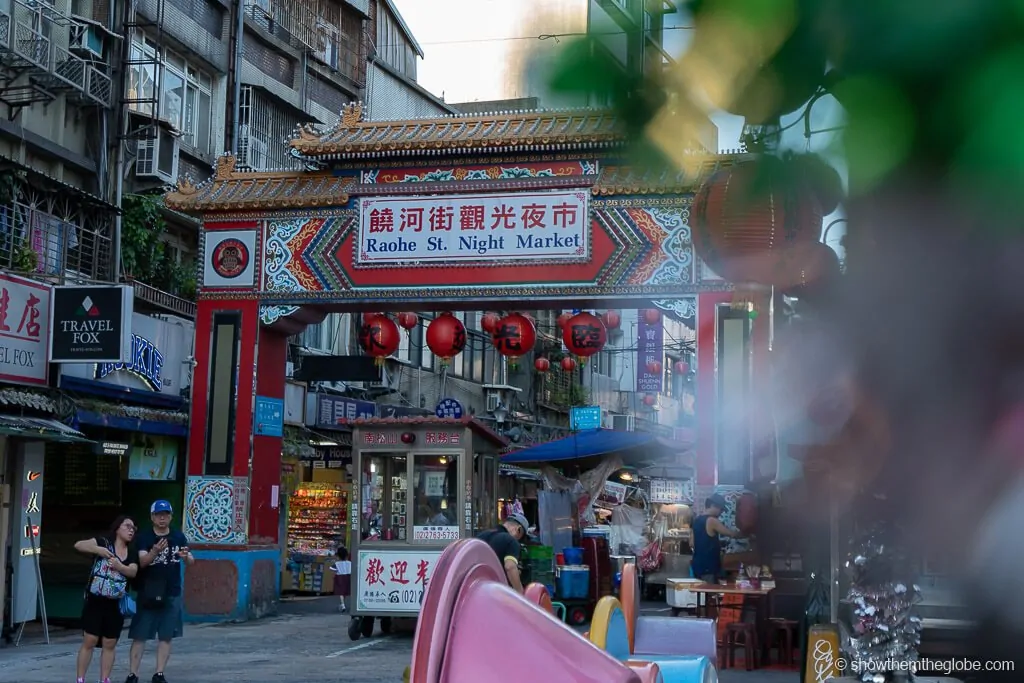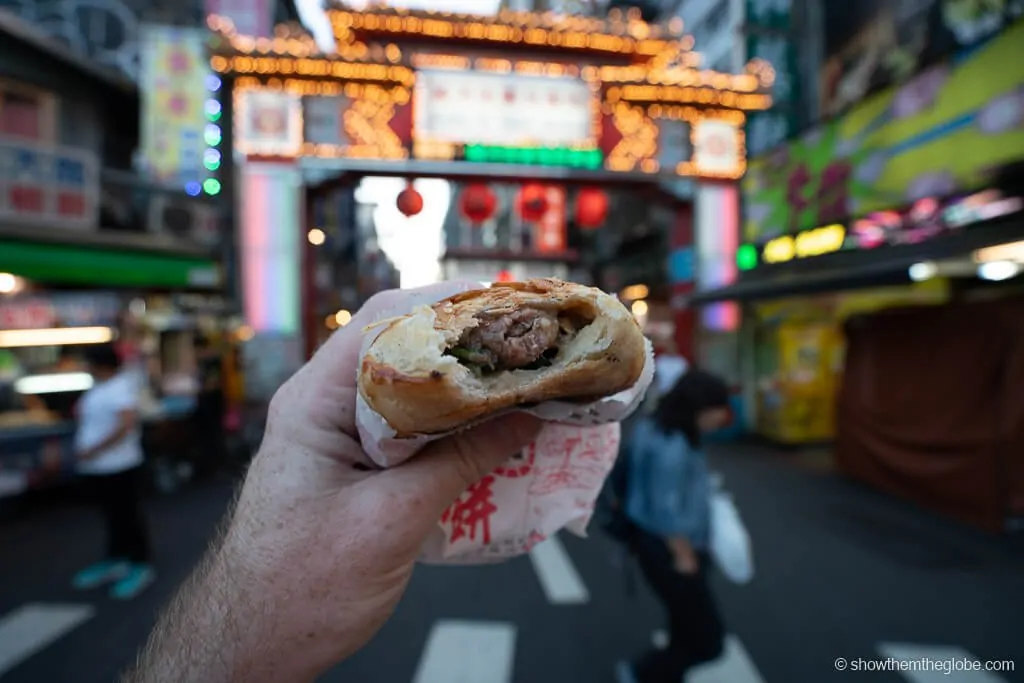 Shilin Night Market
We also loved the Shilin Night Market, a Taipei staple since 1899 and probably the most famous night market in the city. With over 500 stalls, Shilin is huge, and an indoor food court spills out into the surrounding streets.
Again, we sought the Bib Gourmand stalls and indulged in the famous Hai You Pork Ribs as well as the outstanding Bin Small Sausage in Large Sausage, where the sausage wrapped in sticky rice is a huge hit. The Hot Star fried chicken stall was another of our favourites with the crispy fried chicken a must try in Taiwan.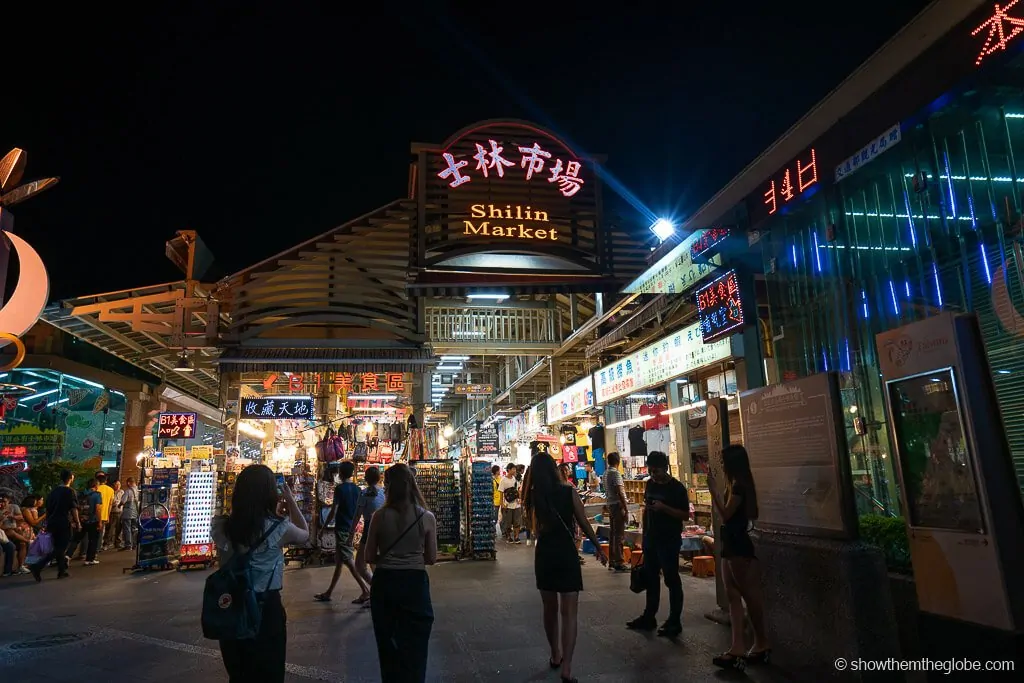 7 | Maokong Gondola
Taking a ride on the Maokong Gondola is one of our Taipei favourites. The scenic cable car operates from the Taipei Zoo Station and stops at the Zhinan Temple before reaching the Maokong Station which serves the quaint mountaintop village of Maokong.
Kids will love the 30-minute glass-bottomed cable cars and the panoramic views from the climb up the mountain. The colourful Zhinan Temple is a nice stop and the tea plantations and tea shops in Maokong are also a hit.
Best things to do in Taipei with kids tip: We purchased combo tickets for the Maokong Gondola and an evening double decker sightseeing tour from Klook in advance and it was awesome value. Kids under 5 are free so we didn't have to purchase a ticket for J. The gondola is closed most Monday's so make sure to plan your trip around the gondola's opening hours – click here to purchase the gondola and night tour combo tickets!
Click here to purchase Gondola tickets
8 | Longshan Temple
Taiwan's most famous and well-loved temple, Longshan Temple, is a must visit in Taipei. Built in 1738, the temple is located in the heart of the city in the historic neighbourhood of Wanhua and is dedicated to a mix of Buddhist, Taoist and Confucian faiths.
The temple and its grounds are beautiful and it's fascinating to watch and listen to the worshippers praying and making offerings in a haze of incense and burning candles. Many visitors participate in a fortune telling ritual which involves stones, a stick, a fortune sheet and a lady who interprets the outcome!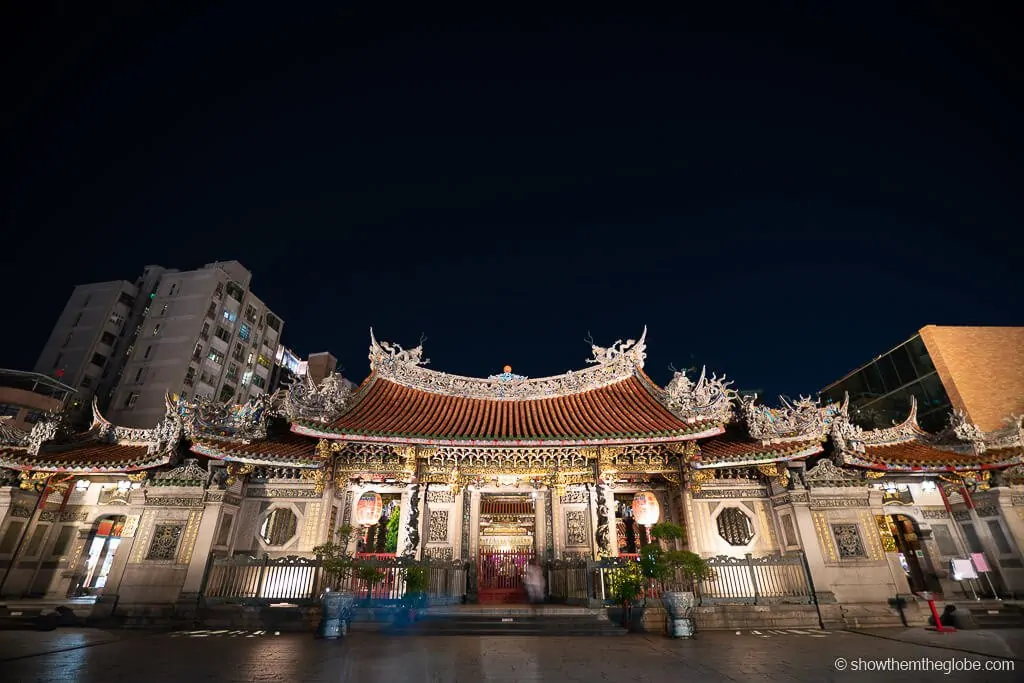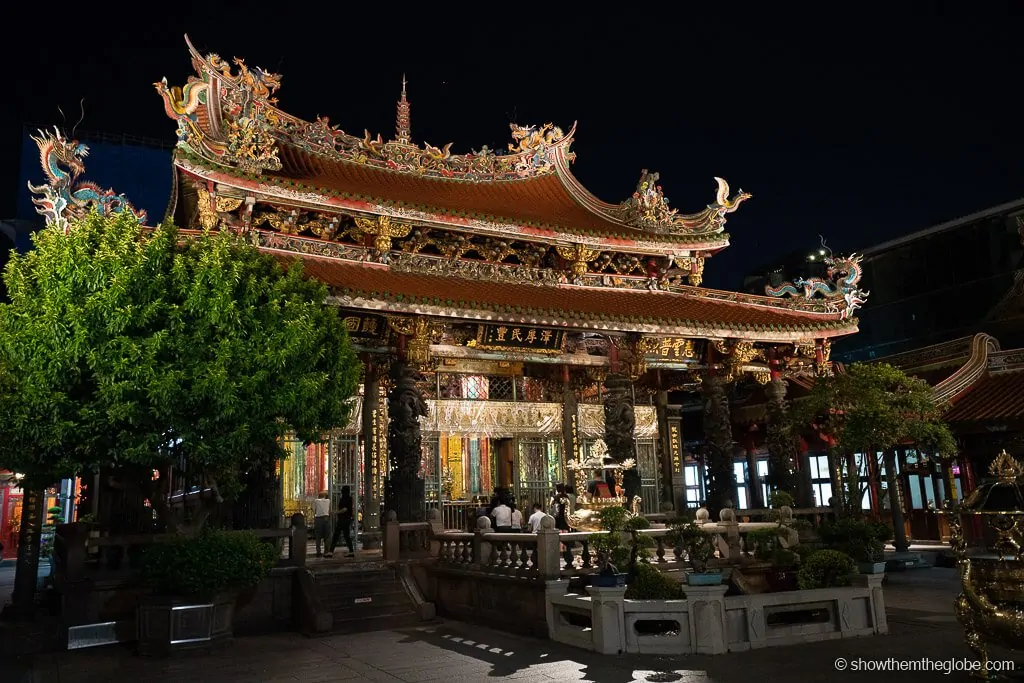 9 | Huashan 1914 Creative Park
Originally a winery, the Huashan 1914 Creative Park is a repurposed art, design and cultural venue where sculptors, writers, painters and performers showcase their talents.
The park contains restaurants, arts and craft stores, art galleries and performance venues in an informal setting and hosts exhibits in areas such as photography and film as well as many aimed at children. There are various creative parks located around Taipei but Huashan, with its unique winery origins still evident, is one of our favourites.
10 | Chiang Kai-shek Memorial Hall
The CKS Memorial Hall is one of Taipei's most prominent landmarks and was erected in honour of the first President of Taiwan, Generalissimo Chiang Kai-Shek. The memorial hall is part of a national park and recreation area officially known as Liberty Square.
The 8 sides of the CKS Memorial Hall represent the fortune and wealth associated with the number 8 in Chinese culture and the 89 steps are symbolic of Chiang's age at the time of his death. It's a popular hangout spot for young and old alike and a great place to help kids understand some of the history of Taiwan and its relationship with China.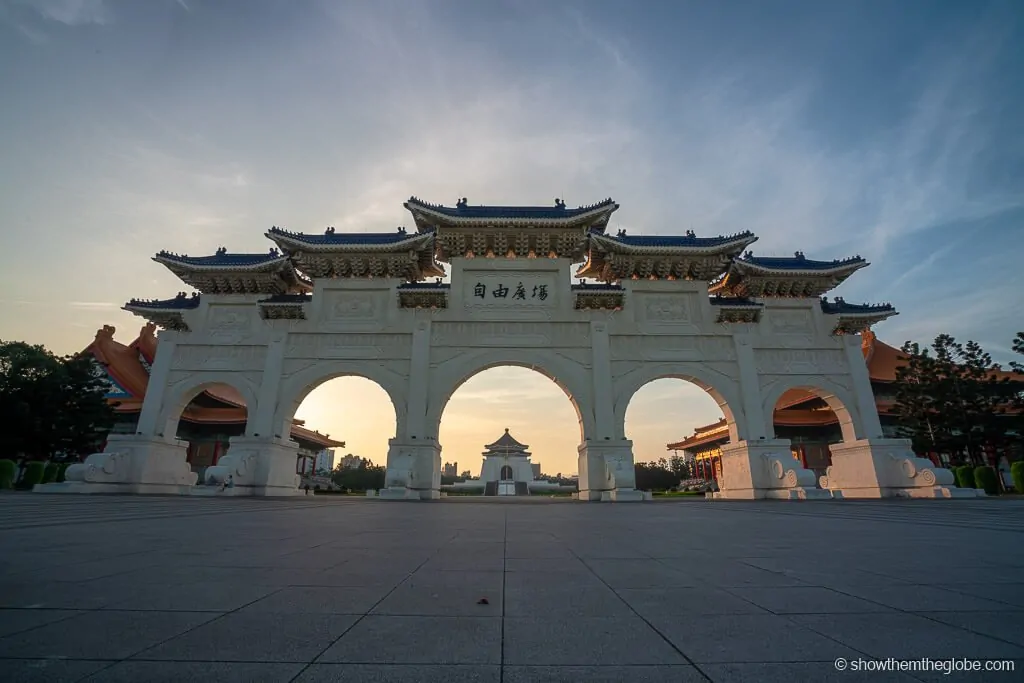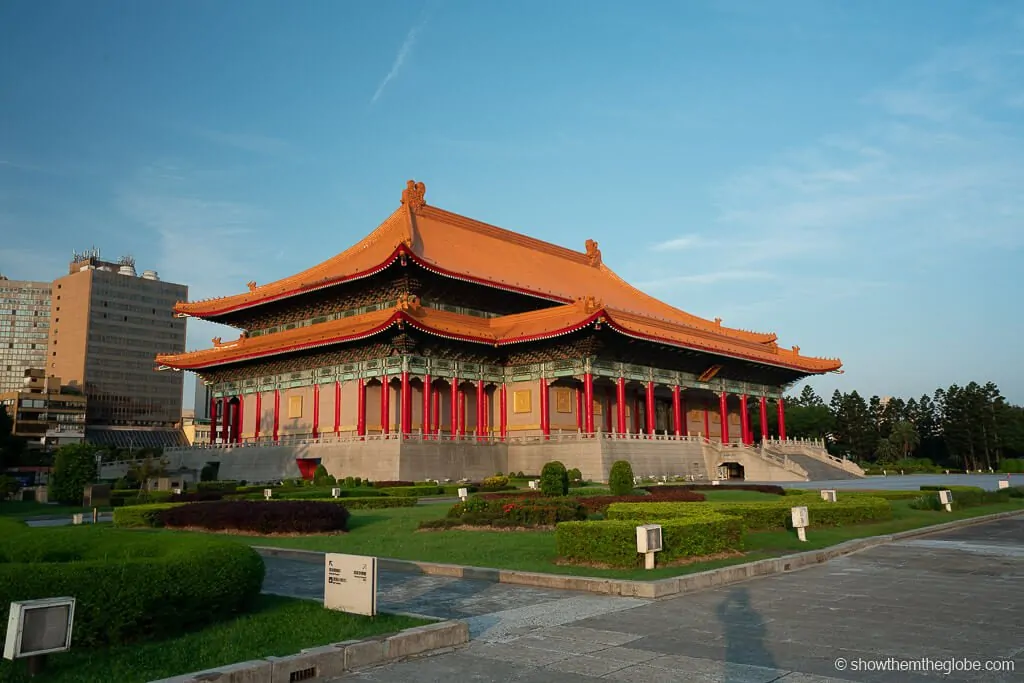 11 | Daan Forest Park
The Daan Forest Park is Taipei's largest park and is a great place to spend an afternoon with kids. The park is stroller friendly, is located close to the MRT and has an excellent children's playground where little ones can burn off some energy!
J loved the park pond and its resident ducks and turtles as well as the freedom of the huge open space!
Day Trips from Taipei
There are some fantastic half and full day trips which offer more great options for things to do with kids in Taipei.
12 | Jiufen
The charming old town of Jiufen was once famed for its prosperous gold rush and gold mining activities. Its old street is now a tourist magnet with visitors indulging in local specialities such as glutinous rice cakes, peanut ice cream and fish balls in between souvenir shopping.
The A-Mei Tea House is one of the most prominent landmarks in Jiufen and offers both great tea and great views! The nearby Gold Ecological Park in Jinguashi and hiking to the top of Keelung Mountain are other popular Jiufen activities.
Best things to do in Taipei with kids: we visited Jiufen, Shiefen and Yeuhliu Geo Park using our rental car. If you prefer to use a tour, Klook offers a great shuttle bus options which ferries passengers between the key sights of Jiufen, Shifen and the Yehliu Geo Park on the North East coast of Taiwan – click here to reserve shuttle bus tickets!
Click here to reserve shuttle bus tickets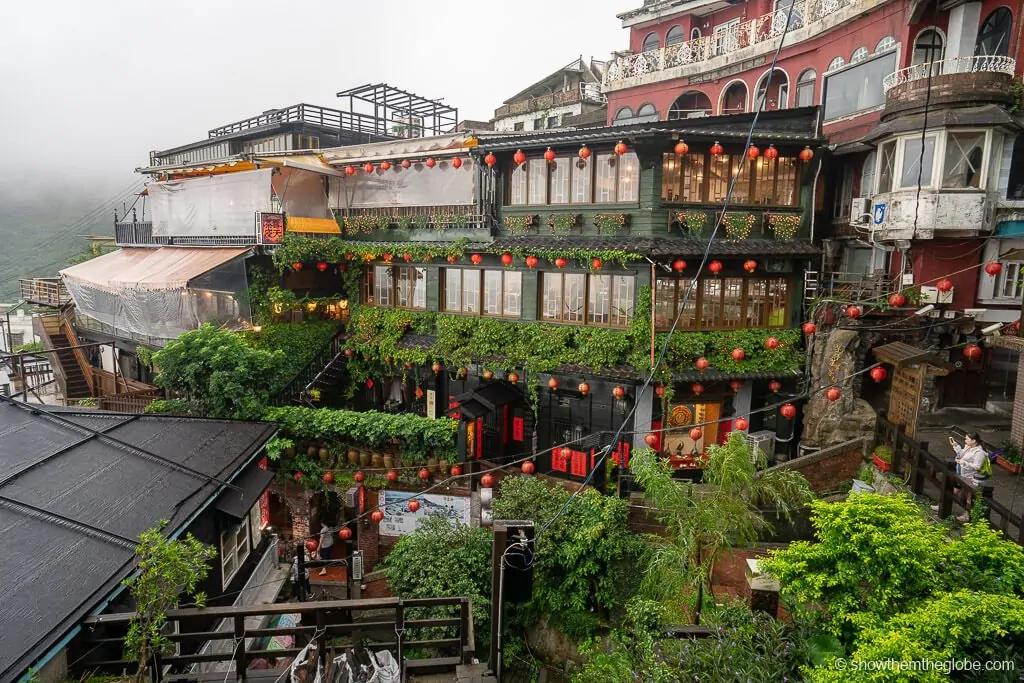 13 | Shiefen Old Street and Waterfall
Shifen is famous for both its old street and its scenic waterfall and is a wonderful stop close to Taipei. We loved exploring the old streets of Shifen, located around the railway track: it is here where visitors congregate to release colourful lanterns bearing their wishes in life.
The nearby Shifen Waterfall is also a treat: the cascading waterfall is especially beautiful after it rains and a rainbow often breaks out over the waterfall.
Best things to do in Taipei with kids tip: we were concerned about the environment impact of sending lanterns into the sky and tried to source biodegradable lanterns. We were told during our visit that the locals collect the burnt out lanterns and wires to prevent littering the countryside and are rewarded for doing so.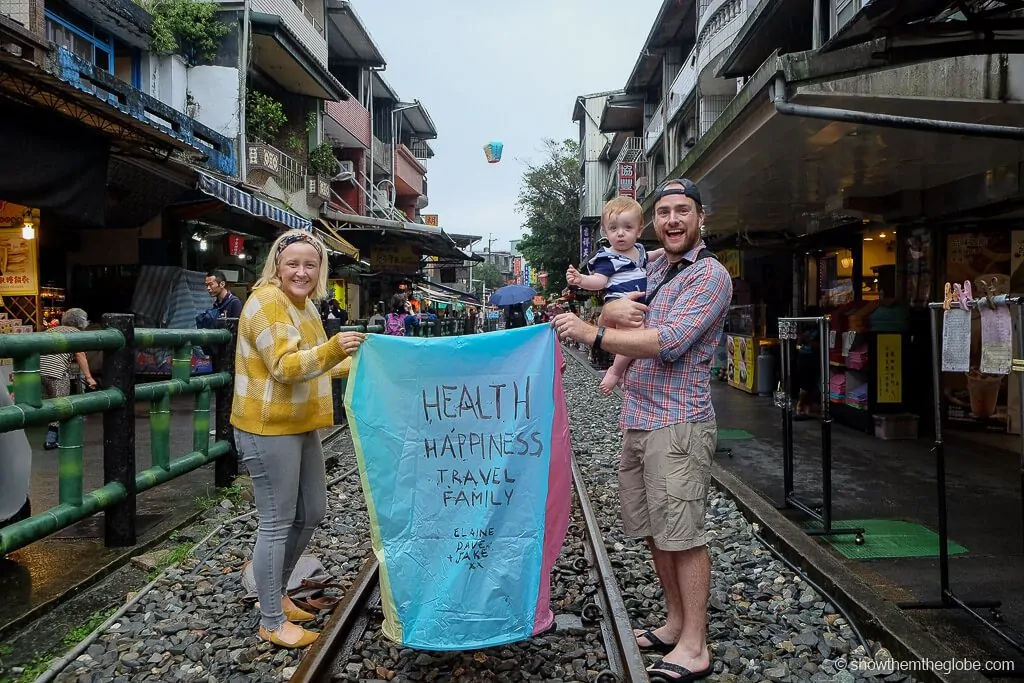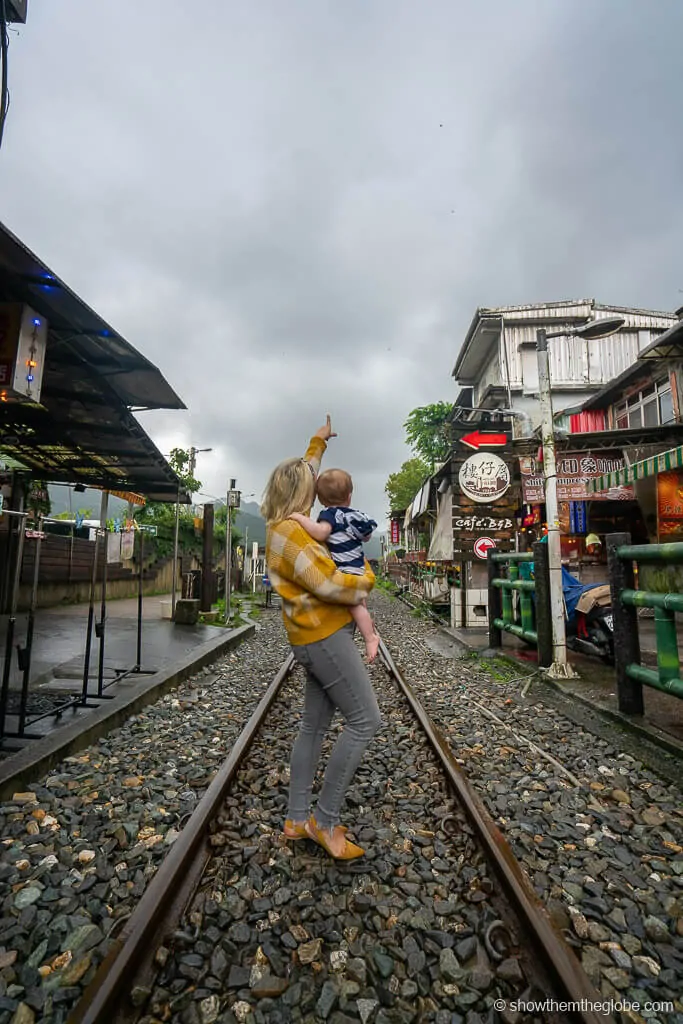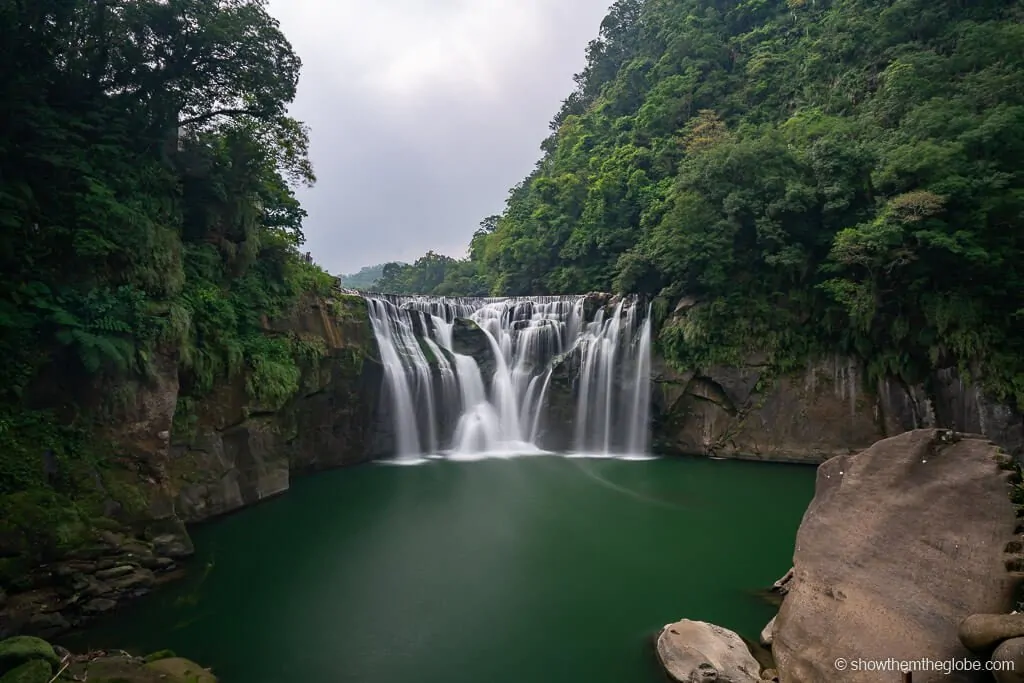 14 | Beitou Hot Springs
Located just 30 minutes outside Taipei, the Beitou Hot Springs arise from the geothermal energy of the still active Yang Ming Shan Volcano. Beitou is a popular hot spring area and a fantastic escape from the bustling city.
It is accessible via the colourful pink line between Beitou and Xinbeitou, where the hot springs are located, and J loved the cartoon themed MRT ride and the Xinbeitou Station made entirely of wood!
There is a wide range of options for bathing in the hot springs: there are less expensive public hot springs as well as private baths and upscale hotels and resorts. As well as bathing, the scenic Beitou Hot Spring Park is beautiful to explore together with the Hot Spring Museum and Library which are located within the park.
Best things to with kids in Taipei tip: the public hot springs, which are located close to the MRT, are often crowded and sometimes insist visitors purchase a new swimsuit to meet their regulations. Our favourite family friendly hot spring is the private Spring City Resort which has hot and cold outdoor pools suitable for kids of all ages and is accessible to day visitors. A free shuttle bus operates between the MRT Beitou/Xinbeitou Station and the Spring City Resort – click here to reserve a pass to Spring City Resort!
Click here to purchase Spring City Resort tickets
15 | Yehliu Geo Park
Nestled on Yehliu Cape, the Yehliu Geopark contains a fascinating collection of unique geological formations in an otherworldly landscape created by sea erosion.
The rocks are named in reference to what they resemble: the most famous formation is the Queen's Head which usually has a lengthy queue for photos. Other formations include the Dragon's Head, Sea Candles, Mushroom Rocks and Kissing Rocks.
Best things to do in Taipei with kids: the Yehliu Geo Park is a lovely coastal walk but, if you are planning a visit, remember that it's exposed to the elements. Make sure to bring sunscreen, an umbrealla and hydration on sunny days or wind and rain jackets if the weather isn't good.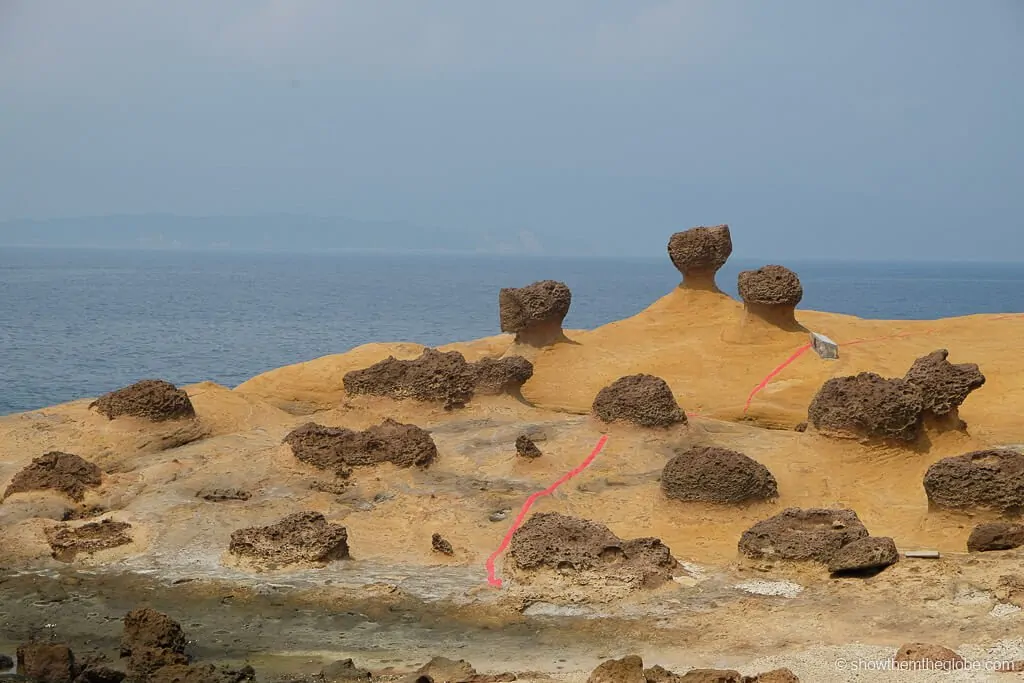 For more on Taiwan
Check out