Having recently completed our own amazing two week Taiwan with kids itinerary we wanted to share our experiences of traveling around Taiwan as a family. We explored the cities, beaches and scenic areas of Taiwan and have put together our recommended Taiwan with kids itinerary. From chaotic Taipei to the beauty of Alishan and the seaside fun of Kenting, Taiwan is an awesome choice for a family vacation and one of our favorite places to visit in Asia. For those of you planning your own Taiwan with kids itinerary, we wanted to share our Taiwan travel guide including the best things to do in Taiwan with kids!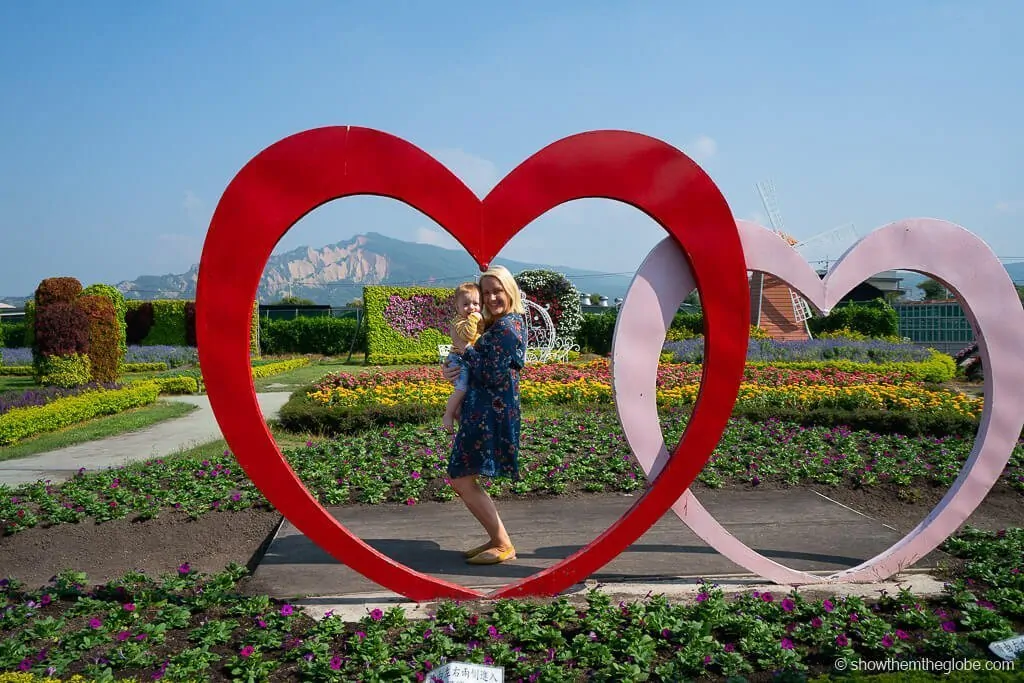 Taiwan with Kids Itinerary and Route
The convenience operating to your own schedule makes renting a car by far the easiest way to get around Taiwan with kids in tow. It's also possible to travel around using a mix of high-speed trains, buses and tourist shuttles.
By rental car: Taiwan has excellent roads, good driving standards and lots of free parking. We followed a circular route starting and ending in Taipei, Taiwan's capital city and the point of arrival and departure for most Taiwan travellers.
By public transport: our Taiwan with kids itinerary can also be completed by public transport using a mix of trains and buses. On the west coast of Taiwan, the major cities are serviced by High-Speed Rail while tourist spots like Taroko Gorge and Sun Moon Lake are reachable by bus – click here for Taiwan Rail Pass prices
Click here to purchase a Taiwan Rail Pass
Taiwan with kids Route
The Route: Taipei – Taichung – Alishan – Kaohsiung – Kenting – Taitung – Taroko Gorge – Taipei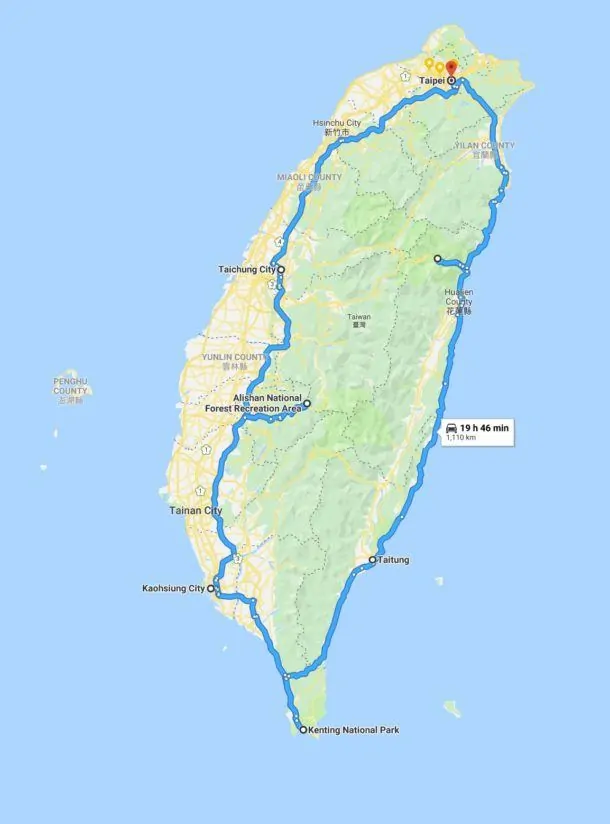 Renting a car in Taiwan
Navigating Taiwan by rental car is relatively easy and we highly recommend renting a car if you are comfortable driving. The roads are high-quality, driving standards are generally good, fuel is extremely cheap and parking is freely available in most locations. We rented our car throughKlook.com and secured a great price on an Avis rental – check rental car prices here!
Book your Taiwan rental car now
If you do opt for a rental car we suggest only picking it after you have explored Taipei. The public transport system is excellent in Taipei and almost every attraction is reachable by subway. The subway is easy to navigate, even with kids, so there's no need to brave the crazy traffic! We picked up our rental car on our last morning in Taipei and left the city immediately for Taichung.
Taiwan with kids itinerary tip: An International Driving Permit is mandatory when renting a car in Taiwan so make sure to get an IDP in your home country before departure if you are planning on driving a rental car.
We're huge fans of road trips and have driven rental cars in over 40 countries so we have a lot of experience renting cars in foreign countries. Since J arrived he's road tripped in places like South Africa, Namibia, Turkey, South Korea, Oman and Italy! We reserved our car through RentalCars.com and opted to rent through Avis. Book your car now with RentalCars.com, where you will find the best rental car prices.
Click here for the best rental car prices!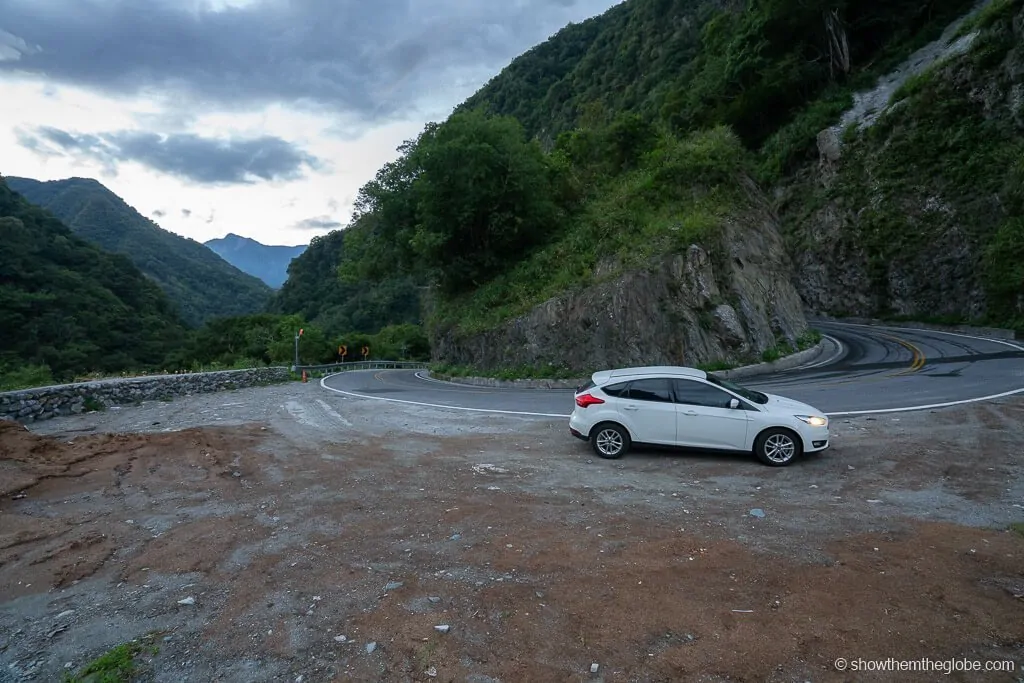 How long to spend in Taiwan with kids
There's a lot to do in Taiwan with kids! From the bright lights of Taipei to the natural wonders of Alishan, the vastness of Taroko Gorge and the vibrant Taichung there's a lot to squeeze into a Taiwan with kids itinerary. We recommend budgeting at least two weeks to explore Taiwan at a leisurely pace. This will allow you enough time to visit all the major sights, explore each destination fully and limit the driving distance on any given day.
Best months to visit Taiwan with kids
When visiting Taiwan with kids it is best to plan your visit to coincide with the cooler months! April to June and September to November are a great time to visit Taiwan and its mild winters also mean the winter months are a good option. During the summer, temperatures are consistently high and the typhoon season is in full force.
Taiwan with kids itinerary tip: We visited Taiwan at the end of September and we managed to experience a heatwave together with some approaching typhoons which luckily changed direction at the last minute! Both Elaine, who was a few months pregnant at the time, and an almost one year old J struggled and we were limited in what we could do during the day.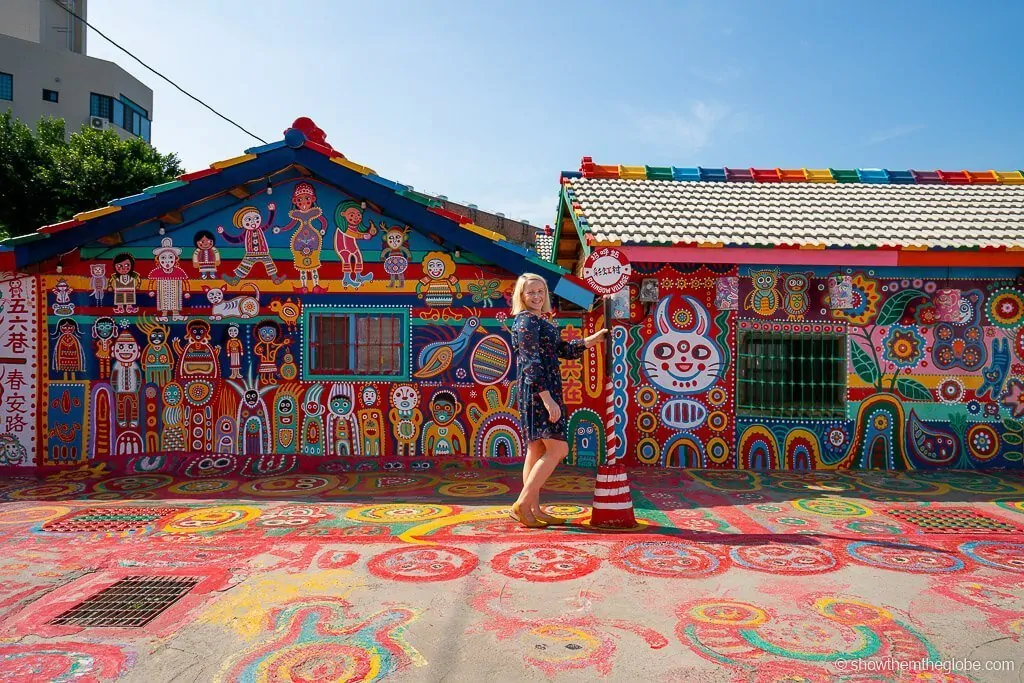 Sim Card and Internet
As with most countries, having mobile data during a trip is invaluable for navigation and research (as well as providing some emergency in-car entertainment to amuse the kids when required!). There are lots of options on arrival at Taipei's Taiwan Taoyuan International Airport (TPE) – we reserved a Chunghwa Telecom 4g sim through Klook who offer a slightly discounted rate on the airport price – reserve your Taiwan sim card here!
Taiwan with kids itinerary tip: the Chunghwa desk only opens at 8am so make sure your flight times will work if you reserve in advance.
Click here to reserve a SIM card!
Daily Taiwan with Kids Itinerary
We've outlined our day to day Taiwan with kids itinerary as a starting point for planning your own Taiwan experience.
Days 1 to 4: Taipei
Taipei, with its abundance of things to see and do, was a big hit in our Taiwan itinerary. After arriving at Taipei's Taiwan Taoyuan International Airport we recommend spending the next three or four nights in Taipei. This will allow you to explore the main sights, manage the kids jetlag and enjoy everything that this fun and chaotic city has to offer.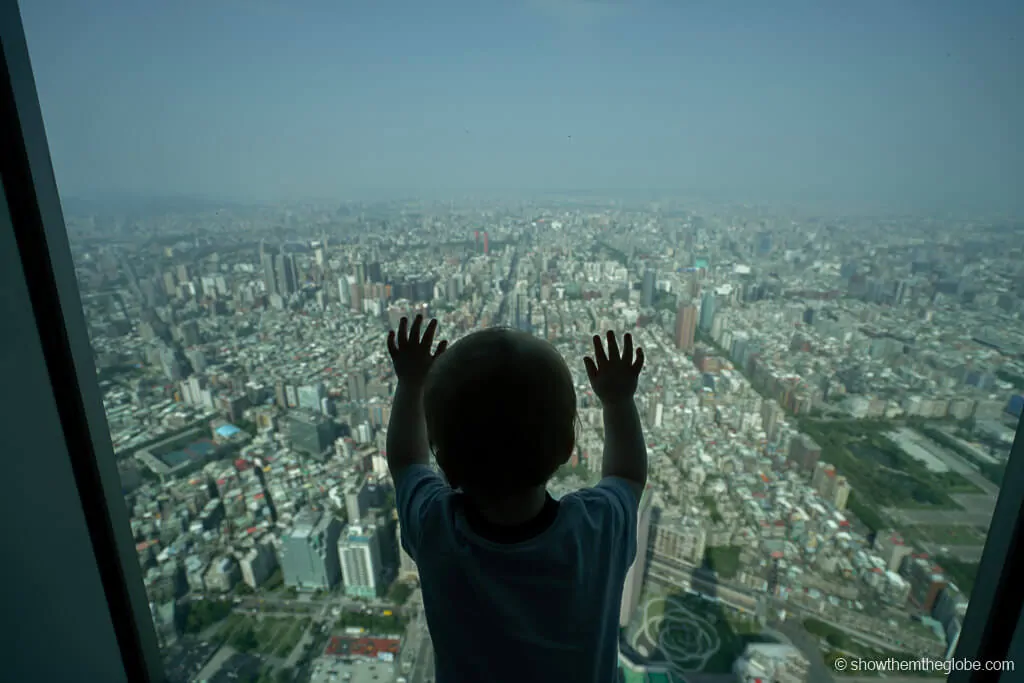 Where to Stay in Taipei
There are many great family friendly accommodation options in Taipei. As with most cities, Taipei hotel rooms can be compact!
CityInn Hotel Plus Ximending Branch – we stayed in the CityInn Ximending branch and highly recommend both the location and the hotel. Rooms are compact but fantastic value, service is excellent and the hotel is just a few moments walk from the MRT, a Taipei essential – check prices now!
Taipei Garden Hotel –another great family-friendly option located close to Longshan Temple and Ximending – check prices now!
Dandy Hotel, Daan Park –clean, comfortable and located across the street from Taipei's biggest park, Daan Forest Park – check prices now!
Click here for the best Taipei hotel prices
Days 1 to 4: Explore Taipei
Taipei is an awesome playground for kids! From toilet-themed restaurants to colourful temples, stunning nature and awesome day trips, there's plenty to squeeze into 4 days in Taipei. Check out our round up of the best things to do in Taipei with kids for more detailed information and photos on each of the attractions.
Taiwan with kids itinerary tip: children under the age of 6 (or under 115cm) travel for free on the Taipei metro system. Entry fees are typically based on height and age: for example, Taipei 101 allows free entry for kids under 115cm. Concessions are often available for older children, usually up to the age of 12.
Day 1: Taipei 101, Taipei Zoo, Maokong Gondola and Shilin Night Market
Start the day with a trip to the observation deck of Taipei 101, Taipei's most iconic building. J was fascinated with the 101 story building which resembles a giant bamboo stick and is visible from all over Taipei. Ride the elevator to the 91st-floor outdoor observation deck to enjoy amazing 360-degree views of the city. We also made reservations for the world's highest Starbucks. Starbucks Taipei 101 is located on the 35th floor of the Taipei 101 building. Read our guide to find out how to visit Starbucks Taipei 101 for more information!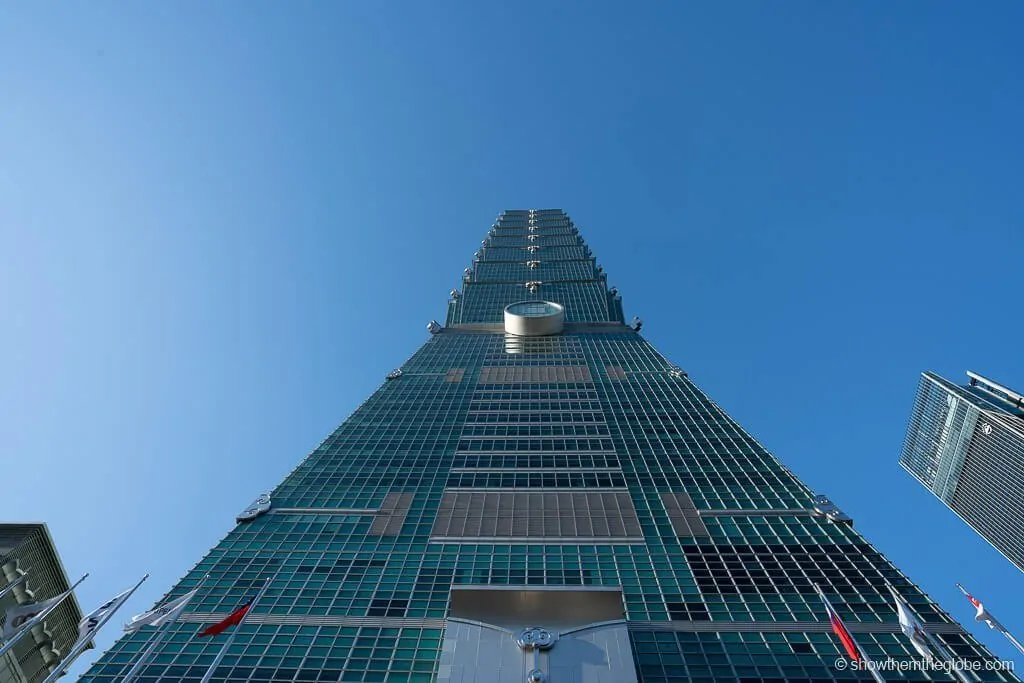 We booked our tickets for Taipei 101 via Klook and highly recommend it. You can reserve your timeslot in advance and for the best price using the Klook app. It's super simple and avoids waiting in extra lines when Taipei 101 gets busy. Taiwan activities were mostly discounted when we booked in advance – check prices now!
Click here to book your Taipei 101 ticket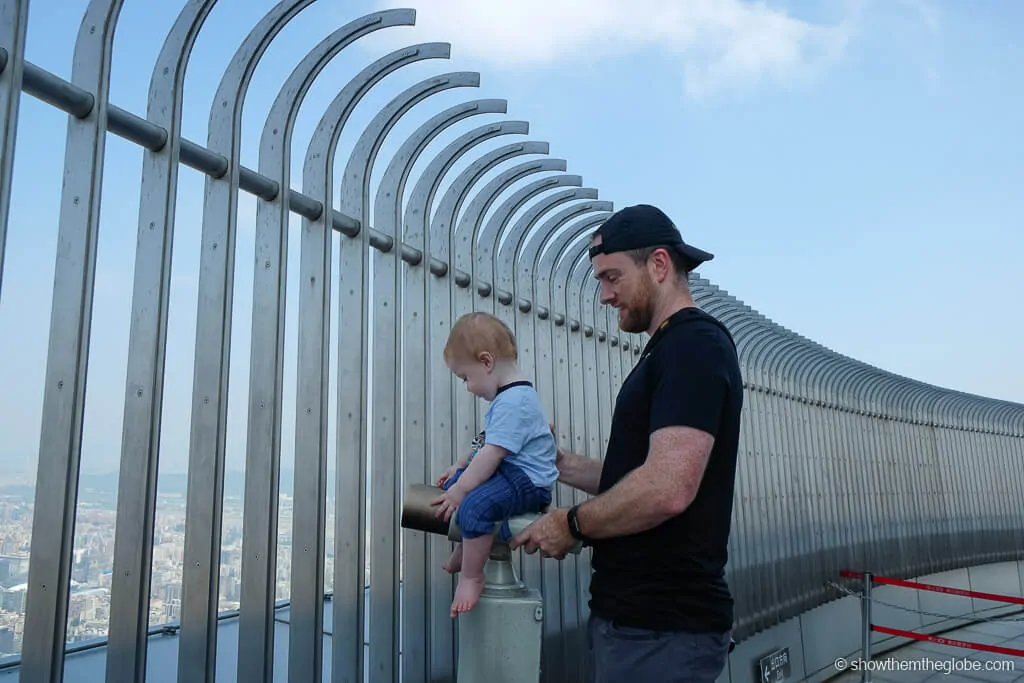 From Taipei 101 it's a short jaunt to Taipei Zoo, one of the largest zoos in Asia. Kids will love the variety of wildlife which includes giraffes, lions, and elephants.
After exploring the zoo, make your way back to the Taipei Zoo MRT Station where the scenic Maokong Gondola cable car departs. The 30minute glass bottomed cable car is a hit with kids as is the quaint mountaintop village of Maokong known for its tea plantations and tea shops.
Taiwan with kids Itinerary tip: We purchased combo tickets for the Maokong Gondola and an evening double decker sightseeing tour from Klook in advance and it was awesome value. The gondola is closed most Monday's so make sure to plan your trip around the gondola's opening hours – click here for the best price tickets!
Click here to purchase Gondola tickets
If you have any energy remaining, finish the day with a visit to Shilin Night Market. Shilin is Taipei's largest night market with over 500 stalls. Our favourite foods at Shilin included the Hai You Pork Ribs and the Bin Small Sausage in Large Sausage. J loved the noisy and colourful arcade games and the endless novelty items displayed in the souvenir shops throughout the market.
Taiwan with kids Itinerary tip: Taipei's night markets tend to open in the later afternoon and, if you are visiting with kids, this is a great time to visit. The night markets get really busy later in the evening and the sights, sounds and smells can get a little overwhelming for younger kids.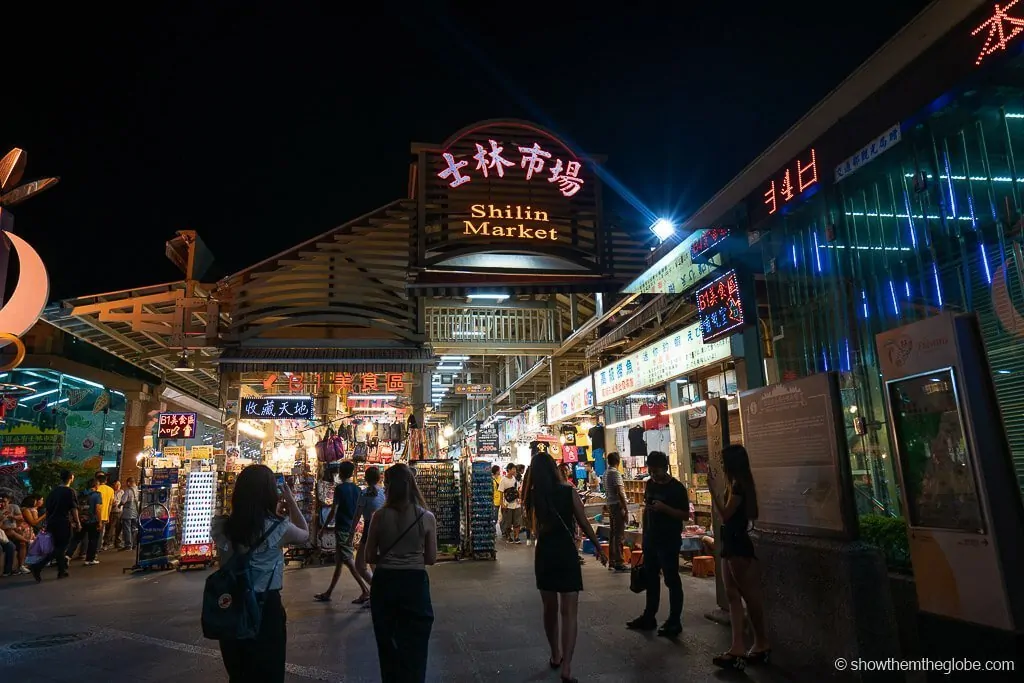 Day 2: Elephant Mountain, CKS Memorial Hall, Ximending and Raohe night market
Start the day with a short but challenging hike up Elephant Mountain which rewards with some of the best views of Taipei. The trail is well maintained with plenty of rest stops and some awesome viewing platforms.
Taiwan with kids itinerary tip: If your kids are especially early risers then make the hike for sunrise, if not make sure to go in the early morning if the temperatures are high in Taipei when you visit. Be careful in the rain as the trail can get slippery.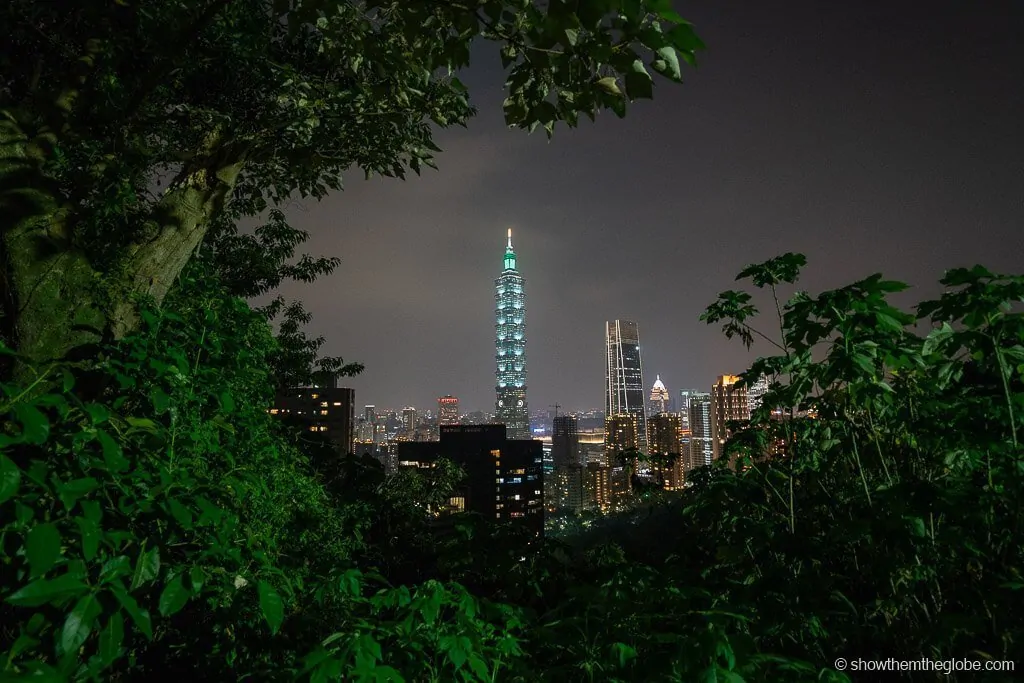 After admiring Taipei from Elephant Mountain it's time explore the history of Taiwan with a visit to the Chiang Kai-shek Memorial Hall. The CKS Memorial is an important Taiwanese landmark erected in honour of the first president of Taiwan.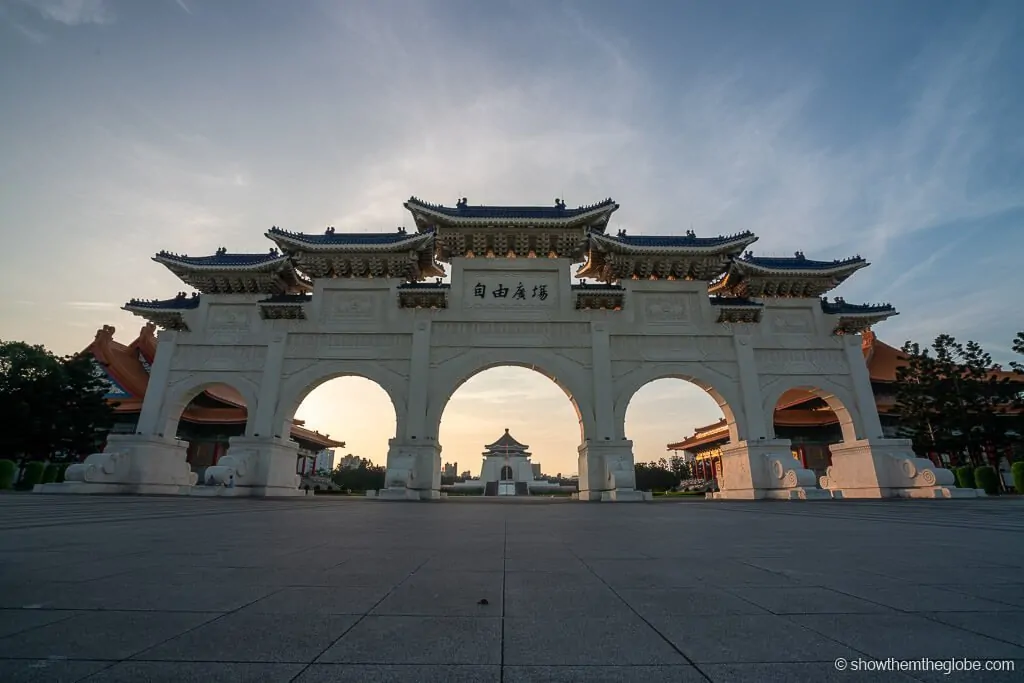 Now for some silly fun with a trip to the Modern Toilet Restaurant in Ximending. The entire restaurant is toilet themed. Meals are served in toilets, drinks in bedpans and the seats are full sized toilets! Having filled up on poo themed dishes take a stroll around Ximending, one of Taipei's quirkiest neighbourhoods.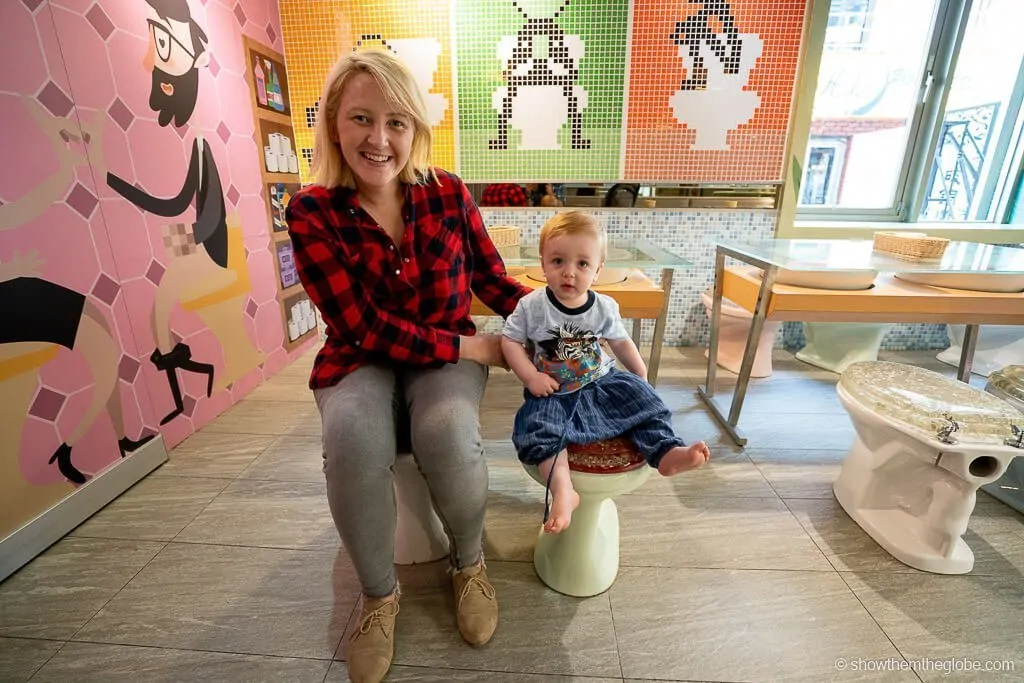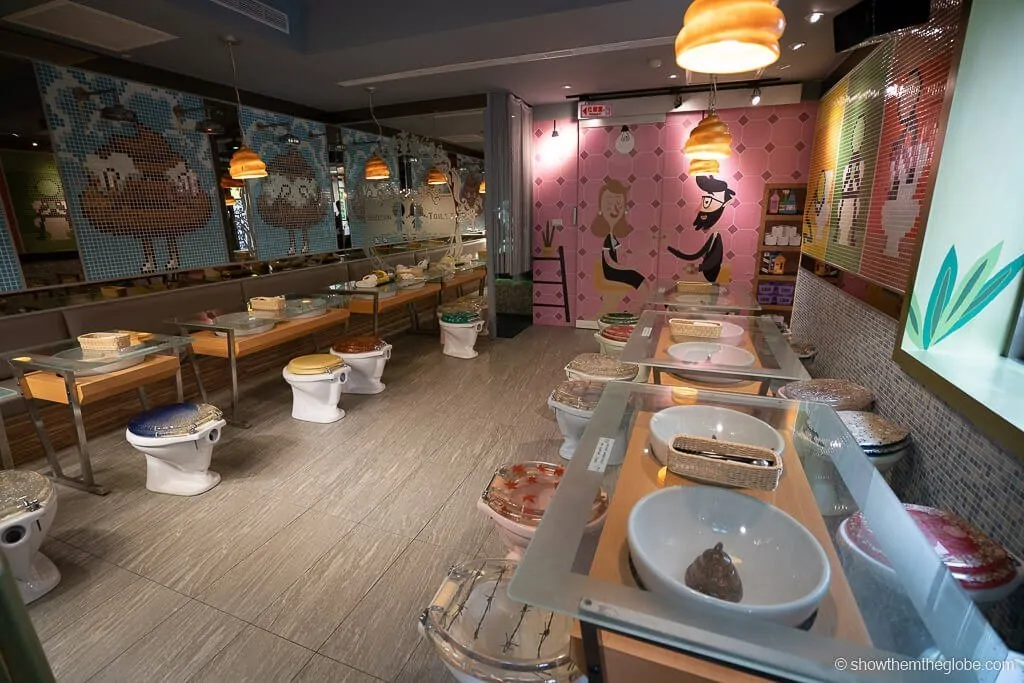 Longshan Temple is next on the agenda. Longshan is Taiwan's most famous and well-loved temple and is located in the historic neighbourhood of Wanhua. Kids will love the vibrant colours and fortune telling locals.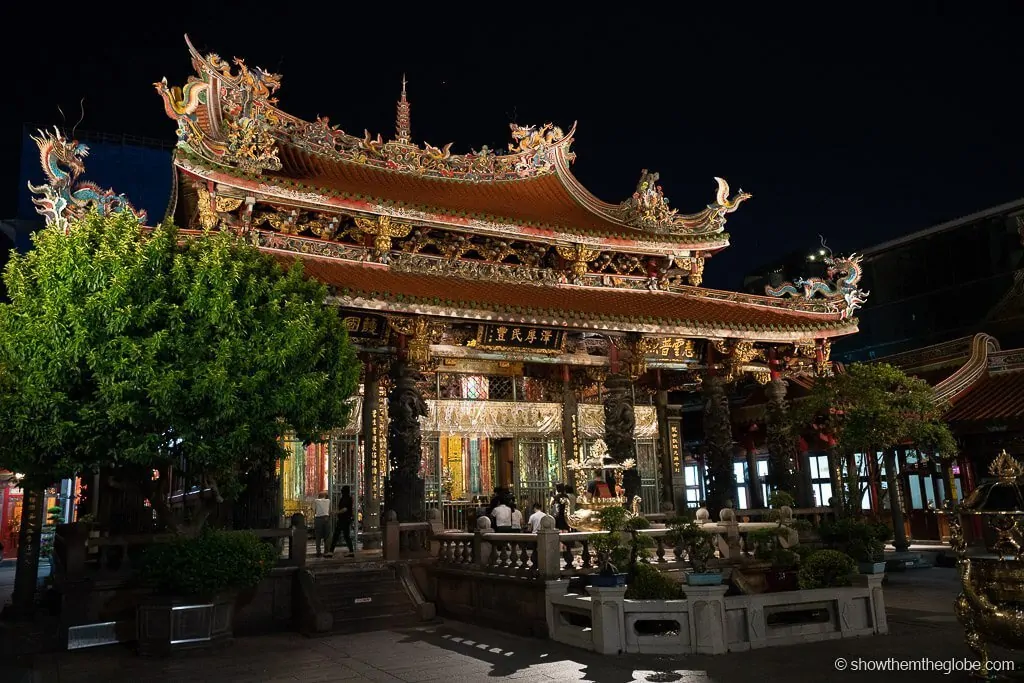 If you still have some energy, the Raohe Night Market is a short MRT ride away and is perfect for an early evening walk through.
Taiwan with kids itinerary tip: our favourite dishes in Raohe was the Fuzhou Shizu Black Pepper Buns. They are not to be missed!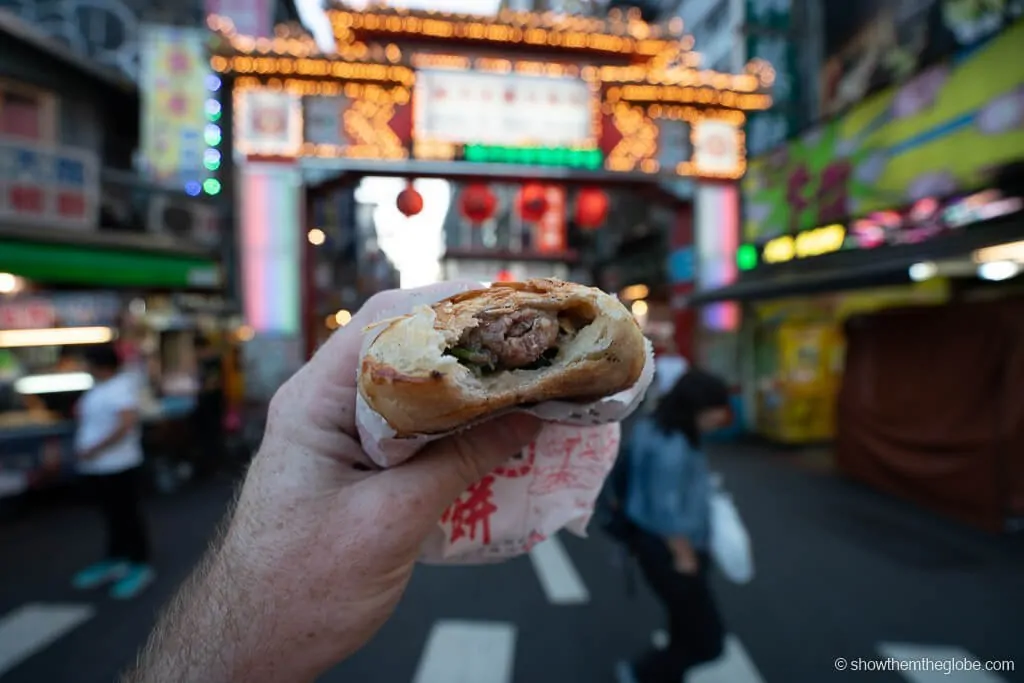 Day 3: A Taipei park and Beitou Hot Springs
Start the morning with a visit to one of Taipei's parks. Our favourites are Daan Forest Park, Taipei's largest park, the Huashan 1914 Creative Park, a repurposed art, design and cultural venue and 228 Peace Memorial Park, a poignant tribute to the thousands of Taiwanese who died in the February 28, 1947, massacre.
Spend the afternoon at the Beitou Hot Springs which are just 30 minutes outside Taipei and accessible via the MRT. Our favourite family friendly hot springs are at the Spring City Resort: there are hot and cold outdoor pools suitable for kids of all ages, the resort operates a free shuttle from the MRT and is accessible to day visitors – click here to reserve a pass to Spring City Resort!
Click here to purchase Spring City Resort tickets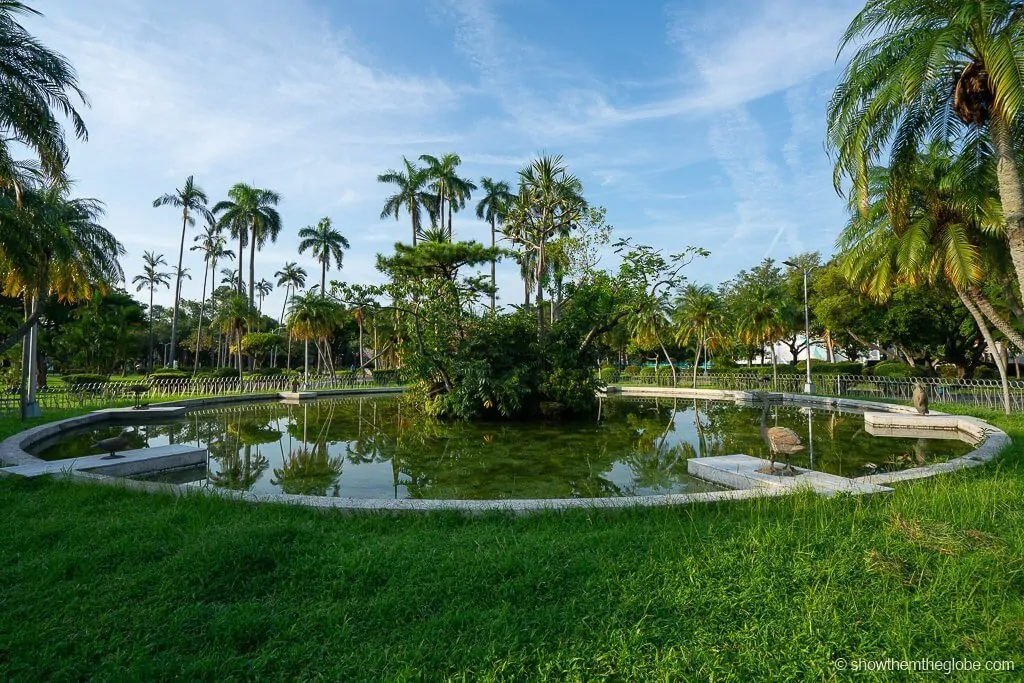 Day 4: Jiufen, Shifen and Yehliu Geopark
Taipei is surrounded by amazing natural beauty and a day trip outside the city is an essential addition to any Taipei itinerary. Shifen, Jiufen and the Yehliu Geopark are a great combination to discover a taste of Northern Taiwan.
The Yehliu Geopark contains a fascinating collection of unique geological formations in an otherworldly landscape created by sea erosion. It's a beautiful coastal walk and a very popular stop outside Taipei.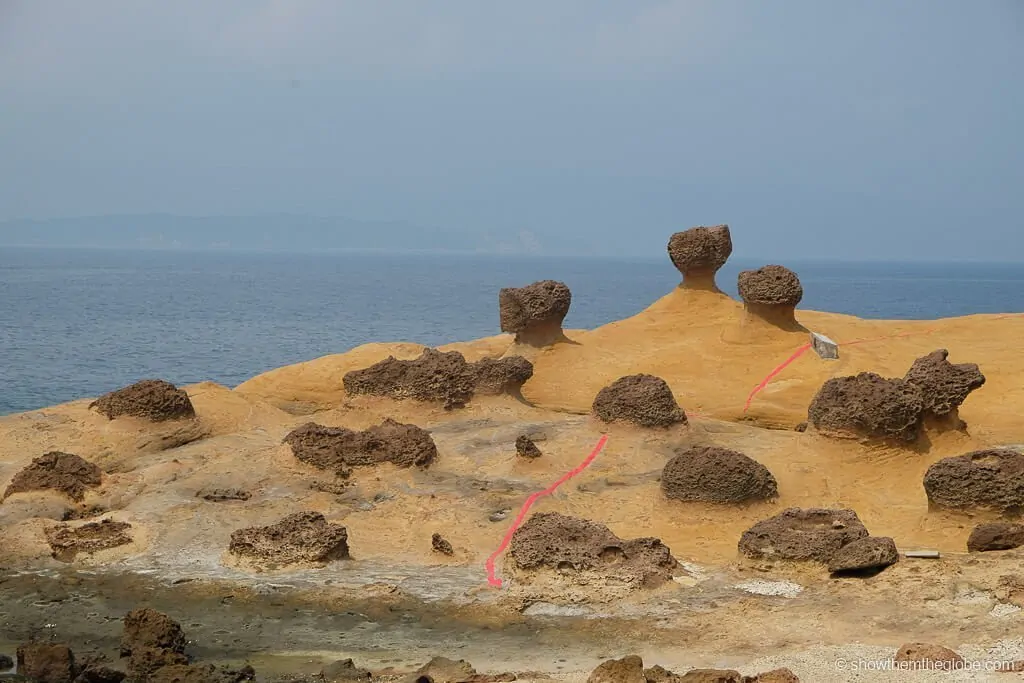 The old street in the charming town of Jiufen is a tourist magnet with visitors indulging in local specialties such as glutinous rice cakes, peanut ice cream and fish balls in between souvenir shopping. The A-Mei Tea House is one of the most prominent landmarks in Jiufen and offers both great tea and great views!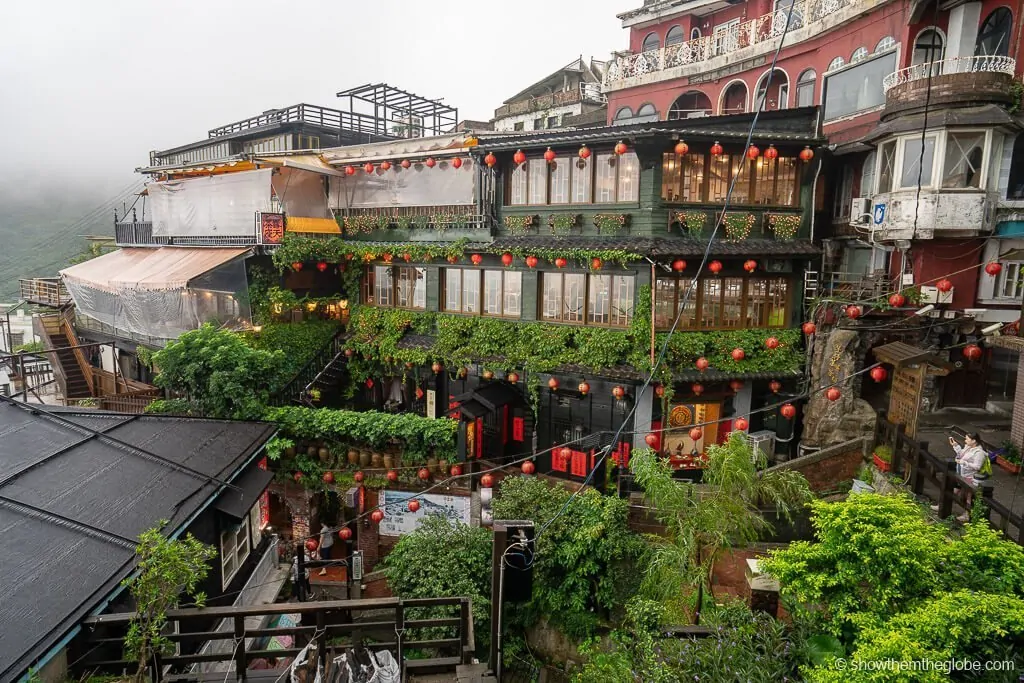 Shifen is famous for both its old street and its scenic waterfall. The old streets of Shifen, located around the railway track, are where visitors congregate to release colourful lanterns bearing their wishes in life.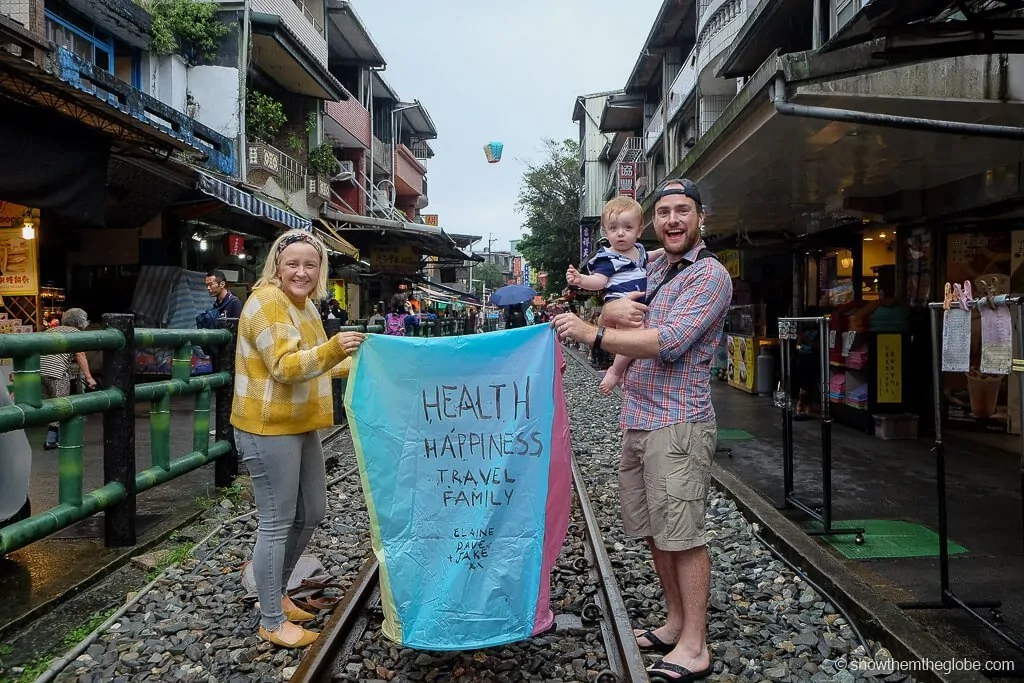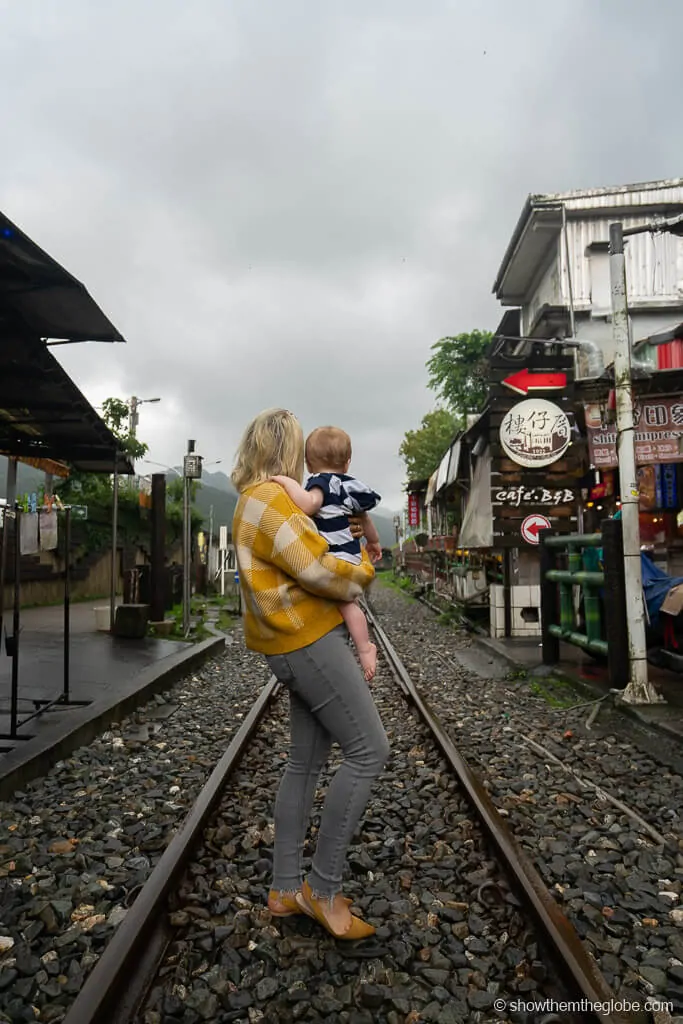 Taiwan with kids itinerary tip: we visited Jiufen, Shiefen and Yeuhliu Geo Park using our rental car. If you prefer to use a tour, Klook offers a great shuttle bus options which ferries passengers between the key sights of Jiufen, Shifen and the Yehliu Geo Park on the North East coast of Taiwan – click here to reserve shuttle bus tickets!
Click here to reserve shuttle bus tickets
Days 5 to 7: Taichung and Sun Moon Lake
After a few days of exploring Taipei, it's time to head south to Taichung, Taiwan's second largest city. Taichung is busy and colourful and was a surprise hit in our Taiwan with kids itinerary! It's also the gateway for the immensely popular Sun Moon Lake, one of Taiwan's most popular tourist attractions.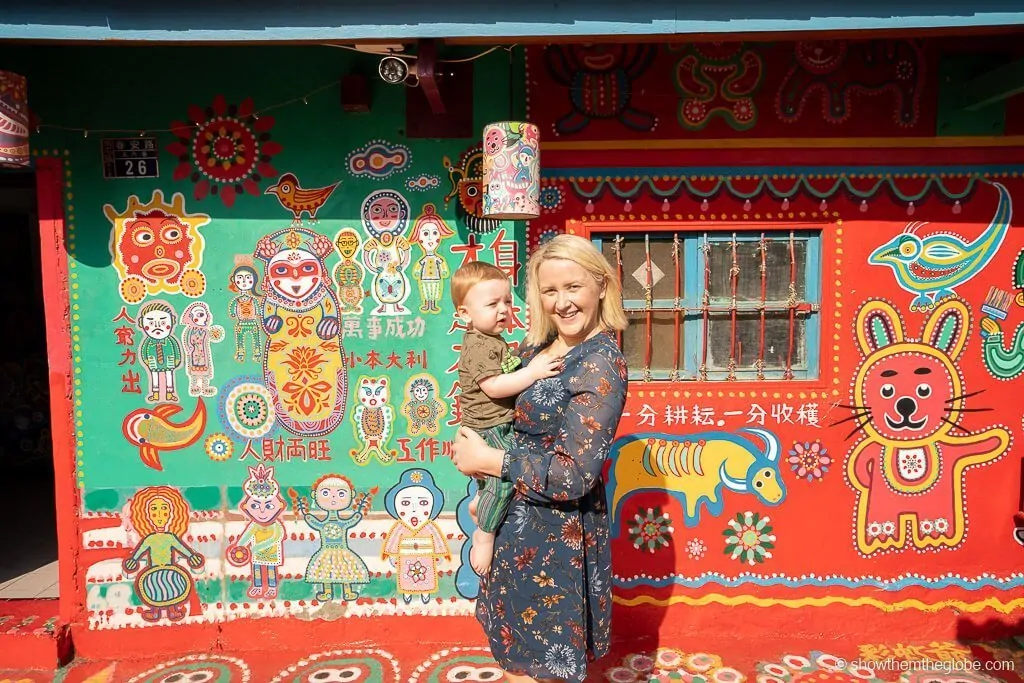 Where to Stay in Taichung
Taichung is a surprisingly large city and choosing where to stay can be tricky. We recommend:
CityInn Hotel Plus – Taichung Station Branch – we loved the CityInn brand in Taiwan. Located in east Taichung beside Taichung's main train station, the CityInn Hotel Plus is a great option. Rooms are clean and modern and the extra facilities like free common areas with coffee/refreshments and on-site laundry are invaluable – click here to book now!
La Vida Hotel – Regularly rated as one of the best hotels in Taichung, La Vida Hotel is a great option for those who want easy access to the Feng Chia Night Market. With European designed rooms the hotel is super comfortable and great for a stay in Taichung – click here to book now!
The Hung's Mansion – where we chose to stay in Taichung and it's a great option if you are driving like we were. With free parking, large comfortable rooms and great food, Hungs Mansion is also a short walk to the incredible Feng Chia Night Market – click here to book now!
Click here for the best Taichung hotel prices
Taichung
How to get to Taichung: it takes one hour to travel by High-Speed Rail between Taipei and Taichung. It took us around 2 hours to drive between the two cities.
Taichung deserves at least one full day to explore and, if we were to return, we'd allow two days! Start the morning at Rainbow Village, Taiwan's most colourful neighbourhood and a sure hit with kids.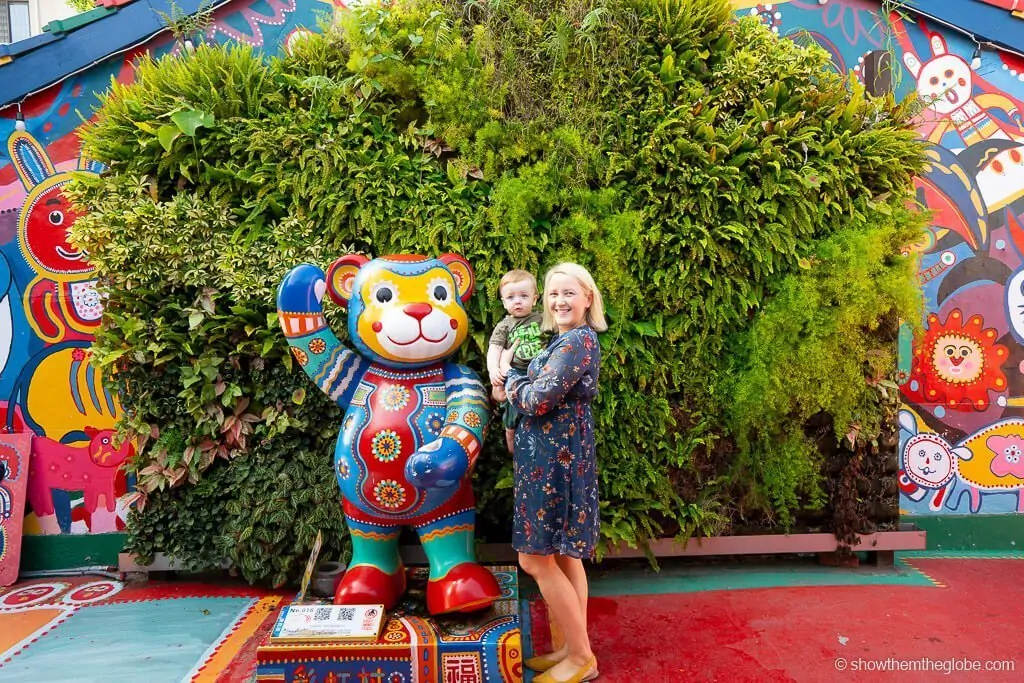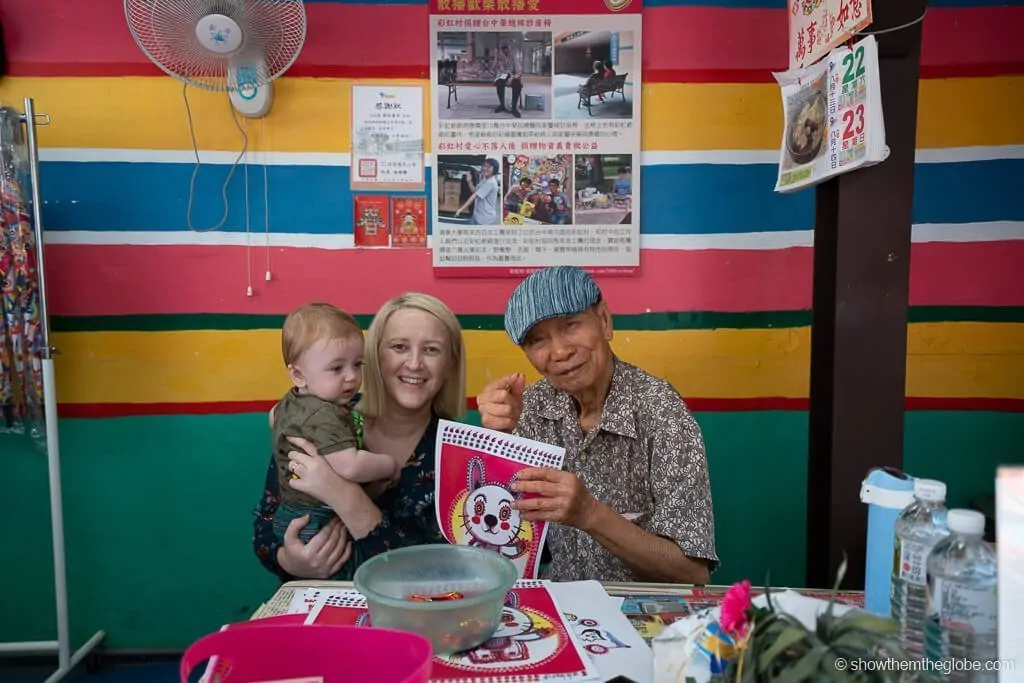 Then make your way north of the city to the beautiful Zhongshe Flower Market. As well as a sea of flowers, props such as pianos, swings, and tractors make for great fun and great photo opportunities. J had a great time exploring the colourful market!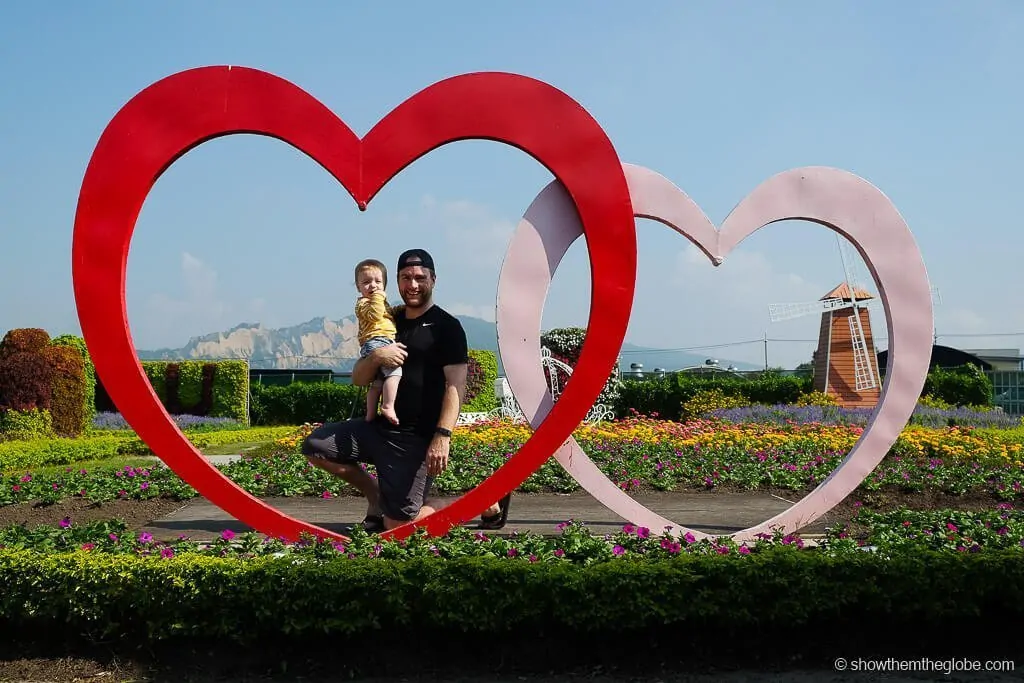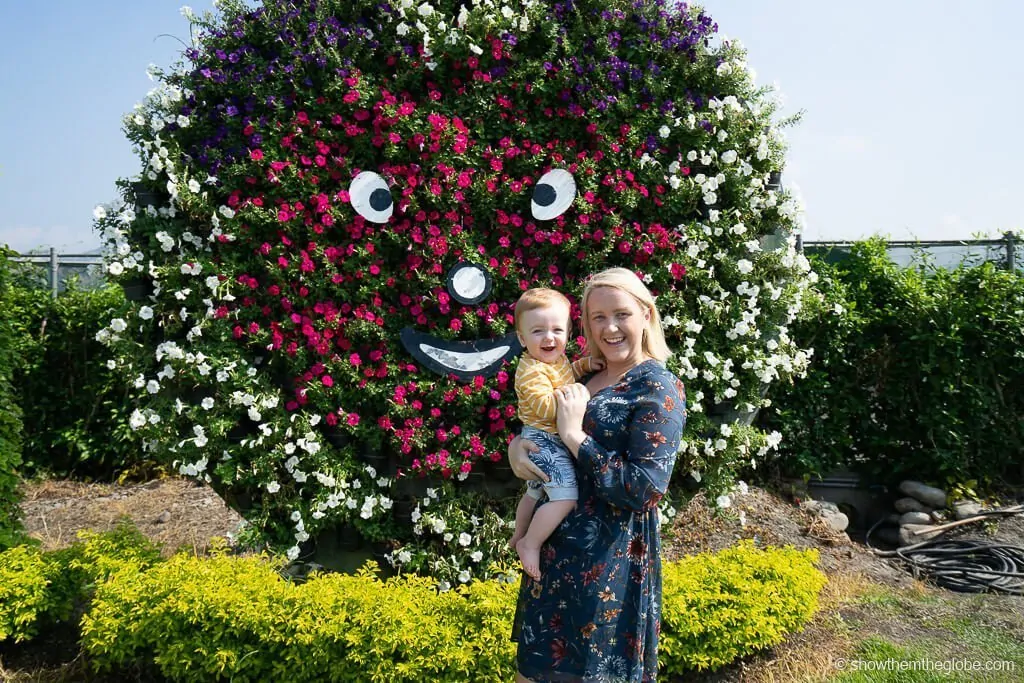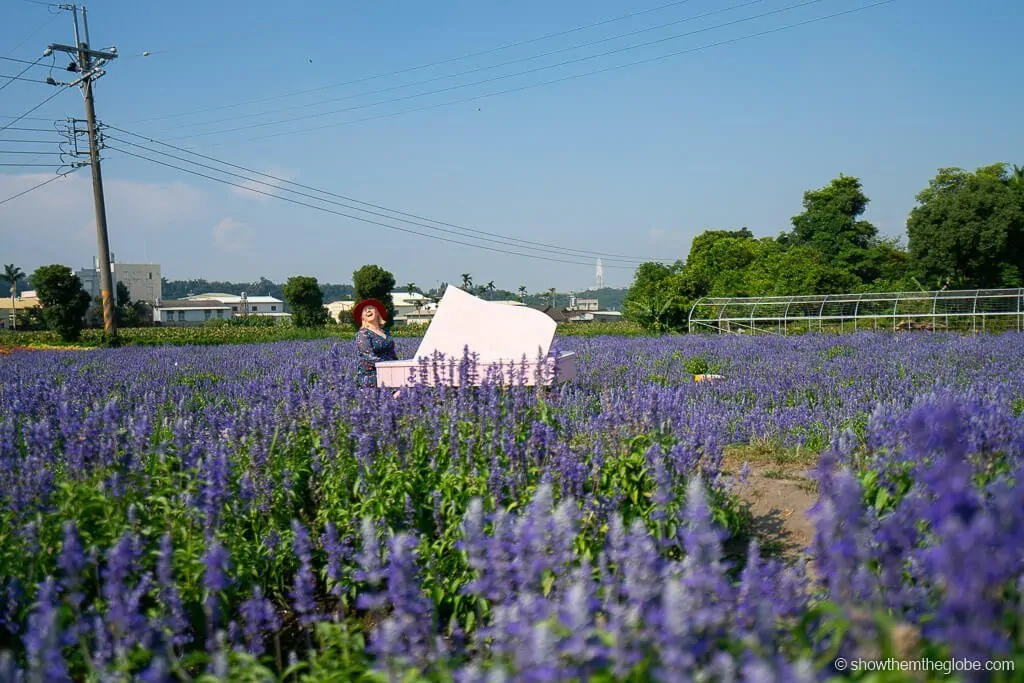 Taiwan with kids itinerary tip: tour buses arrive at Rainbow Village shortly after its 8am opening so we recommend arriving as close to 8am as possible. Zhongshe Flower Market tends to get busy in the afternoon when families congregate for barbeques.
Animation Alley is another great pit stop and kids will love the short walk along the cartoon and Magna themed street art.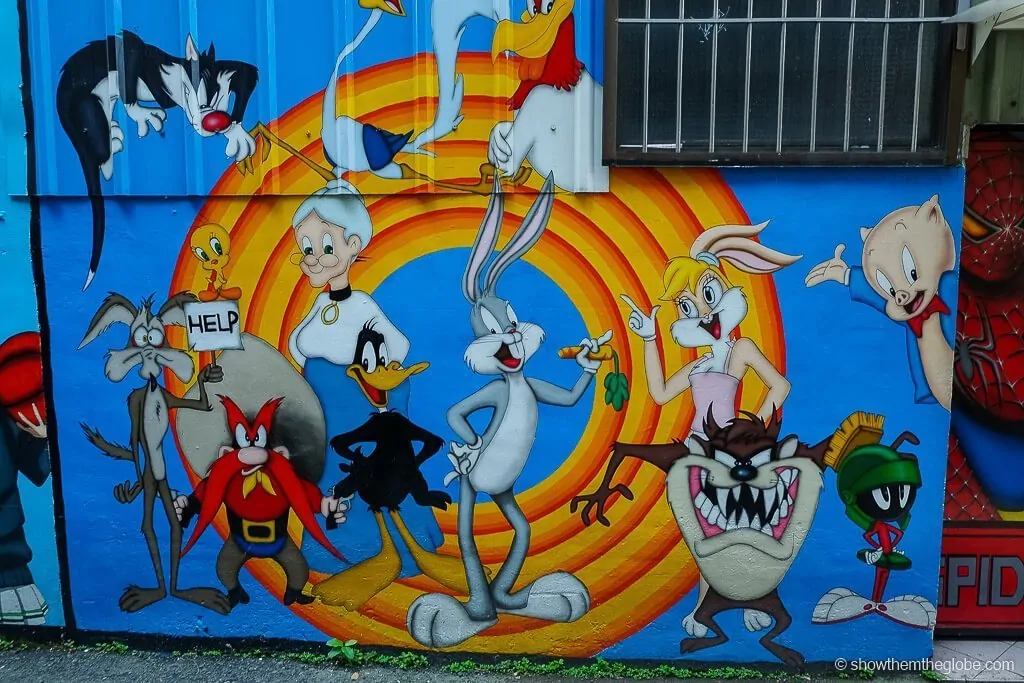 The 921 Earthquake Museum is a poignant place to visit: it is located on the site of a former junior high school and crosses the fault on which the earthquake occurred. The exterior remains as it did after the earthquake on Tuesday, 21 September 1999.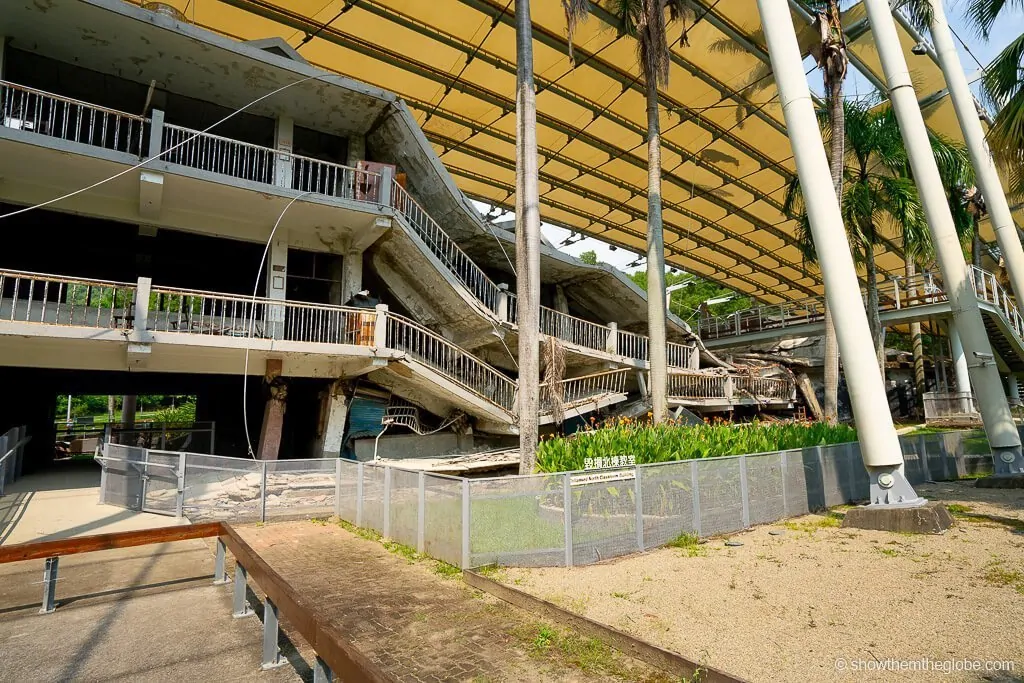 There are endless food and drink options in Taichung: our three favourites are Chung Shiu Tang, the touted home of Taiwan's famous bubble tea, Miyahara for its Pineapple Cakes and I'm Talato, an ice cream shop with an ice cream floatie filled pool, a sure hit with little ones!
Round up the day with a trip to Feng Chia Night Market where the food is good and the clothing unique.
Sun Moon Lake
How to get to Sun Moon Lake: Sun Moon Lake is a 1hour 15minute drive from Taichung and is easily accessible by bus from both Taichung (approximately 2 hours) or Alishan (up to 3.5hours).
Sun Moon Lake is enjoyable for both adults and kids alike. Rent a bike and explore the cycle path surrounding the turquoise blue waters of Sun Moon Lake. Kids will also love the scenic gondola cable car which offers beautiful views of the lake and connects it with the Formosa Aboriginal Cultural Village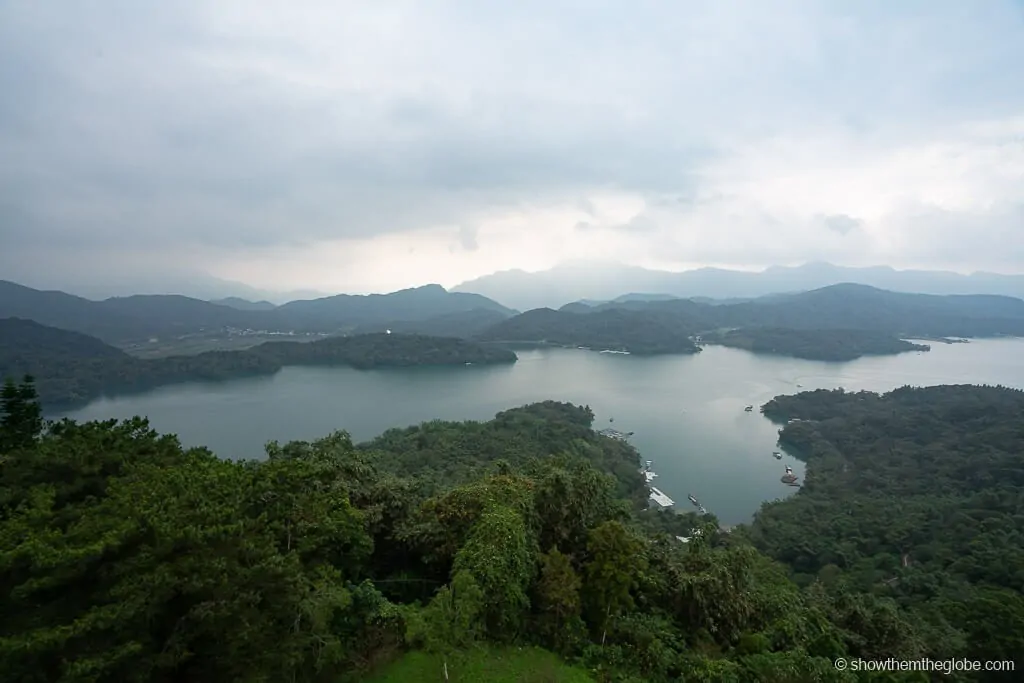 Our other favourite stops were the Ci-En Pagoda and the colouful Wen-Wu Temple. The 8 story Ci-En Pagoda requires a short uphill hike and is renowned for its views over the lake while the Chinese style Wen-Wu is vibrant and loud and there are lovely views of the lake over the burnt orange rooftops.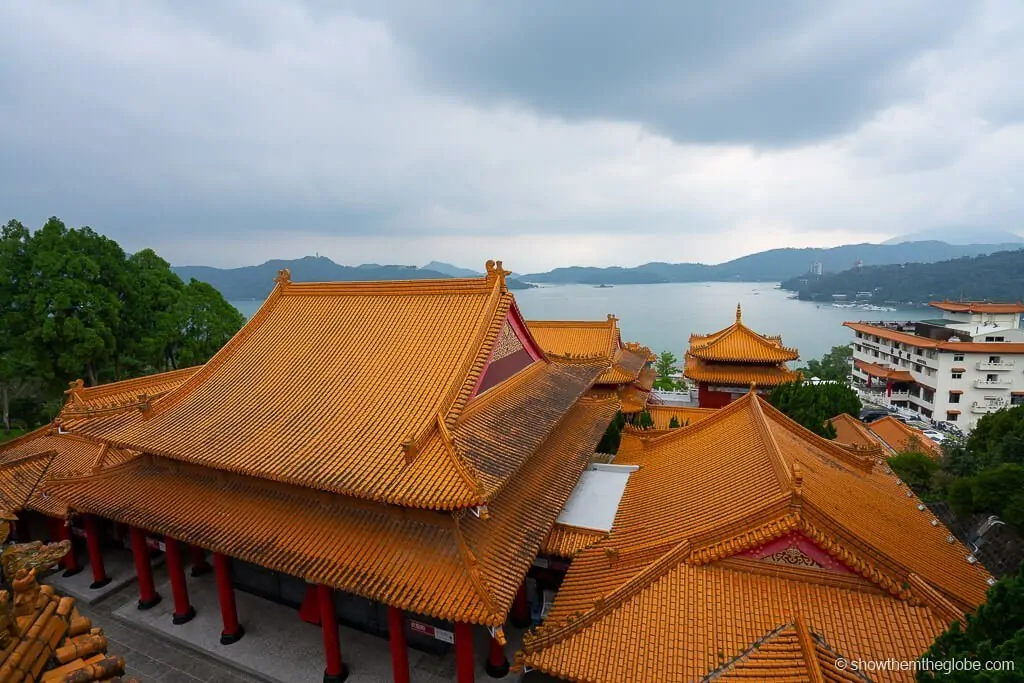 Finish the day with some street food at Ita Thao before returning to Taichung for the night.
Taiwan with kids itinerary tip: the drive between Taichung and Sun Moon Lake takes about 75 minutes so we preferred to base ourselves in Taichung. Sun Moon Lake accommodation tends to be more expensive given its tourist draw and we wanted to limit our hotel moves to make things easier on J. If you wish to stay in the Sun Moon Lake area, we've included some good options below.
Where to stay in Sun Moon Lake
If you wish to stay in the Sun Moon Lake area, some good options are:
Fleur de Chine Hotel Sun Moon Lake: expensive but excellent with beautiful views over the lake – check prices now!
Mei Jen House: homestay with great rooms, a vegan breakfast and an awesome sunrise tour. A great small but budget-friendly option in Sun Moon Lake – check prices now!
Click here for the best Sun Moon Lake Hotel prices
Day 8: Alishan
The Alishan National Scenic Area is a refreshing mix of forest and wilderness and the Alishan sunrises draw visitors from all over the world.
Taiwan with kids itinerary tip: we debated whether Alishan was worth a visit with kids given that sunrise is often billed as the main event! We decided to include a one night stay in our Taiwan with kids itinerary and would definitley recommend. J loved the great outdoors and was happy cuddling up to us for sunrise so we all got to experience the wonders of Alishan.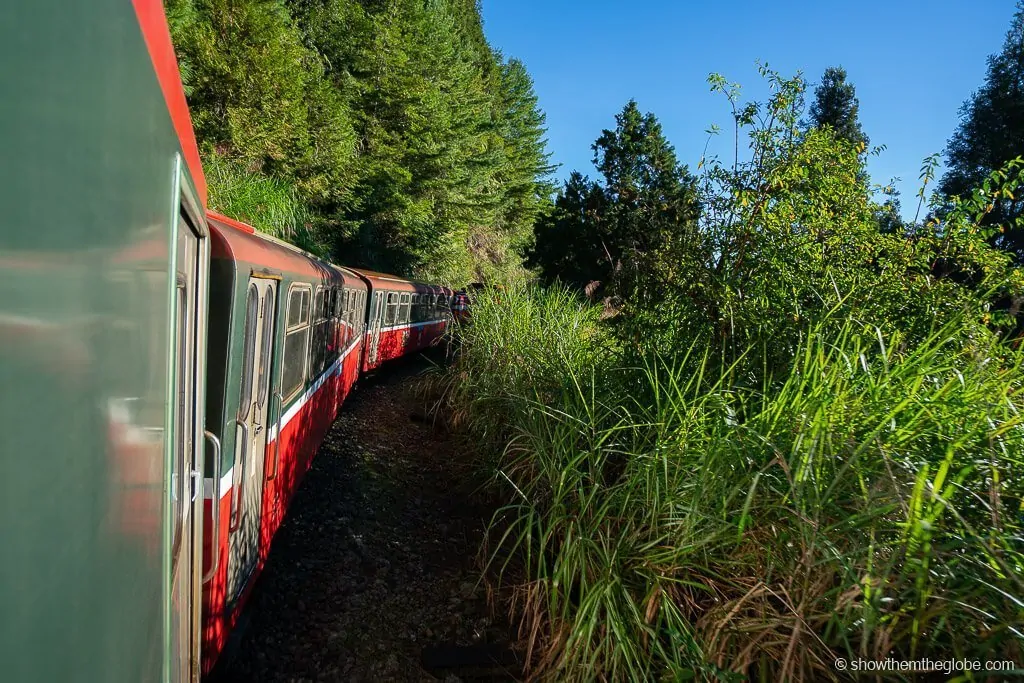 Where to Stay in Alishan
Alishan House/Alishan Hotel– the best hotel in the Alishan National Scenic Area and where we spent our night in Alishan. Rooms are expensive but the location is outstanding. It is worth the extra for the upgrade from the dated standard room in the old building to a superior room in the new building. Guests are not allowed to drive into the Scenic Area but the hotel runs a regular shuttle bus between the car park and the hotel – check prices now!
Wankou Hotel: 5 minutes walk from the train station, Wankou Hotel is a good less expensive option to Alishan House. Nice views, clean rooms and good value accommodation – check prices now!
Cing Shan Hotel: basic option located close to the train station, rooms are compact – check prices now!
Click here for the best Alishan Hotel prices
Alishan
How to get to Alishan: The High-Speed Railway takes less than 40 minutes between Taichung and Chiayi Station and, from Chiayi, the bus takes 2 hours. Direct buses from Sun Moon Lake take up to 3.5hours. The drive from Taichung took around 3 hours in total.
There are 5 Wonders of Alishan and we loved trying to chase them all during our time in Alishan . The 5 Wonders of Alishan are:
Alishan Forest Railway
The forest trails
Sunrise
Sunset
The sea of clouds
Aim to arrive in Alishan in the afternoon and take advantage of some of the stunning hiking trails in the area. Our favourite hike with J was to the Sacred Tree, estimated to be 3,000 years old before it collapsed in 1997. It's located at the Sacred Tree (Shenmu) Railway and the trails pass giant red cypress trees which are over 1,000 years old.
Finish up the day watching the incredible Alishan sunset. The observation deck at the Alishan House Hotel, where we stayed, is one of the best sunset spots in the Alishan Scenic Area.
Click here to reserve the Alishan House Hotel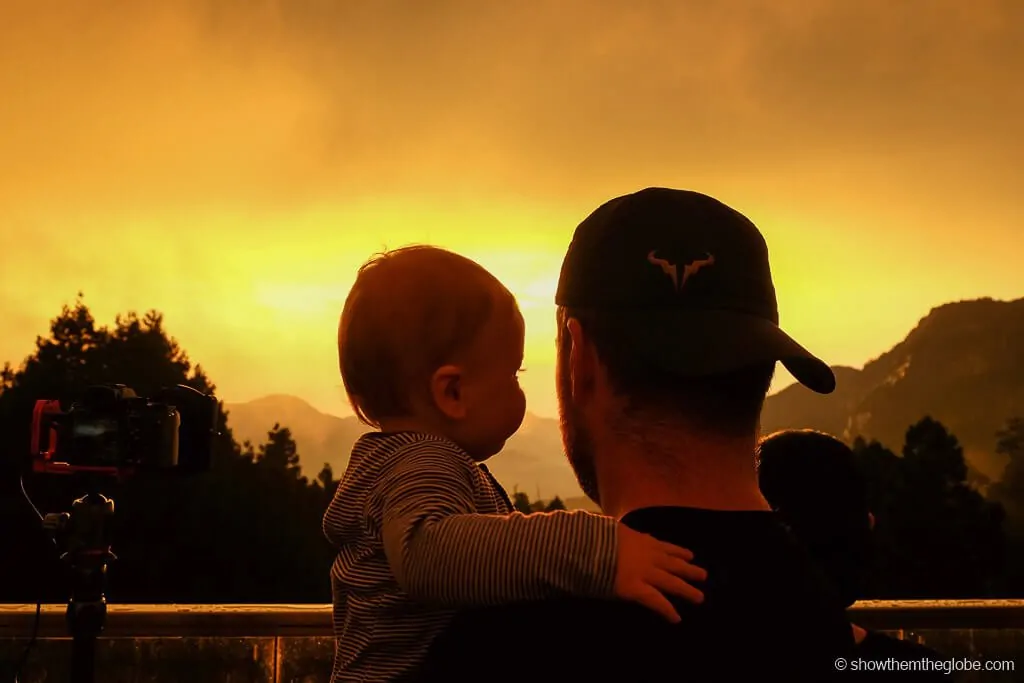 If the Alishan sunrise is on your itinerary it requires a super early start. If you stay at the Alishan House Hotel, the hotel will arrange sunrise train tickets the previous afternoon. The hotel also provided a shuttle bus to the train station.
Taiwan with kids itinerary tip: the super early start and often cold mornings mean you need to consider whether the sunrise is a suitable activity for your kids. As J was little and could be bundled into a baby carrier we opted to watch the sunrise together. We saw many older kids watching the sunrise – some seemed to enjoy it but there were definitely a few who would have preferred to remain at the hotel!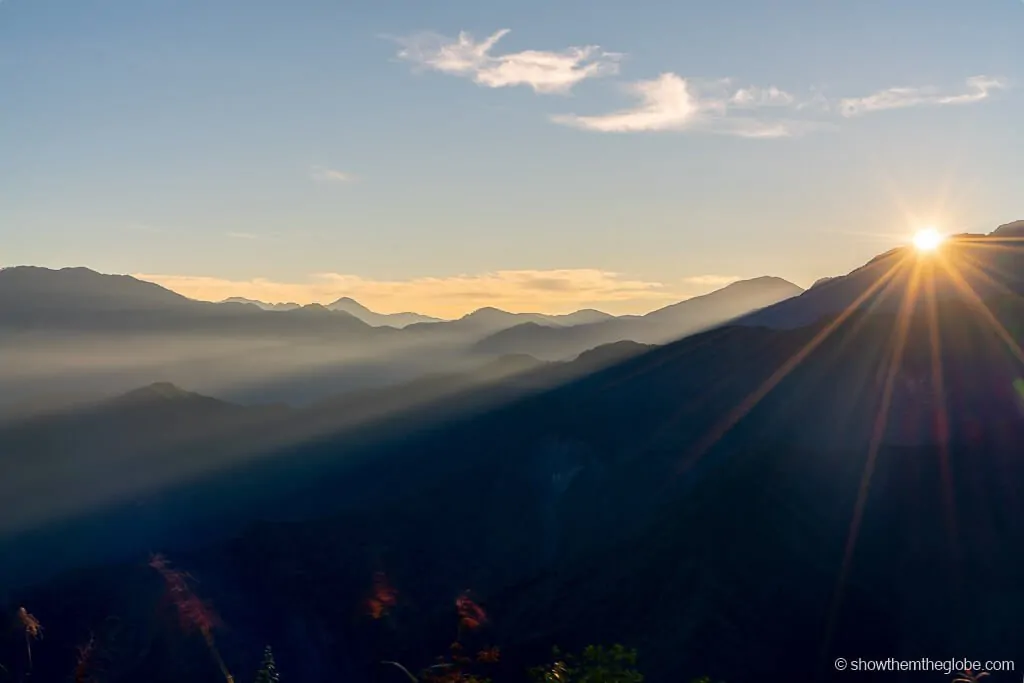 Day 9: Kaohsiung
Kaohsiung is a large port city in Southern Taiwan and a great stopover between Alishan and Kaohsiung.
Where to stay in Kaohsiung
Grand Hi La – one of the best hotels in Kaohsiung. With a perfect location in the centre of the Sanduo shopping district, Hotel Cozzi has luxurious rooms and high-end furnishings which make for a truly amazing stay – check prices now!
Hotel Cozzi – this large luxury hotel is conveniently located above a shopping mall right in the centre of Kaohsiung and is a great option for exploring the city. There are lots of restaurants close to the hotel – check prices now!
Hotel Dua–great transport connections via the adjacent MRT station the Hotel Dua is a great location for exploring the city – check prices now!
Click here for the best Kaohsiung Hotel prices
Kaohsiung
How to get to Kaohsiung: take the bus from Alishan to Chiayi Station (journey time is around 2 hours 10 minutes) and, from there, take the train to Kaohsiung, a further 2 hours 10 minutes. Our drive time was around 3 hours in total.
Although many visitors use Kaohsiung as a stopover city, there are lots of fun things to do if you spend some time in Kaohsiung:
Dragon and Tiger Pagodas at the Lotus Pond: the Dragon and Tiger Pagodas are one of Kaohsiung's highlights. Upon visiting the pagoda one should run into the mouth of the dragon and out of the tiger's jaws for a turnaround in fortunes!
Dream Mall: Kaohsiung's Dream Mall is the largest in Taiwan and East Asia. Kids will love the amazing kids zones and the amusement park with a Ferris Wheel on its rooftop!
Kaohsiung Night Markets: night markets are always a great option to wrap up a Taiwan day and the Ruifeng Night Market is considered one of its best night food markets.
Pier 2: once an abandoned warehouse site, Pier 2 now houses a large scale open air public art display. Kids will love exploring the quirky sculptures and artworks.
Day 10 and 11: Kenting
The seaside town of Kenting is located at the southern tip of Taiwan and is famous for its picturesque beaches and lush green national park. Kenting is a fantastic retreat for some beach time and kids will love its relaxed seaside vibe.
Where to stay in Kenting
Accommodation in Kenting is a mix of resort-style beachside hotels and smaller, boutique style options. There are some awesome family friendly beach resorts with excellent facilities aimed at kids.
Caesar Park Hotel– resort hotel with direct beach access and an abundance of kids activities including a kids recreation centre in the basement – check prices now!
Chateau Beach Resort– located by the beach, just 5 to 10 minutes from Kenting Main Street. The hotel has stunning ocean views and a nice pool area – check prices now!
Amanda Kenting– we opted for the smaller Amanda Kenting Hotel. The Moroccan themed hotel has great rooms, a lovely indoor pool and free exotic costume rental for photos! – check prices now!
Click here for the best Kenting Hotel prices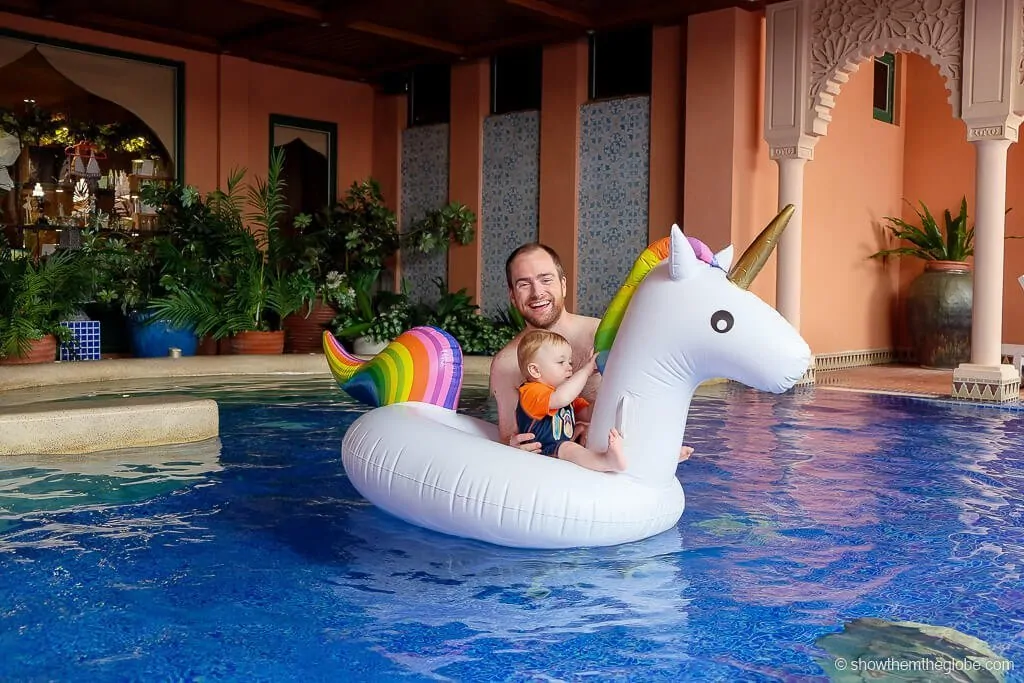 Kenting
How to get to Kenting: take the Kenting Express Bus from Kaohsiung's Zuoying HSR station to Kenting. The journey time varies between 2 and 3 hours. The drive time is less than 2 hours.
Our favourite family friendly activities in Kenting included:
Submarine rides: the Kenting Hai World Semi Submarine has glass-bottomed panoramic views of the Kenting coral reefs
Swimming: J loved paddling in the tidepools and shallow swimming spots around Kenting
Taiwan with kids itinerary tip: ocean swimming is restricted to marked areas and between certain hours so be careful to follow the rules in place.
Baisha White Sand Bay: one of Kenting's most famous beaches Baisha White Sand Bay featured in the movie The Life of Pi
Kenting National Park: the scenic Kenting National Park and its lighthouse are highlights of Kenting. Visit the observation point marking the southern most point in Taiwan
Kenting Night Market: running along Kenting's main street, the Kenting Night Market is fun to explore in the evenings and has great street food, clothes and carnival games..
Wanlitong Beach: Wanlitong Beach is one of the most popular spots for snorkeling in Kenting.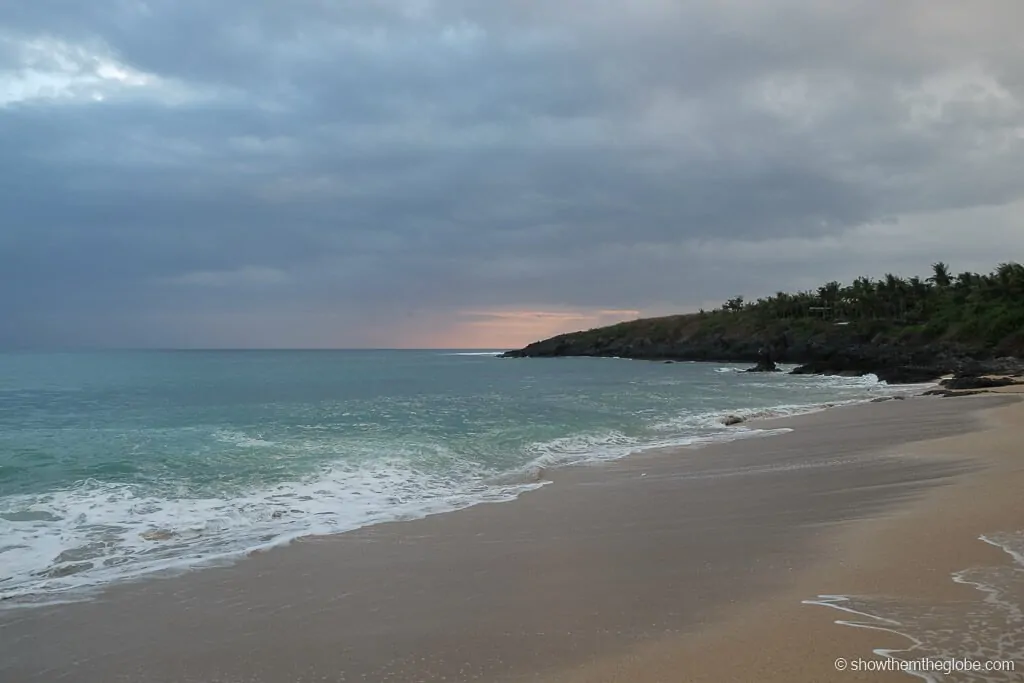 Day 12: Taitung
Taitung is a sprawling, coastal town and a popular stopover between Kenting and Taroko Gorge.
Where to stay in Taitung
Kindness Hotel– clean and comfortable option with good breakfast and evening night snacks in Taitung city – check prices now!
Papago International Resort– although one hour outside Taitung it is a great location for a stopover between Kenting and Taroko Gorge. Lovely outdoor pool, hot tub and hot springs with a children's playground – check prices now!
Inn by the Village– located close to the railway, rooms are modern and spacious and the breakfast decent – check prices now!
Click here for the best Taitung hotel prices
Taitung
How to get to Taitung: take the bus from Kenting to Fanglaio (journey time 1 hour). From there, take the train between Fanglaio and Taitung (90 minutes). The drive time is 2 hours 30 minutes.
If you have time to explore Taitung some of the best things to do are:
Beinan Cultural Park: the largest and most important cultural site in Taiwan. It was excavated in the 1980s when thousands of slate coffins were unearthed together with jewellery, pottery and tools.
Brown Road: home to the famous Mr Brown Taiwanese Coffee and surrounded by rice fields and mountains.
Orchid Island and Green Island: volcanic islands off the coast of Taitung famous for snorkelling, hot springs, coastal scenery and strong Aboriginal culture.
Tropic of Cancer: a statue marks the crossing of the Tropic of Cancer on the drive between Taitung and Taroko Gorge.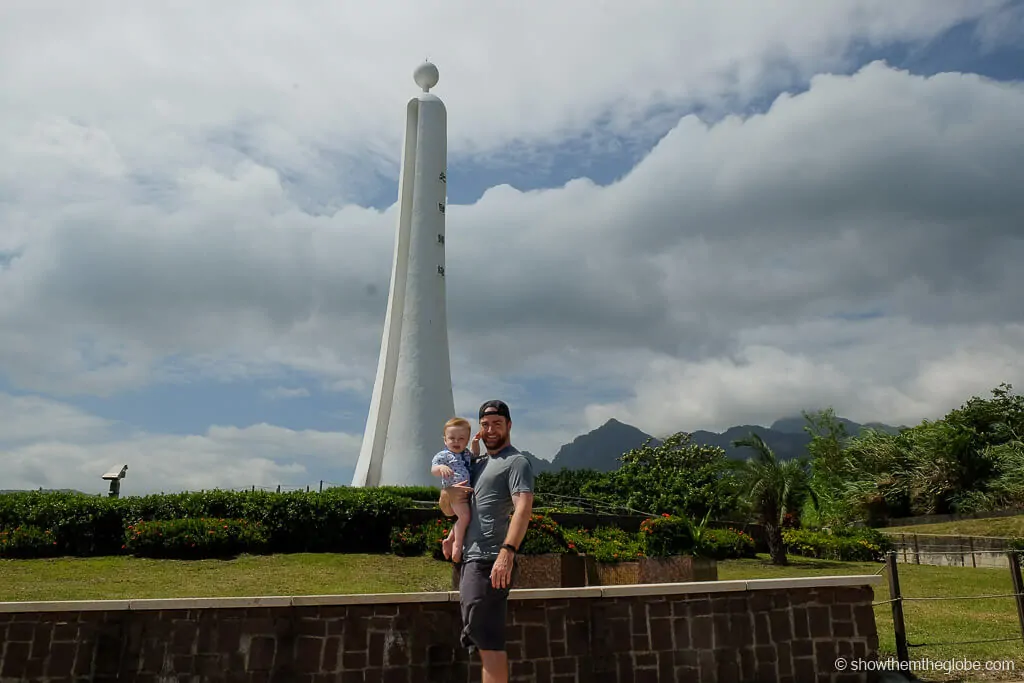 Day 13 and 14: Taroko Gorge
Taroko Gorge is another stunning stop in Taiwan and is great for exploring Taiwan's nature with kids. The steep mountains are covered in thick forest and a deep gorge carved out by the Liwu River, winds through the forest floor.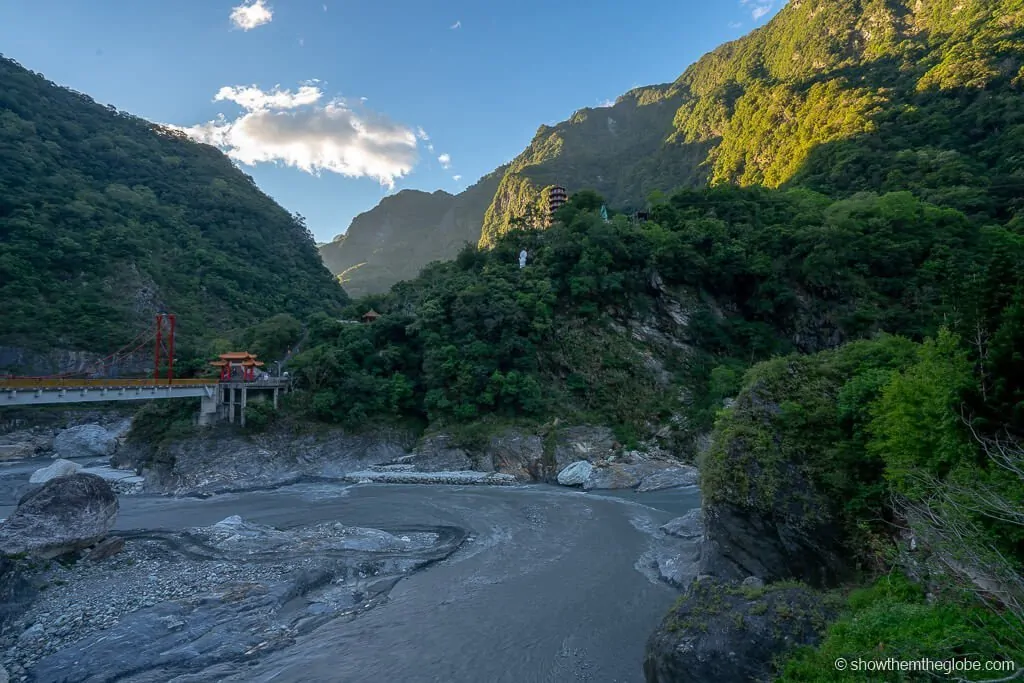 Where to stay in Taroko Gorge
Visitors to Taroko Gorge can stay in the Taroko National Park, close to the entrance to the park or in nearby Hualien where the trains from Taipei arrive and depart. We recommend staying in the park for both the close to nature experience and the convenience for sightseeing.
Silks Place Taroko: we treated ourselves to a gorge view room in the luxury Silks Place Taroko which is located in the heart of the Taroko National Park. The facilities are amazing: there's a rooftop outdoor pool (where we enjoyed a movie screening in the evening) and hot tubs, an indoor pool and tennis courts. J loved the kids facilities which included a rubber duck filled pool, a children's play centre and arts and crafts workshops – check prices now!
Taroko Village Hotel: located less than 1km from Swallow Grotto, the Taroko Village Hotel is a less expensive option to Silks Place for guests wanting to stay inside the Taroko National Park – check prices now!
Chateau de Chine Hotel Hualien: if you opt for Hualien the Chateau de Chine Hotel is a good choice with its colourful exterior and spacious themed rooms. The outdoor pools and indoor playground make it a great family friendly options – check prices now!
Click here for the best Taroko Gorge Hotel prices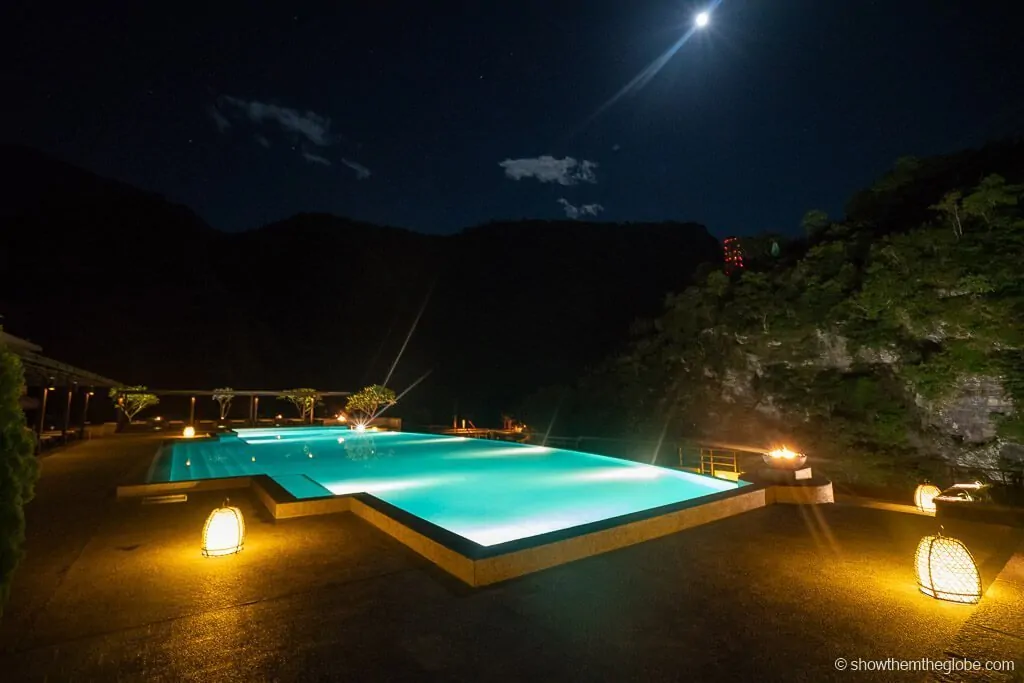 Taroko Gorge
How to get to Taroko Gorge: we drove from Taitung to the Taroko National Park (around 4 hours). Public transport services the nearby city of Hualien, a 4-hour bus journey from Taitung. If you are arriving from Alishan you can take the bus to Taroko Gorge. If you are arriving from Taipei, an express train serves Hualien.
How to get around Taroko Gorge: there are a few options for navigating Taroko National Park. We used our rental car to explore. Many guests use a taxi/private car or rent a motorbike. If you are based in Hualien, it's easy to join a tour – reserve a Taroko Gorge tour here!
If your kids enjoy a short hike the 4km Baiyang Trail ends with a stunning water curtain and has magnificent views of the gorge.
Taiwan with kids itinerary tip: Start early to avoid the crowds, bring a flashlight to navigate the tunnels and beware of the monkeys! Due to loose rock visitors are only allowed to the entrance of the first Water Curtain.
Swallow Grotto, accessible by car, is one of the best places from which to view the gorge and an easy option with kids. It is a short and flat footpath in the middle of the park and the surrounding river walls are lined with swallow nests
The Taroko Eternal Spring Changchun Shrine sits atop a natural spring and was built in honour of the many who lost their lives building the highway through Taroko National Park.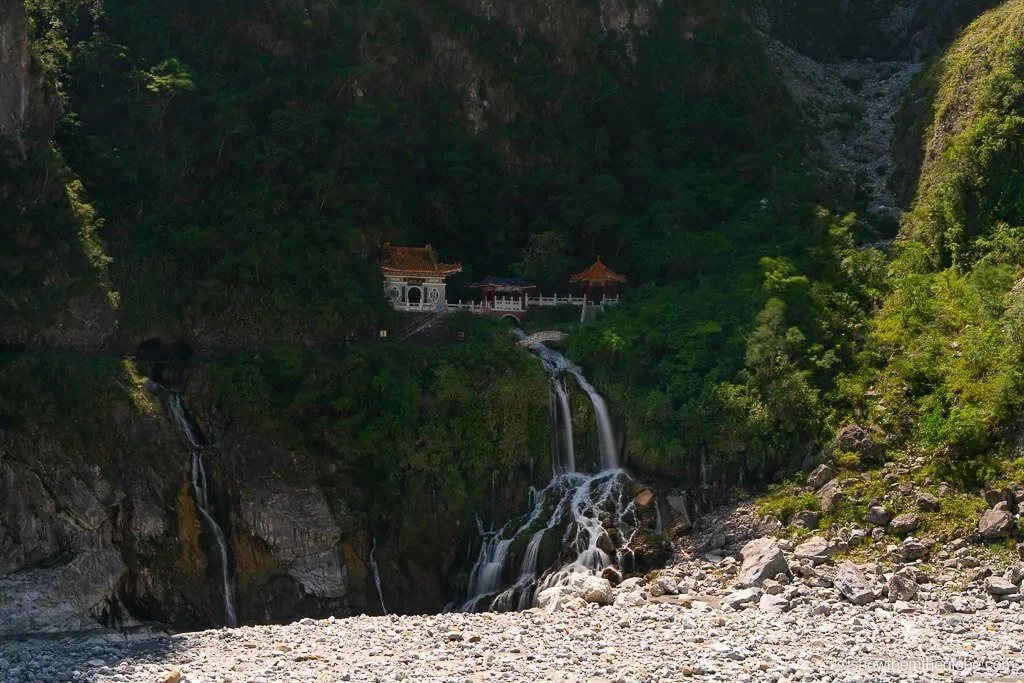 We also loved the Chingxi Suspension Bridge and the Cimu Bridge but be careful with kids on the bridges.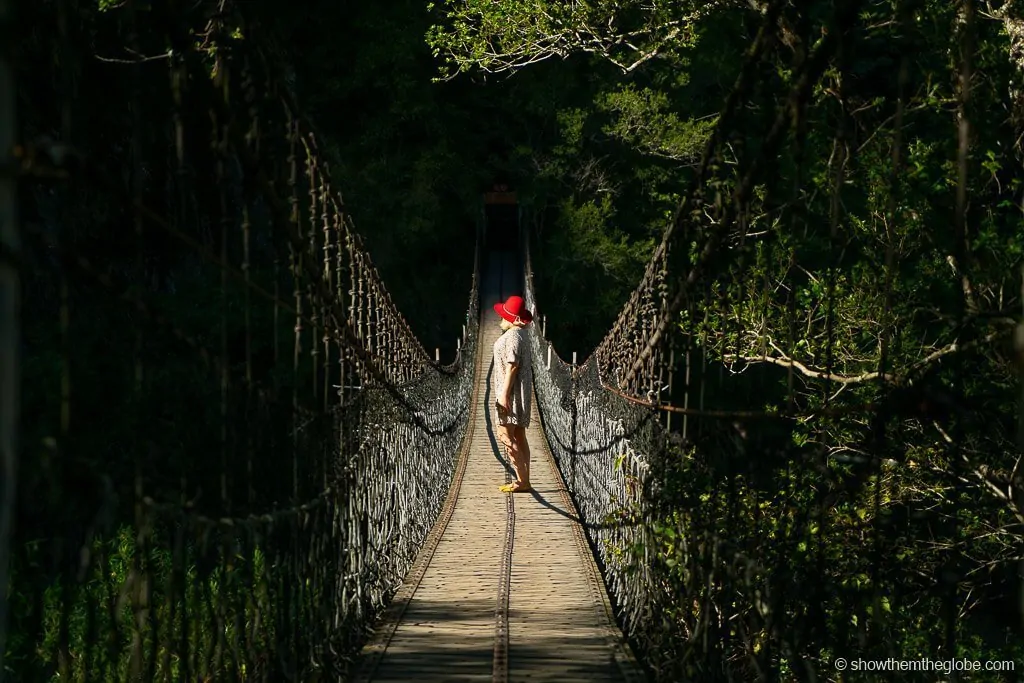 On the way out of the park make sure to stop at the stunning Qinghui Cliffs where visitors have the opportunity to admire the three distinct color tones that make up the Pacific Ocean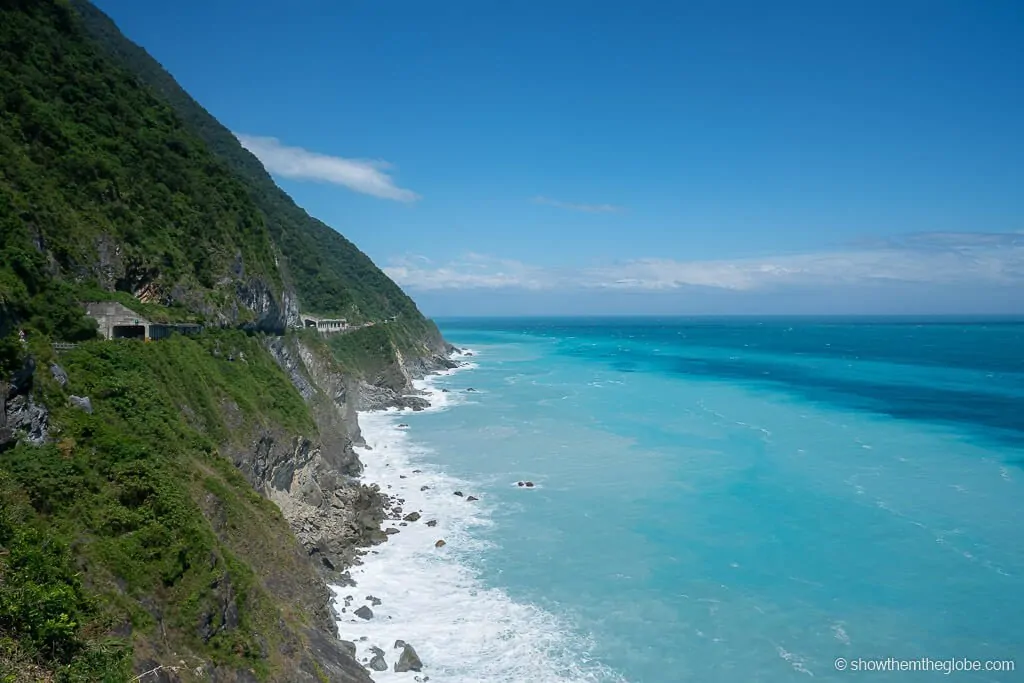 Day 15: Depart Taipei
Day 15 is a day of leisure until it's time for your flight from Taipei.
How to get to Taipei: take the bus from Taroko Gorge to Hualien or Xincheng Station and then hop on the train to Taipei. The drive took around 3 hours.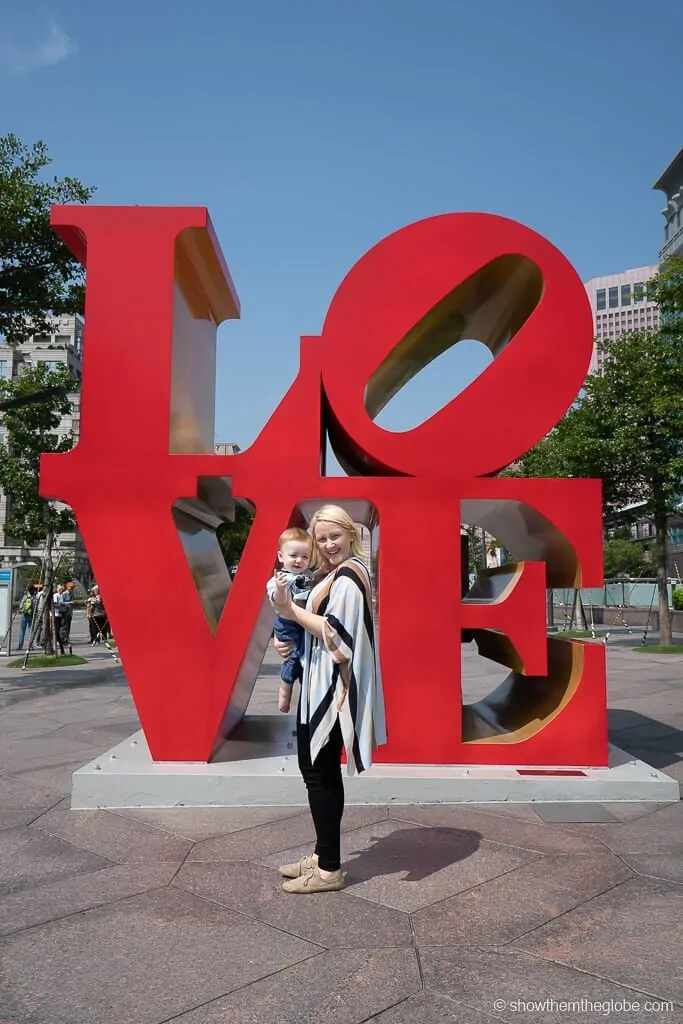 For more on Taiwan