Flying with a baby can seem daunting but simple things like planning ahead, a well packed diaper bag and being well organised for the flight can all help make flying with a baby a much easier experience. We took baby J on his first flight when he was a tiny 8 week old and we navigated a 32 hour home to hotel extravaganza from Dublin to Cape Town. It was a successful flight and he's been a baby of the skies ever since! We wanted to share everything we've learned about flying with a baby and our tips to help with planning your baby's first flight.
Flying with a baby: Pre flight Planning
1 | Purchase an infant ticket
When flying with a baby under 2 you willl need to decide whether to travel with your baby on your lap or if you'd prefer to purchase a separate seat for the baby – either way, you need to obtain a ticket for your infant. Babies under 2 often travel as lap infants, in which case their ticket is either free or incurs a reduced charge, for example 10% of the full fare. If you purchase the baby its own seat they'll need to be restrained in a car seat for safety.
If you are wish to purchase a ticket before the baby arrives many airlines will allow you to book the ticket using 'Baby', their surname and an approximate date of birth and then update the details on their arrival. However some airlines do not allow this meaning you're exposed to fare fluctuations if the ticket is charged as a percentage of current fares.
Flying with a baby tip: an infant must have a ticket to travel so it is essential to inform the airline and obtain a ticket for your baby. Even lap infants must be ticketed.
2 | Choose flight times that fit baby's routine
If possible, opt for flight times that suit your baby's routine as this can have a huge impact on how your baby reacts to the flight. If your baby sleeps through the night then an overnight flight is often a great option or, if they are are more relaxed mid morning, book flights to work with this.
We try and avoid early morning flights which require middle of the night journey's to the airport as it's inevitable that Jake will wake up and the resulting crankiness is hard to overturn!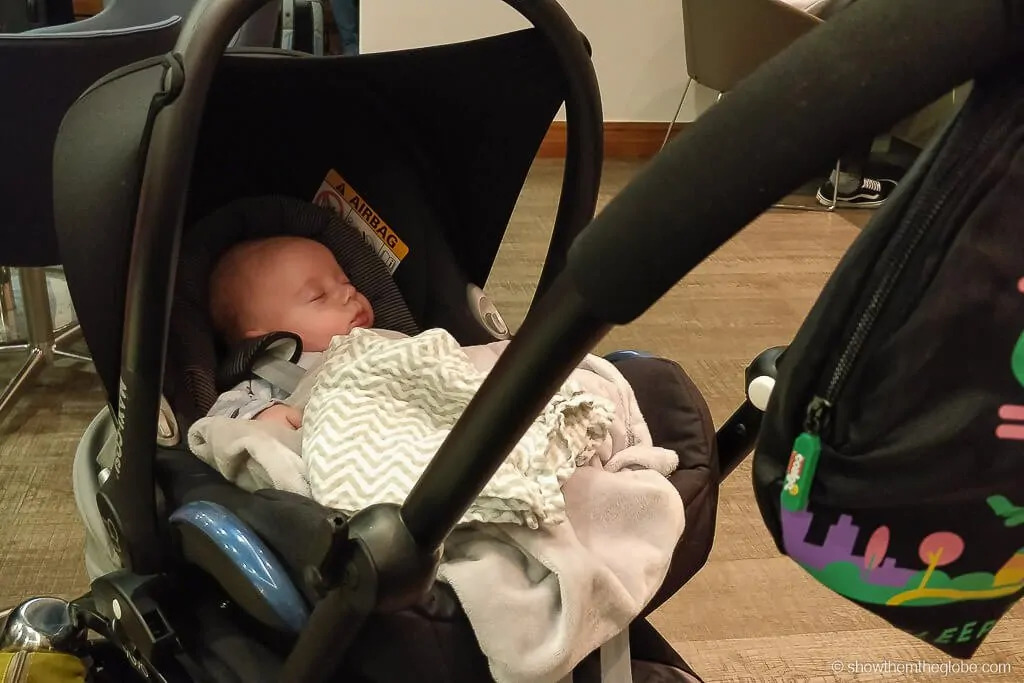 3 | Prepare the necessary documents
Your littlest one will need to have their passport delivered in time for their first flight. As well as baby's first passport, make sure you are prepared in advance with other necessary documents such as a birth certificate or a letter of consent where required. Also, make sure you are fully aware of the rules that apply in the countries you are travelling to: for example, we needed a birth certificate to enter and exit South Africa with J as it is a requirement for all children under 18 entering and exiting the country.
Flying with baby tip: A birth certificate is often requested if your surname differs from that of the child while a notarized letter of consent is usually required if the baby is travelling with only one parent.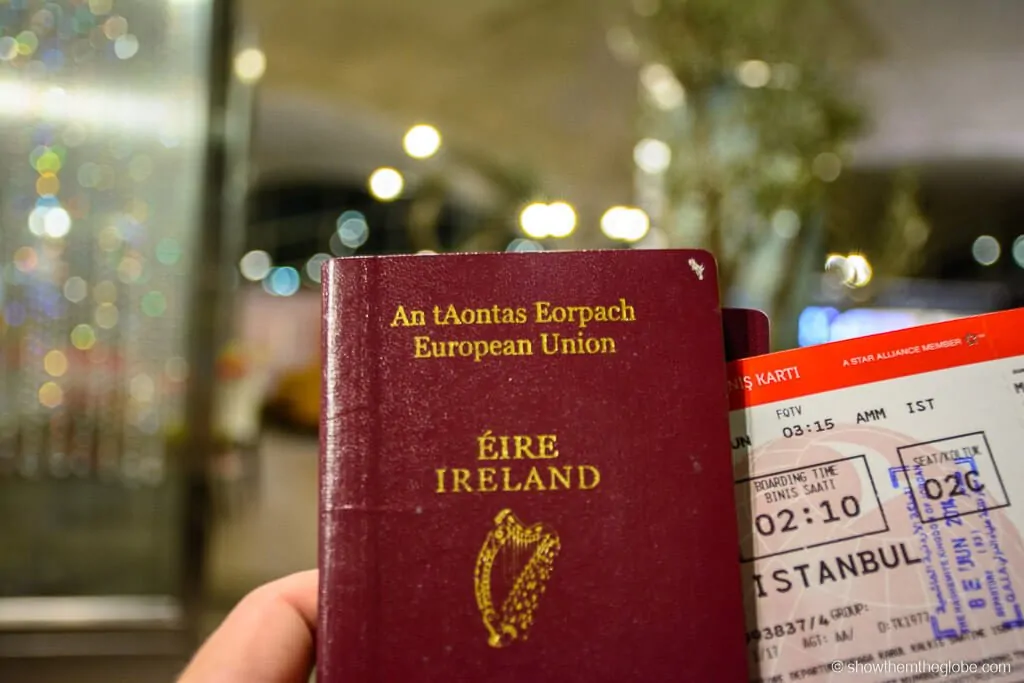 4 | Prebook a seat 
Consider where you want to sit on board and book a seat in advance if you can: aisle seats make it easier to move around the cabin while window seats can offer a little extra privacy which some value when breastfeeding. Bulkhead rows can offer additional space and are often where the bassinets are located. However, bulkhead rows can have some disadvantages such as luggage having to be placed in the overhead bin during take off and landing.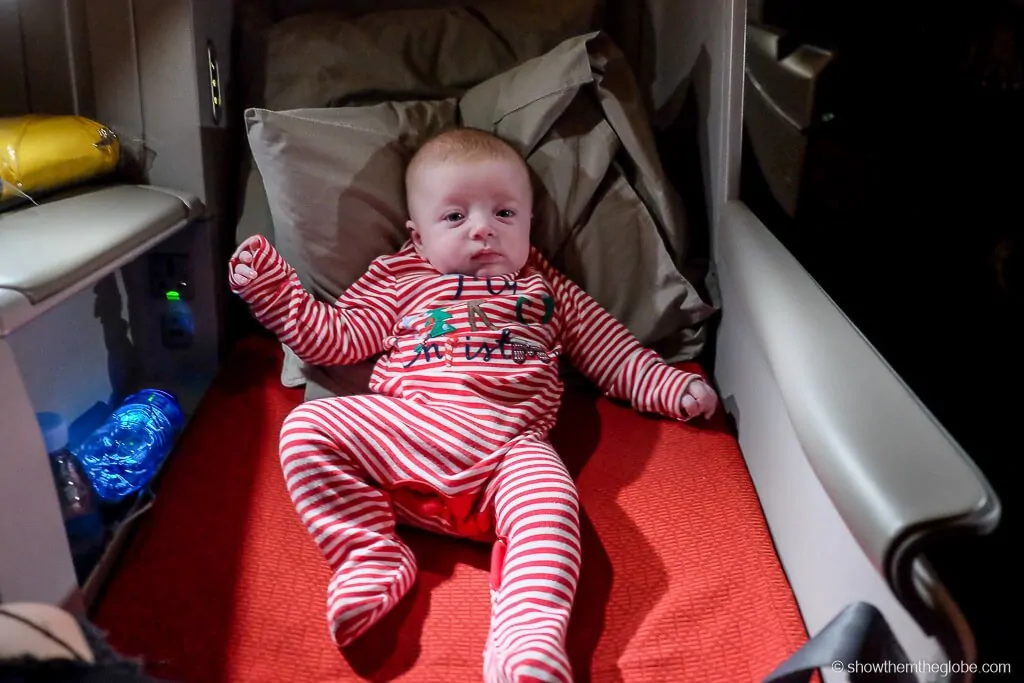 5 | Request a bassinet seat if flying long haul
Bassinet seats are seats which allow a small airline provided cot to be attached to the wall directly in front and in which a baby can stretch out and sleep in. The bassinets have height and weight restrictions meaning they're often only suitable for younger babies. We love having a bassinet on longer flights as J sleeps better in the cot and it can get uncomfortable holding a baby for hours.
Flying with baby tip: check with your airline as soon as you book your travel as bassinet seats can be limited in availability and are usually allocated on a first come first serve basis.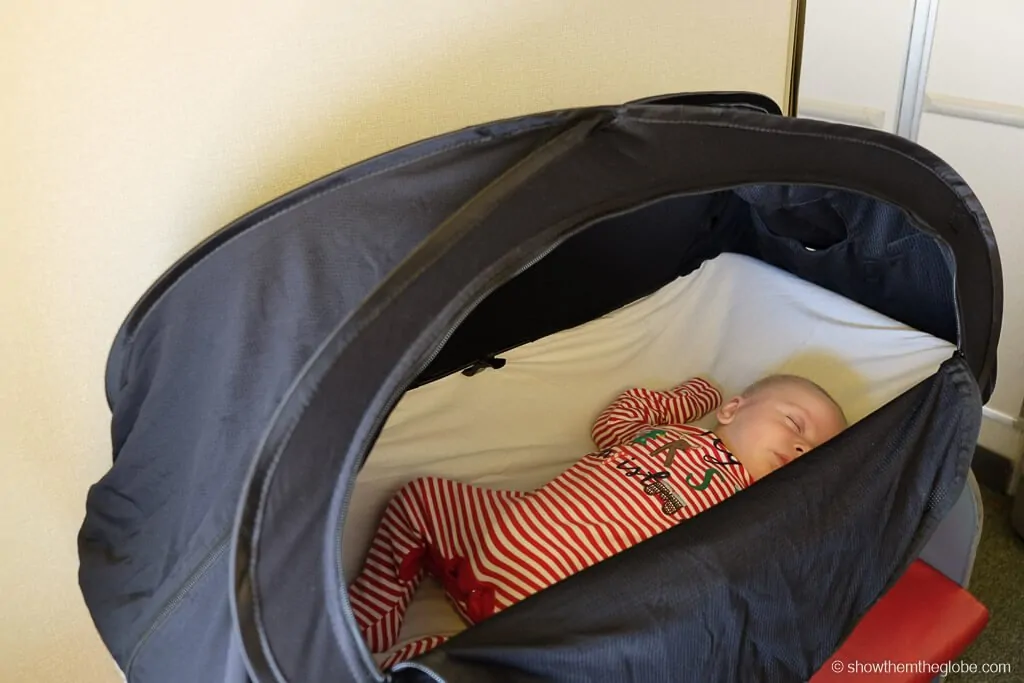 Flying with a baby: Baggage
It's inevitable that your baggage will increase when travelling with a young baby! Many airlines allow an additional baggage allowance for infants but make sure to check the rules of the airline you are travelling with for clarification.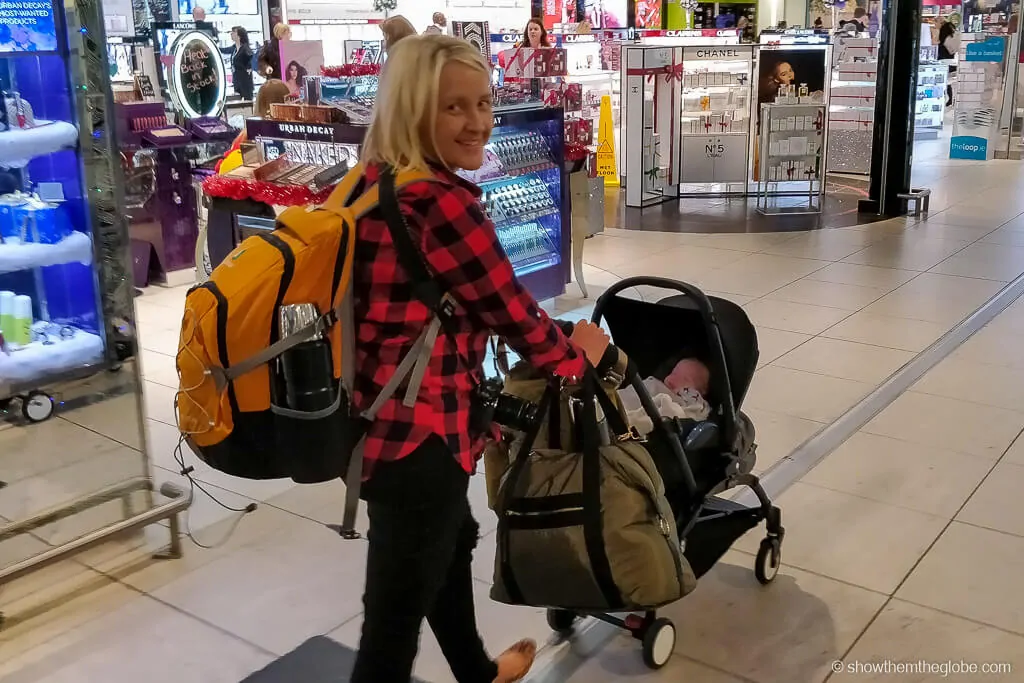 6 | Diaper Bag for Cabin
Choose a diaper bag that works with your style – we opted for a backpack style diaper bag which is perfect for navigating airports and airplanes and allows us to keep our hands free for looking after J.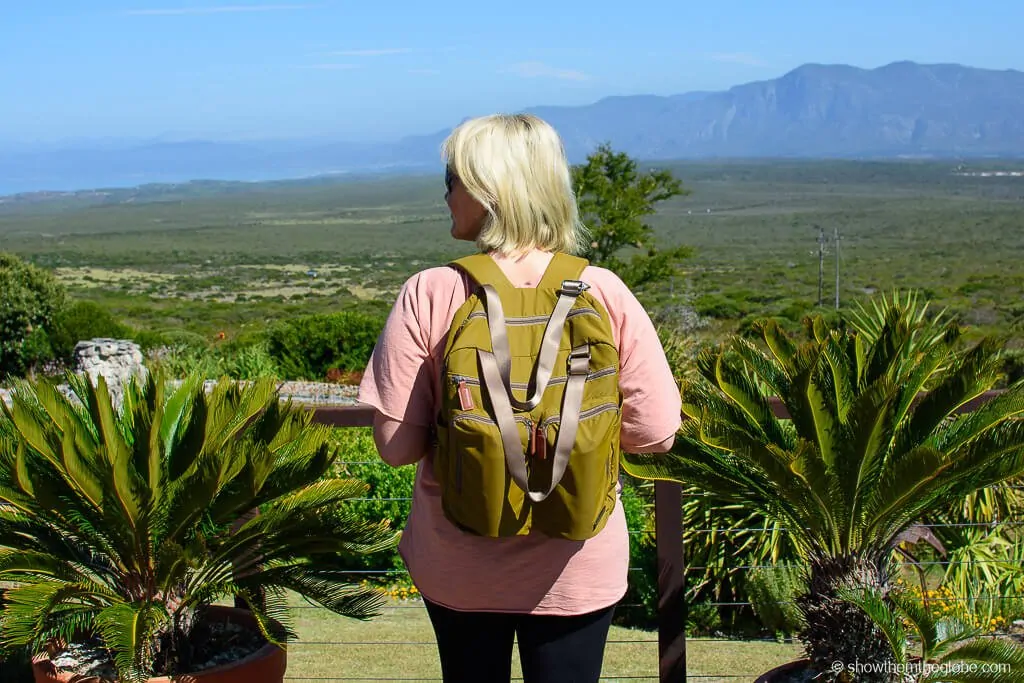 It's crucial to bring a well packed diaper bag on board which contains everything your baby might need during the flight – consider feeding, diaper changes, fresh clothes and a first aid kit if the baby gets sick on board. Bring extras in case of delays. We've shared our airplane diaper bag packing list for J: it's a really useful packing list which has taken us on numerous long haul flights beginning with a trip to Africa at 8 weeks old.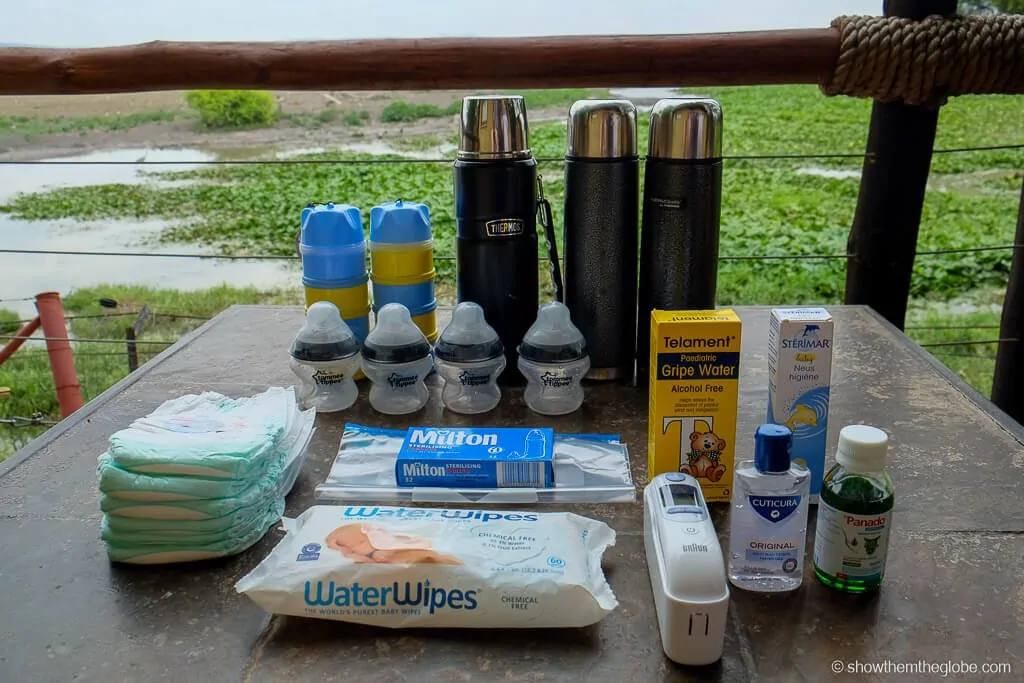 7 | Check in luggage for baby
We often find it easier to pack everything J will need for the duration of the trip – this way we don't have to worry about finding the brands he's used to in a new destination. Our check in bag contains diapers, water wipes, formula if needed, plenty of clothes, a sun hat, a blanket, his usual laundry detergents in capsule form and a favourite toy and book.
Flying with baby tip: if you are checking in multiple bags split the baby's check in across all of them in case a bag goes missing in transit.
In the Airport
The prospect of navigating the airport with a young baby can seem daunting but organisation is key!
8 | Stroller or baby carrier
It's a personal choice and highly dependent on where you are travelling, how long for and what your baby is used to. Baby carriers make it easy to navigate the airport but strollers are great for some hands free time, hanging a diaper bag on and taking advantage of the storage underneath.
We tend to travel with both a stroller and a carrier especially for longer trips – J uses a Babyzen Yoyo stroller which collapses to cabin luggage size and so we store it in the overhead bin during a flight. We also take an Ergobaby 360 carrier which we occasionally use for strolls in the cabin and during our trip.
Flying with baby tip: if you travel frequently it's definitely worth investing in a cabin friendly stroller. There's no waiting around for your stroller to be deliver post flight. Some airports don't allow strollers to be delivered to the aircraft and instead transfer them to the luggage carousel – a cabin friendly stroller eliminates the risk of having to make the long hike to the luggage carousel with a baby and all its luggage!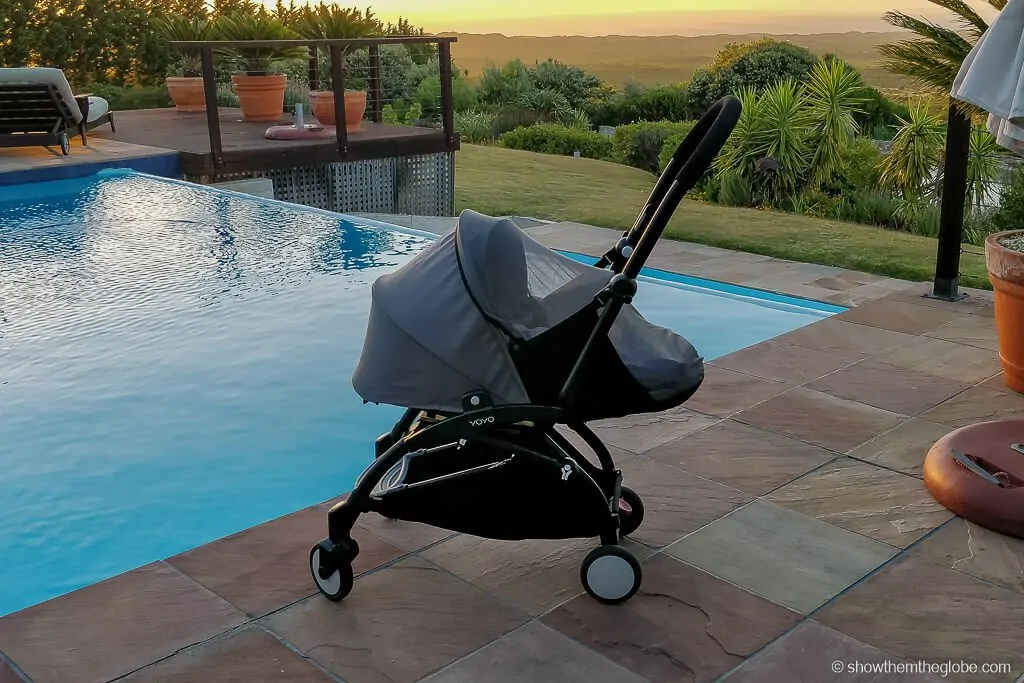 9 | Be prepared at airport security
Passing through airport security efficiently and stress free with a baby requires some forward planning. Remember, liquid rules don't apply to babies: they are allowed a reasonable amount of medication, baby formula and milk. Some airports allow you to carry flasks of hot/cold water for making up bottles so don't stress about how you are going to feed your baby at the airport or on board.
We find the following helps for a smooth security experience:
pack all liquids in the airport friendly transparent bags in advance of travel
keep all baby stuff together so you know where to find everything if questioned about what is in your bag
explain to security if you have liquids for your baby when you place them in the tray
baby liquids are often subject to additional screening/tests so while there's no need to be alarmed if you see them taken aside be sure to keep a close watch on them
strollers/carriers pass through security separately while you will carry the baby through
leave plenty of time so you're not stressed!
Flying with a baby: On board
10 | Boarding the plane
Board first or last but avoid the boarding scrum in between! Boarding first will allow you to get yourself and you baby settled as well as organising your carry on. However, some babies might prefer walks around the terminal to time on the plane so, if this is the case, board last!
Flying with baby tip: when travelling with others I find it helpful if they board first and take my bag and I follow at the end with J.
11 | Hygiene
We find it useful to bring some disinfectant wipes to wipe down any surfaces baby J will touch. We also use antibacterial gel after toilet trips and before and after feeds.
12 | Baby seat belts
On some airlines baby's are strapped onto the adult's seatbelt with a seat belt extension on take off, landing and during turbulence. Ask the crew to show you how to fit the extender properly on your first flight. We found it easiest to wait until just before take off to strap Jake in otherwise he'd get restless and cranky in the restraint!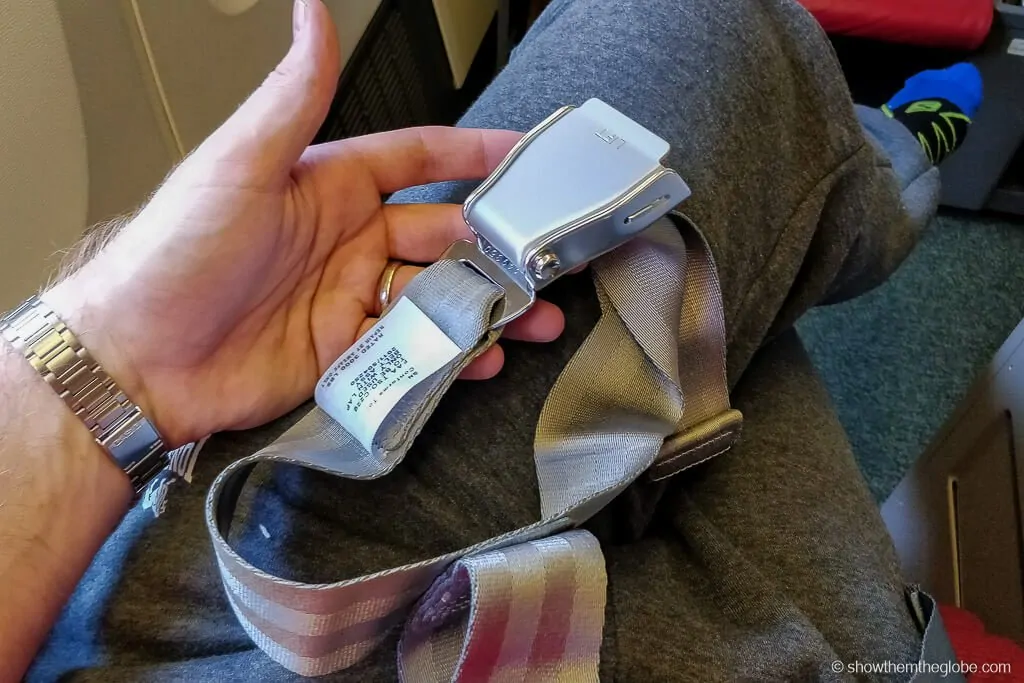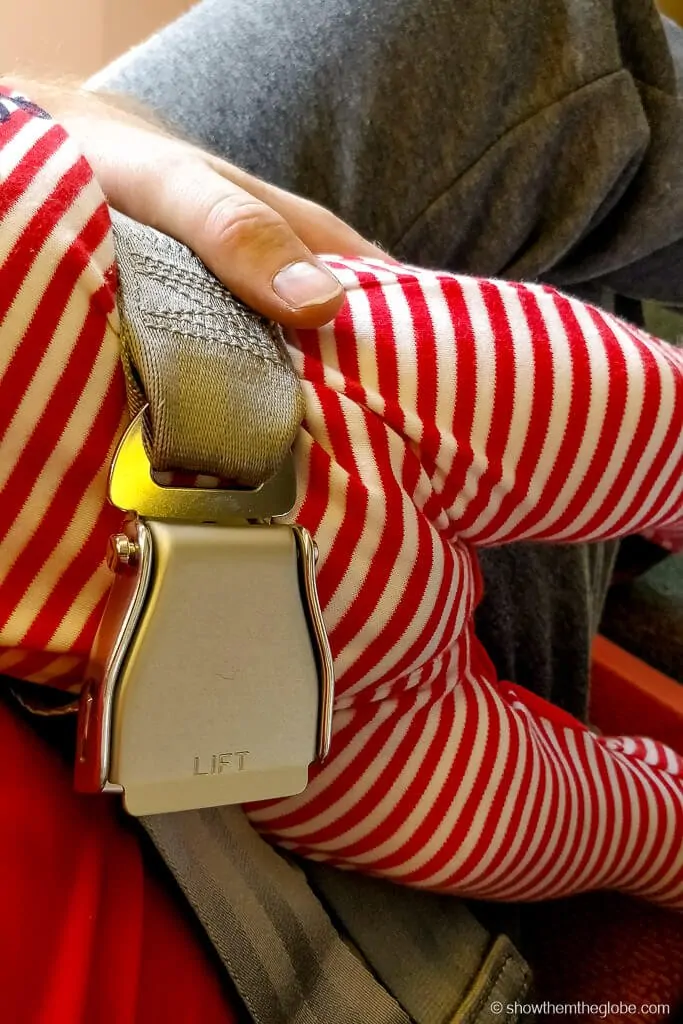 13 | Takeoff and Landing
During our first flight with J we weren't sure whether to try and feed him or give him a pacifier when taking off and landing. It turned out he didn't need either and was happy with a combination of cuddles, sleep and enjoying the acceleration of the plane! Follow your baby's lead on how to deal with take off and landing and, if their ears seem to be giving them trouble, feeding or sucking a pacifier can help greatly.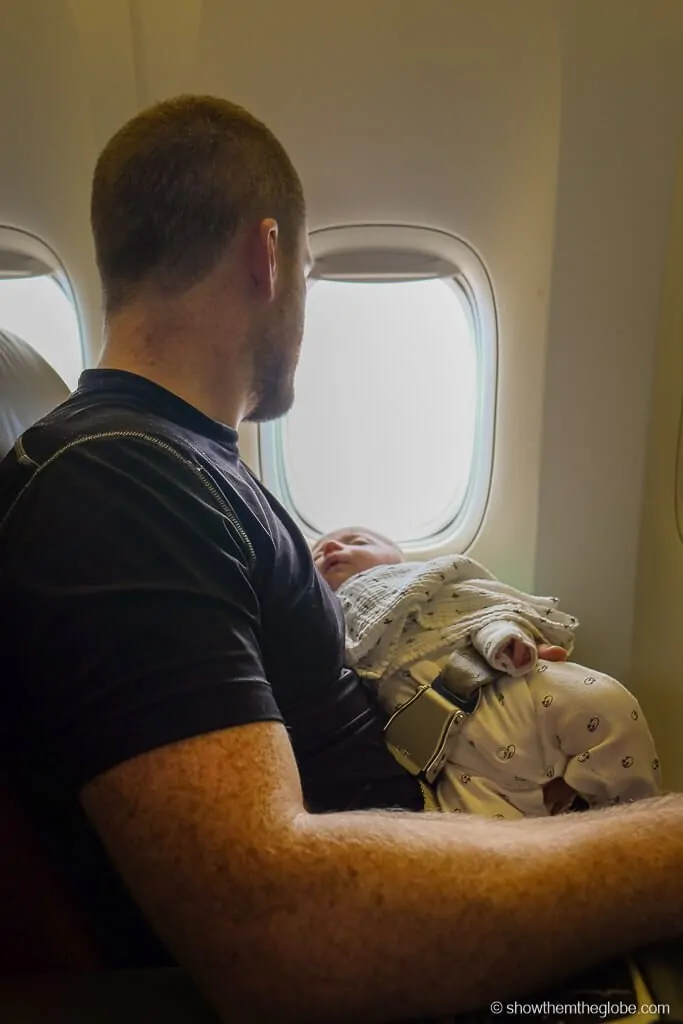 14 | Feeding
Feeding can be a messy experience especially in a confined space so pack plenty of bibs, muslin cloths and changes of clothing.
Breastfeeding: you might find it useful to bring a lightweight scarf for privacy and a feeding cushion for comfort.
Formula feeding: bring everything you need to formula feed for the duration of travel and allow extra for potential delays. Our formula feeding essentials are a formula dispenser, flasks of cool boiling water and slimline bottles.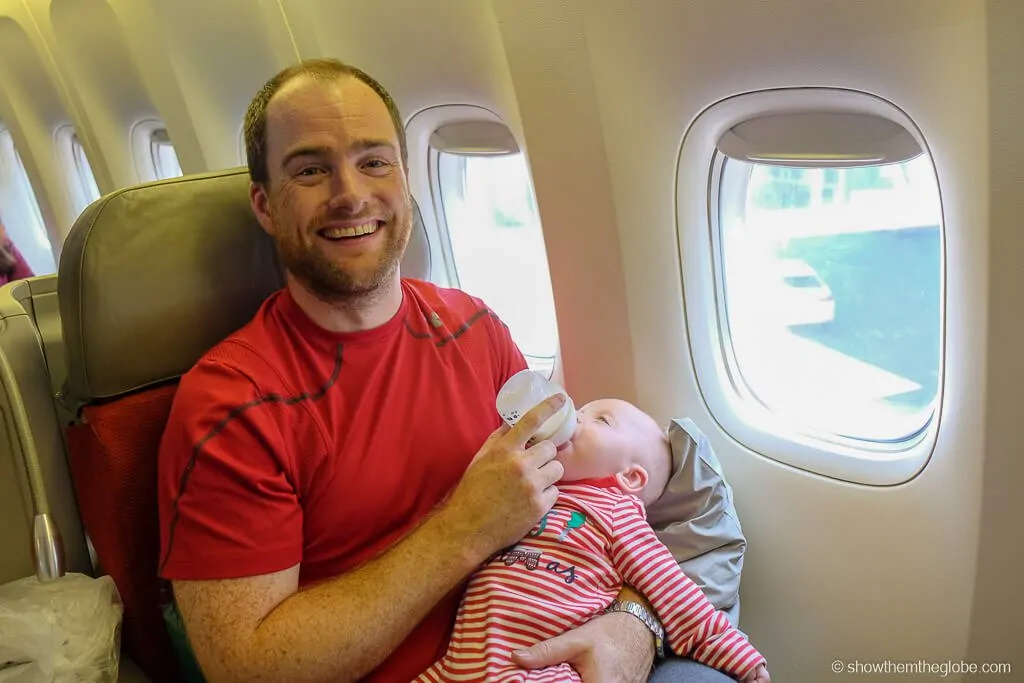 15 | Diaper changes
Even on a short flight it's almost inevitable that a baby will need a diaper change so pack enough nappies to see you through the flight and allow some extras to cover potential delays and as well as those multiple diaper toilet moments!
Most airline toilets have a changing table which pops down over the toilet. We brought our own changing mat as it's nice to have some extra padding and a clean surface to lay the baby on.
Flying with baby tip: prepack diapers, wet wipes and changes of clothing in Ziploc bags so everything is to hand as you need it.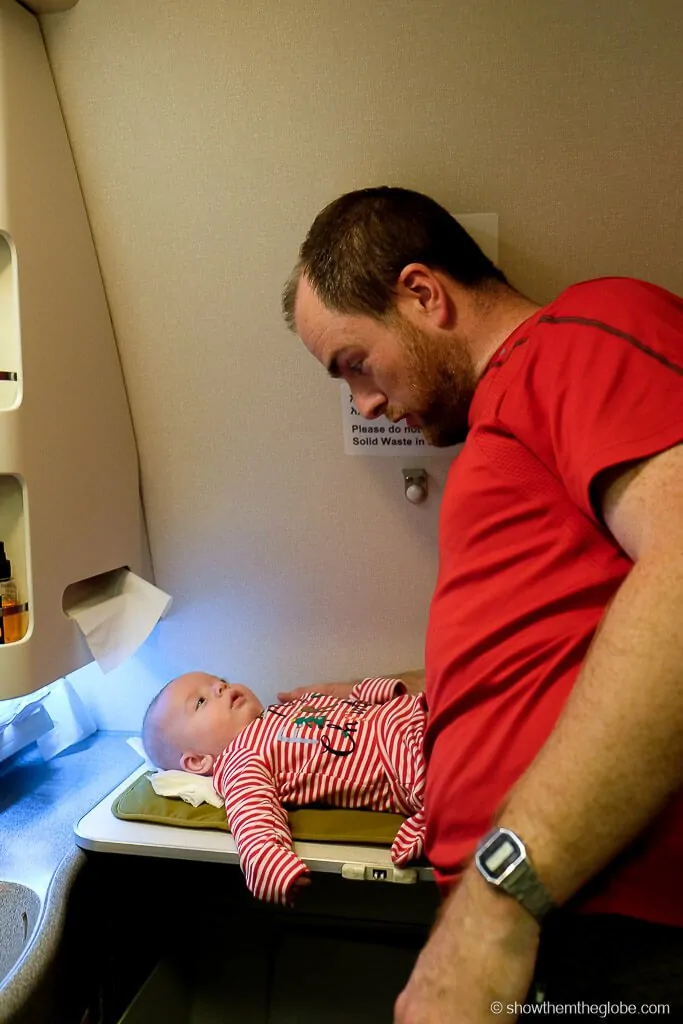 Finally… stay calm!
Stay calm! It's totally understandable to be nervous about flying with a baby but try not stress especially if your baby tends to sense when you are feeling anxious. It's impossible to predict how your baby will take to the skies but try to remember: people are kind and many will try and help and, often, other parents will give you a knowing glance having likely experienced it for themselves.  Being prepared is a huge help: small things like having a ready supply of pacifiers, being ready to feed as soon as the baby indicates they are hungry and bringing a comfort toy or blanket from home can all help to calm a baby and make the flight more comfortable for everyone!