Paris is the perfect location for tiny adventurers and we love the huge variety of things to do in Paris with toddlers.
From playgrounds and carousels under the iconic Eiffel Tower to meeting Mickey Mouse at Disneyland Paris, the city is an awesome choice for a family vacation. We've put together our guide to the best things to do in Paris with toddlers!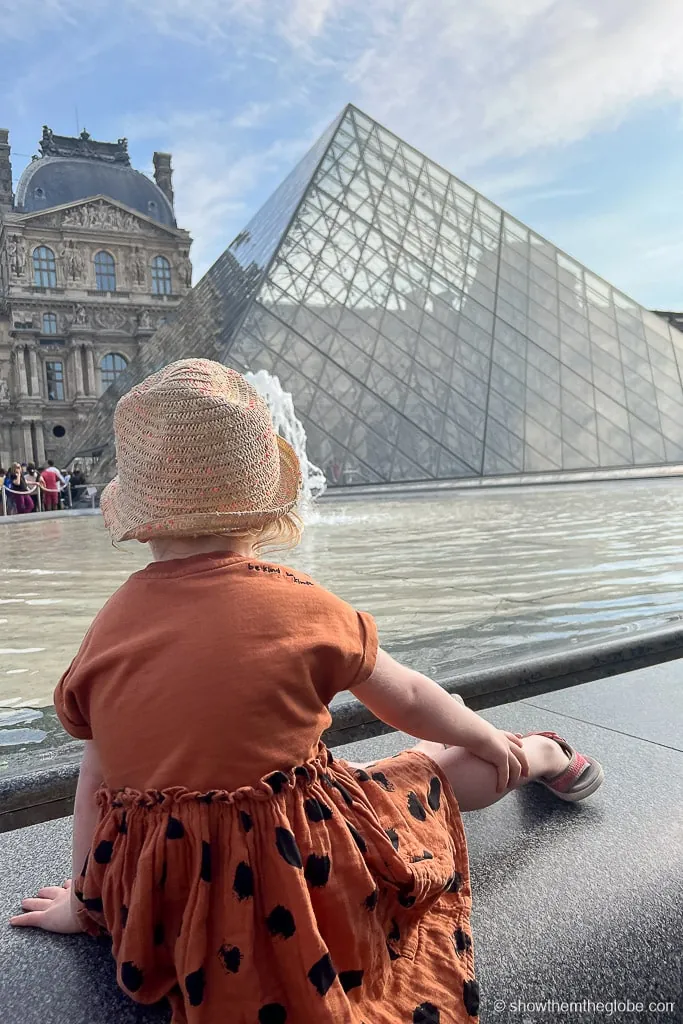 15 Best Things to Do in Paris with Toddlers
With three young kids, we've been fortunate to experience Paris many times through the eyes of a toddler. Together we have explored the wonderful sights, had fun in its playgrounds and climbed its iconic landmarks.
1 | The Eiffel Tower
Visible from all across the city, the Eiffel Tower is the symbol of Paris and visiting its summit is so much fun. There are two ways to get to the summit: by elevator or by a mix of elevator and climbing stairs – we much prefer the elevator-only option when ascending with a toddler as the alternative involves 674 stairs to the second floor!
The views are incredible from the summit and our toddlers love spotting some nearby playgrounds to check out after!
Things to do in Paris with Toddlers tip: the Eiffel Tower is stroller friendly and we were able to take our Babyzen stroller to the summit.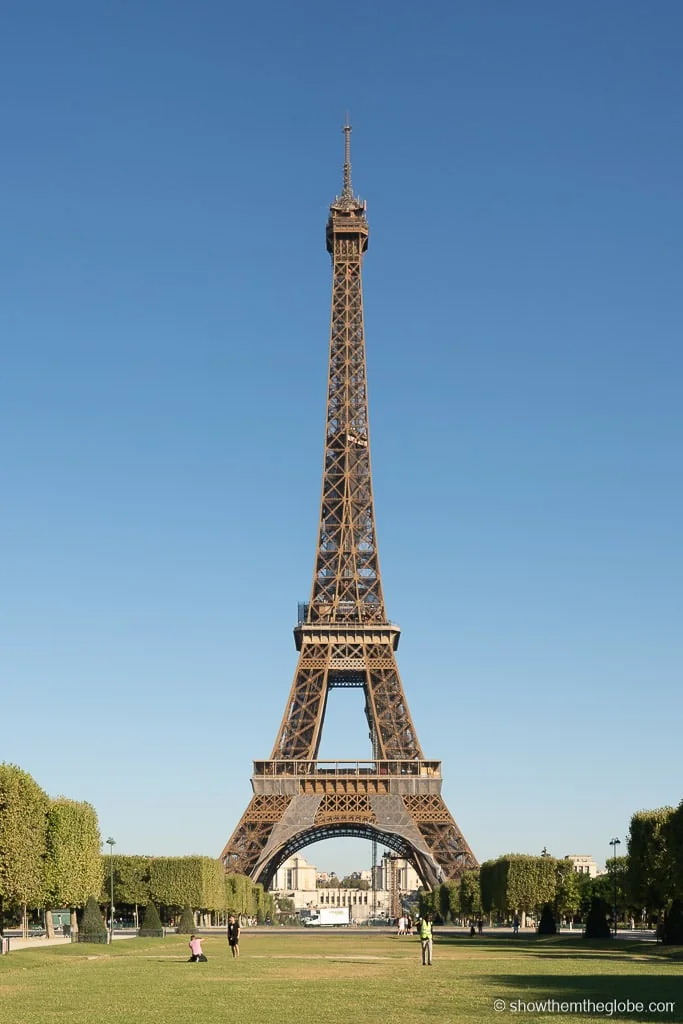 Eiffel Tower Tickets
Advance purchase Eiffel Tower Tickets typically sell out quickly so make sure to reserve in advance. Your first stop should always be the Eiffel Tower Official Website – click here to check availability on the official website.
If the advance purchase tickets are sold out you can:
Queue up and purchase a ticket on the day – This is a more time-consuming but less expensive option. You must wait in line at the general access security line (queues can be 2.5 hours on busy days), and queue for ticket sales upon entry (at least 0.5 hours).
Reserve a ticket or a tour in advance – reserving a tour means that you can enter through a dedicated advance ticket security queue and are granted a timed access slot with no need to queue for tickets upon entry. This can be much faster and you can book your tickets in advance but it's more expensive. On a last-minute visit this summer we decided to visit the Eiffel Tower and could only find one tour that didn't charge for toddlers (kids 3 and under are free to visit the Eiffel Tower) – check prices now!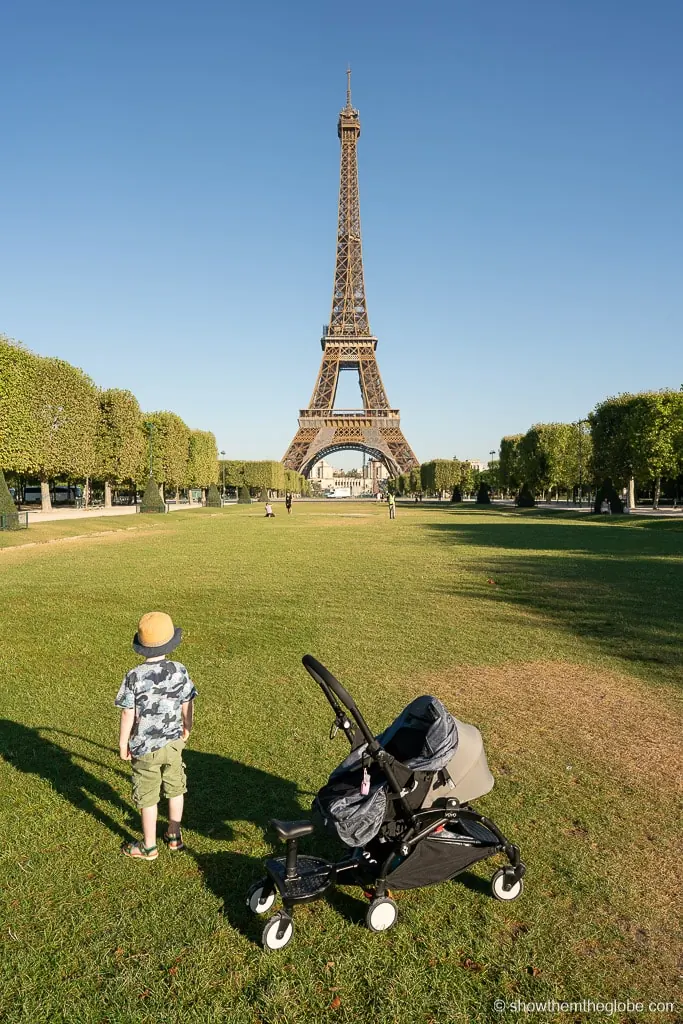 2 | Jardin Du Luxembourg
Jardin du Luxembourg is one of the most beautiful parks in Paris and was dedicated to the city's children by Napoleon. The elegant gardens are split into English and French gardens with a forest and pond separating the two.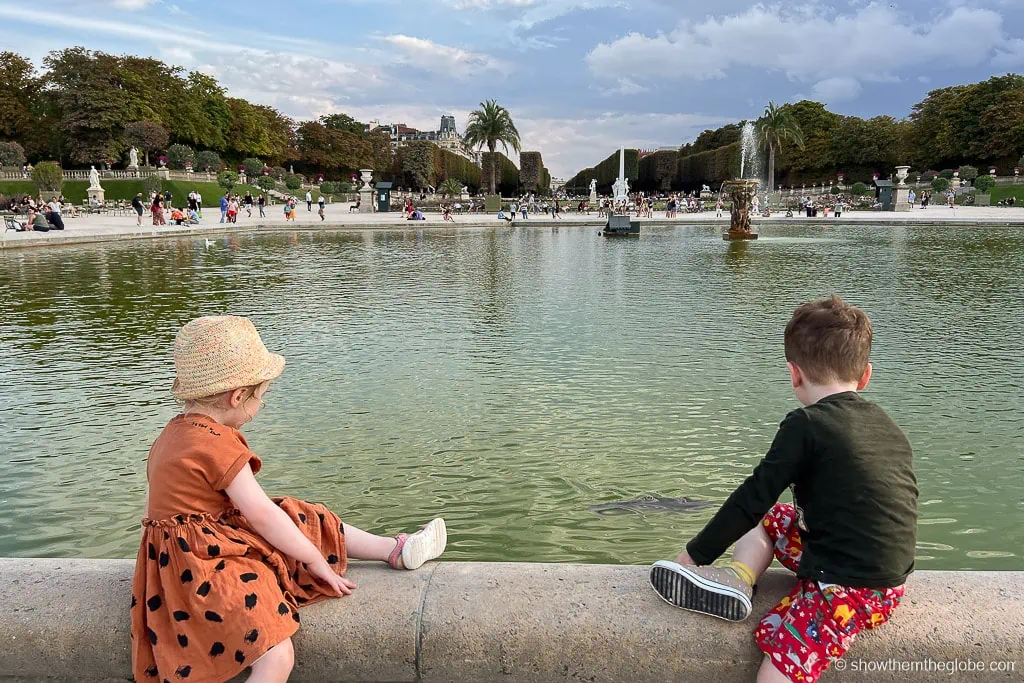 Toddlers will love the puppet shows at Theatre du Luxembourg, watching the model sailboats in the Grand Bassin pond and playing in the park's playground, Ludo Jardin – entry to Ludo Jardin is Eur 3 for children and Eur 1 for adults.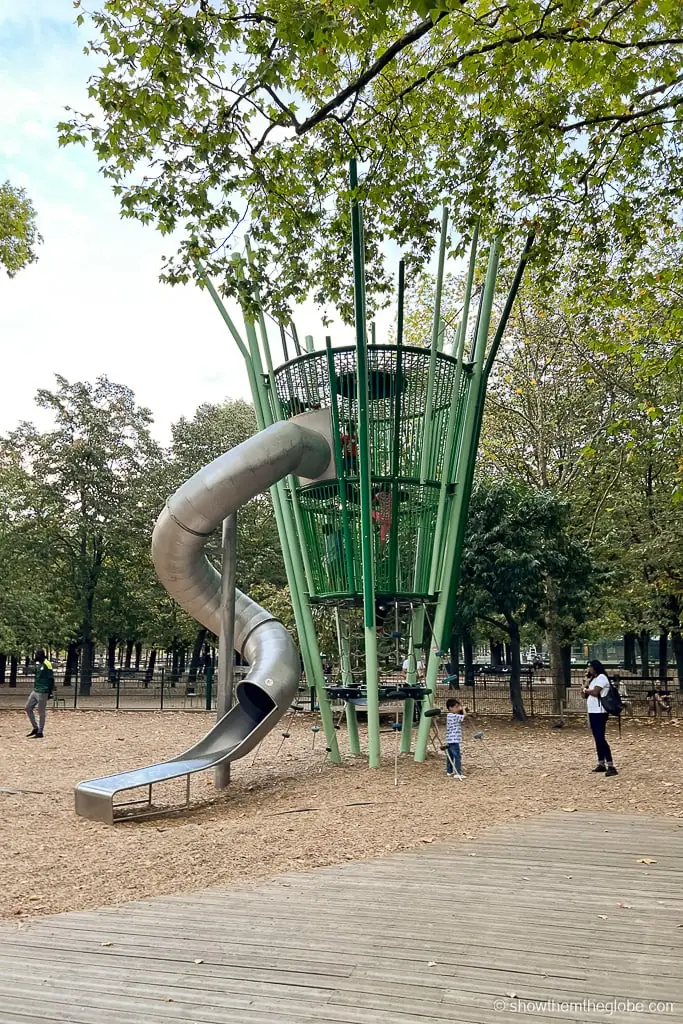 3 | Disneyland Paris
The magical Disneyland Paris is located just 40 minutes from Central Paris – from fairy tale-themed rides, magnificent parades and fantastic meet and greets, Disneyland Paris is one of our favorite day trips from Paris with kids – check ticket prices now!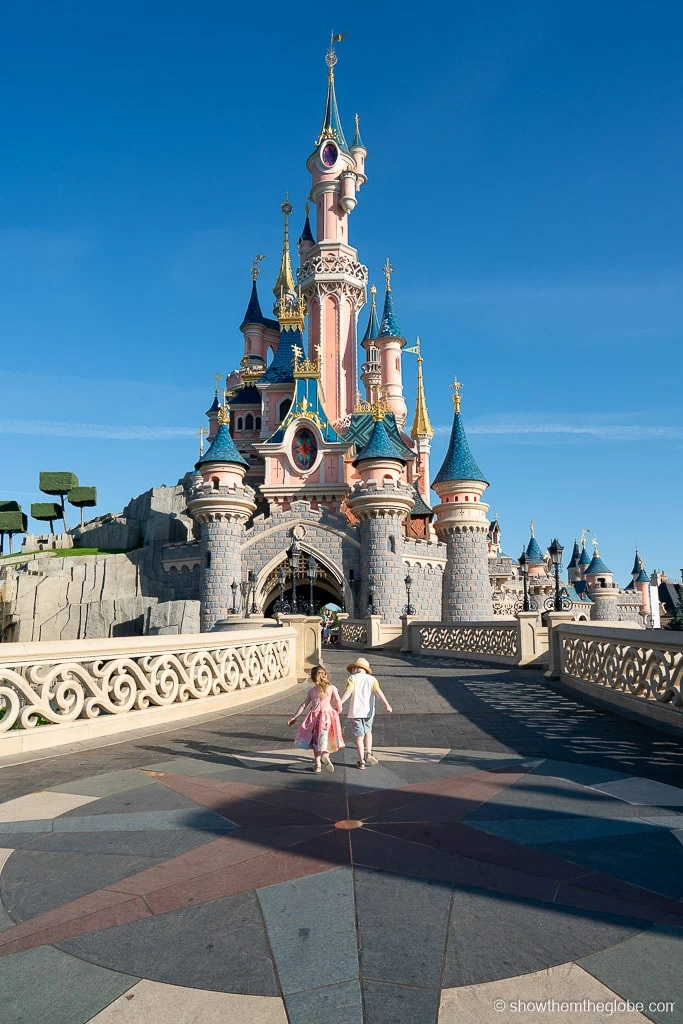 Our kids love visiting Disneyland Paris (with a 5,4 and 1-year-old we've made countless trips with toddlers!) and there is so much to do in the parks with young kids – most of the rides are toddler-friendly (Dumbo, Pirates of the Caribbean, Casey Jr and Peter Pan are firm favourites) and guests have the opportunity to meet a wonderful array of Disney characters and Marvel super-heroes (Mickey and Minnie Mouse, the Disney Princesses, Stitch and SpiderMan are always at the top of our toddlers' lists!). The daily parades are incredible to watch and a nightly firework display makes for a magical end to a day at Disneyland Paris.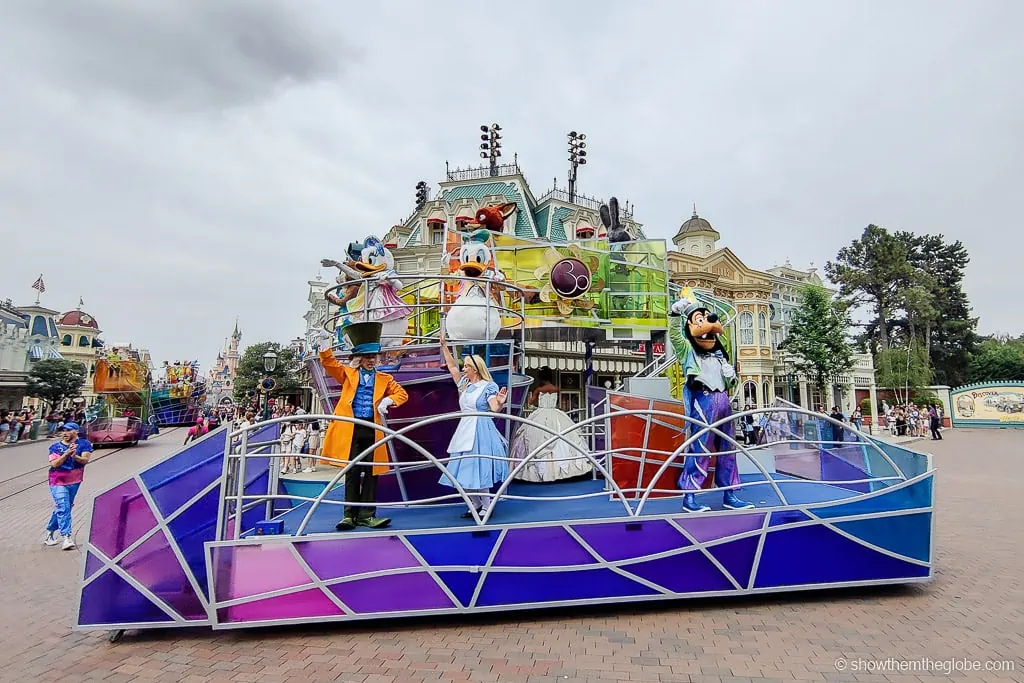 Disneyland Paris tickets
For a day trip from Paris, a 1 day dated ticket is the best option. You can choose a one park ticket or a two-park ticket – if you choose a one-park ticket then you can spend the day in either Walt Disney Studios Park or Disneyland Park or, if you opt for a two-park ticket, you can move between the two parks during the day as you wish – check ticket prices now!
Remember, tickets must be purchased in advance of visiting Disneyland Paris. Only special-rate tickets for guests with disabilities, their accompanying guest and certain tickets related to Annual Pass holder benefits can be purchased at the gate on the day.
The best way to purchase park tickets is direct with disneylandparis.com.
Buy your Disneyland Paris tickets now!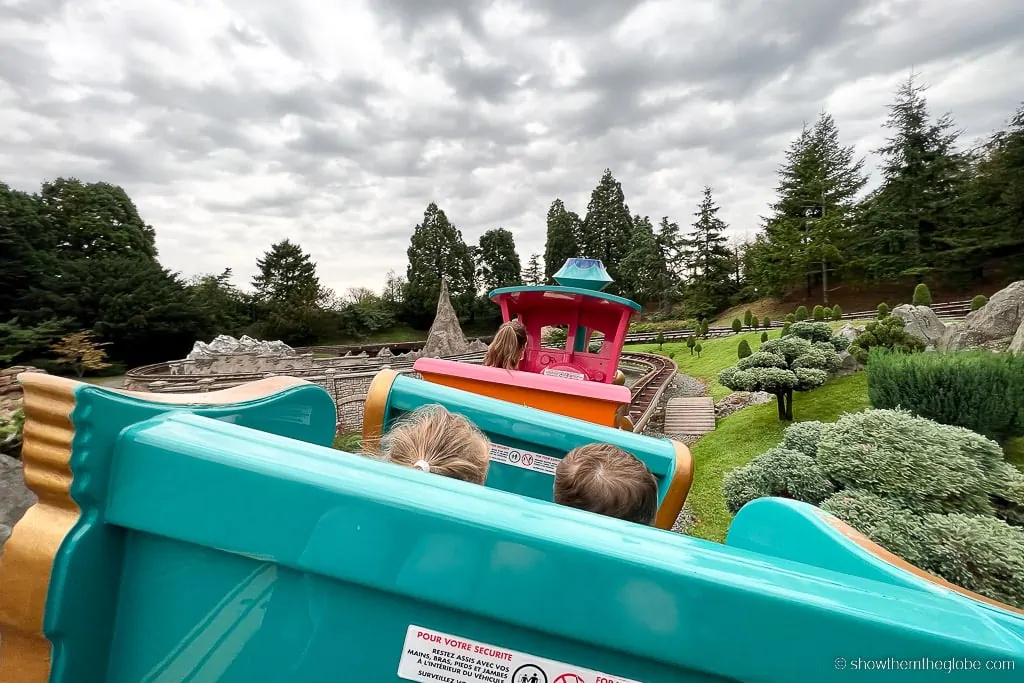 Check out our guide to visiting Disneyland Paris with toddlers here!
How to get to Disneyland Paris
Disneyland Paris is adjacent to the Marne-la-Vallée/Chessy train station: it takes around 35 minutes to travel from Central Paris and is served directly by the RER A train – if you are staying close to a station on the RER A line then you can take it directly to Disneyland Paris. If not, you can take a metro to the closest station on the RER A line and switch trains.
You can also purchase a transfer direct with Disneyland Paris. The Disneyland Paris Express Shuttle runs from 4 popular Paris destinations (Eiffel Tower, Opera, Chatelet and Gard du Nord) and can be purchased at the same time as your ticket – check prices here!
4 | Cruise on the Seine
A cruise on the Seine is a beautiful way to experience Paris. We love an evening cruise so we can enjoy a Parisian sunset from the water.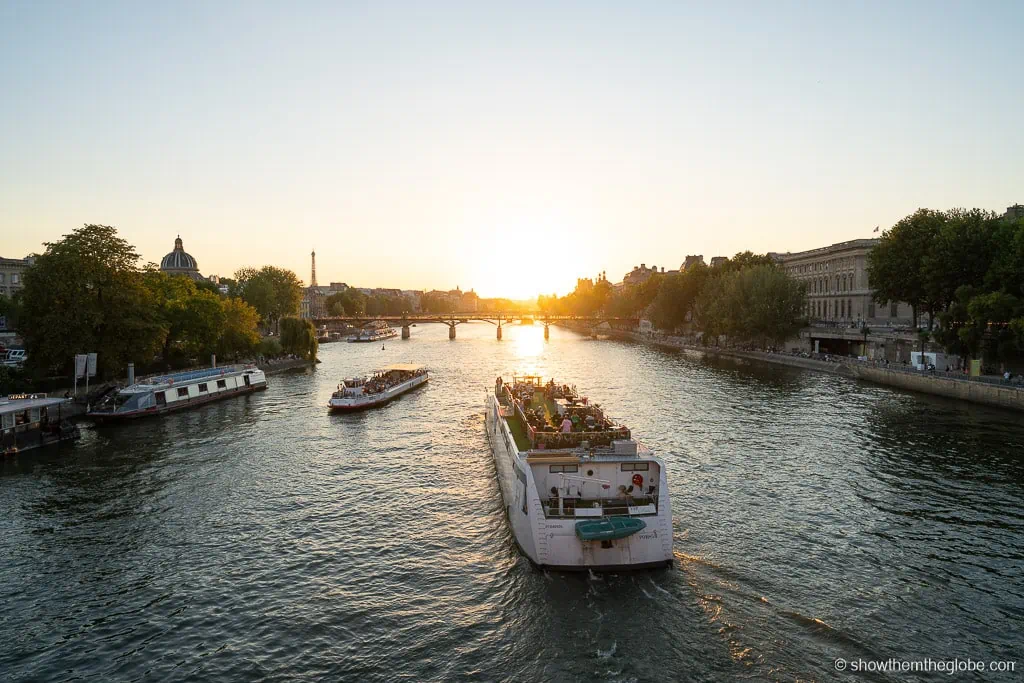 5 | Playgrounds
If there is one thing that Paris does amazingly for toddlers it has to be its playgrounds. There are some fantastic playgrounds across the city and many are close to the main tourist attractions. Our favourites include:
The Eiffel Tower Playgrounds: there are 3 playgrounds close to the Eiffel Tower. Jardin d'enfants is located a short walk across the Seine in Trocadero Gardens and has fun climbing structures and slides for younger kids. There are also two playgrounds at the intersection of Avenue Charles Risler and Avenue Pierre Loti at the base of the Tower, one for younger kids and one for older kids. Another tiny playground with a small slide and climb frame sits under the shadow of the Eiffel Tower at Allee Thomy Thierry and Avenue Octave Gread.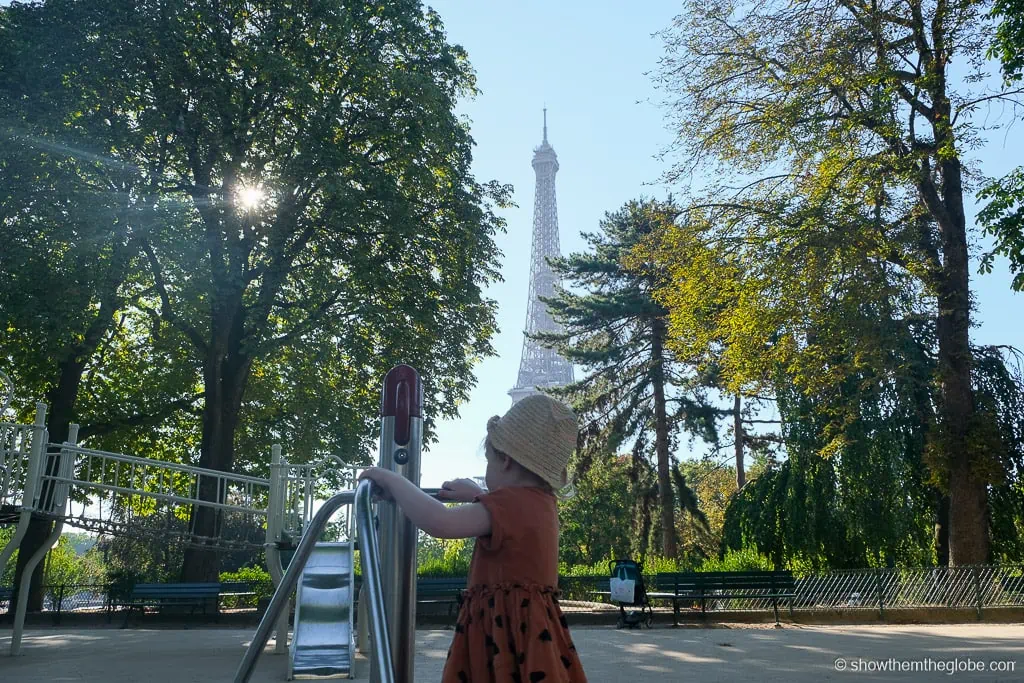 Aire de Jeux: located in a fenced area in Jardin du Tuileries, Aire De Jeux is close to the Louvre. There's a huge netted climbing structure with a chute slide for older kids and some smaller slides, rockers and balance beams suited to toddlers.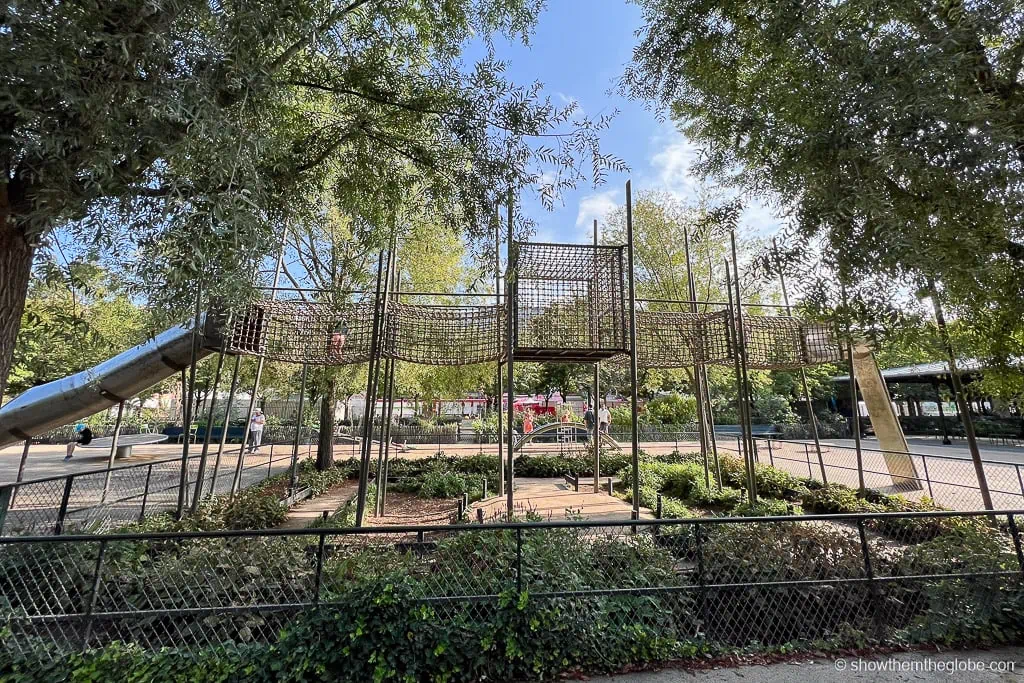 Parc de la Villette: Folie des Vents et des dunes is an amazing playground divided into play zones for different age groups. There are trampolines, swings, climbing structures and slides and the playground has been a firm favourite of my 3 and 5-year-old for the last couple of years. If you have older kids, check out Jardin du Dragon with its incredible dragon structure – kids climb across the giant steel and rope structure into the dragon before emerging from the dragon's mouth via a 25-metre chute slide to the ground below.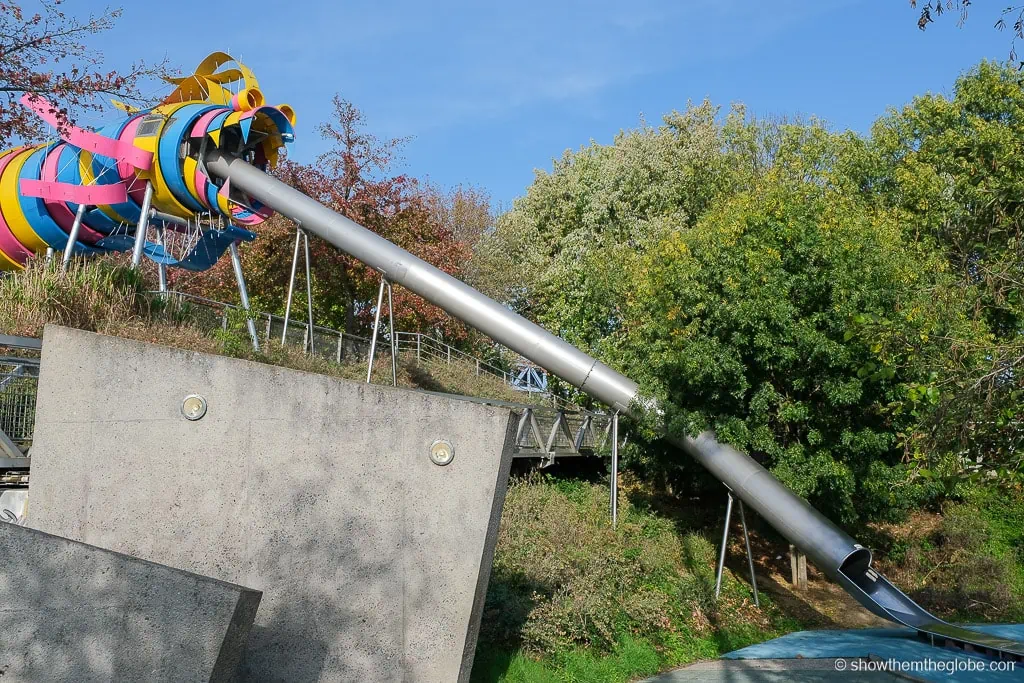 Check out our full guide to the best playgrounds in Paris here!
6 | Louvre
An absolute highlight of Paris, the Louvre is the most visited museum in the world. Its incredible collection of world-renowned artworks likely won't mean much to a toddler but we still like to stop by the Louvre and show them some of the famous paintings – the incredible artwork on display includes the Mona Lisa, Venus de Milo, Winged Victory of Samothrace and works by Caravaggio and Michelangelo.
Things to do in Paris with Toddlers: we've even taken a tour which takes you directly to the Mona Lisa and then you can explore the rest of the museum at your leisure – check tour prices here!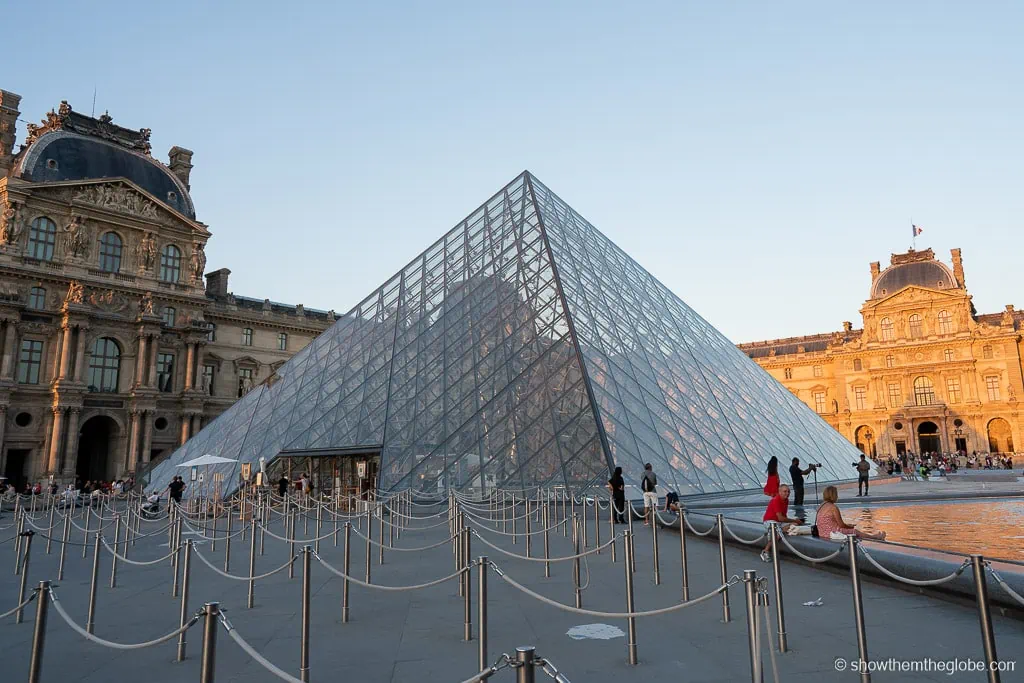 7 | Versailles
The magnificent former Royal Residence of Versailles is located less than 20km outside Paris The spectacular Hall of Mirrors, the estate of Marie Antoinette and the lush manicured gardens are incredible to see. Our toddler loves navigating the gardens in a rented golf cart, taking a row boat onto the lake and watching the water dancing in the fountains.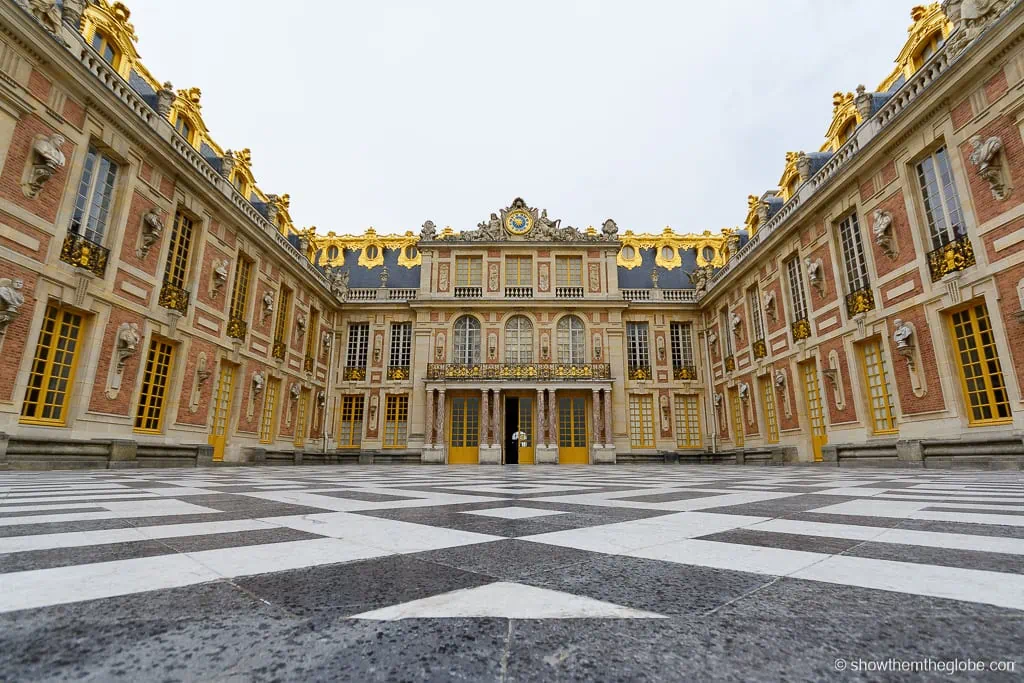 To get to Versailles from Paris, there are two great options with toddlers:
Check out our favourite day trips from Paris with kids here!
8 | Carousel of the Eiffel Tower
A ride on the beautiful Carousel of the Eiffel Tower is one of our favourite things to do with toddlers in Paris. The traditional carousel is charming and it's magnificent riding under the shadow of the Eiffel Tower.
The carousel is located across the street from the Eiffel Tower beside Point d'lena to the north of the Tower.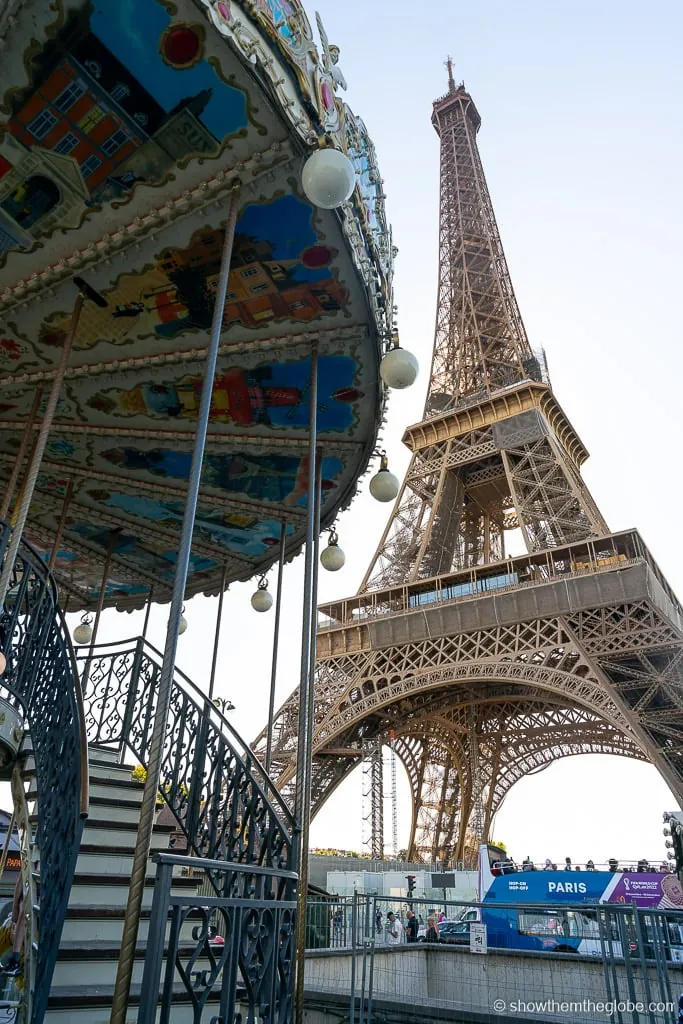 9 | Pompidou Centre
The Pompidou Centre is a hub for art and culture and has some fantastic additions for young kids. Station 0.2 is a creative space for toddlers and has hosted an immersive Sensory Landscape with inflatables and foam. There are also tours that are tailored for families with young kids held on selected dates.
10 | The Little Train of Montmartre
With its cobbled streets, beautiful buildings and artistic vibes, Montmartre is one of the most popular tourist destinations in the city. The Little Train of Montmartre is a fun way to travel through its charming streets between Moulin Rouge and the Sacre Coeur. The guided tour is a lovely way to learn about Montmartre and the Sacre Coeur is beautiful to visit.
The Sacre Coeur is located at the very top of Montmartre so the train is a great way to get up the hill effortlessly! While at the Sacre Coeur, you can climb the 300 steps to the top of the Sacre Coeur dome to check out one of the best views in the city – there is no lift so make sure to bring a baby carrier for the climb! Entrance to the Sacre Coeur is free but it costs around 6-8 Euro to visit the dome. Access to the basilica crypts is also included.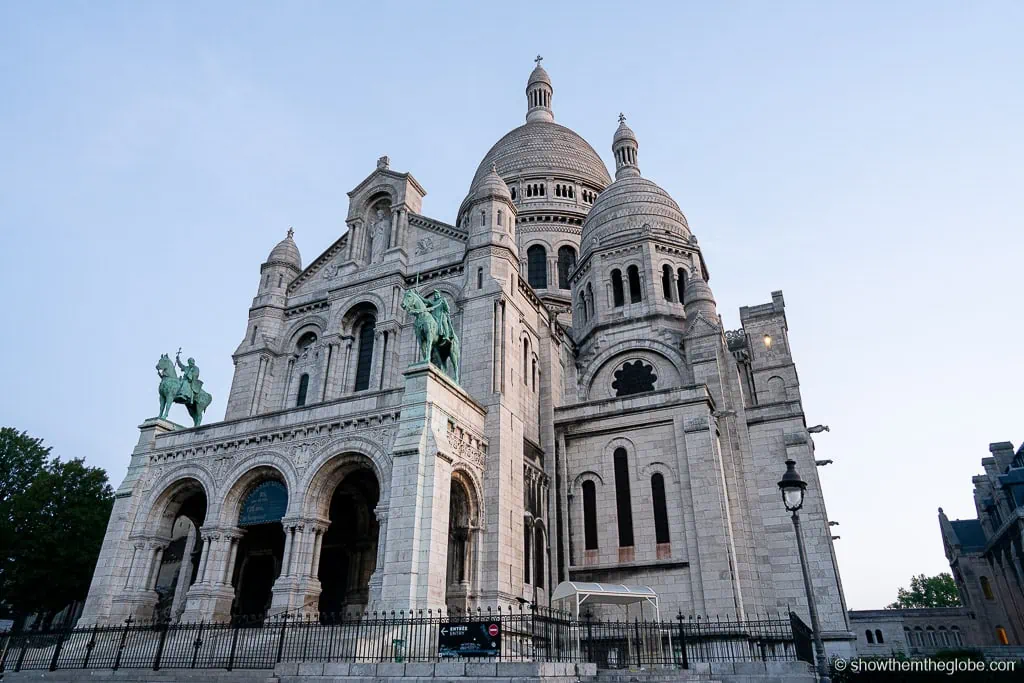 11 | Shakespeare and Company Bookstore
Paris' most famous bookstore, Shakespeare and Company is an independent English language book retailer on the banks of the Seine. The maze of book-filled rooms is designed to feel like chapters in a book and there is a wonderful children's section at the back of the store.
12 | Arc De Triomphe
The iconic Arc De Triomphe is one of our favourite places to visit in Paris. The monument honours those who died in war and it sits in the middle of 12 converging avenues. With its ornate sculptures and decorate stonework the Arc de Triomphe itself is beautiful, and the views from the rooftop are among the best in Paris.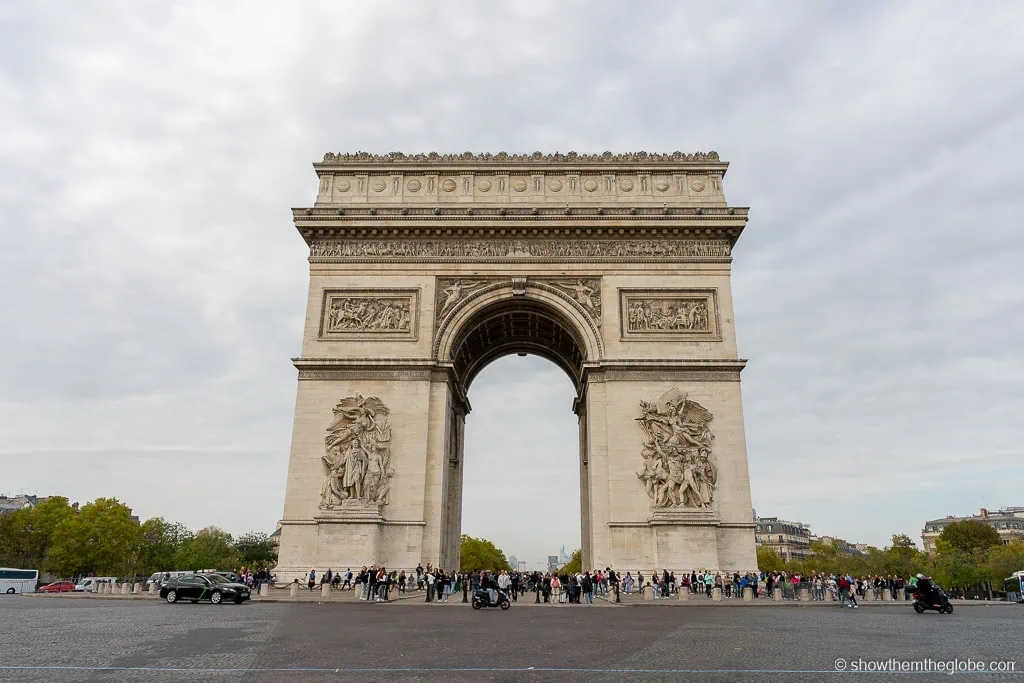 Most visitors access the rooftop via the 284 stairs leading to the attic room and then another set of small stairs leading to the terrace. Strollers must be stored at the base of the Arc de Triomphe so make sure to bring a carrier. There is a small elevator which can be used upon request – we last visited when our youngest was 6 months old and we were offered access to the elevator but we popped our toddler in a carrier and climbed the stairs on a previous visit.
If you are visiting the Arc de Triomphe, make sure to purchase tickets in advance as you will avoid the ticket line queue – check prices now!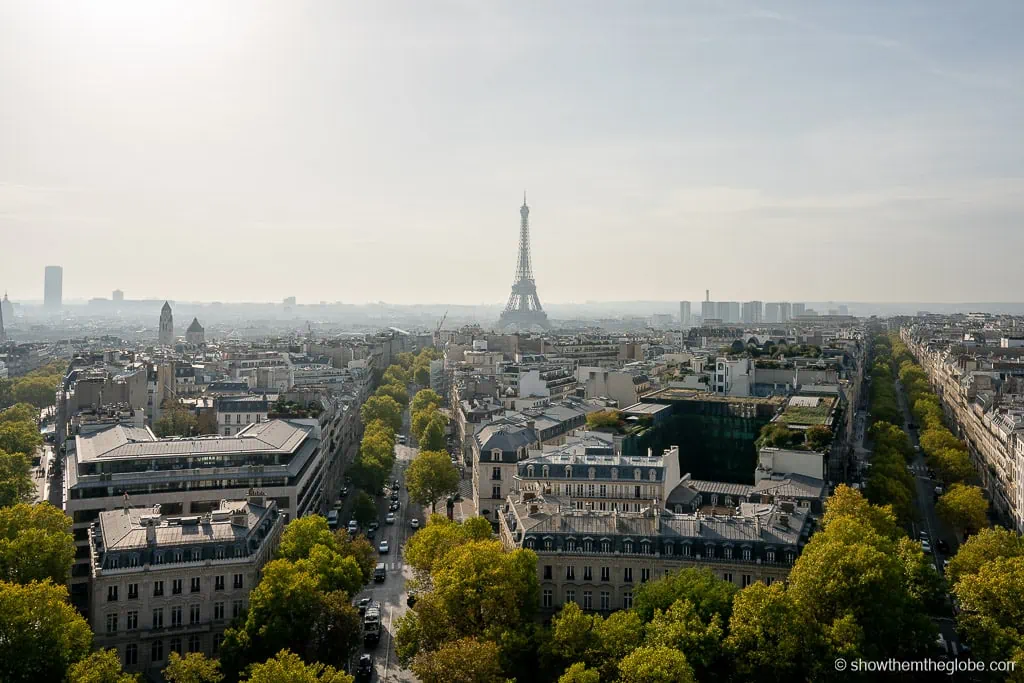 13 | Jardin d'Acclimitation
Jardin d'Acclimation is a traditional style amusement park with 42 rides ranging from carousels to rollercoasters. There is an awesome playground and splash park (make sure to pack swim gear for kids) and both are free to enter after purchasing the entry ticket.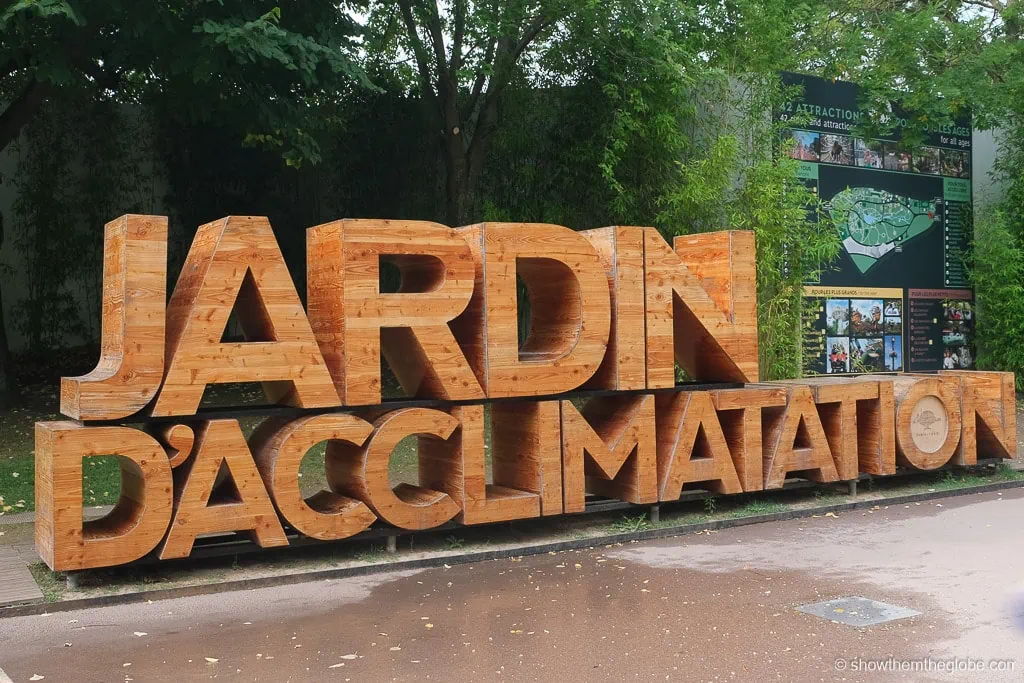 Children 80cm and taller require a ticket. You can purchase a single entry ticket (EUR 7) and pay separately for tokens to enter rides or purchase an unlimited pass which includes rides (EUR 46). We purchased entry only on our first visit and quickly spent enough to wish we had opted for an unlimited pass! After purchasing an unlimited pass on subsequent visits we much prefer its flexibility and fixed cost – check prices here!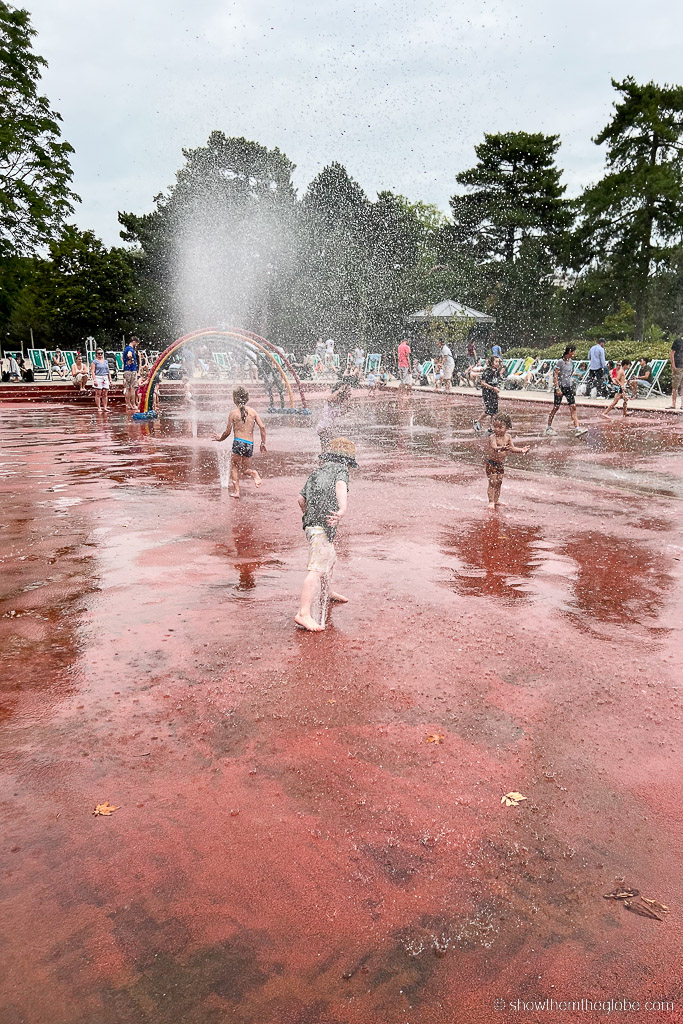 14 | Puppet Shows
There are wonderful little theaters dedicated to puppet shows dotted across Paris. Most of the performances are based on classic children's tales and feature wonderful backdrops and music.
Some of our favorite locations include Marionettes du Champ de Mars close to the Eiffel Tower and Theatre des Marionnettes in Jardin du Luxembourg.
15 | L'Atelier des Lumières
Art is spectacularly projected on the walls and floors of this former steel foundry in the 11e arrondissement. Works from Van Gogh, Gustav Klimt, Friedensreich Hundertwasser, and Yves Klein are presented to music in immersive shows dedicated to each artist.
Our toddlers love visiting this unique digital art museum- so much so, they've visited 3 other locations as well!