With its unique rock formations and distinctive Joshua Trees inside the park and the quirky and kitsch town nearby, we loved exploring Joshua Tree with kids. From scrambling over giant boulders to spotting sheep at Barker Dam and catching a movie under the stars at Smiths Ranch Drive In, there's lots of fun things to do in Joshua Tree with kids.
For those of you planning a trip to Joshua Tree with kids, we wanted to share our tips for visiting: we've included where to stay, our highlights from outside the park and our favorite things to do in Joshua Tree with kids.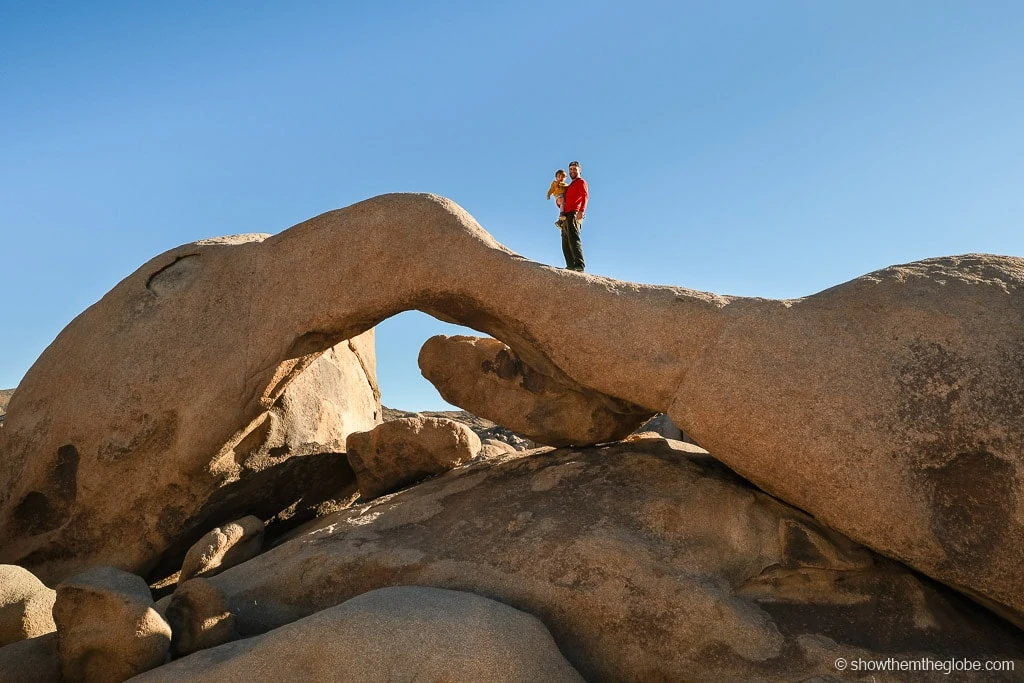 Getting around Joshua Tree
Many visitors to Joshua Tree National Park arrive from LA (3 hour drive), Palm Springs (45 minute drive) or the town of Joshua Tree (10 minute drive).
The park covers 800,000 acres and, in the absence of any public transport, driving is the only real option for navigating the park. We drove through Joshua Tree in our rental car but, if driving is not an option, there are some guided tours which depart from Palm Springs.
Most of the hikes are located off one of the park's three main roads which connect the three entrances to Joshua Tree. You will find yourself driving on Park Boulevard, Pinto Basin Road and Cottonwood Springs Road the majority of the time you are in Joshua Tree.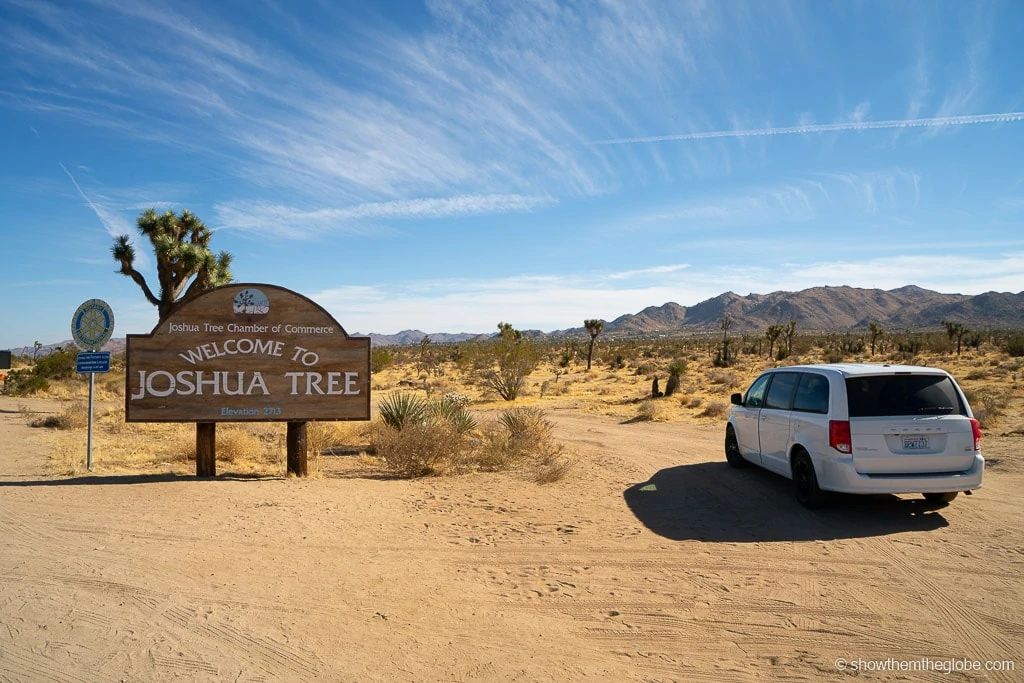 Things to do in Joshua Tree with kids
From the unique rock formations and namesake Joshua Trees in the park to the weird and wonderful art installations and wild west vibes in the surrounding area, there's a lot of fun to be had in Joshua Tree with kids!
Joshua Tree National Park is the meeting point of the Mojave and the Colorado Deserts. The other worldly, barren desert landscape is dotted with its signature Joshua Trees and prickly cacti. With its short and easy hikes and quirky rock formations, Joshua Tree has plenty to captivate kids
The Joshua Tree town itself is also fun to explore. An old school, sixties style town which screams creative and independent from every store front.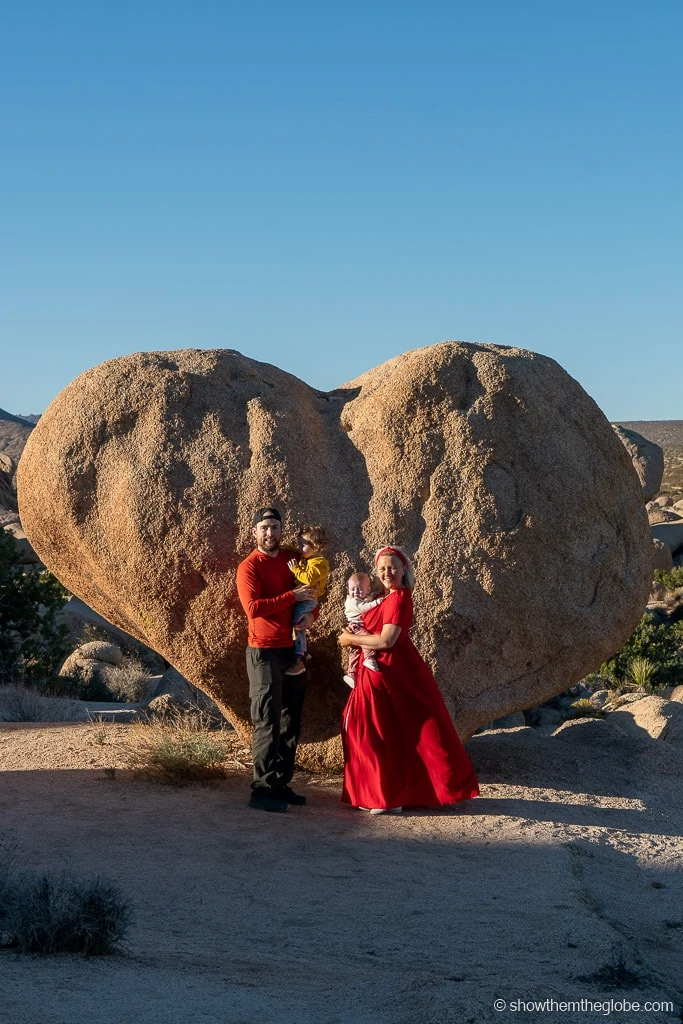 Hiking Gear with Kids
If you're planning a trip to the National Parks with kids we highly recommend investing in a backpack carrier. We use an Osprey Poco Plus child carrier
Hiking backpack for toddlers: our two-year-old can manage to walk about one mile in total so a hiking backpack was essential for this three mile round trip. As well as the distance, a backpack is great for the more challenging parts of the trail when we weren't comfortable with him walking solo. We use a Osprey Poco AG Plus and find it invaluable for hikes – check prices now!
Baby carrier for infants: we use a soft carrier for our 8 month old as she likes to hang out up front and it offers more support for younger babies who might nap on the longer trails. We use an Ergo Baby 360 and switch to facing in when it's windy or cold – check prices now!
Where to Stay in Joshua Tree with Kids
The North Entrance (Twentynine Palms) and the West Entrance (Joshua Tree town) are the most convenient for visiting many of the Joshua Tree National Park highlights. These are our top 3 places to stay in Joshua Tree and are perfect for families:
Fairfield Inn & Suites by Marriott Twentynine Palms – clean and well equipped, the Fairfield Inn is our go to hotels when we're exploring the park and want somewhere clean and quiet to rest up. WE chose to stay here with our kids and it was perfect for exploring Joshua Tree The hotel has a small pool out back, free breakfast, laundry facilities and there's a grocery store just across the road for supplies – check prices now!
Castle House Estate: with the accommodation options including guard towers, yurt tents, a tiny container house (the perfect chance to experience tiny home living!) and a vintage RV, Castle House Estate perfectly encompasses the unique Joshua Tree vibe. It's the perfect mix of indoor and outdoor living and the accommodation is beautifully presented and incredibly unique – check prices now!
M&L Desert Cottage: this beautiful 2 bedroom cottage is just 6 minutes drive from the north entrance to Joshua Tree. The cottage has been remodeled and is the definition of desert chic. The interior is gorgeous and there is a fire pit, BBQ and hammocks on the patio for stargazing and al fresco dining. – check prices now!
1 | Arch Rock
The 30 foot high granite Arch Rock is located in the middle of a large boulder field. The trail to Arch Rock is relatively easy and flat. It requires some scrambling over rocks to stand on the arch which is a fun adventure in itself!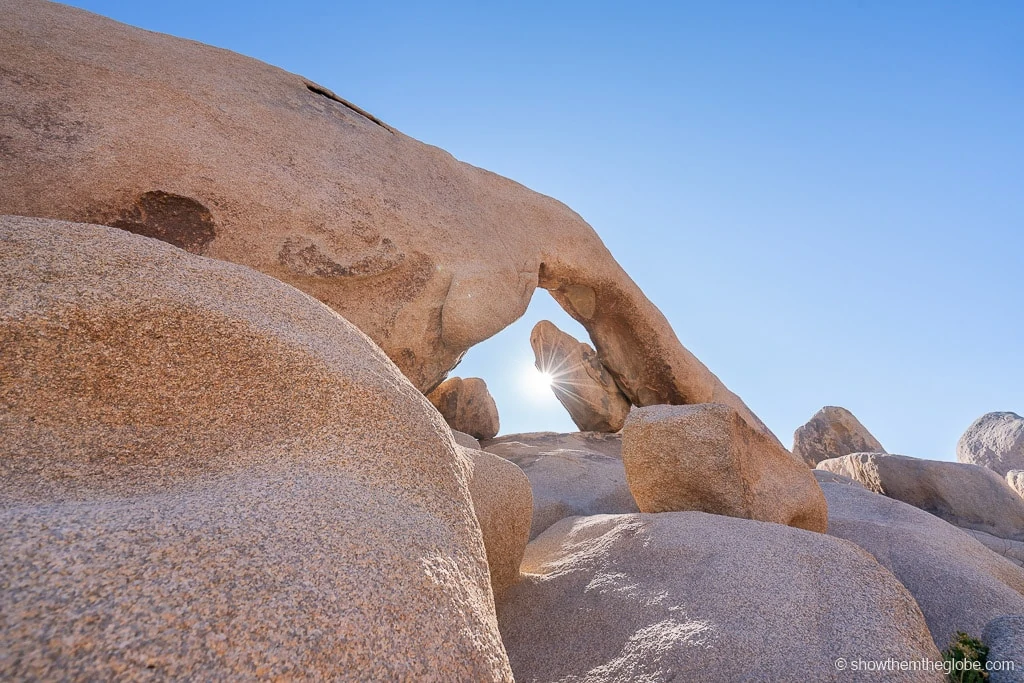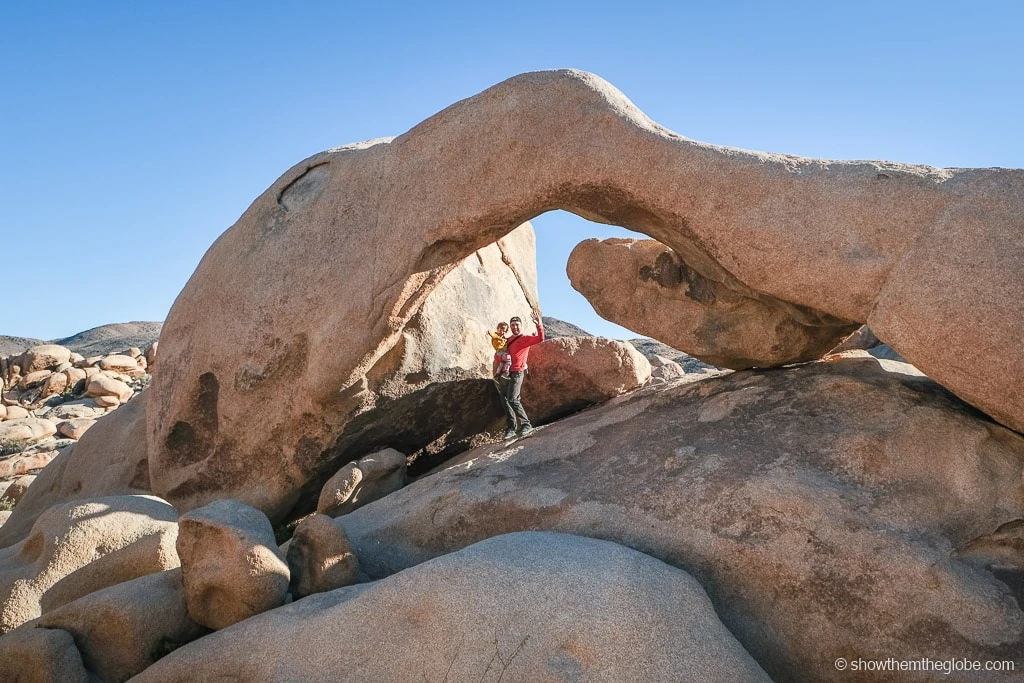 2 | Heart Rock
This perfectly heart shaped rock certain won over our hearts! Located in the middle of a boulder field, Heart Rock is accessed off the Arch Rock trail. Heart Rock is still a Joshua Tree hidden gem and we had it all to ourselves on our sunrise and sunset visits.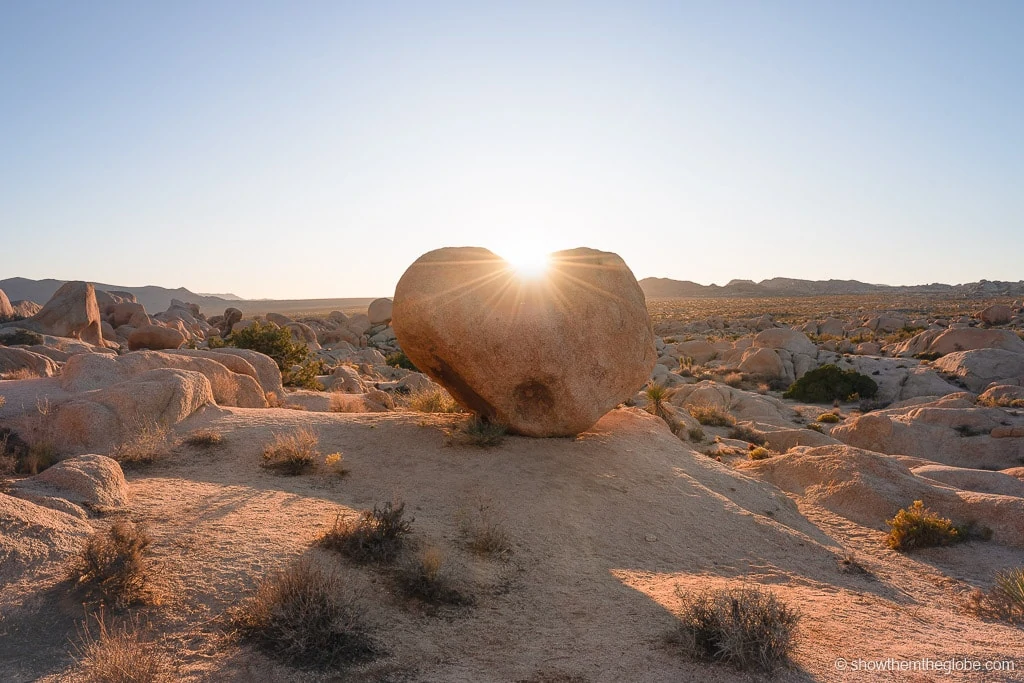 Joshua Tree with kids tip: There is no marked trail to Heart Rock but it's easy to find if you save the location and follow these directions outline how to get to Heart Rock in Joshua Tree. The hike is across flat ground so it's relatively easy. It is completely exposed to the sun so bring water and wear a hat and sunscreen.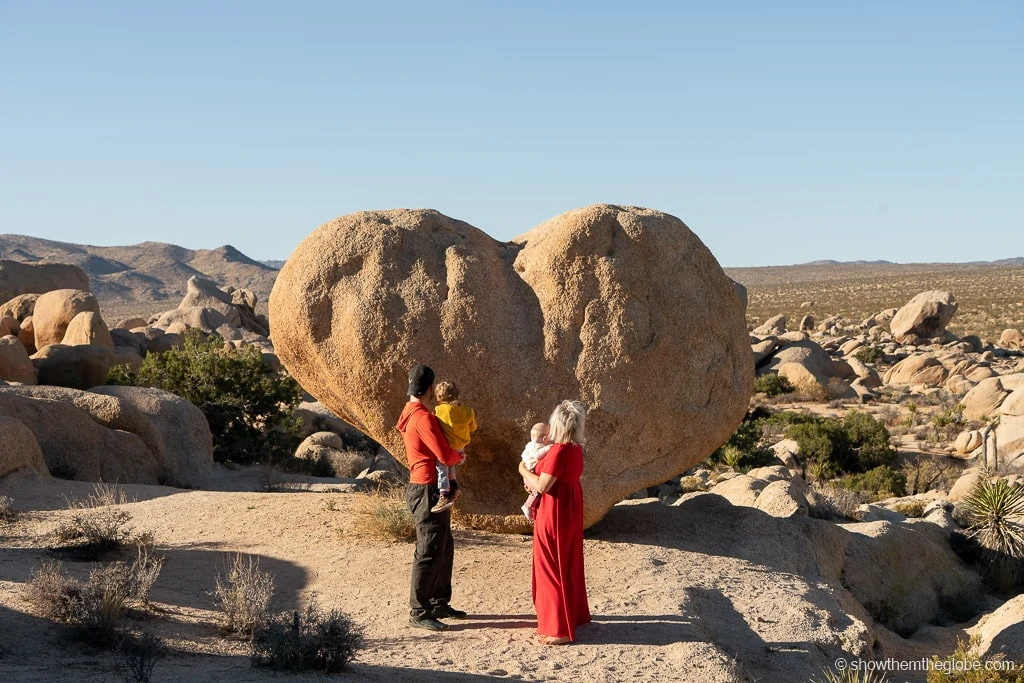 3 | Skull Rock
Skull Rock is one of the most popular stops in Joshua Tree. The gathered crowds usually make it easy to spot the skull shaped rock with its two sunken eyes while driving along Park Boulevard, one of the main roads through Joshua Tree.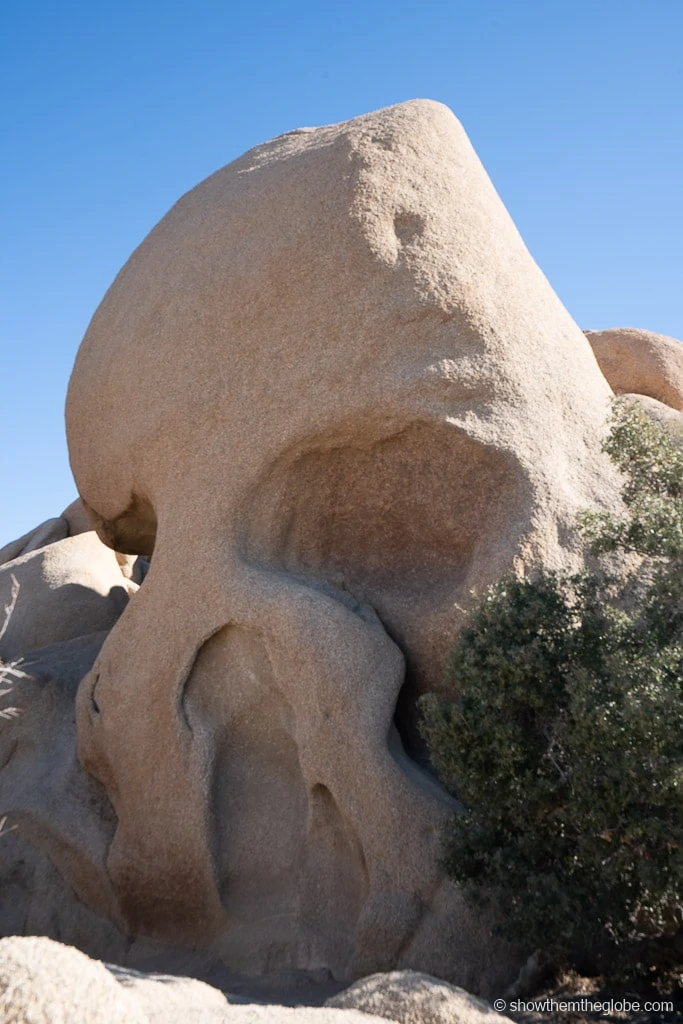 After visiting Skull Rock, continue on with the easy 1.5 mile nature trail loop which showcases the jumbo boulders and desert vegetation.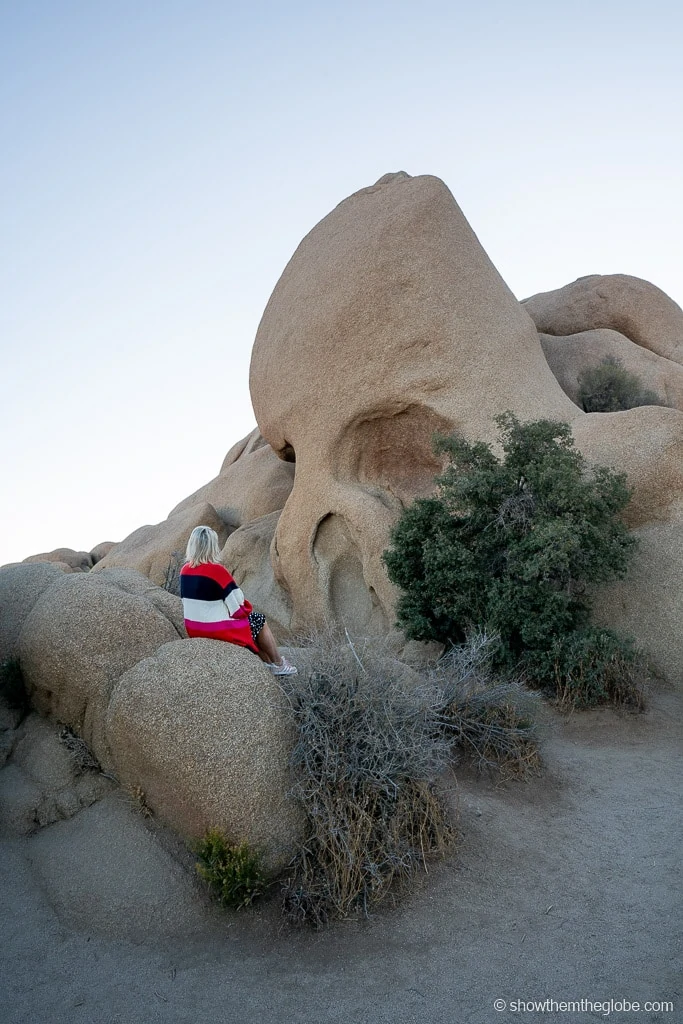 4 | Keys Ranch
Only accessible by a prearranged tour, exploring Keys Ranch is a really unique Joshua Tree experience. The ranch was once the home of Bill Keys, his wife and their five children for almost 60 years. The 0.5 mile tour trail showcases the sprawling ranch, the kids school room, their old store and the ranch's fruit orchard. The tour lasts for 90 minutes.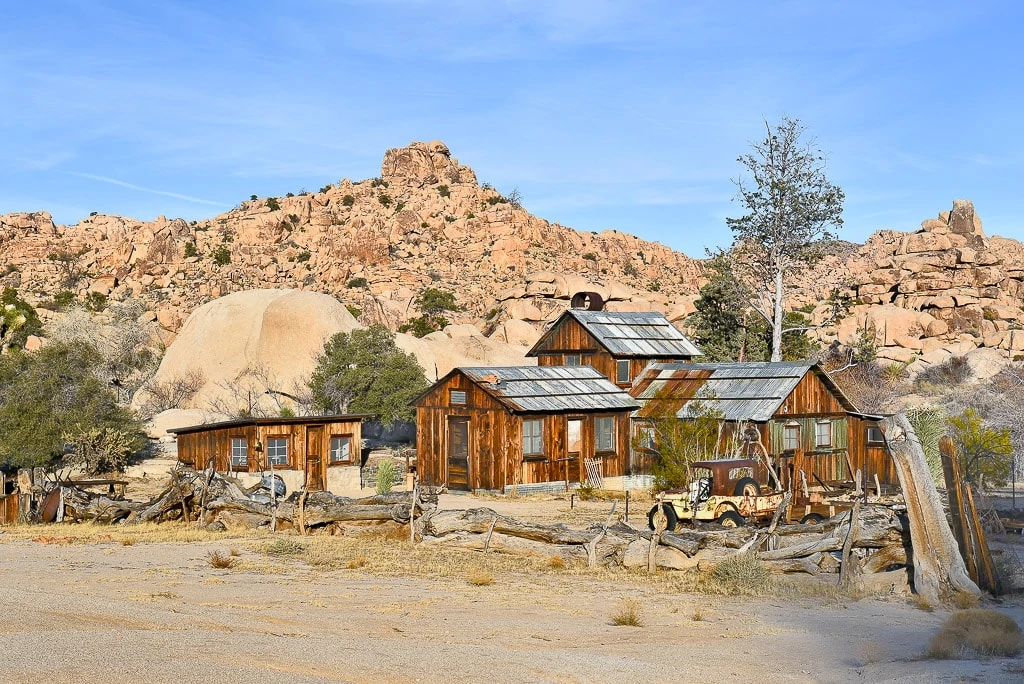 5 | Keys View
The views from the highest point in Joshua Tree are incredible. With views of the San Andreas Fault, the San Gorgonio Mountain, the Coachella Valley and Signal Mountain in Mexico on a clear day, it is also a great way to bring geography to life.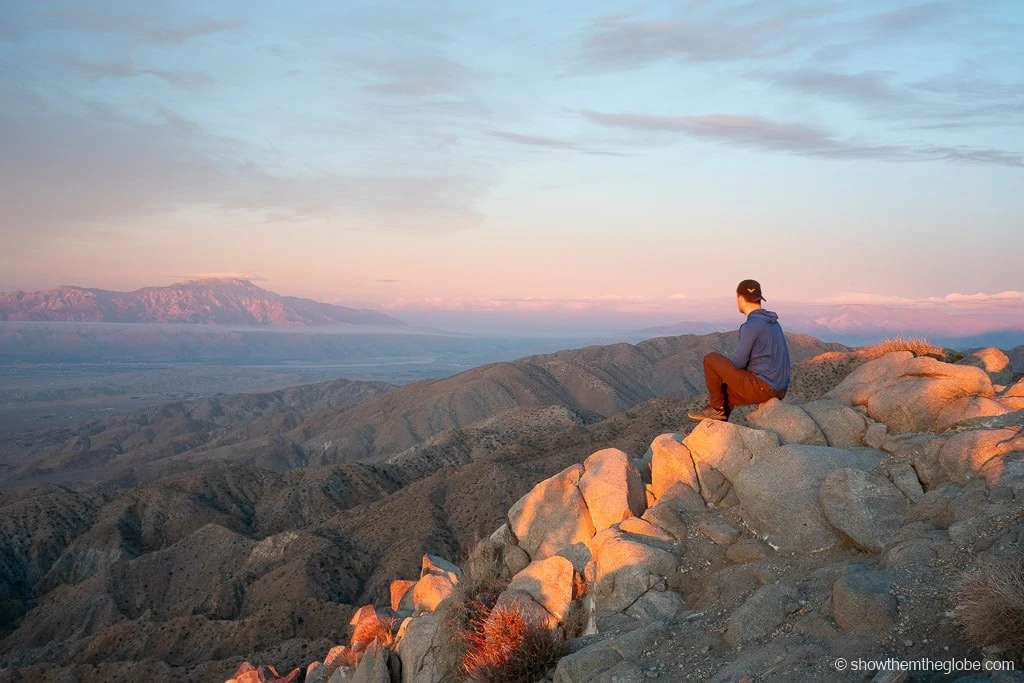 6 | Hidden Valley
The Hidden Valley trail is great for kids. It is a relatively easy 1 mile loop through a rock enclosed valley which is thought to have once been used by cattle rustlers.
The trail is a fantastic introduction to the plant and animal life in Joshua Tree and there are lots of signs detailing what to look out for in the area. It's a great place to watch the park's rock climbers in action and there are plenty of opportunities to participate in some fun rock scrambling.
Joshua Tree with kids tip: the picnic tables at the Hidden Valley parking lot are perfect for a lunch time picnic.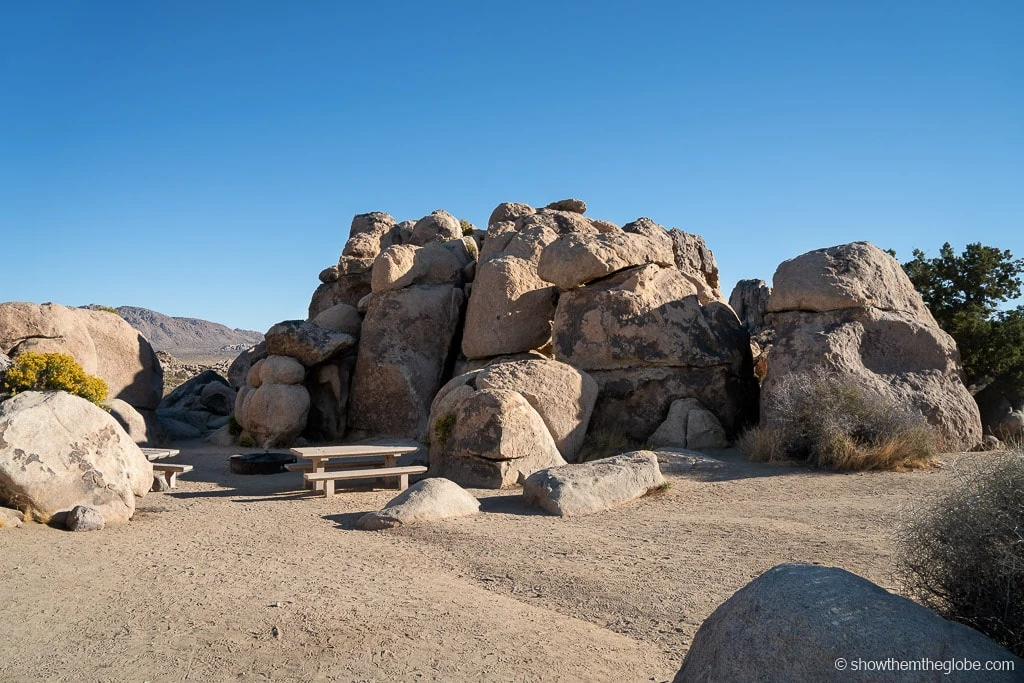 7 | Cholla Cactus Park
The flat and easy 0.33 mile boardwalk trail is passes through thousands of cholla cactus.
Joshua Tree with kids tip: Beware of kids and the cacti! If you get too close or brush against the cactus, the cholla cactus leaps onto and penetrates clothes, shoes and skin. The needles are sharp and painful.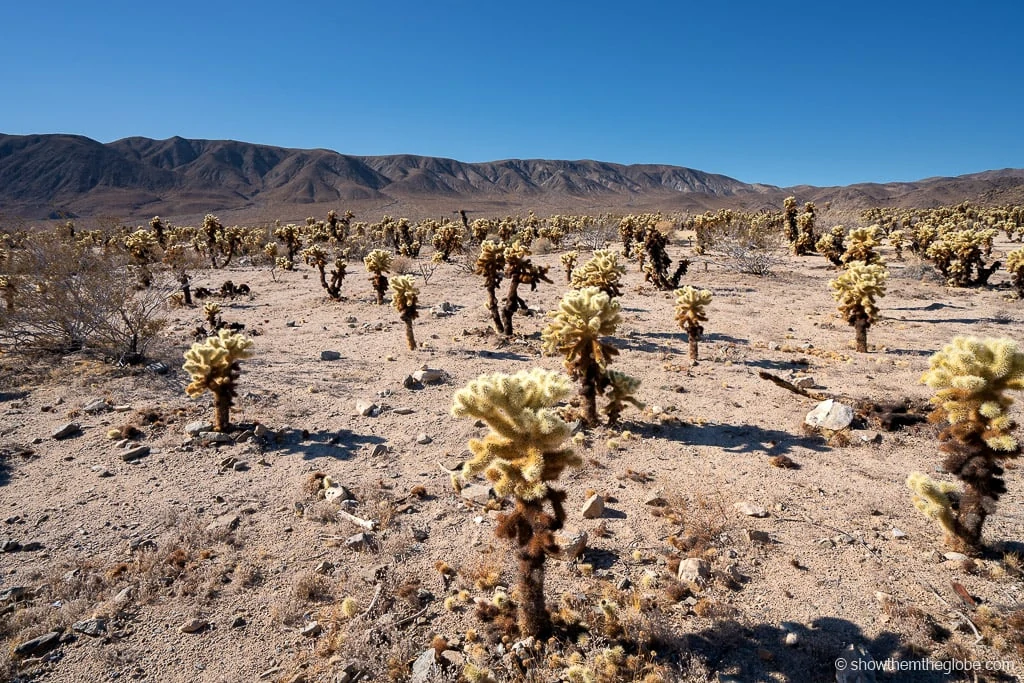 8 | Desert Queen Mine
Mining is a fundamental part of Joshua Tree's history and there are around 300 abandoned mines in the park. There are a few trails which explore its mining history and we opted for the Desert Queen Mine trail.
The hike starts at the end of a 1 mile dirt road and there are two options on the trail for the Desert Queen Mine: the first is a 0.7 mile round trip which leads to an overlook across from the mine. It's also possible to cross the canyon over to the mine and this adds an extra 1.6 miles to the hike.
After crossing the canyon, old mining machinery lies abandoned along the trail and the trail passes over fenced mine shafts.
Joshua Tree with kids tip: Wall Street Mill is another great option if your kids are interested in learning more about the old Joshua Tree mines.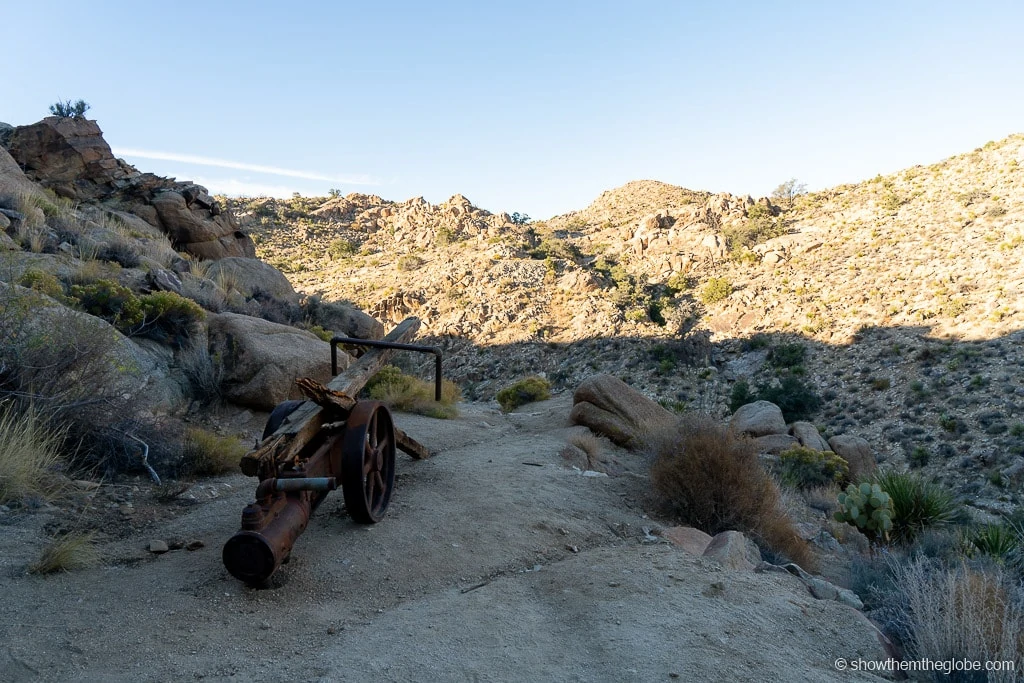 9 | Stargazing
Joshua Tree is one of the best places in the world for stargazing and the night sky glitters above Joshua Tree National Park.
In summer, the Milky Way is often visible on moonless nights.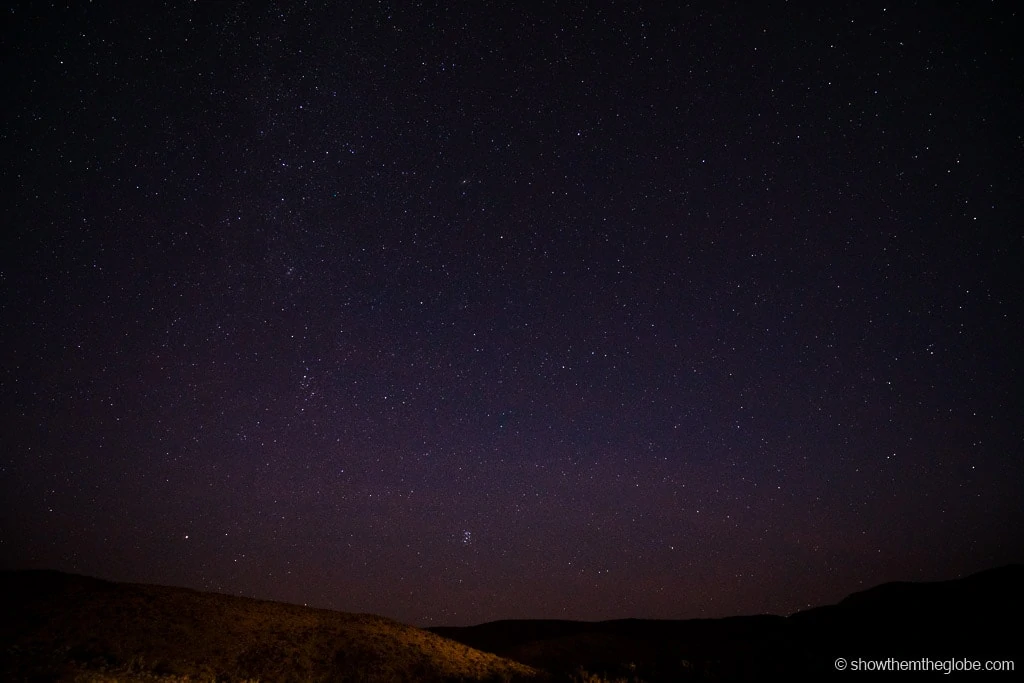 10 | Barker Dam
The relatively flat 1.8 mile Barker Dam Trail is fantastic for kids. During winter and spring, the dam is usually filled with water and its one of the only opportunities to see water in the barren Joshua Tree desert.
Large boulders surround the trail and there's a wall of petroglyphs to check out along the way. The Barker Damn trail is one of the best places to catch a glimpse of the big horn sheep in Joshua Tree where around 200 to 300 Desert Big Horns reside in the park.
Joshua Tree with kids tip: the dam is typically empty during dry season.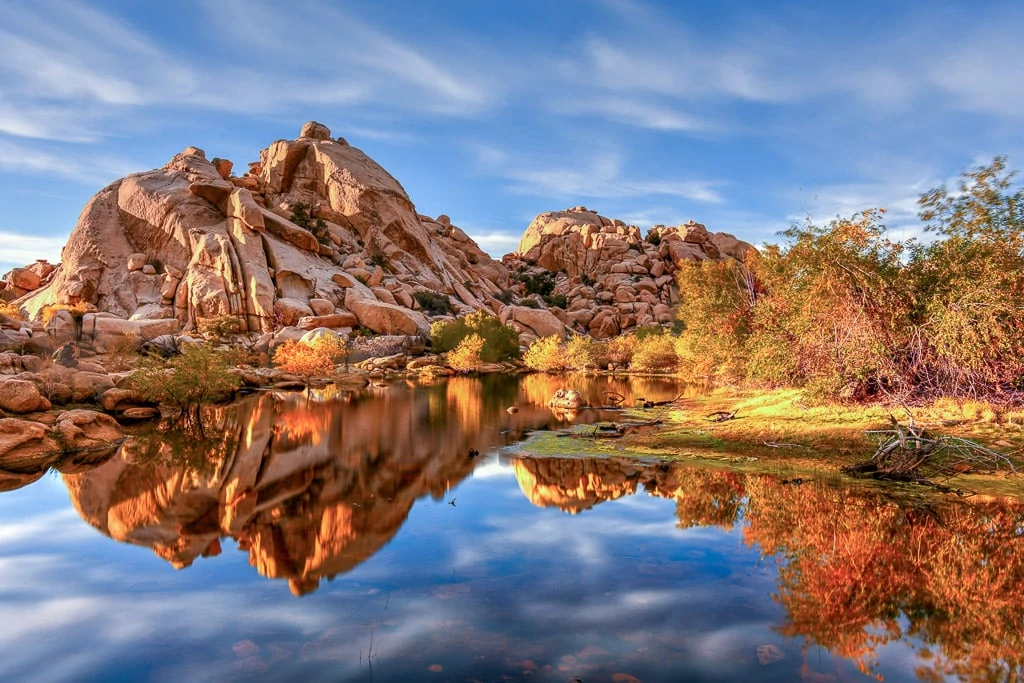 11 | Smiths Ranch Drive In Theater
Catching a movie at this old school drive in movie theatre is one of our favorite things to do in Joshua Tree with kids! Open Thursday to Sunday, it costs $5 per person to watch the two movies on show that week. Just drive in, park up and tune in your radio to the Smiths Ranch audio channel! There's a concession stand selling snacks and drinks on site.
Joshua Tree with kids tip: some weeks the movies are kid friendly but it depends on what is showing.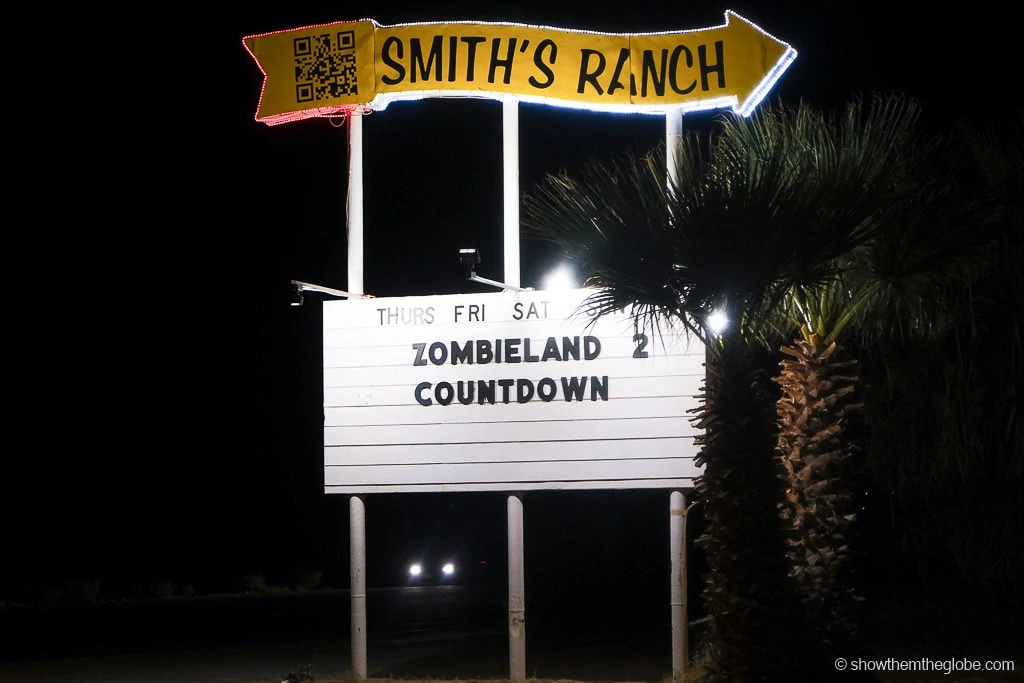 12 | Noah Purifoy's Desert Art Museum
The Noah Purifoy Desert Art Museum is an open air museum housing quirky art installations and sculptures made from a range of discarded appliances and household items. We spotted toilets, bicycles, car tires and old school computers and television sets among the museum's artwork.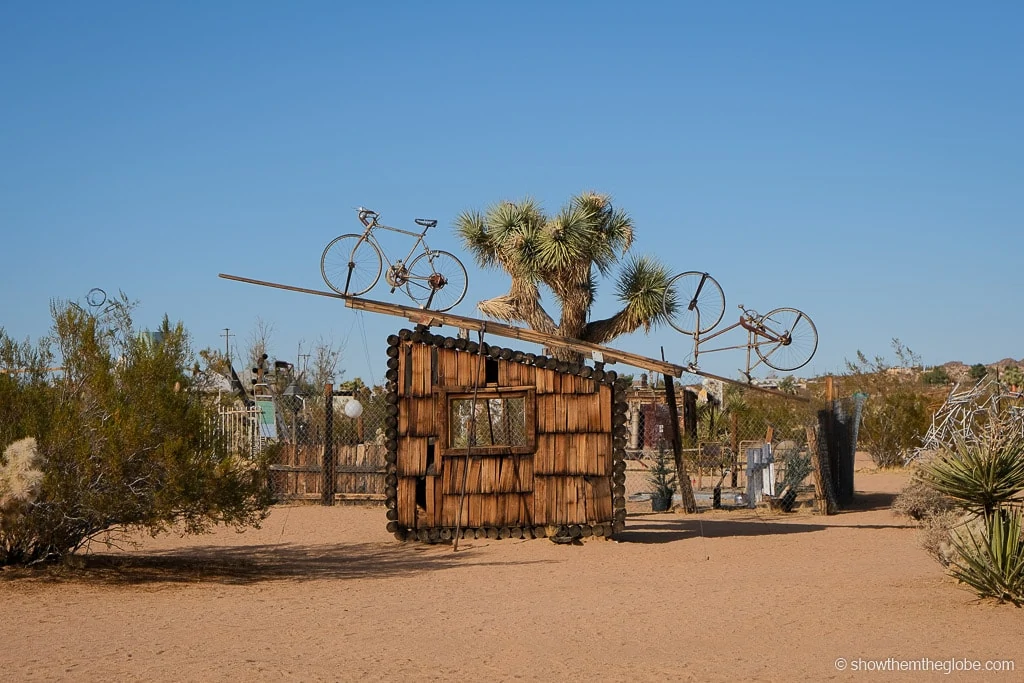 13 | World Famous Crochet Museum
Another fun stop in Joshua Tree Town, the self proclaimed World Famous Crochet museum is filled to the brim with crocheted everything! We spotted unicorns, teapots and superheroes in crochet form!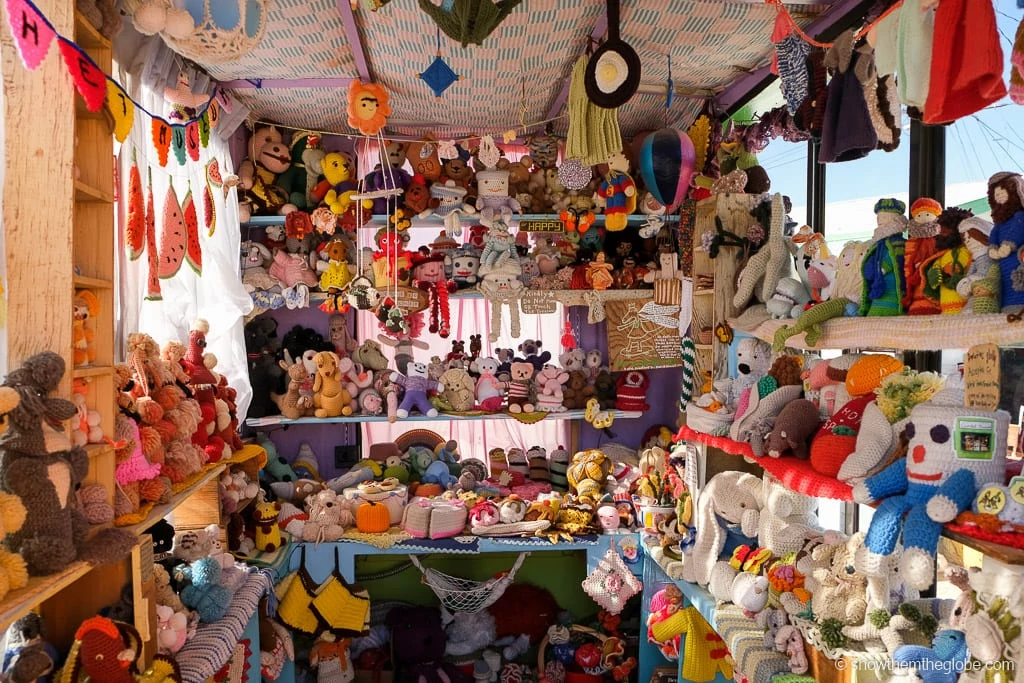 The museum is located in a neon green photo booth in the Art Queen art complex. There's a few other fun sculptures and installations in the yard to check out.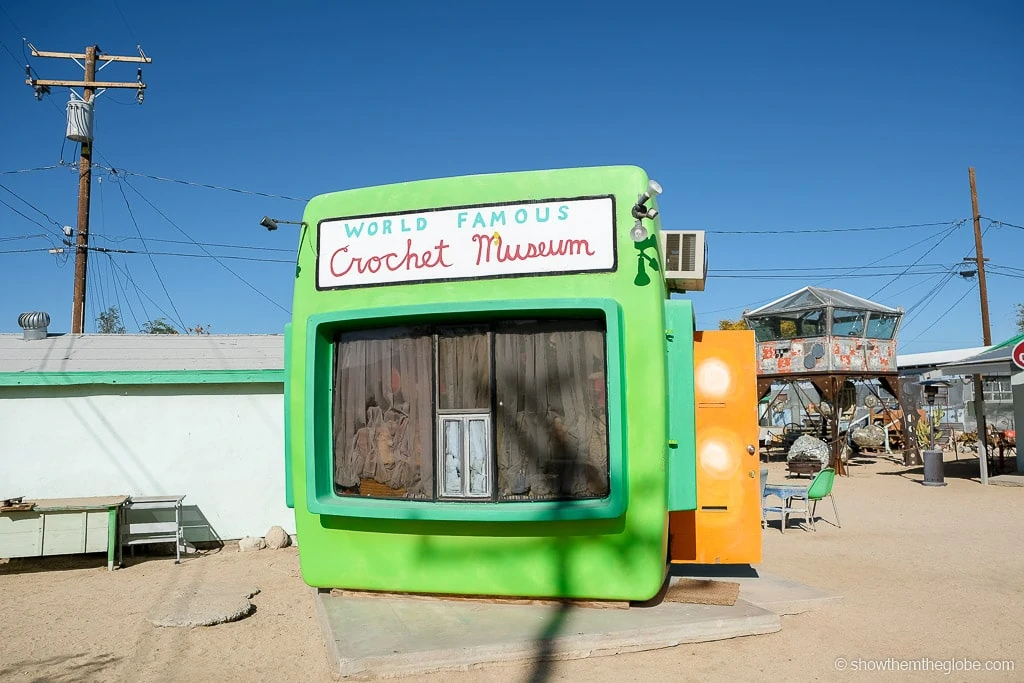 14 | Pioneertown
A 20 minute drive from Joshua Tree town, Pioneertown was once a wild west Hollywood film set. It's been revived with independent stores and is a lot of fun to visit!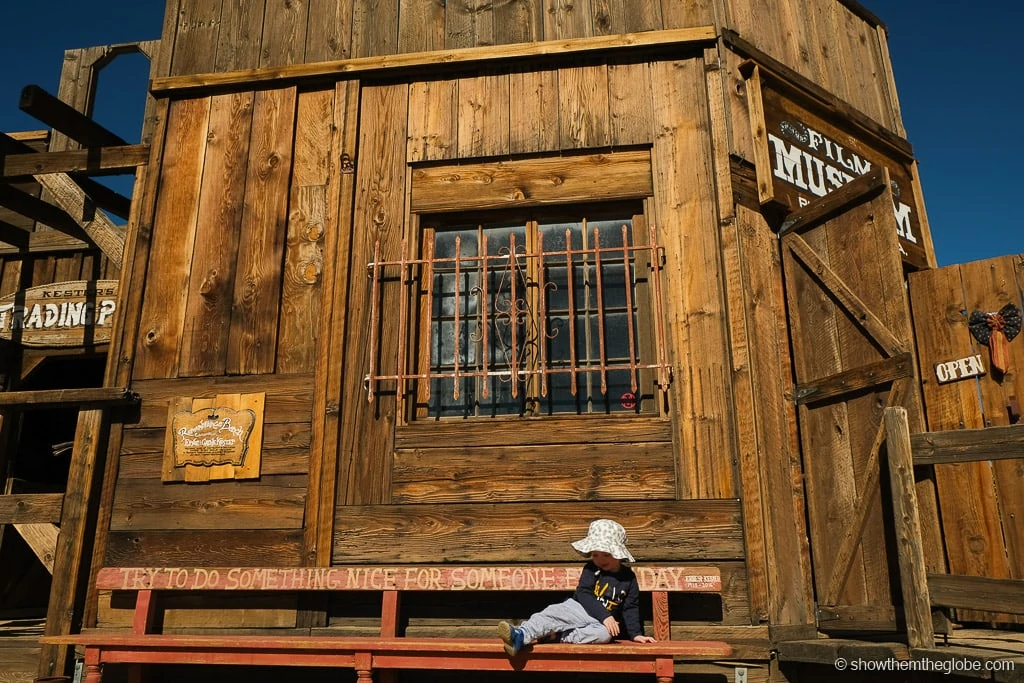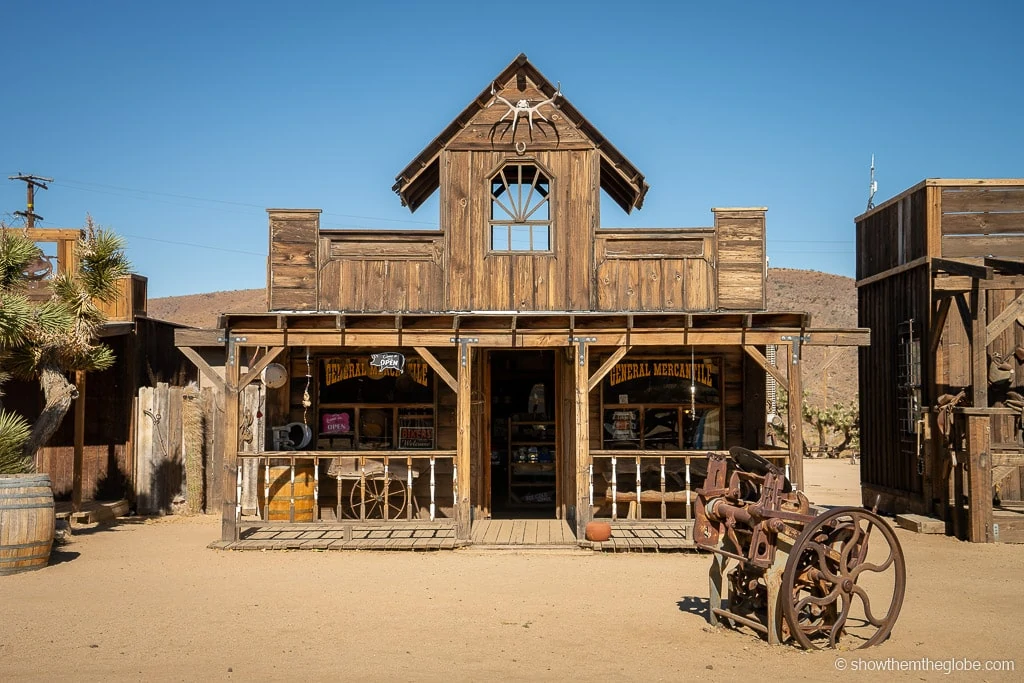 15 | Palm Springs
Many Joshua Tree visitors stay in the nearby Palm Springs. If, like us, you stay near Joshua Tree itself, then Palm Springs makes for a great day trip. Our kids loved the Palm Springs Aerial Tramway, the Cabazon Dinosaur Museum and the Children's Discovery Museum of the Desert.
Tips for Visiting Joshua Tree with kids
Become a Junior Ranger: Pick up a junior ranger booklet at the park entrances and visitors center to help engage kids in the visit. A junior ranger badge is provided to kids who complete a series of activities during their park visit. It's a nice treat.
Arrive early:The park gets extremely busy and the sun is unrelenting so the earlier the better! We started our mornings at sunrise and it was incredible to enjoy the almost empty roads and trails and the uninterrupted views.
Bring a carrier for younger kids: a carrier is great on longer trails. We carried our baby in an Ergo 360. Our toddler enjoyed the easier Joshua Tree trails but occasionally popped into his Osprey Poco Plus for a rest.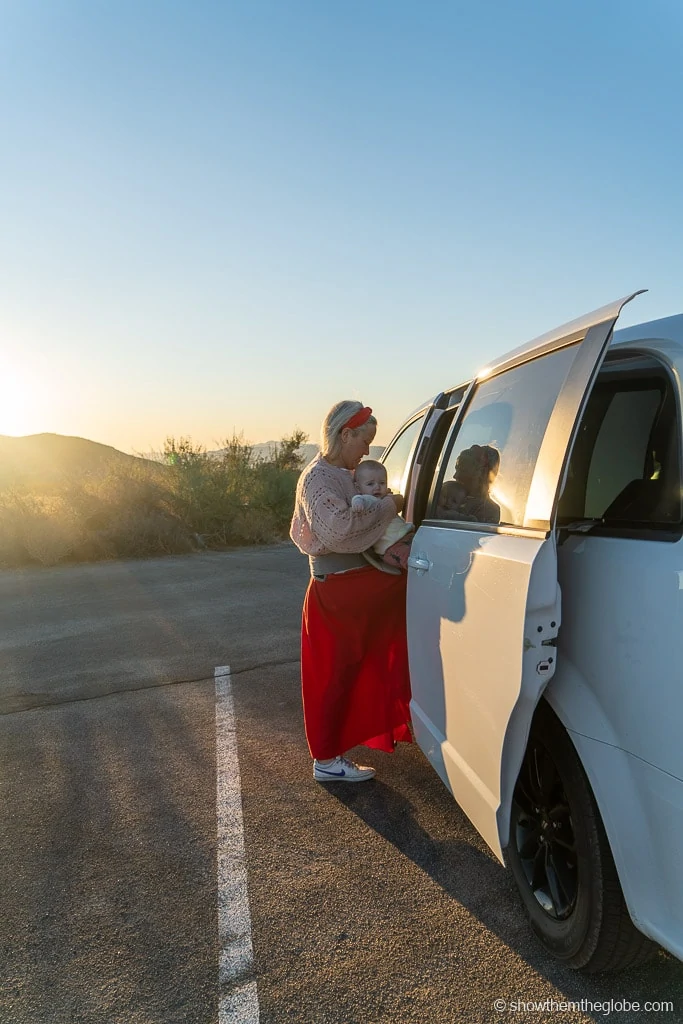 Closed toe boots: cacti are abundant in the desert and closed toe shoes are essential.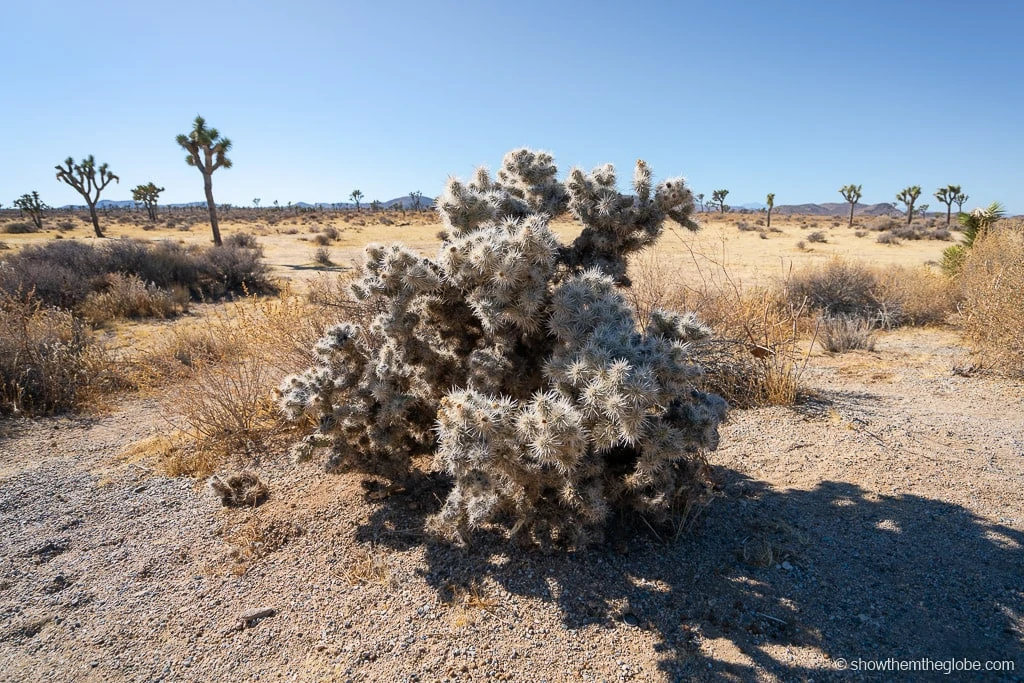 The wildlife: outside of the winter months of November to February there is the possibility of encountering Joshua Tree's most hostile residents – the park is home to some venomous wildlife which includes rattlesnakes, scorpions, and black widow spiders. It shouldn't be a problem if you keep your feet and hands where you can see them and make sure kids do the same!
Snacks and Water:Bring lots of water on any hikes in Joshua Tree. There are water filling stations throughout the park. There are water filing stations at the Oasis Visitor Center in Twentynine Palms, West Entrance Station, Black Rock Campground, Cottonwood Campground, Indian Cove Ranger Station. Bring snacks and lunch if required.
Cellphones: there is very little cellphone service once inside Joshua Tree National Park. Make sure to save your trails offline and bring a phone charger for the car.
Multiple Parks: if you are planning on visiting multiple parks make sure to purchase an America the Beautiful National Parks Pass. They cost $80 and cover entry for the pass owner and other passengers in the vehicle. We saved a ton of money by purchasing a pass at the entrance of the first National Park we visited.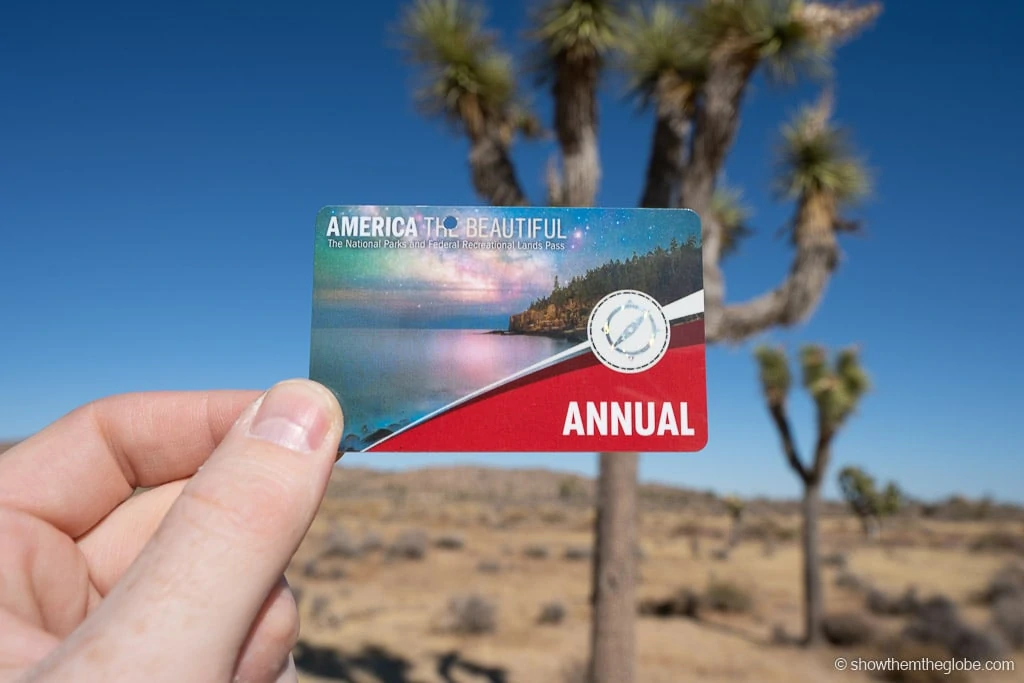 Best time to visit Joshua Tree with kids
Winter:temperatures are low both late in the evening and early in the morning so bring layers. Remember to add some extra layers for kids in carriers as they're not running around and can get very cold. Wildflowers bloom towards the end of winter (late February) and are a beautiful sight.
Summer: summer is low season in Joshua Tree. Although it is great for stargazing the extreme temperatures mean it is essential to hike outside the peak sunshine hours. Bring lots of water, sunscreen and sun hats.
Spring and Fall: moderate temperatures make Spring and Fall the most crowded seasons in the park. Early spring is also a great time for catching the wildflowers in bloom