A colourful, quirky and family-friendly city, there is an abundance of fun things to do in Taichung with kids. We spent time in Taichung during our Taiwan road trip and loved our family time exploring the city and its surrounds. For those planning trip to Taichung with kids, we've put together this list of the 15 best things to do in Taichung with kids.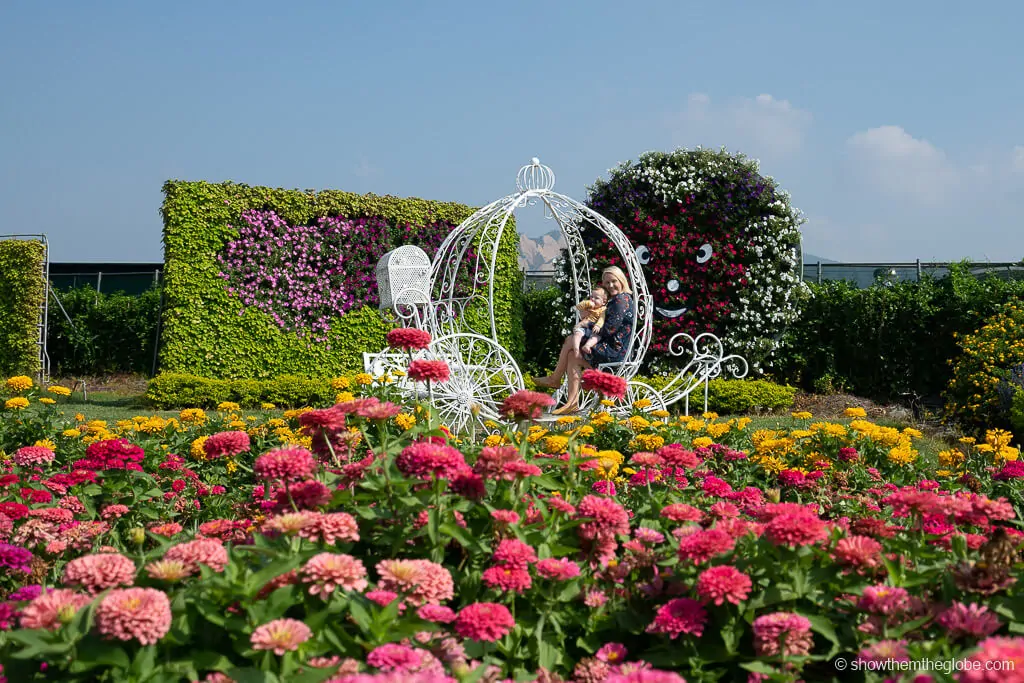 15 Best Things to do in Taichung
From the vibrant Rainbow Village to the colourful flower fields of Zhongshe Flower Market and the parks, playgrounds and farms, there are lots of fun things to do in Taichung. These are our 15 favourites!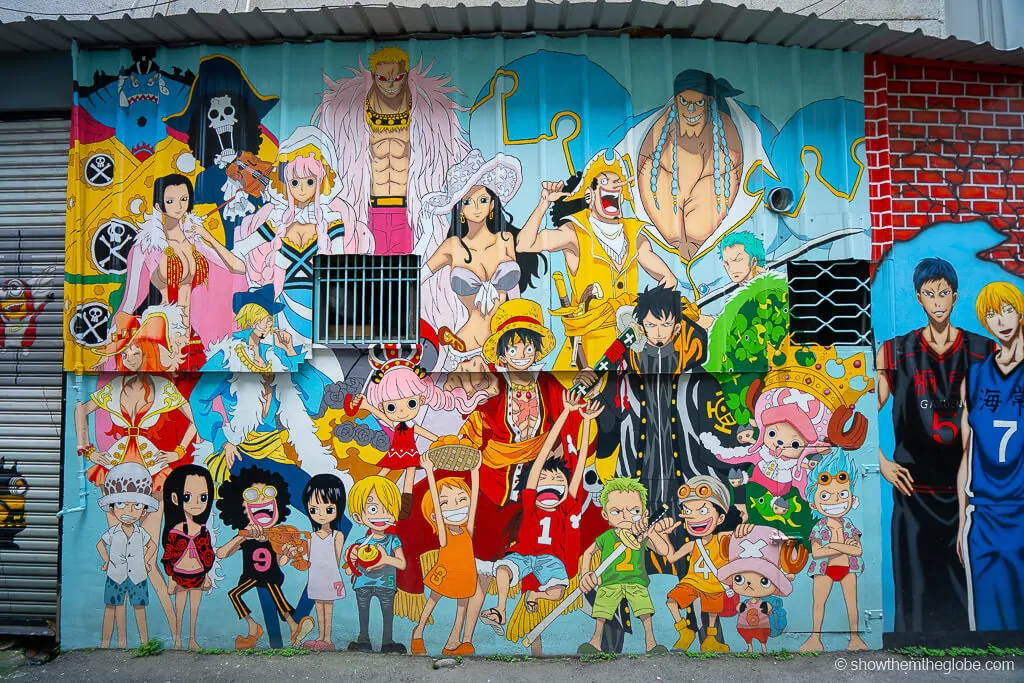 1 | Rainbow Village
A visit to the vibrant and colourful Rainbow Village is one of our favourite things to do in Taichung with kids. The village, a tiny settlement of 11 houses, is brightly painted with images of animals and people.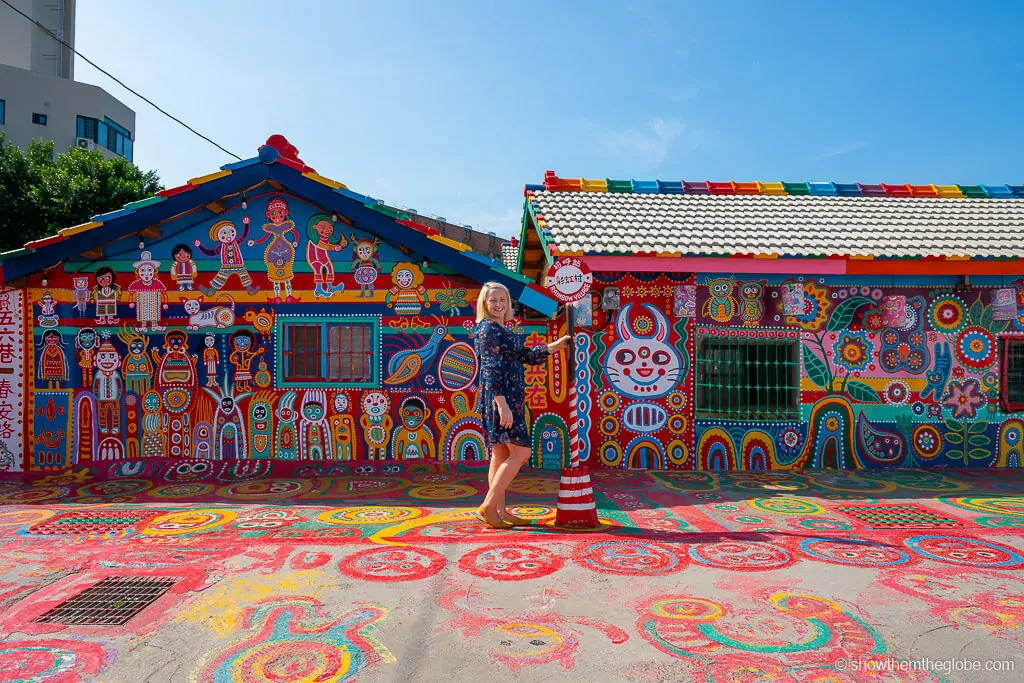 Rainbow Village was created by 'Grandpa' in his campaign to save Caihongjuan Village, as it was then known. The cheaply built village provided housing for former soldiers. The residents were being forced out by developers as the area became more desirable. Grandpa began painting the houses in the neighbourhood and his story gained traction: 11 of the original 1,200 houses were saved and Rainbow Village was born. Grandpa still lives in the village today.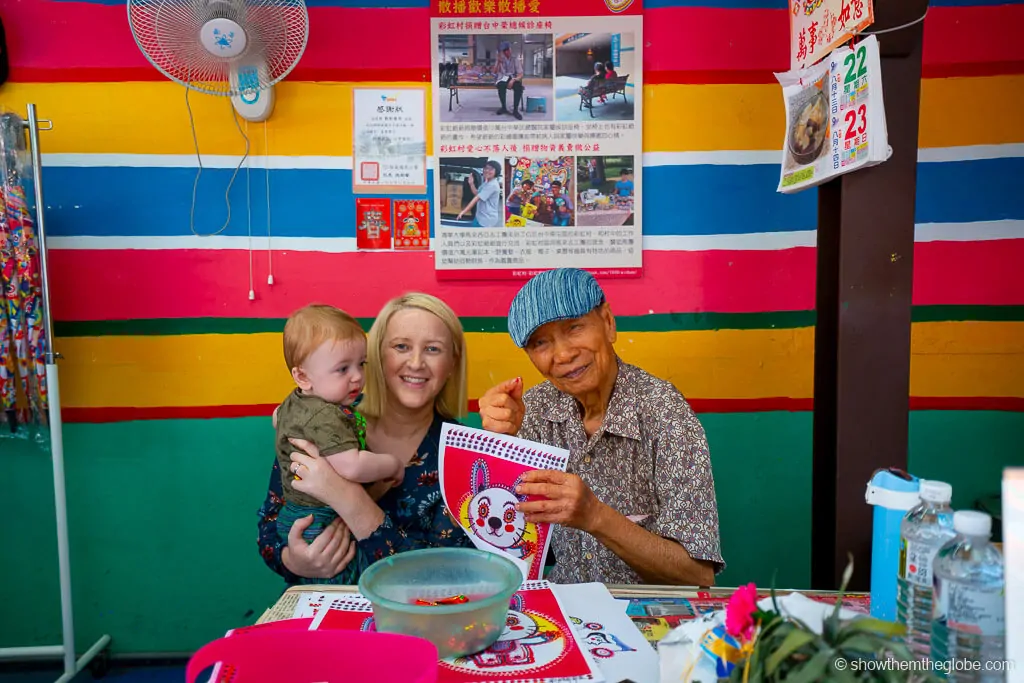 Taichung with kids tip: over 1 million people visit Rainbow Village every year and it gets very busy. We recommend visiting first thing in the morning: it's relatively quiet until the tourist buses begin to arrive about 30 minutes after opening.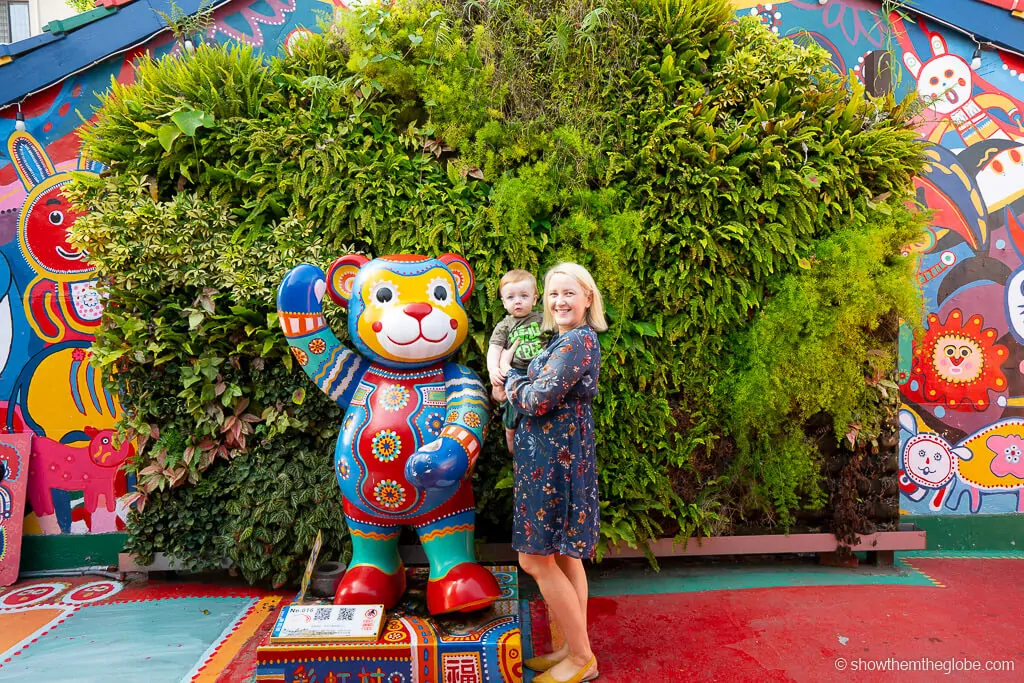 Things to do in Taichung with kids: We travelled to Rainbow Village by rental car. It is also accessible by public transport and by joining a tour – check tours here!
Click here to reserve a tour to Rainbow Village
2 | Animation Alley
Animation Alley is located on a quiet set of small side streets in downtown Taichung. With everything from manga comic characters to Super Mario and the Minions, kids will have fun spotting familiar faces!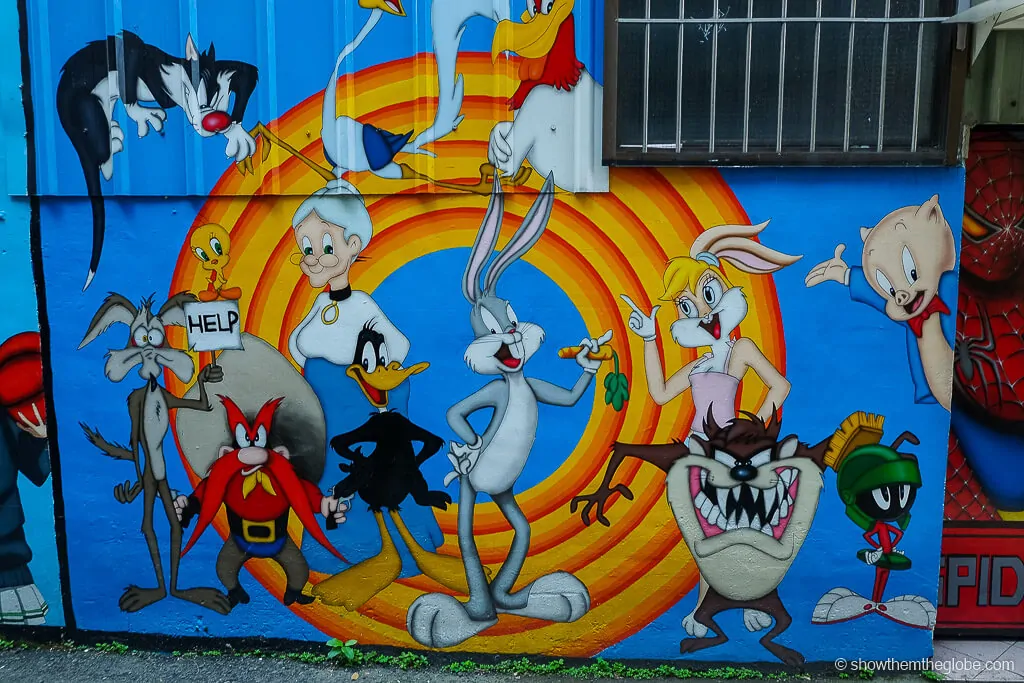 Best things to do in Taichung tip: Animation Alley is a great stop for kids familiar with the cartoon characters and adults nostalgic for the heroes of days gone by!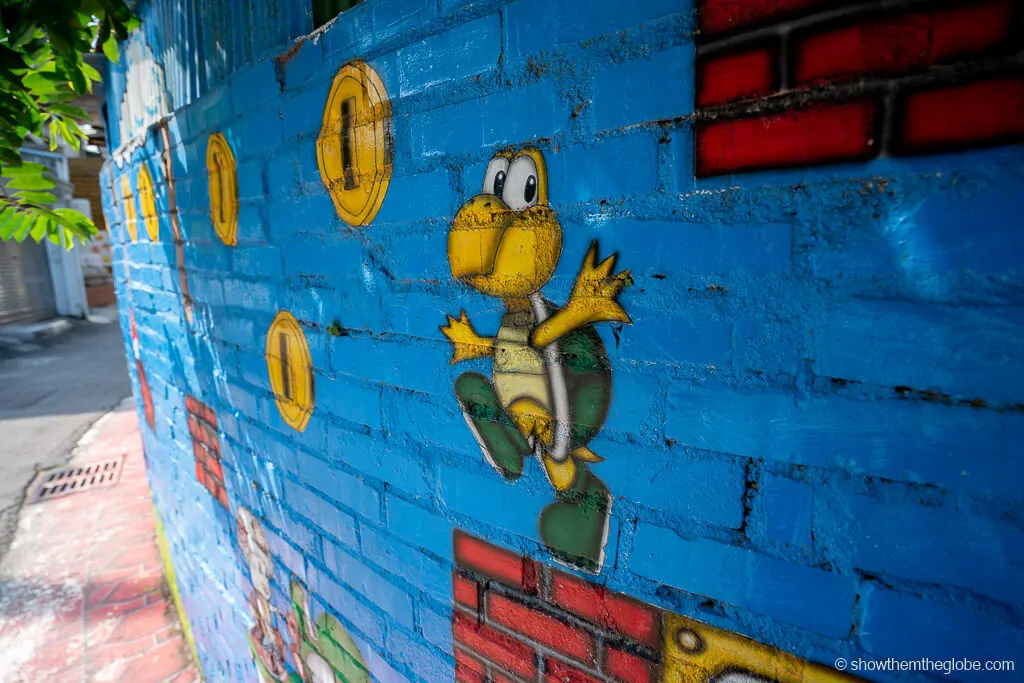 Taichung Essentials
Taichung is easily accessible from Taipei and there are lots of great hotel options in the city for those staying overnight:
How to get to Taichung
Taichung is easily reached by train or car.
By Train:
The Taiwan High Speed Rail (THSR) is the most popular way to get to Taichung from Taipei. The train takes only 40 minutes from any of the major stations in Taipei (Taipei Main Station, Banqiao, Nangang station). The trains are super-fast and frequent and West Taichung is easily explored from the train station. You can book your tickets in advance at discounted prices on the Klook app – check prices now!
Click here to buy your rail ticket now
By car:
Navigating Taiwan by rental car is relatively easy and we highly recommend renting a car if you are comfortable driving. The roads are high-quality, driving standards are generally good, fuel is extremely cheap and parking is freely available in most locations. We rented our car through RentalCars.com and secured a great price on an Avis rental – check rental car prices here!
Taiwan with kids itinerary tip: An International Driving Permit is mandatory when renting a car in Taiwan so make sure to get an IDP in your home country before departure if you are planning on driving a rental car.
Click here for the best rental car prices!
Sim Card and Internet
As with most countries, having mobile data during a trip is invaluable for navigation and research. There are lots of options on arrival at Taipei's Taiwan Taoyuan International Airport (TPE) – we reserved a Chunghwa Telecom 4g sim through Klook who offer a slightly discounted rate on the airport price – check prices now!
Where to Stay in Taichung
CityInn Hotel Plus – Taichung Station Branch: we loved the CityInn brand in Taiwan. Located in east Taichung beside the main train station, the CityInn Hotel Plus is a great option. Rooms are clean and modern and the extra facilities like free common areas with coffee/refreshments and on-site laundry are invaluable – click here to book now!
La Vida Hotel: Regularly rated as one of the best hotels in Taichung, La Vida Hotel is a great option for those who want easy access to the Feng Chia Night Market. With European designed rooms the hotel is super comfortable and great for a stay in Taichung – click here to book now!
The Hung's Mansion: where we chose to stay in Taichung and it's a great option if you are driving like we were. With free parking, large comfortable rooms and great food, Hungs Mansion is also a short walk to the incredible Feng Chia Night Market –click here to book now!
Click here for the best Taichung hotel prices
3 | 921 Earthquake Museum
The 921 Earthquake Museum sits upon the site of what once was the Guangfu High School. On Tuesday 21 September 1999, the devastating Jiji earthquake hit the centre of Taiwan. It measured 7.3 on the Richter Scale. The earthquake resulted in almost 2,500 people losing their lives and over 100,000 Taiwanese were left homeless. The 921 Earthquake museum opened in 2001 and is a lasting memorial to that day.
The school buildings and grounds crossed the fault on which the earthquake occurred. Fortunately, the Earthquake occurred in the night time when the school was closed so the pupils were not in the building. The damaged buildings and the subsided ground still stand as they did after the earthquake struck.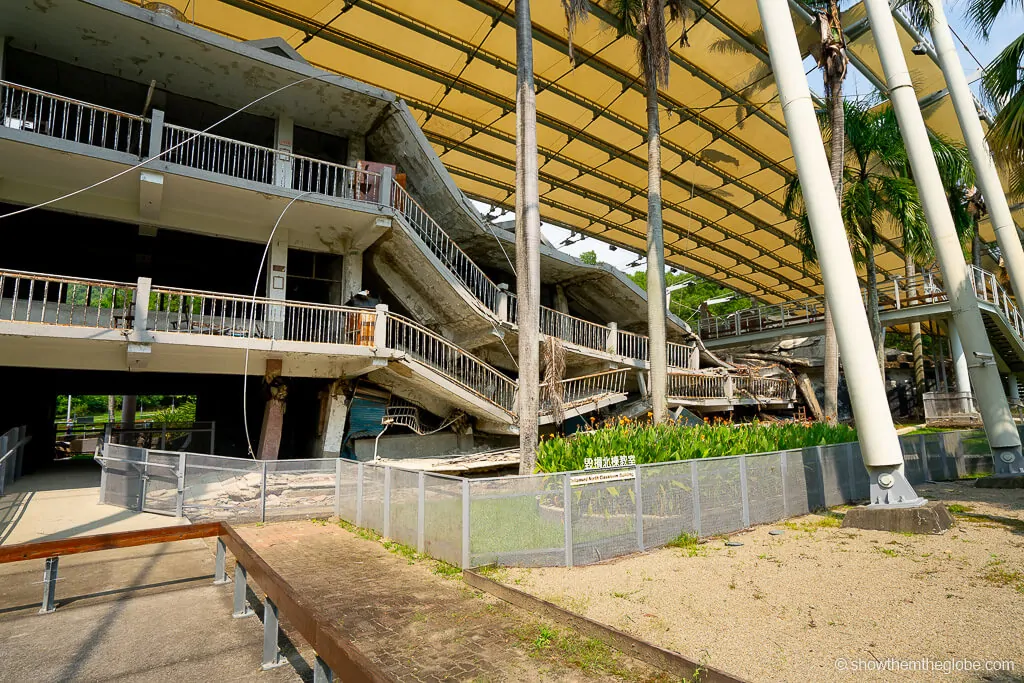 4 | Lavender Cottage Farm
Lavender Cottage was set up by two farm loving ladies who quit their city jobs to grow lavender in the mountains outside Taichung. It is located a short distance from Taichung and is a beautiful place to visit with kids. The purple lavender fields are in full bloom from November to April and there is plenty to amuse kids at the farm. There is a 1.5km forest trail, delicious lavender flavoured ice-cream, a cooling lavender sprinkler, a Wishing Tree and a carousel to explore!
5 | I'm Talato
I'm Talato is an ice cream store with a twist. As well as the delicious ice cream served upside down in a cone, there's also an ice-cream swimming pool filled with giant ice cream floats!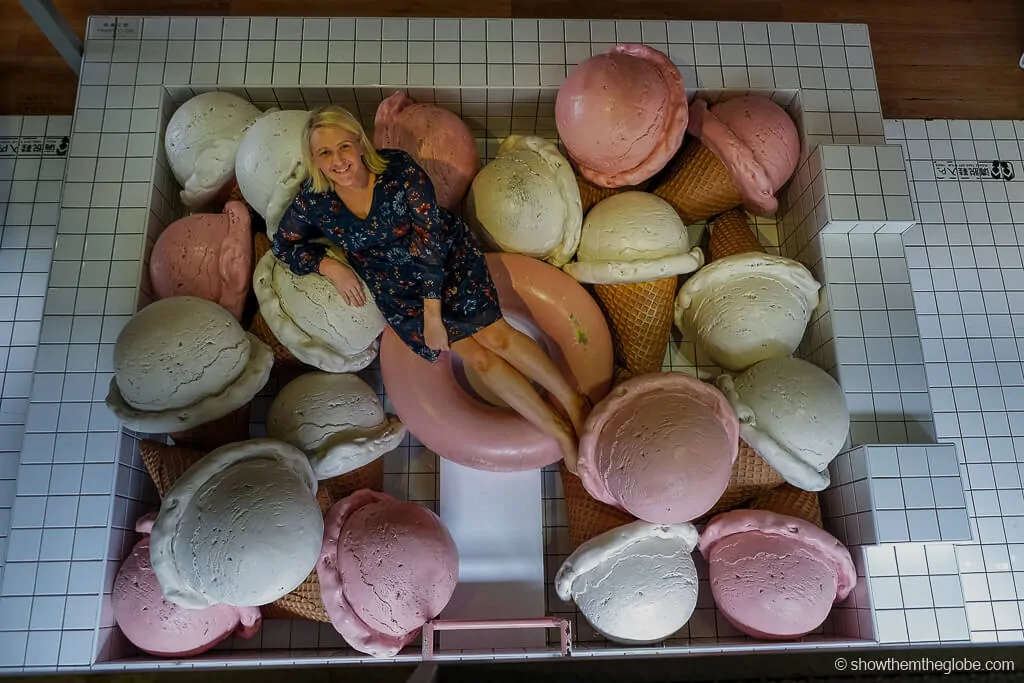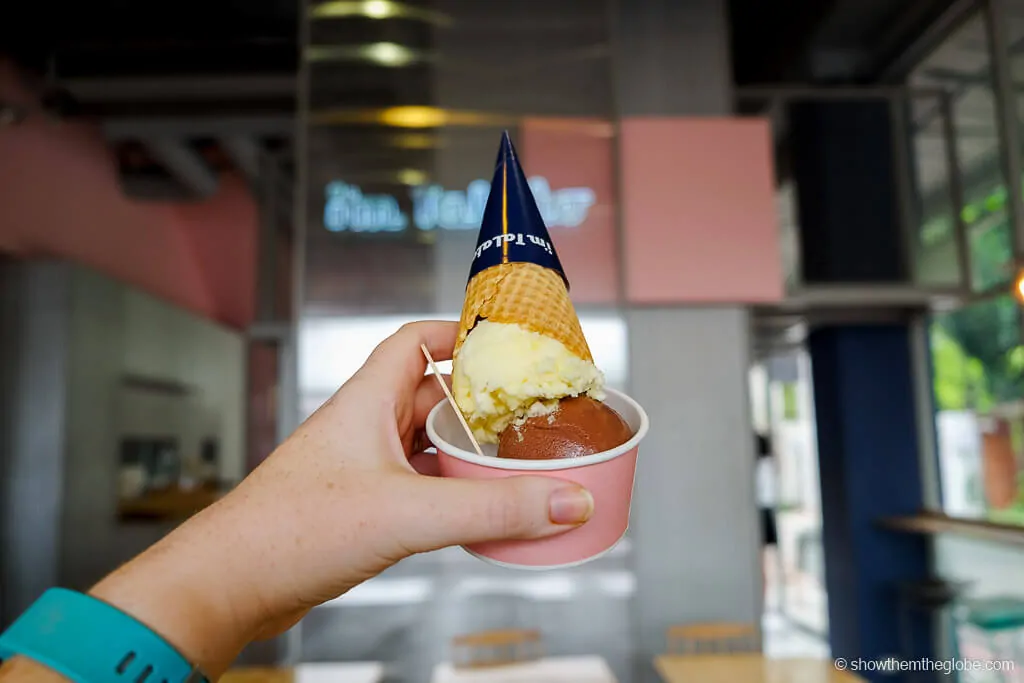 6 | Feng Chia/ Fengjia Night Market
Taichung is home to one of the biggest and best night markets in Taiwan, the Feng Chia Night Market. Located next to Taichung's Feng Chia University, the market was a short walk from our hotel (Hungs Mansion) and was so much fun to explore. Kids will love the tempting snacks while embracing the hot and noisy atmosphere and colourful side stalls with arcade style games and cheap souvenirs. The market is packed with amazing food and clothes options: our favorite specialities were grilled scallops on a stick, the pork box and fried chicken cutlets.
Things to do in Taichung with kids tip: The market is open most evenings between 7pm and 10pm and it starts to get really busy after 8pm. We tried to get there just after opening when the crowds were smaller and it was easier to explore the market comfortably with kids.
7 | Themed Restaurants
Taiwan shares its love of themed restaurants with Japan! Taichung is home to quirky cafes such as the poo themed Modern Toilet, the beach vibes at Blue Box, the robot-themed Robot Station and the fairy tale pinks at Annie's Garden. The novelty factor is huge and eating at a themed restaurant is a unique Taiwan experience!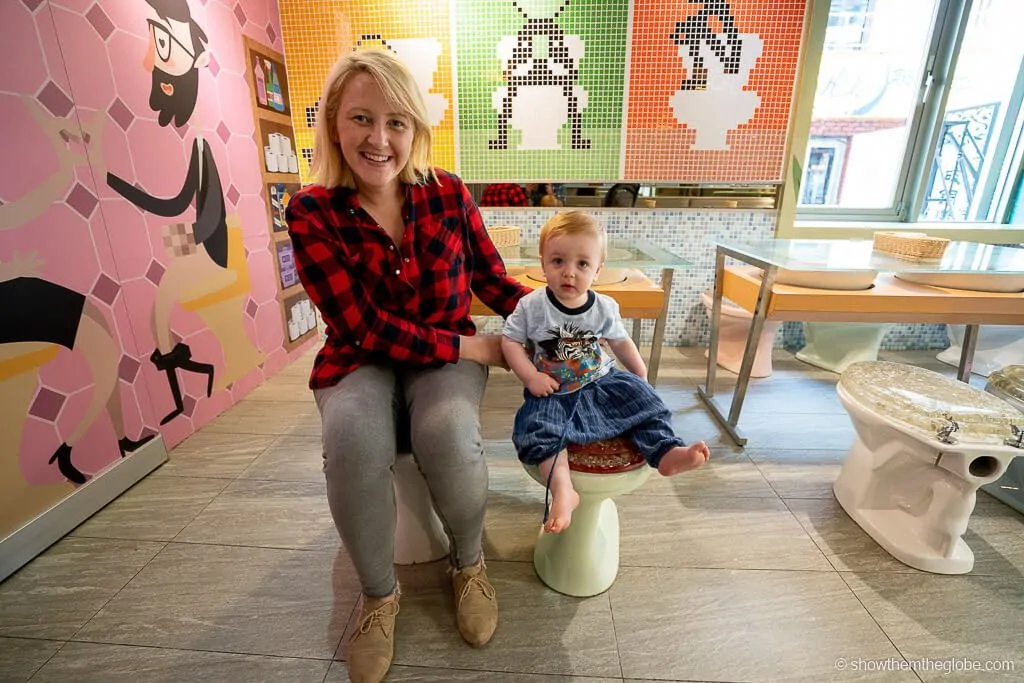 8 | Eat Pineapple Cakes in Miyahara
Famous for its ice cream, chocolate and pineapple cakes, Miyahara is a popular dessert shop in Taichung. It's also a must for Harry Potter fans! Once the home of the Taichung Health Bureau, Miyahara is located in a red brick building with an interior designed to resemble Hogwarts Harry Potter movies!
Best things to do in Taichung with kids tip: there are often long lines at Miyahara so try and visit close to opening or later in the evening when it is less busy.
9 | Taichung Park
The oldest park in Taichung, Taichung Park is perfect for an outing with kids, Young visitors will enjoy renting a rowboat on the lake, admiring the giant goat sculpture, burning off steam in the playground and feeding the koi carp fish.
Things to do in Taichung with kids tip: the modern Chinese style Taichung Metropolitan Park is another grea park in the city.
10 | Zhongshe Flower Market
Although it is named a market, there's more to the Zhongshe Flower Market than buying and selling flowers. The market is home to a sea of vibrant flower fields and there is plenty of space for kids to run around and enjoy the Taichung countryside. The colourful blooms are set among life-sized photo frames, musical instruments and water features. Rows of giant sunflowers sit alongside a lavender field with a piano centrepiece and a picturesque windmill overlooks a field full of tulips.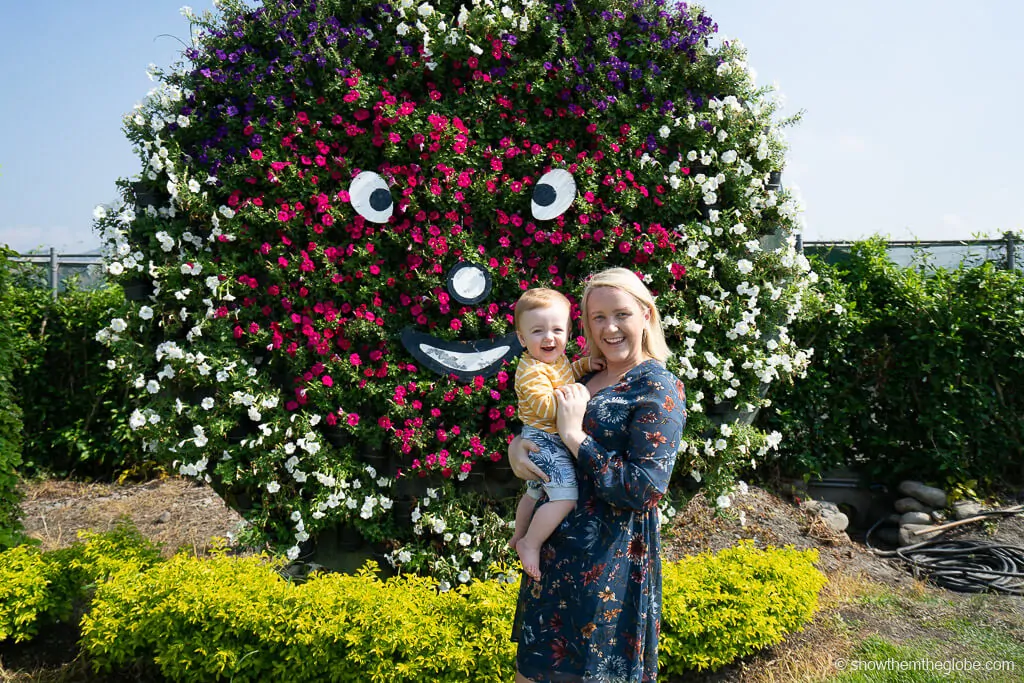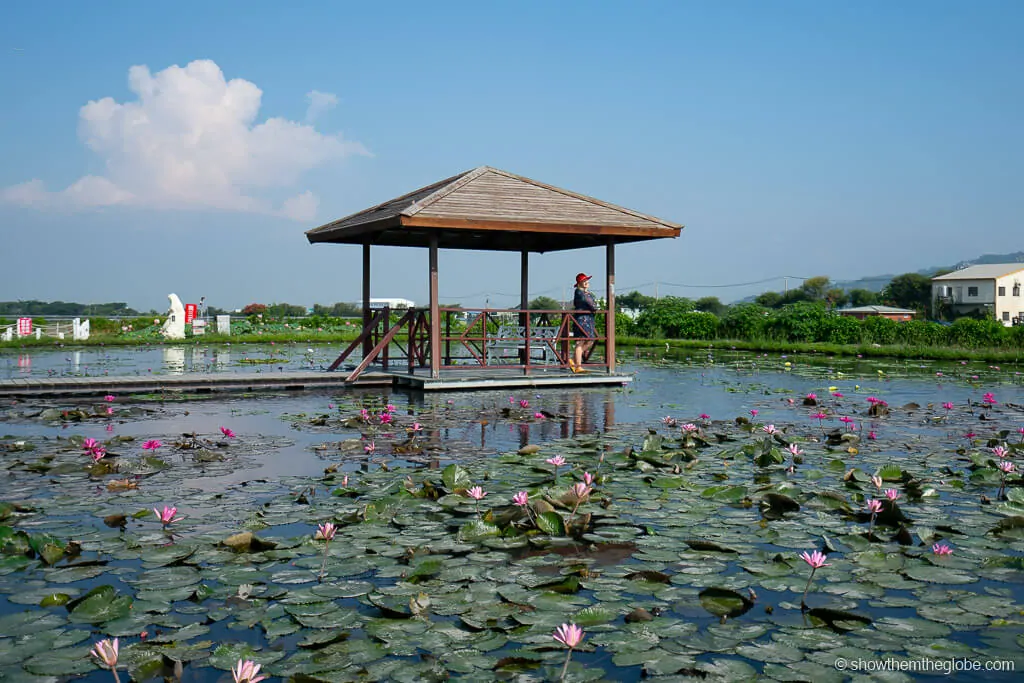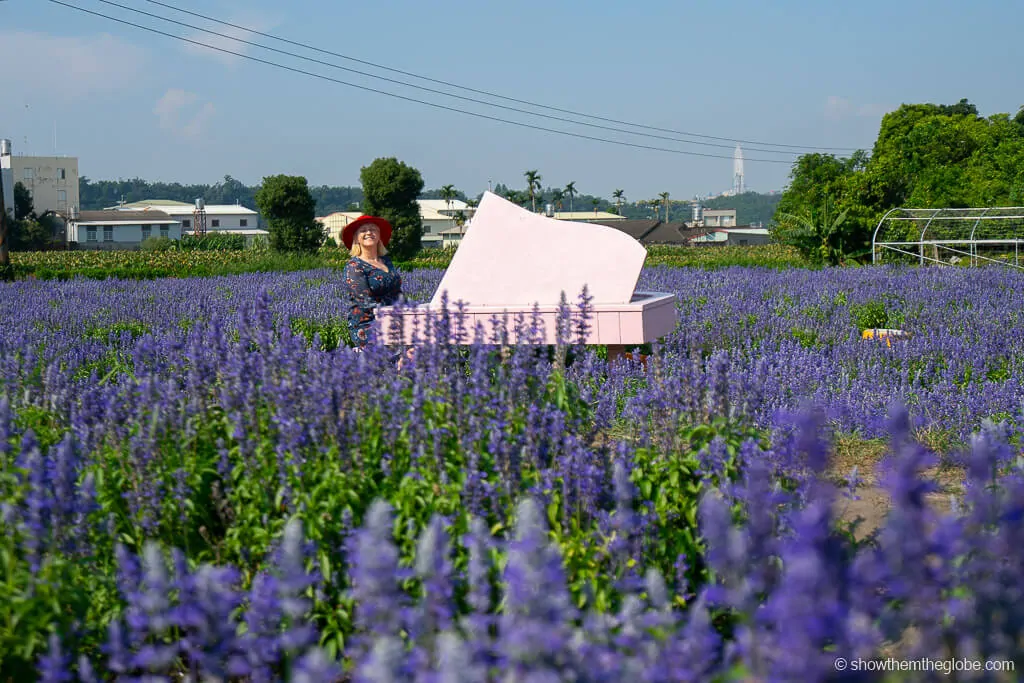 Things to do in Taichung with kids tip: A visit to Zhongshe Flower Market can be combined with other Taichung sights such as Rainbow Village and the Goemei Wetlands. a tidal flat renowned for its stunning sunsets and beautiful wildlife. Klook offer a competitively priced day tour with a private driver. It's s a great option, especially if travelling in a small group or with kids, as the Taichung sights are spread across the city –check prices here!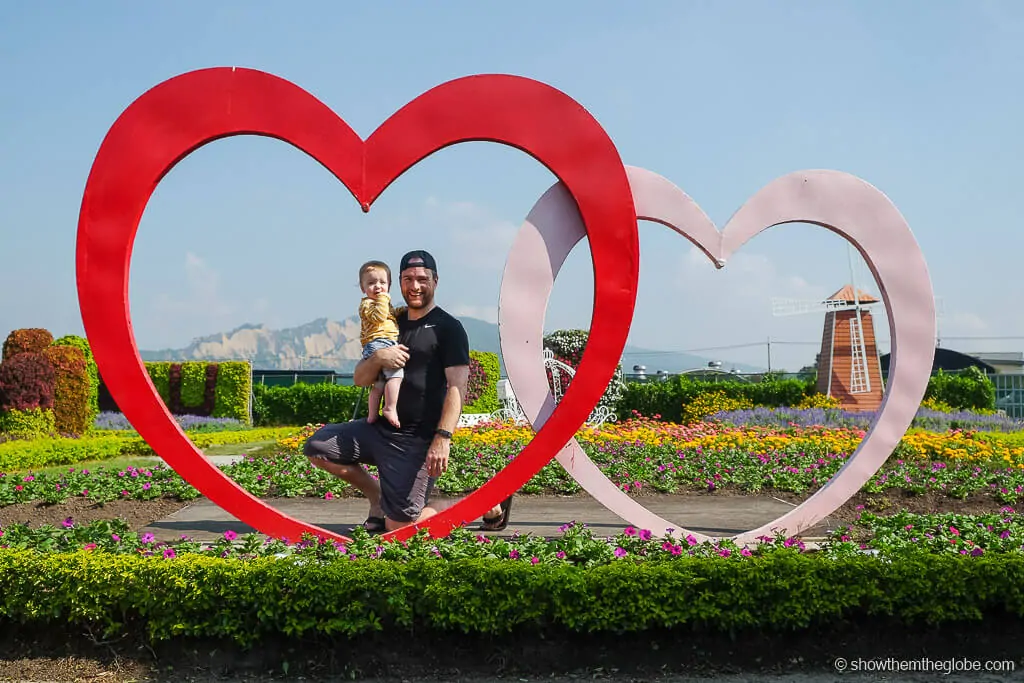 11 | The Kaomei Wetlands
The Kaomei Wetlands are the perfect escape from the chaotic Taichung city life. The tidal flat is renowned for its stunning sunsets and is home to beautiful wildlife including thousands of crabs and birds. Catch the sea breeze on the specially built boardwalk and enjoy the sunset and the marine life – check tour prices here!
Click here for Kaomei Wetland tours
Best things to do in Taichung tip: bring a jacket as the boardwalk is often breezy and it can be very chilly late in the evenings.
12 | Lihpao Theme Park
A theme park is a great option when travelling with kids. Taichung is home to the huge Lihpao Theme Park with Discovery World and, the summer only, Mala Bay Water Park. Discovery World has something for all ages with thrill rides, giant Ferris wheels and a dedicated kingdom for younger kids. Mala Bay is open from May to October and has an outdoor wave pool and water slides – click here for tickets!
Click here for Lihpao Theme Park tickets
Things to do in Taichung with kids tip: The Lihapo Theme Park is located close to the Zhongshe Flower Market making it easy to visit both on the same day. A free shuttle bus operates from the Taichung HSR Station and spots can be reserved in advance.
13 | Sun Moon Lake
Sun Moon Lake is one of the gems of Taiwan and is one of its most popular tourist attractions. Located 90 minutes outside Taichung, the picturesque lake is the largest in Taiwan and the area is surrounded by nature. Many visitors rent bikes to explore the cycle path which circles the turquoise blue waters of Sun Moon Lake. There's also a gondola cable car which offers beautiful views of the lake and connects it with the Formosa Aboriginal Cultural Village – click here for bike rental and gondola tickets!
Click here for bike rental and gondola tickets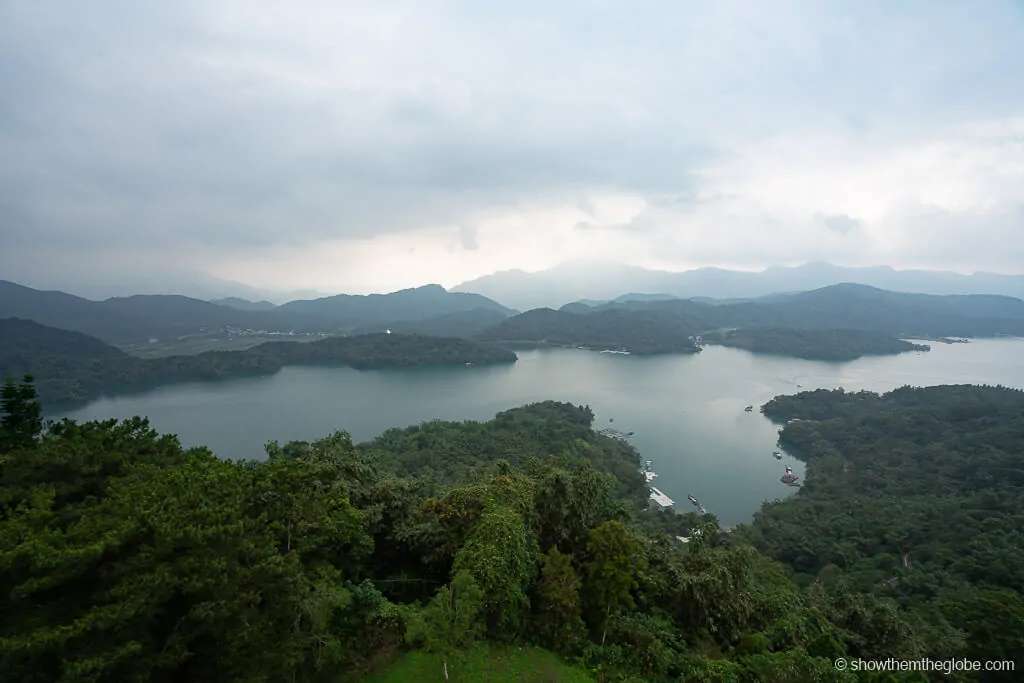 The Ci-En Pagoda and the Wen-Wu Temple are popular Sun Moon Lake sights. The 8 story Ci-En Pagoda requires a short uphill hike and is renowned for its views over the lake while the Chinese style Wen-Wu is vibrant and loud and there are lovely views of the lake over the burnt orange rooftops. We did a day trip to Sun Moon Lake in our rental car. There are also day tours from Taichung – check tour prices here!
Click here for Sun Moon Lake tours
Best things to do in Taichung wih kids tip: the drive between Taichung and Sun Moon Lake takes about 75 minutes so we preferred to base ourselves in Taichung rather than move hotels with kids. Sun Moon Lake accommodation tends to be more expensive given its tourist draw and we were happy to drive.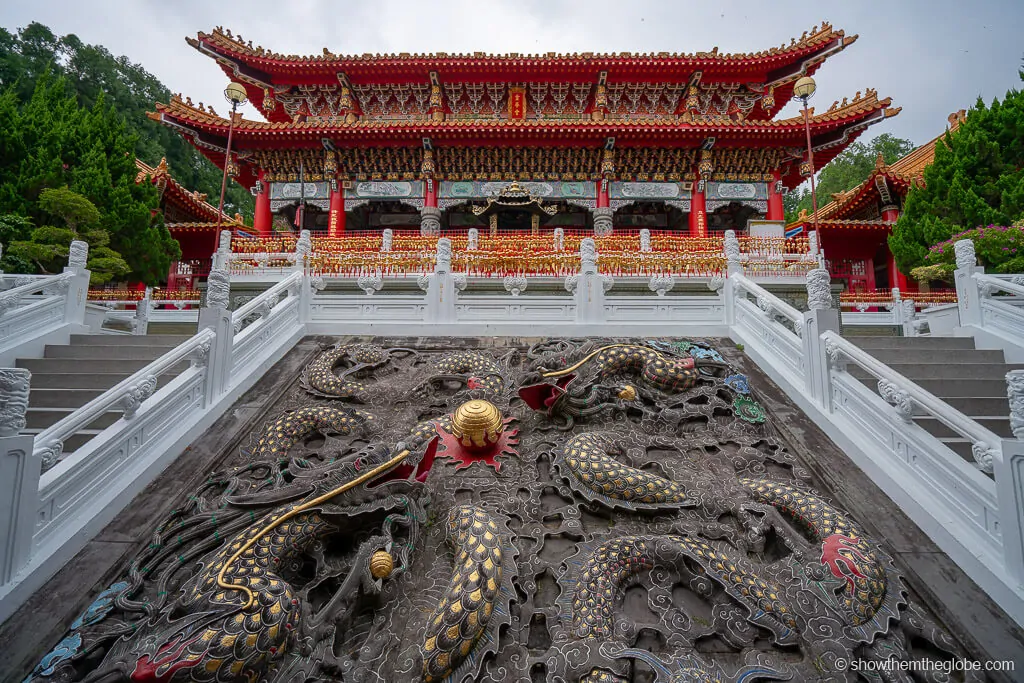 14 | National Museum of Natural Science
The Museum of Natural Science is an awesome place to visit in Taichung with kids. A giant skeleton of a Palaeoloxodon elephant greets visitors on arrival. There's also a tropical rainforest, a preserved giant squid and a gallery of dinosaurs to keep kids engaged and amused.
15 | Cingjing Farm and Skywalk
A trip Cingjing Farm is a fantastic escape from city life and allows kids to experience the Taichung countryside. The mountainous area is famous for its sheep population and, on weekends, kids can feed bottle feed lambs and watch the sheep being sheared. There's also the Cingjing Skywalk, a 1.2km raised platform bridge with incredible viewpoints.
Things to do in Taichung with kids tip: Cingjing is easily visited by rental car or there are tours which include a visit to the farm and entrance to the Skywalk – check tours here!
Click here for Cingjing Farm tours
For more on Taiwan
Check out our other Taiwan reads: