With its towering skyscrapers, chaotic streets, theme parks and bright lights, there's plenty to keep little adventurers entertained and we loved the variety of things to do in Tokyo with kids. From Shibuya Crossing to Samurai museums and Ninja restaurants to serene parks, here's our guide to the best things to do in Tokyo with kids!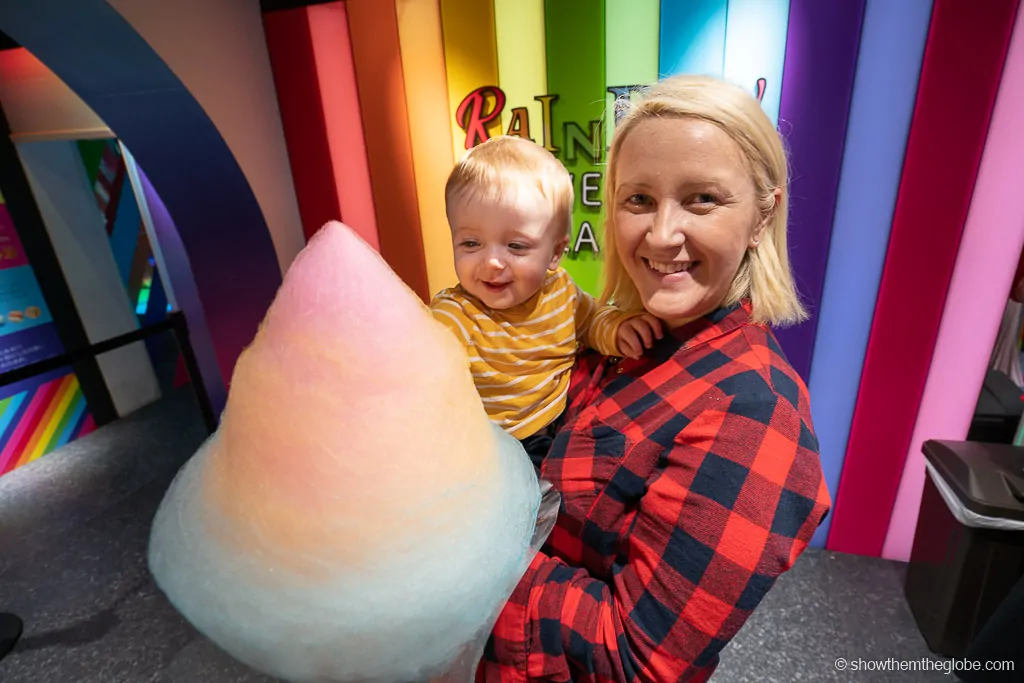 Tokyo Essentials
Klook Tokyo Pass
If you are planning to visit a few of Tokyo's top attractions then the popular Klook Tokyo Pass is a great option – it includes discounted access to up to 5 of the attractions we visited (you can include attractions including TeamLab Planets, Tokyo Disneyland, Shibuya Sky Observation Deck, Tokyo DisneySea and Legoland Discovery Center) as well as add on transport options for the subway and airport transfers – check prices here!
Click here for Klook Toyko Pass
Where to stay in Tokyo with kids
Tokyo is best explored by a combination of trains and walking so we recommend choosing a hotel within a short walking distance of a subway station, the Yamanote Line or one of the major train stations such as Tokyo Station.
Mitsui Garden Hotel Koyobashi: close to both Tokyo Station and the Koyobashi Metro Station, the Mitsui Garden Hotel is a great base for exploring the city. Standard rooms are a reasonable size ad there is coin-operated laundry – check prices here!
Shibuya Excel Hotel, Tokyu: close to Shibuya Station the hotel's 25th-floor restaurant level offers the best views of Shibuya and the location is excellent for exploring the city – check prices here!
Keio Plaza Hotel: a 5 minute walk from Shinjuku Station, Keio Plaza has comfortable rooms and awesome views of Shinjuku – check prices here!
Sim Cards and Internet
One of the best investments for a Japan trip is to obtain a sim card or 4G hotspot for internet access while on the go. A sim card is perfect if you just have your phone while 4G hotspots are great if you have multiple devices or if you're travelling in a group.
We used the Klook app to order our sim cards. The app is great as you can order in advance, pick up on arrival or from various departure cities and the price is usually discounted.
Click here to order your sim card or 4G hotspot now
Tokyo Transport
From Narita airport take either:
Depending on the duration of your stay, a 24, 48 or 72 hour subway pass is invaluable for navigating Tokyo. We saved so much money using our 3 day subway pass. The passes can be picked up at one of the designated arrival airports in Japan and work for unlimited rides on Tokyo Metro and Toei Subway lines – check prices now!
Click here to order your Tokyo subway pass
Things to do in Tokyo with kids tip: After we'd used our unlimited passes we switched to a rehargeable Suica or a Pasmo card. The cards are swiped at the ticket barriers to pay for the train fare instead of buying individual tickets for each train ride. We found them much quicker and more convenient than individual journey tickets.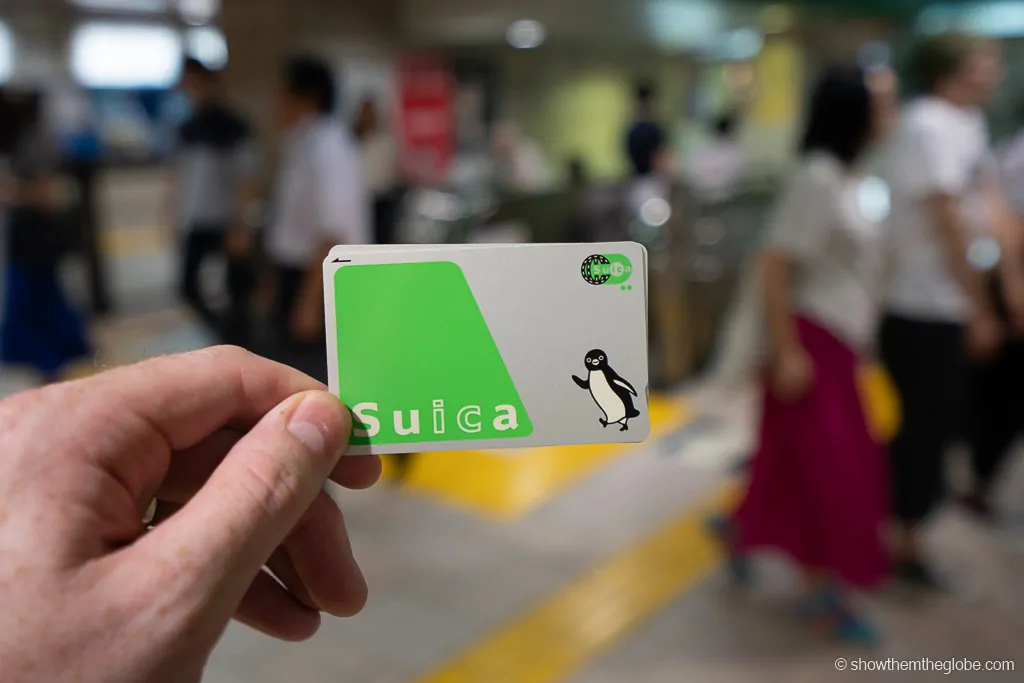 30 Best Things to do in Tokyo with Kids
Tokyo is a sprawling city with lots of tourist areas so we've arranged our list by neighborhood to help with daily planning a Tokyo with kids itinerary. These are our 30 best things to do in Tokyo with kids!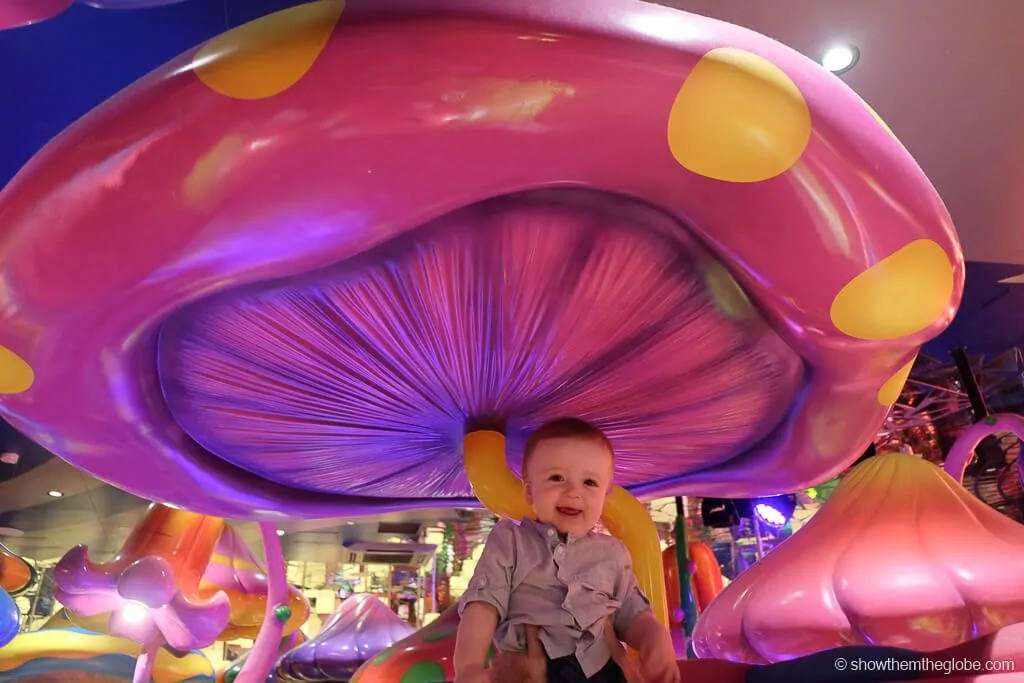 Odaiba
A man made island in Tokyo Bay, Odaiba is a shopping and entertainment mecca and an amazing place to spend a day with kids.
1 | TeamLab Borderless Digital Art Museum (closed)
The TeamLab Borderless Digital Art Museum is currently closed to be relocated in 2023: TeamLab Planets is a magnificent alternative and is located in nearby Toyosu – check ticket prices here!
Click here for TeamLab Planets tickets
A Tokyo with kids highlight, the TeamLab Borderless Digital Art Museum is a magical world of colour, light and sound. The highlight for kids is the Athletics Forest with its trampolines, climbing walls, hanging swings and an aquarium where sketches are animated and projected on the walls of the room. There are also gushing digital waterfalls, exhibits filled with crystal and lanterns and a rock where crowds gather to enjoy the display.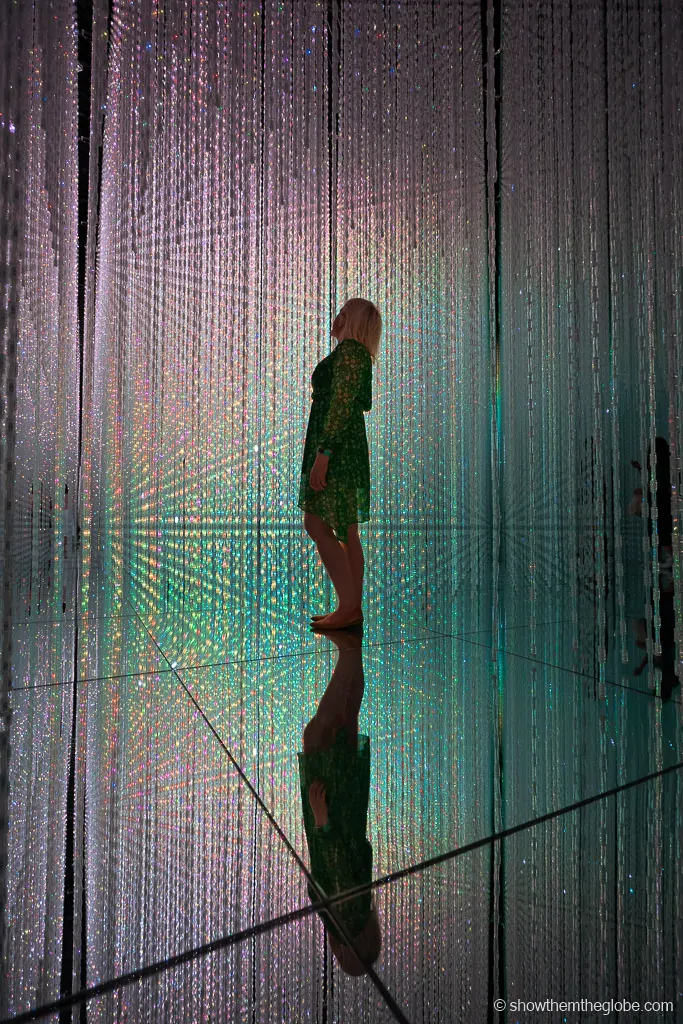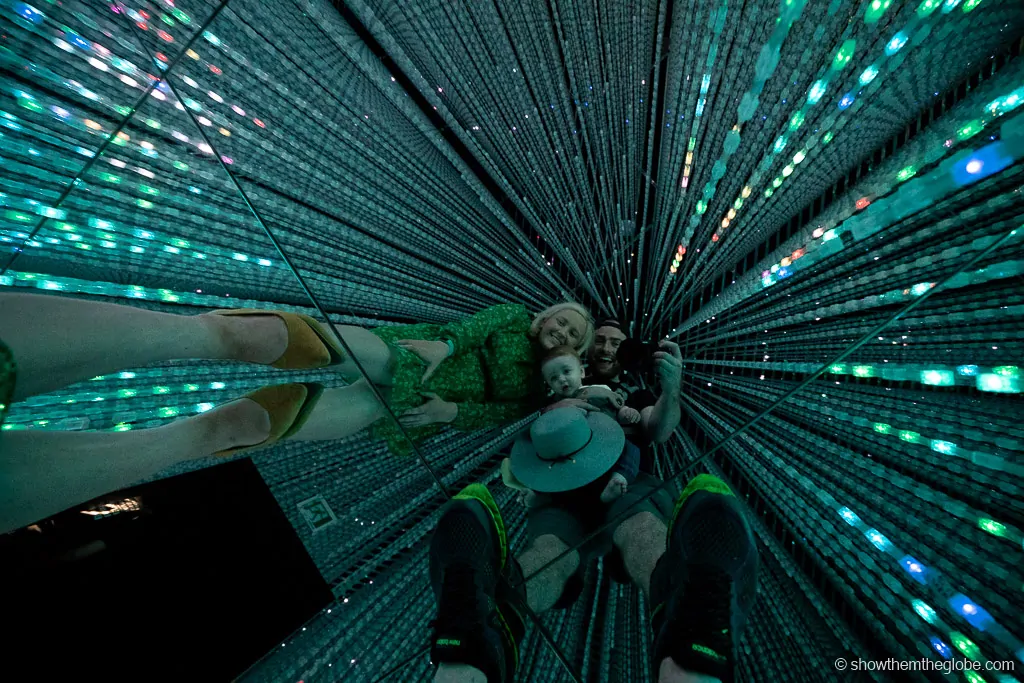 2 | Legoland Discovery Centre
If your kids are Lego fans the check out the Legoland Discovery Center. It is the ultimate lego playground! There are over 3 million Lego blocks, 2 rides and 10 play zones, Lego classes and a 4D cinema – check prices here!
Click here to buy Legoland Discovery Center tickets
Things to do in Tokyo with kids tip: the Legoland Discovery Centre in Tokyo is aimed at kids aged between 3 and 10 and a visit takes around three hours.
3 | Gundam Robot
A 65 foot Gundam Robot stands next to the DiverCity Tokyo Plaza Mall in Odaiba. With accompanying sound and light, it transforms from Unicorn mode to battle ready destroy mode several times a day. It's an awesome photo stop when your in the area and much loved by anime fans and kids alike.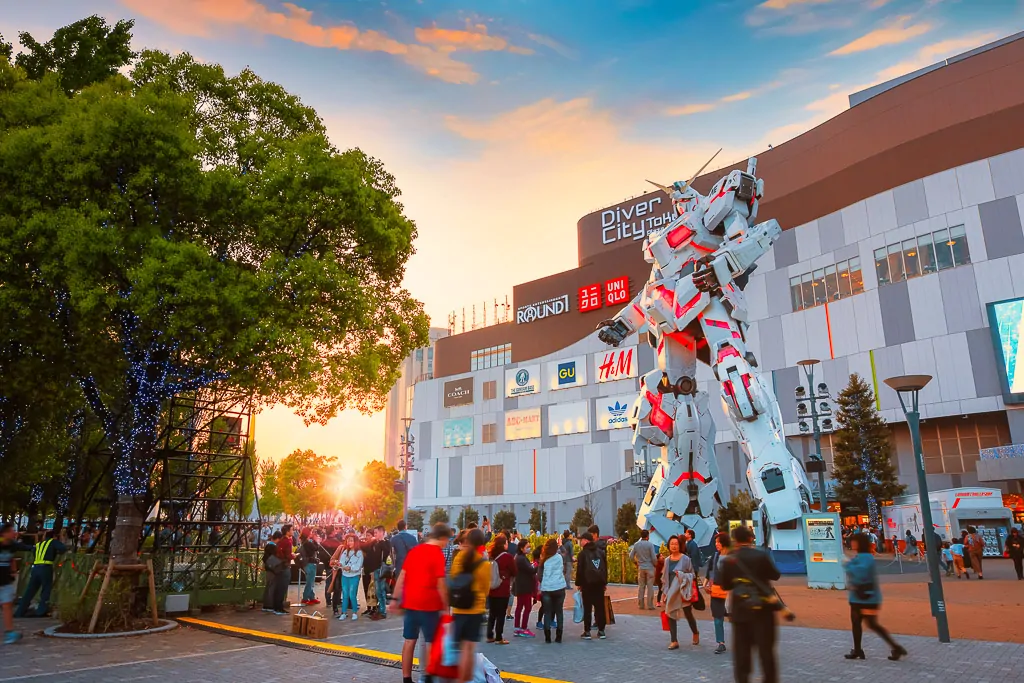 4 | Oedo-Onsen Monogatari (closed)
Japan is famous for its plentiful hot springs, known as onsen, and Odaiba is home to one of the largest in Japan. The Oedo-Onsen Monogatari is kid friendly and it's a great place to experience an onsen for the first time. There are 13 different types of hot spring baths, pools which offer fish therapy and foot baths to revive tired feet.
5 | Tokyo Joypolis
Tokyo Joypolis is a indoor arcade by SEGA and has arcade games together with 3D and virtual reality attractions. There's a rollercoaster, a haunted house, a Transformers themed ride and a virtual snowboard halfpipe to try out – check prices here!
Click here to buy Tokyo Joypolis tickets
Things to do in Tokyo with kids tip: Tokyo Joypolis is a great option for kids and teens on rainy days and nostalgic adults who remember the heady Sonic days!
Tokyo Disney
The hugely popular Tokyo Disney Resort is a Tokyo with kids essential and is just a 15 minute train ride from Tokyo Station! The Disney Resort is made up of two theme parks, Tokyo Disneyland and Tokyo DisneySea, together with a shopping mall and hotels.
6 | Tokyo Disneyland
Modelled on Disneyland California and Magic Kingdom in Florida, Tokyo Disneyland is one of the best Disney parks in the world. The Cinderella Castle is amazing and the parades fantastic. The best rides include Pooh's Honey Hunt, Space Mountain and Monster's Inc Ride and Go Seek.
Make sure to buy tickets in advance as Tokyo Disneyland can sell out – check prices here!
Click here to buy Tokyo Disneyland tickets
Things to do in Tokyo with kids: Tickets for kids aged 3 and under are free at Tokyo Disneyland.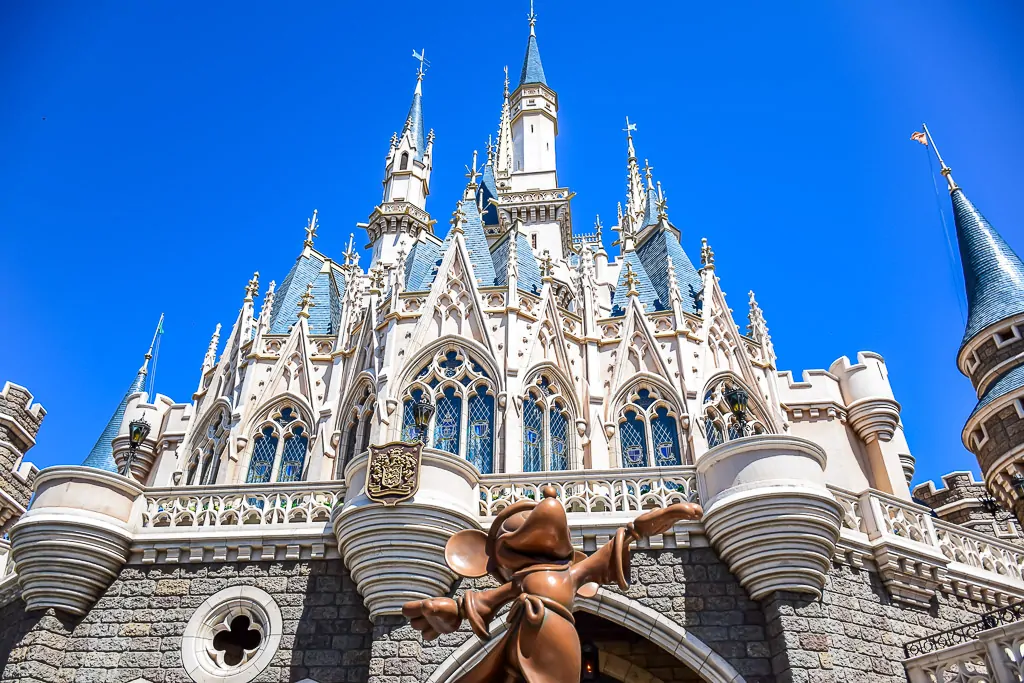 7 | Tokyo DisneySea
Located next to Tokyo Disneyland, Tokyo DisneySea is a unique Disney park based around the tales and legends of the sea. The park is split into 7 ports and the park is famous for the shows that take place at the Mediterranean Harbor.
The best rides include 20,000 Leagues Under the Sea, Sinbad's Storybook Voyage and Journey to the Center of the Earth. For younger guests, the Mermaid Lagoon has a great selection of kid friendly rides – check prices here!
Click here to buy Tokyo DisneySea tickets
Things to do in Tokyo with kids: Tickets for kids aged 3 and under are free at Tokyo DisneySea.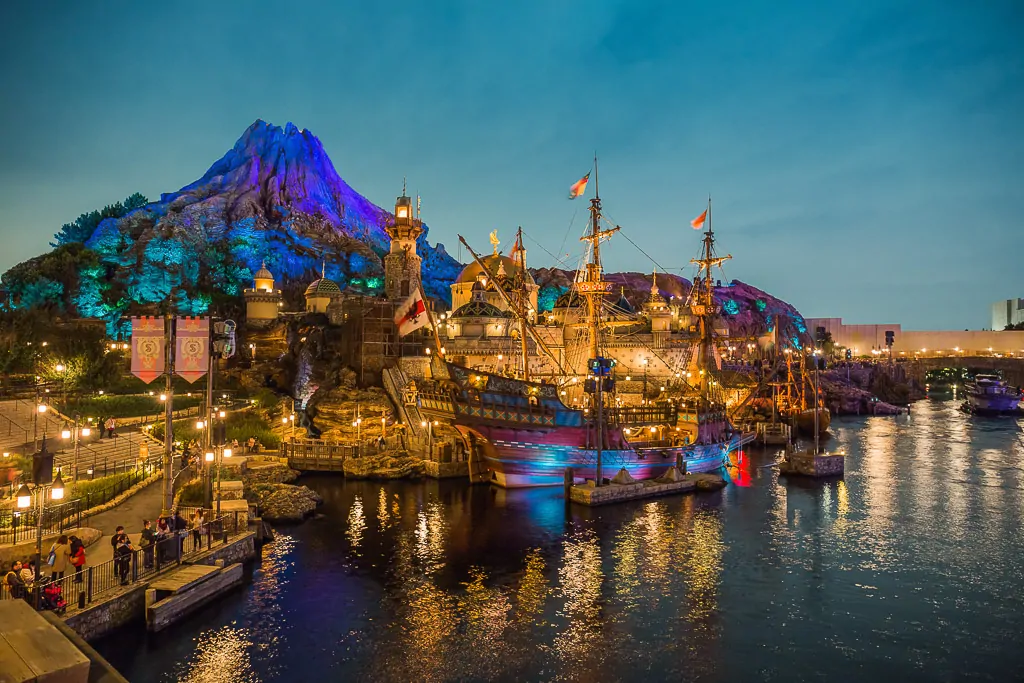 Harajuku
From food to fashion to the unexpected, Harajuku has something for everyone!
8 | Rainbow Food
Le Shiner in Harajuku is famous for its rainbow grilled cheese sandwich, drinks served in light bulbs and unicorn ice cream. While the food looks quirky, rainbow colored cheese tastes just like standard cheese and the novelty factor is huge for kids!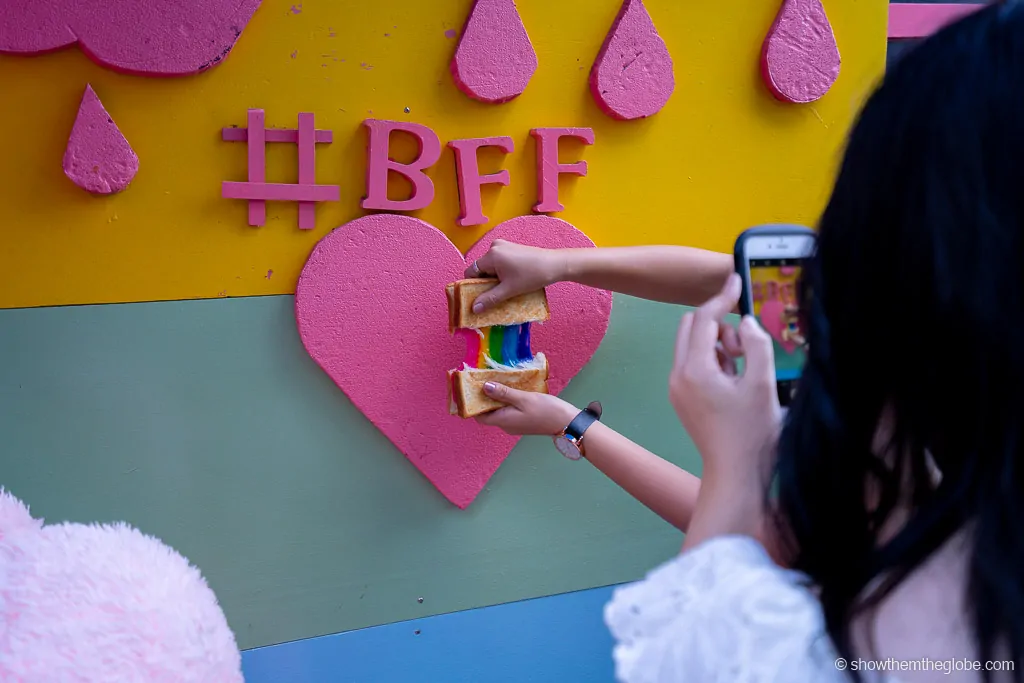 9 | Monster Cafe (closed)
With its psychedelic decor and Kawaii theme, the Kawaii Monster Cafe is one of the most fun themed restaurants in Tokyo. Based around the Kawaii culture of cuteness, kids will love the bizarre food and drinks, the kaleidoscope of color and the crazy atmosphere! A giant cake themed merry go round is surrounded by the aptly named Mushroom Disco and Milk Stand as well as a tea room adorned with ice cream and macaroons.
Things to do in Tokyo with kids tip: Unfortunately the Monster Cafe has closed in early 2022. Hopefully it will reopen, however for now it is closed.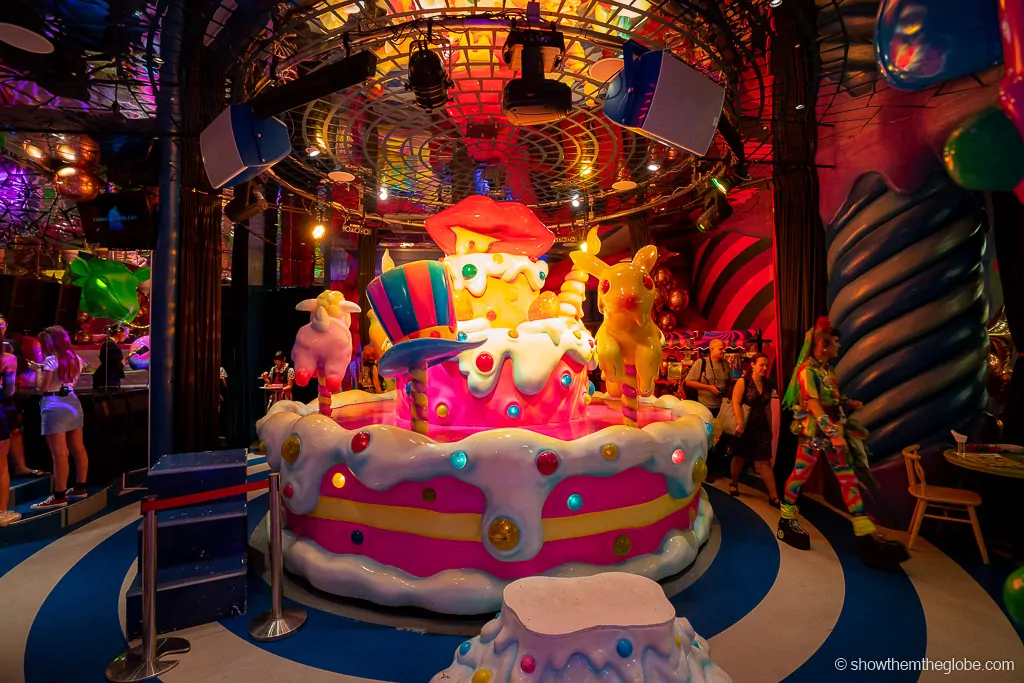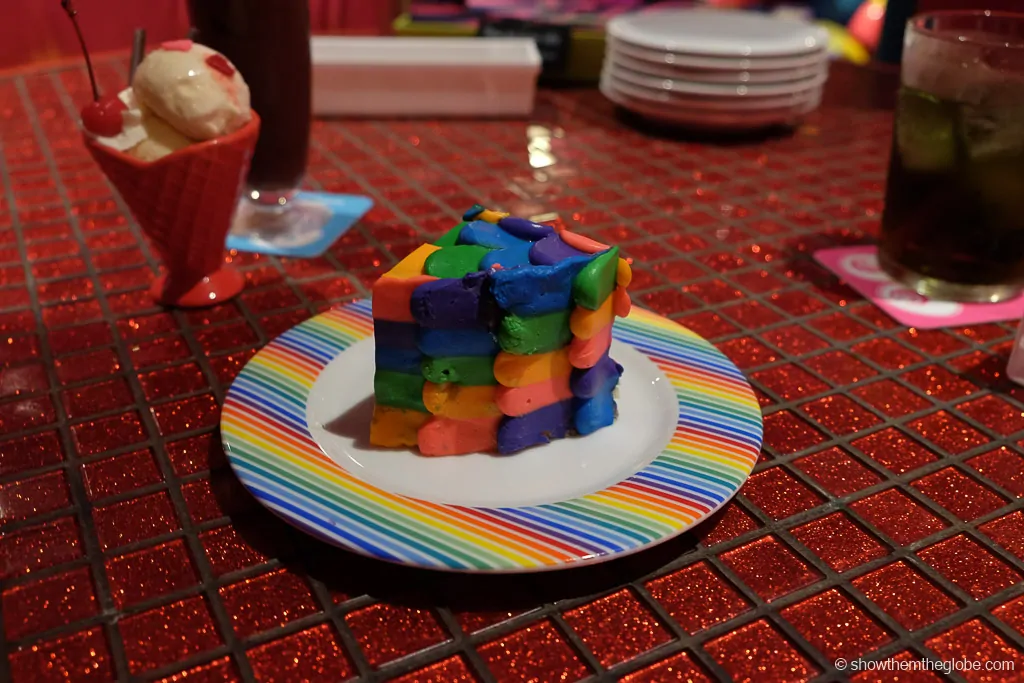 10 | Meiji Shrine
One of the most tranquil spots in Harajuku, the Meiji Shrine sits in a forest and is surrounded by over 100,000 trees. The shrine is dedicated to Emperor Meiji, the first Emperor of modern Japan, and there is a huge display of sake barrels along the entrance path which signify a gift to the gods. The shrine is accessed via two huge torii gates and visitors can make offerings in the main hall and write their hopes and wishes on an ema.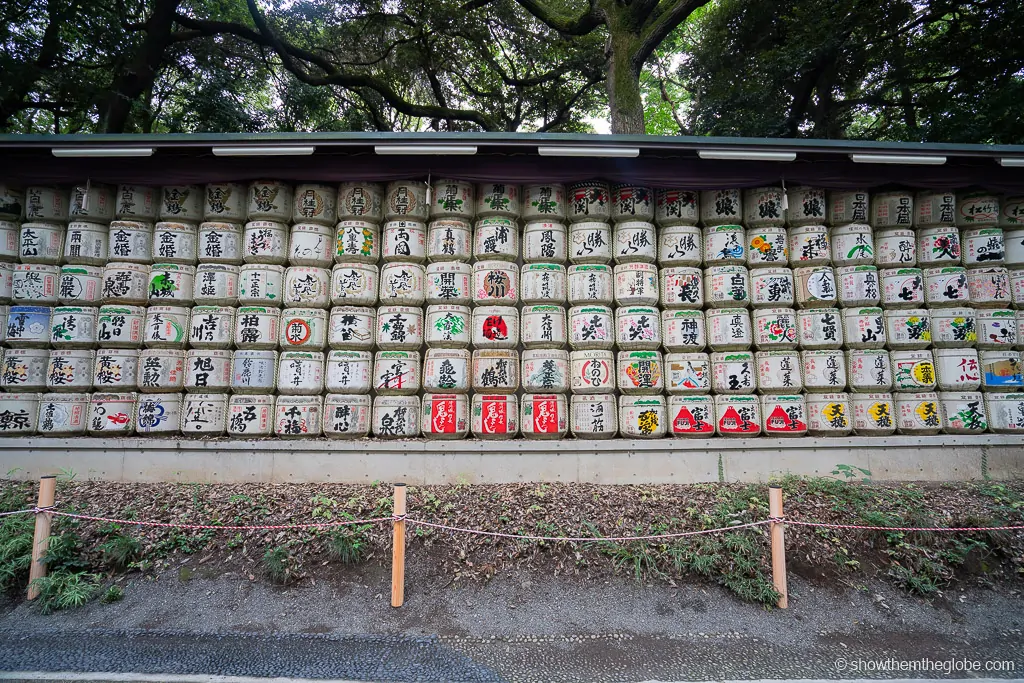 11 | Purikura Pics
A Japanese institution, Tokyo is dotted with purikura stores – the stores are filled with themed photo booths where images can be edited and enhanced in fun and crazy ways. Our favourite is on Takeshita Street, the main street in Harajuku. Full to the brim with groups of young Japanese the purikura booths are a really fun experience and the printed photos are an awesome memory of Tokyo with kids.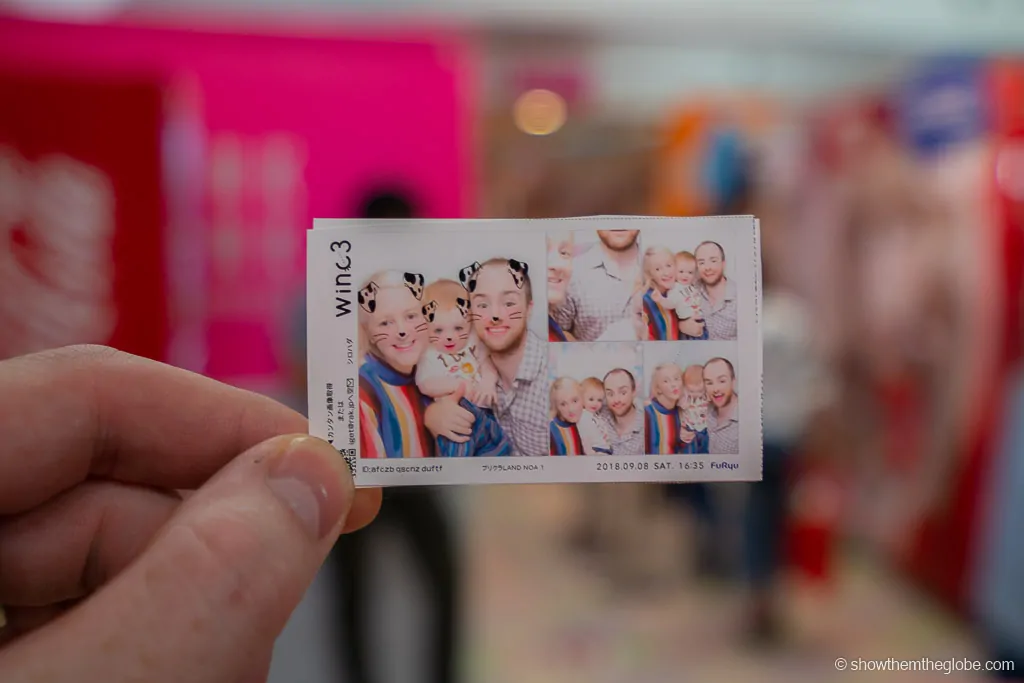 12 | Daiso
Another Takeshita Street stop, Daiso is a Japanese discount store stocking a fun range of products for 100 yen or less. Kids will love exploring the aisles which are jam packed with weird and wonderful creations including sushi and cake erasers, lucky cats and origami sets. At around $1 a purchase it's a fun and inexpensive treat.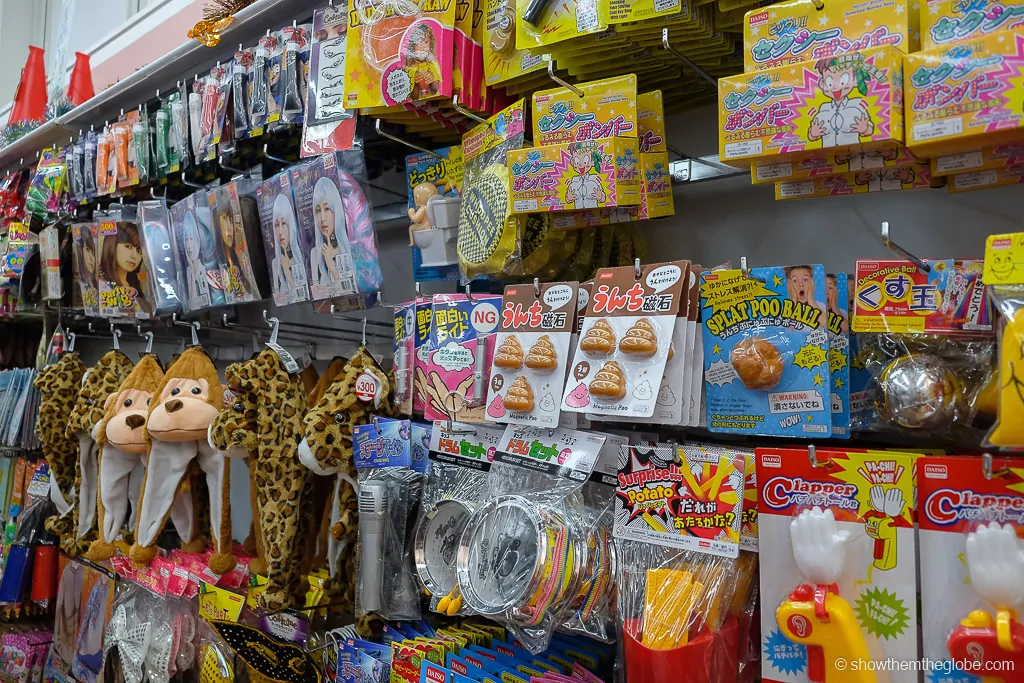 13 | Kiddyland
Across the street from Tokyu Plaza, Kiddyland is a great place to pick up a Japanese toy or character as a souvenir. It opened in Harajuku in the 1950's and is popular with locals and tourists in the area. Each of its 5 floors is a treasure trove of traditional toys, new trends and popular characters including Hello Kitty, Disney, Star Wars and Snoopy.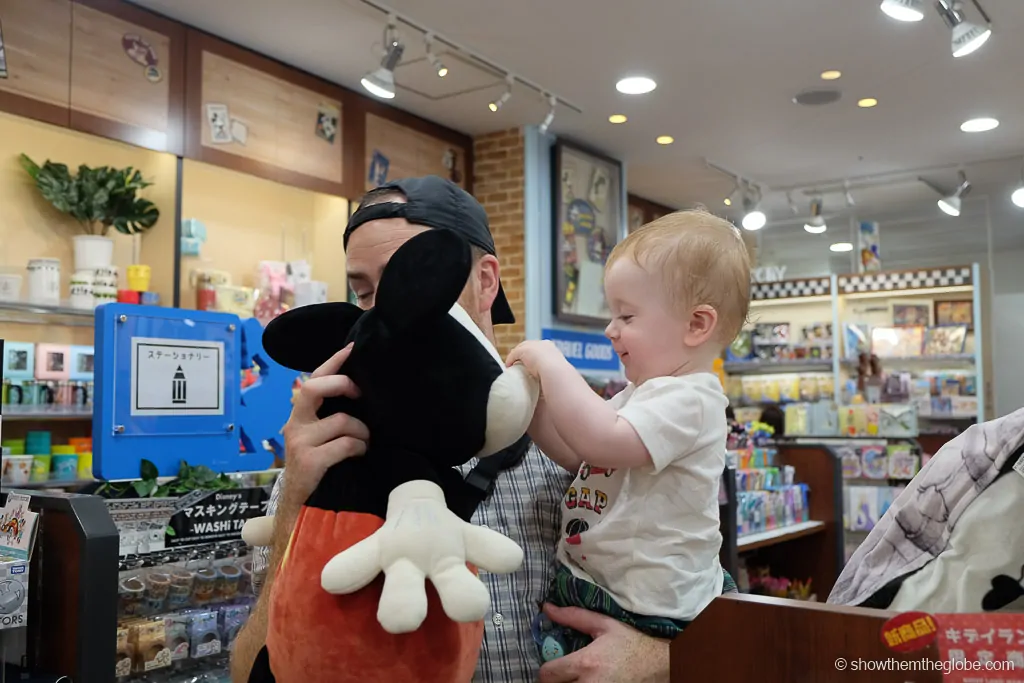 Shinjuku
Shinjuku is Tokyo's hub for eating, drinking, entertainment and shopping and, although many of its attractions are aimed at adults, there's plenty of things to do with kids in the neighborhood.
14 | Zauo Fishing Restaurant
A guaranteed hit with kids! At Zauo Fish Restaurant guests fish for their dinner and dine on their catch. A giant boat opens onto a moat filled with sea bream, flounders and lobster and a drum beats when a fish is caught! The fish is then served as sushi, tempura, fried or in a soup.
15 | Robot Restaurant (closed)
The Robot Restaurant is yet to reopen but there is no confirmation on whether it is reopened or if is permanently closed.
The Robot Restaurant is a Tokyo icon and the eclectic mix of neon lights, techno music, laser beams and warrior princesses riding giant robots into battle make for a great show.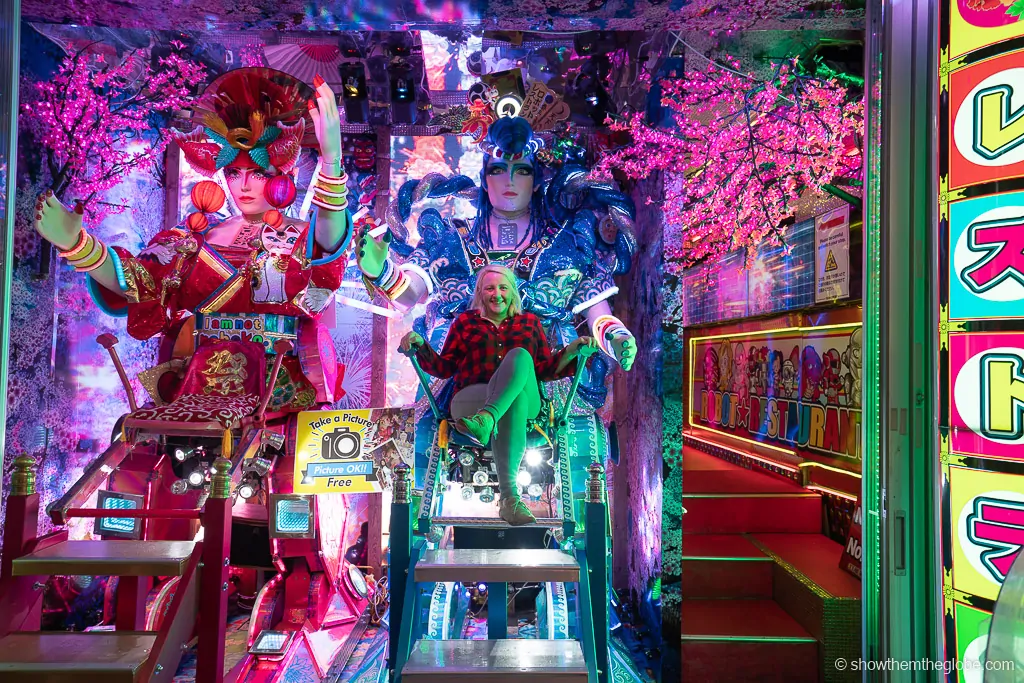 Things to do in Tokyo with kids: there are mixed views on the suitability of Robot Restaurant for kids and it's a wholly personal choice. The show has become much more family friendly and the robot fights are too exaggerated to be taken seriously in recent years. There is no minimum age for tickets. If you are bringing kids, make sure to pick a daytime weekday show as evening and weekend shows tend to be more rowdy.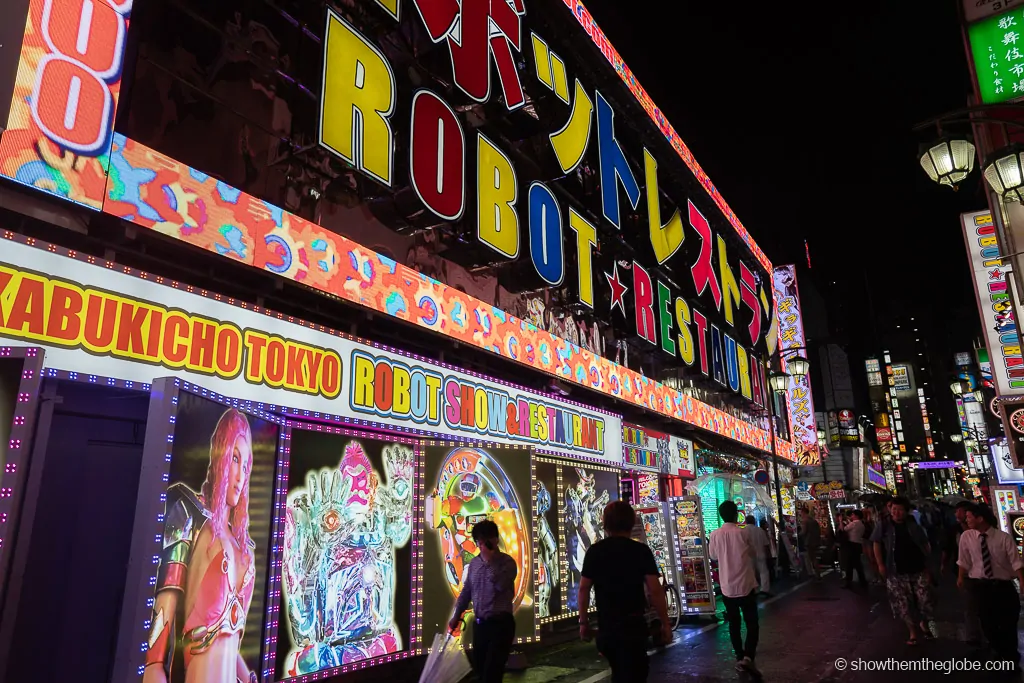 16 | Shinjuku Gyoen
The sprawling Shinjuku Gyoen Park is a slice of tranquillity and nature in the middle of the chaotic city streets. The huge park has 20,000 trees, beautiful gardens and a picturesque pond and it includes English, French and Japanese Gardens.
Things to do in Tokyo with kids tip: If you visit during cherry blossom season, the hundreds of sakura trees in Shinjuku Gyoen make it one of Tokyo's most popular spots
17 | Samurai Museum (currently closed)
The Samurai Museum in Shinjuku is a great way for kids to learn about the history of Japan and its combat and conflict. There are over 70 samurai displays with armor, helmets, guns and swords. Visitors can dress up in replica armor of Japanese warriors, hold a Samurai sword and watch battle reenactments.
18 | Metropolitan Government Buildings
The Tokyo Metropolitan Government Building is the tallest building in Shinjuku and has a free observation deck on the 45th floor of its North and South towers, some 202 metres above the city. The views of Tokyo are incredible: Tokyo Tower and the Skytree are visible as is Meiji Shrine. On a clear day, it's possible to catch a glimpse of Mount Fuji.
Things to do in Tokyo with kids tip: the North tower observation deck is undergoing renovations from May 2019 until early 2020 and is close. During this time, the South Observatory will remain open.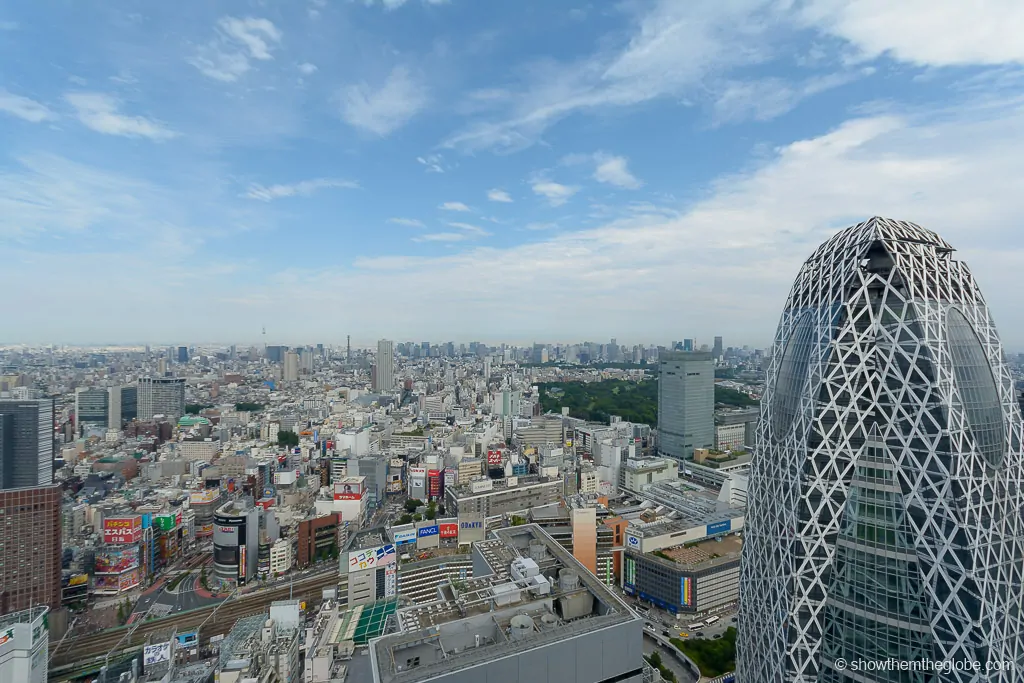 Shibuya
The chaotic Shibuya has endless food, drinks and shopping options and is home to Shibuya Crossing, one of Tokyo's most iconic sights!
19 | Shibuya Crossing
With 3,000 people crossing at peak times Shibuya Crossing is known as the cross roads of the world! A maze of zebra crossings zigzag the streets at the iconic intersection and its fascinating to observe.
Our two favorite ways to experience Shibuya Crossing are by joining the crowds and crossing the intersection and at the Starbucks directly overlooking the crossing.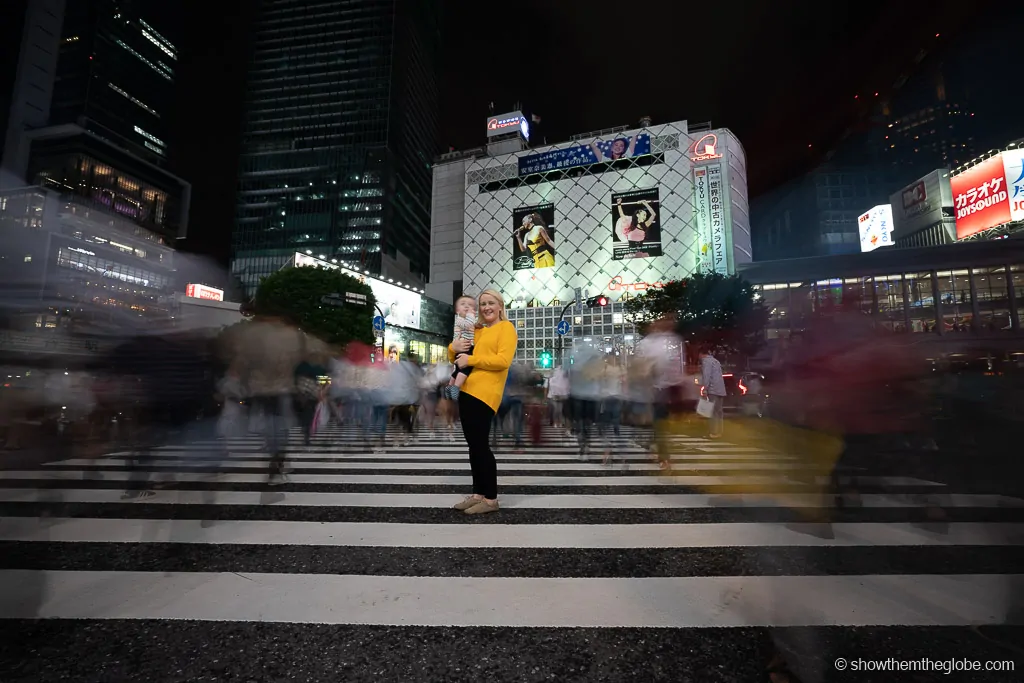 Shibuya Sky
Shibuya Sky is a 360-degree panoramic observation deck located at the top of the Shibuya Scramble Square skyscraper, 229m above the streets of Shibuya.
It has one of the best views in Tokyo and is a must-visit when in Shibuya. We recommend buying your tickets in advance to save time queueing when you visit – check prices now!
Book your Shibuya Sky tickets now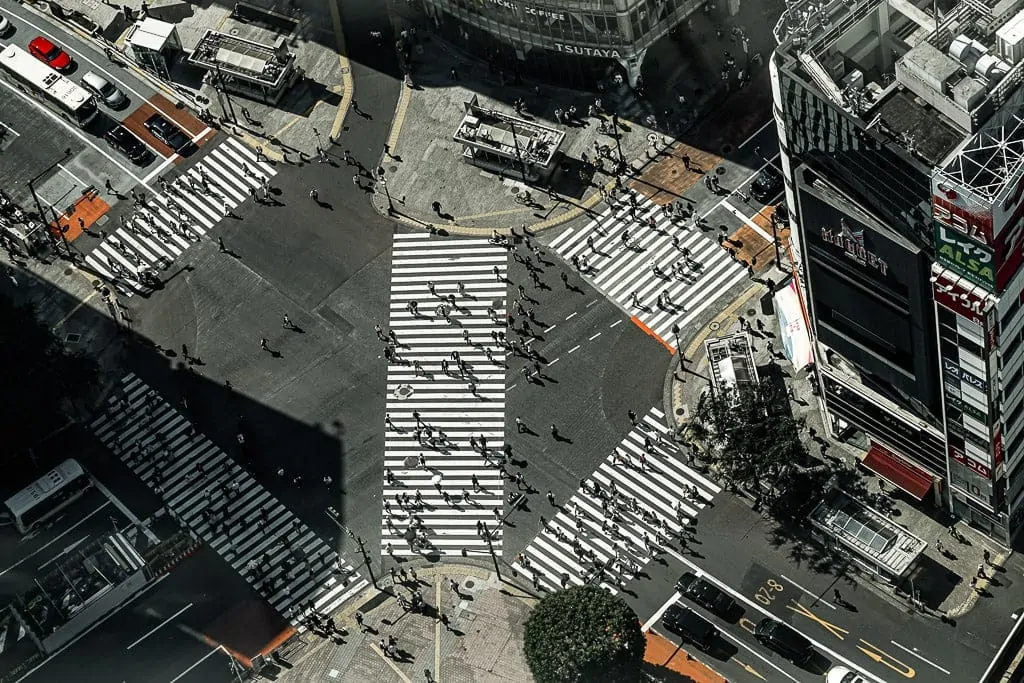 The first floor of the Starbucks Shibuya Tsutaya is another perfect spot to watch the comings and goings at Shibuya Crossing. Just grab a coffee or a snack on the ground floor and take the escalator to the first floor and wait for a window seat to become available – the views are epic!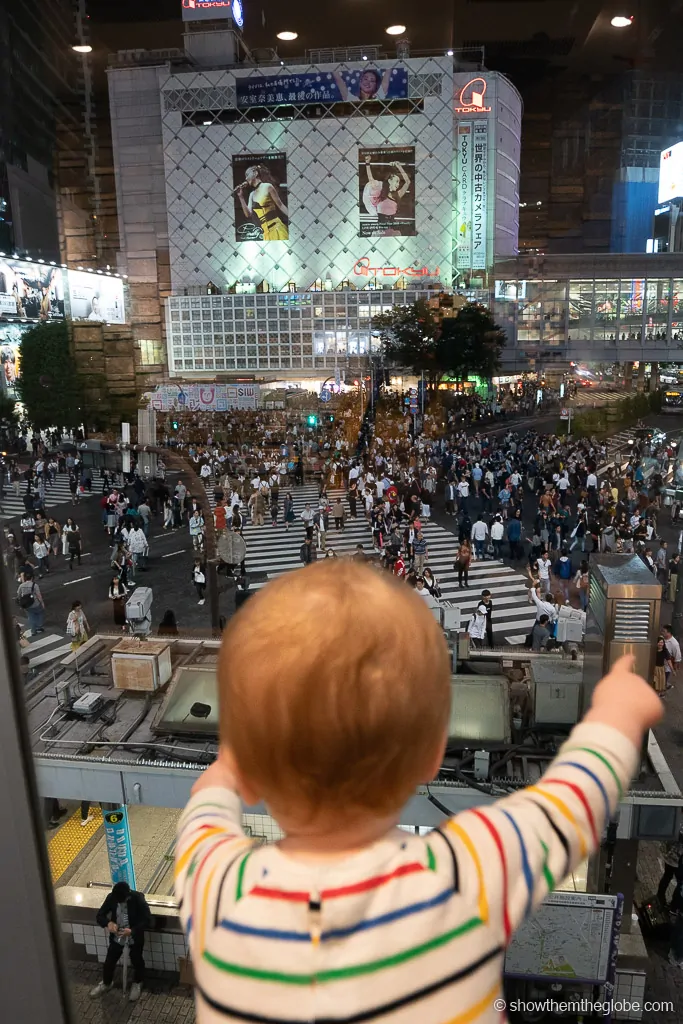 20 | Hachiko
While visiting Shibuya Crossing make sure to stop by the statue of Hachikō, the loyal dog who awaited his dead master's return from work for over 9 years at Shibuya. Hachikō is well loved in Tokyo and the story of him waiting for his master is beautiful.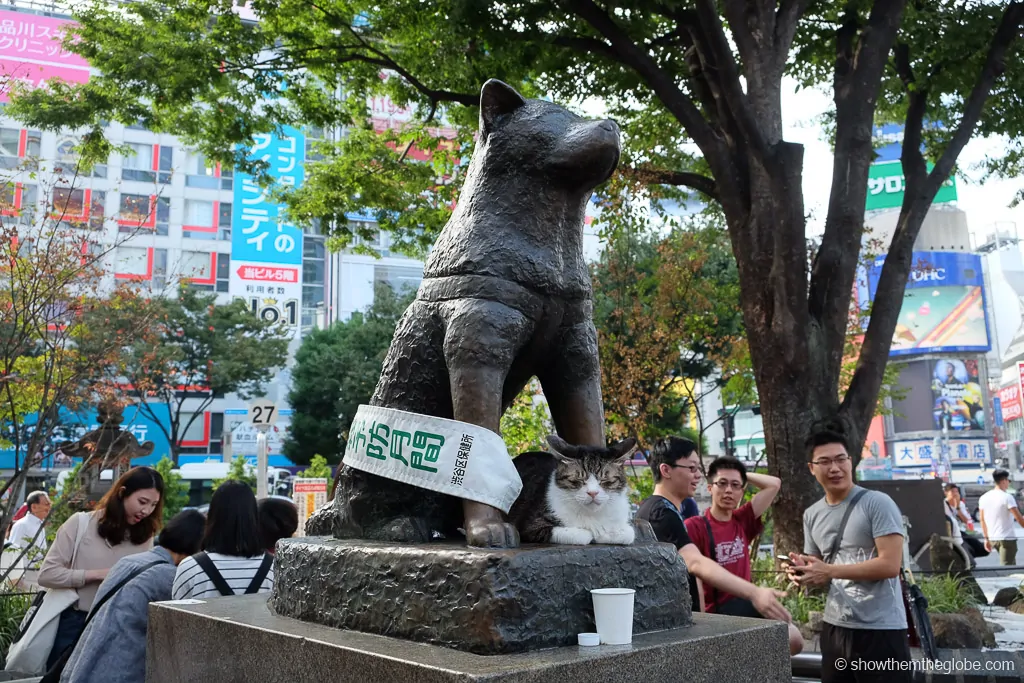 21 | Yoyogi Park
Located between Harajuku and Shibuya, Yoyogi Park is a hangout for locals and tourists alike. It's perfect for a stroll after the craziness of Harajuku or Shibuya and we loved spotting the adorable dogs, the street artists and the fun atmosphere at the weekends!
Asakusa
Known as the traditional area of Tokyo, Asakusa is home to some of Tokyo's best attractions.
22 | Senso-Ji Temple
The ancient Senso-Ji Temple in Asakusa is the oldest Buddhist temple in Tokyo and draws millions of tourists to Asakusa. The highlights for kids include the huge red and black paper lantern which marks the entrance to the temple at the Kaminarimon Gate, having their fortune told and shopping in the surrounding Nakamise Street.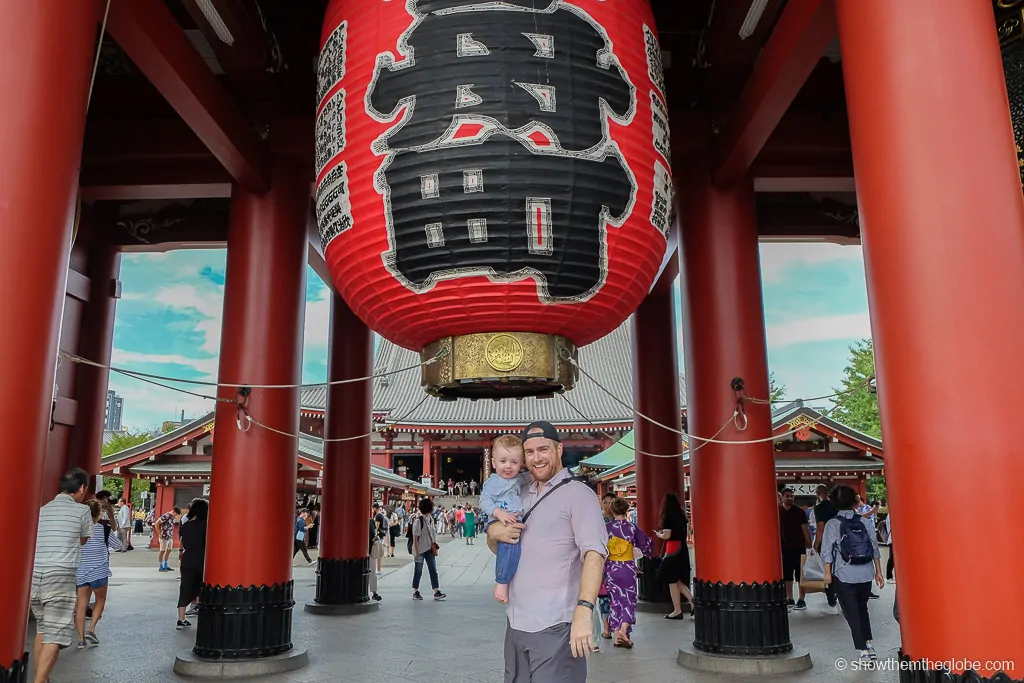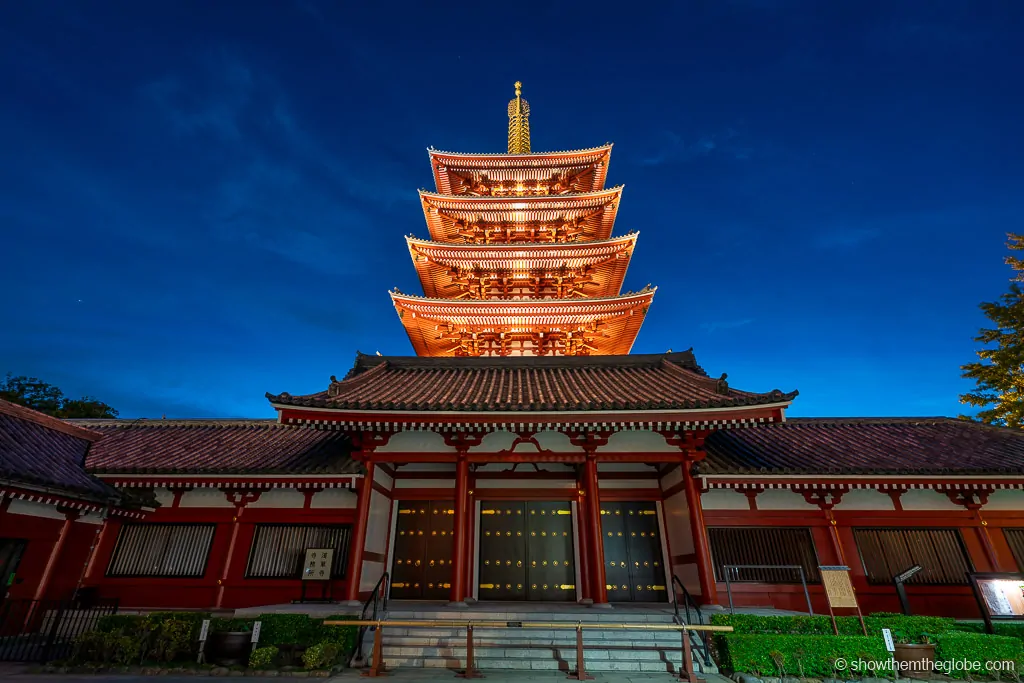 23 | Asakusa by Rickshaw
Kids will love exploring Asakusa by rickshaw and it's an awesome way to travel around the iconic sights of the neighborhood with stops including Kaminarimon Gate, the Senso-ji Temple and Tokyo Skytree – click here to book a Rickshaw tour!
24 | Tokyo Skytree
Holding the title of the tallest structure in Japan, the Tokyo Skytree is visible from all across the city and is a short walk/train ride from Asakusa. The Skytree is a television broadcasting tower and houses a shopping complex, an aquarium and two observation decks – click here for tickets!

Ueno
Ueno is best known for its museums and the green space of Ueno Park.
25 | Ueno Park and Zoo
Japan's first public park, Ueno Park is a huge space with temples, museums and a Zoo. The swan boats on Shinobazu Pond were our highlight along with the food and craft stalls lining the entrance path!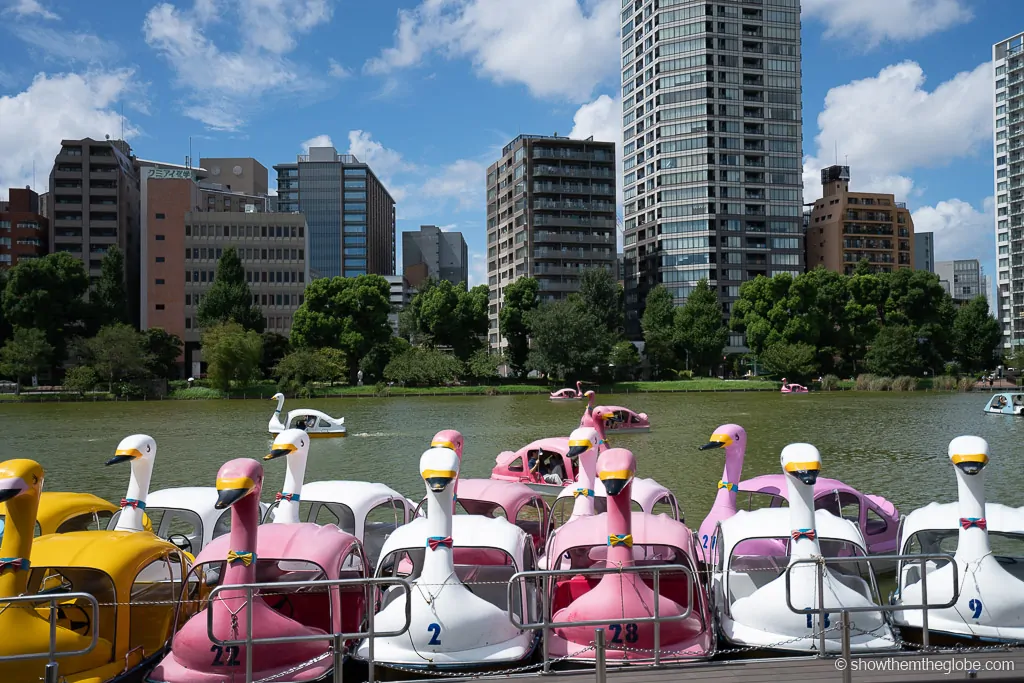 Western Tokyo
26 | Ghibli Museum
Ghibli is Japan's world-famous animation studio which is often described as the Disney of Japan. The whimsical museum is a magical experience for kids and bonus points if they've watched My Neighbor Totoro and Kiki's Delivery Service. The museum is massively popular and a magnet for Ghilibi fans with its Catbus and Totoro statues. A giant robot from Castle In the Sky guards the museum from its rooftop and is one of the highlights – click here for tickets!
Click here to book Ghibli Museum tickets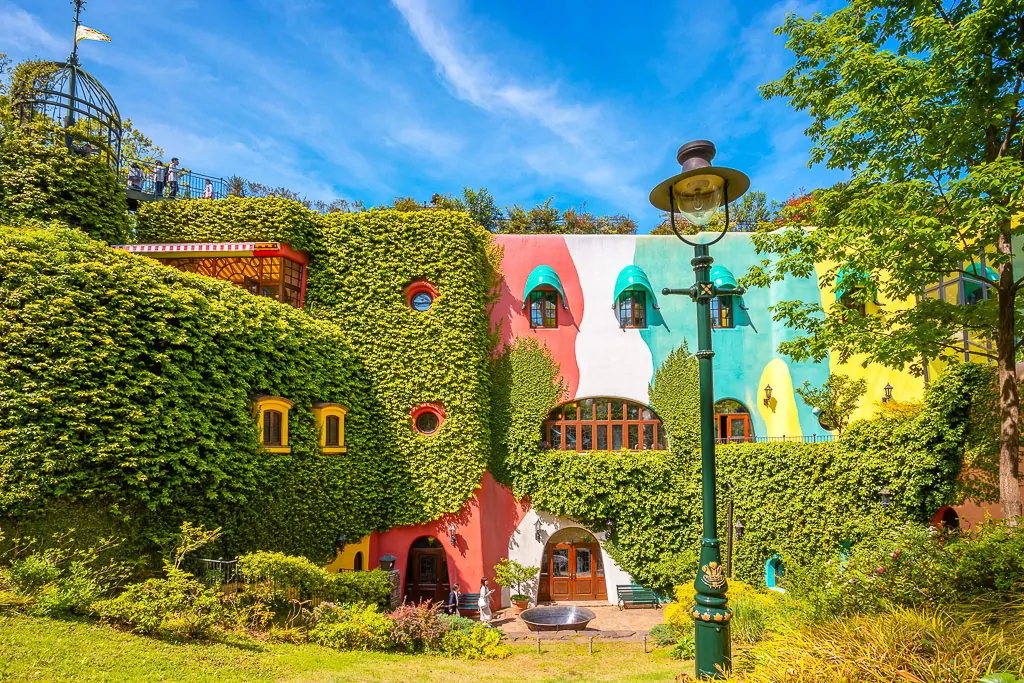 Things to do in Tokyo with kids: the Ghibili Museum routinely sells out. Tickets must be reserved in advance and are not available at the museum. Tickets can be reserved at any time but are only confirmed in the month of/month preceding the visit. Refunds are issued if tickets are not available.
Roppongi
The Roppongi district is Tokyo's ex-pat hub and is popular for nightlife, entertainment and art.
27 | Roppongi Hills Tokyo City View Observatory
The Tokyo City View observation deck is located in the Mori Tower, one of Tokyo's tallest buildings. The views are incredible from both the 52nd Floor indoor observation deck and the rooftop Sky Deck, an outdoor observation deck 270 metres high. We watched the sun set over Tokyo and spotted its most famous landmarks – click here for tickets!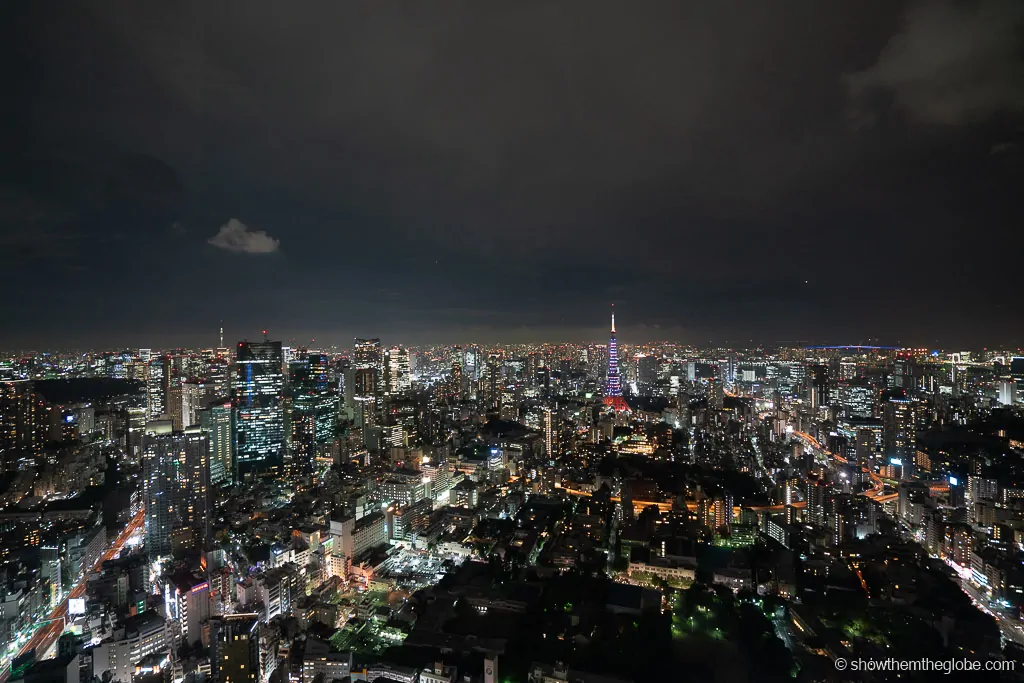 Toyosu
Toyosu shot to fame as the new location of the Tokyo fish market. It is also home to Kidzania, one of the best things to do in Tokyo with kids,
28 | Kidzania
Kidzania is a mini city where kids can try out adult jobs and get paid for their work! Each job is sponsored by real companies and kids sign up for a role and report to work at an allocated time. They can become doctors, pilots, vets, firefighters and cheerleaders after completing a training session and dressing in the uniform. Payment takes the form of Kidzania dollars which they can lodge in the bank, withdraw from the cash machine and use to purchase items at Kidzania. It's so cute and an absolute hit with kids!
Day trips from Tokyo with kids
Tokyo is fun and chaotic so it can be amazing to escape the city for a day.
29 | Hello Kitty at Tokyo Sanrio Puroland
The Tokyo Sanrio Puroland is a hugely popular theme park just 60 minutes by train from Tokyo Station. The extremely cute indoor theme park is dedicated to the Sanrio characters including Hello Kitty, Jewelpet and My Melody. With a Hello Kitty house, parades and character meet and greets, it is an absolute must for Hello Kitty fans! – check prices here!
30 | Hakone
The Tokyo City View observation deck is located in the
With its glorious hot springs, outstanding natural beauty and mesmerizing Mount Fuji backdrop, Hakone is an awesome day trip option from Tokyo. There are lots of fun things to do in Hakone with kids: we loved the Hakone Open Air Museum, where the sculptures and art work are set against a backdrop of nature and mountains, the volcanic Owakudani Valley and the theme park style onsen of Hakone Kowakien Yunessun!
Hakone is easily accessed with the Hakone Free Pass. It covers the return train journey on the Express train between Shinjuku and Hakone-Yumoto together with transport in Hakone. It allows for free travel on the bus, the Hakone Ropeway, the Hakone Tozan train and the pirate ship on Lake Ashi – purchase a Hakone Free Pass here!